An Environment is something which is totally integrated with the physical and biological factors along with their own chemical interactions which further forms to serve any form of living. So what does it have to do with the word Environmental Portrait – in simpler terms any portrait which gets us to know about the life terms, their physical and biological interactions with the local ecology, showing their nativity can be called as an Environmental Portrait.
To further study about this interesting aspect let us divide it into 4 classes.

Photo Credit : Svetlana Bekyarova
The Character
The Character of the Portrait. The Importance of every aspect of it, their presence, their forms and its significance. What makes them special there, the locality their adaptation to that environment and what changes has this brought into their Physique or Mental ability. To capture these elements makes it very interesting and then it happens to be an Environmental Portrait.

Photo Credit : Mitchell Kanashkevich

Photo Credit : Franck Vervial

Photo Credit : Kirsty Mitchell

Photo Credit : Hugo Balcazar
Location and its Relation
The Place they stay, it can be of wide range anything from a tribal village, duplex apartment, or a typical slum. But one needs to understand to what extent this locality has influenced their attributes. How do they carry them-self when inside their home ground their physical language, since their behavior tends to change when outside their zone. All put together, capturing the essence of any portrait inside their comfort zone with more environmental values constitutes to an Environmental Portrait.

Photo Credit : Mio Cade

Photo Credit : Maciej Dakowicz

Photo Credit : Gibb3rs

Photo Credit : Kelven Ng
The Wider Frame
By the term "Wider Frame" we mean you the photographer to show a lot of it. The details covered are not to be on the face, this story is more about where they belong, how well they have adapted to stay here. And for clearer interactions, it becomes necessary for you to show where they belong. A Small trick is to show it large and wide to get a lot closer to what we call an Environmental Portrait.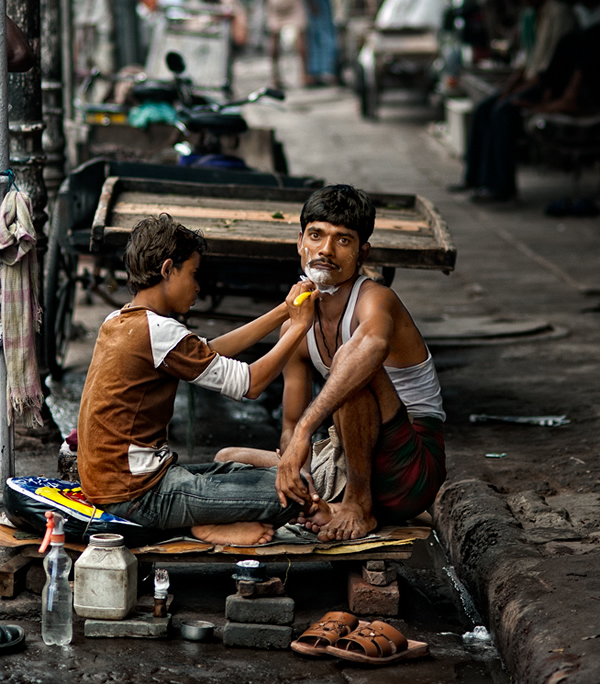 Photo Credit : Prateek Dubey

Photo Credit : Emmanuel Smague

Photo Credit : Eric Lafforgue

Photo Credit : Rog
What does it convey?
What are you trying to convey with this Environmental Portrait? Simple – This is a person who lives, in this locality which is visible itself in the Photograph. He/She belongs there, that is how they dress up, carry them self their food, their family, the weather they live on, the problems they face, their mood, their character it's all visible in this one single photograph – the Environmental Portrait.

Photo Credit : Jan Scholz

Photo Credit : Rosie Hardy

Photo Credit : Thomas Leuthard

Photo Credit : Divya Ostwal