IzmailovoVernissage market is a very interesting place in the East of Moscow next to the Izmailovo Kremlin. It is a sprawling weekend flea market with vendors of funky antiques, furnishings, souvenirs, and collectibles. Another interesting feature of this place is that the streets surrounding the market come alive with characters of frictions, comic strips, films, and fantasies during Geek fair. The streets are converted into a new world for the FANDOMs. FANDOM is the fan's voice in entertainment. A place where fans can discuss, find, and share knowledge of the characters to the others. Fandom is a subculture composed of fans of various characters of frictions, comic strips or films characterized by a feeling of empathy and relate with others who share a common interest. Fans typically are interested in even minor details of the objects of their fandom and spend a significant portion of their time and energy involved with their interest.
Geek fair in the Izmailovsky Kremlin in Moscow is very unique in nature. The event takes place regularly, every 2-3 months (on holidays or just like that), where Fans can demonstrate their creativity, get inspired, and feel comfortable in the presence of like-minded people. FANDOM crowd starts to pull in from 11 AM. The street is converted into a fairyland with different types of characters from movies, frictions, and comic strips. Fans partake in the creation and wearing of costumes designed in the likeness of character. The main guests of this event are cosplayers and artists who have the opportunity to receive funding for their drawings and craft. The participants have no age restrictions. People of absolutely different ages come together for common interests. This gathering occupies an important position for all creative people, since the first visit alone, can change everyone's lives by pushing the creator from the grey mass to those like himself, opening him the door to cooperation and life with those who are interesting to him at events. Fans also partake in cosplay (a portmanteau between costume and play) with the role-playing, re-enacting scenes, or inventing likely behavior inspired by their chosen character.
The event always provides cosplayers with a dressing room so that they can change and make up there. Some use this because they are not comfortable or are afraid of someone else's opinion when they get to the event. But most people don't specially take off their costumes after their performances and walk for a very long time after the event in their costumes, and also return home, admiring and scaring passers-by. People take pictures with them, some are horrified and pray to God for fear of their images. The whole street becomes vibrant with colorful characters, music, and dance. A stage is erected in one corner of the street. Cosplayers enact their character in front of others with the theme music behind. Others dance in the tune of music. The fans hug each other sharing good wishes and small goodies. Some Fans set up small stalls to sell their paintings and their handcrafts works. The air is filled with happiness, joy, and laughter. The flow of live street music enhances the joyous mood of the environment. The fair continues up to 6 PM. At the end of the day, the FANs return to their homemaking new likeminded friends and new experiences of creativity.
About Saumitra Banerjee
I am Saumitra Banerjee working as a senior executive in a multinational pharmaceutical company. I crave to breathe in through my photography passion to relieve myself from job pressure. Travel, people, and street are my genre of interest which is being pursued by me for the last ten years. My passion for photography blossomed up through the special "Sunday Adda" on photography with my childhood friends. In my works of photography, I want to create a linkage between the subject, emotions, and the environment.
My works have been exhibited in various Galleries of KOLKATA and outside. My work had been selected by WORLD PHOTOGRAPHIC FORUM for digital presentation at Kolkata International Photography Festival 2019 and also been selected and displayed in the "The Kolkata Festival 2019". In February 2020 I together along with my 3 other photographer friends have organized a photography exhibition"LensLeela& Sizzling Silt Exhibition" at BELGHORIA PEARY MOHON LIBRARY HALL showcasing the best of our works.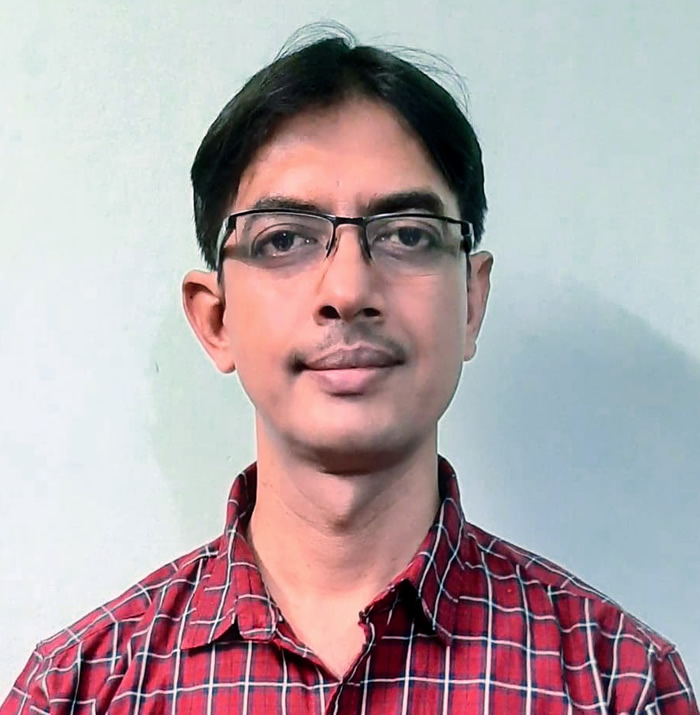 You can find Saumitra Banerjee on the Web:
Copyrights:
All the pictures in this post are copyrighted to Saumitra Banerjee. Their reproduction, even in part, is forbidden without the explicit approval of the rightful owners.