Here are the winners of The Environmental Photographer Of The Year 2021. The Environmental Photographer of the Year (EPOTY) competition showcases the most inspirational environmental photography from around the world. The award celebrates humanity's ability to survive and innovate and showcases thought-provoking images that call attention to our impact and inspire us to live sustainably.
The competition supports the urgent calls to action of the United Nations Sustainable Development Goals and recognizes the intricate interconnected nature of development, poverty reduction, equality, security, and climate action and the unprecedented effort from all sectors of society needed to address the defining issues of our time.
The title of Environmental Photographer of the Year 2021 was given to Spanish photographer Antonio Argon Renuncio for his photo titled "The Rising Tide Sons", which depicts a child sleeping inside a house that has been destroyed by coastal erosion of Afiadenyigba beach in Ghana.
You can find more info about Environmental Photographer of the Year:
#1 The Last Breath, Kevin Ochieng Onyango, 2021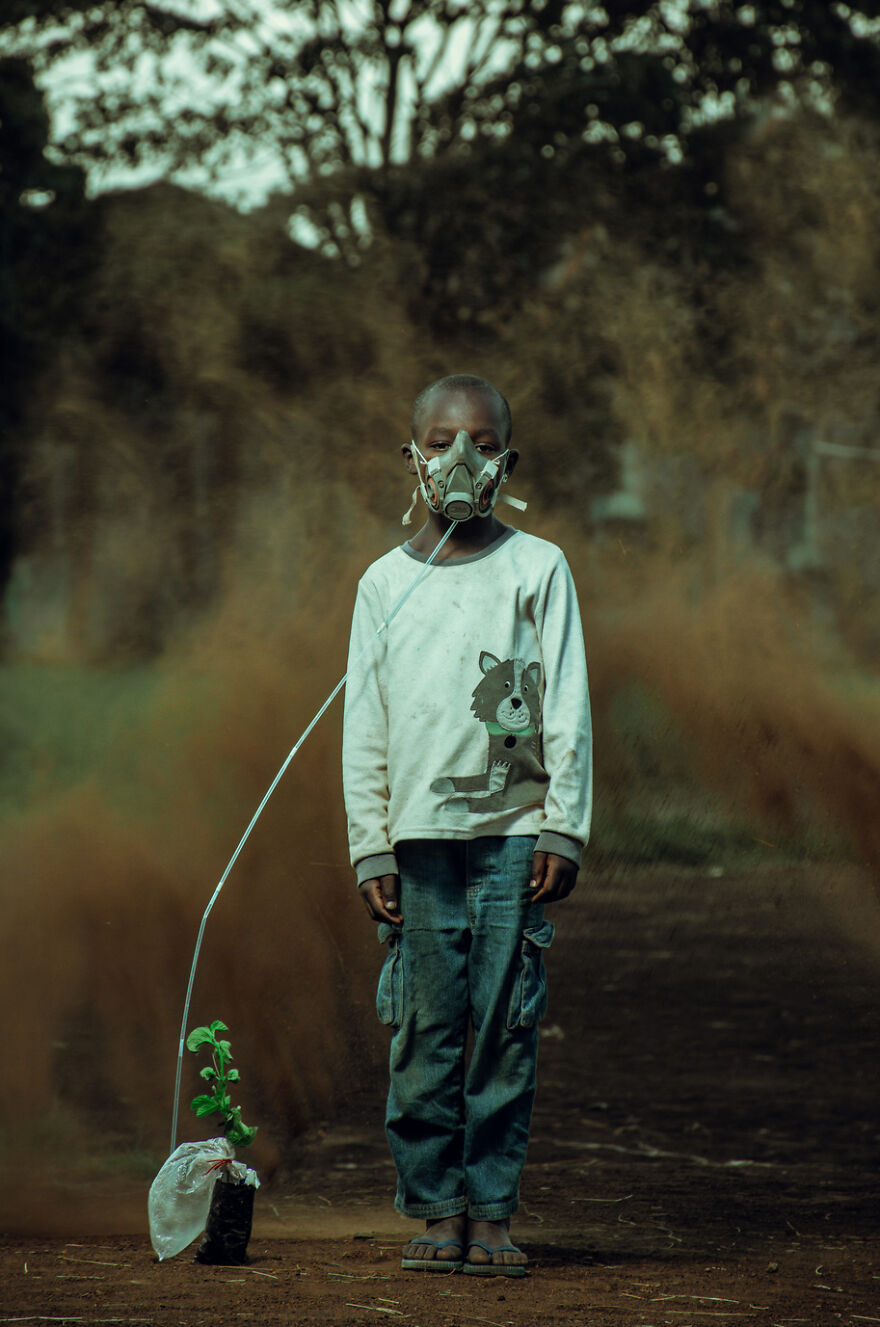 "A boy takes in air from the plant, with a sand storm brewing in the background. This is an impression of the changes to come."
Location: Nairobi, Kenya
Camera: Nikon D7200
---
#2 The Rising Tide Sons, Antonio Aragon Renuncio, 2019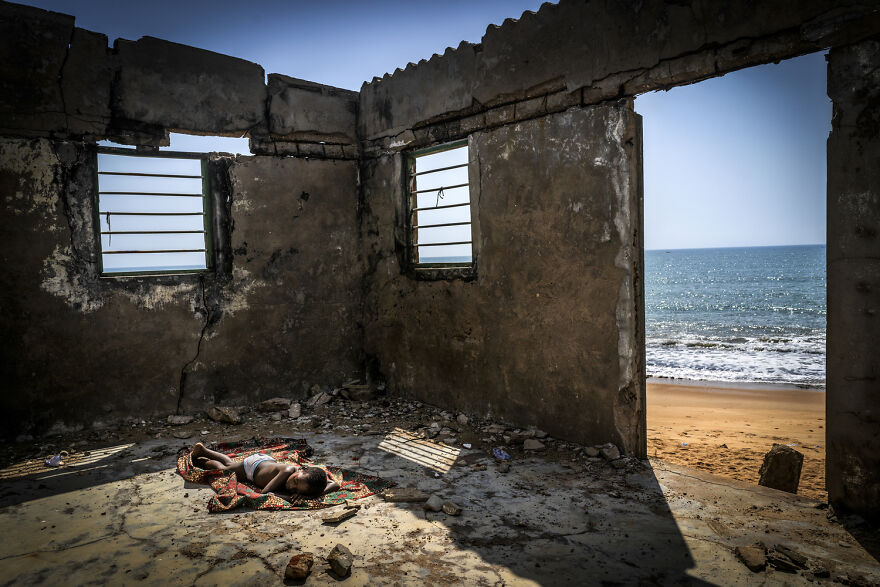 "A child sleeps inside his house destroyed by coastal erosion on Afiadenyigba beach. Sea levels in West-African countries continue to rise and thousands of people have been forced to leave their homes."
Location: Togo, West Africa
Camera: Sony A7III
---
#3 Survive For Alive, Ashraful Islam, 2021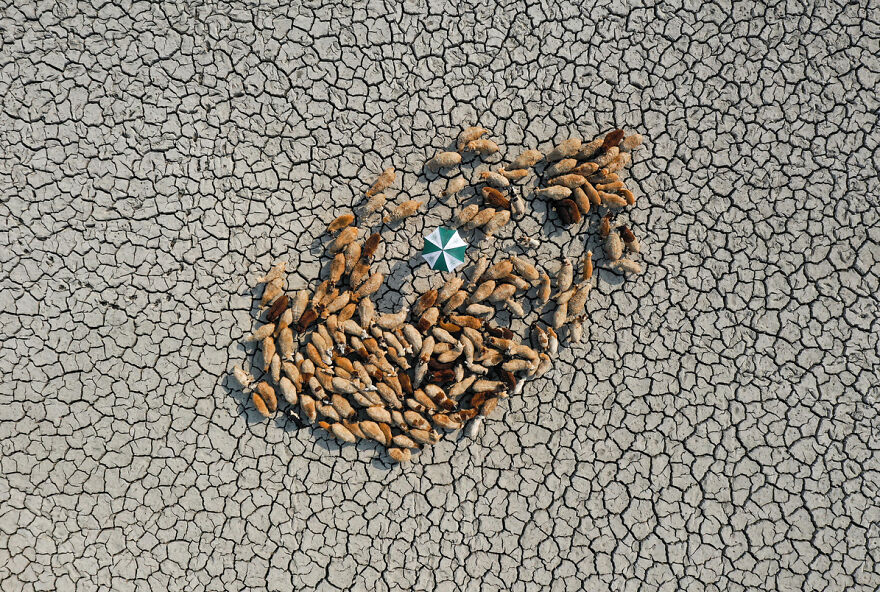 "Flocks of sheep search for grass amongst the cracked soil. Extreme droughts in Bangladesh have created hardships for all living beings."
Location: Noakhali, Bangladesh
Camera: DJI Mavic 2 Pro
---
#4 Drying Incense, Azim Khan Ronnie, 2019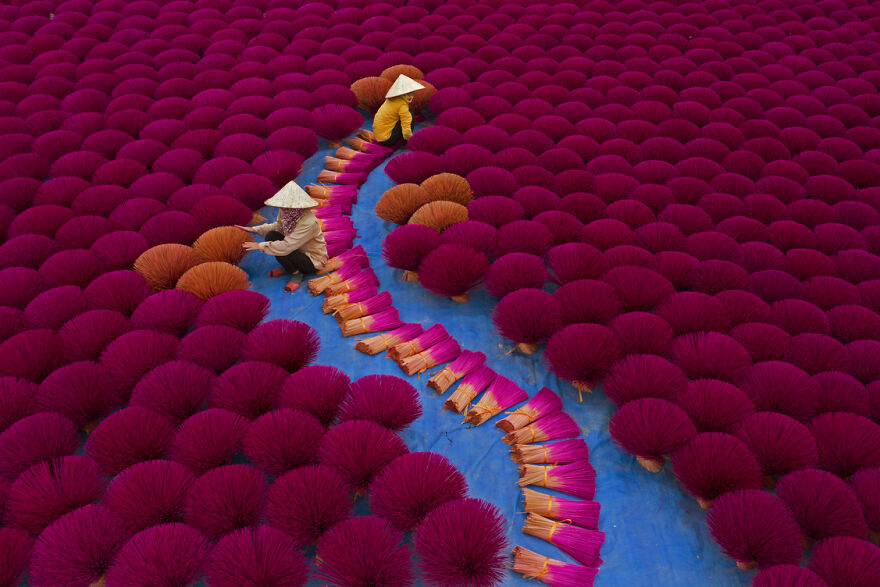 "Workers sit surrounded by bundles of incense sticks in Quang Phu Cau village in Hanoi, Vietnam. Incense has been made using traditional methods here for hundreds of years and plays an important role in the spiritual lives of Vietnamese people."
Location: Hanoi, Vietnam
Camera: DJI Mavic 2 Pro
---
#5 Net-Zero Transition: Photobioreactor, Simone Tramonte, 2020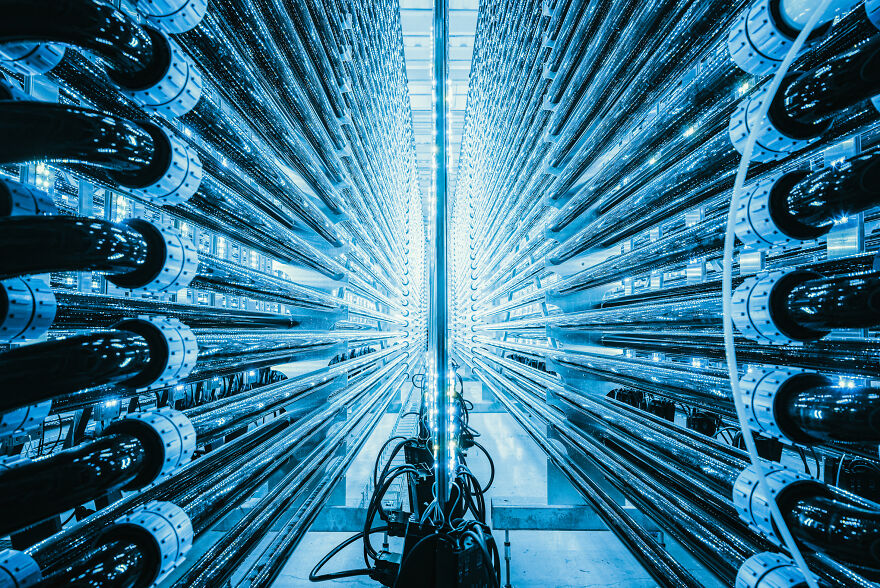 "A photobioreactor at Algalif's facilities produces sustainable astaxanthin products. Iceland has shifted from fossil fuels to 100% of electricity and heat from renewable sources."
Location: Reykjanesbaer, Iceland
---
#6 Inferno, Amaan Ali, 2021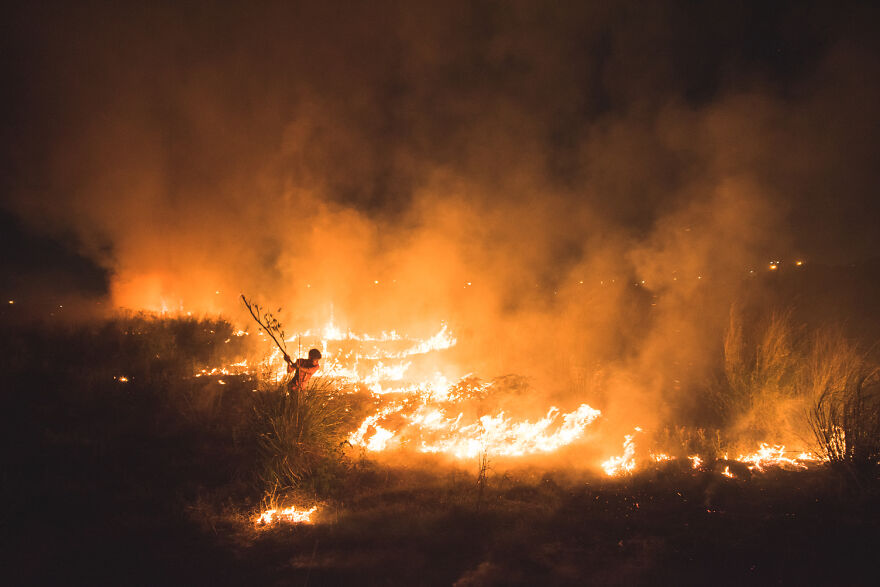 "A boy fighting surface fires in a forest near his home in Yamuna Ghat, New Delhi, India. According to locals, forest fires caused by human activity in the area are a common occurrence due to adverse living conditions."
Location: New Delhi, India
Camera: Nikon D750
---
#7 Hooked Pup, Celia Kujala, 2020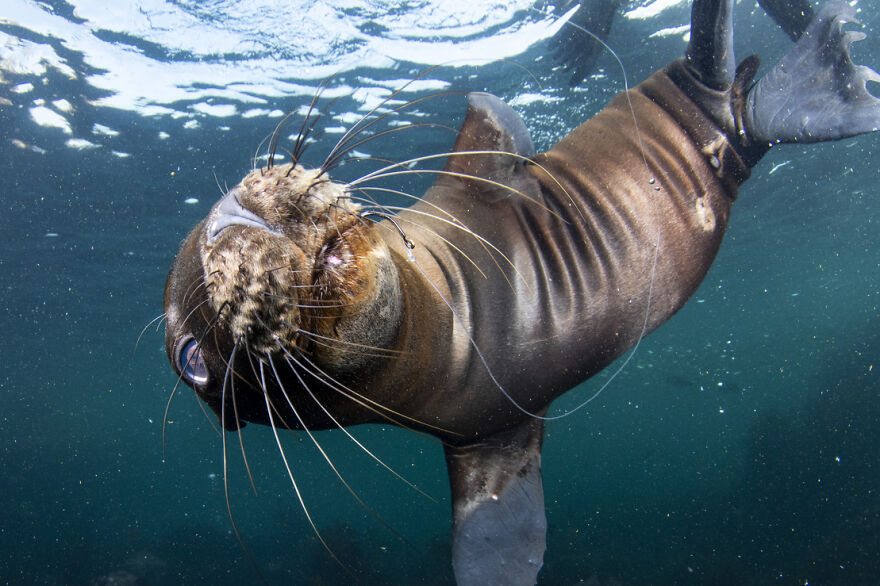 "A California sea lion pup with a hook embedded in his mouth follows the diver and seems to be asking for help."
Location: Coronado Islands, Mexico
Camera: Nikon D500
---
#8 Working Mother, Riben Dhar, 2021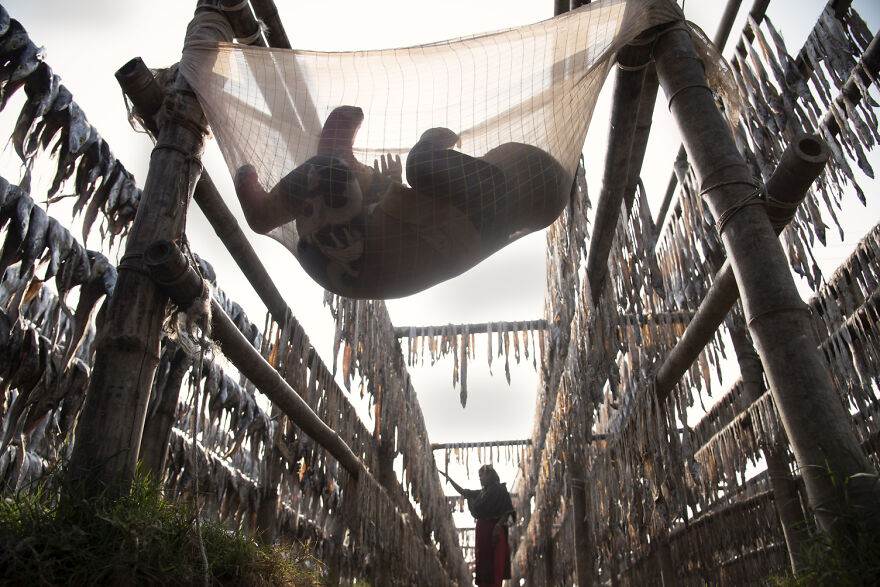 "A working mother in an open-air fish drying rack provides for her family with her baby cradled in the rack nearby."
Location: Chattogram, Bangladesh
Camera: Nikon D750
---
#9 Polluted Buriganga River, Azim Khan Ronnie, 2021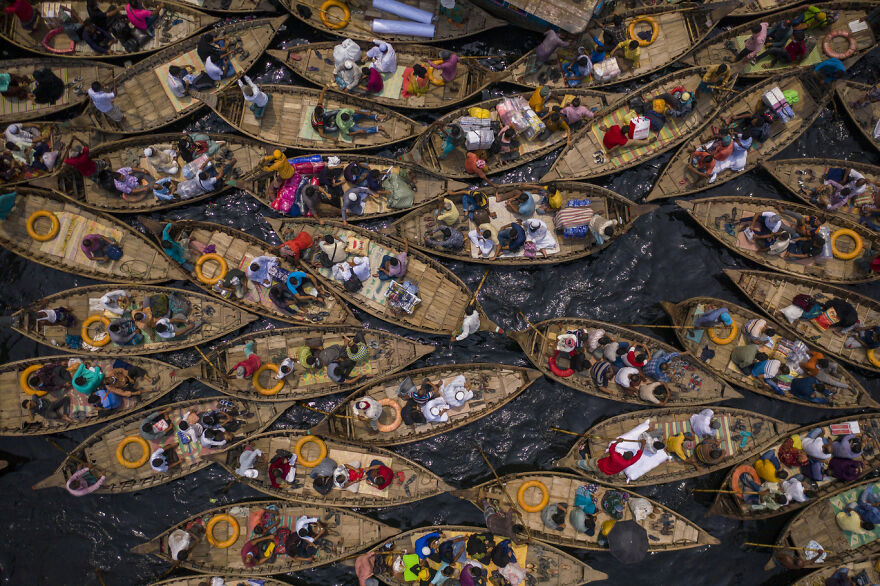 "A busy polluted waterway on Buriganga River is filled with boats and their passengers on the morning work commute to the densely populated city of Dhaka, home to an estimated 21 million people."
Location: Dhaka, Bangladesh
Camera: DJI Mavic 2 Pro
---
#10 Flood, Michele Lapini, 2020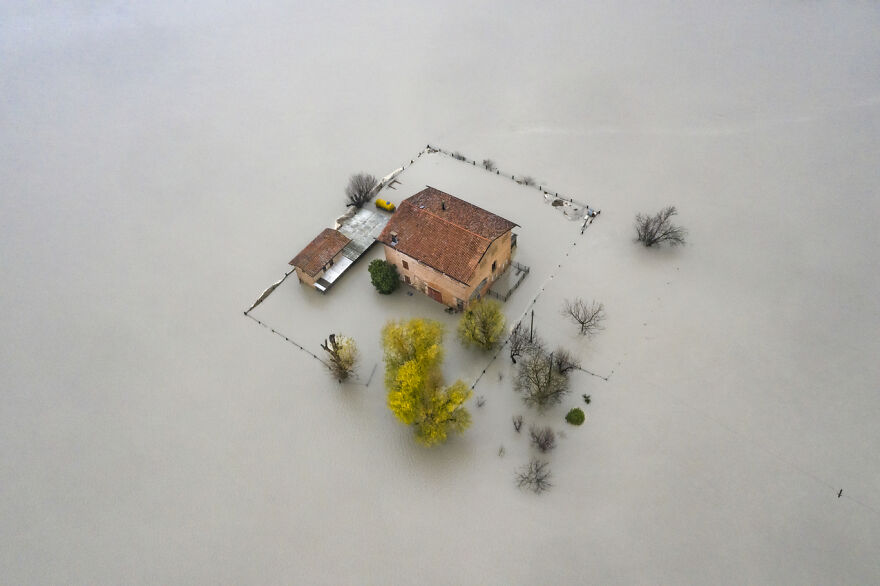 "A house is submerged by the flooding of the River Panaro in the Po Valley due to heavy rainfall and melting snow."
Location: Nonantola, Modena, Italy
Camera: Hasselblad
---
#11 The Life: A Narrow Strip, Roberto Bueno, 2019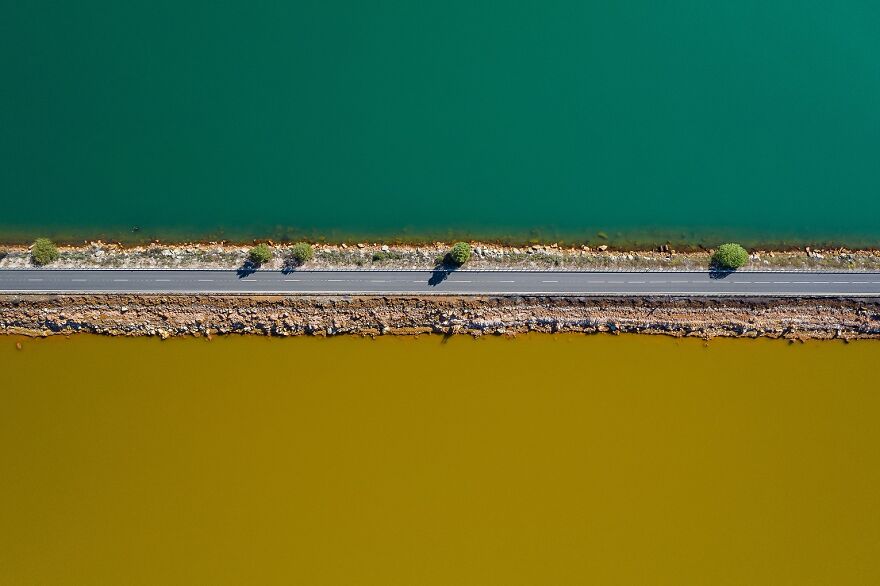 "A narrow strip of road divides ochre-colored and freshwaters. Trees wait on the fresh side of the road opposite the toxic waters of a nearby mine reservoir."
Location: Río Tinto, Huelva, Spain
Camera: Hasselblad L1D-20c
---
#12 Environment Confined In Plastic, Subrata Dey, 2021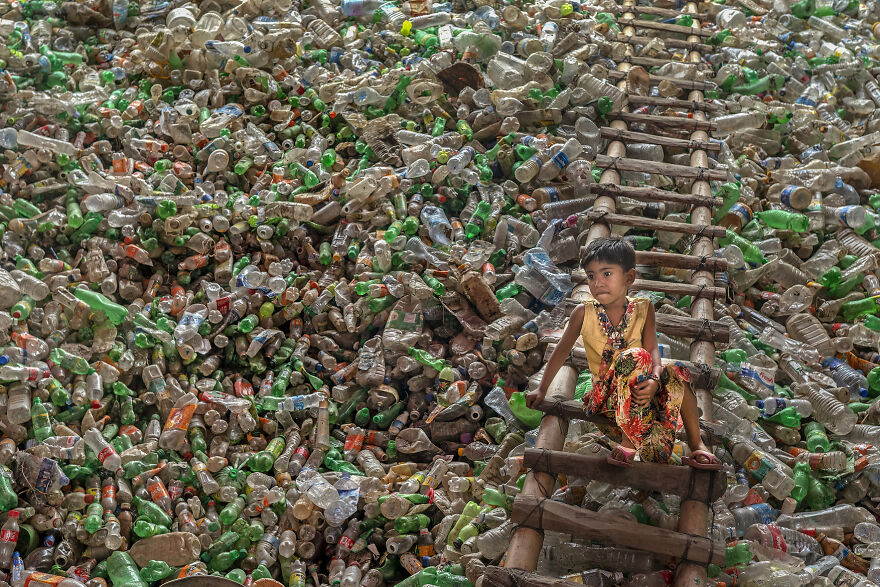 "A child sits on a ladder in a plastic bottle recycling factory in Bangladesh. PET recycling in Bangladesh is a growing industry, however, collection and sorting are predominantly manual."
Location: Chittagong, Bangladesh
Camera: SONY ILCE-7RM3
---
#13 Cathedral In The Desert, Jay Huang, 2021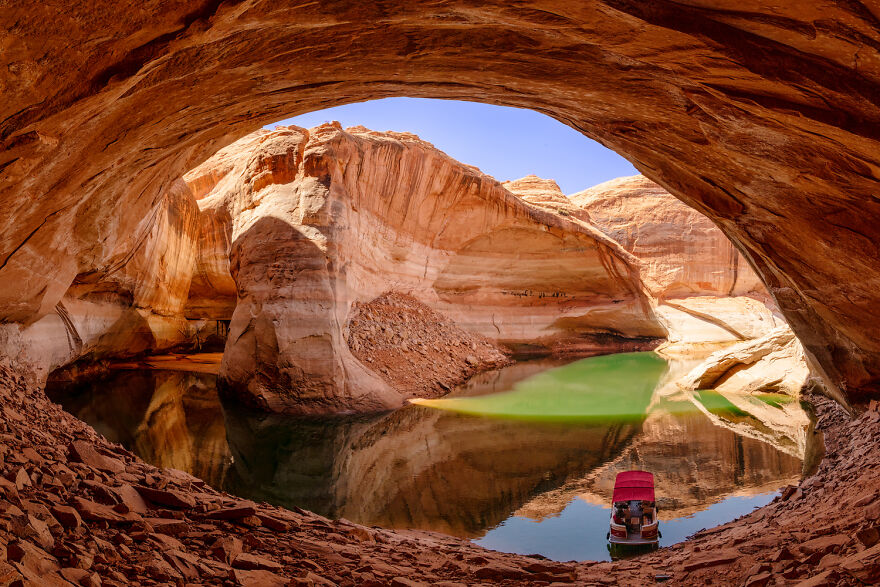 "Originally named for its natural resemblance to a cathedral, the monument has been buried nearly 100 feet under the flood-waters of the Lake Powell reservoir since 1963. Droughts reduced the water level in 2021 enabling this image of Reflection Canyon."
Location: Lake Powell, Utah, USA
Camera: Nikon D850
---
#14 Green Barrier, Sandipani Chattopadhyay, 2021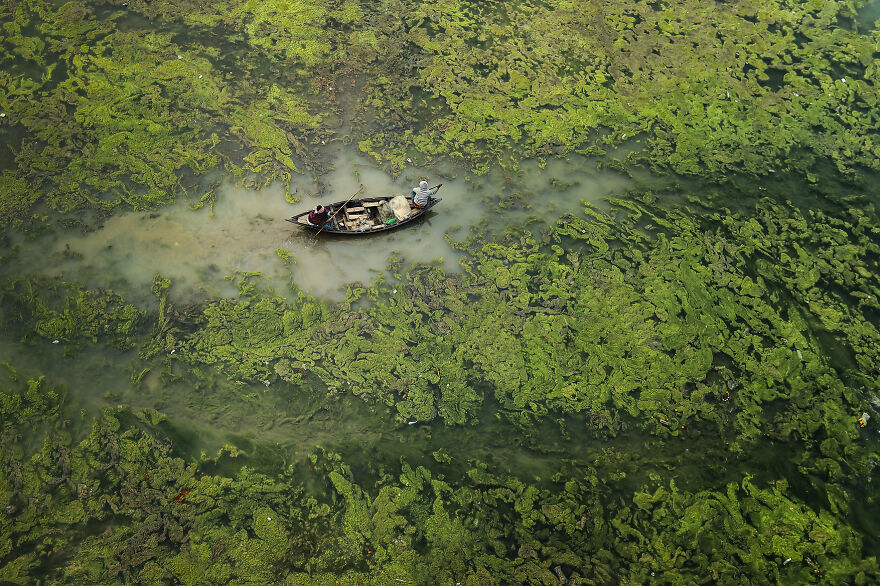 "Irregular monsoon seasons and droughts cause algal bloom on the Damodar river. Algal blooms prevent light from penetrating the surface and prevent oxygen absorption by the organisms beneath, impacting human health and habitats in the area."
Location: West Bengal, India
Camera: Canon 5D Mark IV
---
#15 Dry Fish Harvesting, Ashraful Islam, 2020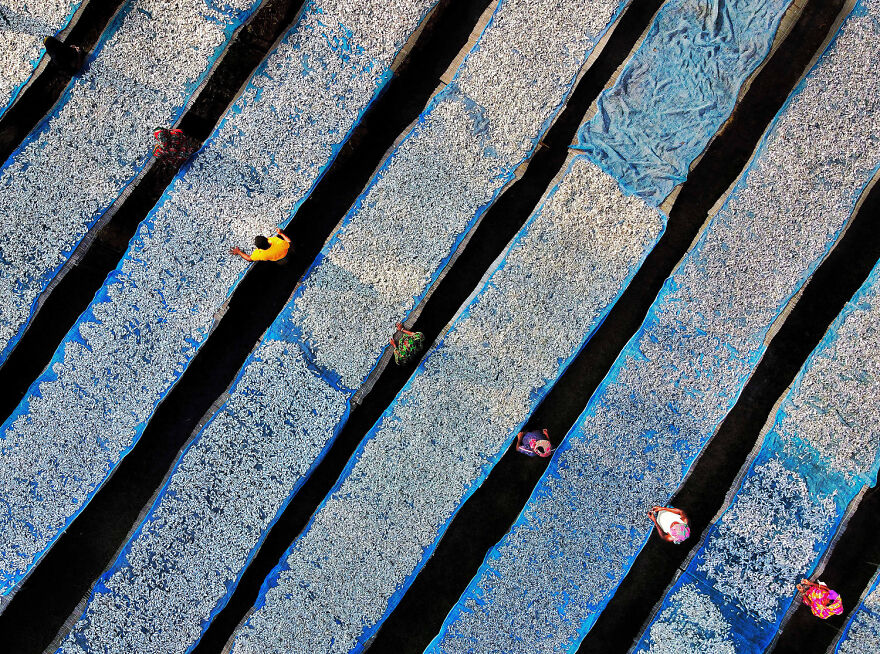 "Dry fish terraces cover vast areas of the Sirajganj district. Dry fish production is the primary source of employment for many rural families near the Chalan Beel, which is under threat due to anthropogenic environmental impacts."
Location: Sirajganj, Bangladesh
Camera: DJI Mavic Mini
---
#16 The Nemo's Garden, Giacomo D'orlando, 2021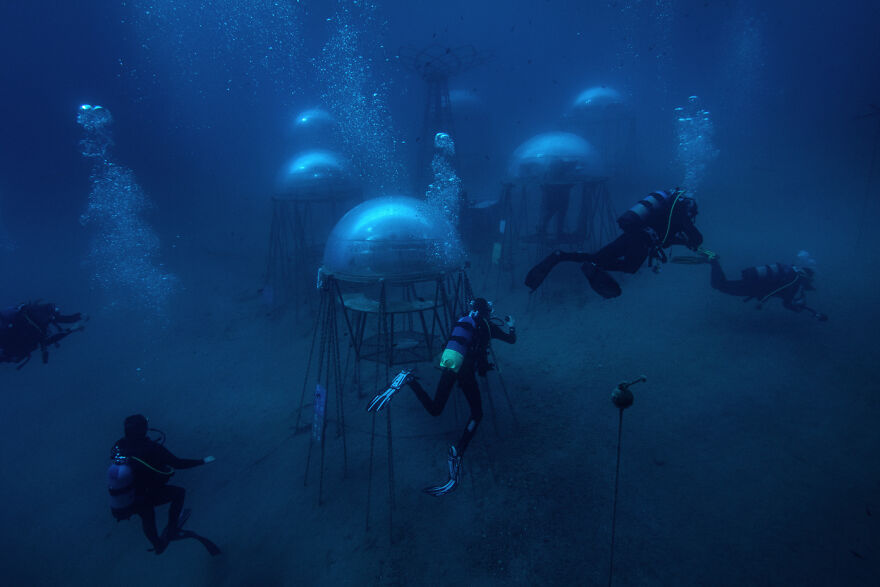 "Nemo's Garden represents an alternative system of agriculture. This self-sustainable project aims at making underwater farming a viable eco-friendly solution to counteract the increasing climate change pressures."
Location: Noli, Italy
Camera: Nikon D7500
---
#17 Journey For Sustainability, Sandipani Chattopadhyay, 2021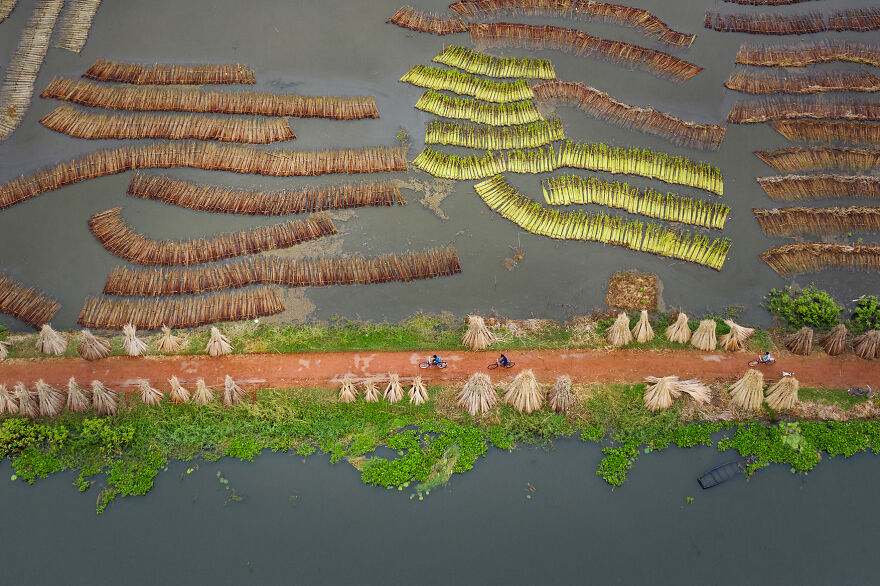 "Jute is grown in the Ganges Delta. Jute is a sustainable alternative to plastic with a low cost of production. The government in India is supporting the development of the jute sector."
Location: West Bengal, India
Camera: DJI Mavic Pro 2
---
#18 Risky Journey, Ziaul Huque, 2019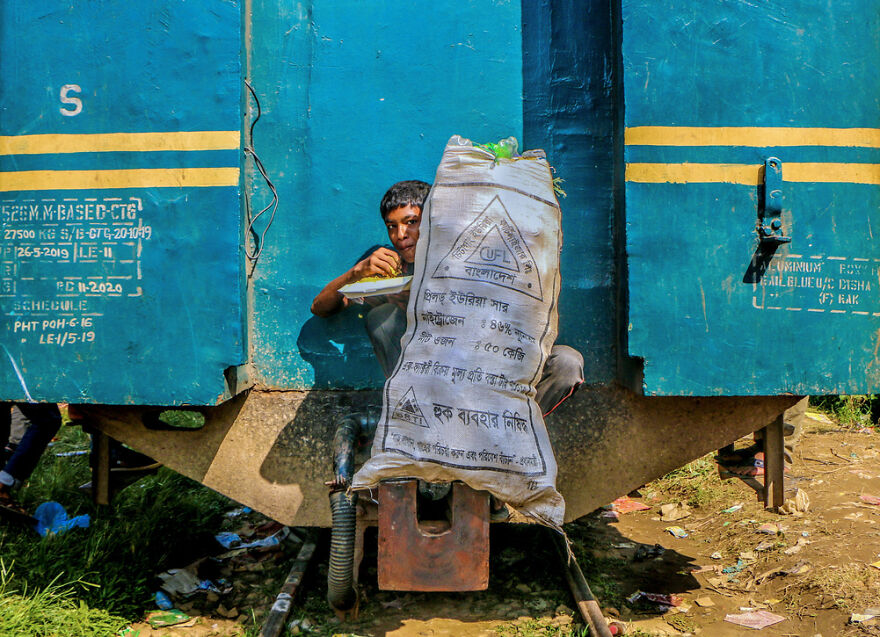 "A boy with plastic items to sell to a local factory in Chittagong. Children risk dangerous conditions collecting plastic, metal and other dumped waste to earn a living."
Location: Chittagong, Bangladesh
Camera: SONY ILCE-7RM3
---
#19 Fishing In River, Ashraful Islam, 2021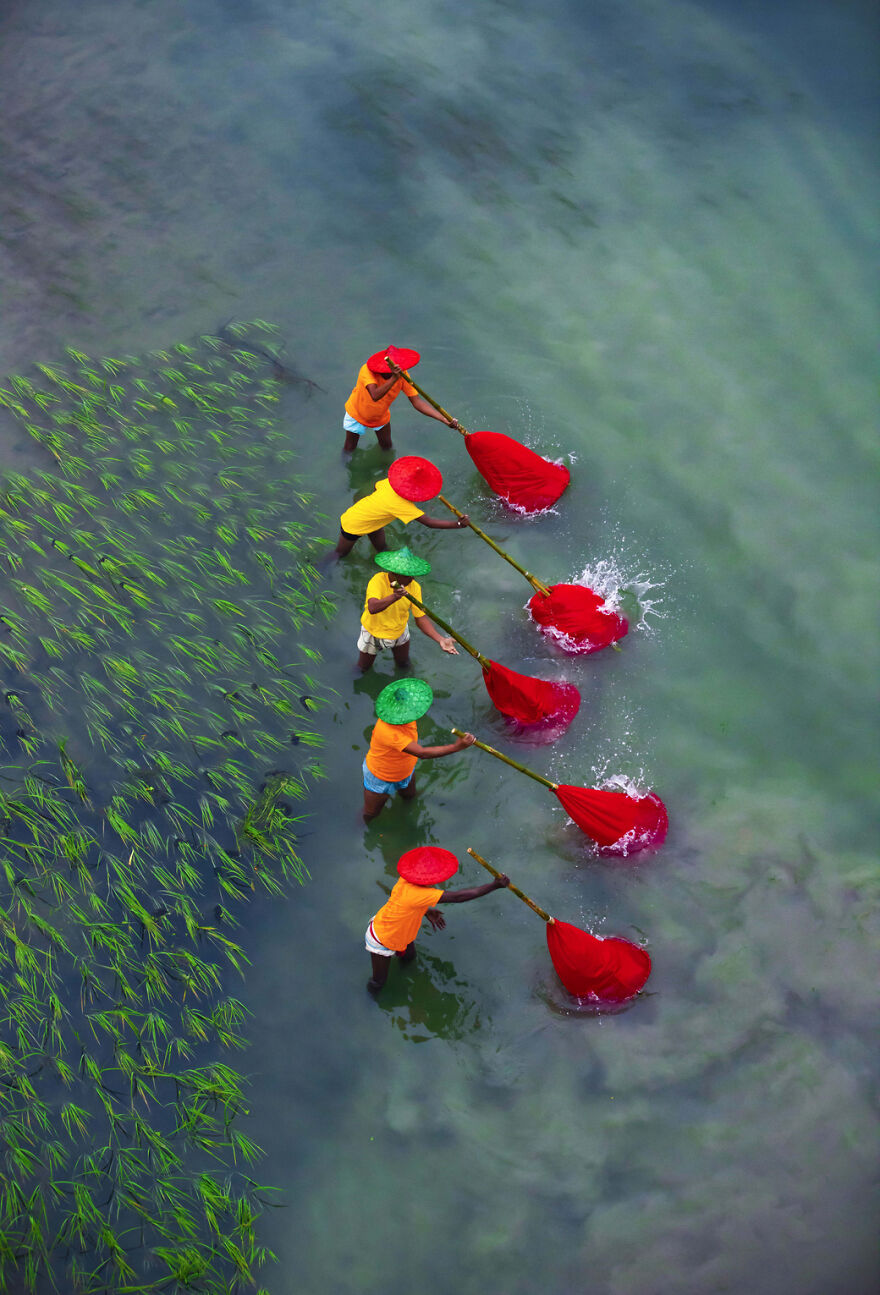 "Fisherman cast their nets in the algae near Sontola Bridge. Algae accumulates in the rivers of Bangladesh during the dry season."
Location: Sirajganj, Bangladesh
Camera: Canon EOS 6D Mark II
---
#20 Marine Pollution From Aquaculture, Nguyen Duy Sinh, 2020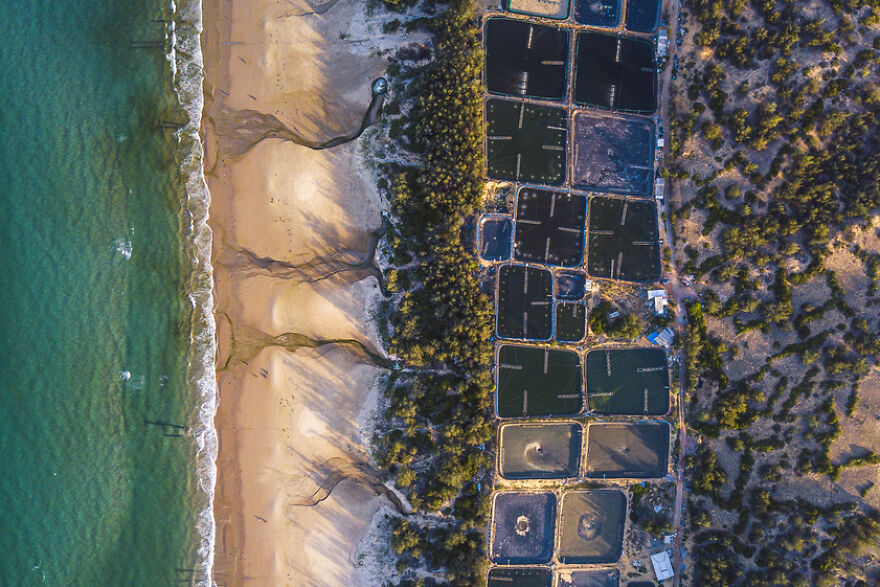 "Aquaculture from ponds near the beach discharge directly into the sea and cause pollution to the marine environment."
Location: Vietnam
Camera: DJI Mavic Pro
---
#21 Surya, Elena Pakhalyuk, 2020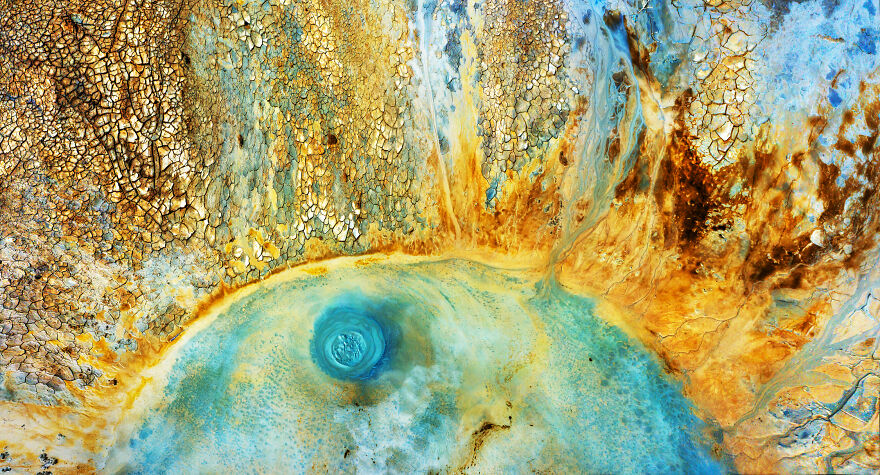 "The Valley of the Mud Volcanoes is at risk due to climate change and human activity."
Location: Crimean Peninsula
Camera: DJI Mavic Pro 2
---
#22 The Polygonal Forest, Roberto Bueno, 2019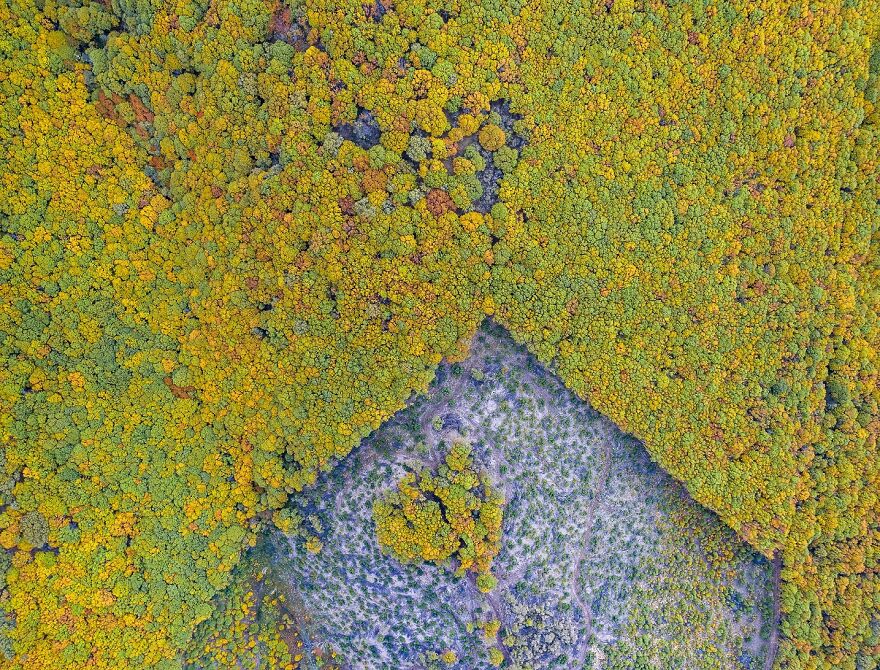 "Chestnut forests are managed sustainably by felling trees in polygonal zones leaving uncut areas in the middle which aid natural reforestation."
Location: Sierra de Béjar, Salamanca, Spain
Camera: Hasselblad L1D-20c
---
#23 Seeking Pure Drinking Water, Sultan Ahmed Niloy, 2021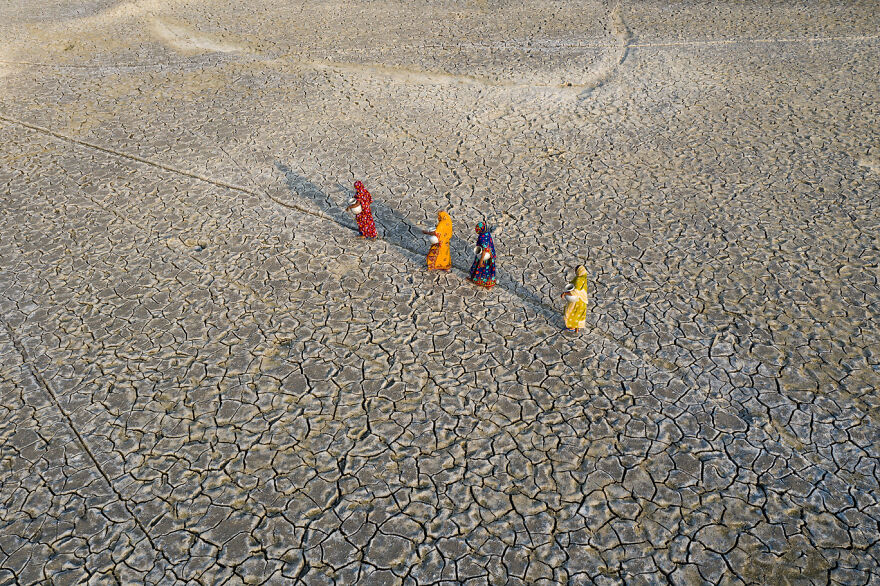 "Women search for water in Shora-9 of Gabura union in Satkhira. Over a decade after cyclone Aila, freshwater ponds and wells have become increasingly saline. Women are traditionally responsible for collecting water and make multiple trips over long distances to supply their families."
Location: Khulna, Bangladesh
Camera: DJI Mavic Pro 2
---
#24 Clean Energy, Pedro De Oliveira Simões Esteves, 2021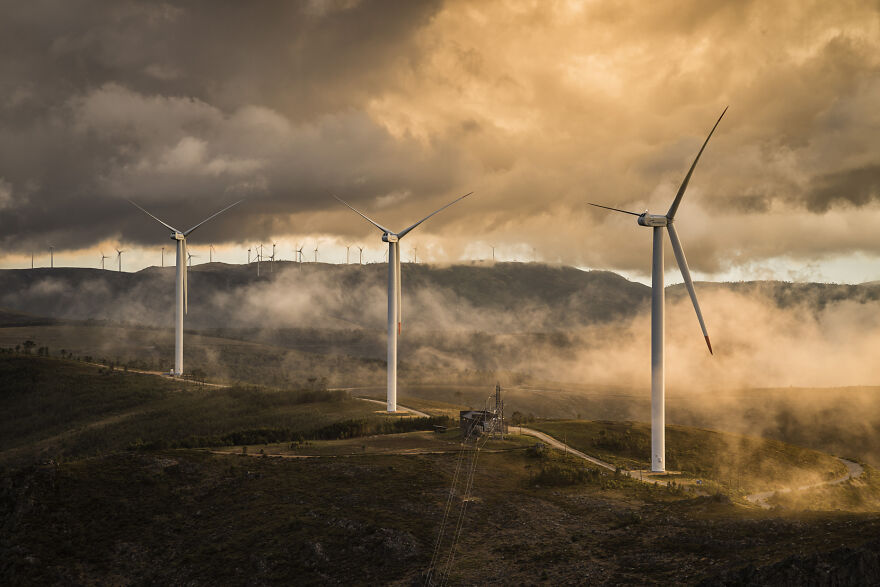 "Wind turbines on the mountaintops are captured moments before sunset on a cloudy day."
Location: Serra de São Macário – Portugal
Camera: Canon EOS R
---
#25 Raw Salt Production, Nnguyen Linh Vinh Quoc, 2020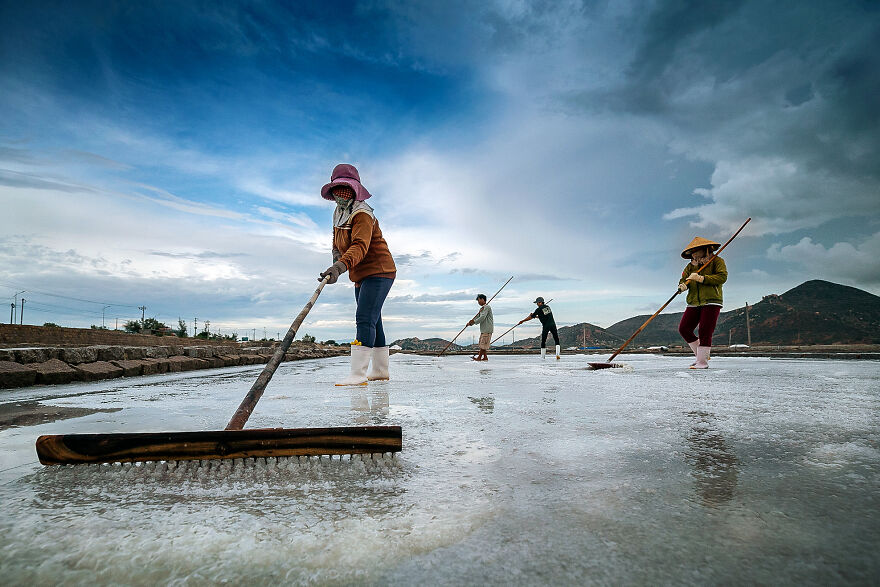 "Salt farmers in the Dam Vua salt field begin their day early raking salt into piles before the sun gets high. The salt particles are crystallized after the seawater in the field evaporates."
Location: Nha Trang, Vietnam
---
#26 Umka 2021 Expedition, Grigorov Gavriil, 2021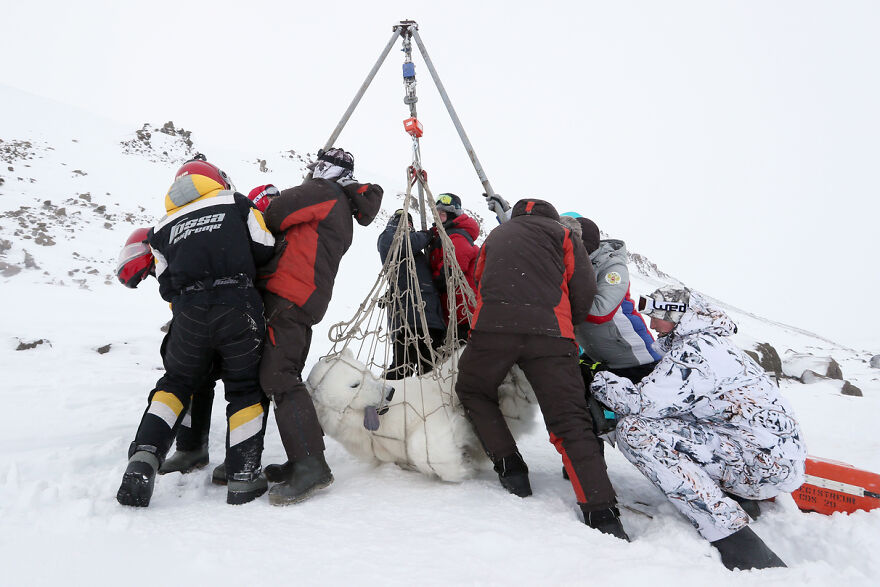 "Researchers weigh an anesthetized Polar bear on Franz Joseph Land in the Arctic Ocean. The expedition, organized by the Russian Geographical Society, aims to monitor the local polar bear population and assess the impact of climate change."
Location: Arkhangelsk Oblast, Russia
Camera: Canon EOS-1D X Mark II
---
Please check our previous related articles: