Guest Article by Kyle
Any professional photographer will want prints of his or her work to be of as high a quality as possible, so having a quality printer is absolutely essential. The two most popular types of printer with photographers are thermal and inkjet models.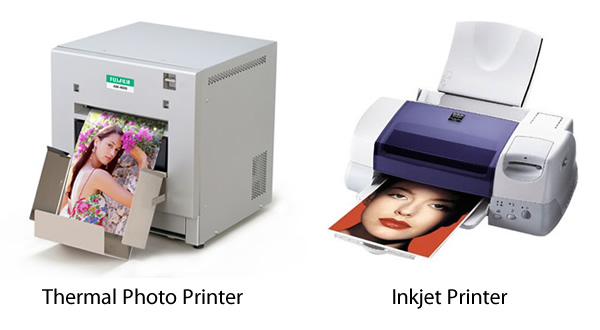 The thermal and inkjet type of printer work quite differently. Thermal printers do not use printer cartridges; instead of ink they work by using heat on special thermal paper to reproduce images. Inkjet printers, on the other hand, propel tiny droplets of ink onto the paper from a cartridge.
Both types of printer have advantages and disadvantages in terms of the quality of printing and unit cost. Thermal printing is capable of consistently producing high quality images, which is just what the professional photographer will be looking for. This method uses no ink, so there is no drying time or risk of smudges. In addition, because cartridges are not employed there is no 'colour shift', so the quality of prints remains consistent over a long run. The major downside to this process is that thermal paper required for this type of printer is expensive.
The results produced by inkjet printers is typically not as consistently high as that achieved by thermal versions. Because minute jets of ink are sprayed onto the paper there is a short drying time, which means there is a chance, however slight, of smudging. Printer cartridges are made up of three colours, so when one begins to run out there is the danger of colour shift. The cartridges will eventually run out and need to be periodically replaced, adding to the expense. High quality cartridges can be expensive. Also, the nozzles through which the ink is sprayed onto the paper will, in time, become clogged and have to be cleaned on a regular basis.
The price of purchasing a printer, whether it be inkjet or thermal, will depend of the make and model. An Olympus P-S100 Thermo printer, for example, can be bought for less than £100, but the thermal paper it uses is quite expensive; 100 sheets can cost over half that amount.
Inkjets tend to be similarly priced or cheaper. The Canon Pixma MG4150, for example, also costs less than £100, but 100 sheets of inkjet photographic paper can be purchased for less than £4. Ink cartridges for some models are also expensive.
Auther Bio
Kyle works as a writer for the cheap printer cartridge company www.cartridgeexpress.net and has years of experience within the recycling and printer industry. You can follow them on twitter here.