"Have no fear of perfection – you'll never reach it." – Salvador Dali
These are words I always keep in mind when shooting on the streets. We all chase perfection with our photography, knowing full well we'll never achieve it. Street photography is, in fact, something completely different than any other genre of photography. Perfection is often not in the equation.
Street Photography breathes on the impermanence of the fleeting moment. Once we begin to add all the environmental elements to that equation it becomes even more elusive. We simply can't control everything as much as we might like. For me at least, that's the joy of street photography.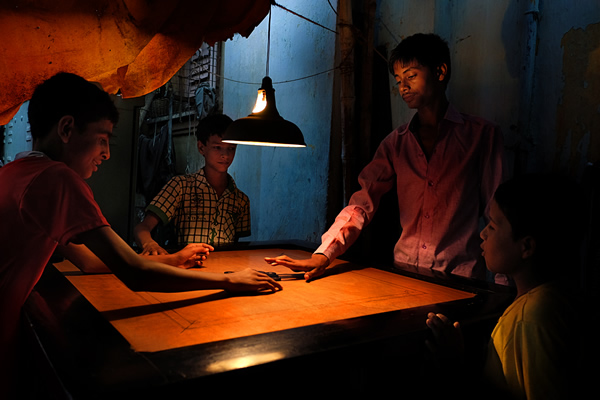 The joy we get when we look at kids involved in a game of carom and struggling to win – is miles stronger seeing it live on the street than it is when we see a similar scene perfectly lit in a film. The cinematographer's stage is predictable. Controllable. Rehearsed, Many of these live moments on the streets are collateral to frivolity and in an instant we have to put it all together to make it a decisive moment. Yes, there are certain compositional tools that we must keep in mind and we need to visualize the composition even before lifting the camera. At the same time we mustn't focus too much on getting everything perfect, certainly not at the expense of missing the moment completely!
I've always said we "practice" photography all our lives. Mastering this street genre is not in the photographer's hands alone, there are too many intangibles. Good street photographs and how we relate to them, how they engulf us with emotion, say something about us. These images are not about perfection, they are not about perfect compositions and they are not about characters, postures, action or perfect light. These things can contribute of course but they cannot be the reason for alone.
When I look at a great moment there's always a tingling sensation, even when looking at someone else's image I can get that same feeling. We should respect the moment and the photographer rather than over-critiquing the little imperfections. We should leave it saying, a good image is a good image.
Yes – there are always ways to improve a photo. Always. Nobody forced us into street photography. It's the path we've chosen. Nobody forced us into it so respect it.Respect the moments and respect the streets because our own parents walk the same streets. Stop looking for perfection you'll never reach it.
About Vineet Vohra
To me photography is a journey & I travel everyday, I am learning & unlearning everyday, I thrive to improve everyday. Life in General which is so unexpected i try to be as honest through my lens as I can. I try to synthesize between human elements & the environment & my main focus is how to make ordinary moments look extraordinary. I think everyone of us should get involved with photography because it gives more than one can ever imagine.
In 2011 formed APF along with my brother, Rohit Vohra, who is also a street photographer. APF is born from an education imperative, it's an evolving magazine where we recognise fresh talent. The intent is to provide a platform for emerging photographers, artists & designers to showcase their works, works that are not necessarily commercial, to create opportunities and open new doors. The subjects explored are broad, in terms of concepts, styles and techniques. We want to explore the limits and possibilities.
You can find Vineet Vohra on the Web :
Copyrights:All the pictures in this post are copyrighted Vineet Vohra. Their reproduction, even in part, is forbidden without the explicit approval of the rightful owners.