Street Photography definitely doesn't need much of an introduction. Almost every photographer today would have tried his luck in this evergreen and interesting genre of photography. When we analyze little detailed into the aspects and characteristics of this genre, there were more than a handful of reasons for a photographer to get interested into this style of photography.
In the Process of starting your journey as a street photographer, it is quite common to hit this global word "PhotoWalk", which is simply a group of like minded individuals, who often get together to enact or to pursue photography for the particular period of time. This has several wonderful merits for every aspirant as well as a mature photographer.
Here in this yet another tutorial from us, I have tried to underline the most important aspects be it either do's or don'ts on a Street photowalk. We strongly believe this would encourage more aspirants to the so called photo walks and also numerous amateur photographers who had been on the run to avoid and correct mistakes if any.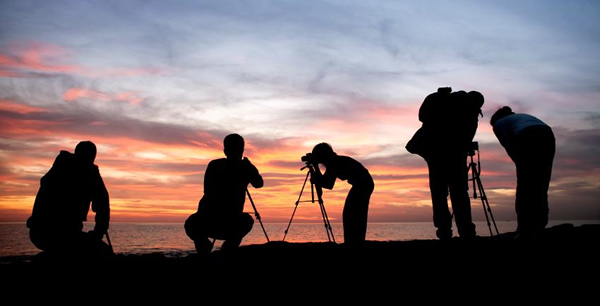 Photo: Istockphoto.com
Do's on a Photowalk
Keep up the high spirits, be happy for the real passion for your photography which has brought you to the streets, enjoy it with your peers.
Feel free to speak a lot more than photography, this would be a wonderful platform for numerous relationships which are larger than photography itself.
Do give respect and a noble answer when people question your task with a camera on the street.
Do go in short groups, which would be handy in helping each other whenever you feel lost or when there is any unwanted conversation with a stranger
If you are on the early days as a photographer, its better you tag with someone senior in the group so you could learn from his/her verbals during the walk.
Depending on the weather conditions, it is in good hindsight you carry the appropriate stuff, be it water, sunscreen or your weather jacket.
Be friendly and be ready to accept constructive criticism from your fellow walkers, at the same time make sure you don't shoot just to satisfy others.
Cover a lot of distance through your feet, after it is called a photo walk, and there is more wonderful chances for you to spot a spectacular moment when on feet rather to shoot it from a rickshaw.
To gain more acceptance and faith over your subjects, you can gift them with photocopies from your last walk. Everybody love surprises don't we?
Shoot with a fixed focal length if you are an amateur photographer because this will make you reach for the character or an action on the streets. But again this is totally up to the photographer, if he/she is comfortable with swapping 3-4 lenses all the time, then well and good.
Be brave on the streets, I am pretty sure this comes with a lot of experience and maturity, but be confident for what you shoot, if your face can translate fear to the onlookers, am sure you will have an early comeback to home.
Respect others privacy and always remember it is easy to shoot the homeless and poor on the streets. But its up to you to shoot them for who they are. So have some good ethics.
Finally always walk with a smile, when you are in a different land or in an area with different culture and language, smile is the only language which is easily understandable.
Don'ts on a Photowalk
Every positive point said above has its account of some disastrous negative points too.
 If you trying to shoot the streets as a invisible photographer, do not dress in jazzy odd colors, it is better to dress like the locals rather than making your dress announce your arrival.
Do not point at a stranger, if they don't like to be photographed. Try to get approval from their eyes rather than speaking when approaching one.
When there is a heated conversation with a stranger, do not panic or turn violent.
Avoid taking liquor or smoking when on a walk. This would spoil your reputation as a street photographer when approaching strangers, also the very reason you are there on the street.
Do not approach a fellow human being(portrait) in a group, stay unique and be focused.
Pride comes last, do not go for a photo walk to gain pride and attention. Being an experienced photographer, you could always take some time at the end of the walk to discuss the strategies.
Understand what interests you and go after it. Do not shoot without having a vision just because everybody else is shooting.
Do not carry a heavy gear, this would tire you as well as make you easily noticeable, making it arguably impossible to get a natural shot.
This would open up new opportunities and would be adventurous too. Do not carry lump sum amounts of cash, less is good.
The purpose of photo walks are to take photographs as the name suggests, make sure you do not waste the precious moments of light by finding interest in various other inappropriate behaviors, believe me photography has always been a wonderful hobby for people who are really passionate for what they do.
Don't miss to check our previous Photography Tutorials: