Here are the amazing winners and honorable mentions of the TTL Nature Photographer of the year 2021 photo contest.
Nature is beautiful, and hardly anyone can argue against that. However, the instances of beauty can vary: some are common, and some are very rare to find. The pictures we show to you here today are very rare and hard to come across, which is why the work of professional wildlife and nature photographers is so valuable to everyone.
Nature TTL have announced their photographers of the year 2021, and the photos that were awarded are simply breathtaking. Over 8000 photos competed in animal behavior, wildlife portraits, camera traps, underwater, landscape, night sky and other categories. They have also awarded the junior photographers, whose work is as good as professional ones'. This year's Photographer of the Year title was awarded to Canadian Thomas Vijayan for his photo of an orangutan going up a tree, which looks like an optical illusion, but we can assure you that it's as real as it gets.
Please check their website, to view the entire gallery.
You can find more info about TTL Photographer of the year on the web:
#1 "Fun For All Ages" By Thomas Vijayan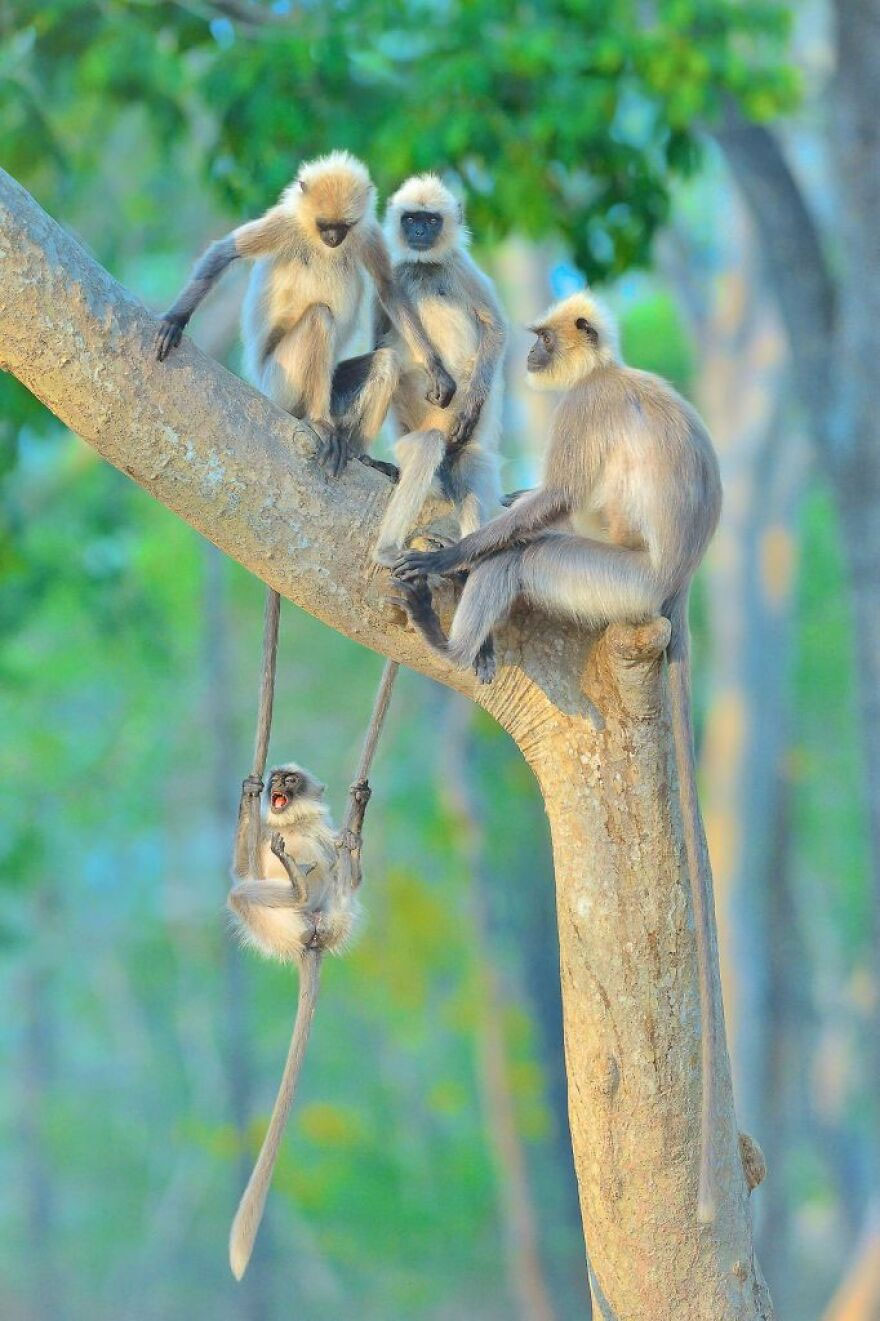 Highly Commended in the Animal Behavior category.
"One afternoon a group of black-footed grey langurs were sitting on a tree. But this playful infant was enjoying the family time and was playing with his parents by swinging on their tails and falling down, and then immediately climbing back and starting all over again. His mother was taking little notice of the activity and other adolescents were tolerating the attention-seeking acrobatics.
Langurs are very social and youngsters play as often as they can. Acrobatic play is probably a way of practicing tree-living and eventually helps them to develop strong bones and muscles. Playing also helps them to develop social bonds and communication skills."
---
#2 "Floral Bath Tub" By Mousam Ray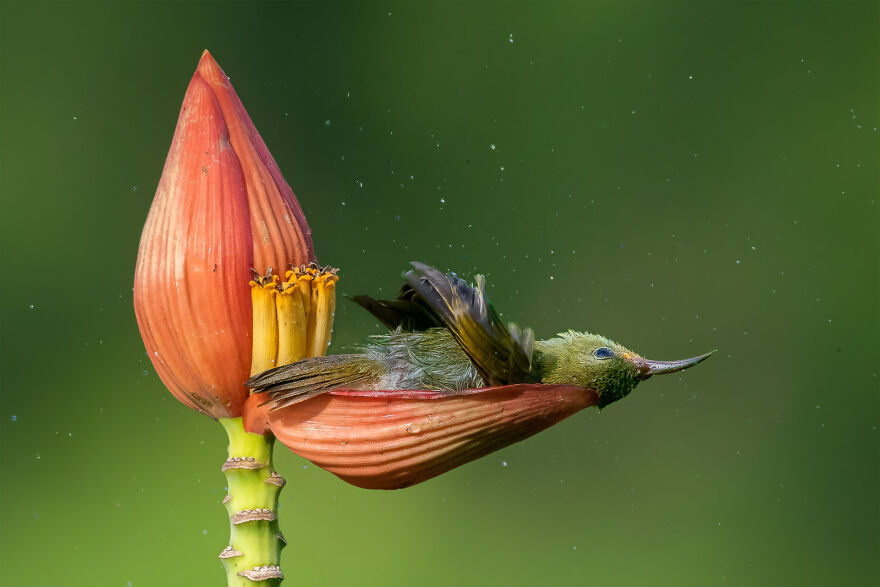 Highly Commended in the Animal Behavior category.
"In India, the autumn days are hot and humid but the nights are pleasant. In the morning, dewdrops are found on the edge of grass, flowers, and sometimes water is stored in the flower petals. A Crimson Sunbird female is seen refreshing herself with the water which is stored in the petal of an ornamental banana flower. This is showing a very rare behavior, and is as if nature creates a floral bathtub for her."
---
#3 "Starry Night" By Bence Máté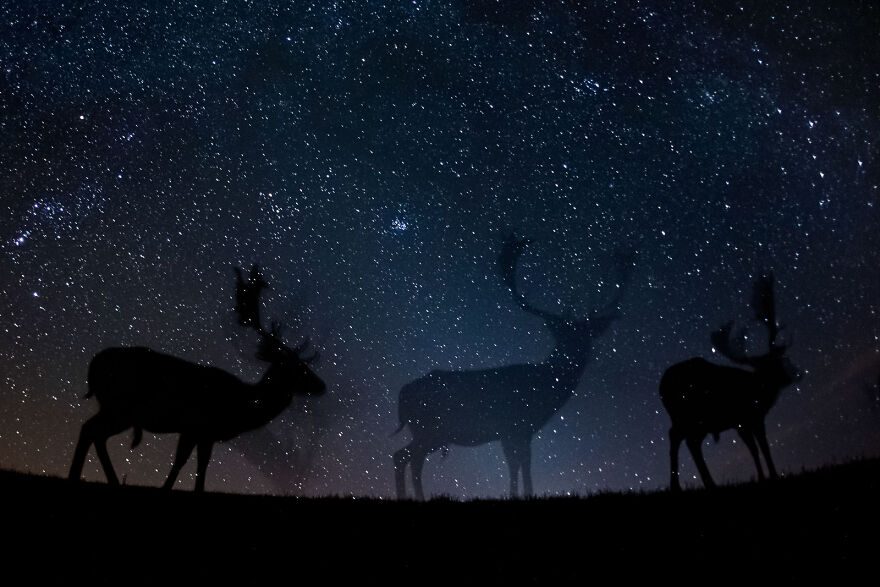 Highly Commended in the Camera Trap category.
"The shadow of fallow deer sketches in front of the starry skies. Within the 45 seconds this image was taken, the movement of the deer covered different parts of the skies, resulting in a ghostly effect."
---
#4 "Dust Bath" By Bence Máté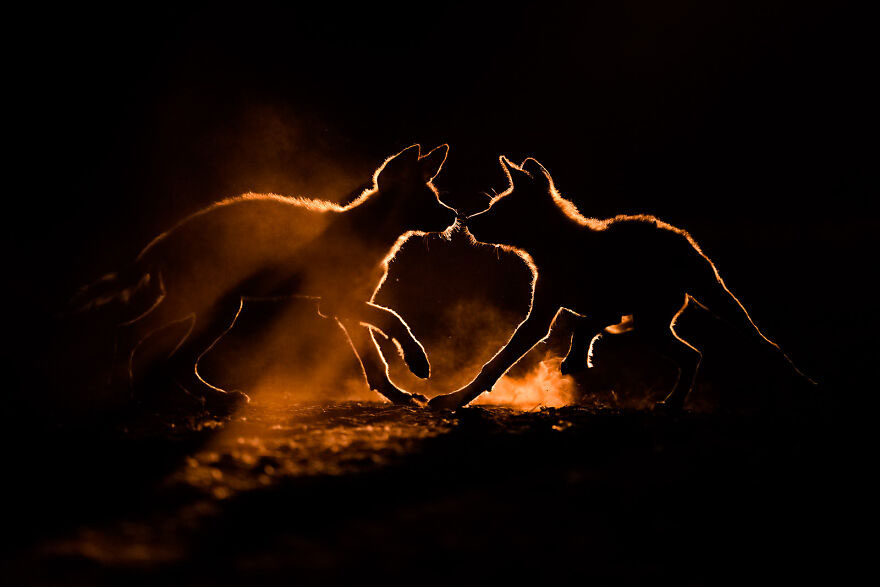 Highly Commended in the Animal Behavior category.
"Wild dog pups play in the dust seen rising from the bone dry soil. I tracked them for 5 weeks and photographed them in some fascinating situations in South Africa."
---
#5 "The World Is Going Upside Down" By Thomas Vijayan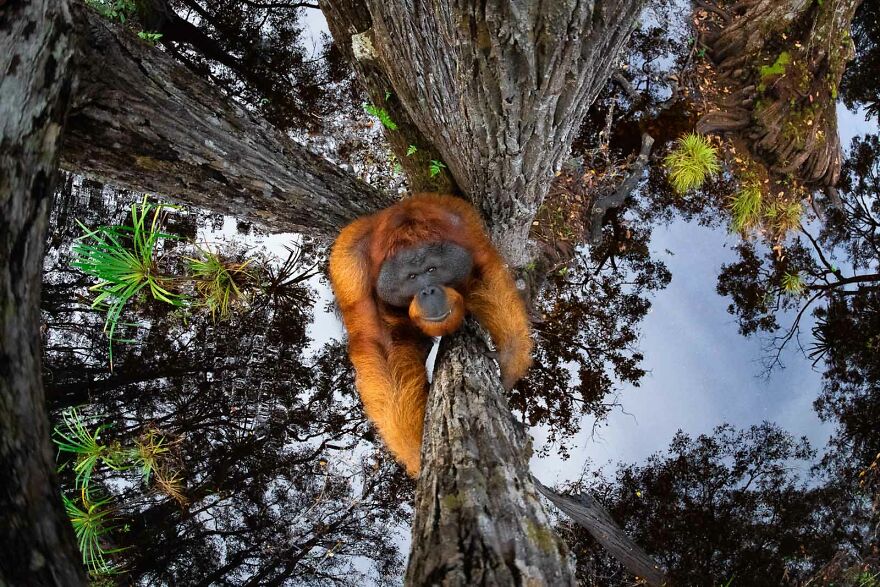 Nature TTL Photographer of the Year 2021; Winner in the Animal Behavior category.
"After spending few days in Borneo, I got this frame stuck in my mind. To get this shot, I selected a tree that was in the water so that I could get a good reflection of the sky and its leaves on the tree. The water formed a mirror, making the image look upside-down.
Then I climbed up on the tree and waited for hours. This is a regular path for the orangutans to use, so patience would surely pay off."
---
#6 "Sleepy Polar Bear" By Dennis Stogsdill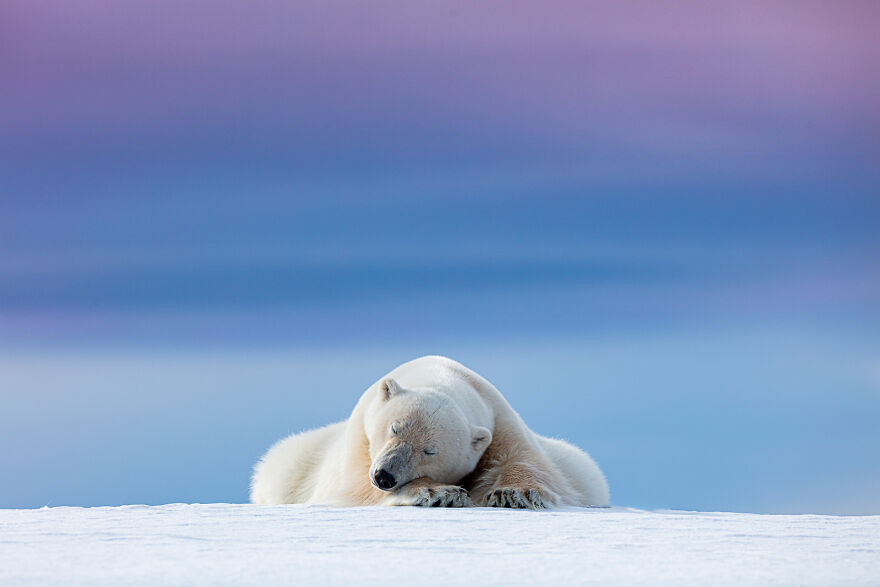 Winner in the Wild Portraits category.
"We were watching this rather photogenic polar bear for a while in Svalbard, Norway, when he climbed a ridge and decided to just rest. All the while the soft afternoon skies created the perfect backdrop for a 'sleepy bear'."
---
#7 "Bled" By Tomasz Rojek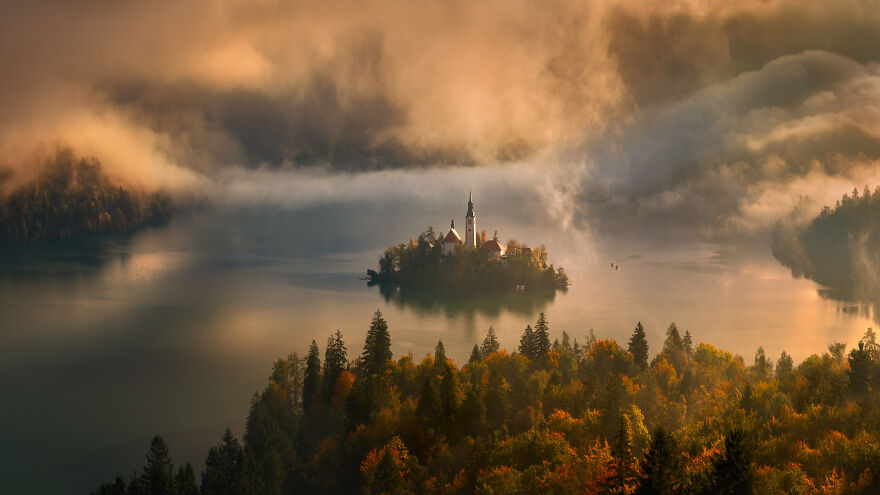 Highly Commended in the Landscape category.
"October morning at Lake Bled, Slovenia. I have visited this place many times and I have seen a lot of pictures of this place but the conditions this morning were great. Clouds and mist created a spectacular view."
---
#8 "Taking Its Toll" By David Gibbon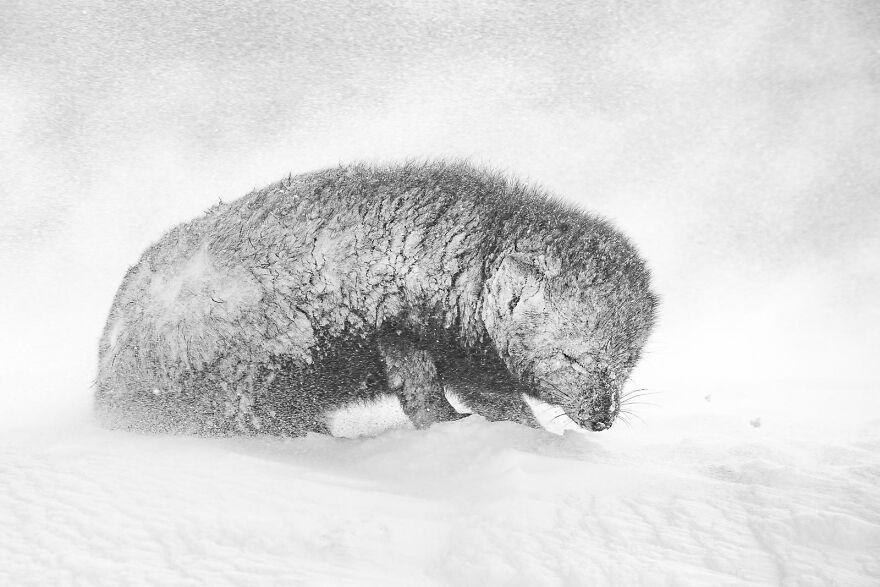 Highly Commended in the Animal Behavior category.
"I captured this blue morph Arctic Fox during a brutal day. Gale force winds, sub-zero temperatures and heavy snow made hunting very tough for this individual, so the hungry fox lay down in the hope the storm would soon pass so it could continue its search for food."
---
#9 "Bluebottle Sunrise" By Grant Thomas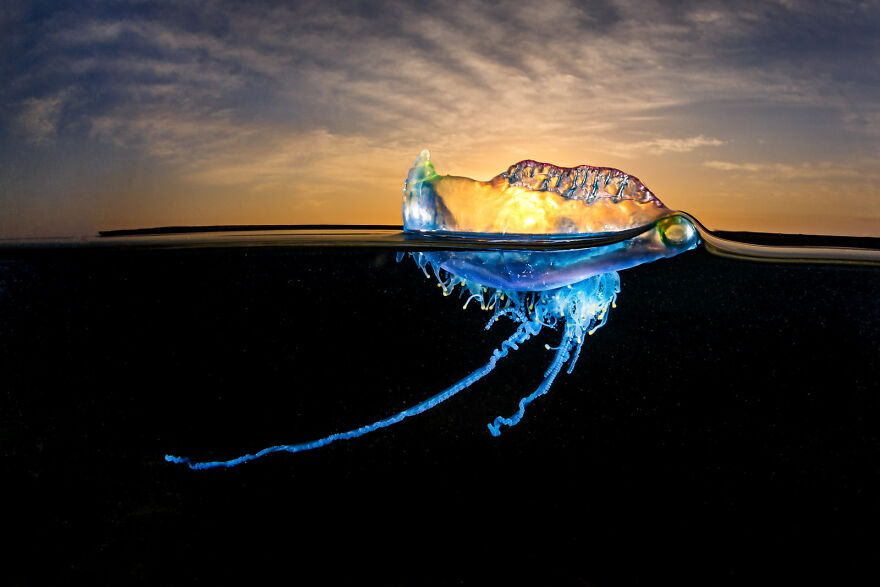 Highly Commended in the Underwater category.
"Thousands of bluebottle jellyfish regularly wash up all along the Sydney coastline. They collect in shallow rock pools that offer perfect shooting conditions during sunrise.
With their electric blue-colored bodies and yellow-tipped tentacles, they contrast beautifully against the dark water background – but be careful as those long tangling tentacles can deliver a nasty sting."
---
#10 "Family Outing" By Thomas Cawdron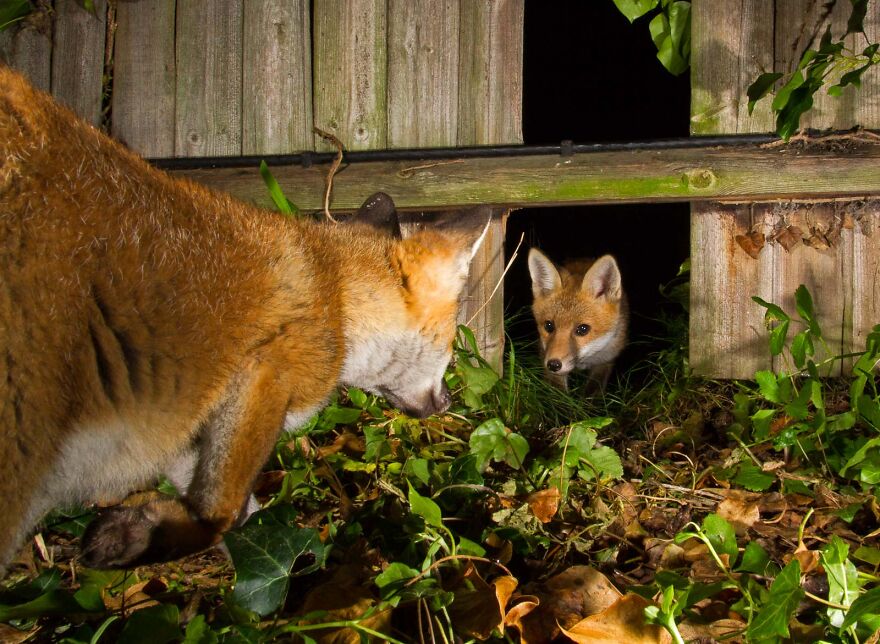 Highly Commended in the Camera Trap category.
"A family of foxes was regularly passing through my garden using a gap in my fence as a passageway. It was the perfect opportunity for me to experiment with my DSLR camera trap to hopefully capture some images. After weeks of trying, I managed to capture this intimate photo of a vixen and her cub."
---
#11 "The Fox Of Arabia" By Mohammad Murad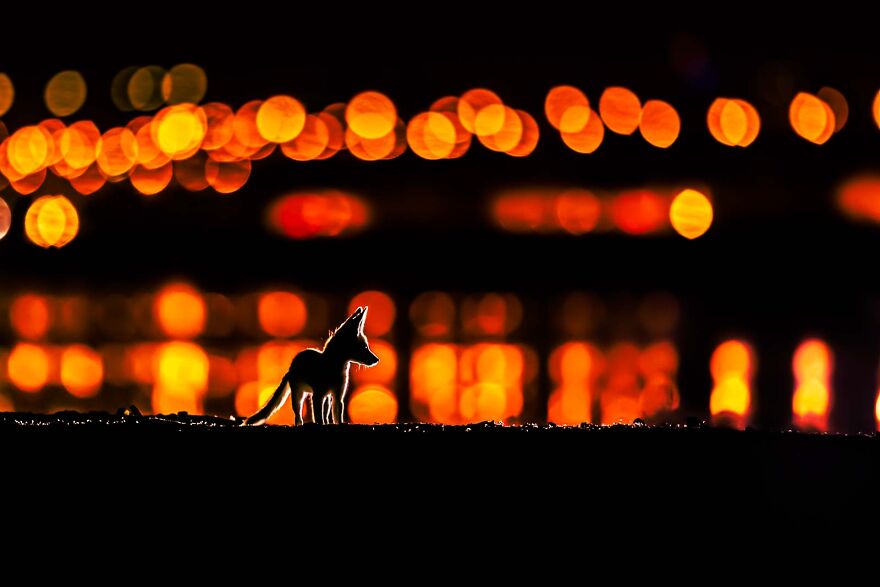 Runner-up in the Urban Wildlife category.
"Arabian Red Foxes usually breed in the desert far away from humans. This is a really rare case and one that I monitored for almost three months.
I found two dens near the city of Kuwait, with each den having a family of 5 kittens with their parents. One den was close to the houses next to the shore of Kuwait, which amazed me when I first saw them!
The other den was still next to houses but in an old palm reserve. Finding breeding foxes near the city is something really unusual. Land degradation, habitat loss, human impact, and overhunting in the desert may be why these two families decide to risk it all and breed near the city."
---
#12 "Purple Skies" By Bence Máté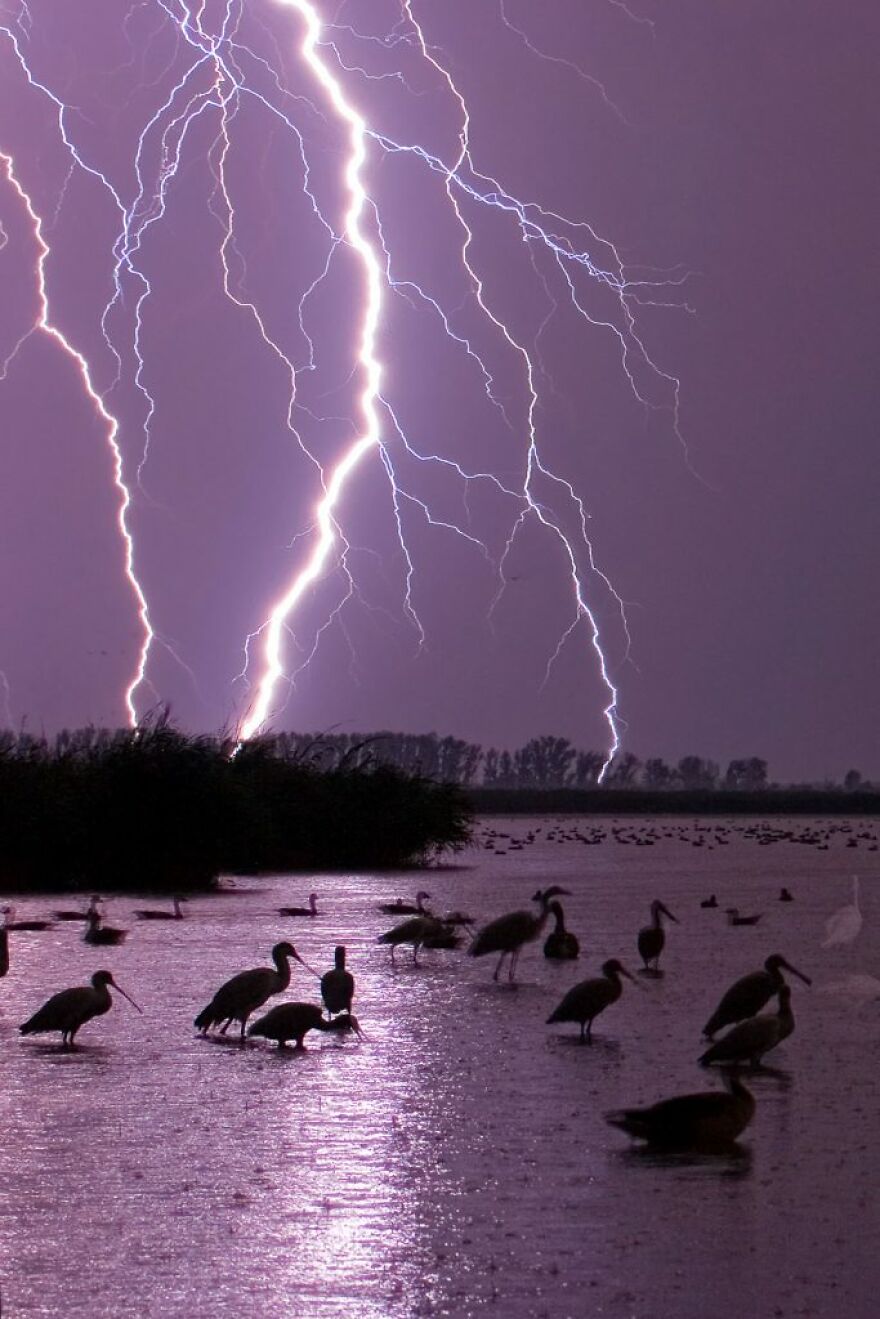 Highly Commended in the Night Sky category.
"The birds standing in the lake were made visible by huge flashes of lightning. The image is purple because of the short wavelength of lightning."
---
#13 "My New Toy" By Celia Kujala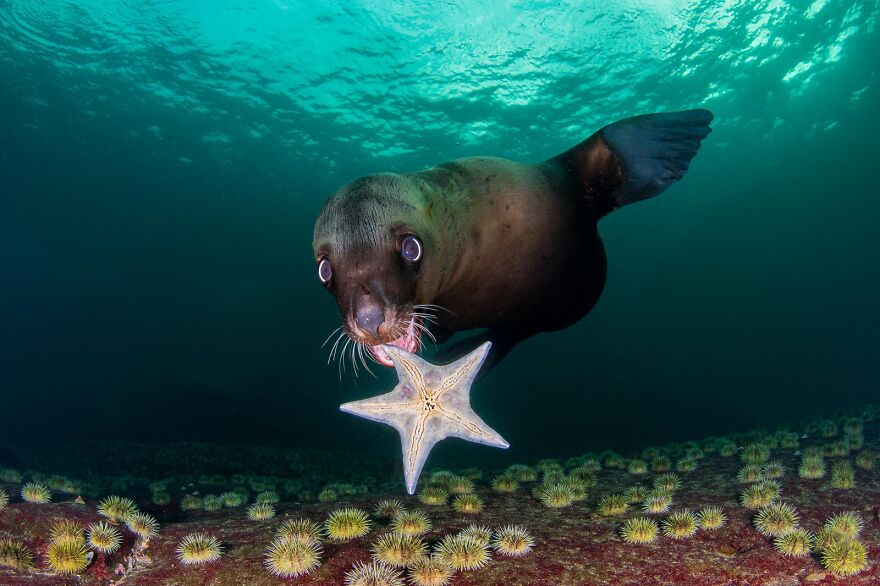 Highly Commended in the Underwater category.
"Play is very important in the development of young Steller sea lions and they love playing with anything that they find in their environment. When I was diving at Norris Rocks off Hornby Island in Canada, I watched this young sea lion play with a starfish.
As I watched her, she swam over to me to show me her beautiful toy. I was able to capture the image just as she was presenting the starfish to me.
Sadly, Steller sea lions are listed as Near Threatened on the IUCN Red List. By observing their playful nature, I hope people will feel a connection with them and want to protect them and their environment."
---
#14 "Kangu" By Tomasz Szpila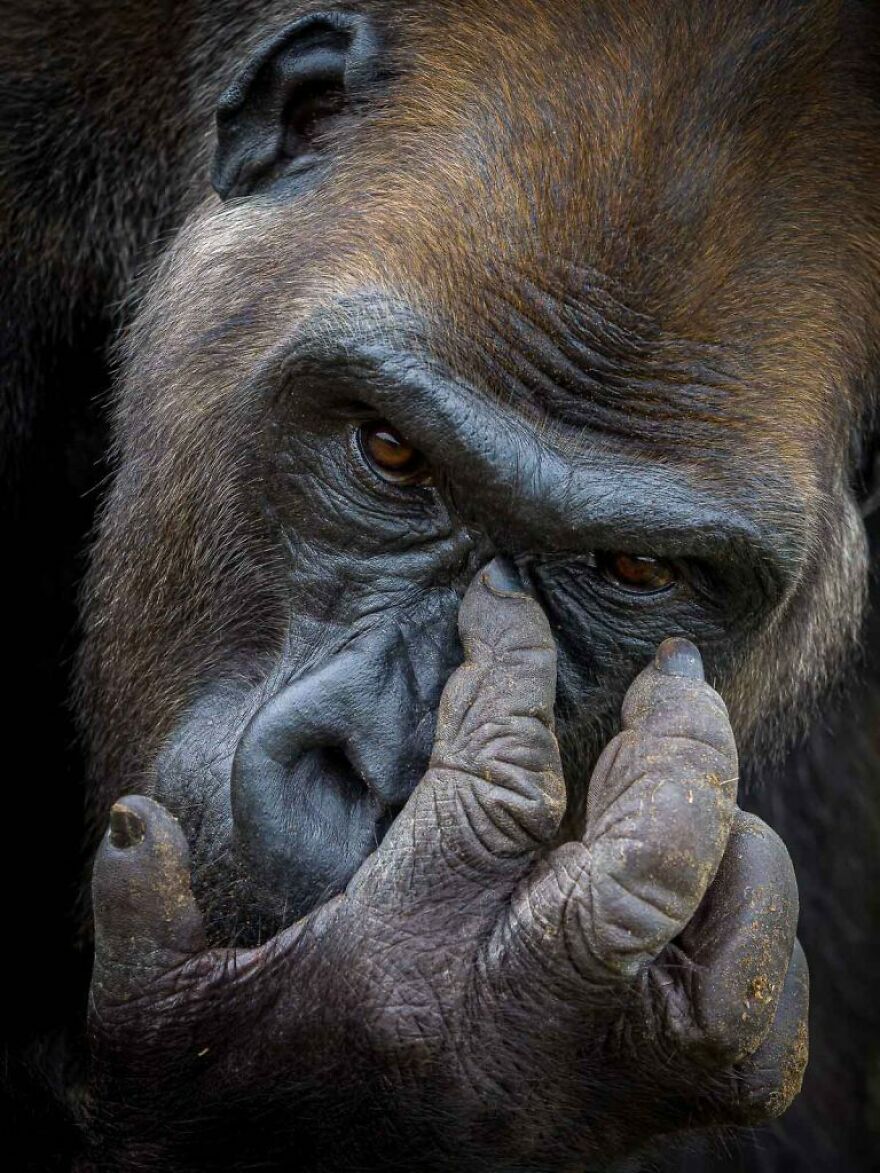 Highly Commended in the Wild Portraits category.
"Portrait of the western lowland gorilla called Kangu, who lives in the semi-free conditions in Lesio Louna reserve in The Republic of Congo. Kangu is now twenty years old, most of which had been spent in the London zoo.
Thanks to Aspinall Foundation, he is now being adapted to living in the wild. Hopefully, he will be able to come back to the forest soon."
---
#15 "Rainbow Landscape" By Zdeněk Vošický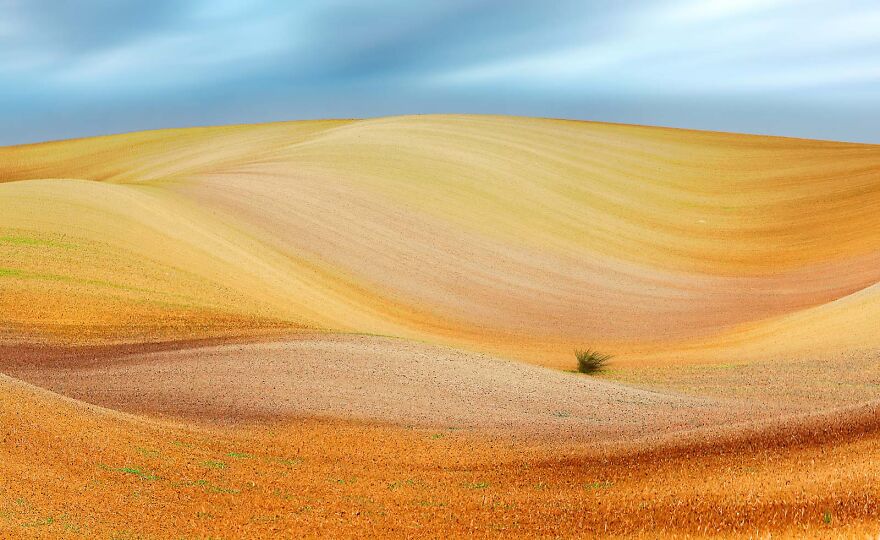 Highly Commended in the Landscape category.
"Picturesque and fertile landscape in the rolling fields of southern Moravia."
---
#16 "Aurora" By Marcus Westberg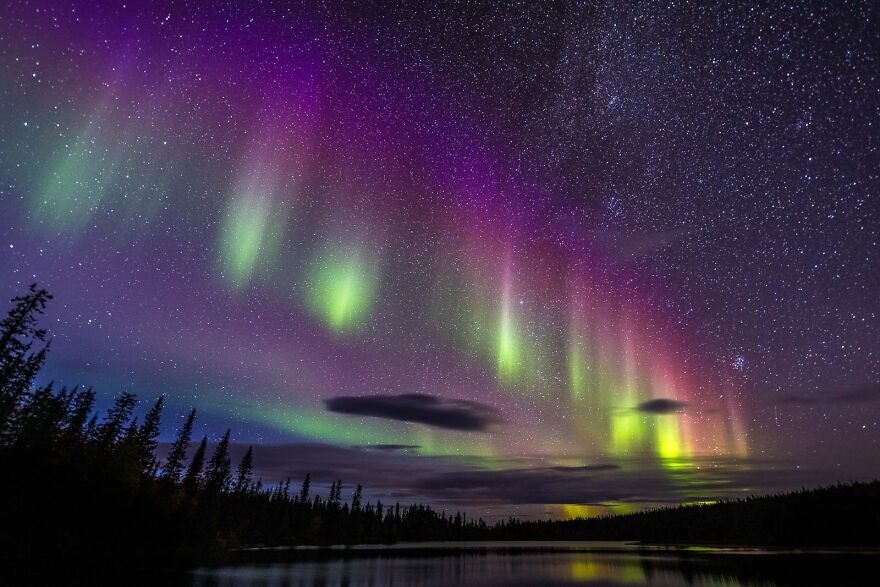 Highly Commended in the Night Sky category.
"A rare type of Aurora over an alpine lake in northern Sweden, far from any disturbing light pollution."
---
#17 "Tree Of Life" By Jay Roode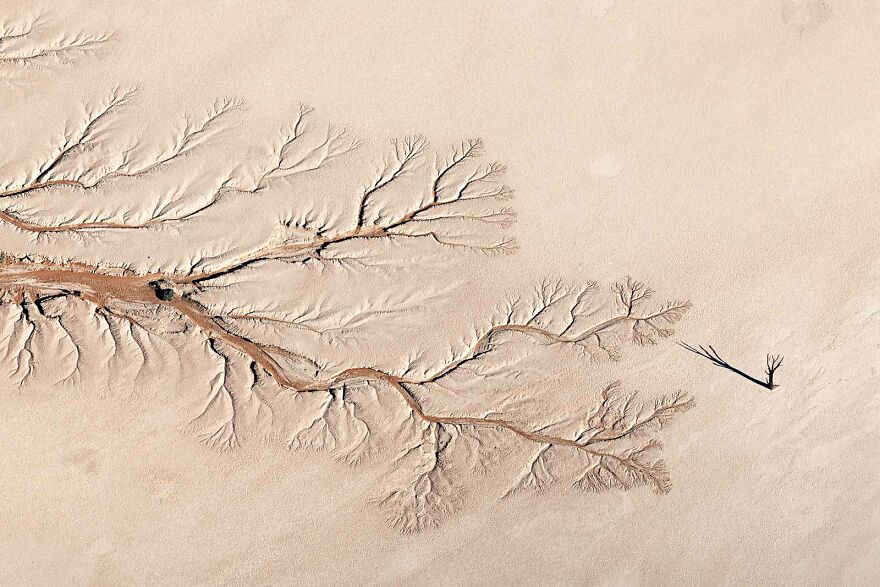 Winner in the Landscape category.
"Suspended in time; a sense of waiting pervades this valley where nothing seems to have happened for a thousand years. The shadow of an ancient Camel Thorn tree reaches out, like a blackened hand to the delicate tracings of the Tsauchab River; yearning for the life that once was."
---
#18 "Manta Space Ship" By Grant Thomas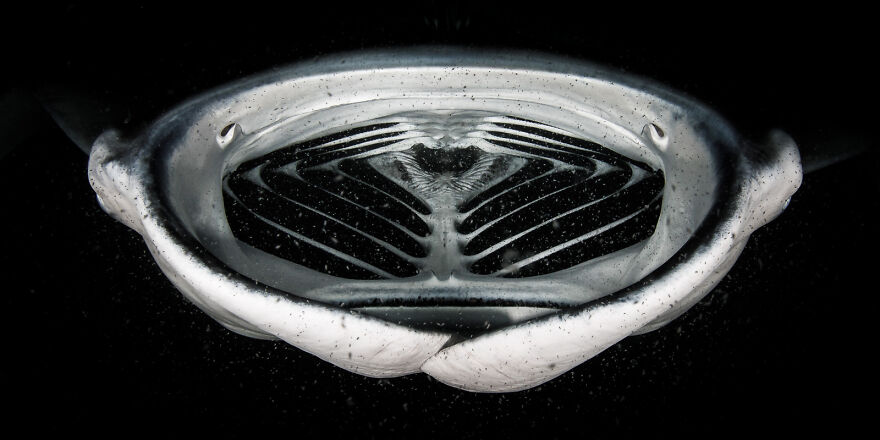 Winner in the Underwater category.
"Manta rays are filter feeders, sustaining their huge size by consuming large amounts of plankton and small crustaceans, like krill. The Maldives is one of the only places in the world where you can dive with these majestic animals at night time.
For this image, I was positioned flat on the sand, watching one Manta looping around and around whilst feeding on a cloud of planktonic creatures which had gathered. After some time, the manta drifted closer and closer to me until eventually, I was able to capture this shot."
---
#19 "Moon Halo" By Bartlomiej Jurecki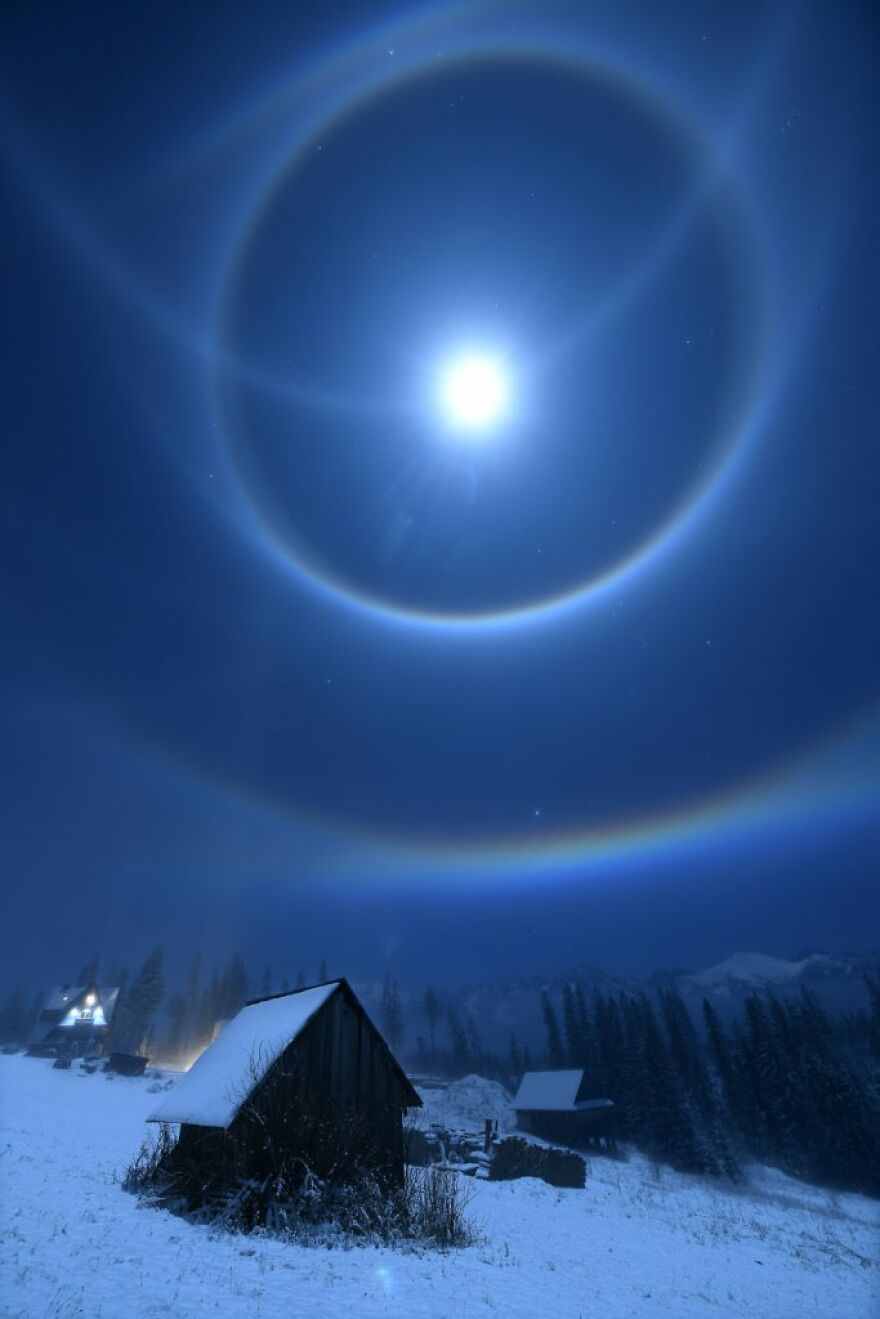 Highly Commended in the Night Sky category.
"This image was taken late at night and shows a luminous ring surrounding the moon. This is very rare and spectacular: it is called a Moon Halo and is an optical phenomenon.
A halo is formed under the refraction of light in a cloud containing ice crystals. A halo can appear in the sky at any time of the year, although it is most likely to be seen in winter. It most often appears over ice-covered areas and in the mountains."
---
#20 "The Door" By Jose Luis Ruiz Jimenez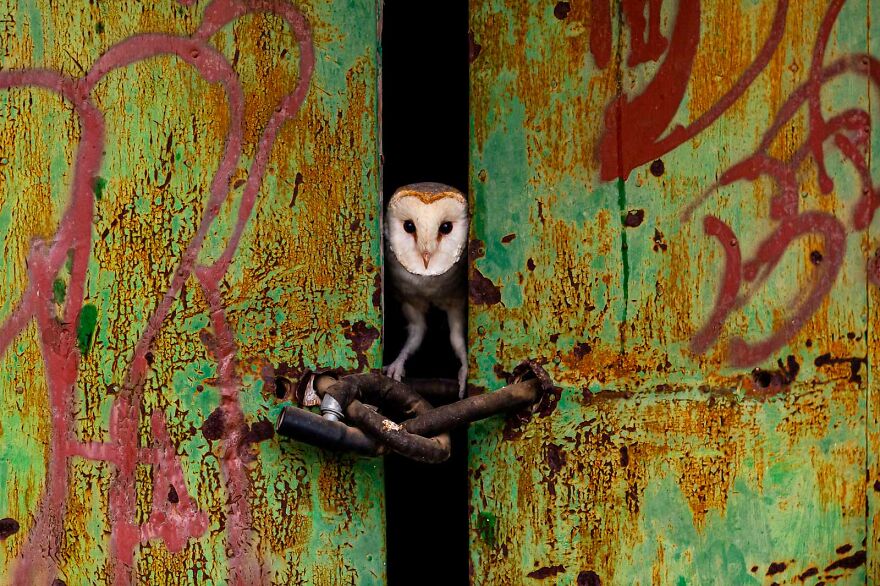 Highly Commended in the Urban Wildlife category.
"A barn owl peeks out the door of an old abandoned house."
---
#21 "Snow Monster" By Amit Ashel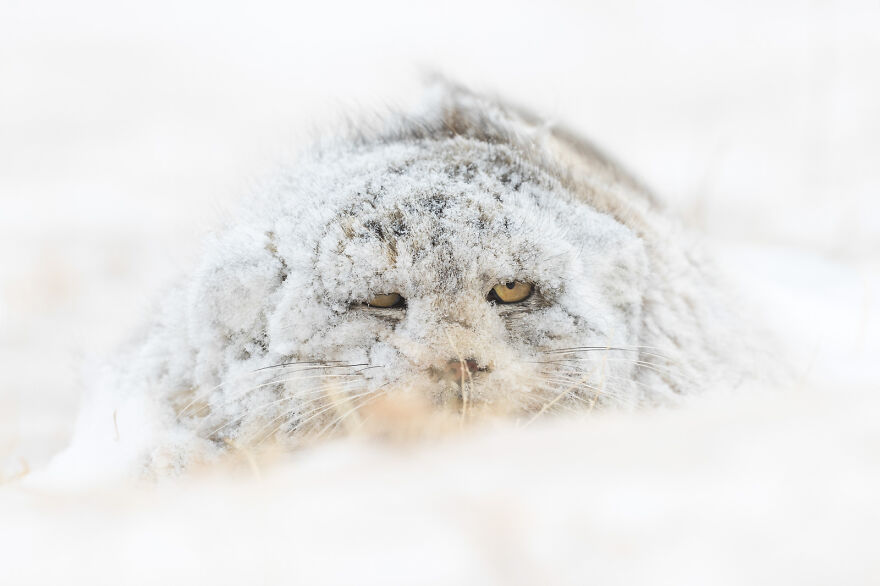 Highly Commended in the Wild Portraits category.
"On February 2020, I was in the steppe zone in eastern Mongolia in search of the elusive Pallas's Cat. After 6 full days of searching, we were lucky to find this cat lurking for prey in the snowy steppe. The cat was covered in fresh snow, making him look like an unfamiliar creature – a snow monster!
The Pallas's cat is listed as 'Near Threatened' on The IUCN Red List and is thought to be at risk from habitat fragmentation, a declining prey base, and consumptive hunting. The current status of Pallas's cat highlights its need for protection.
Its ecology remains poorly understood, impairing the development of conservation strategies. Most records of their occupancy and distribution are in mountainous areas, steppes, and rocky outcrops, suggesting that these are their preferred habitats. Approximately 12% of the species' range in Mongolia occurs within protected areas. But the steppe zone in which most of their distribution is is out of the scope of protection."
---
#22 "Moonwalker" By Vladimir Cech Jr.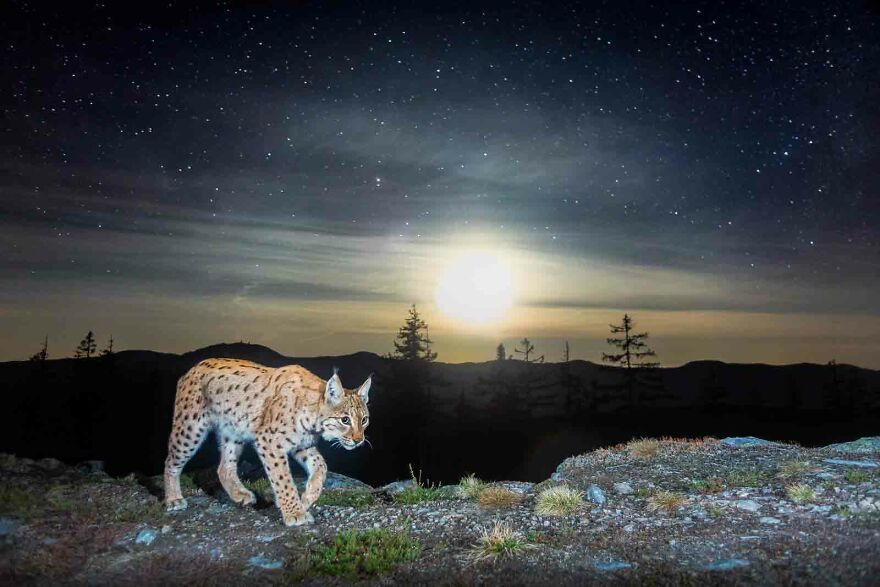 Highly Commended in the Camera Trap category.
"Wild Eurasian lynx walking in front of my homemade camera trap with a beautiful starry sky in the background and shining full moon. The long exposure brings out the night sky, whilst the use of flash renders the lynx sharp in the frame."
---
#23 "The Way To Rùm" By Luigi Ruoppolo
Highly Commended in the Landscape category.
"On the island of Eigg at sunset, with beautiful colors and stunning clouds moving over the mountains of Rùm island, Scotland. I was quite far from the shoreline, following the patterns left in the sand by the tide and shooting at 90 seconds exposure to get as many reflections as possible."
---
#24 "Sleeping Dragon" By Amos Ravid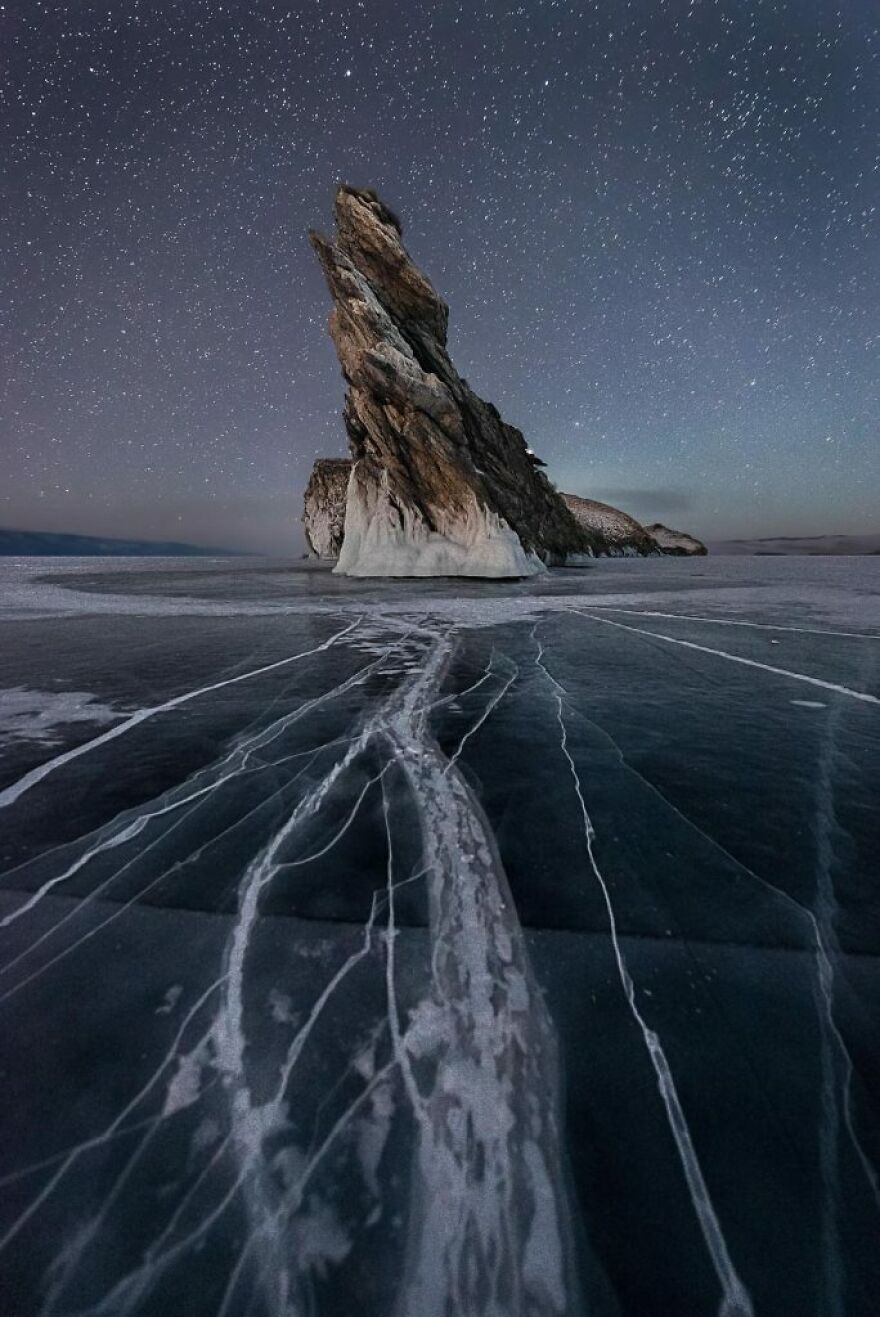 Runner-up in the Night Sky category.
"Night photography at minus 25 degrees Celsius can be a bit challenging. And yet, it is most enjoyable and satisfying. This photo is from Ogoy Island in Lale Baikal, Russia. It is also known as the Dragon Island, hence I call it The Sleeping Dragon."
---
#25 "Standing Out" By Gergő Kártyás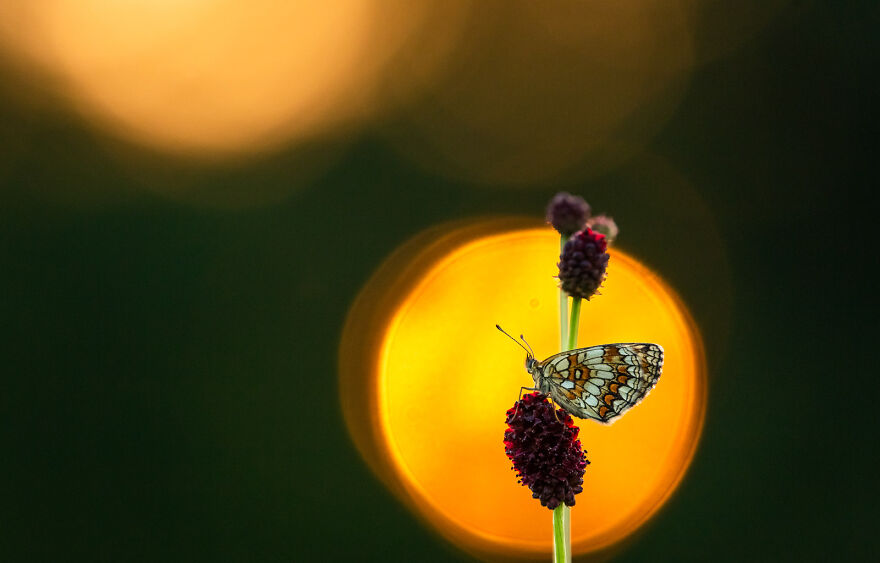 Highly Commended in the Under 16 category.
"This photo was taken during the last light of the day, in a big meadow in Hungary. The golden light beautifully lit the butterfly and the background."
---
#26 "Dance Of The Termites" By James Gifford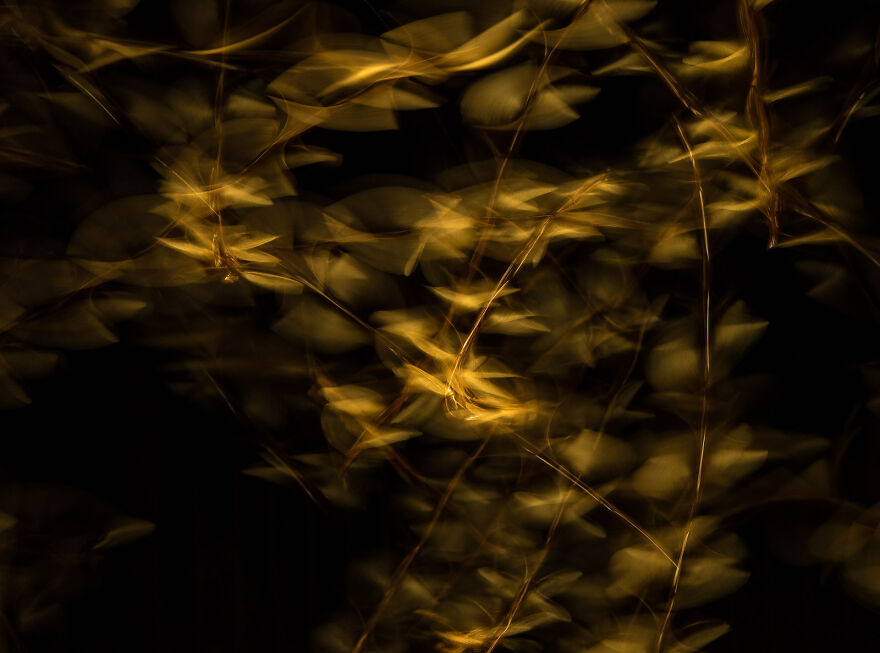 Winner in the Small World category.
"Every year after the first rains, the future kings and queens of fungus-growing termite colonies leave their nest on a nuptial flight. They lose their wings minutes later and most will fail in their quest to start a new colony. The flight only happens for a day or two per year and its timing is dictated completely by local rainfall.
The termites from this colony were attracted to light, but after taking several shots, I realized that I could only capture the effect of the swarm by using a slow shutter speed and gradually panning with the flight of the insects.
As they were all moving in different directions, I had to take hundreds of shots to capture what I wanted. It was tricky focusing on composition, having to pre-focus and wait for a termite to fly into my focal plane. Meanwhile, I had many termites crawling all over me, but it was worth it in the end."
---
#27 "Fish Caught By Surprise" By Johan Wandrag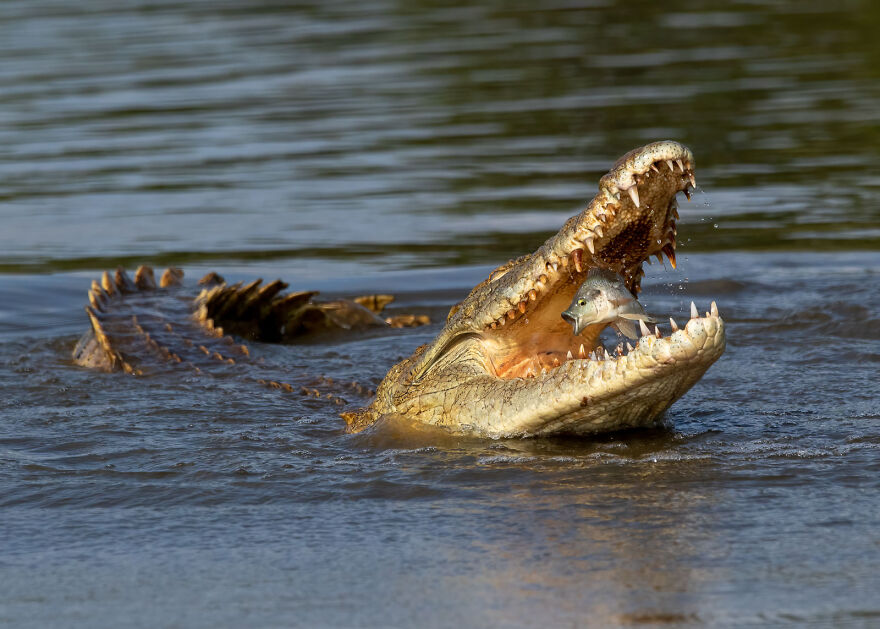 Runner-up in the Animal Behavior category.
"Taken in South Africa, a fish is caught in the moment it is snapped up by a crocodile. The look of a surprise really made this shot stand out to me."
---
#28 "Into The Spotlight" By Dani Clarke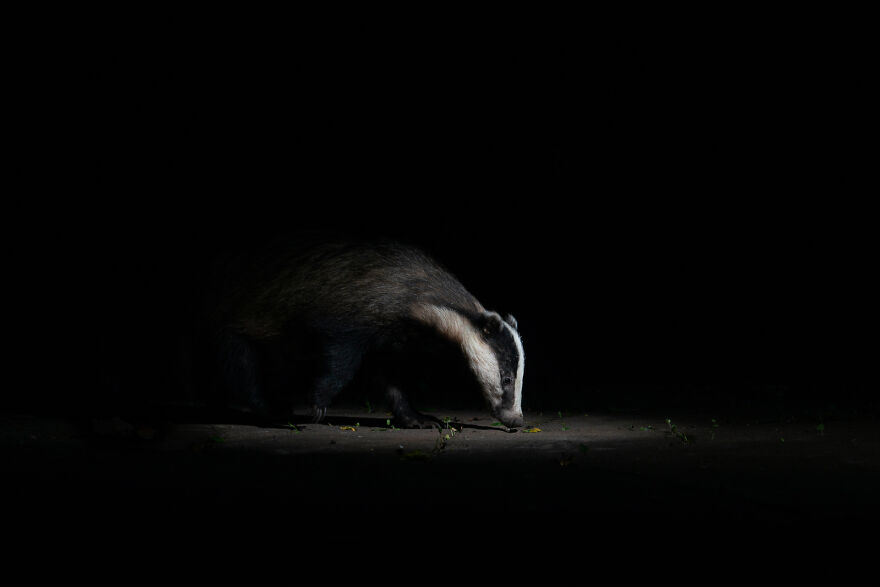 Highly Commended in the Camera Trap category.
"A young badger from the sett in my garden captured on my patio eating peanuts. I used a snoot on the flash to concentrate the light onto the point of focus."
---
#29 "Nature's Pitfall" By Samantha Stephens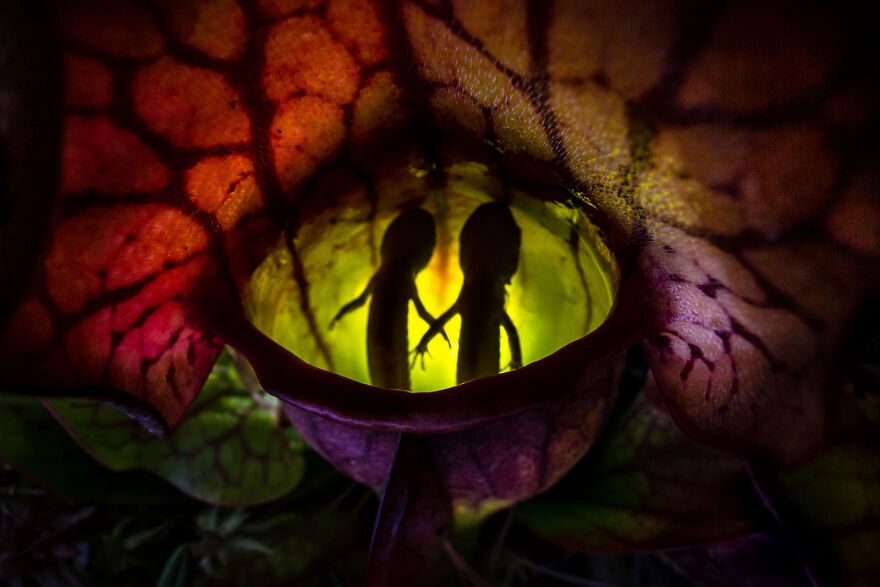 Runner-up in the Small World category.
"Researchers at the Algonquin Wildlife Research Station recently discovered that juvenile Spotted Salamanders (Ambystoma maculatum) are being trapped by Northern Pitcher Plants, as they make their fall migration from aquatic hatching grounds across a bog mat to find over-wintering sites beneath the forest floor. This is the first discovery of salamanders being regularly caught by Northern Pitcher Plants (Sarracenia purpurea)—and more than 20% of the plants in this Algonquin Park population are capturing salamander prey!
This phenomenon has not been recorded for any other population of Northern Pitcher Plants. What researchers haven't figured out yet is how the salamanders are becoming trapped. Although many pitchers lie flush with the surface of the bog mat, ready to catch those that take an unlucky step during their journey, some pitchers stand erect, almost 15 centimeters above the moss. Spotted Salamanders have long been recognized as important nutrient cyclers, and this discovery expands our understanding of that role.
On the day I made this image, I was following researchers on their daily surveys of the plants. Typically, pitchers contain just one salamander prey at a time, although occasionally they catch multiple salamanders simultaneously. When I saw a pitcher that had two salamanders, both at the same stage of decay floating at the surface of the pitcher's fluid, I knew it was a special—and fleeting—moment. The next day, both salamanders had sunk to the bottom of the pitcher."
---
#30 "A Predator's Playground" By Charl Stols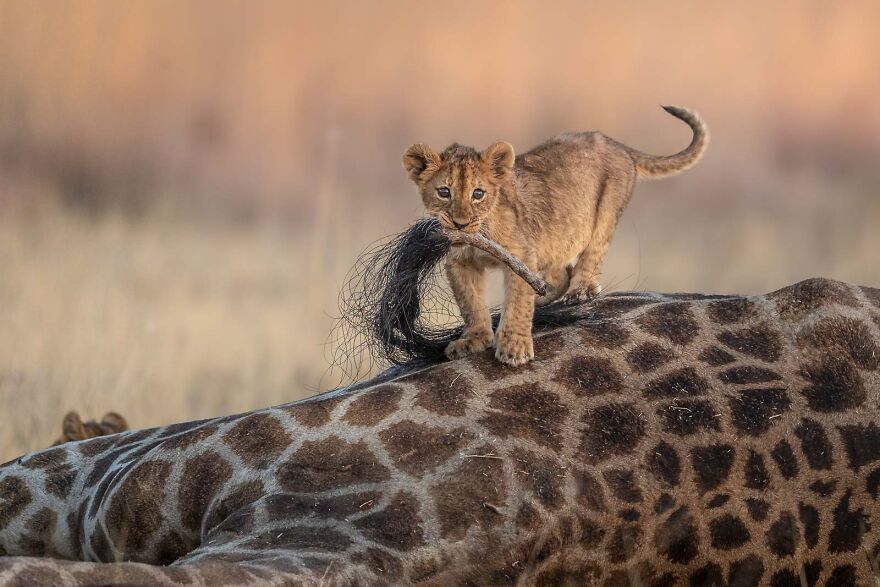 Highly Commended in the Wild Portraits category.
"As bizarre as it might seem to us, jumping up and down on a giraffe carcass and playing with the tail of a dead animal is as normal as it can be for a curious lion cub."
---
#31 "Fight In The Mountains" By Raphael Schenker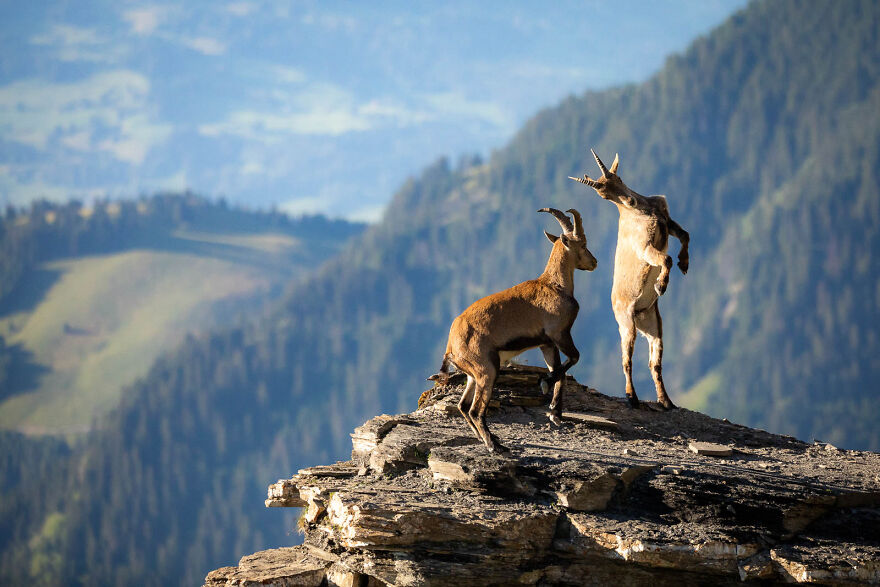 Runner-up in the Under 16 category.
"I took this picture whilst on a long hike in Switzerland. I saw how the father of these two mountain goats was teaching them how to fight."
---
#32 "Spoilt For Choice" By Thomas Easterbrook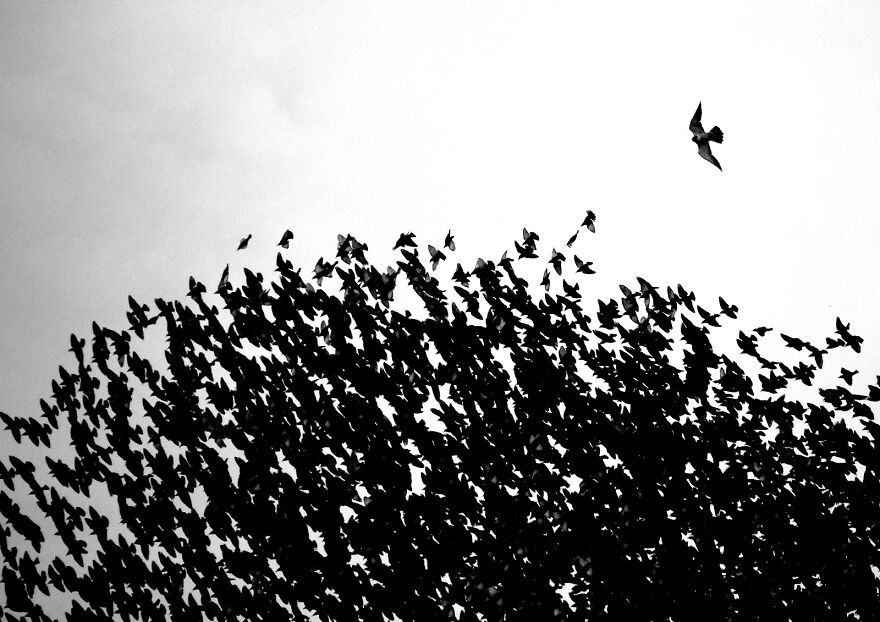 Young Nature TTL Photographer of the Year 2021; Winner in the Under 16 category.
"I took this photo while we were watching a starling murmuration. This peregrine came out of nowhere to attack the murmuration, and I was pleased to capture it at work!"
---
#33 "Silhouetted Wood Mouse" By John Formstone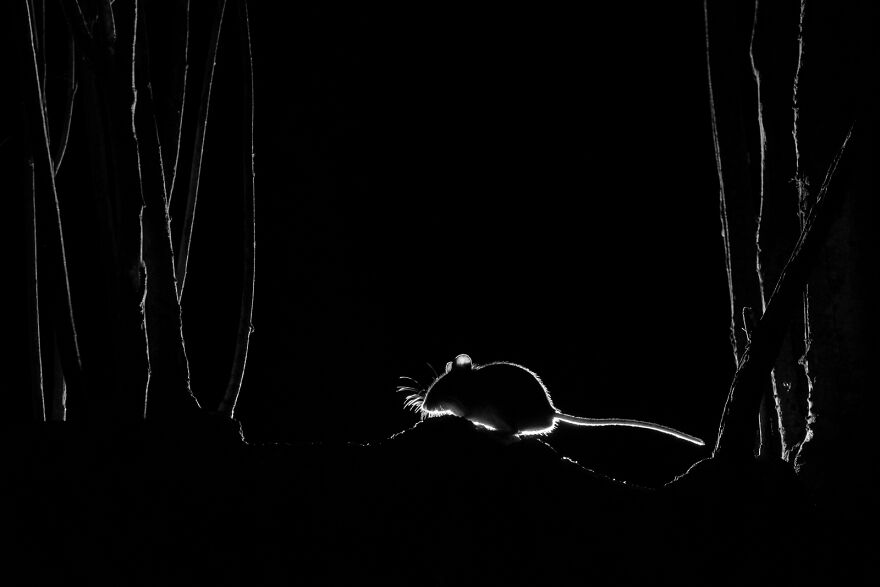 Winner in the Camera Trap category.
"Captured on my DSLR camera trap in a patch of small woodland to the rear of my house. One off-camera flash was positioned to the rear of the subject in an effort to create this silhouette."
---
#34 "Pine Marten In An Abandoned Cottage" By James Roddie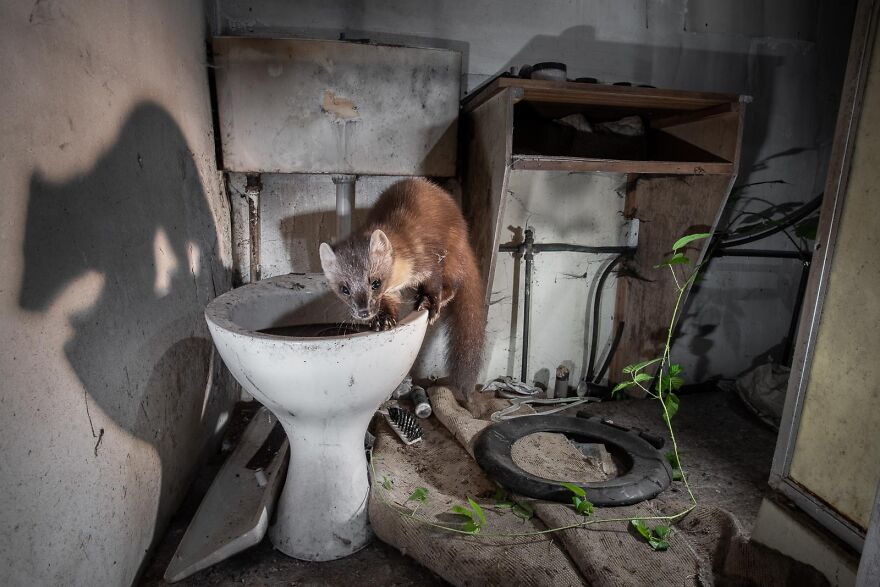 Runner-up in the Camera Trap category.
"A pine marten inside an abandoned cottage in the Scottish Highlands. I ran a camera-trap in the abandoned house for several months after seeing pine marten scat (droppings) outside the entrance."
---
#35 "Under Aurora Bridge" By Yevhen Samuchenko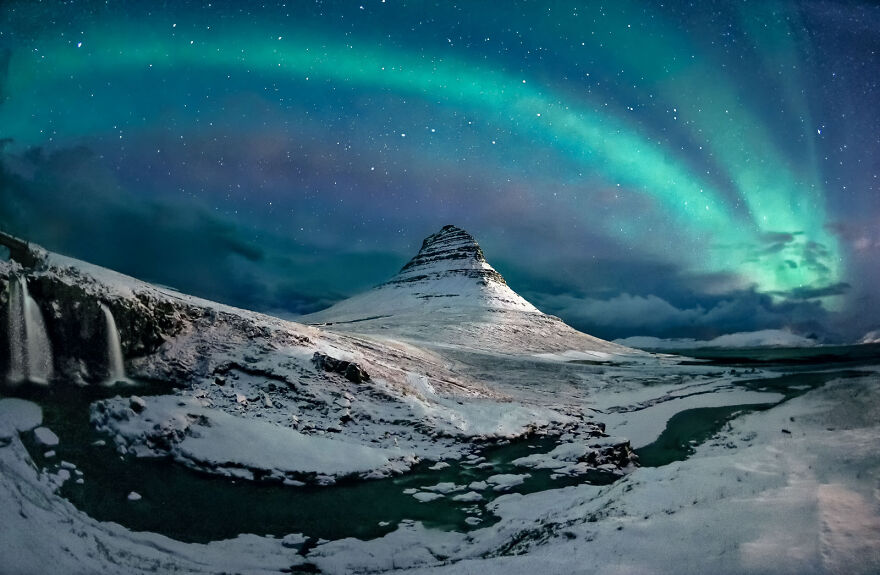 Highly Commended in the Night Sky category.
"Aurora borealis with an unusual arc shape above Kirkjufell mountain in Iceland."
---
#36 "European Whale Sharks" By Nuno Vasco Rodrigues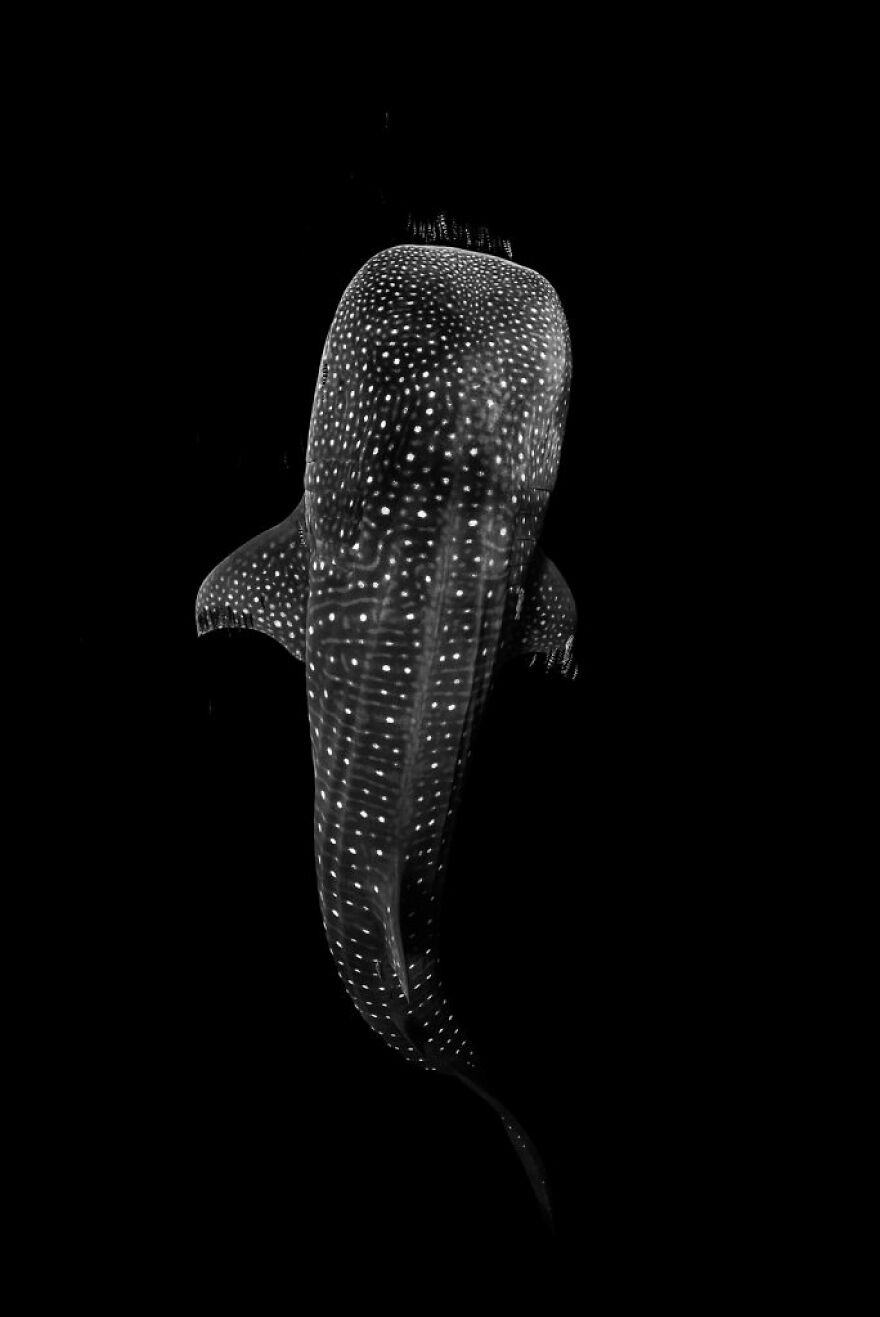 Highly Commended in the Underwater category.
"A whale shark ascends from the ocean depths in Santa Maria Island, Azores. In 2020 and for the second year straight, whale sharks showed up in great numbers on this island, attracting tourists from all over Europe."
---
#37 "Bouquet Of Flowers" By Fanny Reed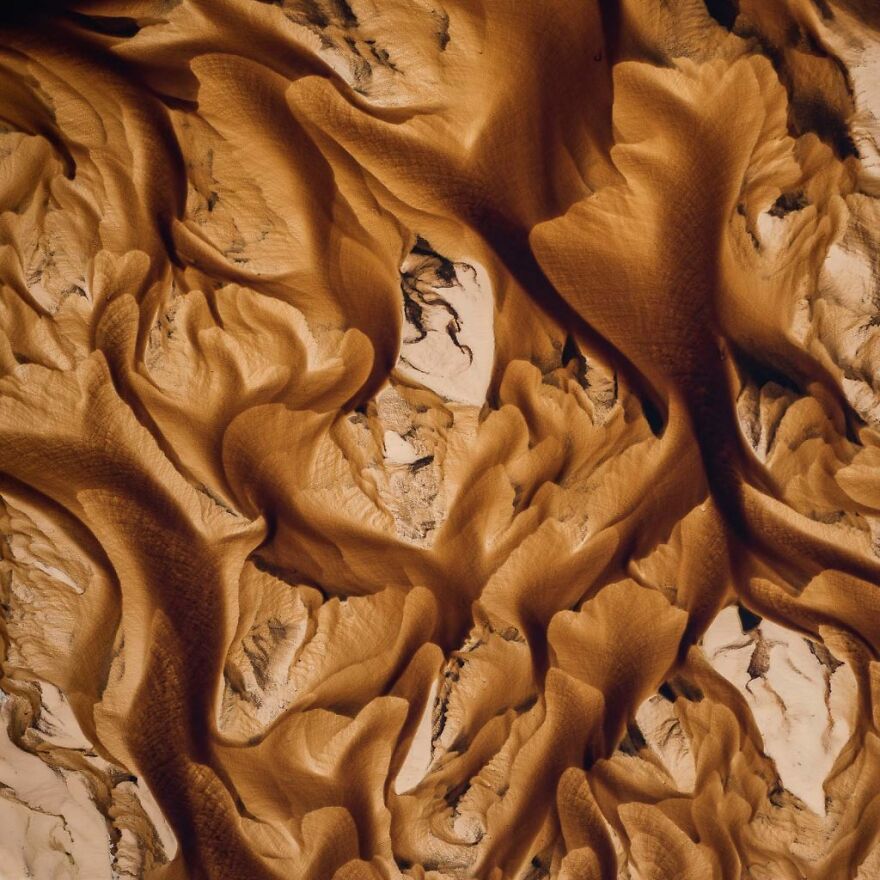 Runner-up in the Landscape category.
"Patterns formed by mineral deposits trapped in lagoons."
---
#38 "The Eye" By Ivan Pedretti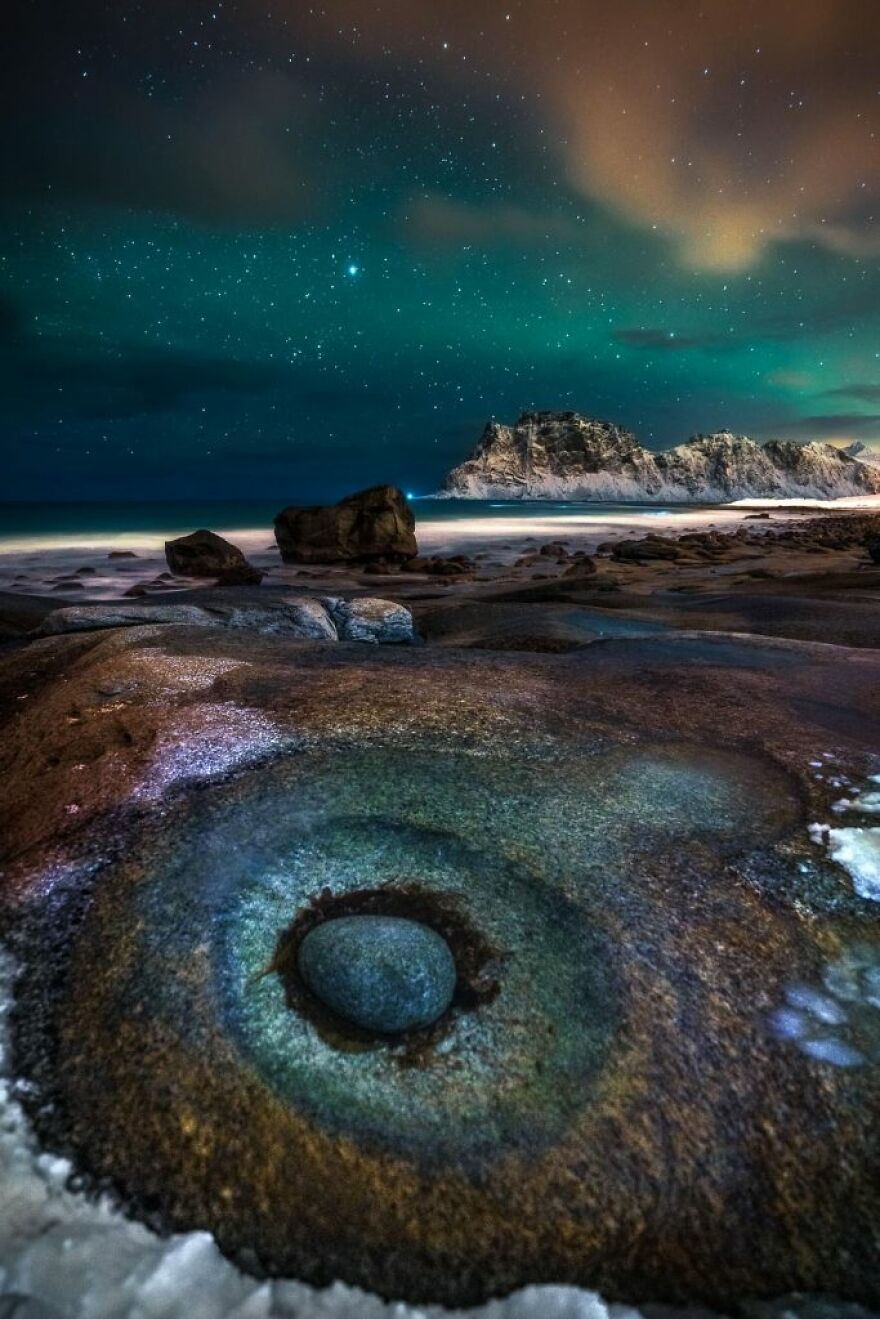 Winner in the Night Sky category.
"On Uttakleiv beach, in Norway, these particular rocks looked like an eye. The shot is set against the beautiful colors of the Northern Lights above."
---
#39 "Round" By Zhi'yue Shi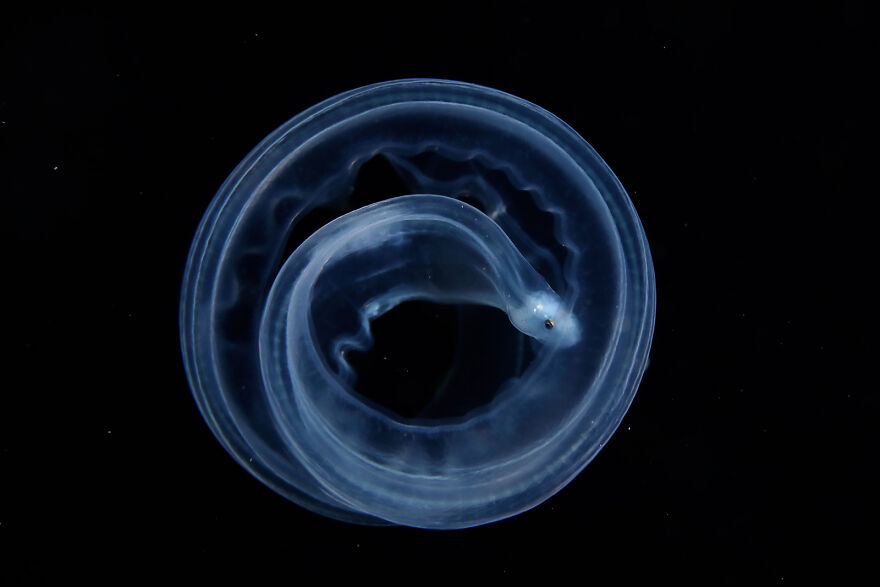 Runner-up in the Underwater category.
"I searched aimlessly for my target underwater, and then I found it. Under the irradiation of light, it presents such a natural circle. Taken in the Philippines."
---
#40 "Lost In Geometry" By Christian Wappl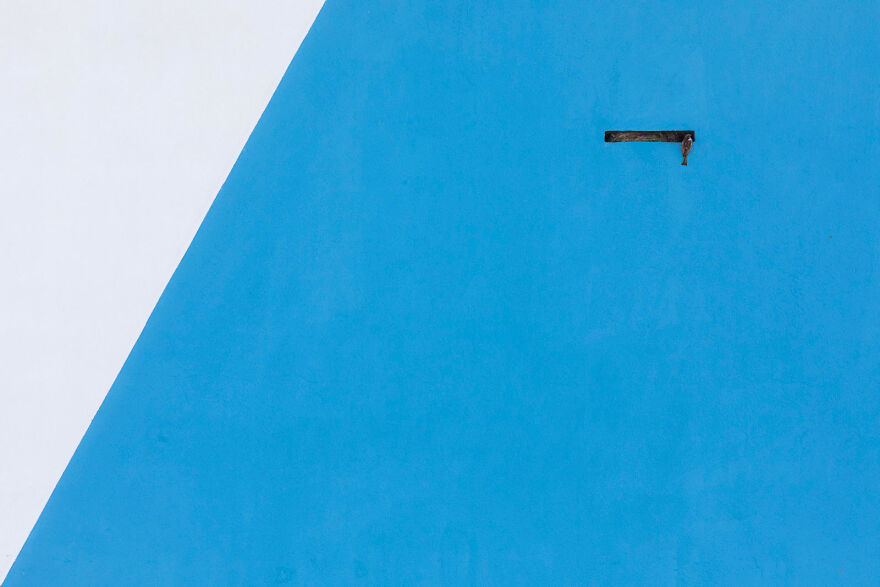 Highly Commended in the Urban Wildlife category.
"House sparrows (Passer domesticus) were nesting in the vents of a supermarket in Morocco. Most individuals were nesting in uniform white or blue surfaces, but this individual had chosen a vent near the border of the two colors, which I used to my advantage in this shot."
---
#41 "Dolphin Silhouettes" By Richard Condlyffe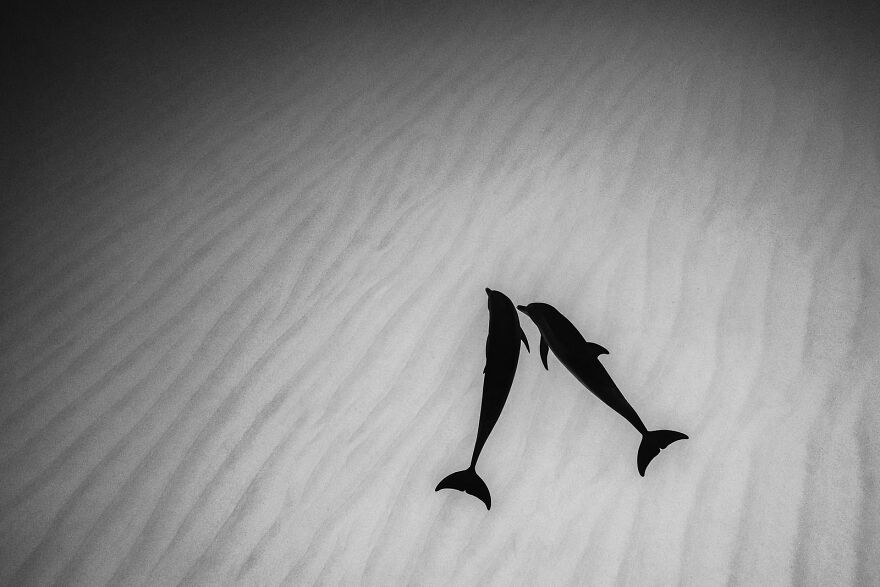 Highly Commended in the Underwater category.
"Taken while snorkeling, this image shows the silhouettes of two Spotted Dolphins against sandy ripples. What I particularly enjoy about this image is the clarity of each silhouette, with no overlap of the two creatures. Additionally, the two dolphins look like they're talking to each other and looking towards something out of frame."
---
#42 "The Race" By Yevhen Samuchenko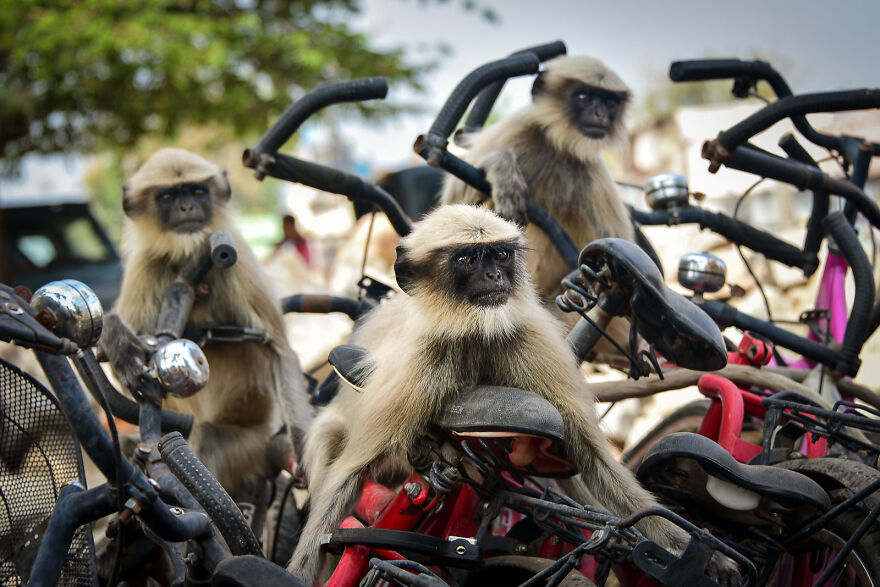 Highly Commended in the Urban Wildlife category.
"My friends and I walked in the center of the small town of Hampi in India. There was a bicycle parking area nearby.
Suddenly a group of langurs jumped on these bicycles and began to frolic around. We were afraid to frighten them away, so I started taking pictures from afar. But then we came very close to them and the langurs continued to play with bicycles for the comical shot."
---
#43 "The Cauldron Of Creation" By James Gifford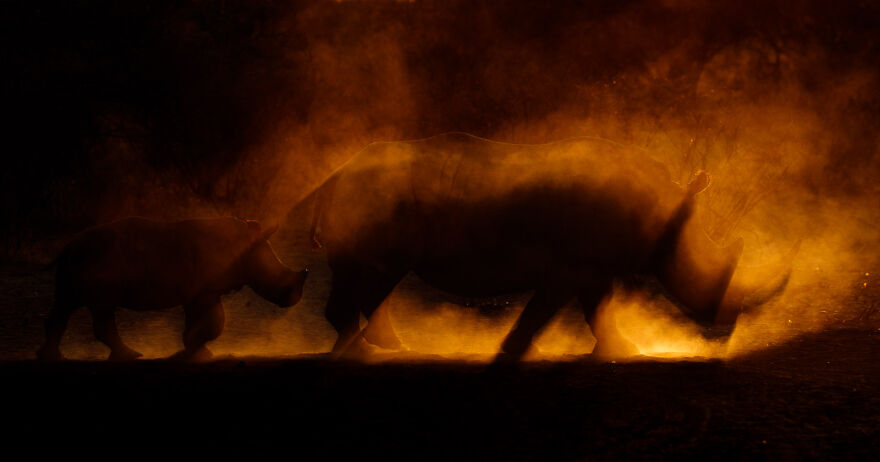 Runner-up in the Wild Portraits category.
"I found this rhino mother and calf resting in the heat of the day and guessed they might go to a nearby waterhole later to drink. To make the most of the dust, I positioned myself to shoot into the sun on the route I expected them to take when they left, deliberately underexposing to capture the clouds of amber dust.
Instead of focusing on the negative aspects of rhino poaching, I wanted my picture to convey a sense of hope – a new beginning almost – as if these were the first rhinos being forged in a fire of creation. The effect of the backlit dust, creating a blurred shadow image, added to the ethereal effect.
Botswana only reintroduced rhinos to the wild relatively recently. So far the program has been doing well, but ironically the safari companies and organizations involved are reluctant to publicize any details about the rhinos in case it attracts the attention of poaching syndicates. Even so, it is a constant battle to deter and combat potential poachers."
---
#44 "Red Fox" By Tapas Biswas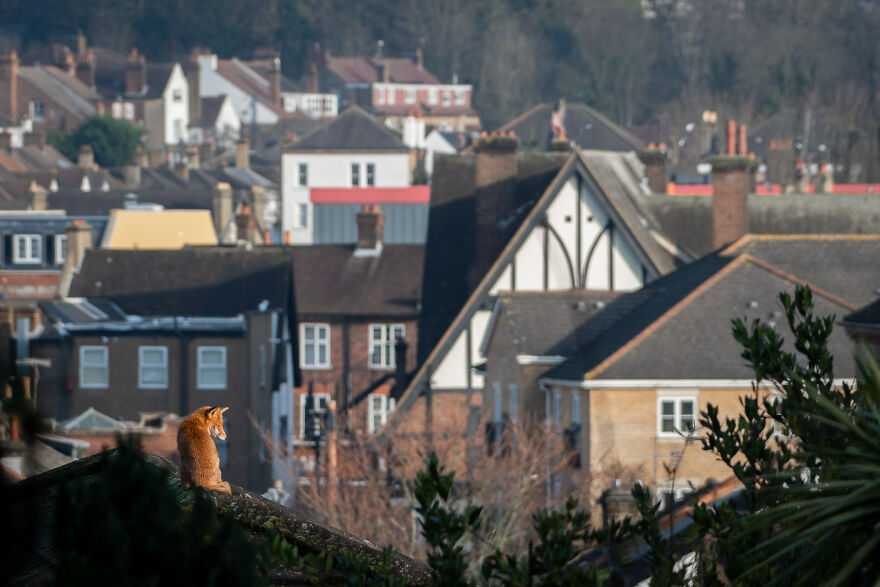 Highly Commended in the Urban Wildlife.
"A red fox enjoying the early morning winter sun, overlooking the rooftops in London, UK."
---
#45 "Wave Break" By James Roddie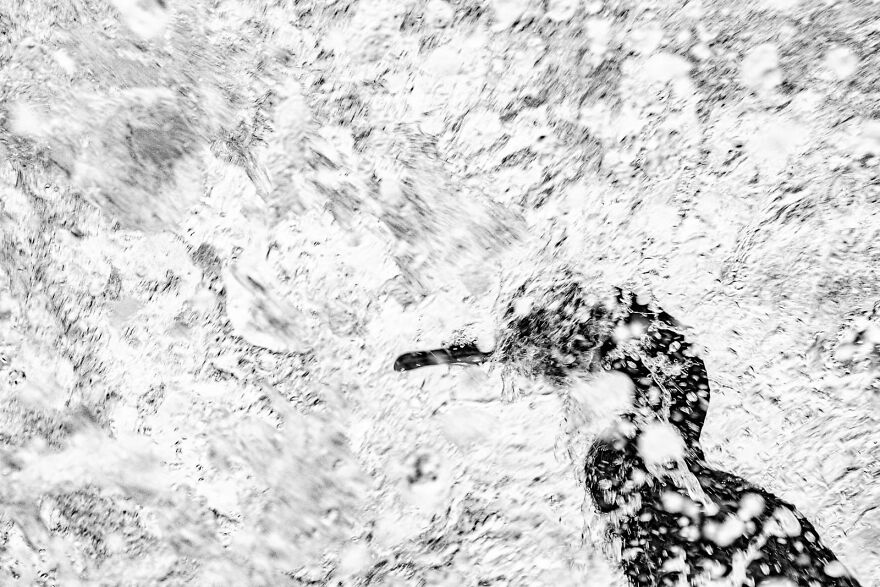 Highly Commended in the Wild Portraits category.
"A wave breaks over the head of a common shag on The Black Isle, Scotland. I had spotted this bird sat on the water's edge from a good distance back and had made a slow approach. With waves lapping at its feet, I recognized an interesting photographic opportunity.
To my delight, a slightly larger wave approached, covering the bird completely. I managed a few frames, of which this one shows the moment the wave broke over the bird's head."
---
#46 "Bee Wolf With Honeybee Prey" By Simon Jenkins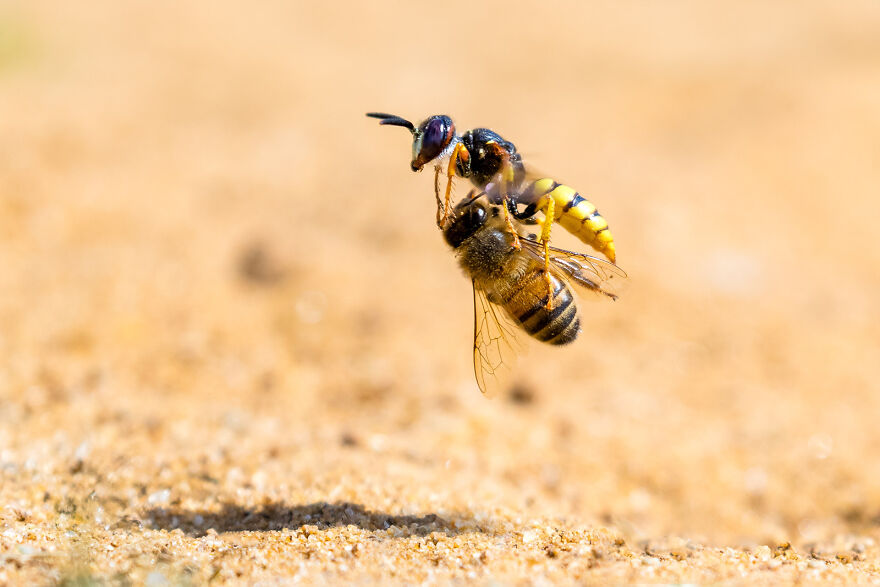 Highly Commended in the Small World category.
"The bee wolf is a solitary wasp and predates on honeybees. In this image, you can see the wasp carrying away its unfortunate prey."
---
#47 "Winged Family Members" By Kallol Mukherjee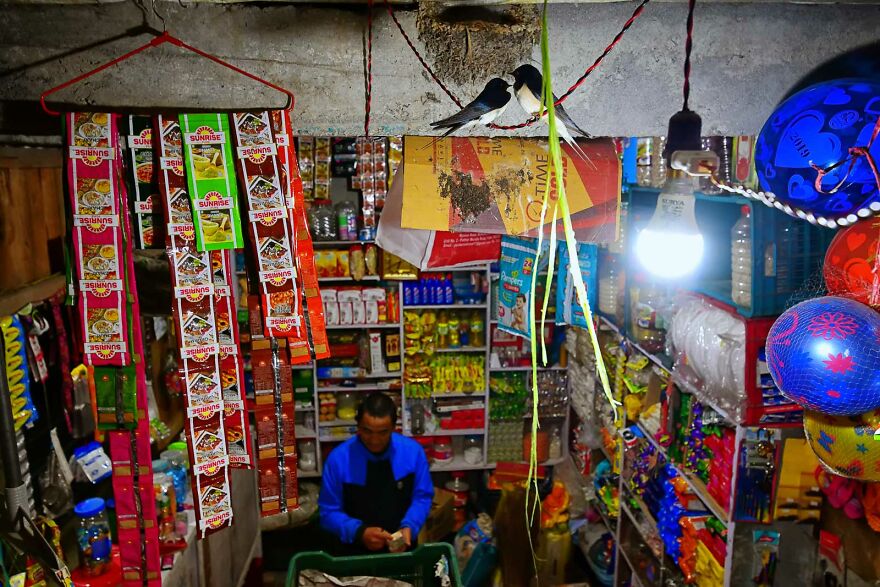 Winner in the Urban Wildlife category.
"There are many instances of negative human interactions with wildlife. But sometimes there are good things, like with these barn swallows building their nest right inside this shop in the Himalayas – safely away from predators.
Barn swallows are revered as the goddess of wealth and fortune. They are taken as the harbingers of peace and prosperity. So the people gladly accept the feces and other nuisances made by the birds."
---
#48 "Irish Patterns" By Marek Biegalski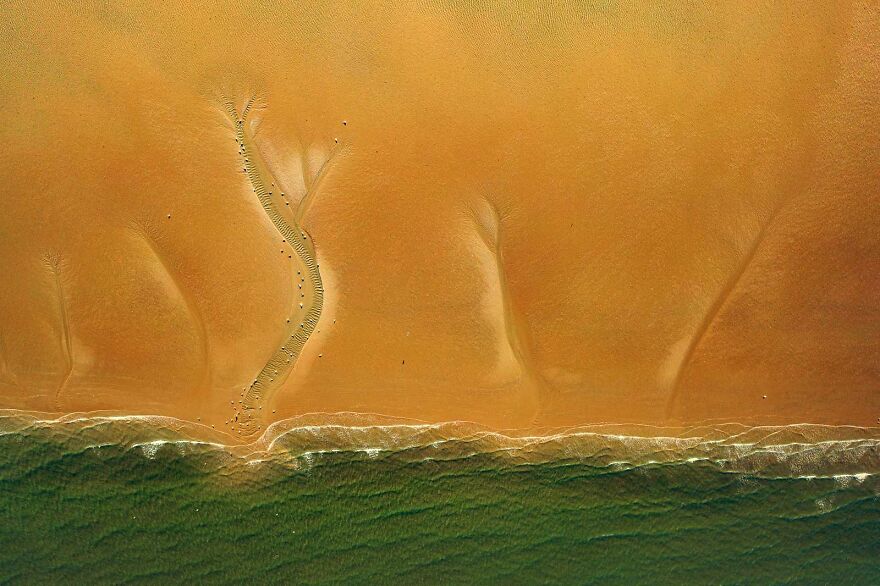 Highly Commended in the Landscape category.
"Sand patterns are seen from above on the Baltray in Ireland with Little Terns nesting right on the beach. The Terns are Ireland's rarest breeding sea birds. They tend to nest on the beaches and are extremely noisy in the breeding season."
---
#49 "The Weaver" By Ben Nicholson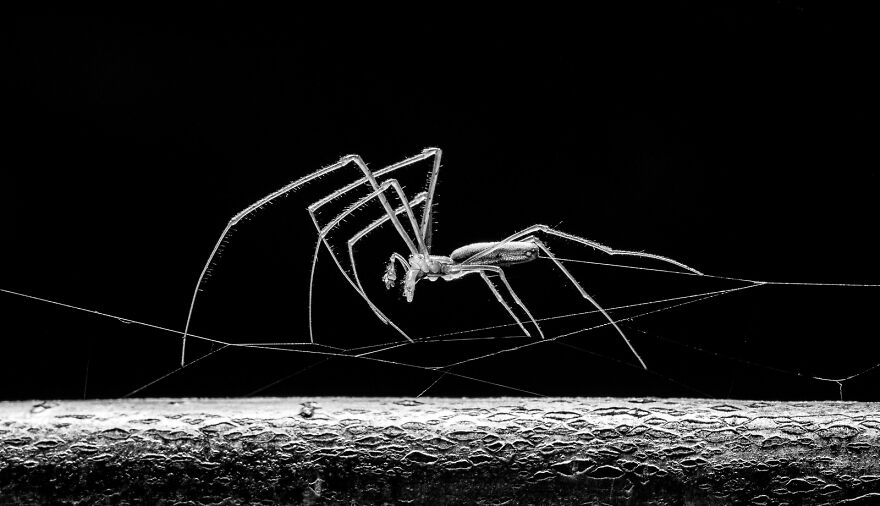 Highly Commended in the Small World category.
"After recently shedding its skin, I watched this spider begin to weave its new web. I used a flash to isolate the background and illuminate its semi-transparent exoskeleton."
---
#50 "3… 2… 1… Takeoff!" By Christian Brockes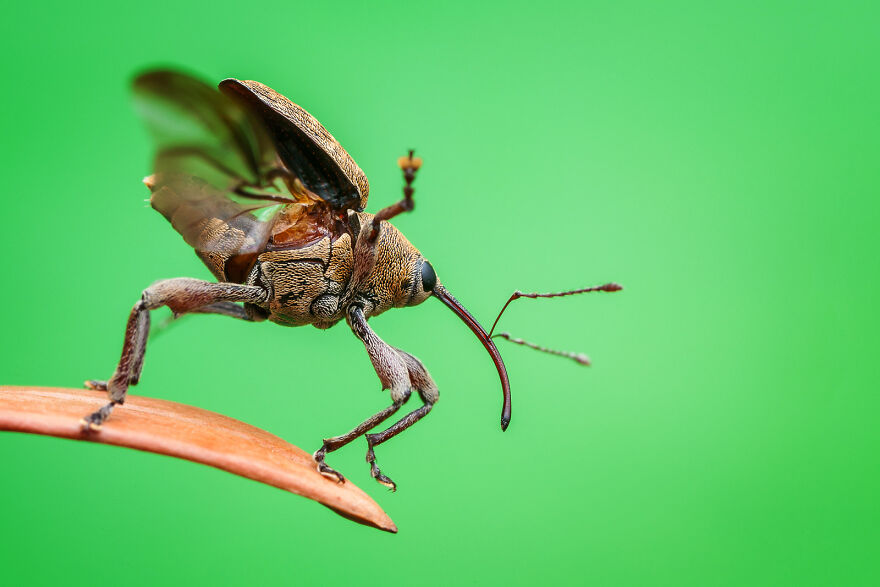 Highly Commended in the Small World category.
"An acorn weevil (Curculio glandium) spreading its wings, ready to take off."
---
#51 "Inception" By Fabien Dubessy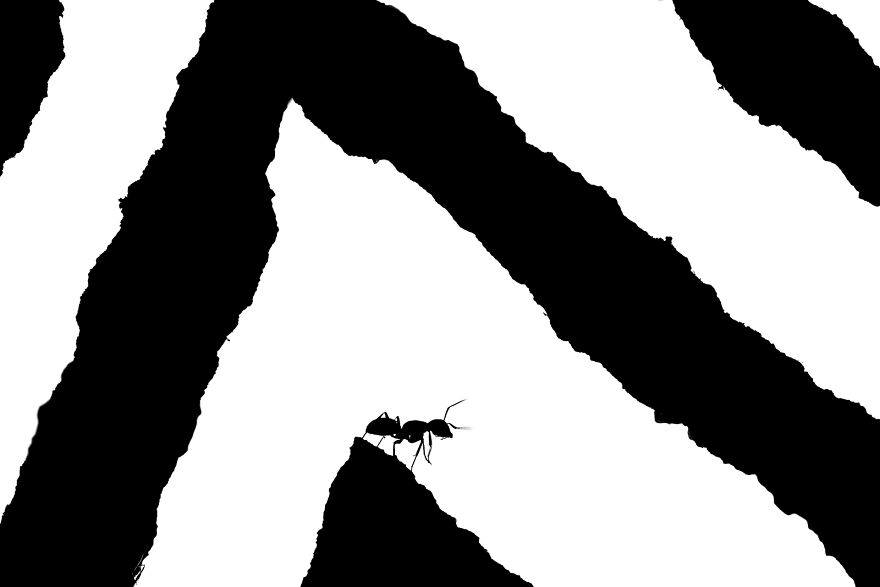 Highly Commended in the Small World category.
"I made this photo in my garden. The support is the bottom of an old flowerpot. During the shooting, I also made overprints, directly on the camera."
---
Please check our previous related articles: