TED is a wonderful platform, a non-profit devoted organization to spread some amazing ideas all over. Concerning mainly on three platforms Technology, Entertainment and design, it does push some splendid amount of inspiration for listeners, most of these talks are from legends from various fields. And of course we do have some of the master speakers from photography too.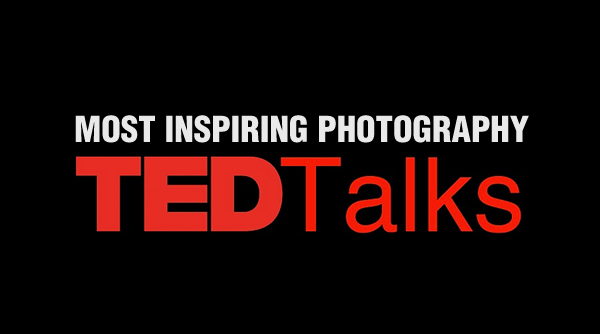 Here in this post of ours, we wanted to highlight some of the 10 most inspiring TED talks in the field of photography. I am pretty sure these short talks will boost your morale and drive your passion towards photography above all humanity and would make you love what you do.
Don't miss to check our Part 1 of this series here.
#1 Ramesh Raskar: Imaging at a Trillion Frames Per Second
Ramesh Raskar presents femto-photography, a new type of imaging so fast it visualizes the world one trillion frames per second, so detailed it shows light itself in motion. This technology may someday be used to build cameras that can look "around" corners or see inside the body without X-rays.
---
#2 Gary Greenberg: The Beautiful Nano Details of Our World
When photographed under a 3D microscope, grains of sand appear like colorful pieces of candy and the stamens in a flower become like fantastical spires at an amusement park. Gary Greenberg reveals the thrilling details of the microworld.
---
#3 Wade Davis: Cultures at the Far Edge of the World
With stunning photos and stories, National Geographic Explorer Wade Davis celebrates the extraordinary diversity of the world's indigenous cultures, which are disappearing from the planet at an alarming rate.
---
#4 Edward Burtynsky Photographs the Landscape of Oil
In stunning large-format photographs, Edward Burtynsky follows the path of oil through modern society, from wellhead to pipeline to car engine — and then beyond to the projected peak-oil endgame.
---
#5 Kristen Ashburn: Heartrending Pictures of AIDS
In this moving talk, documentary photographer Kristen Ashburn shares unforgettable images of the human impact of AIDS in Africa.
---
#6 Yann Arthus-Bertrand Captures Fragile Earth in Wide-Angle
In this image-filled talk, Yann Arthus-Bertrand displays his three most recent projects on humanity and our habitat — stunning aerial photographs in his series "The Earth From Above," personal interviews from around the globe featured in his web project "6 billion Others," and his soon-to-be-released movie, "Home," which documents human impact on the environment through breathtaking video.
---
#7 Nick Veasey: Exposing the Invisible
Nick Veasey shows outsized X-ray images that reveal the otherworldly inner workings of familiar objects — from the geometry of a wildflower to the anatomy of a Boeing 747. Producing these photos is dangerous and painstaking, but the reward is a superpower: looking at what the human eye can't see.
---
#8 Monika Bulaj: The Hidden Light of Afghanistan
Photographer Monika Bulaj shares powerful, intimate images of Afghanistan — of home life, of ritual, of men and women. Behind the headlines, what does the world truly know about this place?
---
#9 Brian Skerry Reveals Ocean's Glory — and Horror
Photographer Brian Skerry shoots life above and below the waves — as he puts it, both the horror and the magic of the ocean. Sharing amazing, intimate shots of undersea creatures, he shows how powerful images can help make change.
---
#10 Erik Johansson: Impossible Photography
Erik Johansson creates realistic photos of impossible scenes — capturing ideas, not moments. In this witty how-to, the Photoshop wizard describes the principles he uses to make these fantastical scenarios come to life, while keeping them visually plausible.
---
Please check our previous Photography Video Talks posts: