The World of Wearable Art (WOW) competition unfolds as a breathtaking celebration, seamlessly weaving together the realms of fashion, art, and innovation. With each passing year, visionary designers worldwide relentlessly push the boundaries of creativity, breathing life into wearable masterpieces that captivate our senses.
For more than three decades, this competition has served as a stage for spellbinding artworks crafted by finalists, showcased annually at the WOW Show in Wellington's TSB Arena, New Zealand. In the 2023 edition, the tradition persisted, drawing together artists and designers from diverse corners of the globe. Among the myriad of extraordinary creations, the coveted 2023 Supreme WOW Award was rightfully bestowed upon Nelson designer Gill Saunders for her mesmerizing work, titled "Earthling."
Join us on a visual odyssey as we delve into 25 of the most extraordinary entries from this year's competition, each leaving an indelible mark on our imaginations.
Scroll down and inspire yourself. You can check their website for more information.
You can find more info about WoW Awards:
#1 Winner Of The Supreme Wow Award And The Open Section: "Earthling"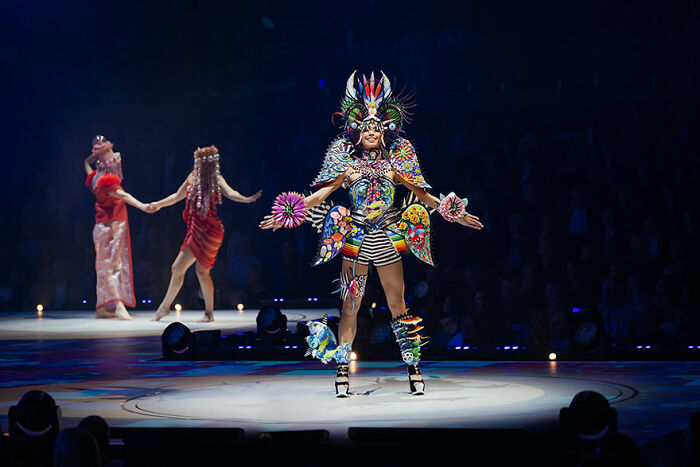 Designer: Gill Saunders, New Zealand
"Earthling celebrates the natural wonders of our planet in the form of an adult coloring book."
#2 Third Prize Award In The Mars And Beyond Section: "Entanglement"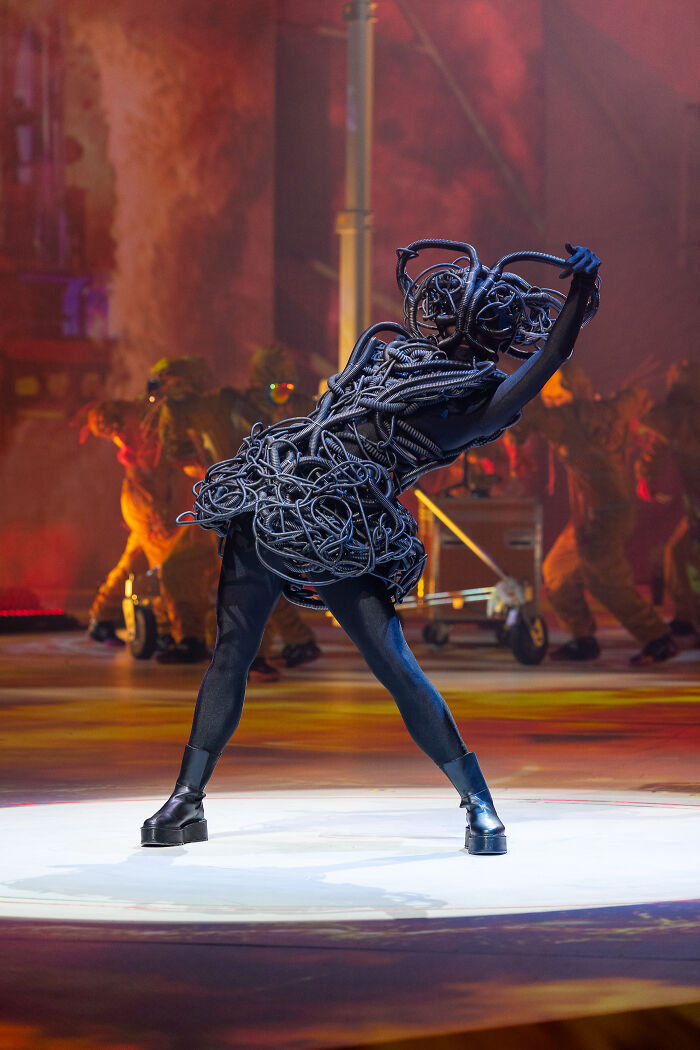 Designer: Celia Ledon, United States
"A sort of breathing-aid war costume, drawn from a dystopic and ethereal darkness."
#3 Winner Of The Sustainability Award And Second Prize Award In The Open Section: "Tears Unseen"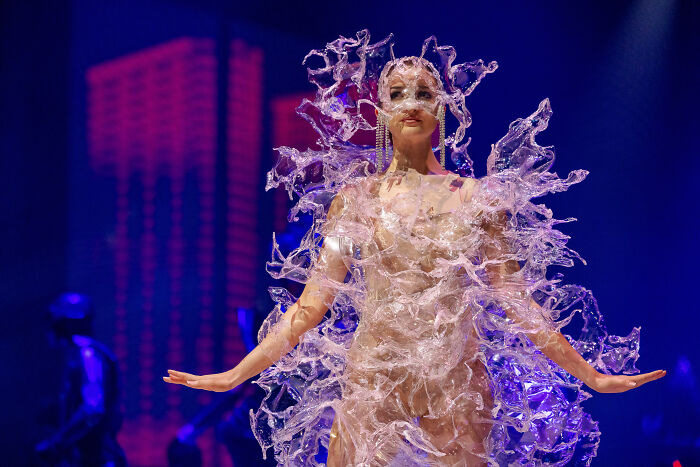 Designer: Carena West, New Zealand
"Tears Unseen embodies the tears that go unnoticed, shed by women who are mothers and caregivers."
#4 Second Prize Award In The Gold Section: "Seraph"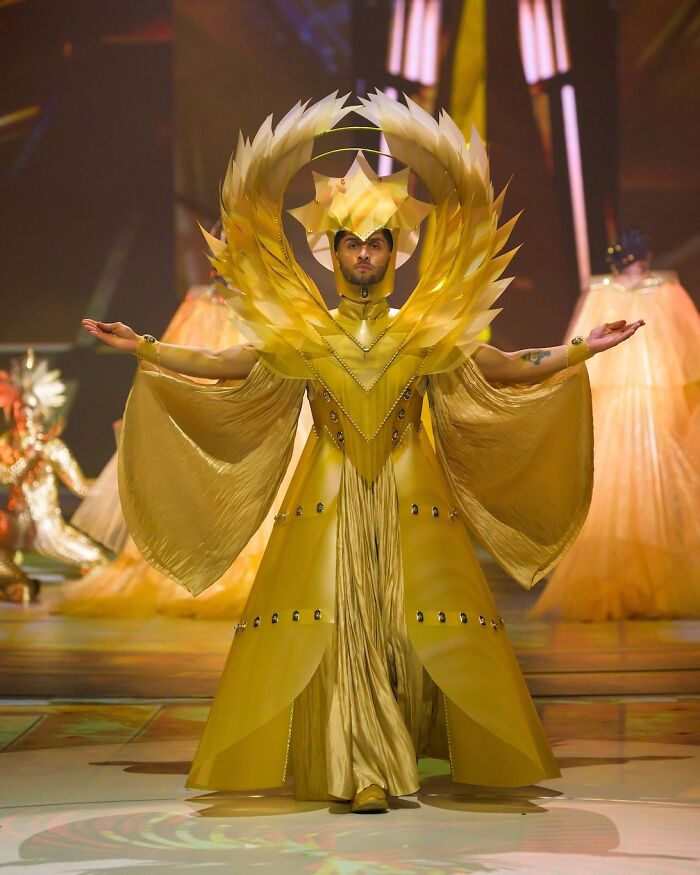 Designer: Sasha Wisniowski, Australia
"From the opulence of the church to the radiance of the sun, gold is a symbol of the sacred."
#5 Winner Of The Stuff People's Choice Award And The Mars And Beyond Section: "Blooming Proof!"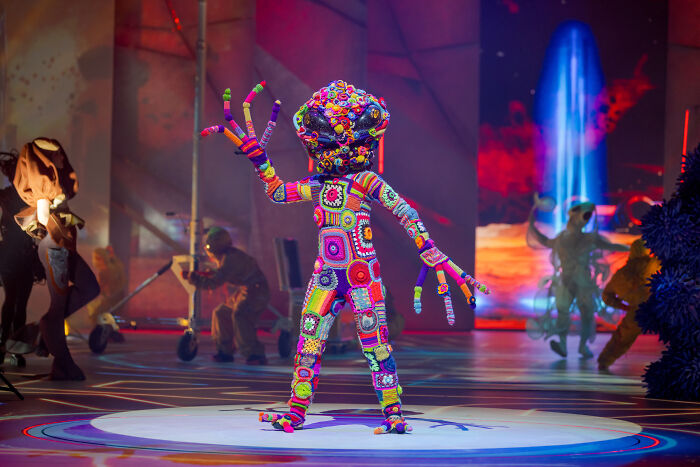 Designer: Erna van der Wat, Joanne van Wyk and Lena van der Wat, New Zealand
"There's life on mars and beyond – alien has been yarn bombed."
#6 Winner Of The International Design Award And The Gold Section: "Digital Ascension Of Kitsune"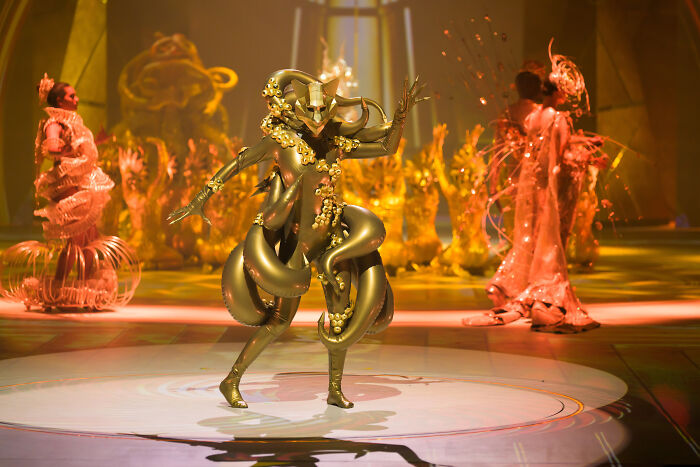 Designer: Dawn Mostow and Snow Winters, United States
"The mischievous nine-tailed fox spirit, a thousand years old, ascends to digital heaven."
#7 Third Prize Award In The Aotearoa Section: "Rusalka"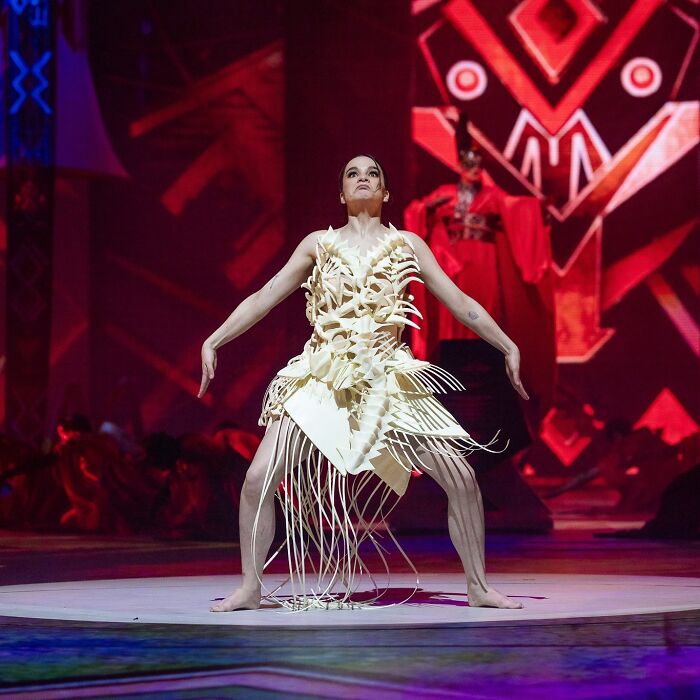 Designer: Nikola Carouso, United Kingdom
"Fish-like bones speak to Maui's fish and to the marine life at the root of Aotearoa and its evolution and cultural development."
#8 Winner In The Avant-Garde Section: "Samurai Girl"
Designer: Chiaki Shimizu, Japan
"The contemporary woman who paves the way for the times is expressed in ancient Japanese armor."
#9 Third Prize Award In The Gold Section: "The Golden Chakra"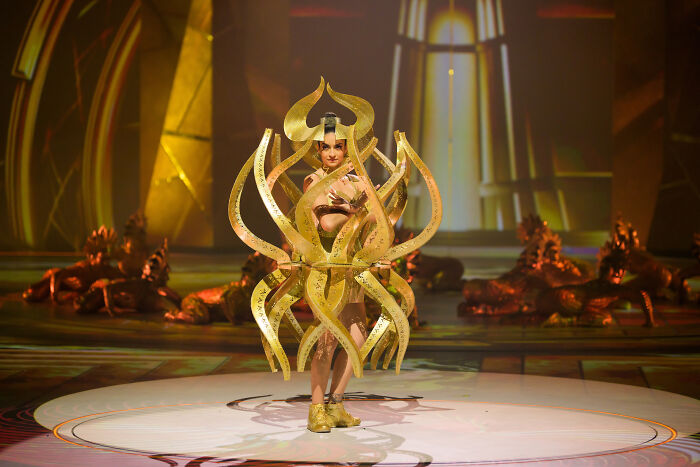 Designer: Akhilesh Gupta and Dimple Gandhi, India
"Inspired from the Chakras system that helps in finding inner peace."
#10 Winner Of The International Design Award: Australia And Pacific: "Birth Of The Babel Fish"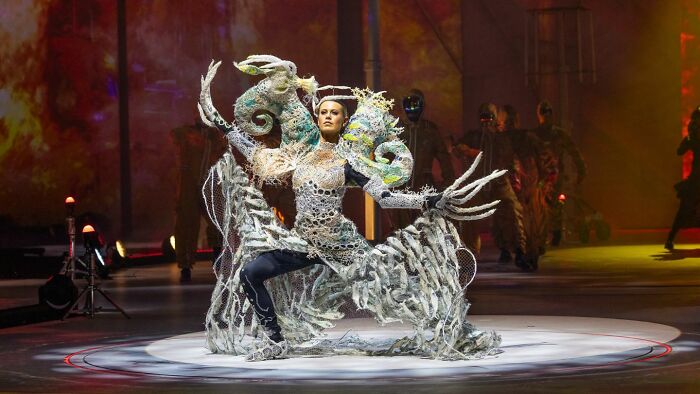 Designer: Lynnette Griffiths and Marion Gaemers, Australia
"Regenerated life enfolds a queen as she births fluorescent Babel fish."
#11 Winner In The Aotearoa Section: "Child·hood"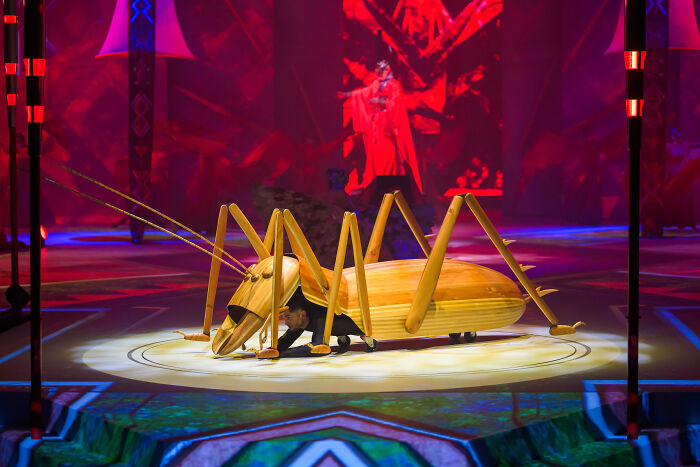 Designer: Craig McMillan, New Zealand
"Forgotten logs dredged from the lake of childhood summers transformed into what lurks in dark spaces."
#12 Third Prize Award In The Open Section: "Once Upon A Time"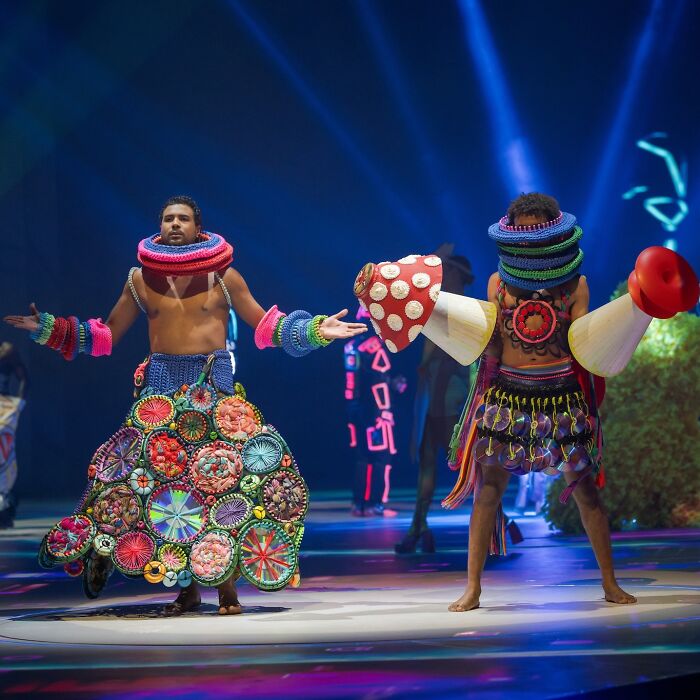 Designer: Marianne van Heeswijk, Netherlands
"A fairy tale invitation to all to reconnect with your soul, the other, and nature."
#13 Winner Of The First-Time Entrant Award: "Oizys – Goddess Of Emotion"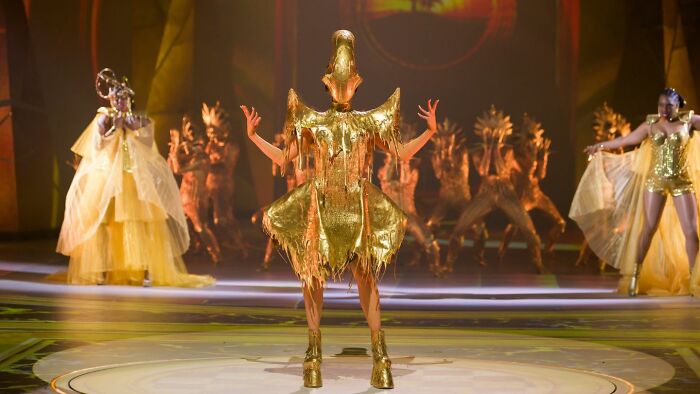 Designer: Abhishek Chauhan, India
"But feelings can't be ignored, no matter how unjust or ungrateful they seem."
#14 Second Prize Award In The Aotearoa Section: Wellington "The Skin I Am In"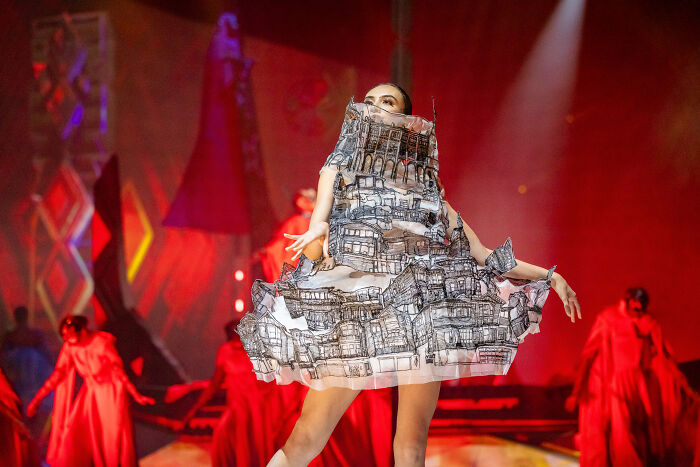 Designer: Katherine Bertram, New Zealand
"Finally, I have found my place. I know every detail moving and shifting. wellington, it is my skin."
#15 Winner Of The Bizarre Bra Section: "Groundbreaking"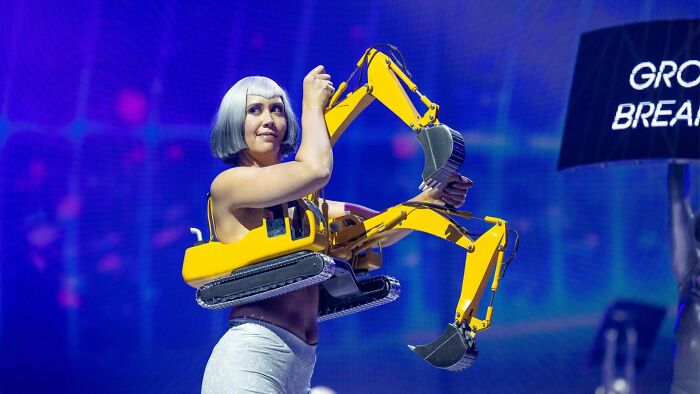 Designer: Kristy Kirkpatrick and David Kirkpatrick, New Zealand
"Inspired by our two-year-old who expresses joy and awe when he spots a digger at work."
#16 Winner Of The Student Innovation Award: "Flame Dance"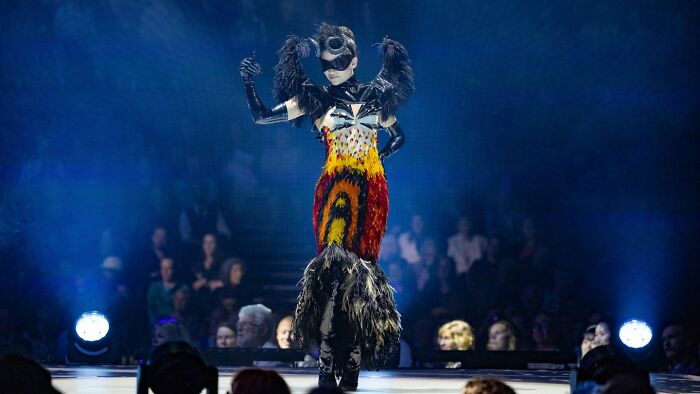 Designer: Eva Chan, Hong Kong
"Life only burns for itself."
#17 Second Prize Award In The Mars And Beyond Section: "Celestial Body"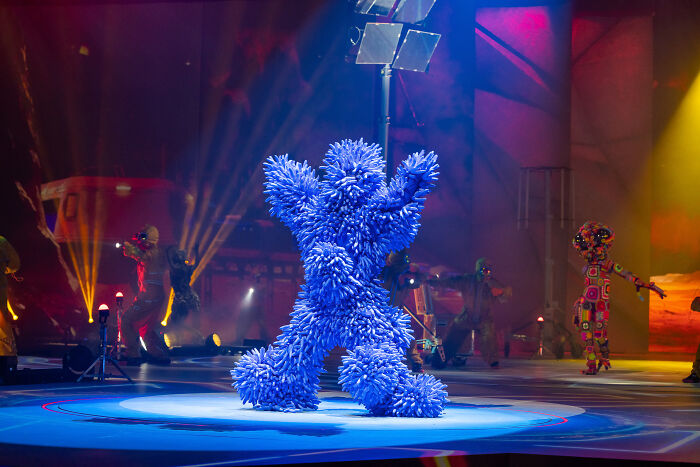 Designer: Jagoda Matecka and Zofia Brunarska, Poland
"The Celestial Body, something between living creature and plant. An active, transforming creature."
#18 Second Prize Award In The Avant-Garde Section: "Sen No Hida (1000 Folds)"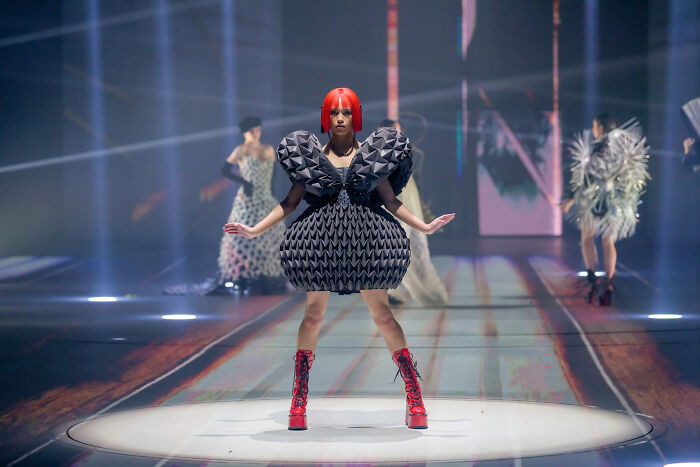 Designer: Carolyn Gibson and Joelle March, New Zealand
"A fusion of folds and funky fashion."
#19 Third Prize Award In The Avant-Garde Section: "Love Me Tender"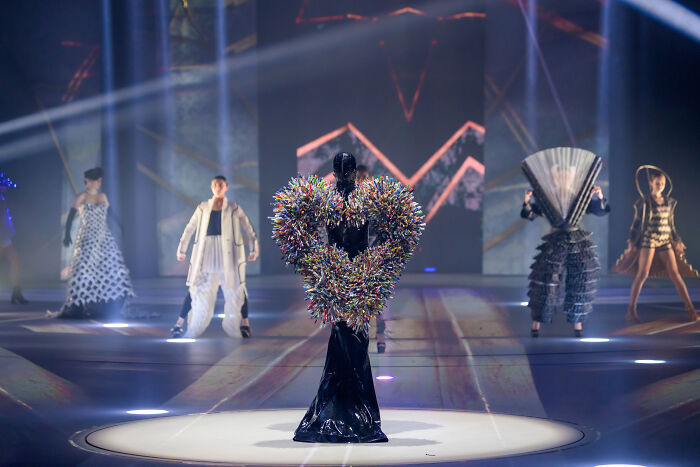 Designer: Antoaneta Tica, Romania
"Society pushes us to fall in love with more and more objects, then to buy them for a happier life."
#20 Winner Of The International Design Award: Asia: "Shadow Warrior"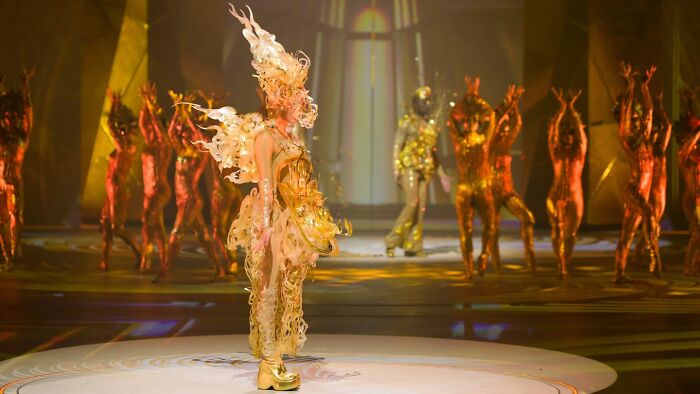 Designer: Karin Chiu, Cathy, Sin Wei Chow, Choy Yuk Nga, Hong Kong
"The Shadow Warrior's feminine elegance shines through with gold sparkles on calligraphic-painted preserved leather, creating a captivating sight."
#21 Winner Of The International Design Award: United Kingdom And Europe: "Metamorphosis"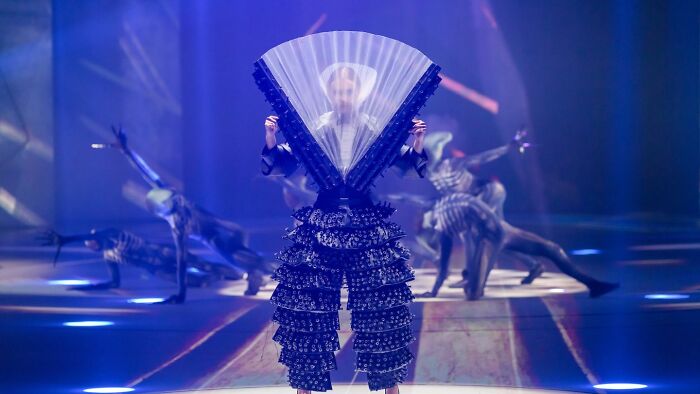 Designer: Juliet Dodson, United Kingdom
"From cocoon to bloom, embodying various complex metamorphoses which occur in nature."
#22 Winner Of The New Zealand Design Award: "The Golden Age Of Queens"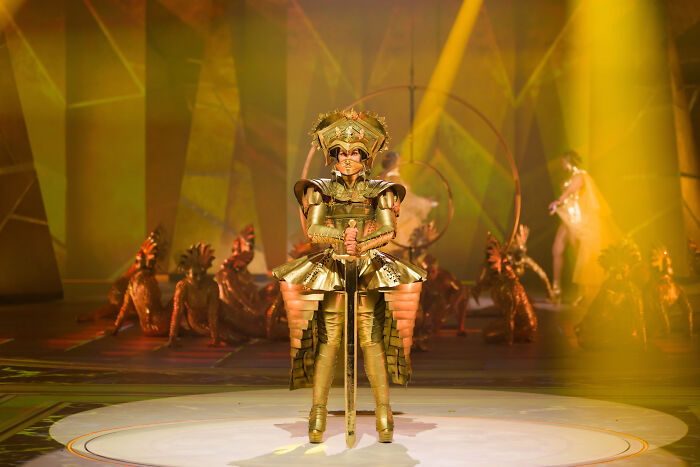 Designer: Georgia Chalmers-Jones, New Zealand
"Armor fit for the queens of the Golden Age of Europe."
#23 Second Prize Award In The Bizarre Bra Section: "Eyes Up Here"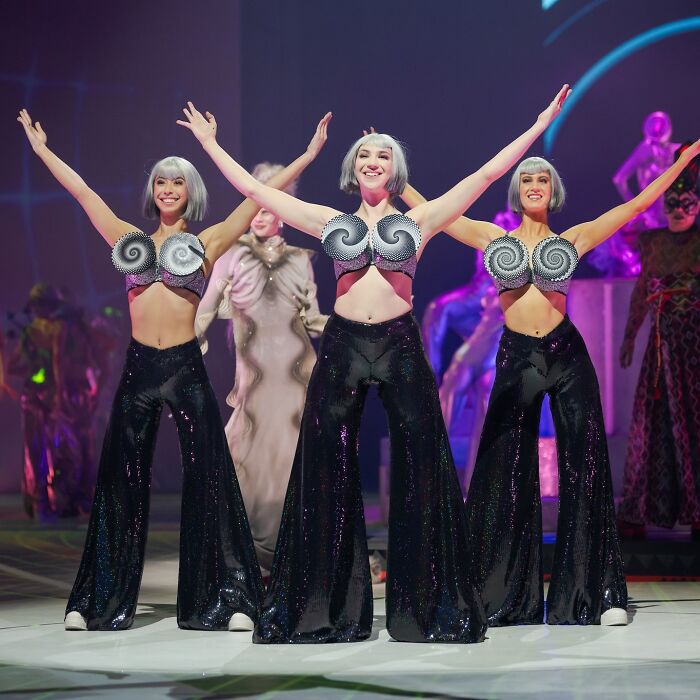 Designer: Rebecca Bond, New Zealand
"Eyes up here! This simple phrase holds a powerful message about the way we see and treat others."
#24 Winner Of The Wearable Technology Award: "Virtually The Same"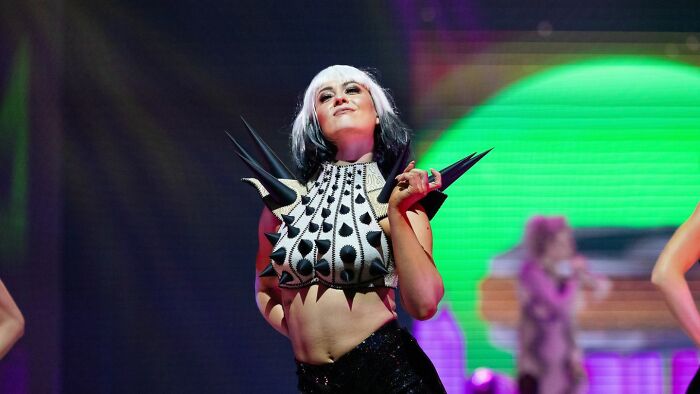 Designer: Dylan Mulder and Juliette Thomson, New Zealand
"Digital wearables are here. With AR, Web3, blockchain – this garment can be owned and worn digitally."
#25 Third Prize Award In The Bizarre Bra Section: "In Case Of Emergency"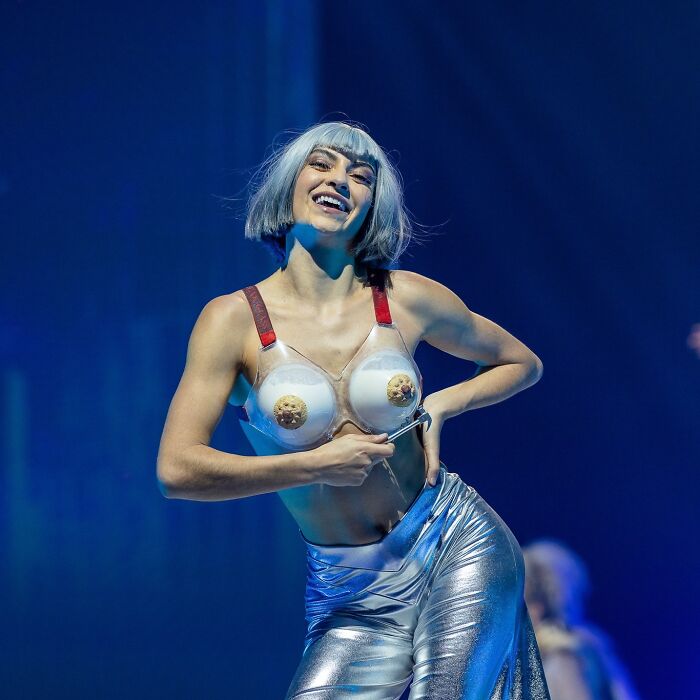 Designer: Deborah Bassett, New Zealand
"In an emergency, break glass and give that baby some milk!"
---
Related Articles: