Presenting the outstanding finalist photographs from the Birdlife Australia Photography Awards 2023. This year, we received over 6,000 entries from Australia's most talented bird photographers. After careful deliberation, our judges have selected the top 68 images, each a testament to the beauty of avian life. Stay tuned for the winners' announcement in November.
For more than a century, BirdLife Australia has been dedicated to saving birds and their habitats. We continue to lead the way in bird conservation, striving to protect these magnificent creatures and their ecosystems. A heartfelt thank you to our sponsors, Nikon Australia and Lake Cowal Foundation, for their generous support of the 2023 Awards.
Scroll down and inspire yourself. You can check their website for more information.
You can find more info about Birdlife Australia:
#1. Backyard Birds: Garden serenade by Nathan Watson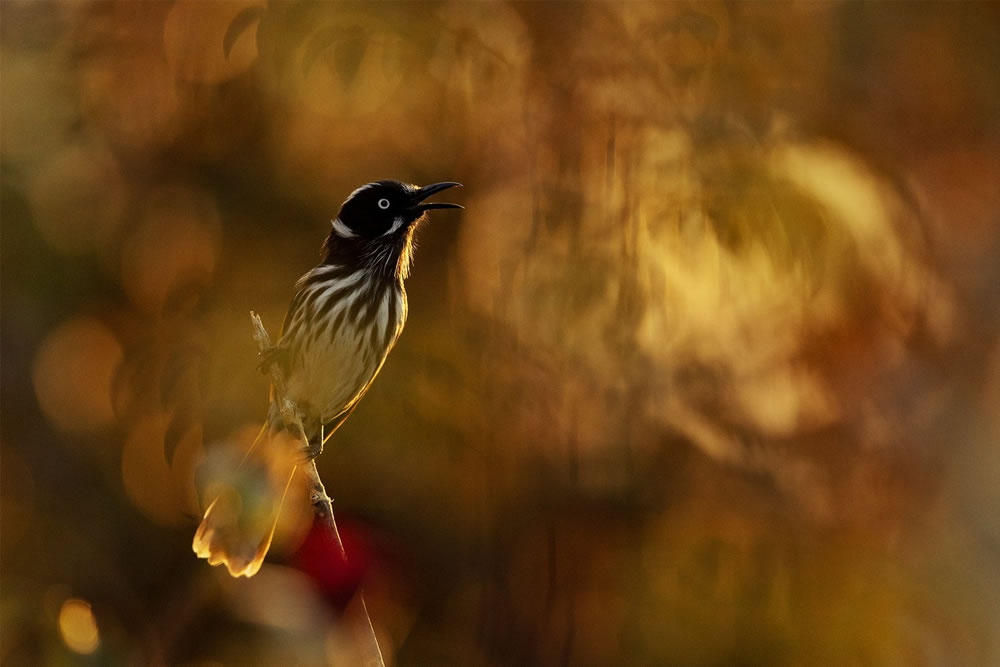 "Almost every evening New Holland Honeyeaters perch in our cottage garden, singing and feeding on the flowers or hunting flying insects. They give me lots of opportunities to experiment with exposures, compositions and lighting techniques. On this evening at sunset as a honeyeater sang from one of its regular perches, I composed an image through three foreground layers of rose stems. This created a somewhat abstract effect to the photo as the leaves and stems created patterns in the golden bokeh shining through the background foliage."
#2. Backyard Birds: Into the light by Michelle Gardner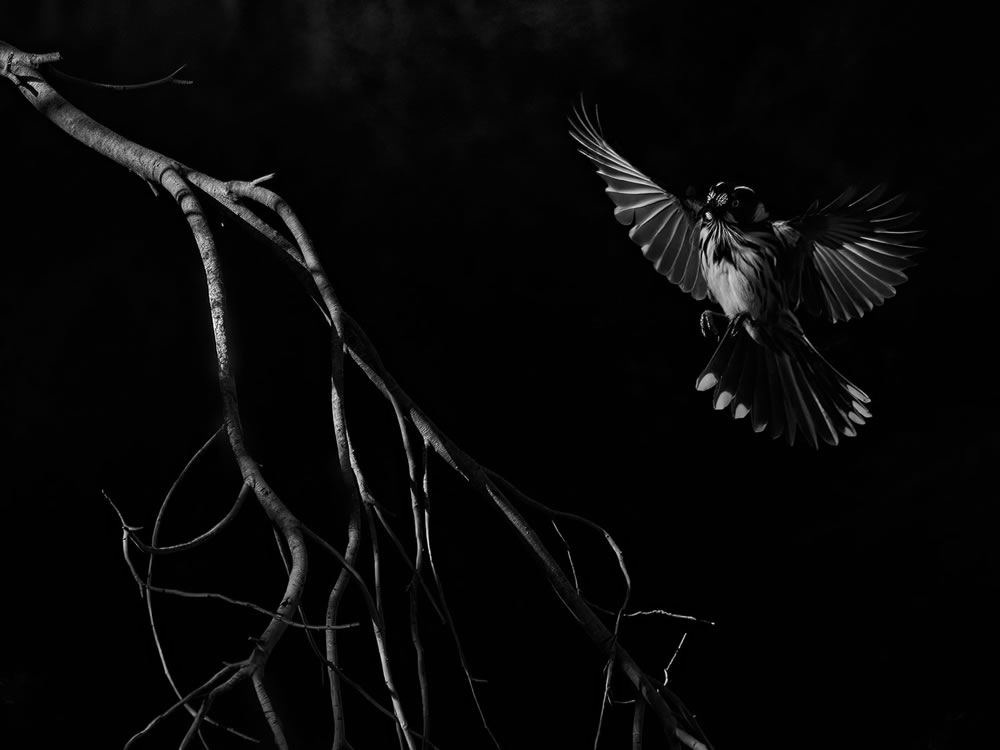 #3. Backyard Birds: Petals of light by Nathan Watson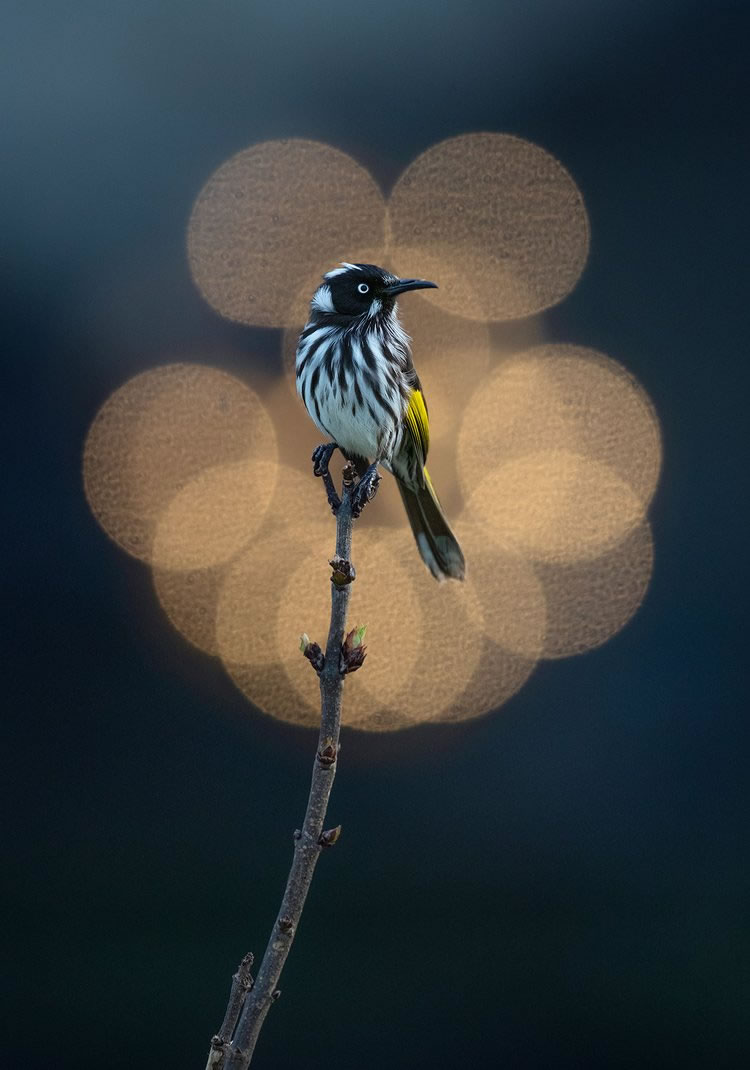 #4. Backyard Birds: Song of the Superb by Nikki Kenwrick
#5. Bird Behaviour: Bloomsome by Cheng Kang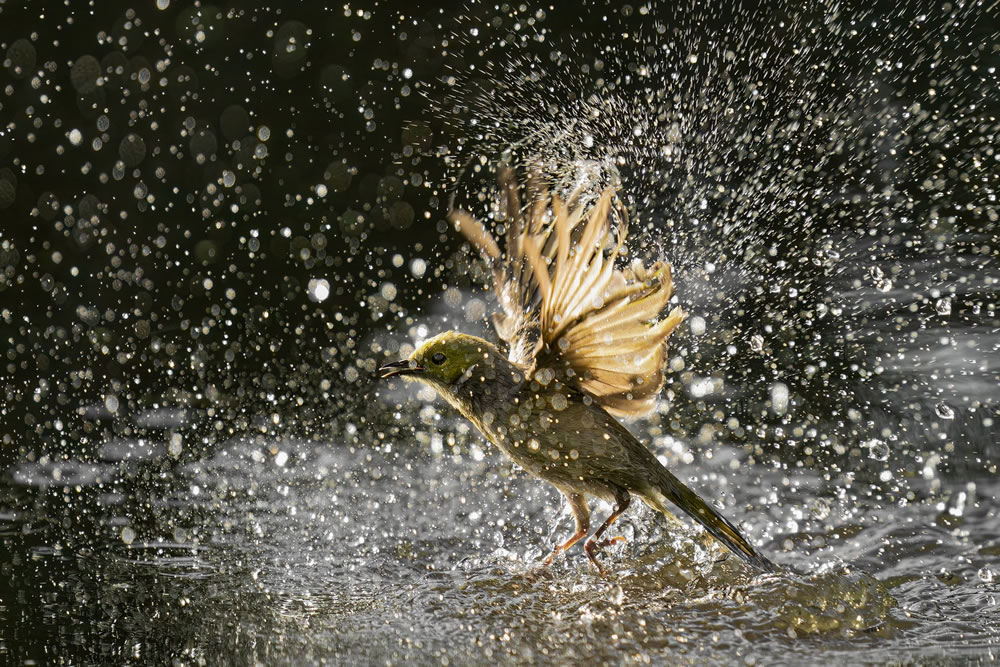 "White-plumed Honeyeaters are extremely fast flying birds and excellent divers but are very timid and unapproachable. I often see them diving into water holes or wetlands to wash their plumage, however I found catching the moment that Honeyeaters dive to be very challenging especially given how alert and cautious they are of humans. It was so thrilling to capture this spectacular scene after many attempts and a lot of patience."
#6. Bird Behaviour: The morning dance by Lawrence Chan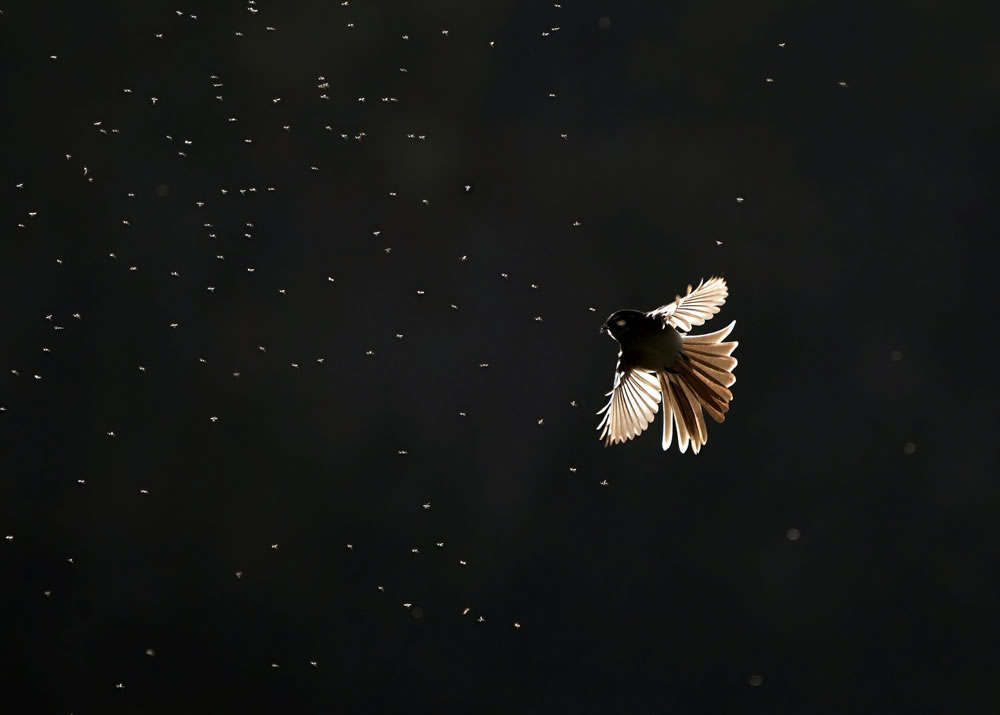 #7. Bird Behaviour: Gone fishing by Kim Wormald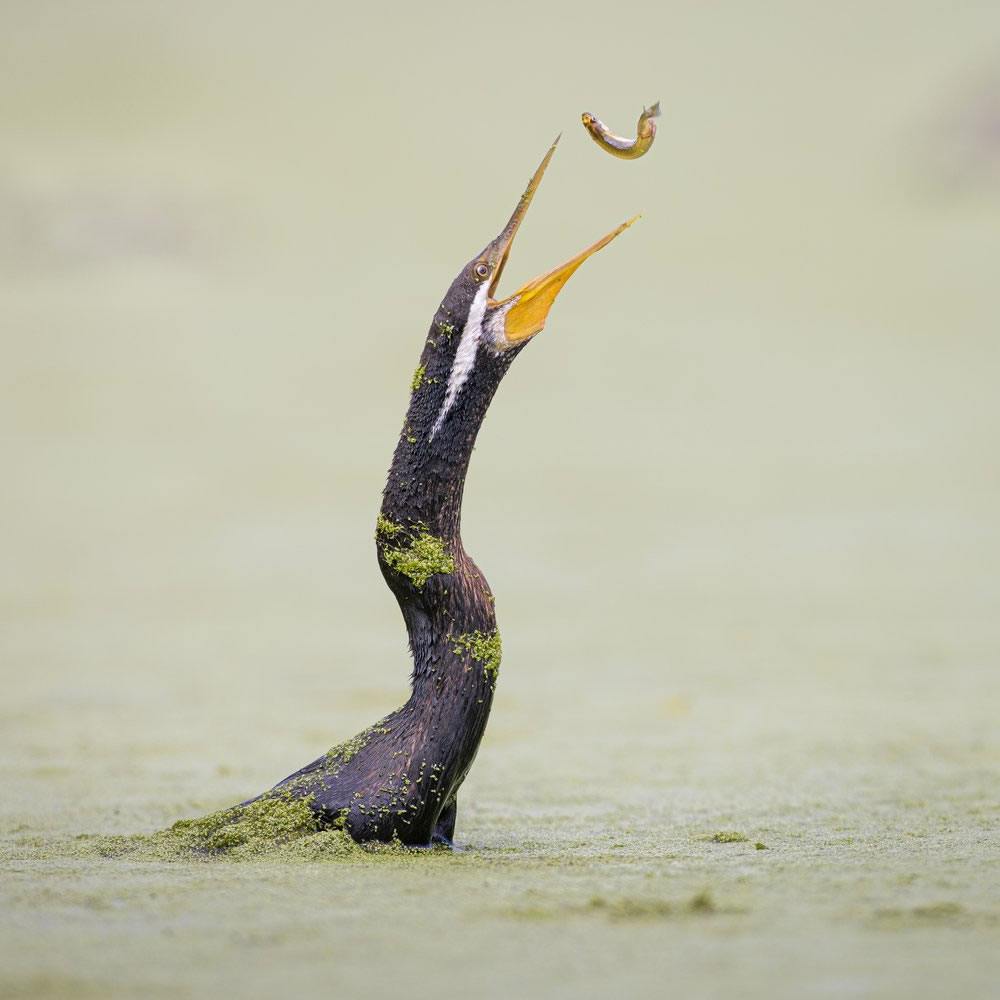 #8. Bird Behaviour: Pollen shower by Guy Draper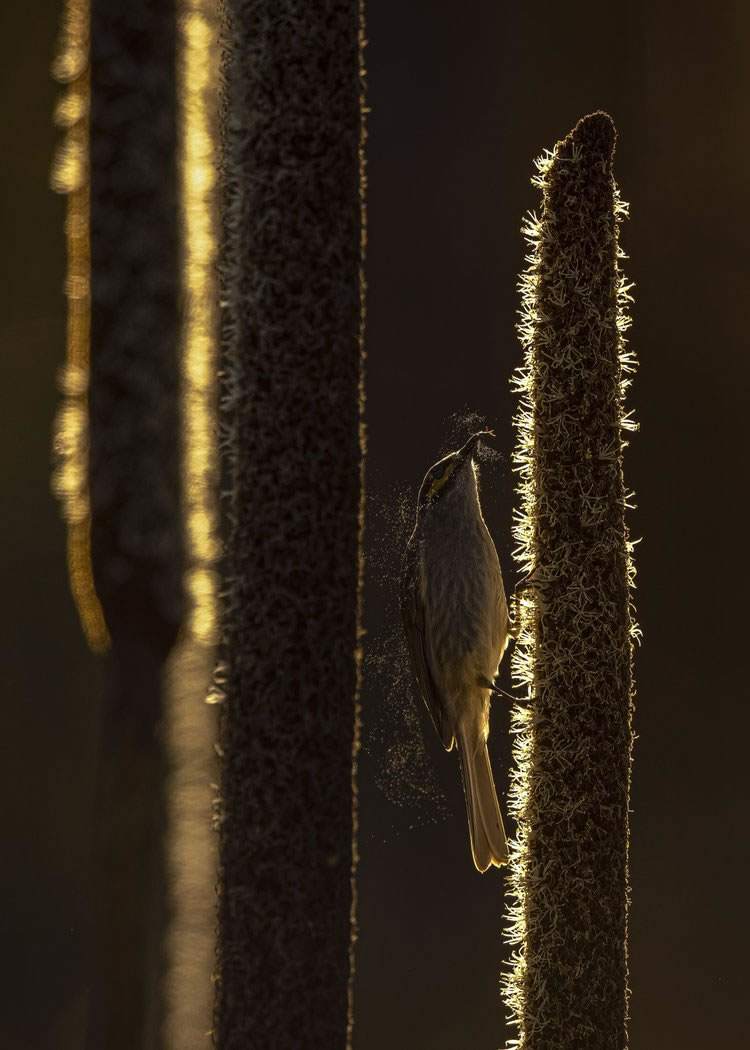 #9. Bird Portrait: Caught in the rain by Jacqui Davey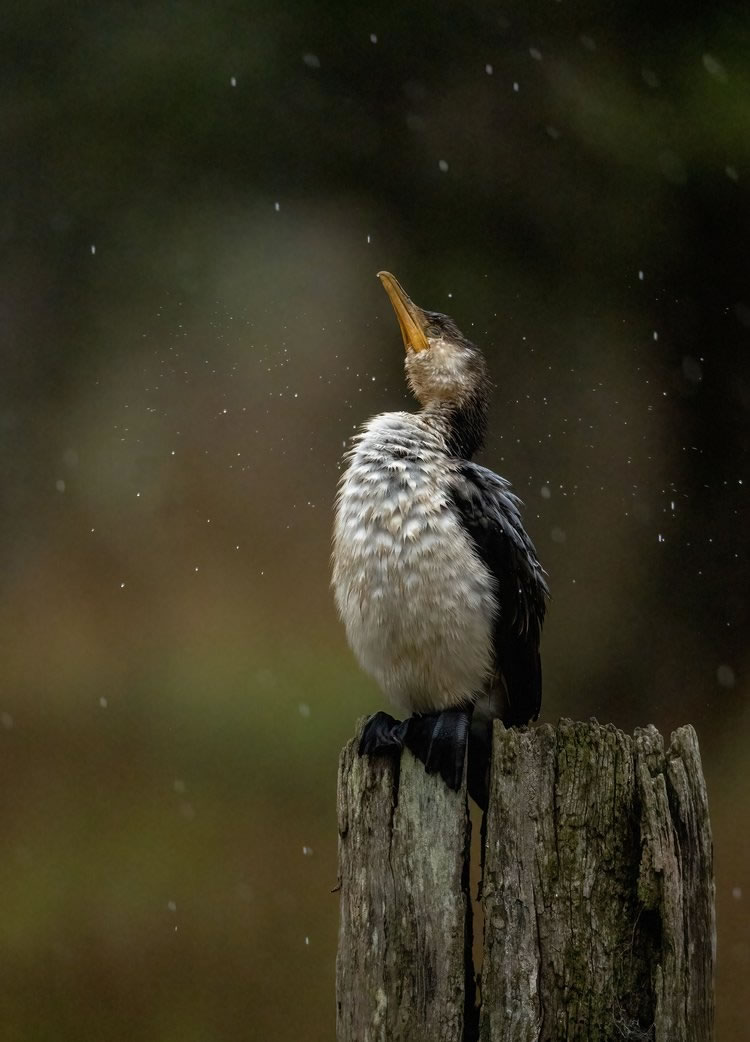 #10. Bird Portrait: Piercing by Colin Driscoll
"Just on sunset a female Australasian Darter looks up from preening after her final successful fishing session for the day. These birds are so angular it is difficult to get an interesting composition. This shot captures what these birds do under water. One can imagine this is the last thing a fish sees as the long neck launches that bill piercing it like a spear fisher would."
#11. Birds in Flight: Airborne Grebe by Nathan Watson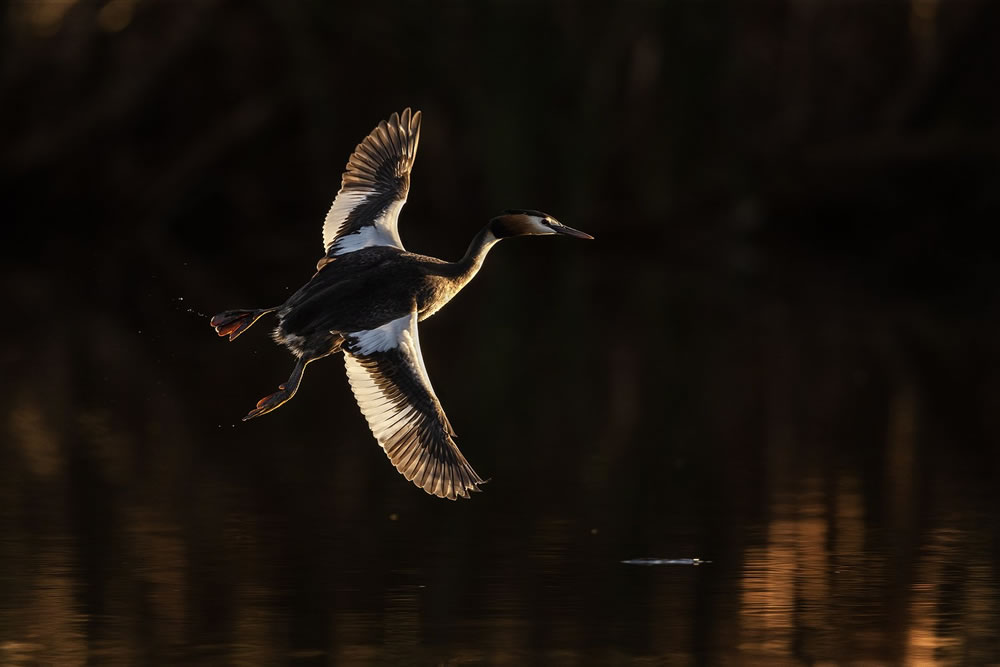 #12. Birds in Flight: Shrieking Carnaby by Nathan Watson
#13. Birds in Flight: Shrieking Carnaby by Nathan Watson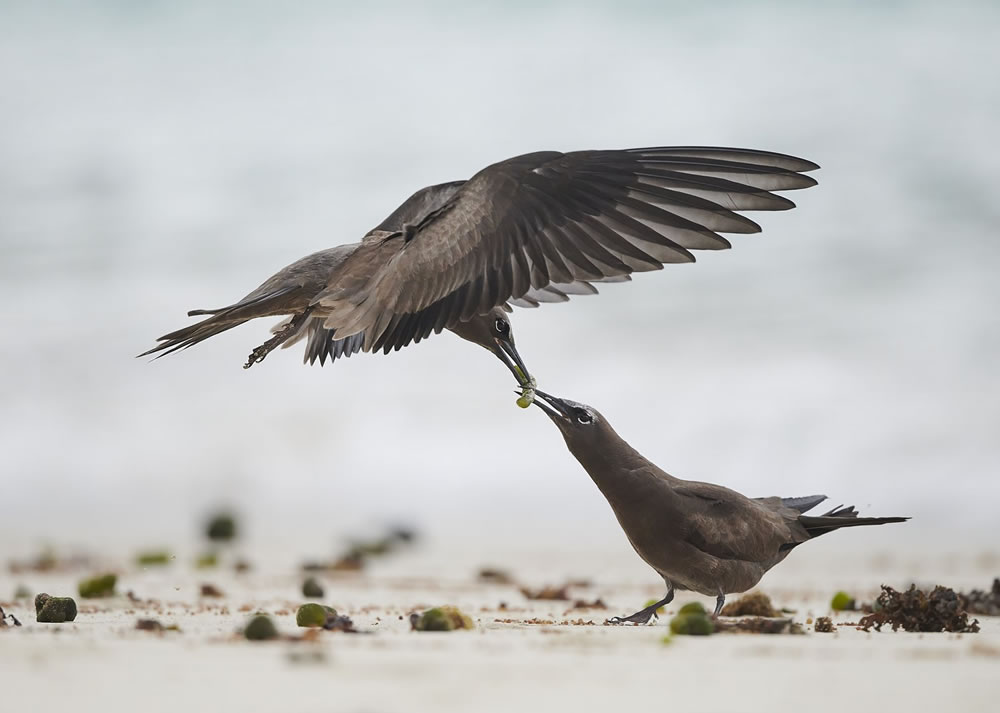 #14. Birds in Flight: Where there is smoke there is fire by Martin Anderson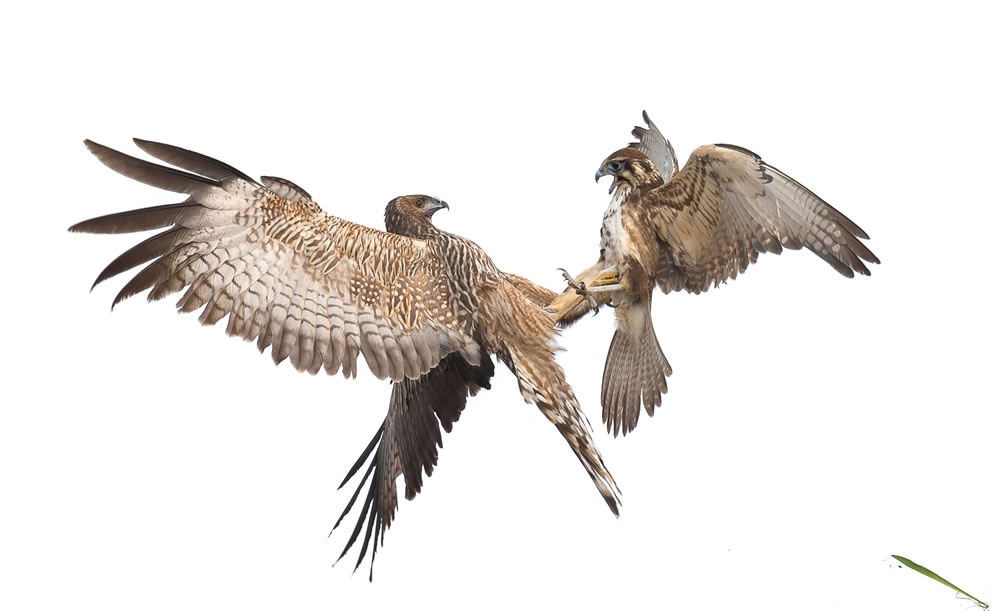 "While pulled over on the side of the road, I was very lucky to witness this epic fight between a Spotted Harrier and a Brown Falcon. The Spotted Harrier was flying slowly across the field, trying to conceal a Golden-headed Cisticola it had just captured, when a Brown Falcon showed up with thievery in mind."
#15. Birds in the Landscape: Rainbow Bee-eaters by Jason Moore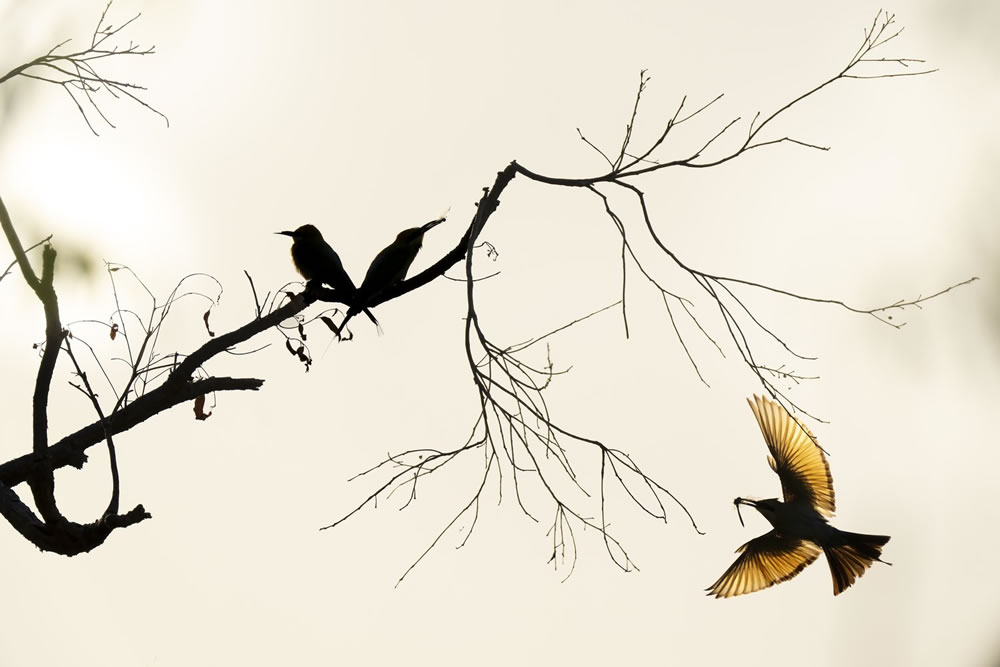 #16. Special Theme: Water trails by Rebecca Harrison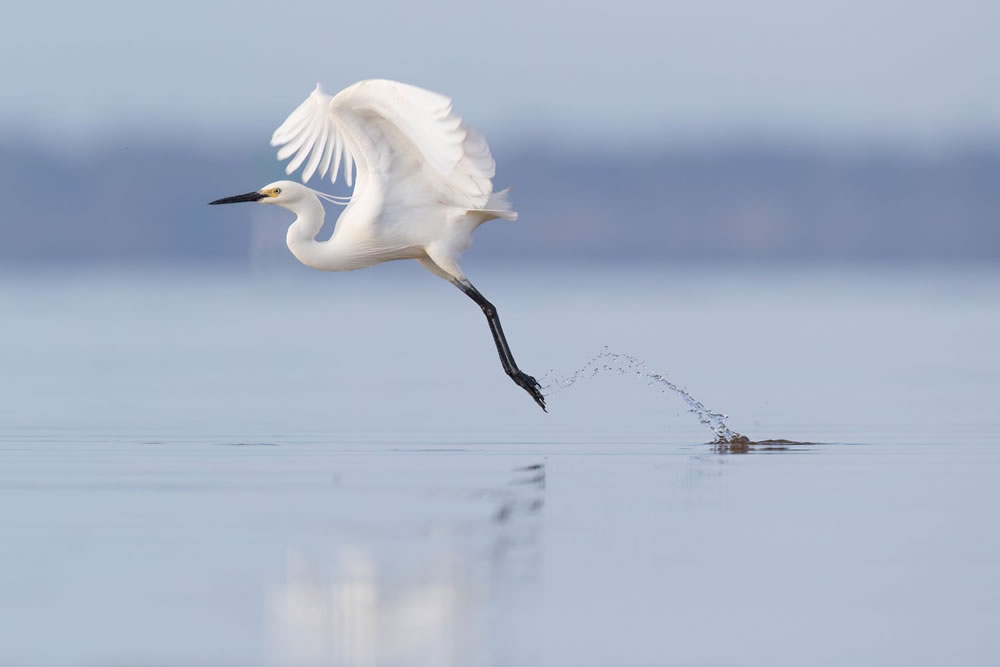 #17. Special Theme: Volitation into violet by Nathan Watson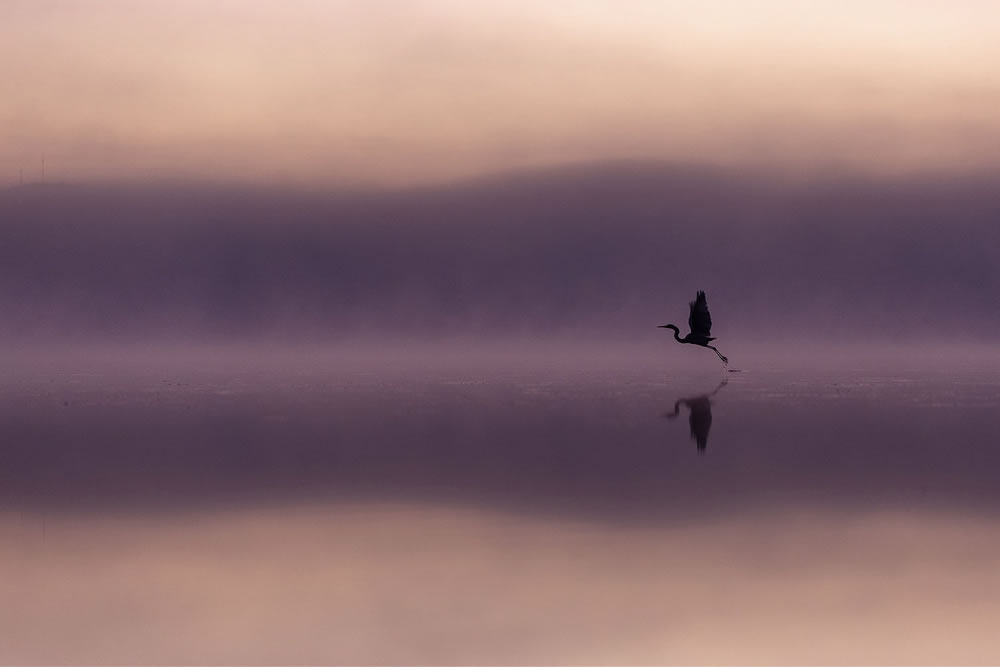 #18. Youth: Warbling by Austin Ridley-Jarvis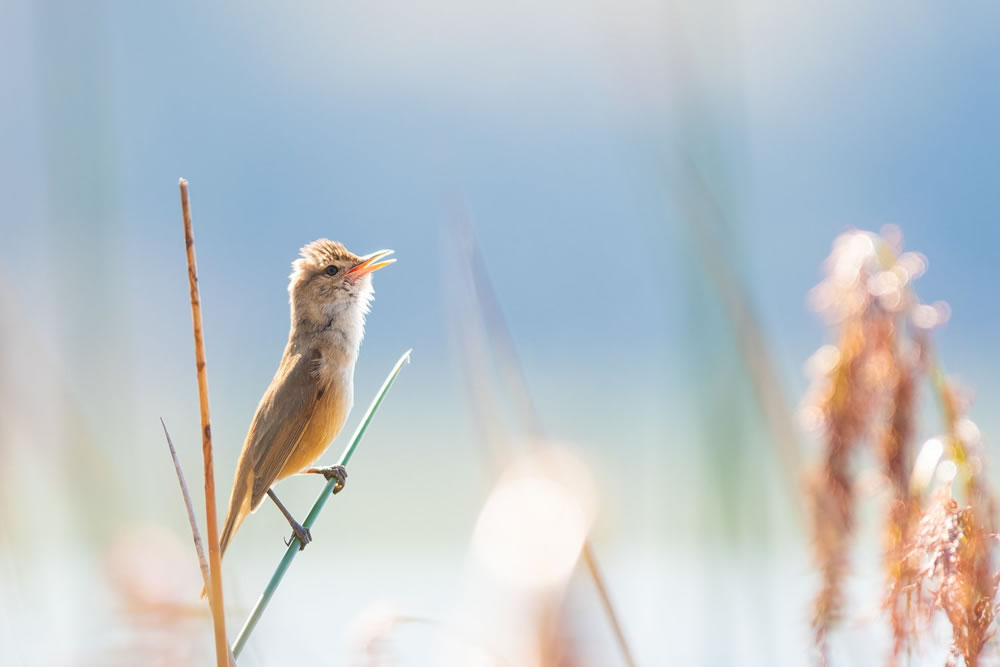 #19. Human Impact: Anguish by Kim Wormald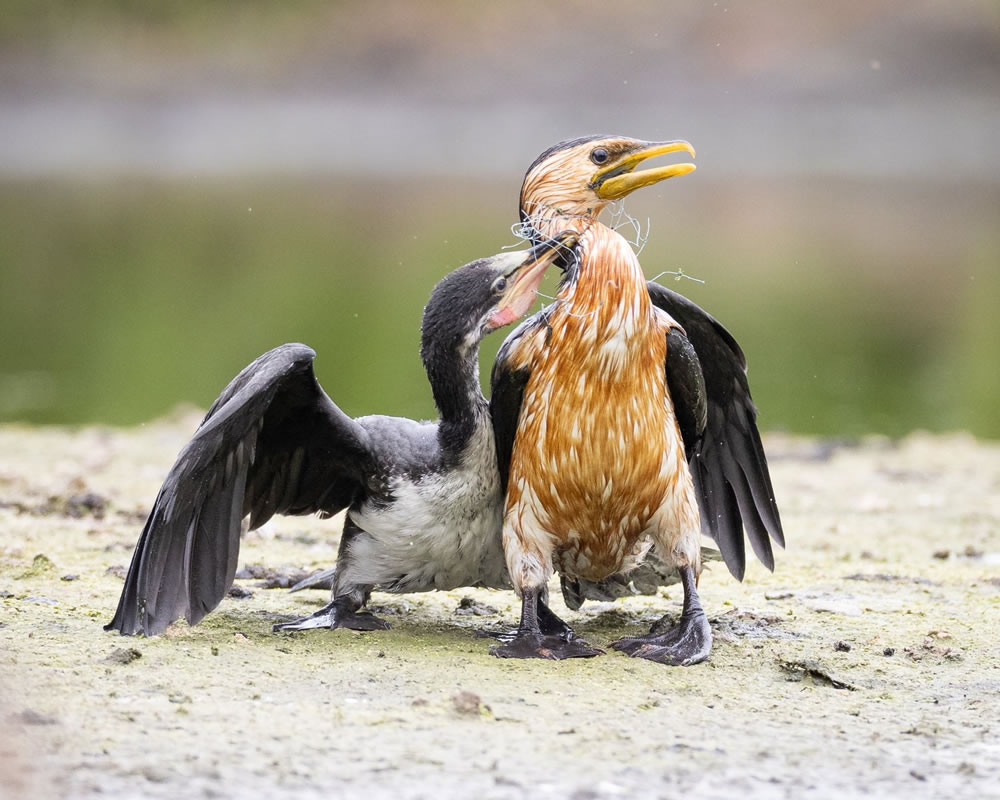 "This was such a heart-wrenching situation, not only the adult's anguish at being entangled in nylon filament but also the juvenile's desperation as it tries to free its parent. I called a specialist rescue service that was unable to save this bird."
#20. Human Impact: Helpless by Bruno Urquhart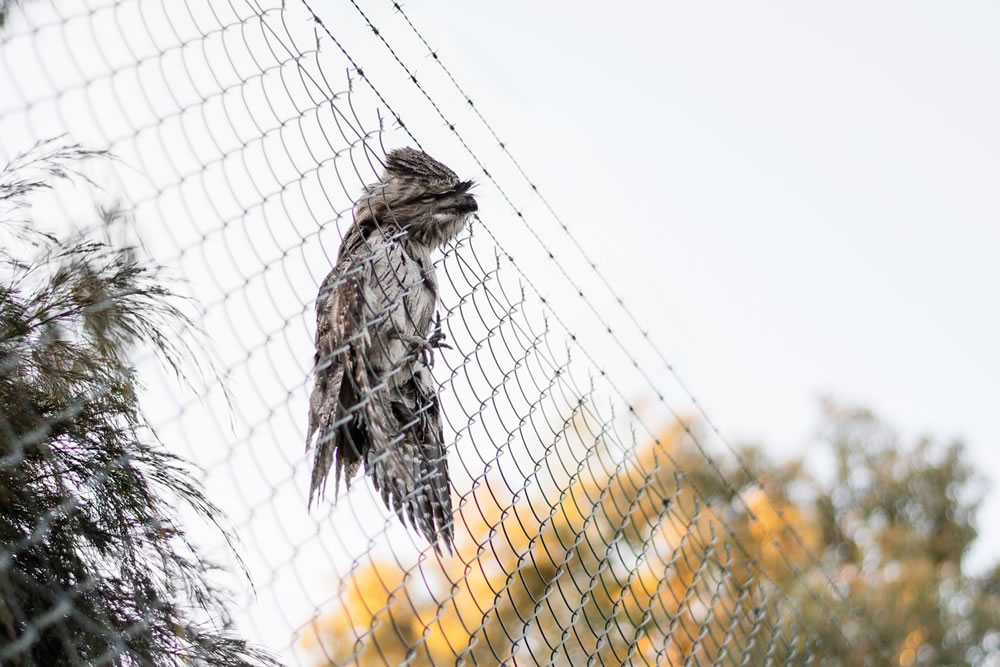 "A victim of urbanization. I opted for a low angle on this shot to emphasize the drastic nature of this scene; the claws clinging onto the wire, stiff and cold, blood lining the beak, the shoulders on each wing rubbed raw. It should serve as a sombre reminder of the challenges faced by our native Australian wildlife, as the urban sprawl continues to affect every facet of their existence."
---
Related Articles: