You trust your Lexar Professional Class 10 UHS-II 2000X SD card as it delivers high-speed performance when used in DSLRs or drone cameras. They are not only fast to capture but quick to transfer high-quality photographs.
However, the Class 10 storage cards are not immune to data loss. You can lose the saved photos on it during file transfer to/ from the computer due to accidental deletion or formatting. Apart from these, virus attack, corruption, or damage in the Lexar Class 10 cards can also result in photo loss.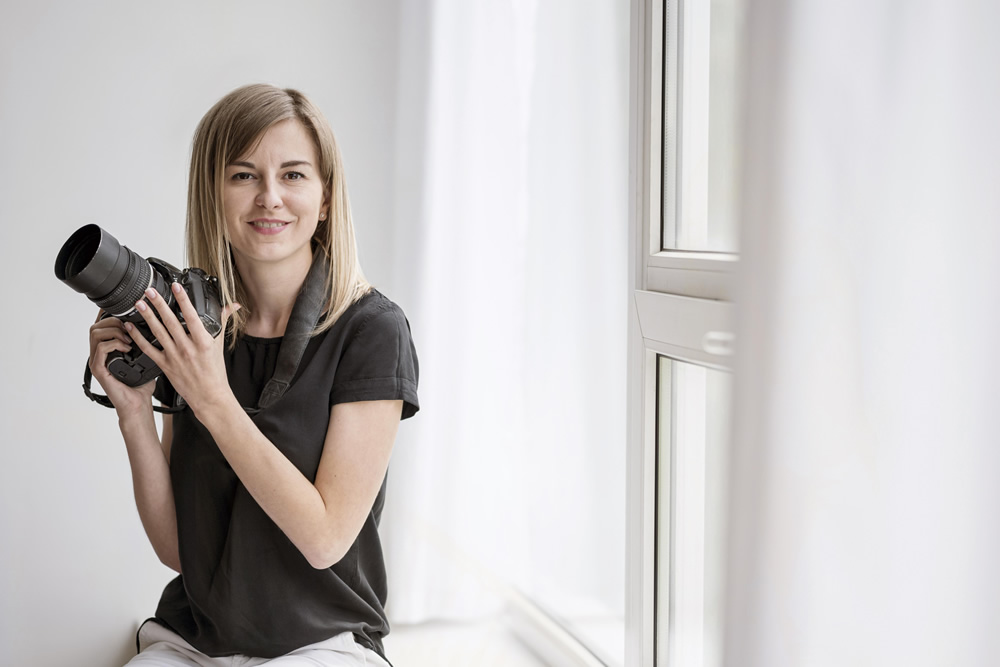 How to recover photos from Lexar Class 10 UHS-II 2000X
Photo recovery from any storage card depends upon how you lost the data. If your Lexar Class 10 SD card is inaccessible or not showing on the computer, check the hardware settings. The card reader or SD card slot should not be faulty. If the SD card is not detected by PC, you might have to assign a new drive letter.
If the manual techniques don't recover your photos, get a photo recovery software that supports Class 10 UHS II technology storage cards.
Plus, it's important to avoid overwriting the problematic SD card. So immediately stop using your Lexar Class 10 UHS-II 2000X SD card from which you want to restore deleted photos.
Below are the methods to recover photos from Lexar Professional Class 10 cards in various situations:
1. Perform Chkdsk in Command Prompt
Your Lexar SD card becomes inaccessible. You may be receiving an error – 'SD card is damaged. Try reformatting it', when trying to open Lexar Professional Class 10 UHS II SD card. The error gives jitters, as formatting would lead to the loss of all stored photos.
So what you can do instead is to try running chkdsk command on your PC. The command scans and repairs the system errors that may be causing the SD card issues.
Follow the below steps to run Chkdsk on Windows PC:
Open Run dialog box using Windows + R keys.
Type cmd.Hit Enter.
Right-click on cmd.Select Run as Administrator.
Type command chkdsk G: /r/f, where G is the Lexar SD card drive letter.
Hit Enter.
Wait until the scan is complete. Restart PC and now access the SD card and restore the photos.
2. Assign a new drive letter to your Lexar UHS II SDHC card
Try this method when you don't see Lexar SDHC/ SDXC card in the drive list of your computer or receive message –'Please insert the disk into drive G:'.This is in spite the SD card is properly inserted in the SD card slot of your PC or laptop.
Your computer doesn't detect the SD card, probably because the drive letter is not assigned or already being used by another drive in the system. You can allocate a new drive letter to the memory card to fix the issue.
Follow the below steps to allocate a drive letter to Lexar SD card:
Connect yourLexar SD card to PC.
Right-click on the Start button and click Disk Management to open it.
Locate your Lexar Class 10 UHS II SD card. Right-click on it.
Select Change Drive Letter and Paths.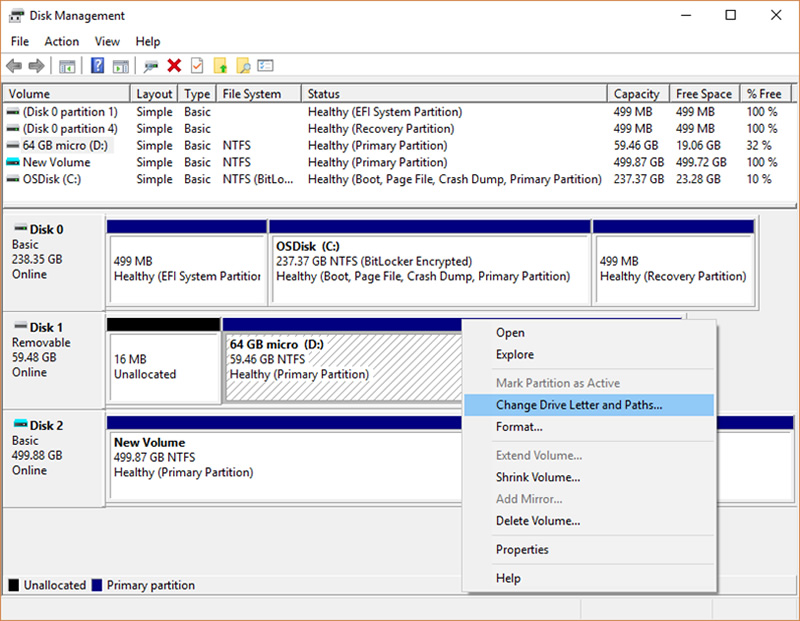 Figure: Change drive letter in Disk Management
Click on Edit button and reassign a drive letter. Click OK. In case, SD card doesn't have a drive letter allocated, click on the Add button.
Click OK to apply the changes.
Restart PC.
Now your Lexar SD card should show up in the drives list. Click on it to recover photos.
3. Use a Lexar photo recovery software
The Lexar SD card may remain inaccessible, and all the above methods may fail to open it. Or you can access and view other files on the SD card but can't see your photos. They are either deleted or lost due to some reason. Such situations call for a photo recovery software.
A professional photo recovery tool will comprehensively search and recover deleted photos fromLexarClass 10 SD cards. But note that not every recovery software can restore files from high read/ write speed Class 10 UHS II technology storage cards. So, always ensure that your photo recovery tool is compatible with Class 10 UHS II storage media.
One such software, Stellar Photo Recovery quickly scans Lexar Class 10 SDHC, SDXC, or microSD cards. You can recover all photos of JPEG, RAW, TIFF, PNG, raster, vector, etc. The DIY tool works upon any type and capacity of SD cards used in DSLR, camcorder, GoPro, drones, Android, etc.
You can restore lost or deleted pictures from inaccessible, error-throwing, damaged, corrupt, or formatted Lexar cards without compromising the original image quality. Further, the software can recover deleted videos from SD cards.
Steps to recover deleted photos from Lexar Class 10 UHS II card using software:
Step 1: Download Stellar Photo Recovery on the computer.

Step 2: Connect the Lexar SD card to the computer.
Step 3: Select the SD card. Toggle Deep Scan at the bottom and click Scan.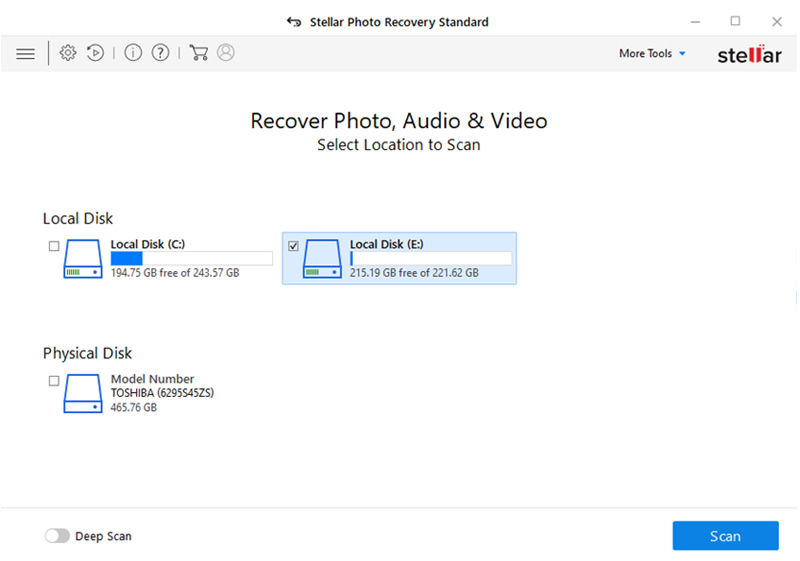 Figure: Scan camera SD card or drive
Step 4: Once the scan process finishes, the software lists the recoverable photos. Preview and click Recover to save them at the desired location on your computer or external drive.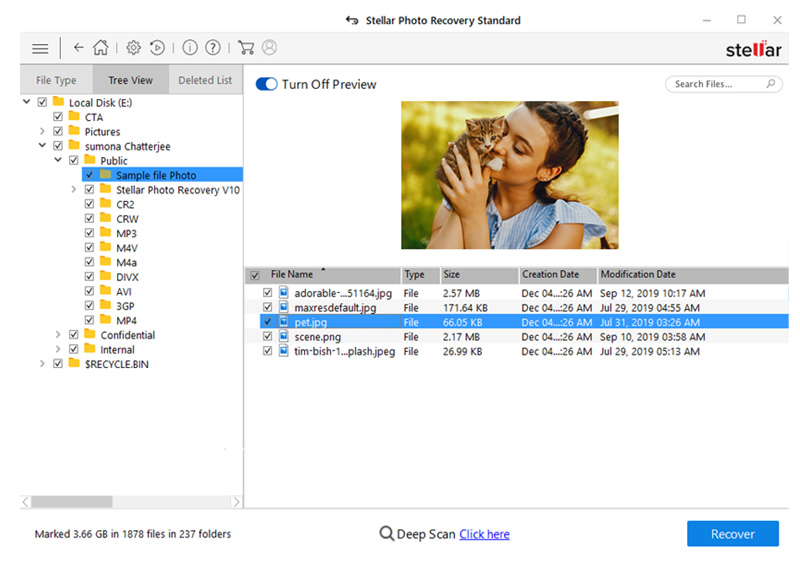 Figure: Preview photos in Stellar Photo Recovery
Finally
A photo recovery software is a quick and easy way to recover deleted or lost photos from Lexar Class 10 SD cards. In any situation, be it deletion, formatting, virus infection, SD card error, damage, or corruption, etc., the software can restore photos in all. However, before downloading, make sure it supports recovery from high-speed SD cards.
When Lexar SD card asks to format or is not detected by PC, run chkdsk command or assign a new drive letter.
Besides, no matter how advanced the SD card you are using, it is susceptible to data loss. Therefore, regularly backup your photos to avoid catastrophic loss situations.
---
Our Related Articles