Nothing is perfect, You will agree to this fact blindly if you are shooting digital. To achieve perfection and to transform your photograph into something beyond a mediocre picture, making it to feel better in terms of art and etcetera, there has to be a specific amount of post-processing most necessarily done. So, how to go about processing your picture, where to start, what to do and most importantly when to stop sledging those sliders will determine your final photograph. This is quiet complex procedure and thats why most of the master photographers themselves had the photo-editors assisting them more often in darkroom.
Hence it becomes quite mandatory for every single fine piece of digital photograph to go through specific procedure of retouching or post-processing in order to make it more appealing & aesthetically significant in all categories. Julia Kuzmenko makes it easier for us by giving some incredible tips and step by step procedure towards finetuning your digital photograph. When you decide to learn these techniques, its always best to learn it from a professional. This ebook will serve your cause towards perfection and will guide you towards light when speaking about digital re-touching.
They often say digital artists and creative photographers learn new stuff by watching & not reading, If you are one such, then this is for you..
All the best!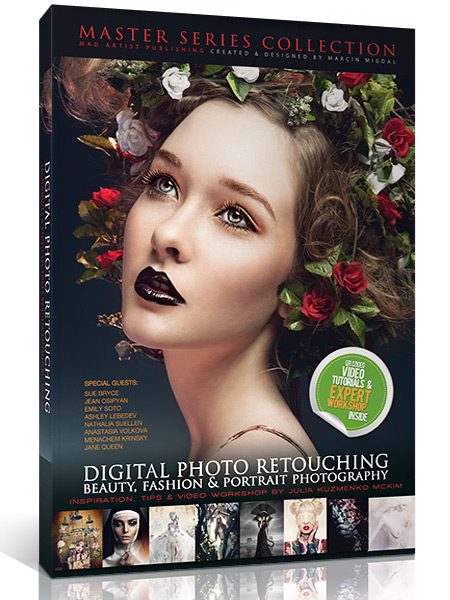 We've put together a beautiful book for you to get inspired and learn some professional tricks and techniques from a successful internationally published photographer, retoucher and educator Julia Kuzmenko McKim. The cover photo won second place in the global Wacom & AfterCapture Digital Imaging Contest 2012 in the Portrait category, and you can follow its retouching process with Julia in a 5-page illustrated text and 40-minute narrated video workshop.

Highlights:
Pages 24-28: Illustrated Text Workshop – Retouching Cover Image
Pages 36-37: Photographing & Retouching Face + Video (13 min)
Page 44: Video Retouching Workshop – Retouching Cover Image (42min)
Pages 50-51: Photographing & Retouching Hair + Video (10 min)
Tons of Images & Real World Photography & Retouching Tips
Articles on shooting on location, in studio, working with models with the post-production stage in mind
Custom Beauty Brushes & Actions (see Digital Goodie Bag subfolder) (only in digital book)
Pages 58-59: Working with the custom Brushes & Actions mentioned above + Video (30 min) (only in digital book)
The video tutorials in this book are private Youtube videos exclusively accessible to the readers of this book
There's also a download option to store the exclusive video tutorials and workshop on your computer and watch offline on page 9 (additional fee of $9.99 applies) (only in digital book)and a lot more!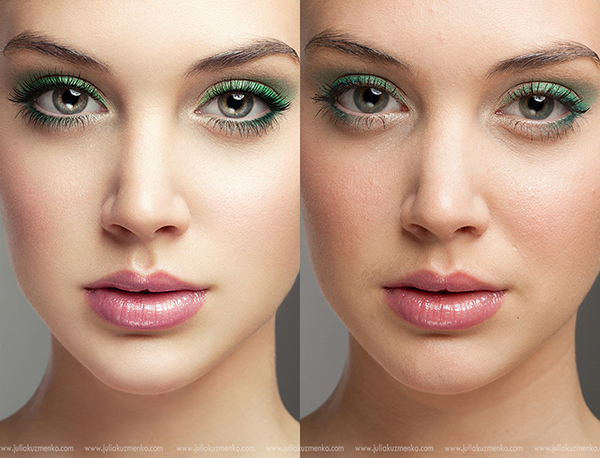 The eBook is jam-packed with great retouching tools and techniques for face, skin and hair retouching, as well as photography tips, which will help you to avoid creating retouching problems before the images are photographed. The author shares her knowledge and expertise in a handful of articles covering everything from how to prepare your model for a beauty photo shoot to efficient and time-saving retouching workflow.
"Digital Photo Retouching" eBook is designed with amateur and professional photographers, who photograph people and edit their work in Adobe Photoshop CS3-CC in mind. Intermediate and advanced Photoshop users will get the most out of it.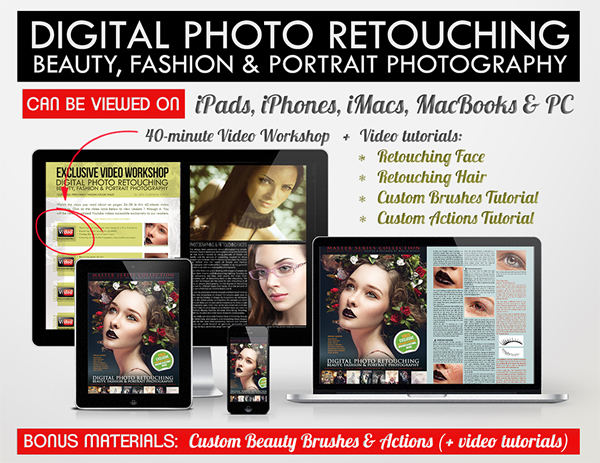 At the end of the ebook you will be provided with Julia's custom Beauty Brushes, some of which are based on the brushes created by the amazing digital artist from Poland Marta Dahlig, and a new set of Julia's Beauty Actions (Sharpen All + Parts, Frequency Separation presets for 8- and 16-bit images, Silky Skin, Sculpt & Contour, Digital Skin Texture, Anti-Pink and Temporary Solar Curve) + video tutorials on how to use these Brushes and Actions (these digital bonus materials only come with the digital version of the book).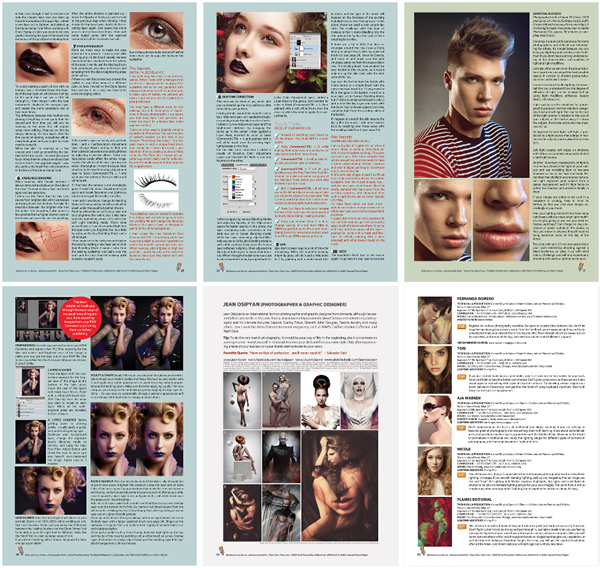 You know they say: "Give a man a fish and you feed him for a day. Teach a man to fish and you feed him for a lifetime". I'm going to teach you to "fish" with the retouching tools I myself utilize every day, and you will be able to take it from there. – Julia Kuzmenko McKim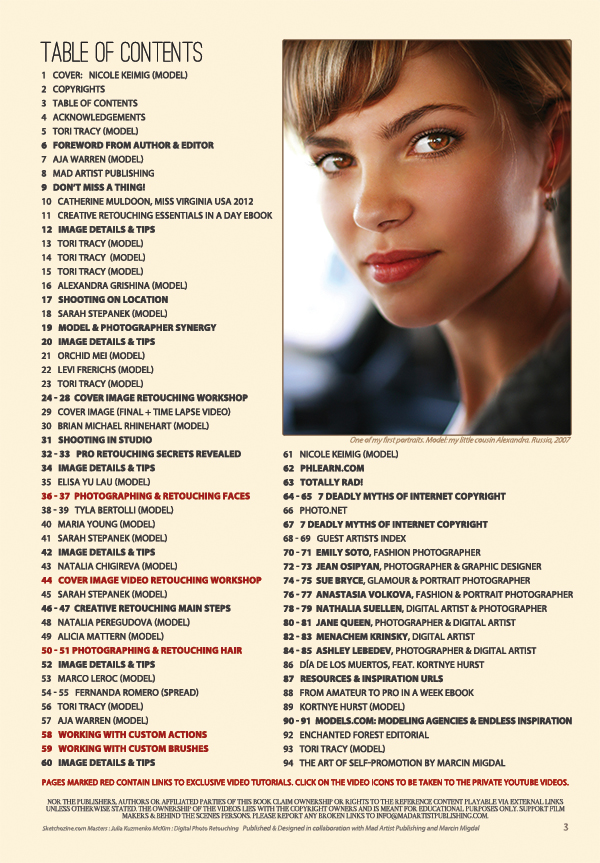 About Julia Kuzmenko McKim
My name is Julia Kuzmenko McKim, and I'm a professional Beauty and Portrait photographer, digital artist, retoucher and educator. I am also an International College of Professional Photography (Melbourne, Australia) graduate represented by Aston Models Agency, Beverly Hills, CA.
It's been about 8 years since I started my wonderful journey into the world of Digital Photography and Retouching. Like many, I didn't choose Photography as a profession right out of school. I spent many years gaining a degree in Finance & Accounting and climbing the career ladder in the financial industry in Moscow, Russia. That's probably the only dull and boring part of my story.
You can follow Julia Kuzmenko McKim on the Web: