To Continue with our last post, this is yet another breakdown of groundbreaking work from our masters of photography. Analyzing some iconic photographs would be one of interesting aspects of photography, for it provides an in-depth analysis and idea to all the aspirants in this field.
As always, looking at these pictures, there are numerous emotions within us plus a lot of valuable knowledge and vision to be inspired from. It helps us to know what made this particular picture a sensation besides it is a great opportunity for all amateurs to learn from a picture which has already been a winning one.
Here in this part 4 of this chapter, I have handpicked some of the most strongest pictures of this century from the grand masters. To add more on this, if you would like any great picture to be analyzed please add it in the message section to see it featured in Part 5.
From the editors point of view, it feels great to speak about the aesthetic and appealing factors in these iconic photographs. Please check our previous posts here:
The Decisive Moment by Henri Cartier Bresson
The first one from the great master himself, one of finest street photographs you could find. This Picture here is an ultimate example of what was later pronounced as the decisive moment. Henri-Cartier was possessed with this specific habit of shooting photographs with great sense of timing. And in this particular photograph, as we could see the timing was immaculate, the gracious second before his boot touches the water, and the balance is right at the screen left. A girl in the poster stretching her legs from her right to left, fantastic juxtaposition and the luckiest composition one could dream of. The silhouette of the character adds more merry and curiosity to the picture itself.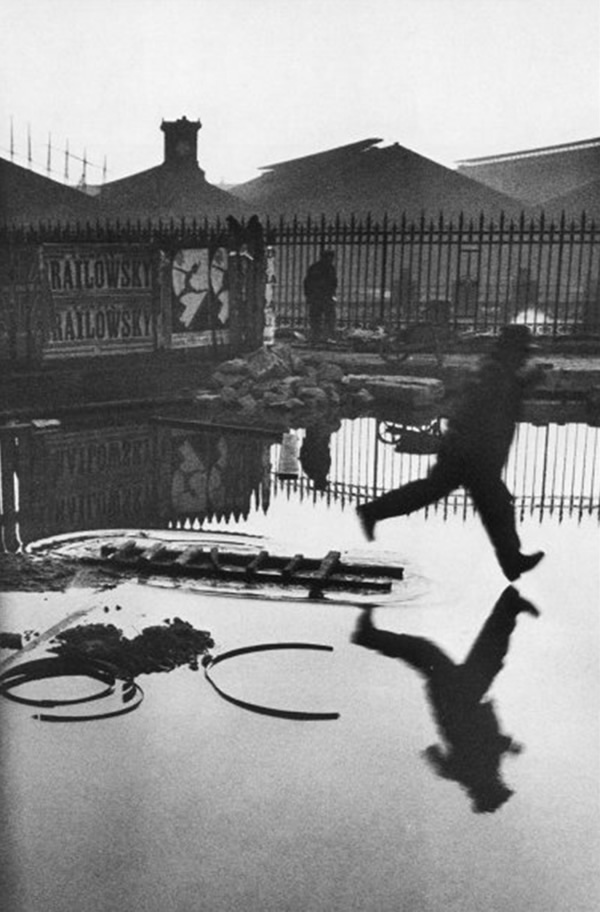 © Henri Cartier Bresson / Magnum Photos
Churchgate Train Station by Sebastiao Salgado
One of the earliest works of Sebastiao Salgado. This picture of Mumbai Churchgate station is a typical example explaining the population density in one of the busiest cities in the world. The amount of jobs and employment it could offer and numerous lives who are attached and stringed to the city life. This rush hour has been beautifully captured by a slow shutter either intentionally or the other way but the photographer has a great eye for detailing and wonderful composition highlighting the Wills ad board. The Flow is perfect and makes us understand the chaos and unsettling life, a city could bring in.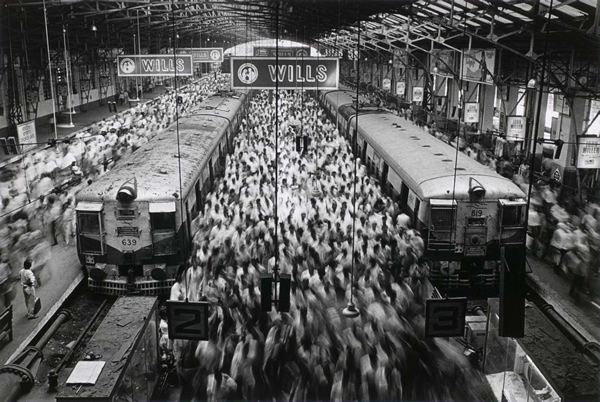 © Sebastiao Salgado
Lunch Atop a Skyscraper by Charles C.Ebbets
Shot by Charles C.Ebbets. Who was only credited for this photograph during 2003. This Picture has been claimed to have shot during the great depression 1932. A very strange photograph showing some 11 construction workers sitting on a piece of column hanging in some altitude. The amount of risk involved and their will to take up any job coming their way is exquisitely photographed by Charles. Light and Composition is more than perfect providing an intense comparison towards the height these guys are located at. A wonderful photograph which we could hardly take it out of our memories.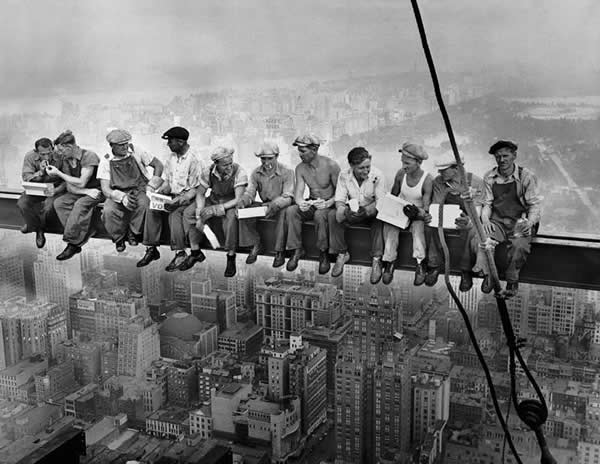 © Charles C.Ebbets
Mahatma Gandhi by Margaret Bourke
One of the most famous and iconic photographs of M.K.Gandhi shot at his own ashram. Margaret Bourke is the Photographer who has shot this priceless picture. This picture shows various elements which has been very close to the life of this great man, the spinning wheel, his costume, the books and the reading glass, all of them constitute a beautiful story and represent his stature as a fighter with strong will. His posture and the priceless window light just adds great mood to the study room and absolutely to the photograph.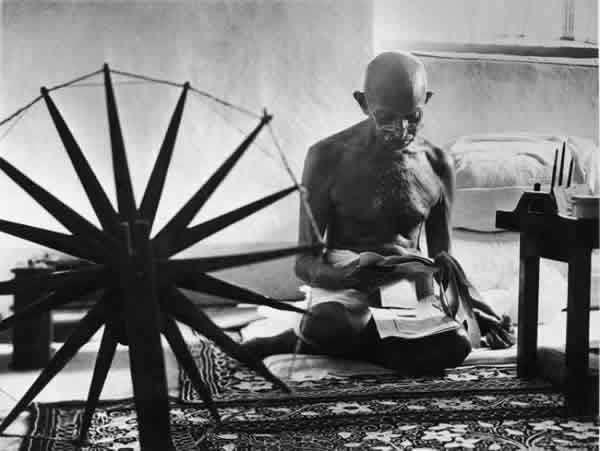 © Margaret Bourke
Grand Central Station by Hal Morey
This Stunning picture with full of glory and light was taken by Hal Morey 1929. As a photographer it just makes you in awe for the amount of surprises this picture has got to offer even after all these years. The grading and excellent placement of characters, interesting costumes, hats and what more one could ask for. Composition is picture perfect and the wonderful variations between light and shadows increases my respect towards this spectacular capture.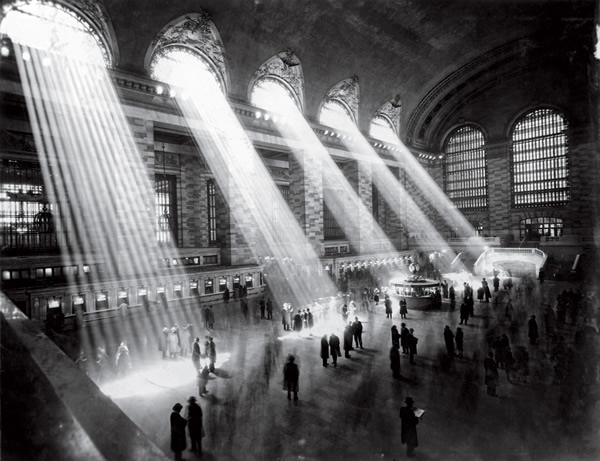 © Hal Morey
Mother Teresa by Raghu Rai
Some Phenomenal Portrait work by Raghu Rai. Speaking about portraits, the height and respect of the character grows wider and deeper with due respect to the mood perceived and nobility of someone who is about to be shown in the picture. This picture crosses all these hurdles of choosing the right character, Raghu Rai is blessed by Mother Teresa to have shot one of the most iconic portraits. The Posture, her prayers, those wrinkles drenched deep in some valuable thoughts and sacred ideologies. So much to be related and to be spoken about the closed eyes. An Interesting and ever lasting portrait which will stay there forever.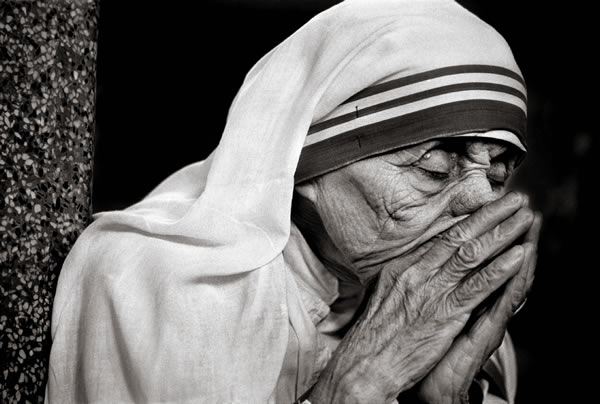 © Raghu Rai
Widow, Vrindavan by Steve McCurry
One of the famous photograph of the most famous photographer Steve McCurry. This picture shows a old-lady walking despite her old age, inability against strong will amidst a wall filled with interesting shapes and a creature too.
So much of complexity in the scene itself, and Steve has nailed it to perfection, the textures on the wall go well with the bold and a handsome bull standing by. The Wheels somehow wants me to relate to life as it goes on, and then the stubborn old lady wins it all with her walking stick. There can't be a better subject to make this picture as lively as it is. Needless to say about the composition the other wheel at screen left just adds more grace to the picture.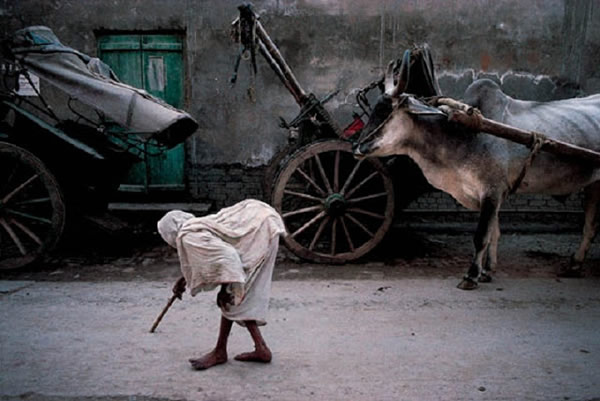 © Steve McCurry
Salvador Dali by Philippe Halsman
One Stunning picture which could make us wonder about the making of it straightaway. Having Salvador Dali in it makes it more special, Yes the picture taken by Philippe Halsman by some mastercraft composition and pre-visualization is still quiet a capture. It is recorded that there has been 28 attempts to this particular photograph and the least to mention about 84 cats been thrown too. The Composition is majestic and makes us wonder Phillipe's thought process behind this photograph.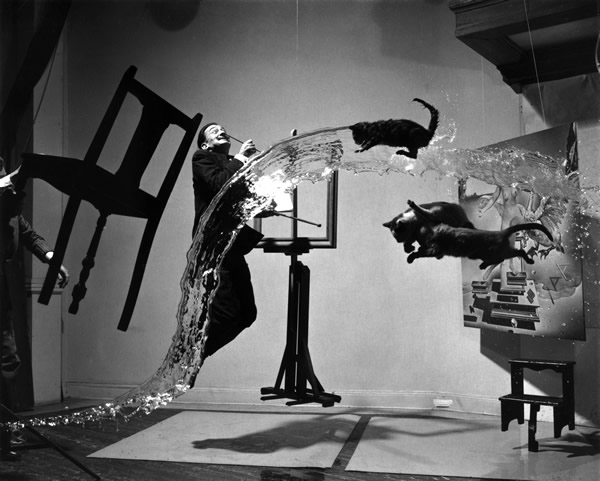 © Philippe Halsman
Elephants by Nick Brandt
One of the grand art works from Nick Brandt, a grand nature photographer who had showed the other way of shooting wild during his times and still. There are more than a dozen pictures which are absolutely stunning to start our analysation with, this particular picture shows us such elegance and royalness at the same time against the desert storm, their ability to stand interestingly poised from screen left and spread across a wide field. This picture is sheer class and believe me it starts to grow on you when you start staring at it for more than a second with your eyes placed on the very fourth elephant.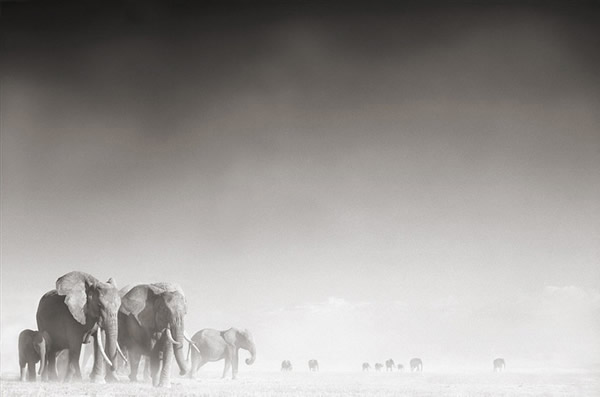 © Nick Brandt
Photo by Saul Leiter
One final picture to this series to be finished with Saul Leiter. One Photographer, who has been known for his splendid color works, arguably surpasses with this monochrome picture. Huge amount of questions arise with this picture, a lot to be answered, a deep blank black space unanswered and a man without an identity. This is pure art with elegance covered all over the frame, be it the distant signal tower or those quiet figures walking in snow. This is beauty and art explained.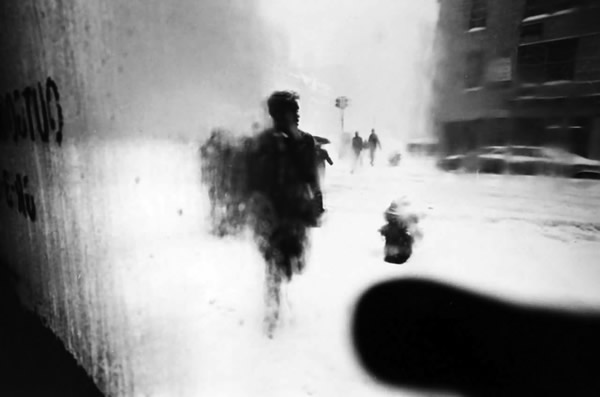 © Saul Leiter
You may be interested in the following related topics: