I work as an amateur photographer. Every time I go to a new subject and a new place, I photograph the locals and their culture. While doing this, I meet new people. I try to showcase their culture, their way of life, and their struggle for survival through my photography. This time I chose the subject of a sugar factory. Maharashtra is considered to be central in sugar production. The first sugar factory in western Maharashtra started in Sangli district. Today there are many sugar factories in Maharashtra. The thought of sugar factories brings ahead the lives of the workers and their existence to the spotlight.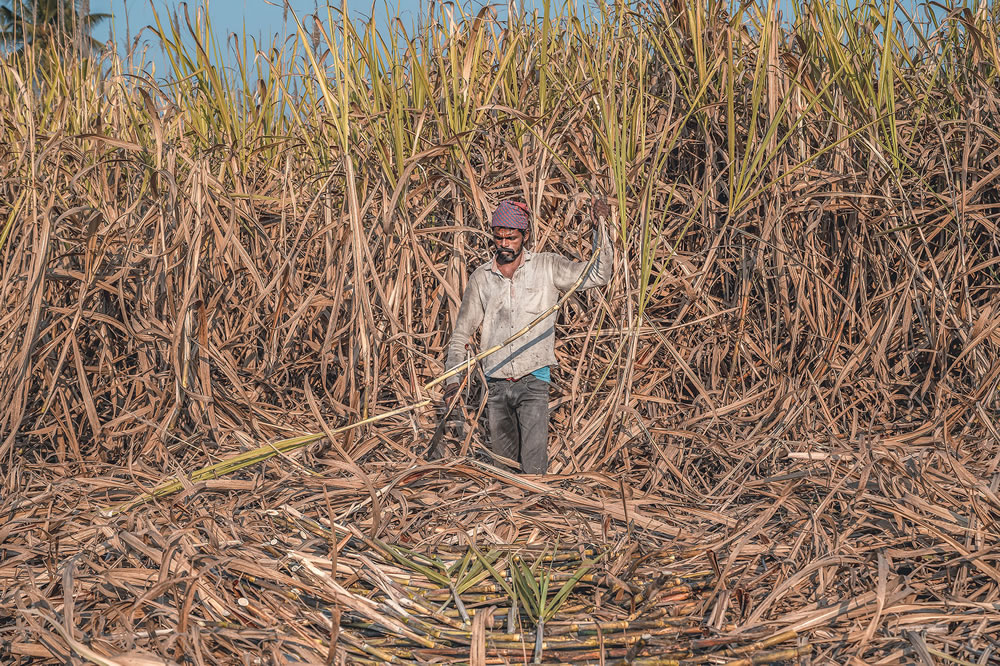 The workers who work in the factory and cut sugarcane stay there for 6 months. A large number of these workers hail from Solapur, Dharashiv district, and Karnataka. They are given an open space to settle down near the factory where they build their huts for sustenance. They stay here for 6/7 months. When the sugarcane season is over, they go back to their respective villages. There is a sugar factory 5 km from where I live. I have been working on documenting these people for the last 3 months.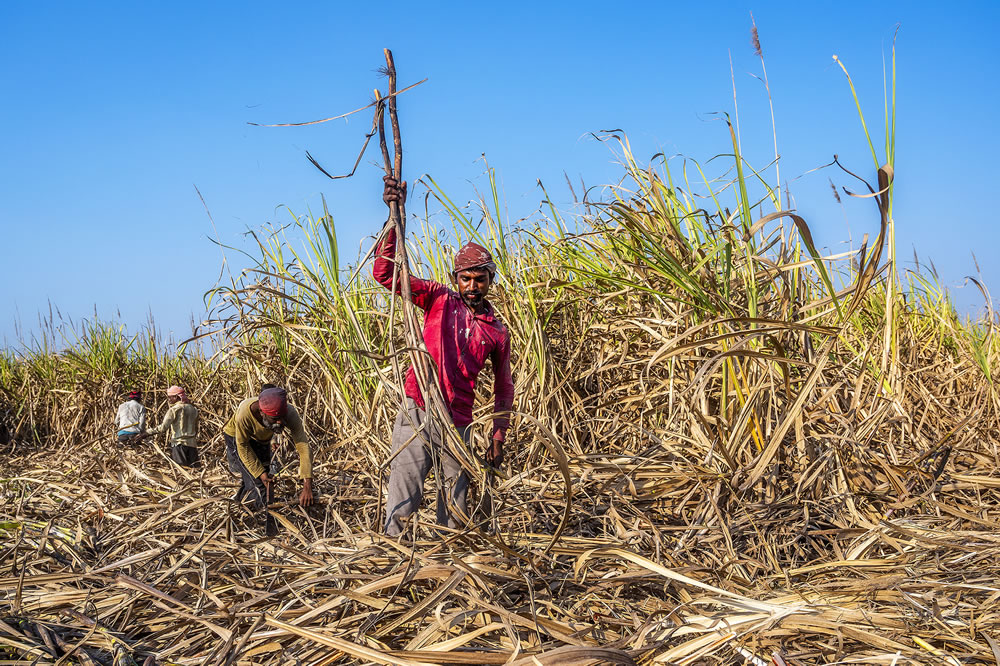 I go to their basement every morning and evening and photograph their way of working and living. In these 3 months, I have had all kinds of experiences. While working on documenting the factory people, I became one of them. This story could not have been completed without the help of my friend Mr. Santosh Kale. He revoked the permission of the factory for photography and came with me for a month's duration of photography. I have tried to present the life of the sugar factory workers and their daily work in my photography. The cane is threshed and then loaded into a bullock cart. The bullock carts are then brought to the factory and then the process of making sugar starts. These workers go to the surrounding fields every morning at 3 am for cane cutting and arrive at their quarters at 7/8 pm. Elderly people take care of the house. The contribution of women workers in this situation is very valuable. The work done by the women is equal if not more than that of men.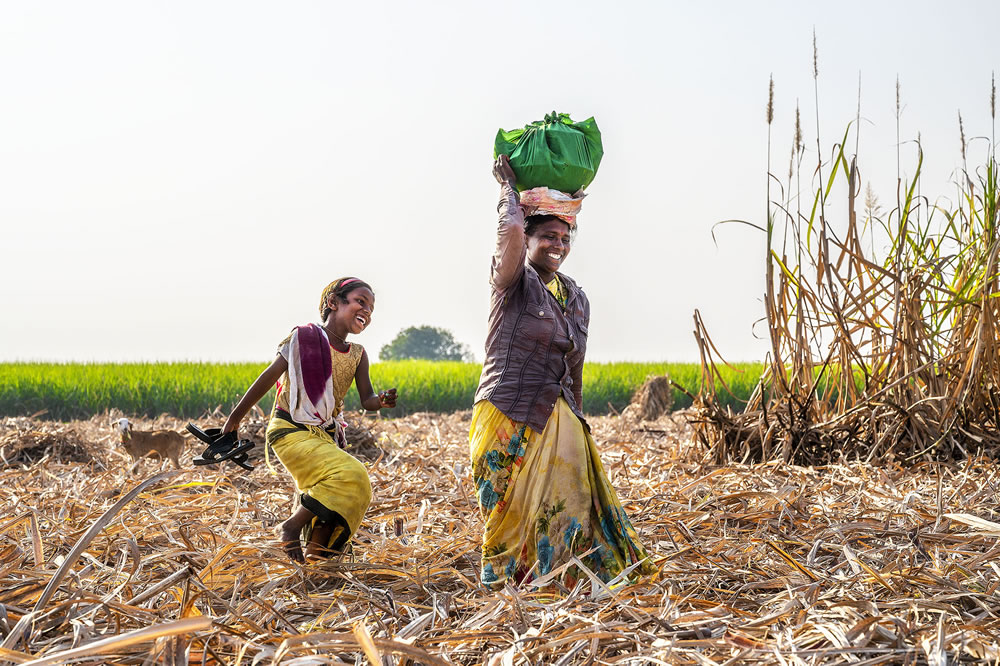 The women fulfill chores like cutting sugarcane, loading sugarcane in the bullock cart, driving the bullock cart, etc. I was very proud to see the women's duty of driving the bullock cart full of sugarcane. After doing so much work, she prepares food for the whole family in the evening.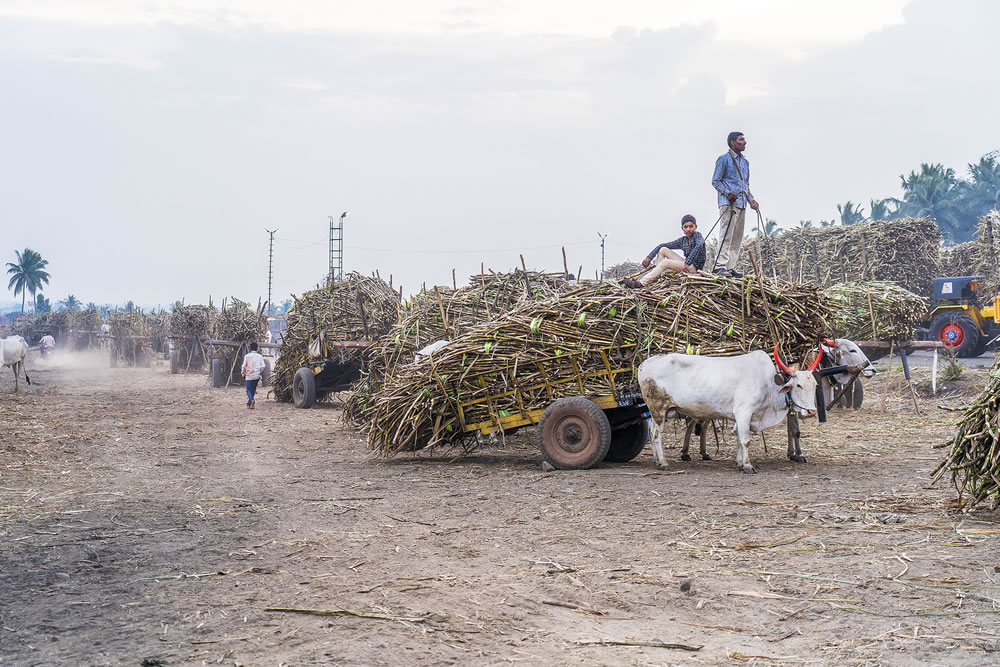 When I first went to the sugar factory, the people there were very curious, everyone was scared to see my clothes and the camera. But as I started to go every day, they became positive about me. Every day I went there with chocolates and toys for the little ones. I felt like one of them and we developed a warm relationship. I went there every day to do different activities throughout the day. My story was coming to an end. And now I wanted to click on some different photos. The work was a little risky and my story was incomplete without doing it.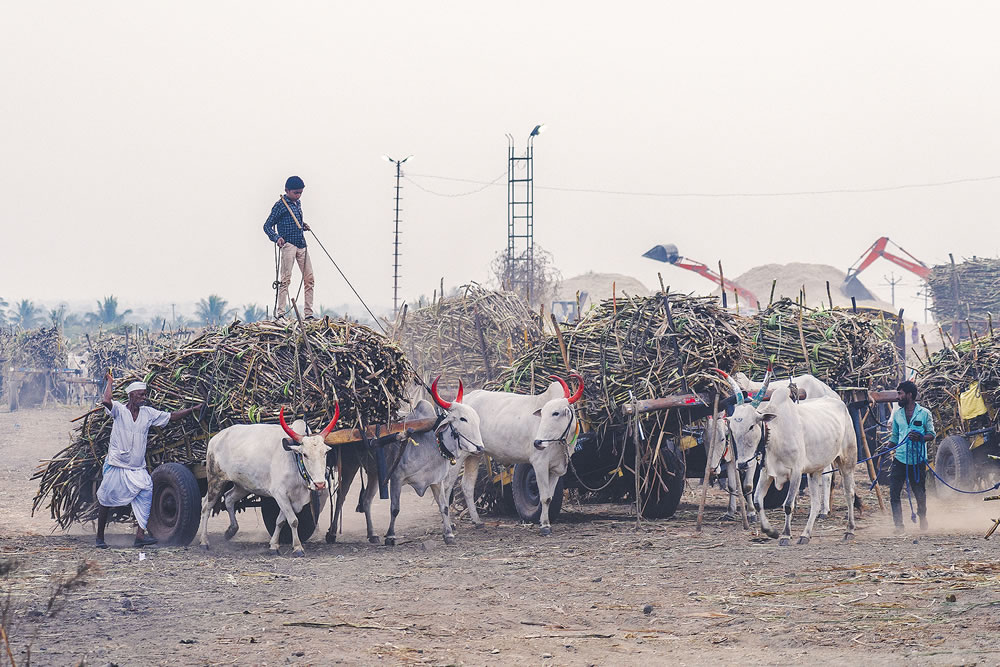 When sugarcane is harvested, the remaining leaves of sugarcane are burnt. The reason is that when the leaves are burnt, the soil is cultivated and the ashes of the sugarcane are used as fertilizer for the field. I used to go wherever the sugarcane leaves were burnt. Sugarcane leaves are burnt in the morning or evening and I used to go in the evening. I did not know which farmer was going to light the sugarcane leaves. There was no fixed time or day for burning the leaves. I was confused as to how you could get these photos. Then I came up with an idea. I used to go to the terrace of my house and look everywhere from there. I used to go there immediately when I saw flames and smoke. This was my daily routine. I used to go to the terrace every evening to see all the places and go there by car. Even then, I didn't get the photos I wanted. Because by the time I left, the leaves were half-burned or all was burnt to ashes. Sometimes I had to come back without taking photos.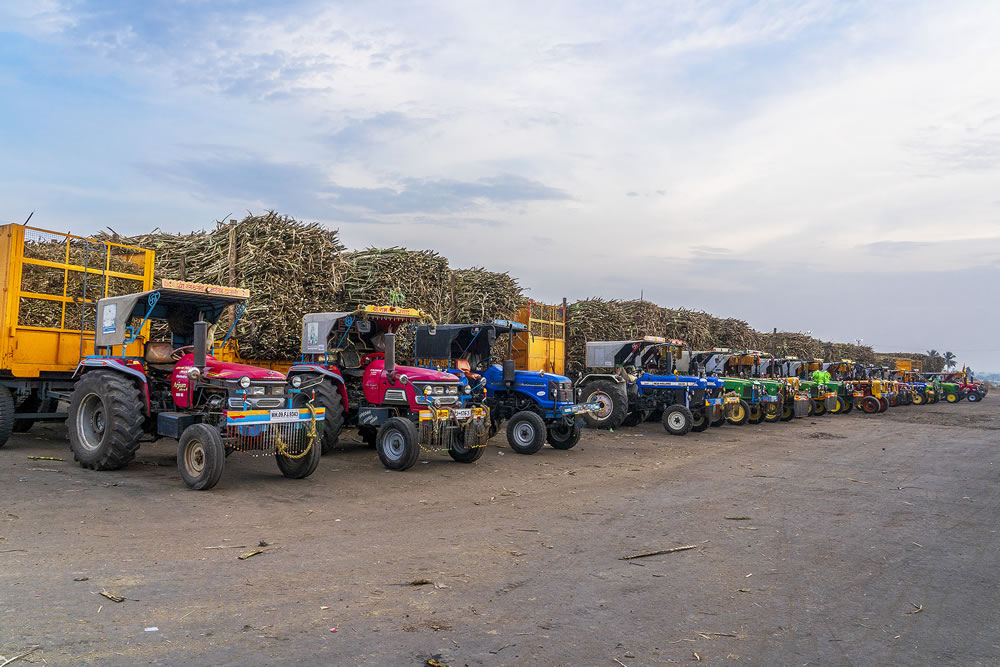 I was out of ideas until I started thinking differently. Every day I would drive to the village around me. Hence, from the beginning, I started getting leaf-burning people and other activity although it didn't happen every day. For 15-20 days I was just walking 30-40 km. My body was struggling to keep up.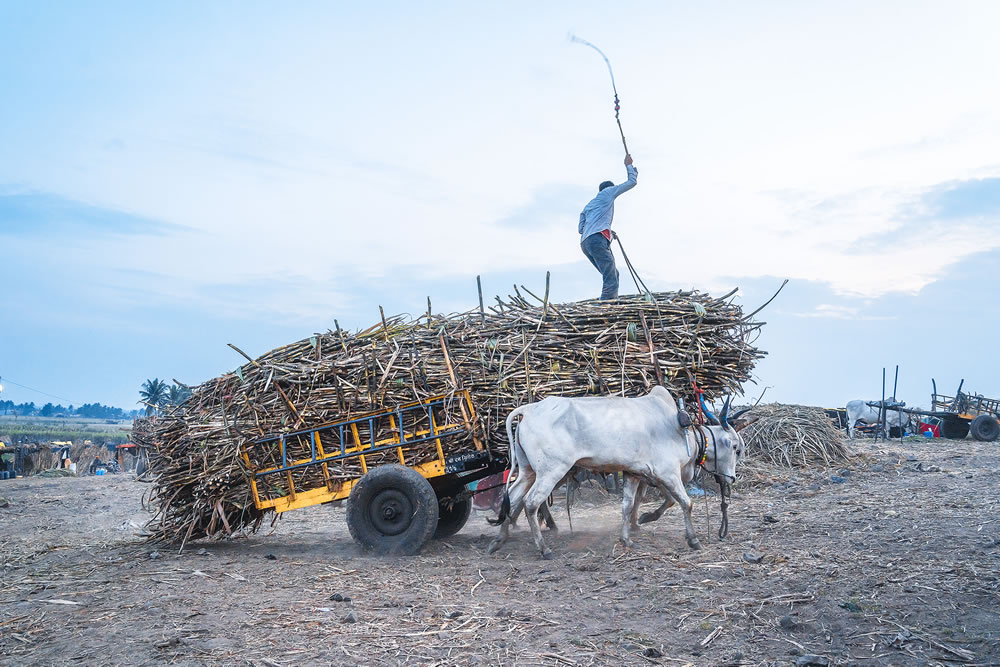 One day I was going around the village on my bike trying to find out where the fire was. The road was very bad and there were potholes. My bike's headlight suddenly turned off due to the constant impact of the potholes. I could not see anything in front. There was a tractor full of sugarcane in front of me. I didn't see it from a distance, the headlight of my bike wasn't working which led to my bike colliding into the tractor. Luckily, the speed of my bike was very low. Regardless, the canes shot out of the carrier and on impact, they penetrated my body including my chest, arms and neck. It didn't wound me much but the pain got worse. I got up, picked up my bike and started it. The headlights turned on and I struggled to reached back home. I told my friend Santosh Kale over the phone what happened and he rushed me to the hospital.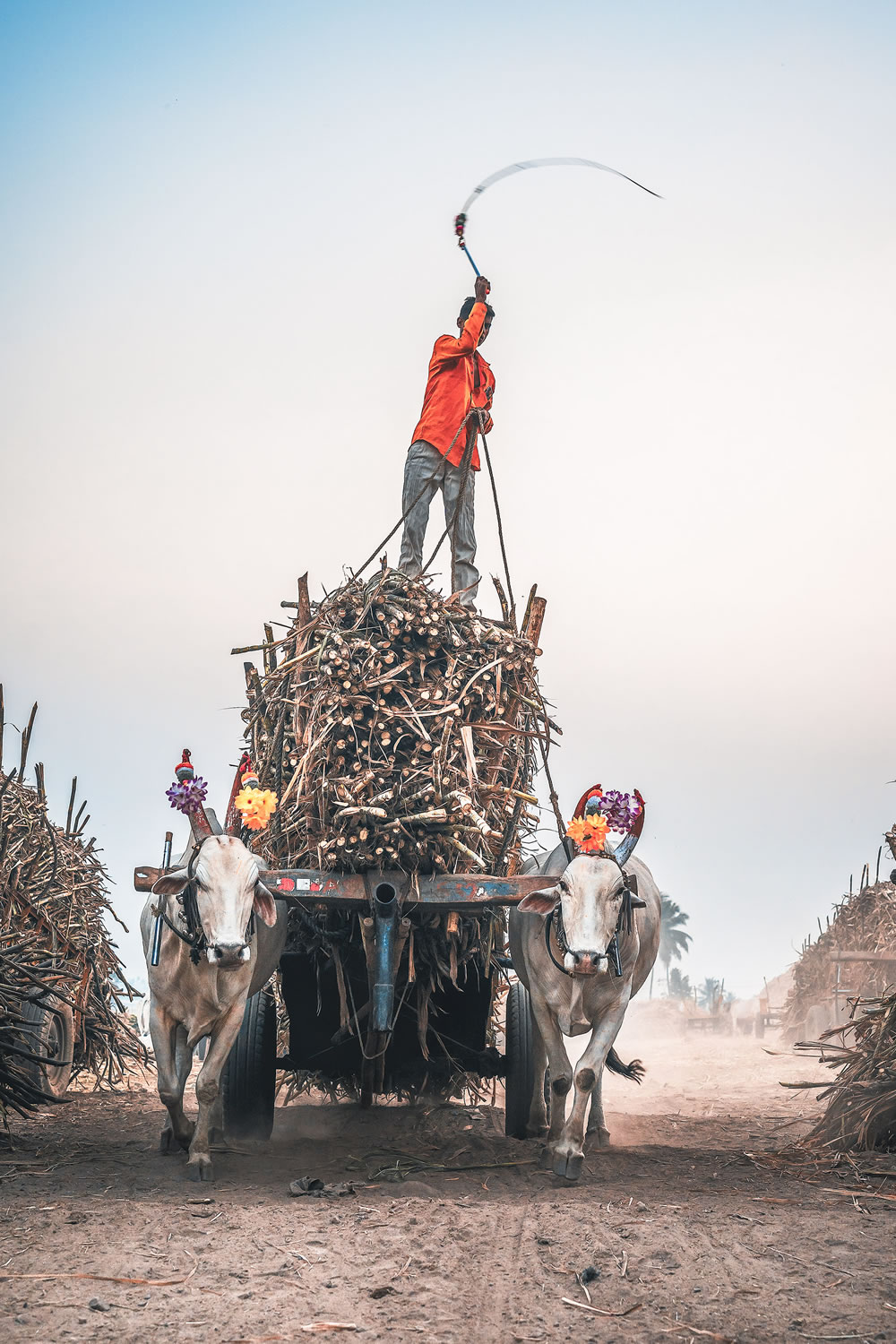 The story of this sugar factory has cost me a lot of time.
Similarly, when I went to the fireplace, I was caught in the flames myself and my shoes and pants were on fire but I didn't pay much attention to it. I got the photo I wanted and left. I have been working on this story for the last 3 months. While doing photography on the subject of the factory, I got to learn a lot of new things. I got to know the modern man and his way of life. I hope you like my work.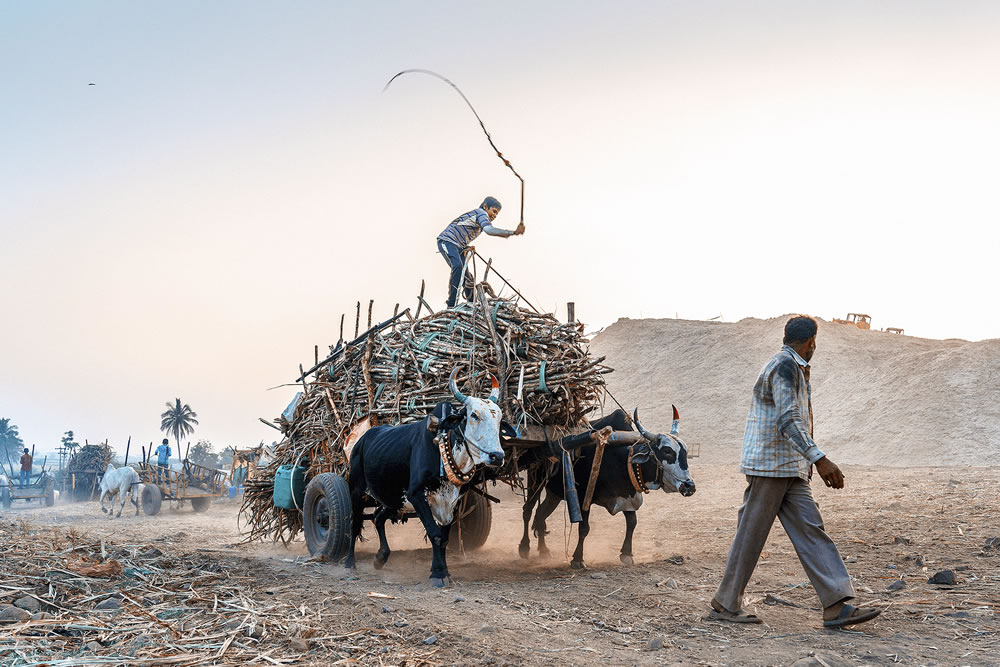 My photography guru Ashok Saravanan, Chennai, my friend Santosh Kale from Shirol, Ashutosh Koli fromJaysingpur, and Chetan Kotak from Kolhapur have been very helpful towards this story. I will always be grateful to them.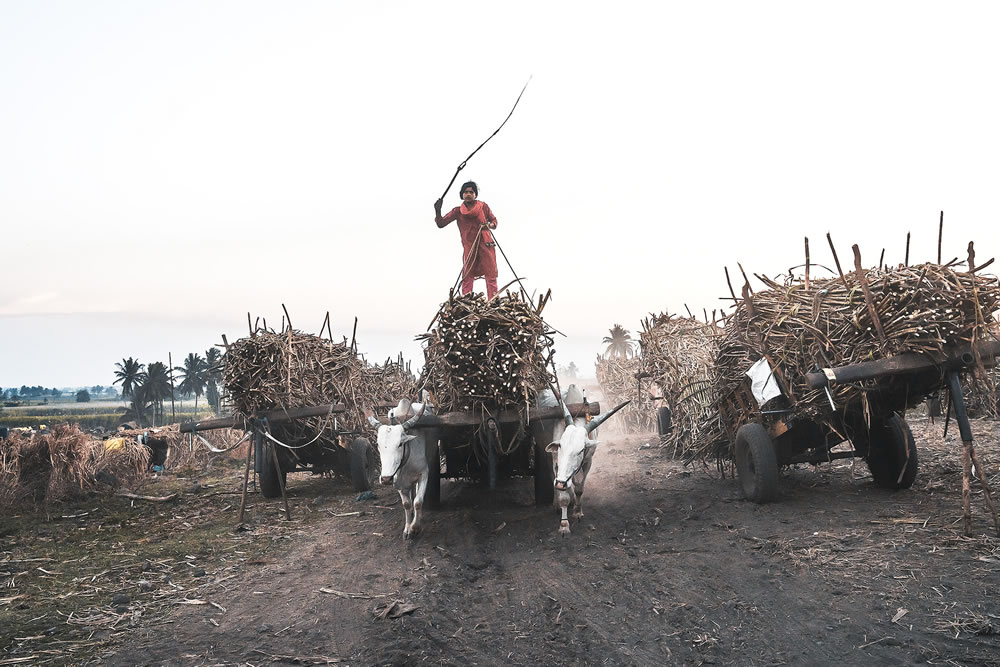 You can find more stories from As Dnyaneshwar Vaidya: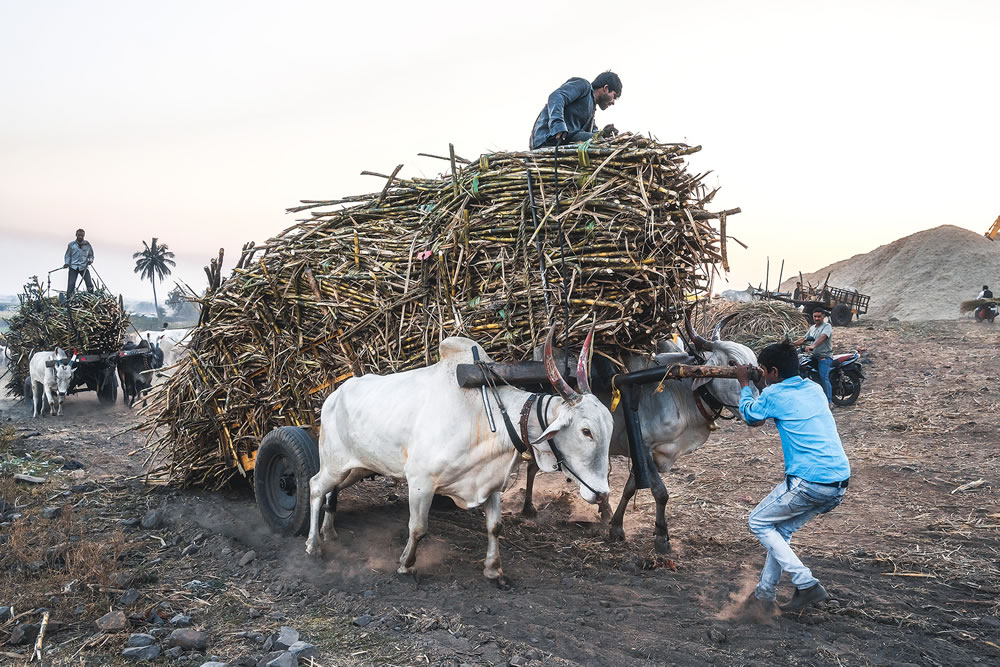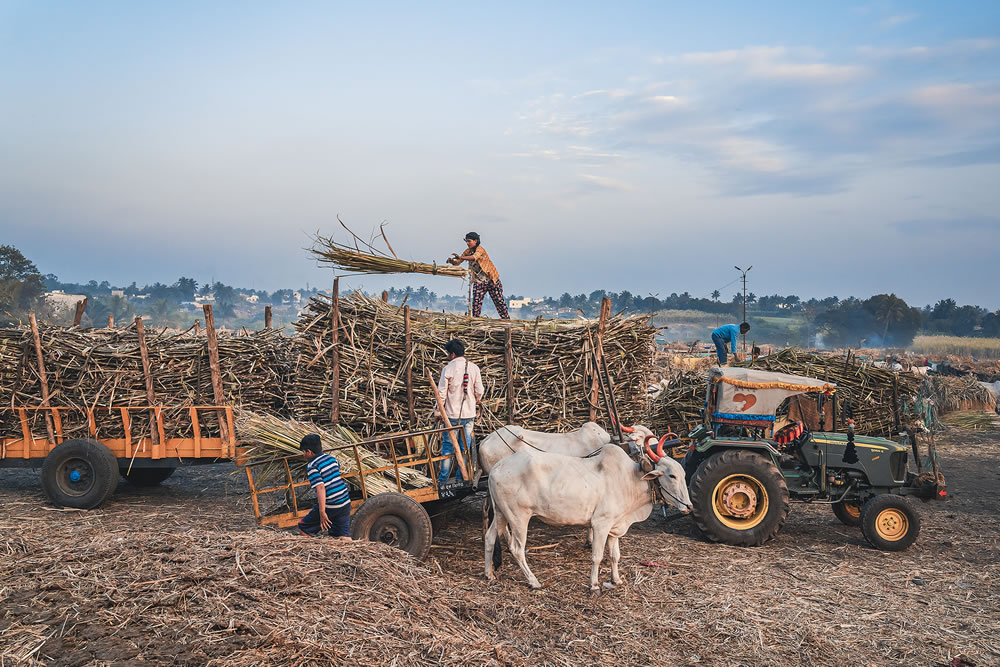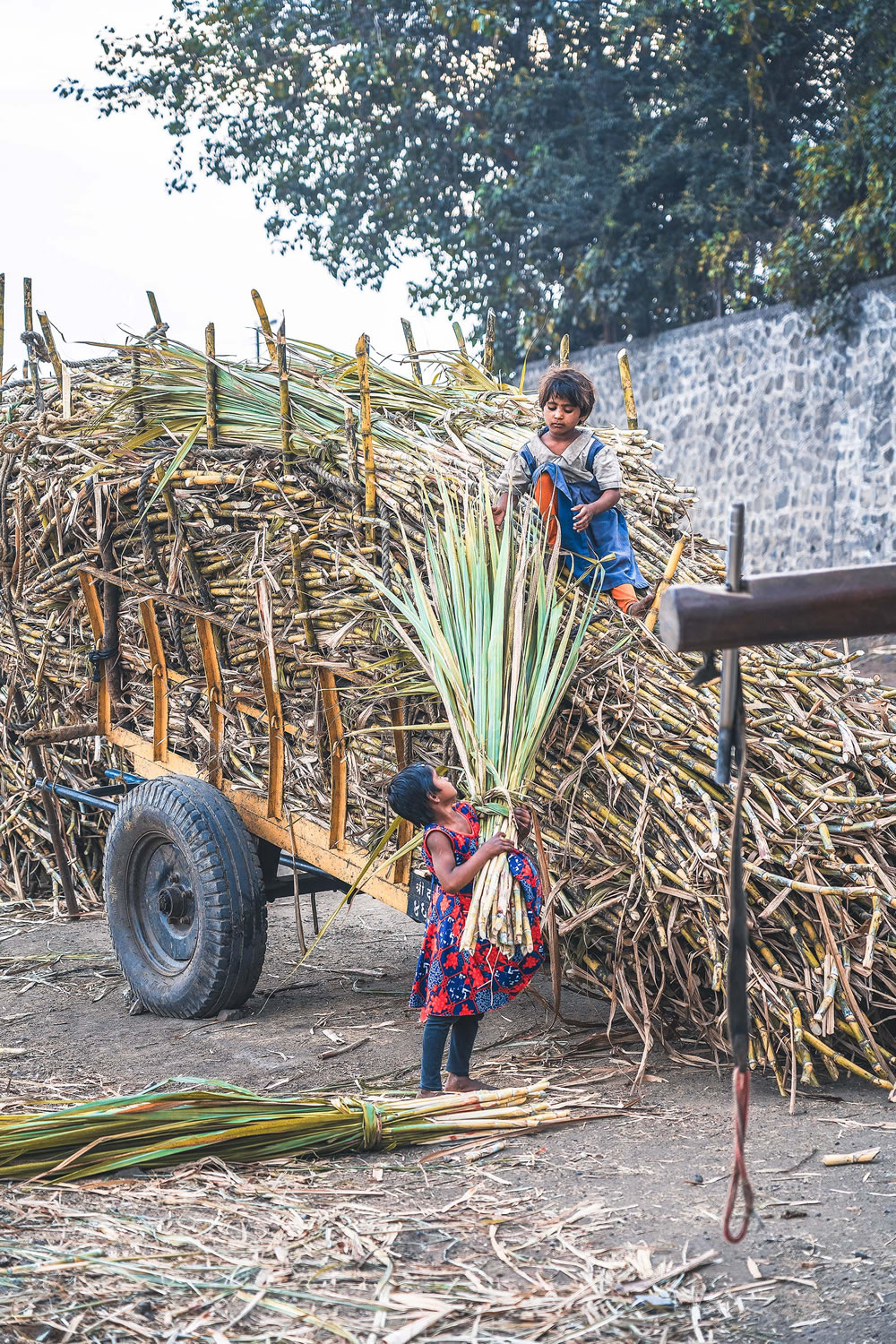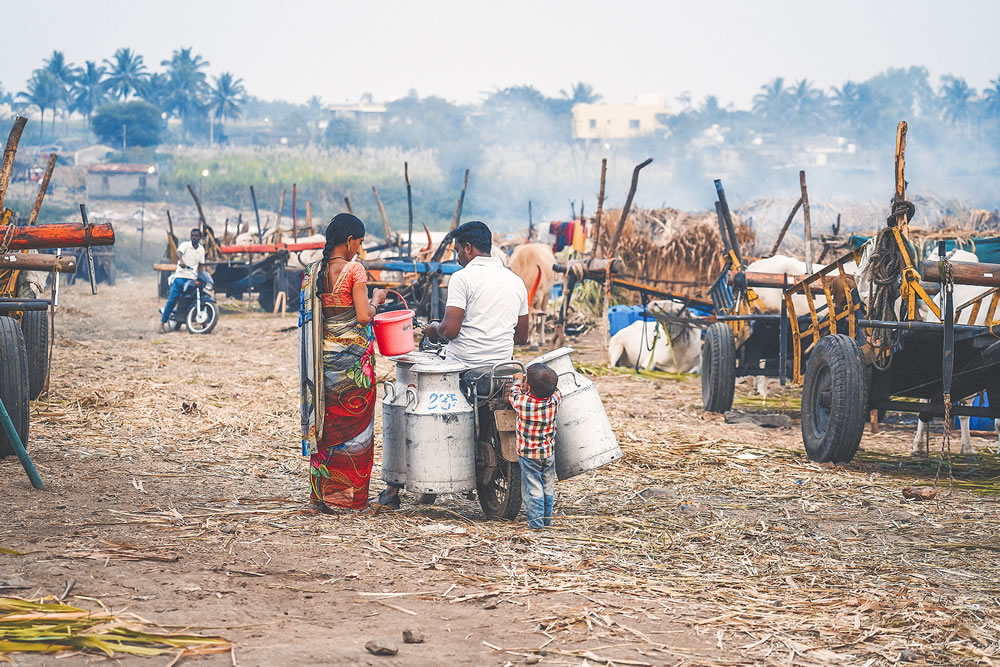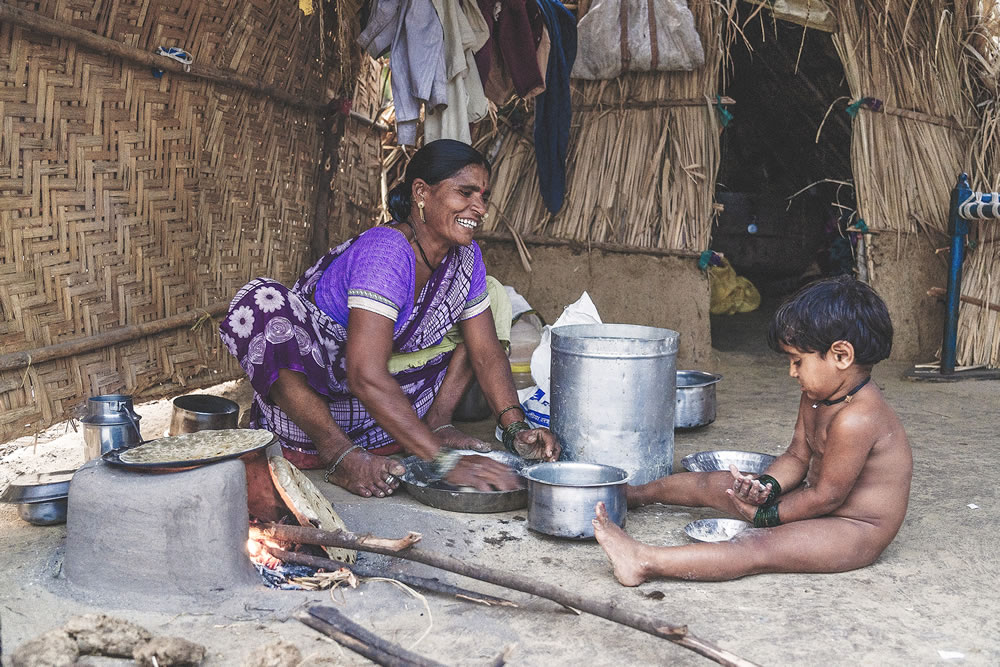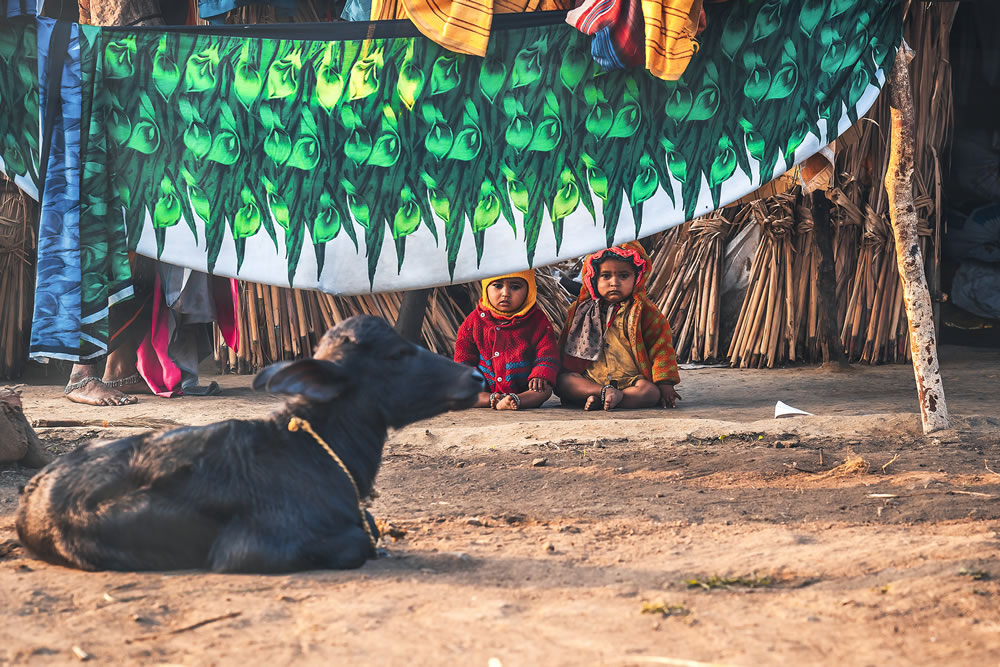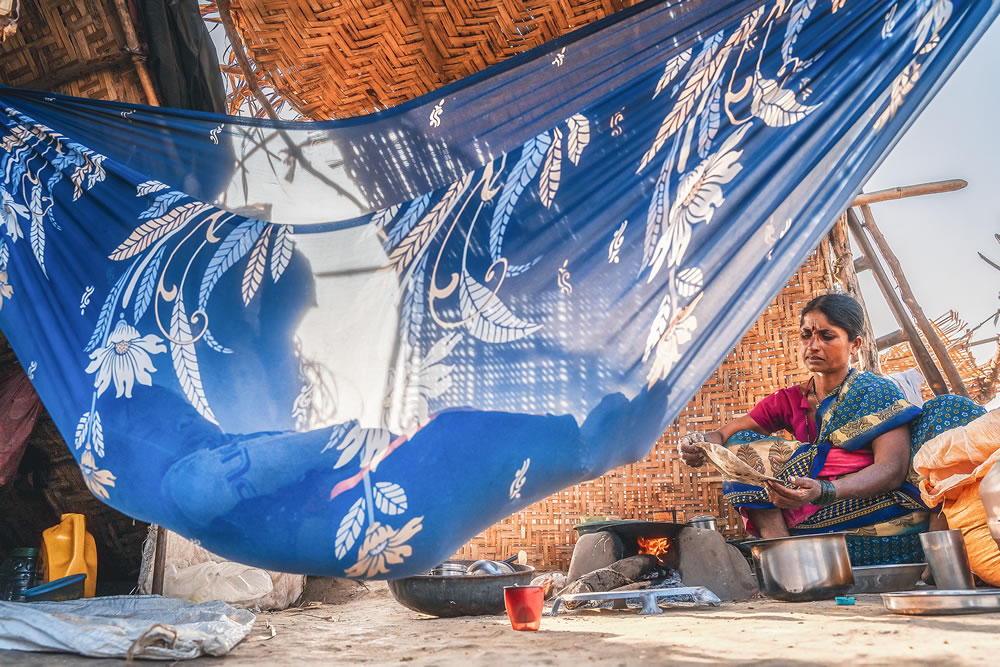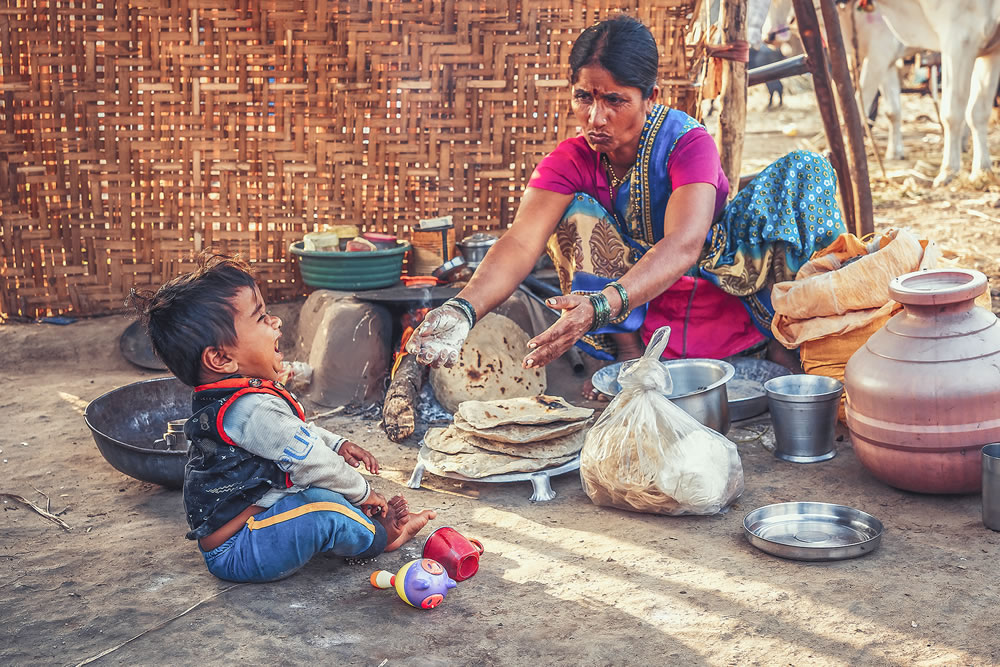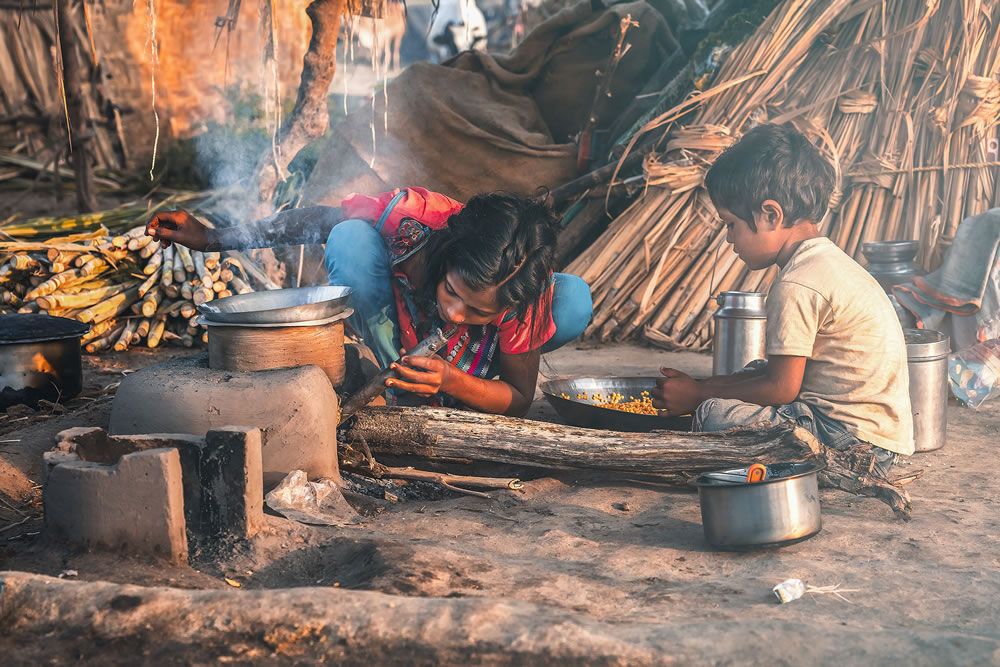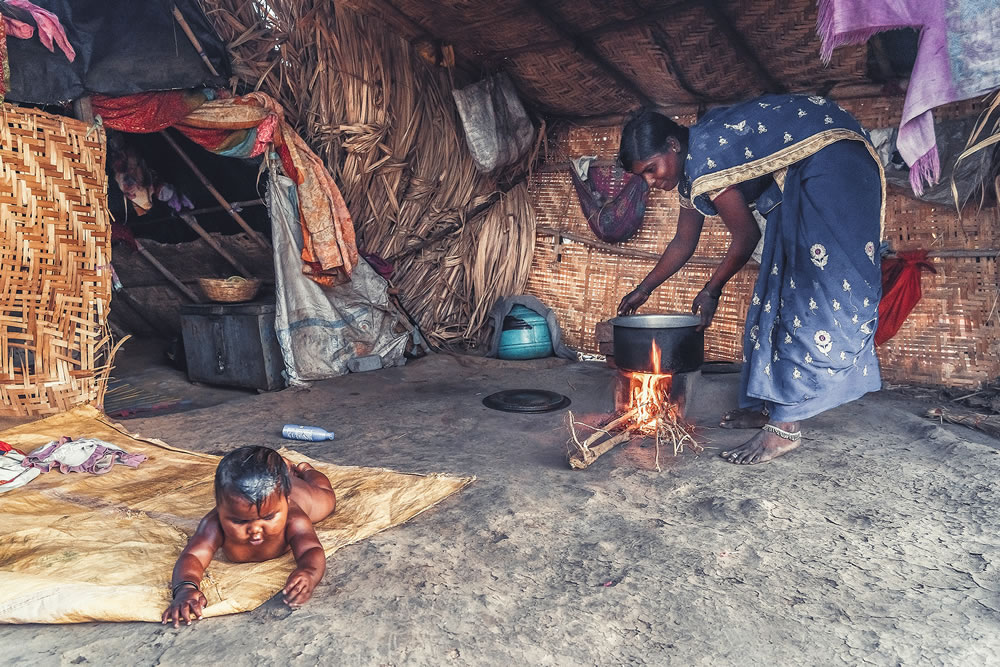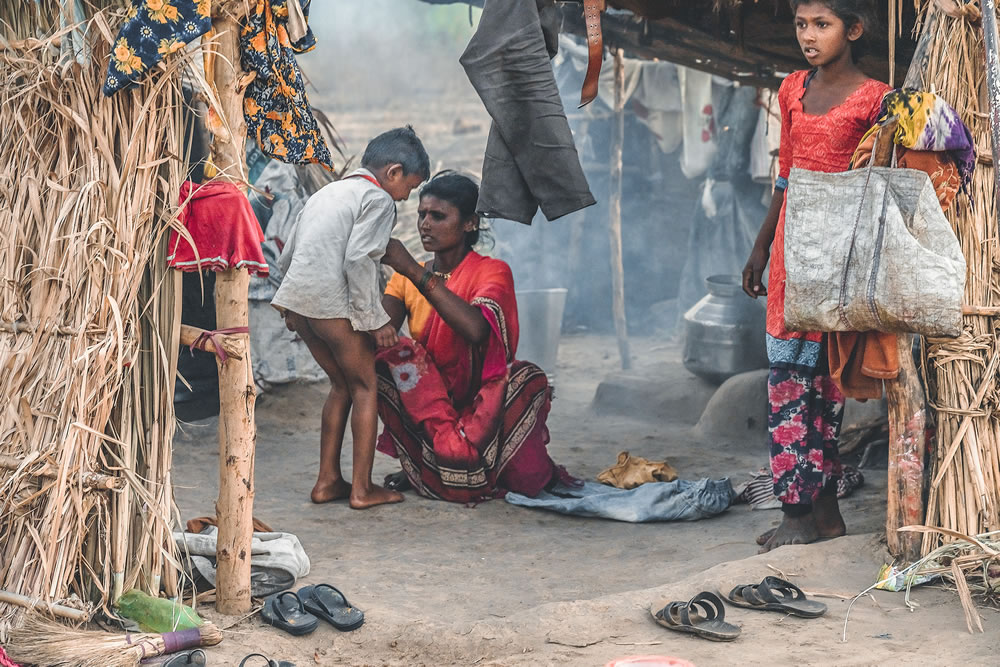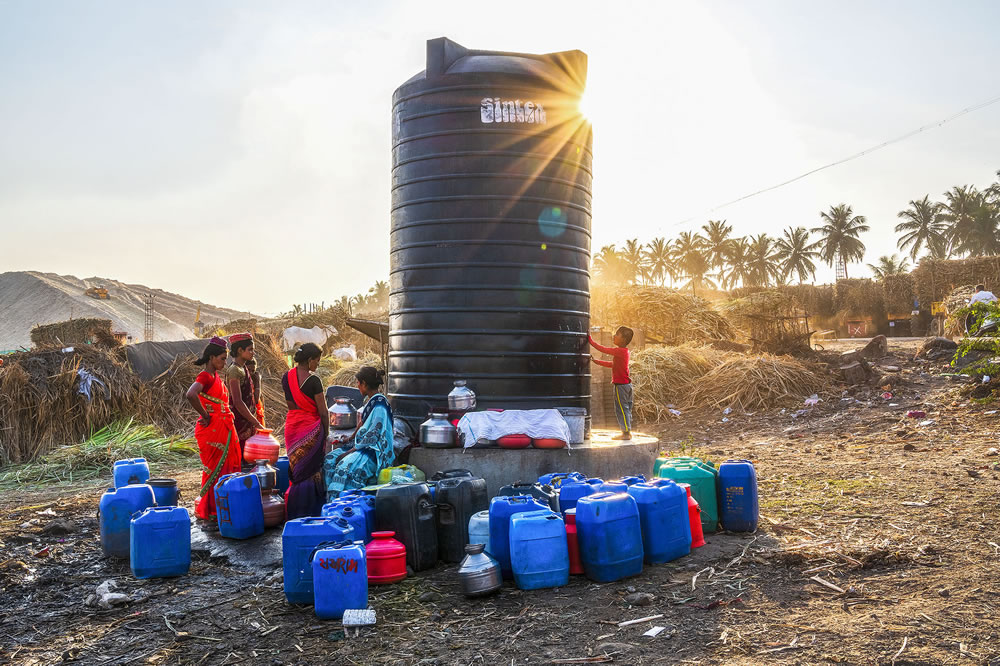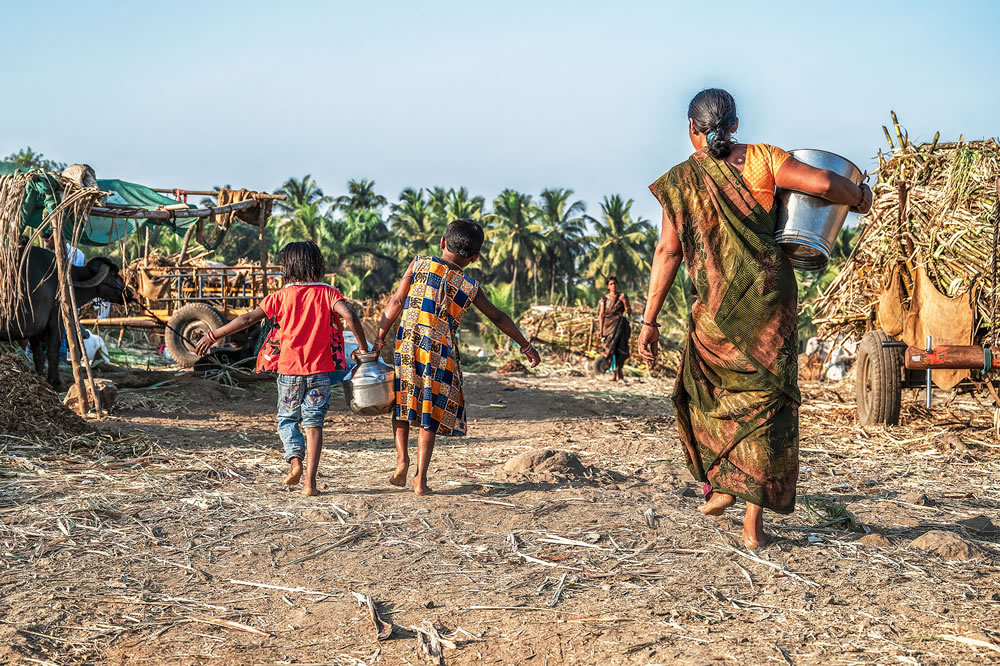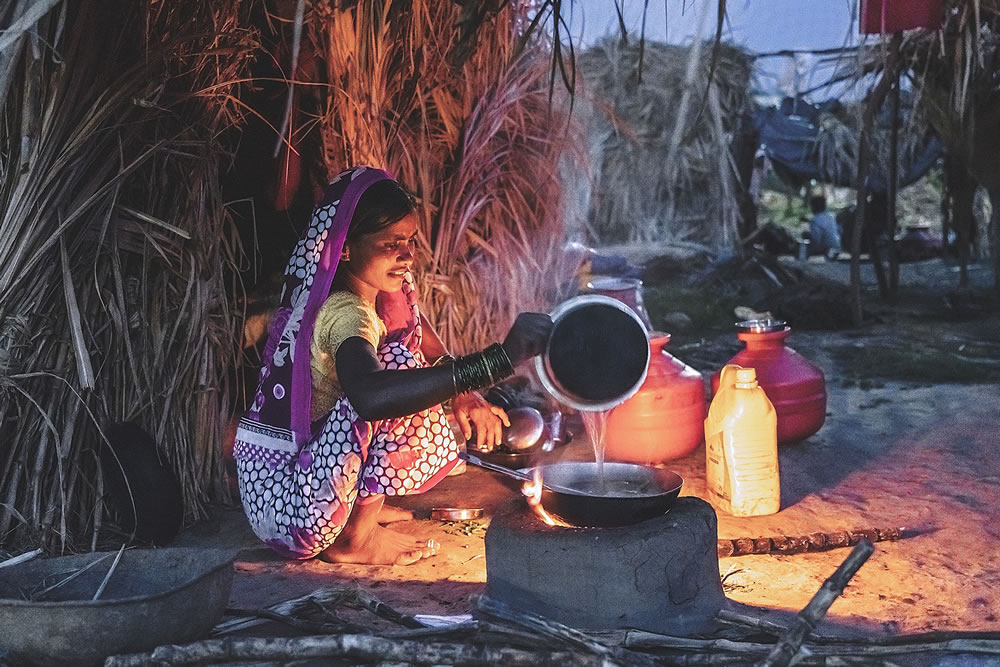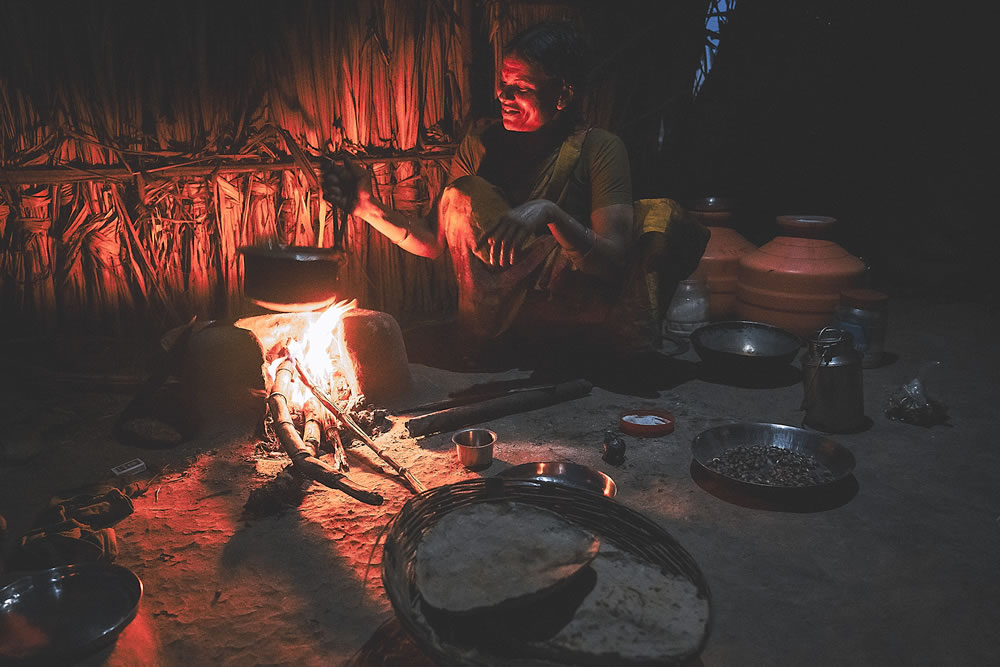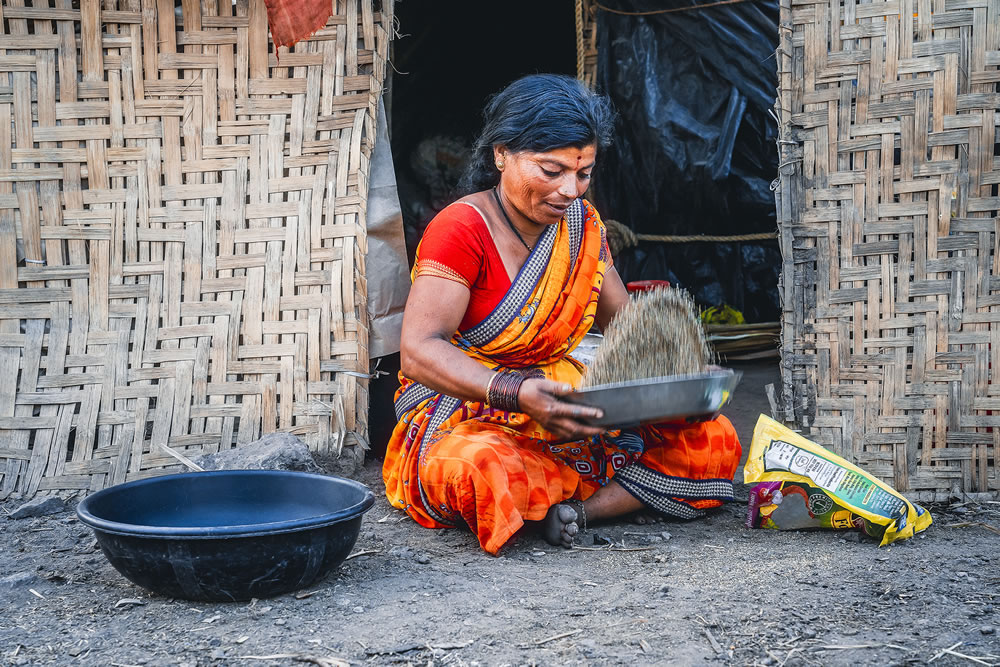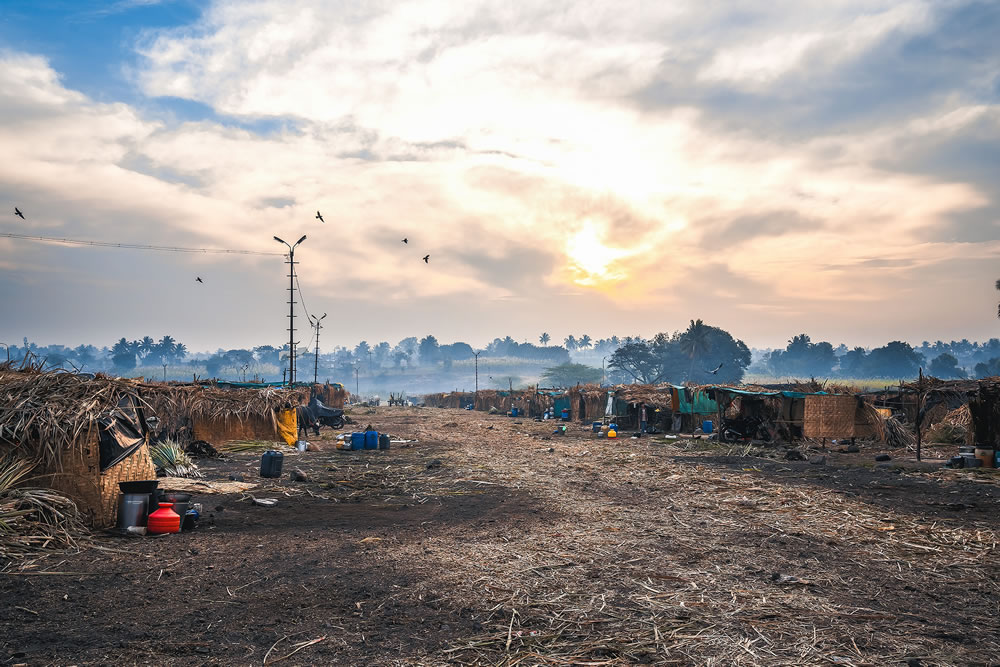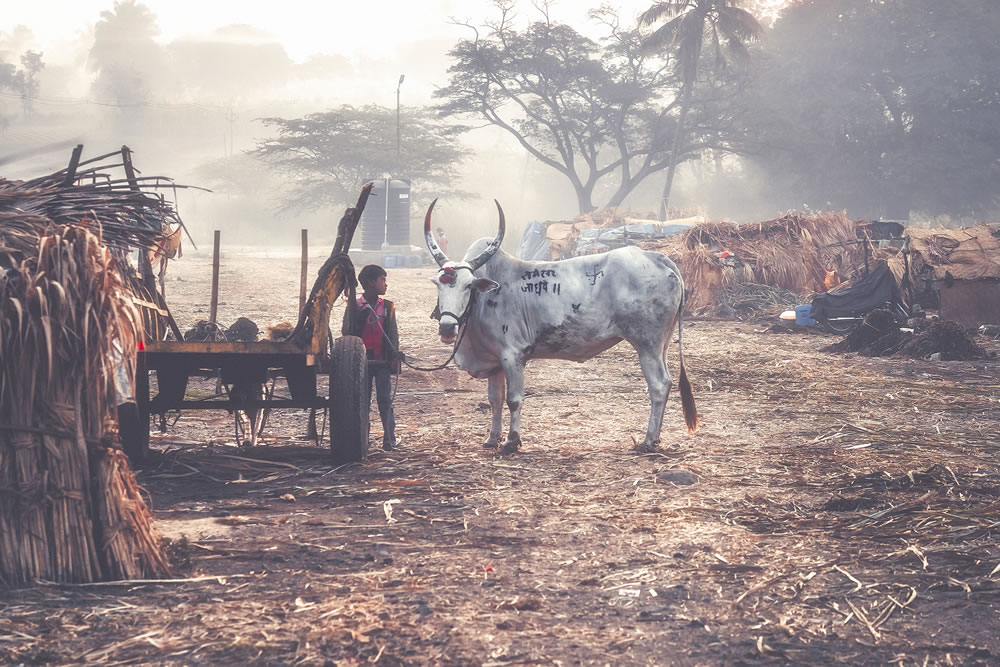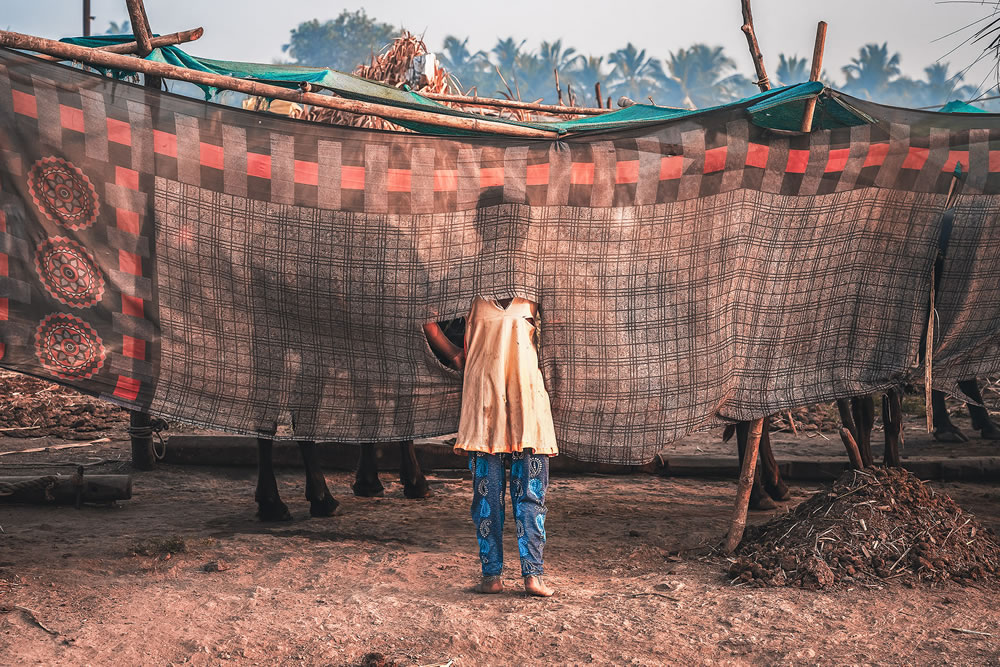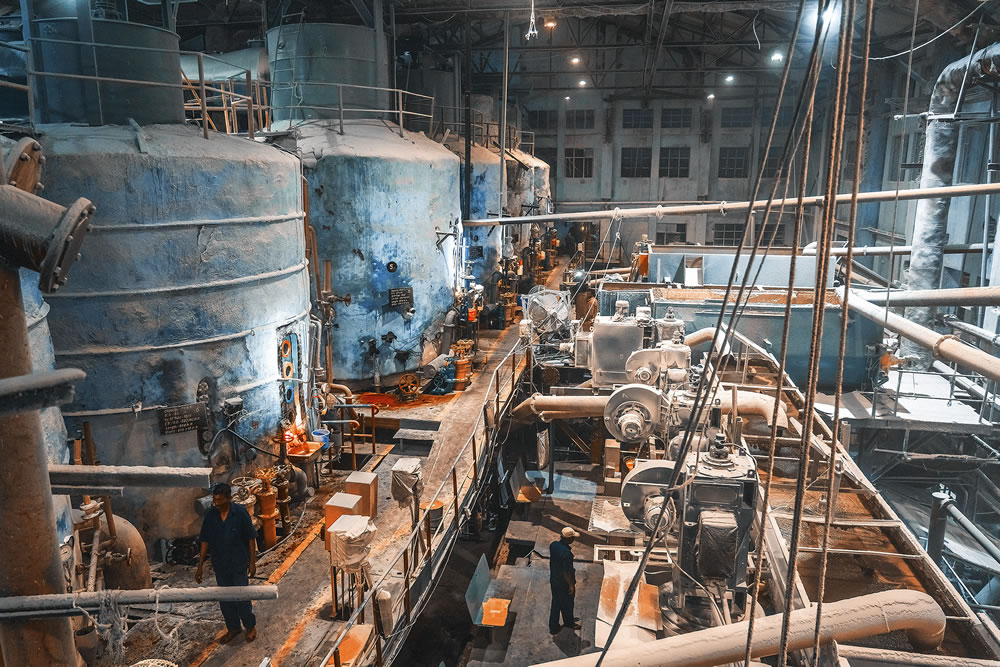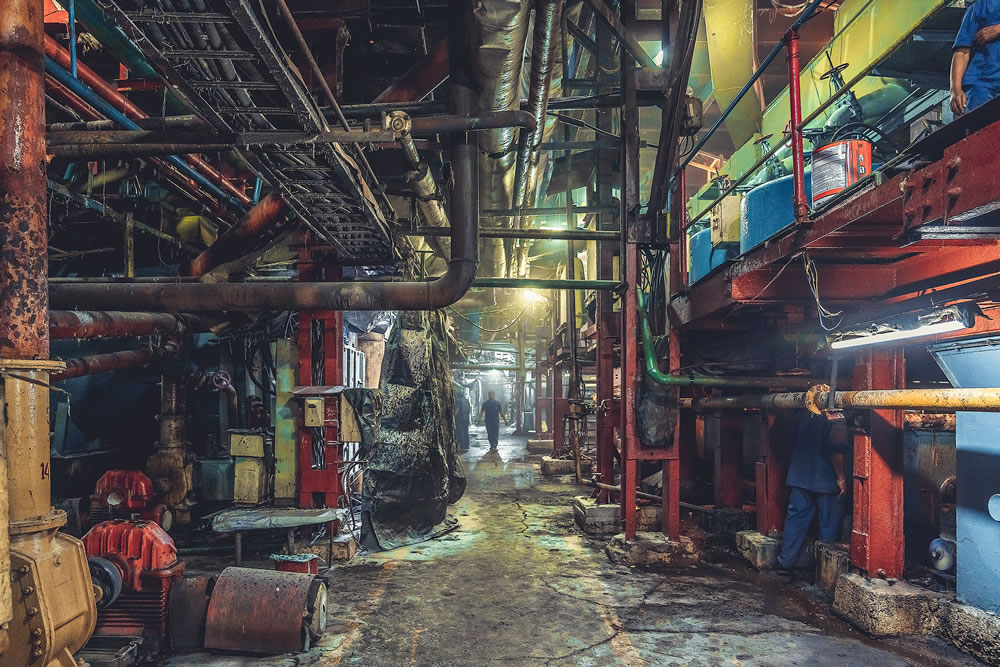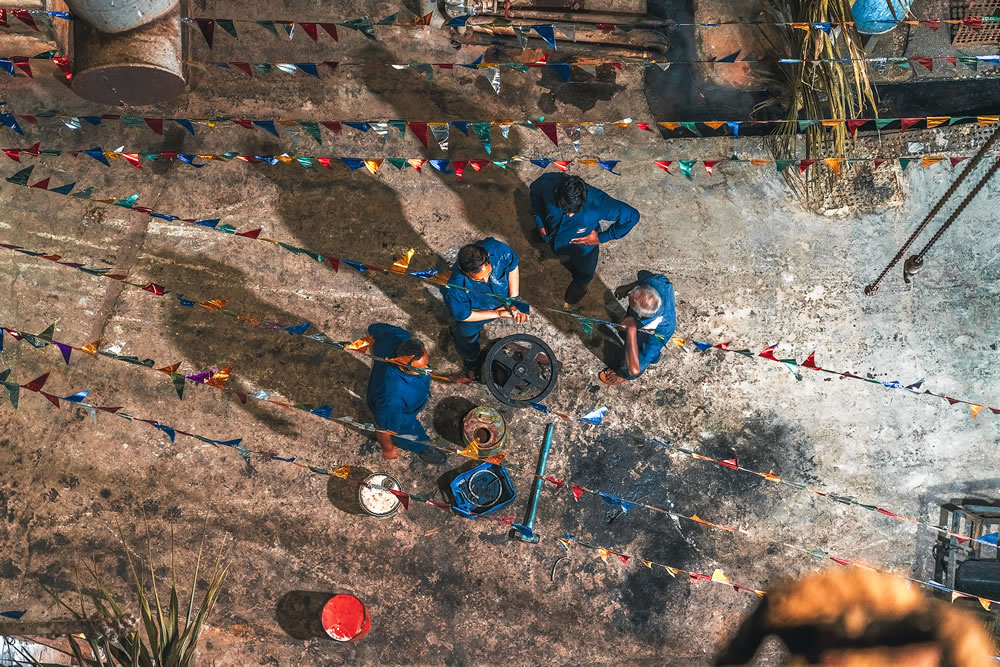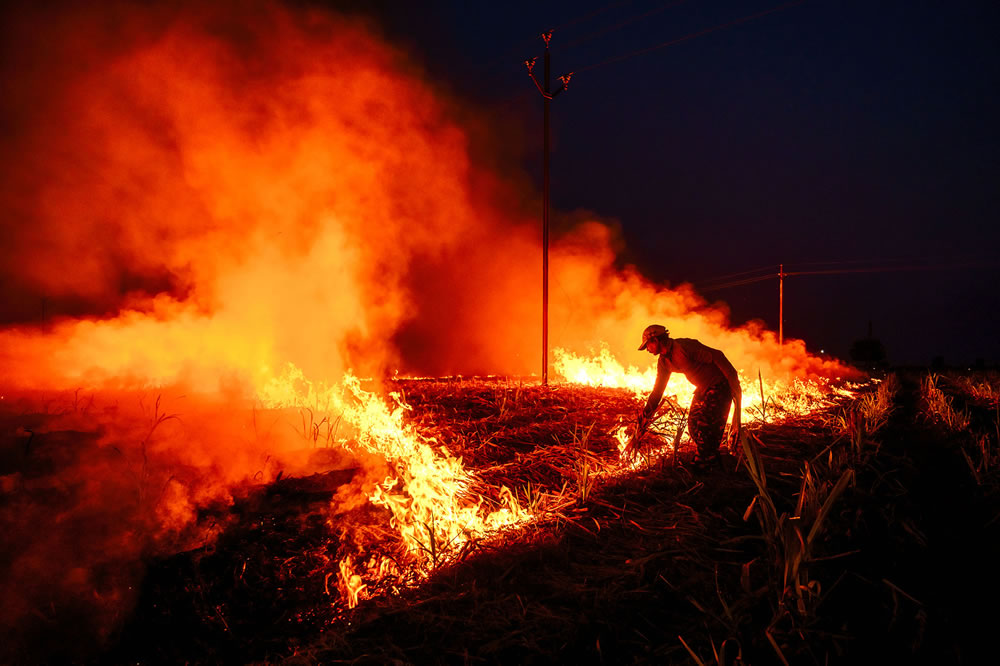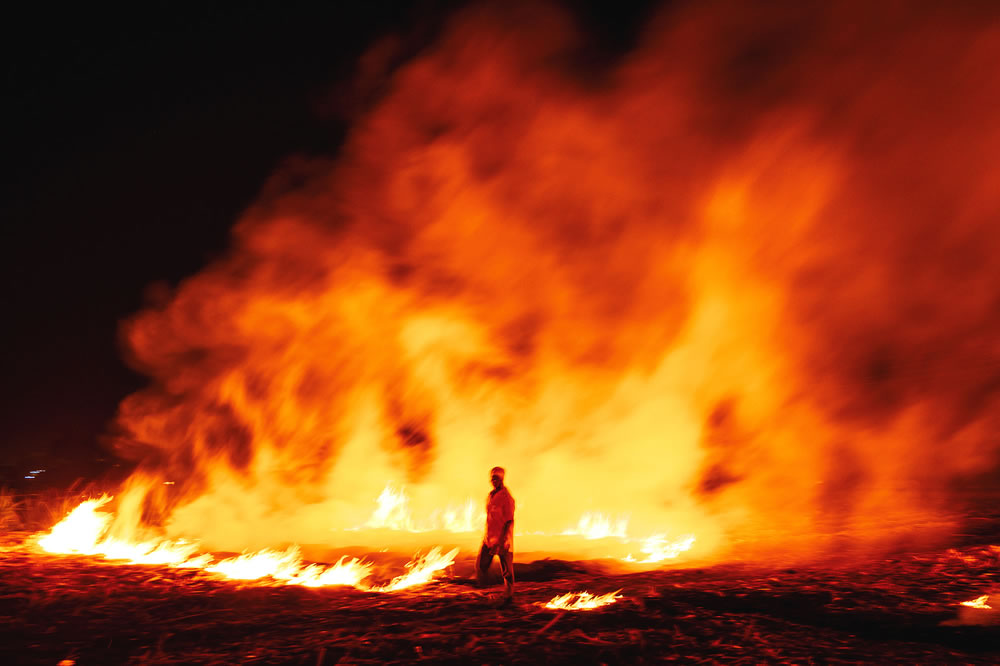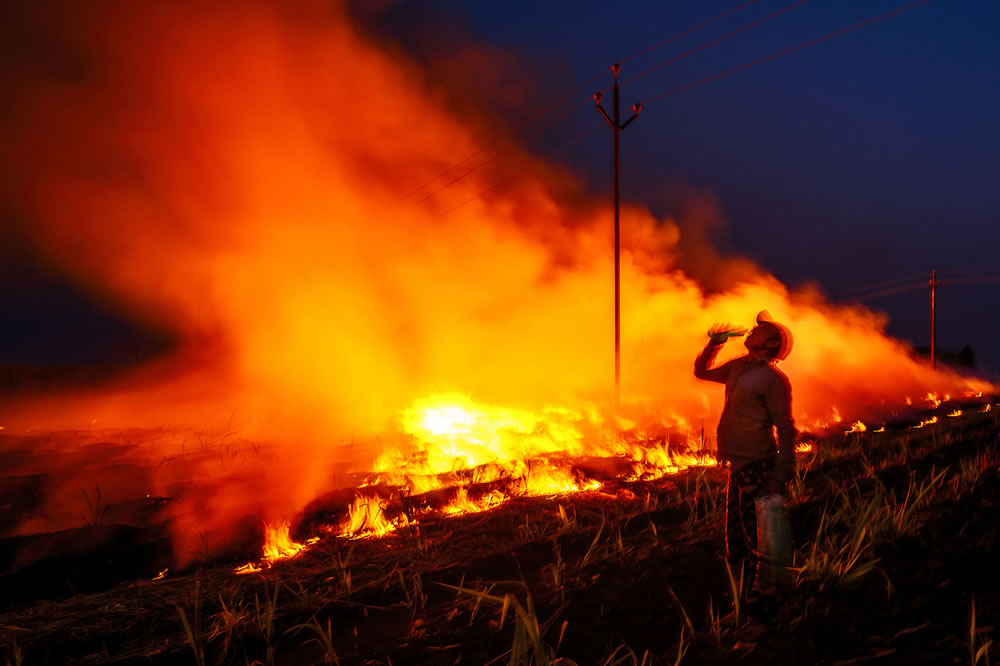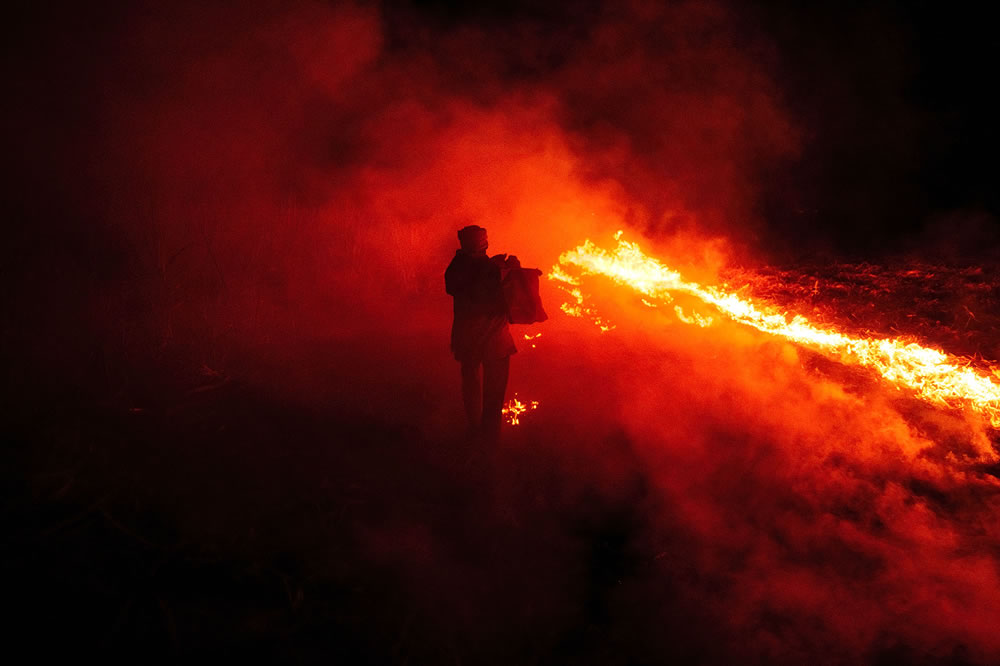 About As Dnyaneshwar Vaidya
I am Dnyaneshwar Vaidya, I am currently based in a small village called Narsimhawadi in Maharashtra. Born and brought up in Pandharpur, I never showed much interest in formal academics nor did I pursue it with great passion, hence I studied only till my 7th grade. Instead, I enrolled myself in the education of the Vedas in the Vitthal-Rukmini Vedpathshala in Pandharpur. I was brought up in a nuclear family consisting of me, my mother and father, and my younger sister. My father worked in a printing press in Pandharpur and earned just enough to put food on the table for the whole family. Our ends were not being met properly and so we had no choice but to leave Pandharpur to move to a village called Narsimhawadi which is situated in Kolhapur. After shifting to the new village in the year 2000, my father and I began working as priests or 'Bhatjis'. Through our consistent and sincere hard work along with the blessings of God, we now have a house of our own in Narsimhawadi.
My tryst with photography happened a lot later in life, and unexpectedly as well. Whenever I was invited for a wedding or event, I used to be fascinated by the big cameras, lenses and video cameras operated by the people in charge. I used to wonder how these devices worked. I had no idea that this curiosity will lead to a colossal change in my life. In 2014, I hiked to a fort in Maharashtra called Raigad to pay my respects to the great king and warrior Chhatrapati Shivaji Maharaj. I observed that a few photographers from Pune and Sangli which are quite nearby had come to visit the fort as well. Since there wasn't a lot of crowd present, I took this opportunity to be in their company throughout the hike. This was the day I realized how much thought and effort goes behind composing one photograph as I saw these individuals changing angles and lighting. I was extremely fascinated and decided that it was time I got a camera of my own and start this creative journey for myself as well.
The day finally came in 2015 when I bought my first DSLR; Nikon D3100 and my journey started. I was clueless and had no idea how to use the lenses and camera itself so I asked the people who I bought it from if there was anybody willing to teach me how a DSLR is used, and they told me to consult Mr. Dilip Nerlikar who lived in Sangli. Under the expertise of Mr. Nerlikar, I completed a basic 7-day course in photography and showed him some photos that I had clicked. All he had to say is that I needn't be taught by anyone at all and that I already have an eye for photography! That was the first and much-needed encouragement that pushed me to work harder on this craft. This event made me realize how grateful I am to Mr. Nerlikar for being my first mentor.
I was introduced to Mr. Tilak Haria by Mr. Nerlikar shortly after. Mr. Tilak had been a photographer for around 25 years based in Mumbai. When I saw the photographs that had been clicked by him, I was stunned. All my questions about what photography exactly is and how an arrangement turns into a good composition were being answered by merely observing the photographs of this man. I immediately asked him to make me his student but out of his humility and kindness, he told me that I was a better photographer. He had become my second mentor. I learned about the intricacies and the fine details in photography under Mr.Tilak. He taught me how to use Photoshop. He also opened my eyes to the existence of national and international photography competitions apart from just posting on social media. I realized the enormity of this field as a whole and started applying and participating in various competitions. As of today, my photographs have finally been exhibited in 36 countries.
I have a vested interest in monochrome or black and white photography. I was sent a link by Tilak sir one day which had black and white photographs and was told to observe the processing behind these photos. They were captured by Mr. Ashok Saravanan Ay from Chennai. I was awestruck while watching these photos. I felt as if I had chanced upon the heart of photography as I observed Mr. Ashok's photos. His processing and style of photography were something that pierced my heart. Every photo seemed to be tingling with life and these photos had cast a spell on me that I still haven't gotten out of.
Ashok sir is my third mentor. The style of photography that I use and the kind of processing that I employ in my photos were all taught to me by him with such accuracy, that my photos live and breathe his name.
He taught me the importance of using good equipment for photography and how drastically it affects the composition. My career in photography would have no roots if it wasn't for my three mentors. They will always have a very high amount of respect from me. The amount of effort that has been extolled on me by them is a debt that I cannot repay in my life.
My main subjects of photography are cultural and festive. I am working on documenting various traditions and cultures and their stories these days.
I participated in various competitions from 2015 to 2019. As of today, I have been honored with 36 gold medals, 23 silver medals, and 16 bronze medals for my photography. I have also been bestowed a number of certificates and awards and prestigious degrees like AFIP (Artist of Federation of Indian Photography), EFIP (Excellence of Federation of Indian Photography) in national and AFIAP (Artist of International Federation of Photography) in international. I am the first person to ever receive 2 national and 2 international degrees in the region of western Maharashtra as well as a degree in photography, and I am extremely humbled by these honors and will always give the credit to my three mentors.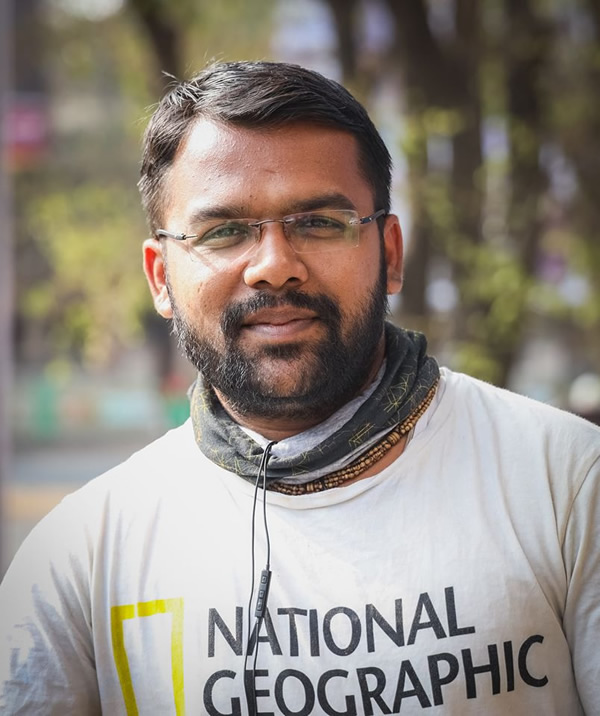 You can find As Dnyaneshwar Vaidya on the Web:
Copyrights:
All the pictures in this post are copyrighted As Dnyaneshwar Vaidya. Their reproduction, even in part, is forbidden without the explicit approval of the rightful owners.