Bahurupi is a Bengali word, closest English word should be chameleon; meaning – something which changes its colors/textures often.
It's a dying art in West Bengal and only a handful of family still practices it and earns living out of it. they dress up as a Hindu God/Goddess look-alike and then put up a performance for the crowd during festivals. This photo story is on such a family and Mr.Kalipada Pal (head of the family) has been practicing this art for last 45 years. He has a full family at home with son/daughter-in-law, grandchildren and even great grandchildren! they all are connected to this by some means or the other. I hope this project of mine spreads their popularity more and as a result brings more business to them so that they can live better.
Click on the image for better and enlarged view.


Banner – It reads "bahurupi center", "dressing up like tiger/bear/god/goddess are done here". this banner is at outside of the house of mr. kalipada pal, the head of the group.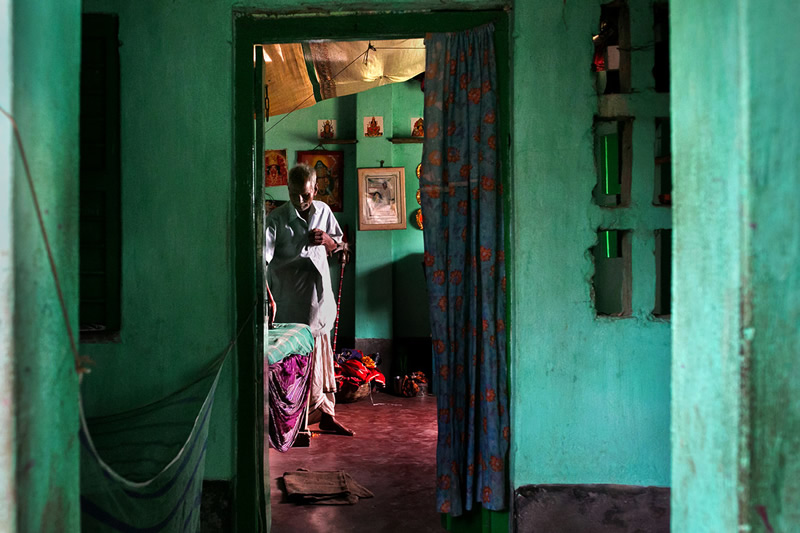 Small Room – Mr. Pal has a small home, partially built with brick and rest by mud, but he is proud of his home. He says, it was a mud hut a long time back but he earned and then started building it with bricks so that it can withstand weather diversities better. his son and grandsons are now taking care of the house.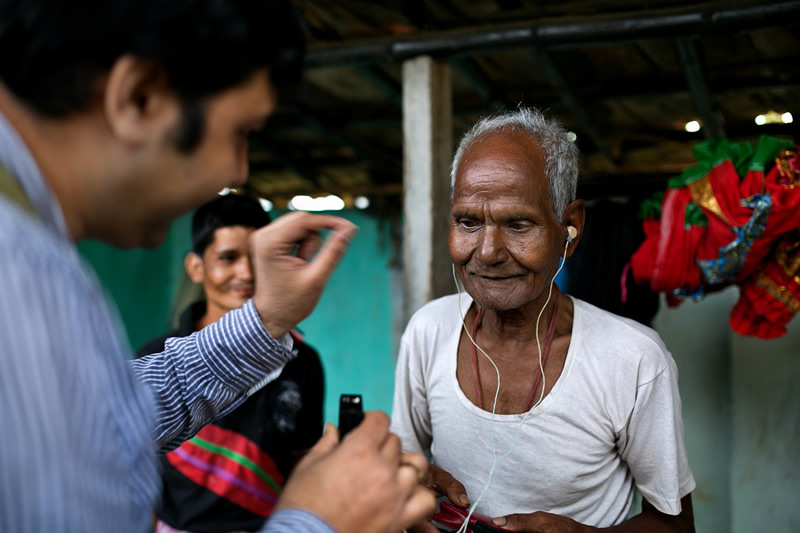 Hearing Aid – Mr.Pal is short of hearing. My friend suman gifted him one of his hearing aids and mr pal was really interested in trying it out right away.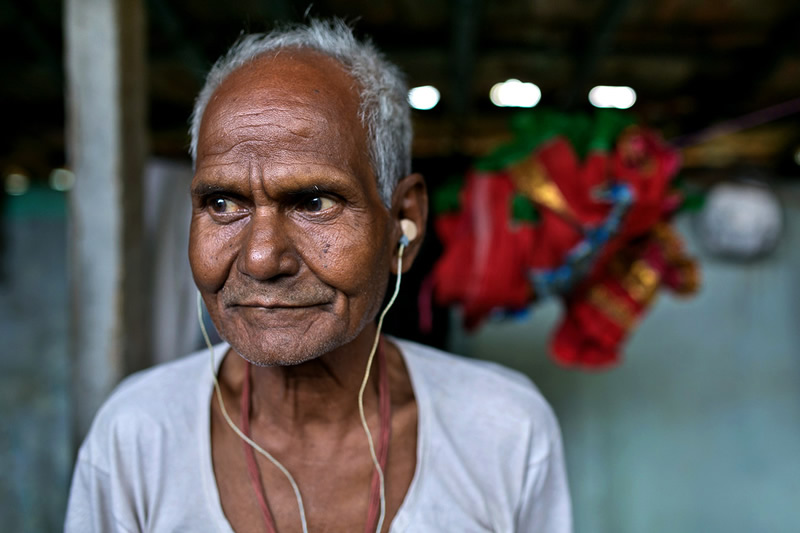 Strength – His face portrays inner strength. Here he could use the hearing aid and listened to our voice better. however, he was not comfortable with the gadget as it's the first time he is using it in his life.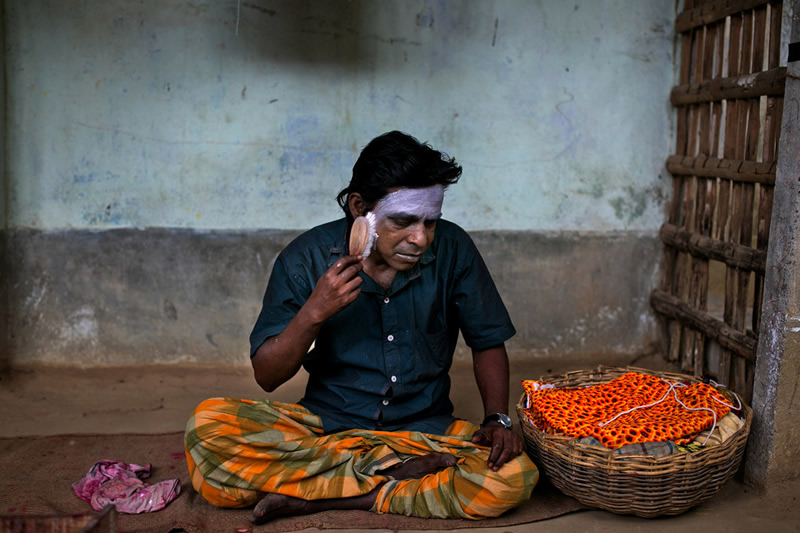 First coat of paint – Keshto is in mr pal's team. here he applies the first coat of paint to his face with a brush. He would dress up like hindu god shiva and go to sheorafuli, a village in west bengal for a pre-arranged performance.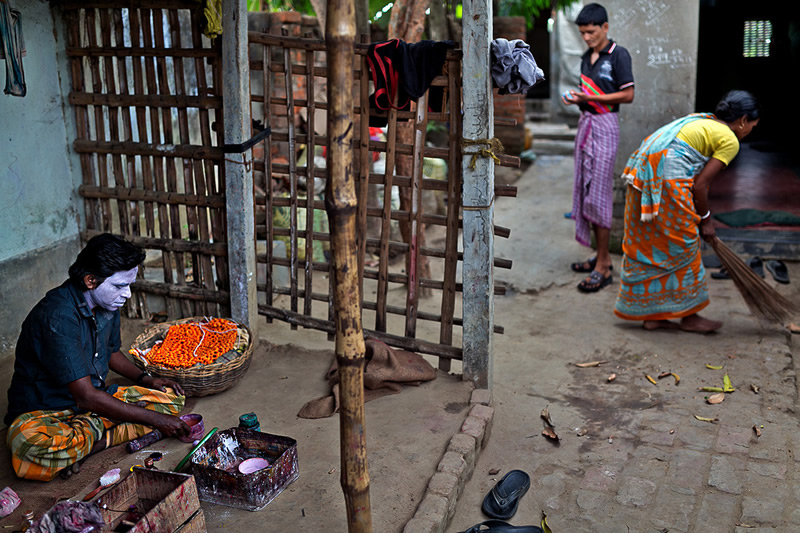 Cleaning up – While keshto continues his art work, daily household work is being performed in the morning to clean up the place.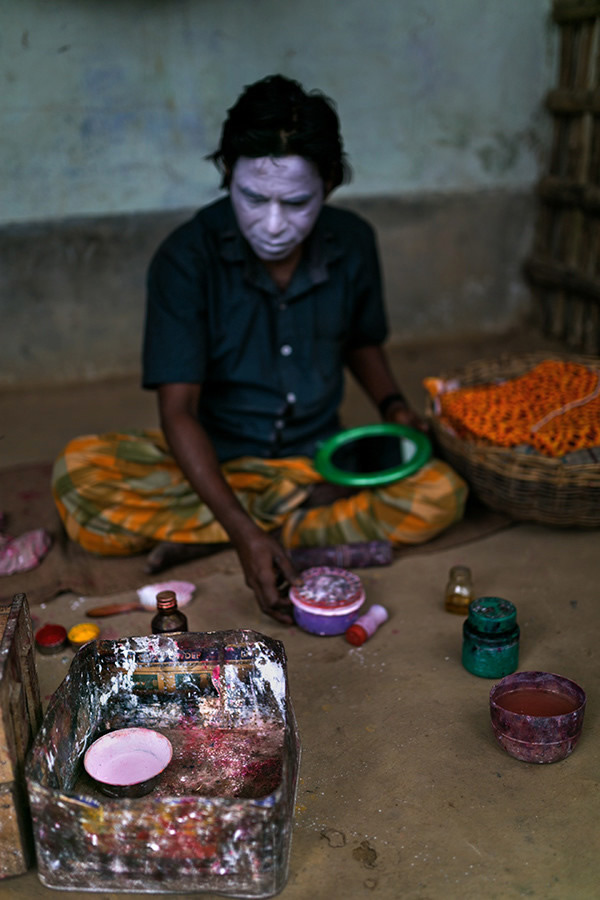 Ingredients – Keshto's make up kit is simple. it has paints of varioud colors, few brushes and mirror to check the paint. These are cheap colors and they even don't know if these colors have any effect on the skin.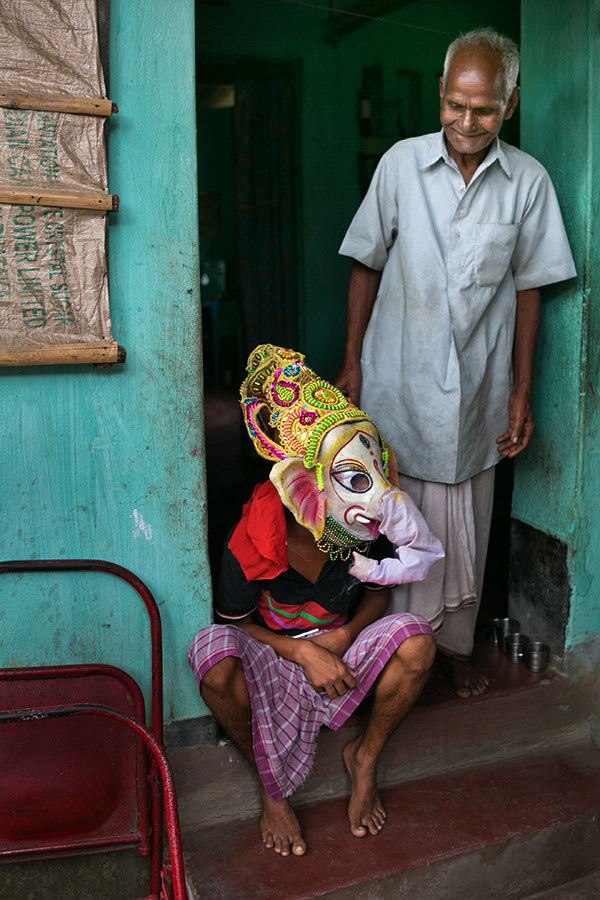 Ganesha – Mr. Pal is very jovial and enjoys every moment with a touch of smile in his face. Here he brings out a mask of hindu god ganesha and puts it on one of his grandsons. It's an amusing moment indeed.

Mirrored – Keshto continues to apply finer touches on his face and checks on mirror if the strokes are correct. He often gets annoyed with himself if his paint work is not as per his need, but quickly rectifies it. He's a perfectionist.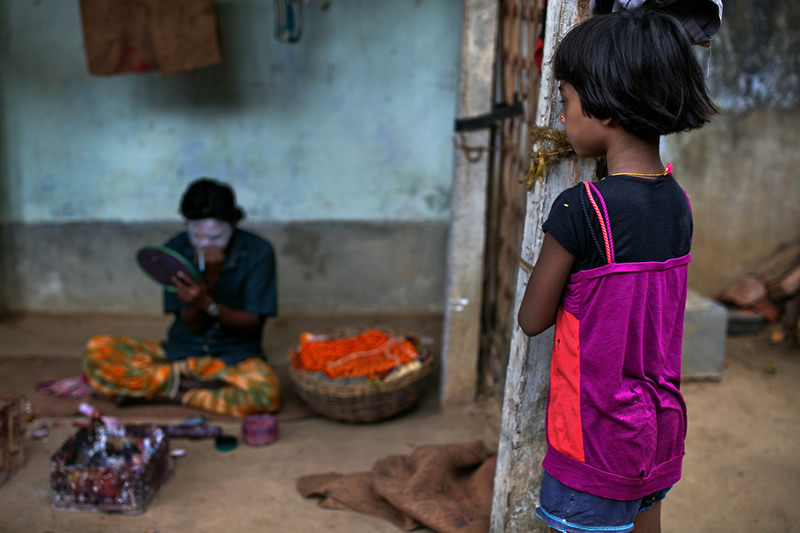 Observer – Mr.Pal's great granddaughter keeps an eye on the proceedings. They are three sisters. they love the art and follows it closely every morning. Mr.Pal hopes that they learn it soon.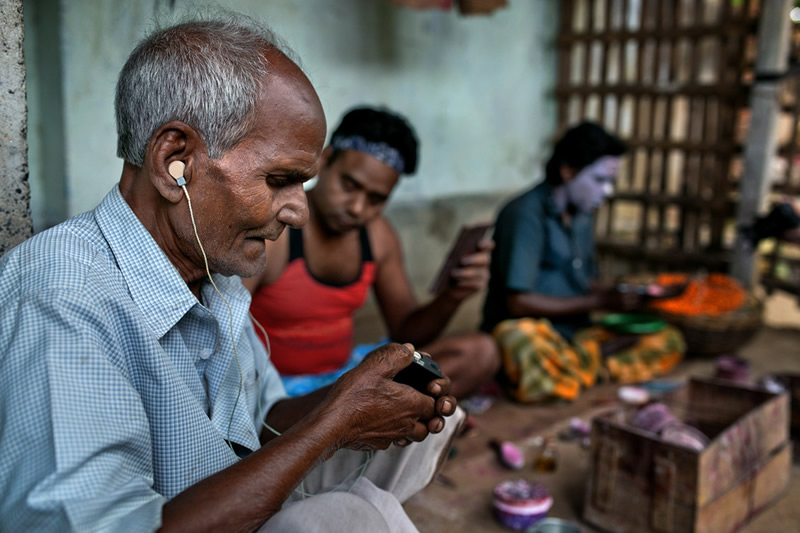 Artists – Mr.Pal adjusts his hearing aid for better listening experience while couple of his team members continue to work on their face painting. Along with Keshto, we have balaram now.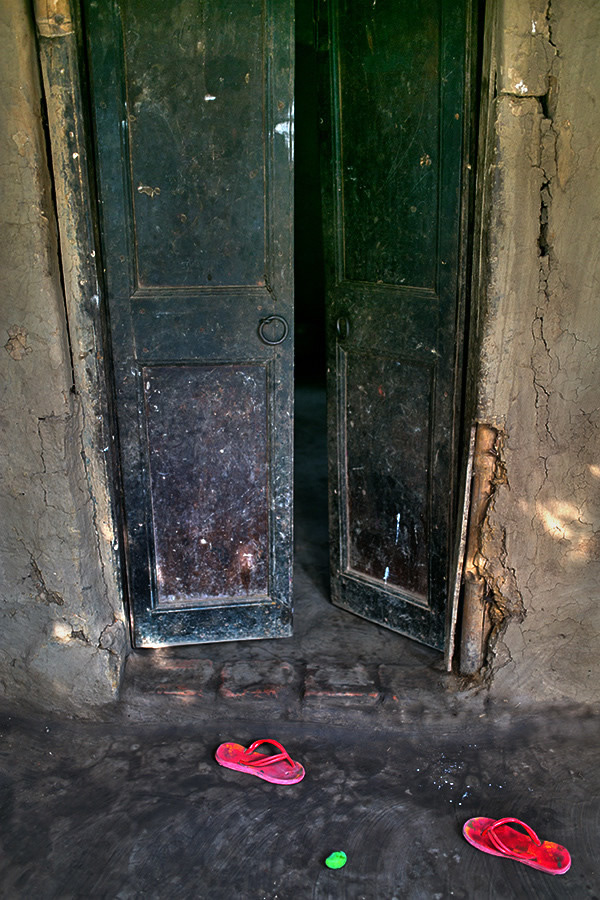 Open – Mr. Pal's service is for anyone who wants to earn a living by dressing up like a 'bahurupi'. He has a small home but has a big open heart.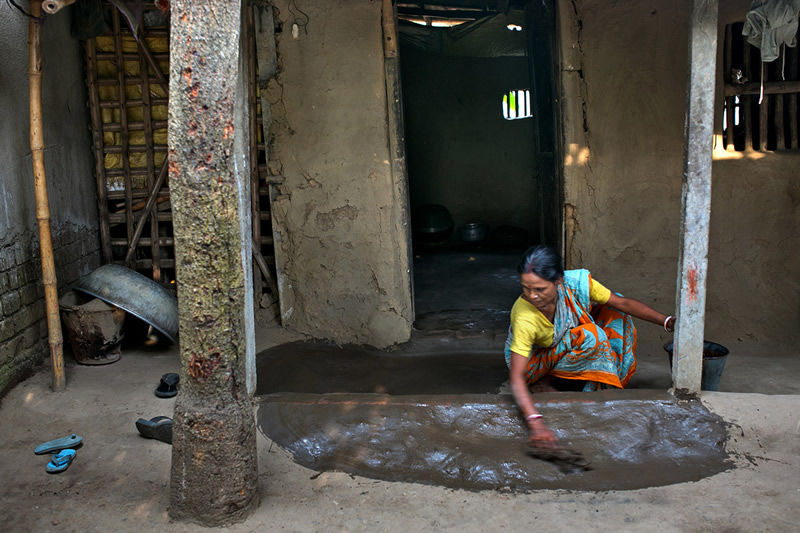 Kitchen – Kitchen needs to be as much clean as possible. While the team continues to dress up, the daily household cleanup in the morning continues as Mr. Pal's daughter-in-law mops the earthen floor with a wet piece of cloth.

Family – Mr. Pal is very much involved with his family. He no longer takes part in paint jobs as his team is pretty much skilled in that now. While they continue their work, he takes time out to talk to his great grandchildren and spend time with them.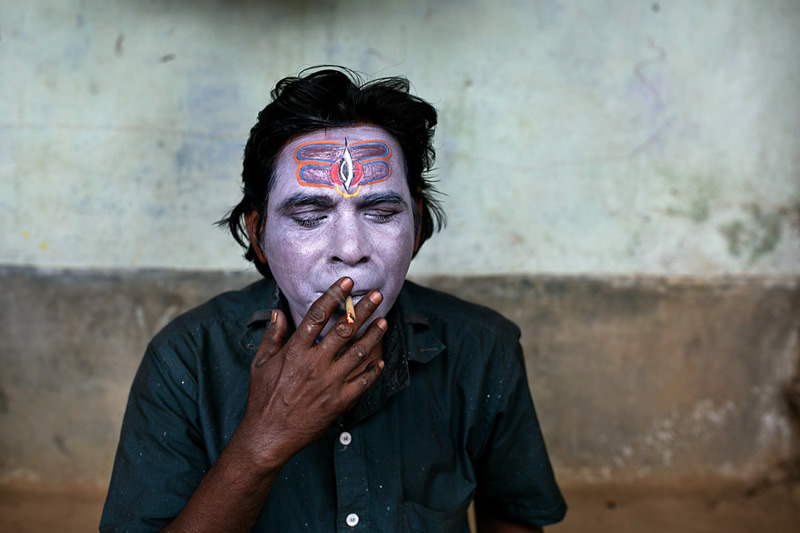 Smoke – Aas per Keshto, smoking brings concentration. Here he is seen taking a break and enjoying a smoke with a bidi.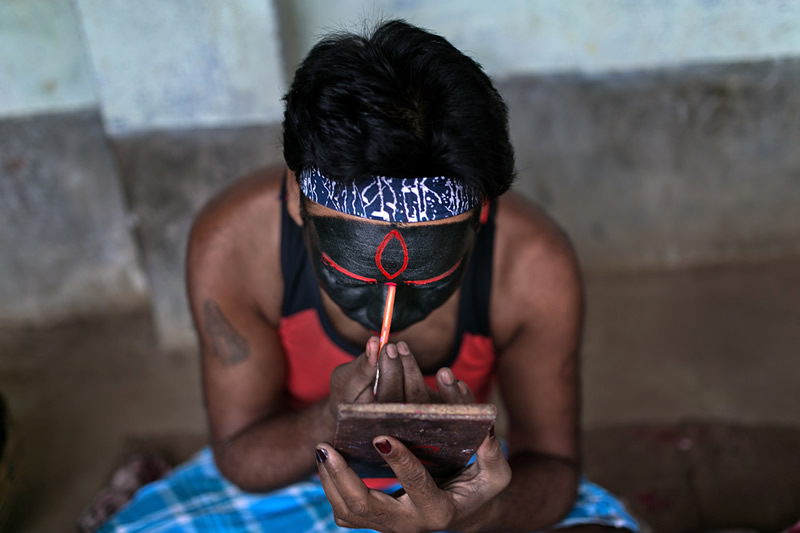 Third eye – Balaram is dressing like goddess kali. Hence he has painted his face black. Here he just completed drawing the third eye of the goddess on the forehead. Red on black brings nice contrast to his face.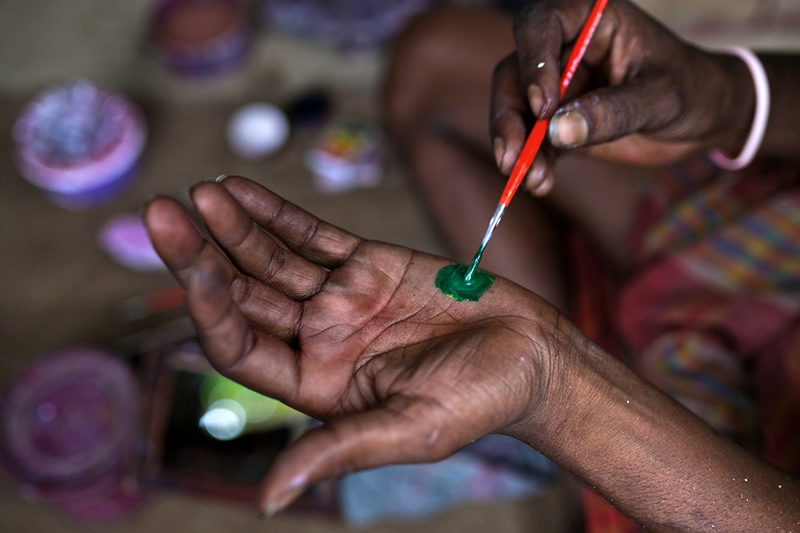 Palette – For mixing colors they use their hands. It's a quick process and also cost of palette is saved.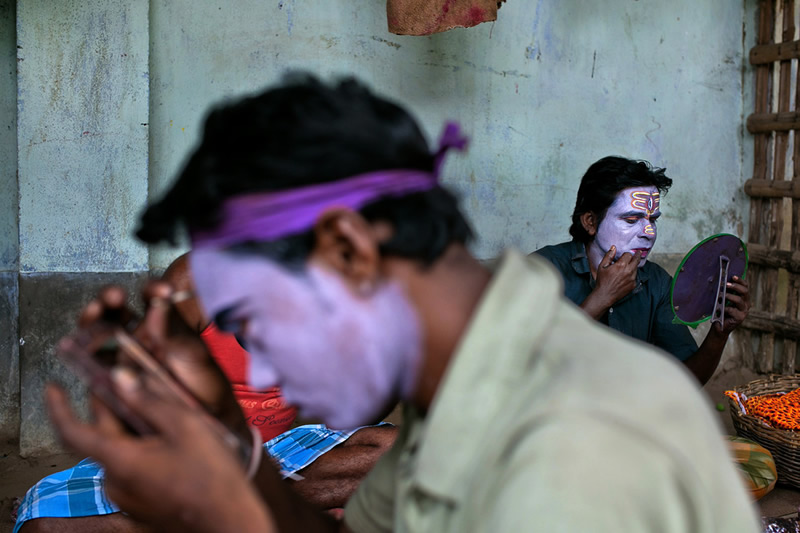 Faces – Keshto checks his make up while the third bahurupi bubai joins the team and completes applying the first coat of paint. Like Keshto, bubai would also dress up like god shiva.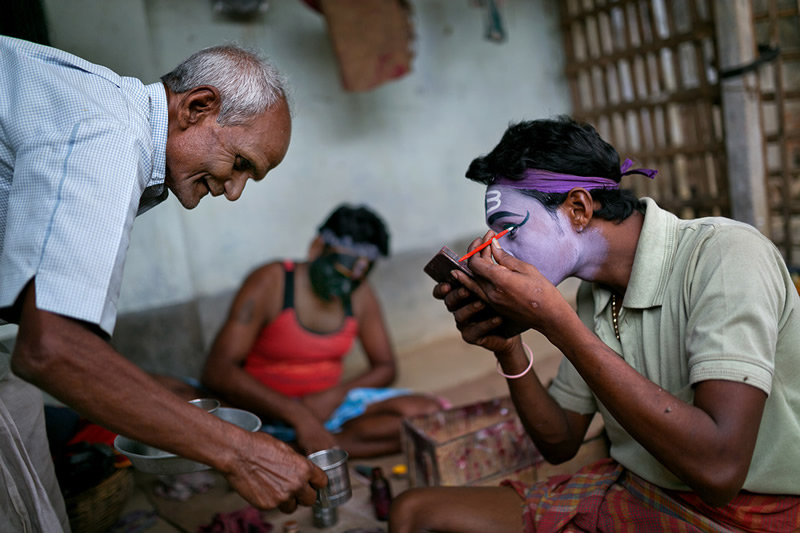 Helping hand – Mr.Pal is a great host as well. While his team is busy with their work, he serves tea to liven up their souls in the morning.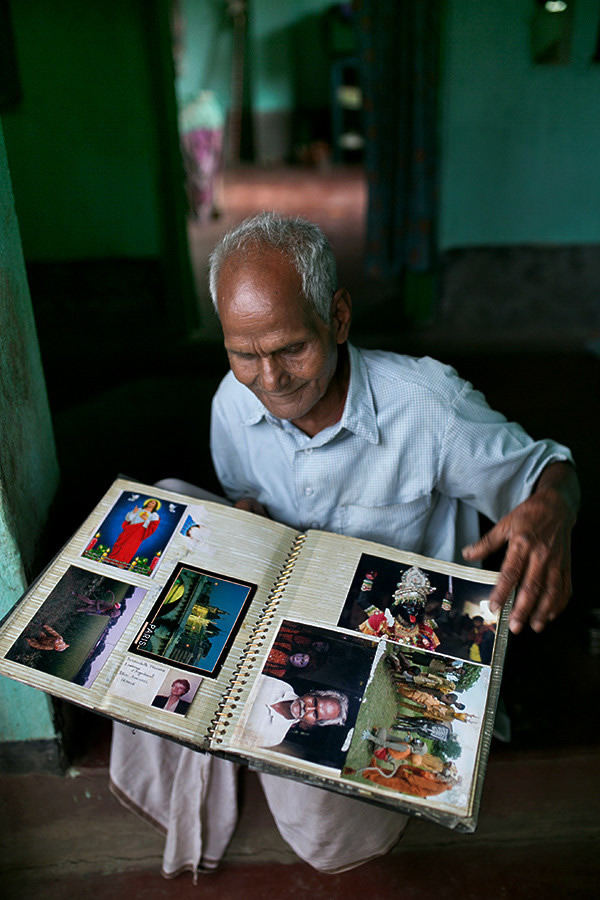 Proud possession – It's 45 long years that Mr. Pal is practicing this art and he had been very methodical in preserving the memories he had with his job at hand. Here he shows off an album full of pictures to us. We promised him to add few more photos in this album once we return for another day.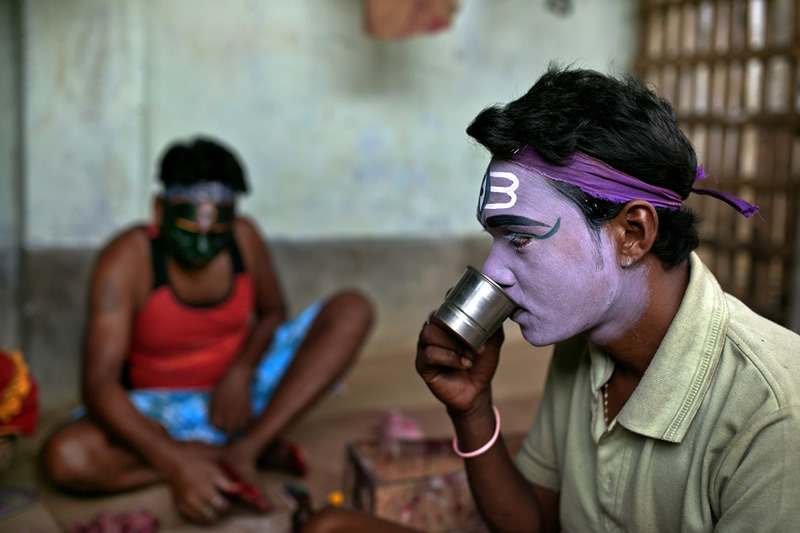 Tea – Morning tea is a must-have ingredient to freshen up the minds. Bubai sips the cup served by Mr. Pal while Balaram applies red paint (called 'aalta') on his feet.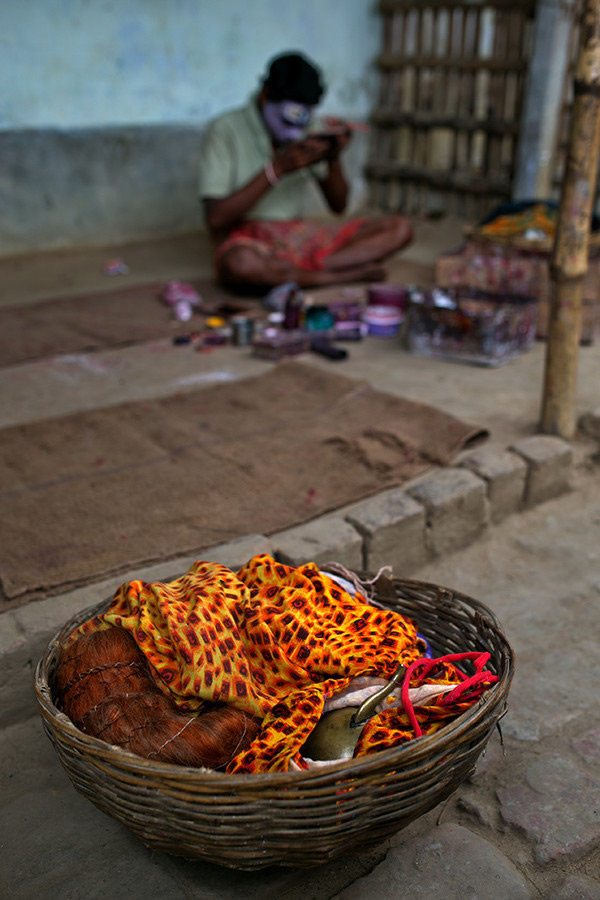 Clothes – It's not only the face paint, they also need to dress up to look like the god/goddess they are imitating. A busketful of dress is waiting to be put on soon.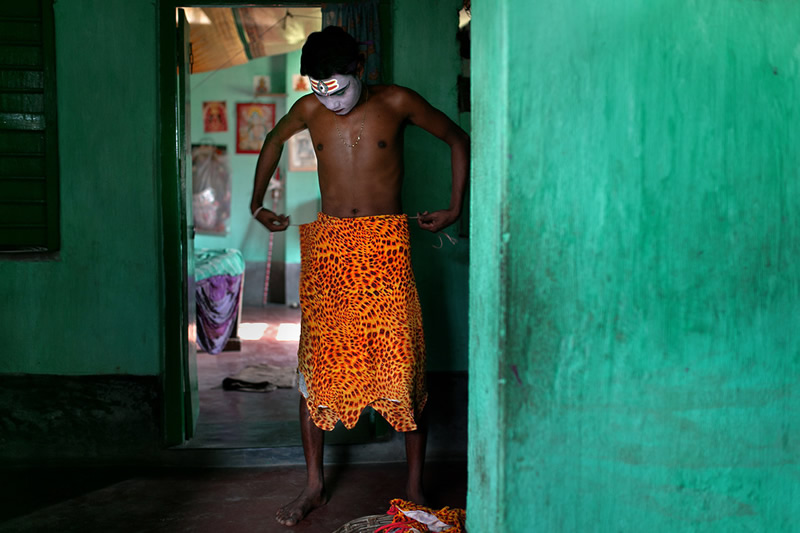 Dress up – Bubai is ready with his makeup and works with the clothes to dress up like god shiva.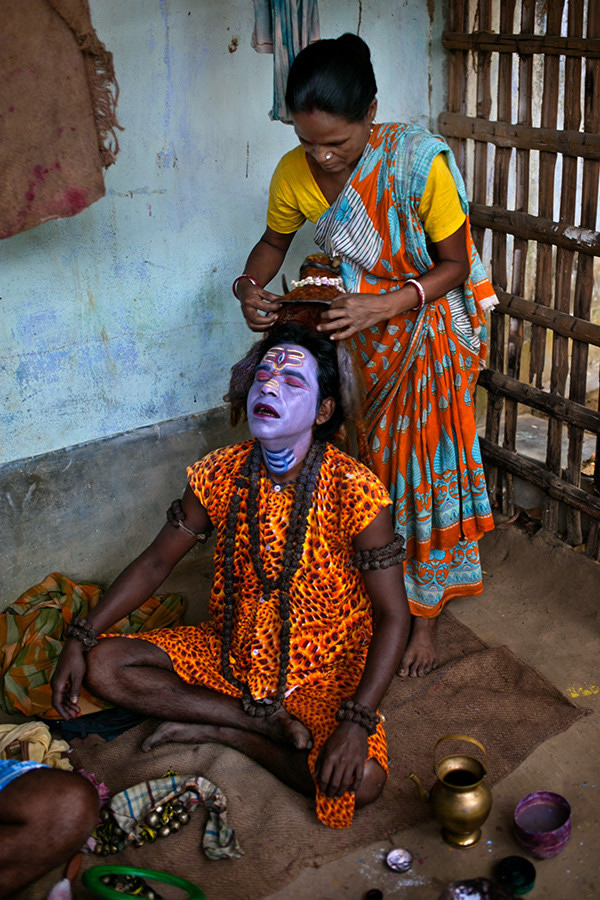 Hairdo – Keshto gets his false hair which resembles that of god shiva. Family members help the team whenever they need them.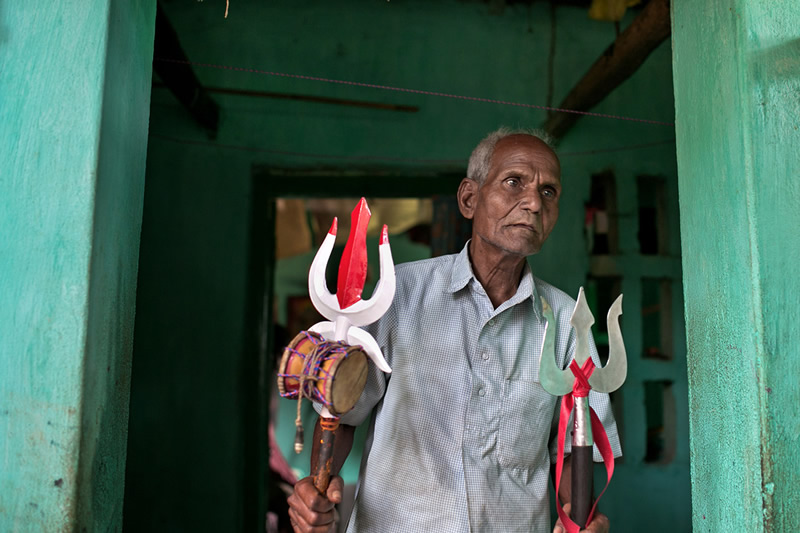 Trishool – God Shiva's main weapon is trishool. Mr.Pal brings couple of them for keshto and bubai to give the final touch to their dress up.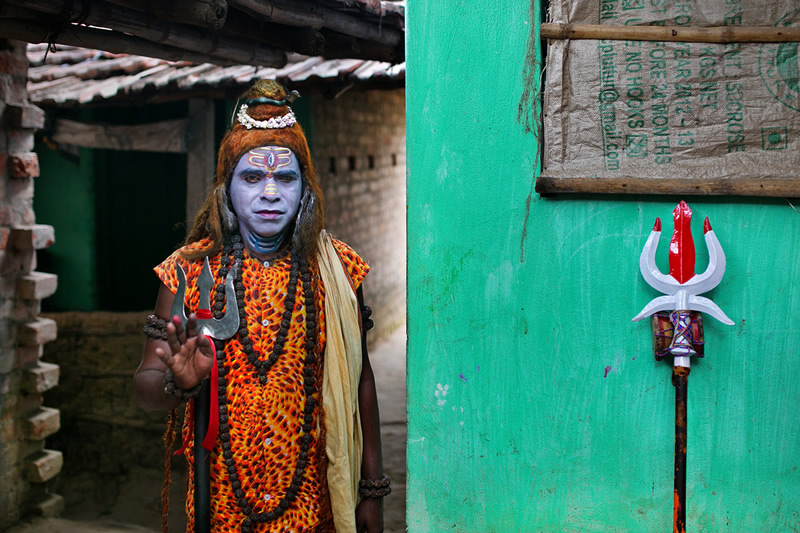 Shiva – Keshto poses as god shiva before heading out for his journey to sheorafuli.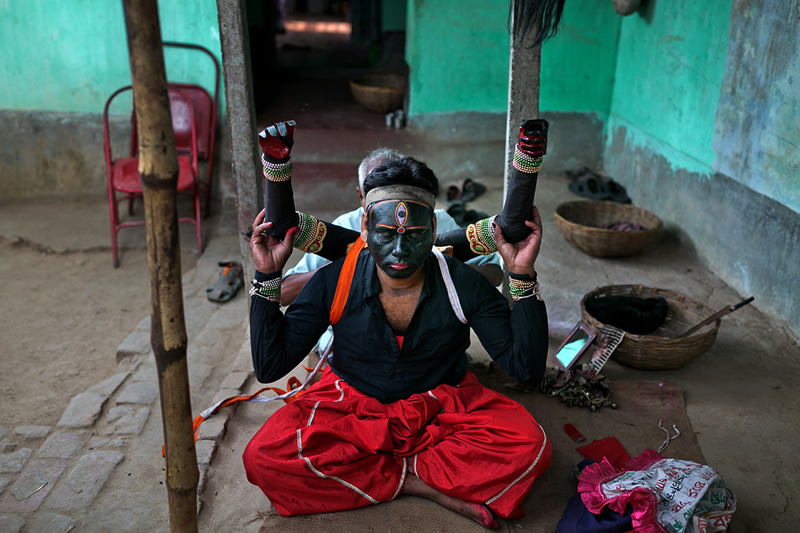 Hand in hand – Goddess kali has four arms. Mr.Pal helps Balaram to fix extra false arms.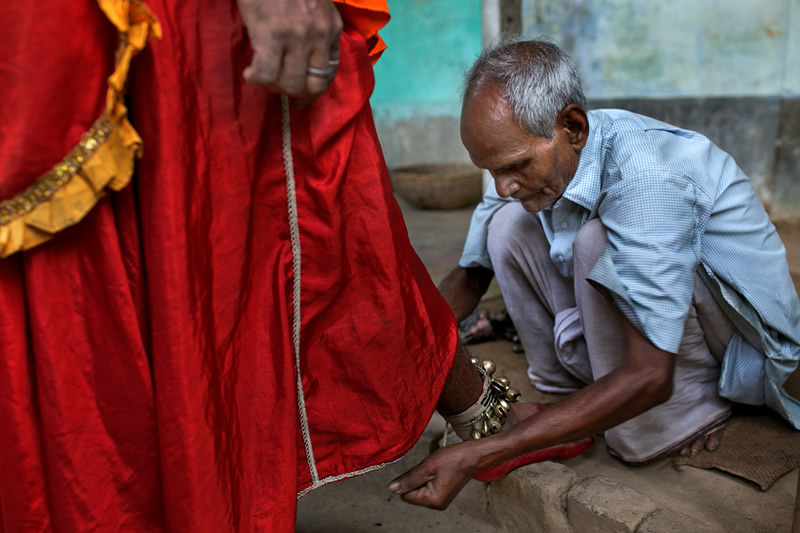 Final touch – Balaram's performance would include some dance. hence, Mr.Pal ties ghungru (musical anklet) to his feet with his own hand.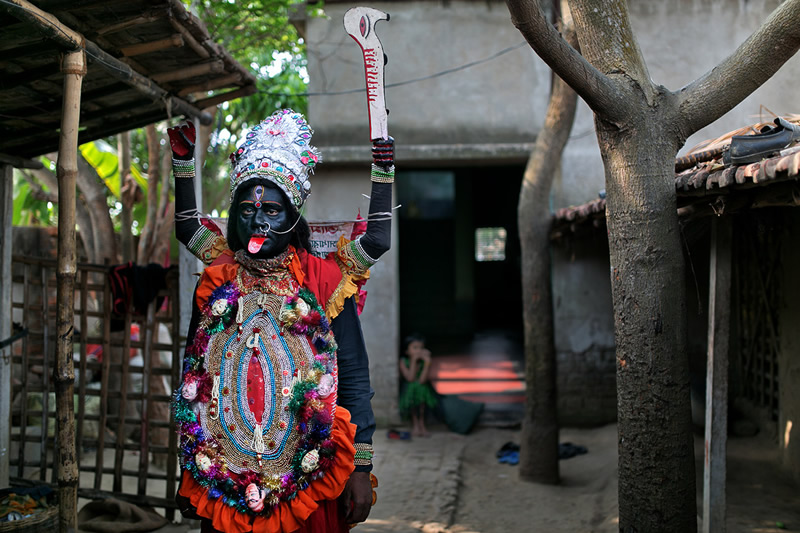 Kali – Balaram is all dressed up as goddess Kali and ready to leave for the day.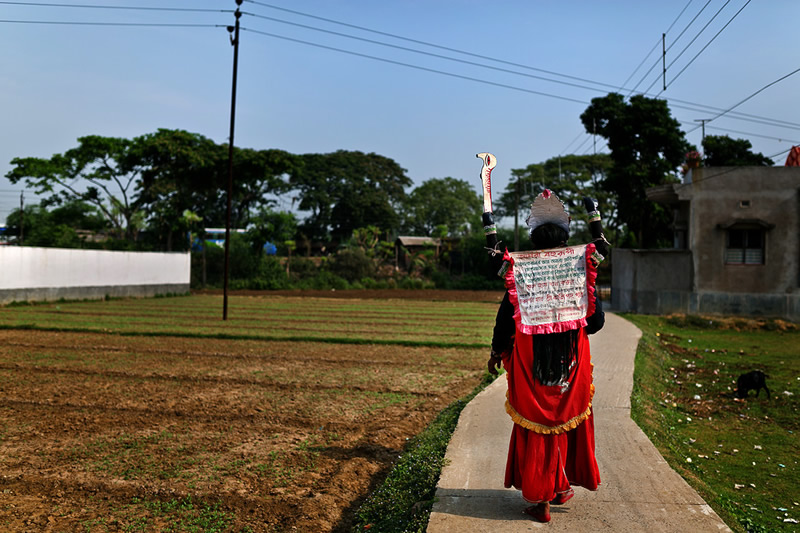 On the road – Balaram sets off for his destination where he would put up a performance with dance and other activities and earn money to feed his family. Mr.Pal would earn his share as well. The money is not much but they are surviving on it as that's the only income they have. Hope is less as the road is bumpy for them in future because newer generation is not too keen to practice this dying art.
About Photographer
I am Soumya, an Indian who takes photography as a serious hobby. I shoot mainly people, life and culture of India and is very keen to explore my country more in this respect. I am a Computer Engineer, working for a MNC but by heart I am a Photographer. I have a beautiful wife and an adorable 5 year old son at my home who are the world for me.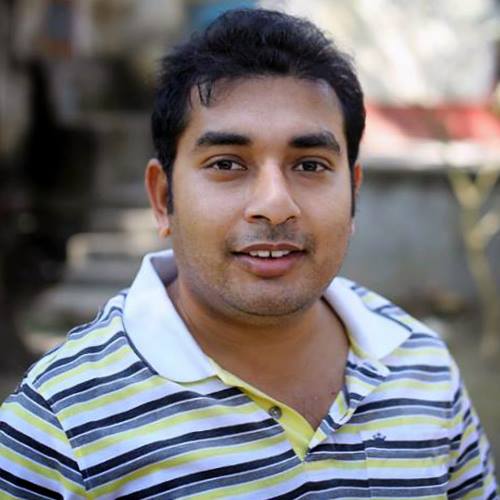 You can find Soumya Bandyopadhyay on the Web :
Copyrights:
All the pictures in this post are copyrighted Soumya Bandyopadhyay. Their reproduction, even in part, is forbidden without the explicit approval of the rightful owners.