Straightforward and simple answers just like his pictures, meet Mark Carey, a london based photographer who has a wonderful vision and taste for street photography. In this Interview with 121clicks.com, he expresses himself towards his stint as a travel and street photographer, the factors and phenomena behind his shooting spree and most importantly tells us about his ideas and qualities as a photographer and so on. His love for India and his greatest fear all looks definitely interesting.
let us get to know more from the photographer himself..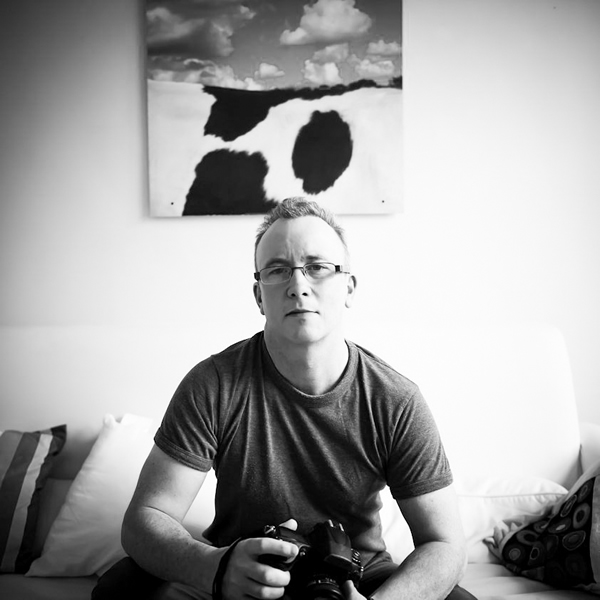 Portrait of Mark Carey
Hi Mark, Welcome to 121Clicks. Can you please introduce yourself?
Im a 49 year old photographer living in London. My day to day work is as a documentary wedding photographer. I also shoot all sorts of documentary and street photography at home and abroad, and for the last few years, abroad has meant primarily India.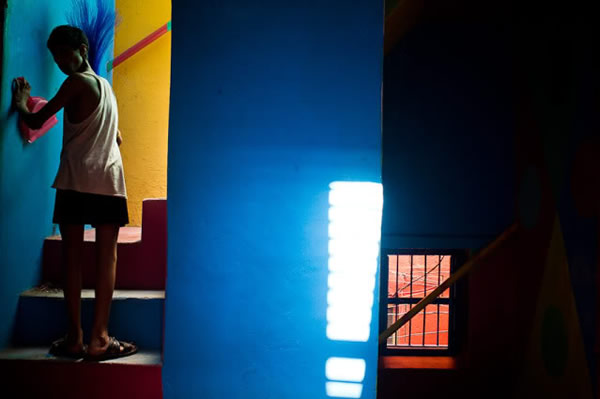 How did you get interest in travel and street photography?
About 6 years ago I was ready for a change in my life. I was winding down my building business and decided to do some proper traveling for the first time in my life. I bought an SLR, and with no clue how to use it, headed off to Cambodia. It was there that I discovered that whilst everyone else seemed to have their cameras trained on the wonderful temples, my camera was always pointed towards the local people going about their everyday lives. They fascinated me. It was at that time that I fell in love with street photography.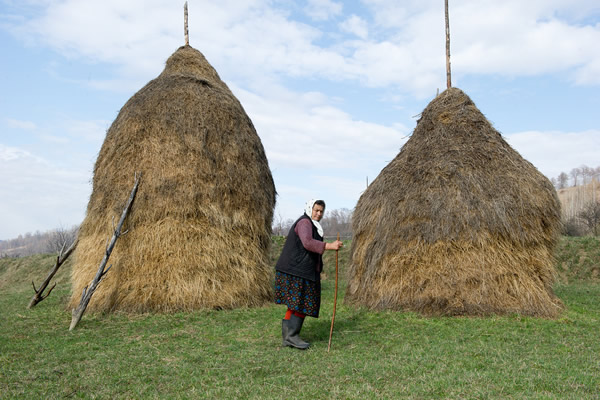 What does it feel like to be a travel & street photographer, how often do you go on a photography stint?
I will feel very privileged to have the time and money to do this and I am sure anyone doing this would say the same. I am sure many would love to go abroad and shoot as I do but simply have financial and family constraints that do not allow this. I am fortunate that my work at home is pretty seasonal which allows me a lot of flexibility and the people who are close to me are very tolerant of my heading off for months at a time.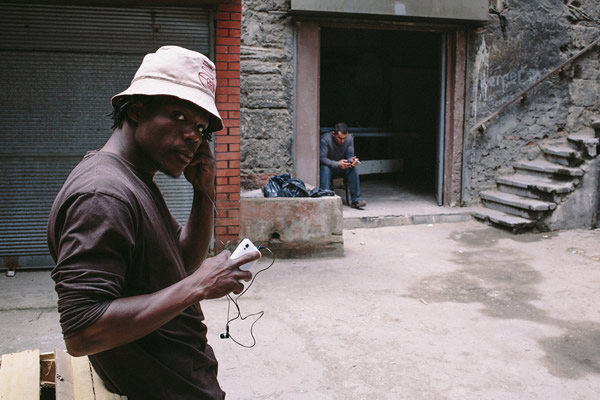 Few words about your documentary wedding photography?
It pays the bills, I enjoy it and I feel privileged to be able to make a l living out of it but it is definitely not where my photographic heart lies. I have always just liked shooting people candidly and documentary weddings are a way that I can do this and make a living. In an ideal world I would be traveling, shooting and finding interesting projects a long the way. I suspect the future for me will not always involve wedding photography.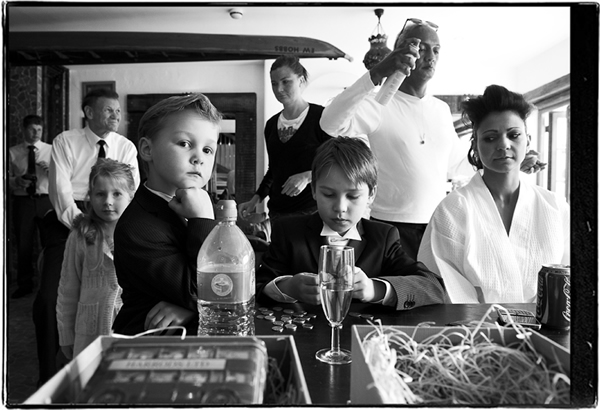 An overview about your street photography workshops?
I run street photography workshops in Kolkata in aid of The Hope Foundation. HOPE is a Kolkata based NGO that exists to change underprivileged children's lives. They fund and support projects in health, nutrition, child protection and education.
In the workshops I pass on techniques I use in my own street photography and I help improve peoples camera skills if they need that. I speak about the psychology of street photography as I see it, Adobe Lightroom workflow and general processing of their images. The money raised by the workshop goes in its entirety to HOPE.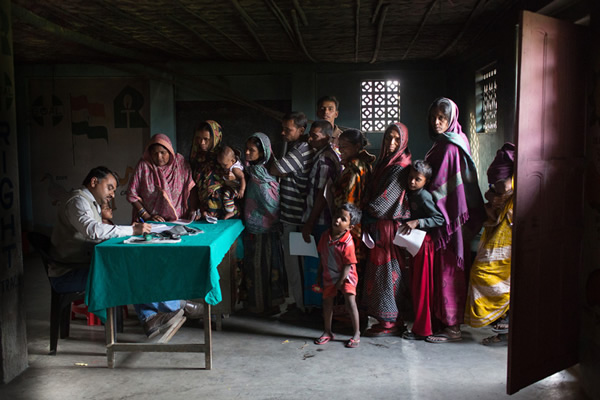 Hope Foundation administer primary health care at Solo Bigha slum
What continually drives you to photograph in the streets?
I really dont exactly know but there is something very rewarding with coming back with a unique and strong image. That doesn't happen very often! It struck me that its a little like a fisherman coming back having caught an enormous or exotic prize fish! I suspect that as photographers we are all frustrated artists and are always simply trying to create our latest piece of art. That is a constant drive – the thrill of creating art from our everyday surroundings. The streets of India are so teeming with life that you never know what you might come upon.
I just love making pictures and I love the constant changing nature of how I shoot and how I see things. Year to year my work changes subtly and that intrigues me – you never know where you are going to be, photographically speaking, in a couple of years time and that is quite exciting to me. It is not necessarily a conscious shift in any direction but more likely an accumulation of small changes that makes for a big shift in your style further down the line and often you dont even realise that has happened. I think its important to grow as a photographer and not stay still in the way you shoot or how you choose your subject matter.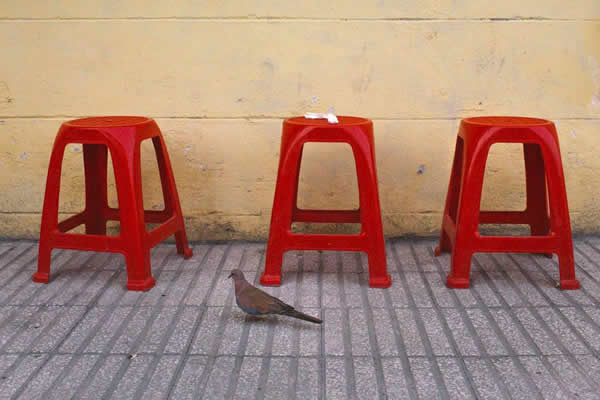 Can you mention us one place, an incident there with a photograph?
There are so many. It is mostly the hard ones that stick in my mind. The Home of Hope in Bangalore was the most shocking place I had ever photographed in. I had never seen so many people on the edge of death, people who had had terribly difficult lives and were so far removed from my privileged existence. Photographing one lady who was dying of HIV as she lay on a concrete floor was a truly memorable and humbling experience. I will never forget her eyes.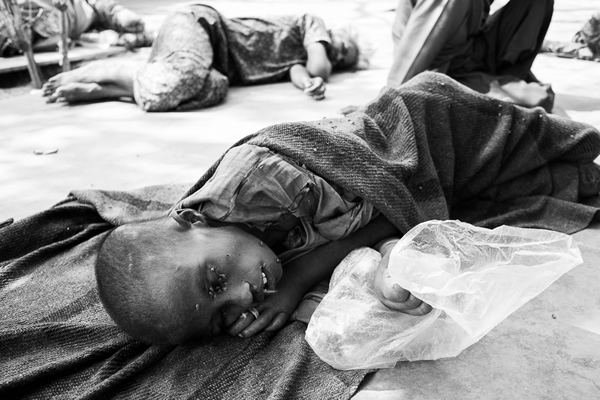 What kind of impression do you hope to leave upon other's who see your photographs?
I really dont know and in a sense I dont want to know. If anything I hope people will look at those photographs and perhaps experience what it was like to be there. I like quite 'intimate' photographs that sometimes tell a story and at other times ask more questions than they answer, if that doesn't sound too cliche'. I don't have a message per se – I mostly take pictures of things that simply interest me. I believe it is important to shoot on instinct and not be formulaic – shoot from the heart and ask questions about why you shot it the way you did later. Jeff Mermelstein said something like 'dont think too much, just shoot'. That struck a chord with me.
All that said it is still important to pay attention to light, composition and gesture – hopefully in time these skills and ways of seeing the world come to us almost subconsciously so we don't have to consider them too much when seeing potential strong images. If you think too much the image may have gone. I am still not as spontaneous as I would like to be in my shooting.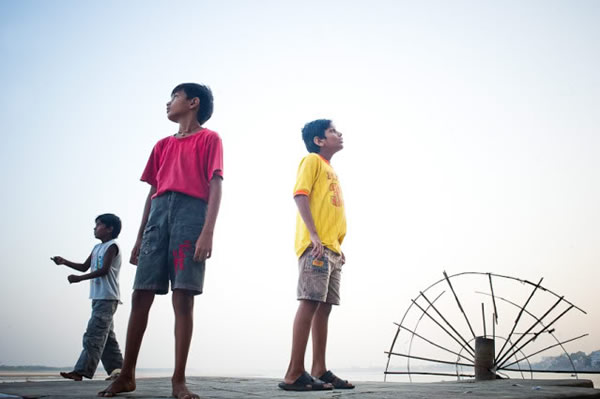 Are there any photographers who you admire? If so, who are they?
For solid documentary I have always been drawn to James Nachtwey. In street photography Alex Webb, Jeff Mermelstein and more recently Harry Gruyaert would be personal favourites.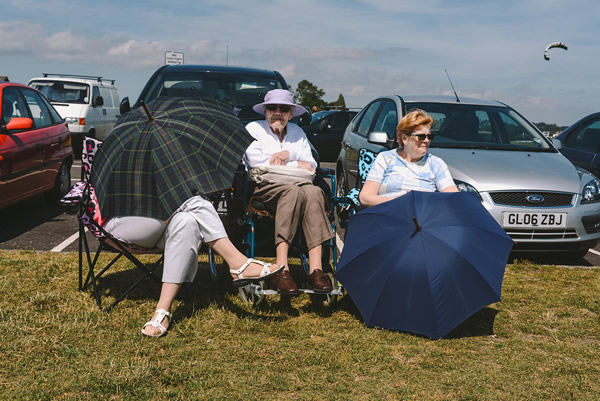 According to Mark, what are the essential qualities a street photographer should have?
I like so many different styles so that would be hard to say and in any case I would not be so prescriptive. However, if you can develop your own style, no matter what that is, all the better. Be the best version of yourself you can be it will stand you in good stead. Don't try and copy or emulate anyone in particular too much and just allow your own style to grow through – it will come. You will probably find you are borrowing a bit of one person and another and I think this is fine as long as it becomes your own eventually.
Also I would say that patience and sensitivity are key. Do more looking than shooting, don't be rushed and be prepared to wander a a lot, wander quietly and tread lightly.
Lastly, accept failure. Some days I will come home with no pictures I like at all and others I may have two or three. You really have to just be prepared for that eventuality and not beat yourself up too much. You will have good days and bad days also so be prepared to take the rough with the smooth.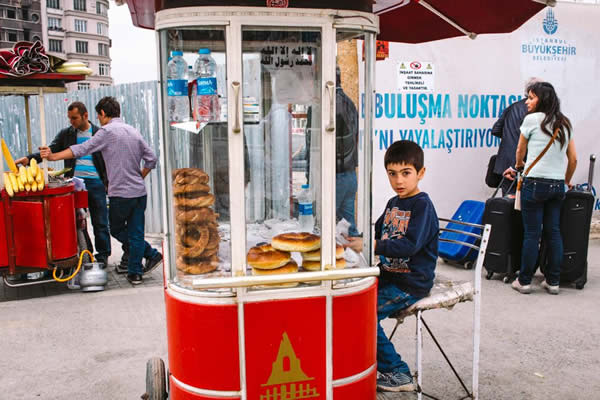 What made you visit India, How did your love for India happen?
I had been shooting in South East Asia for quite a while but was becoming disenchanted. Mostly I felt it was a bit of a battle to get the kind of shots I really wanted. I found people there to be too camera aware and I found myself wondering how it would be in India. So, I went there and haven't looked back ever since. People although very curious are often quite happy for you to stay very close to them and shoot pretty much they way you would like to shoot and that single point is very important. Its as though they have more pressing things to concern themselves with than some tourist with a camera.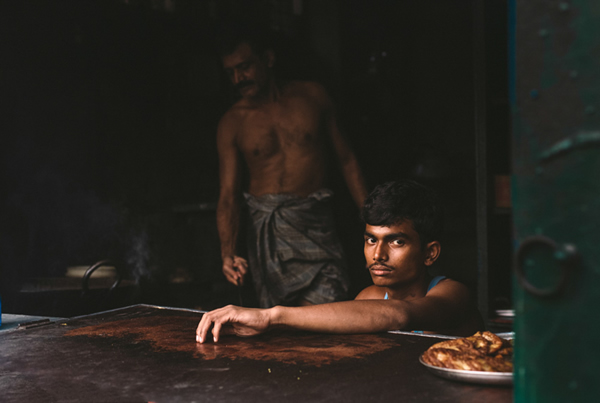 What is the best compliment you received so far?
Its enough for me that people may find my pictures interesting enough to come back for a second look or at least hold their attention for a while. For me thats compliment enough.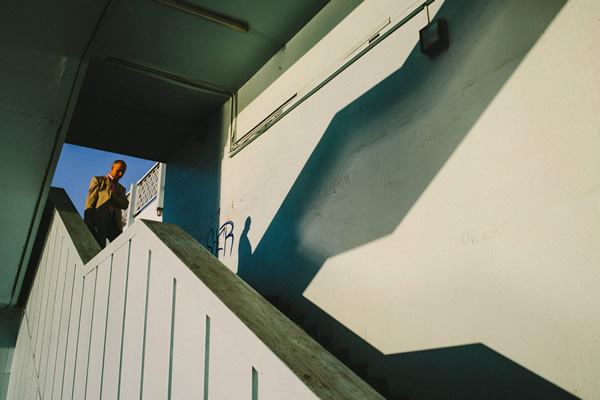 What kind of equipment do you use?
Camera-wise I use a Canon 5D Mark III – I like it because its not too big, has great ISO performance and a 'silent mode' which I always, always use.
Lens-wise I mix it up. For general documentary I use mainly the new Canon 24 -70mm f2.8 mkii until the light gets really bad, then I may put on a 24mm 1.4. For general street photography I prefer a smaller lighter lens, the Canon 35mm f2.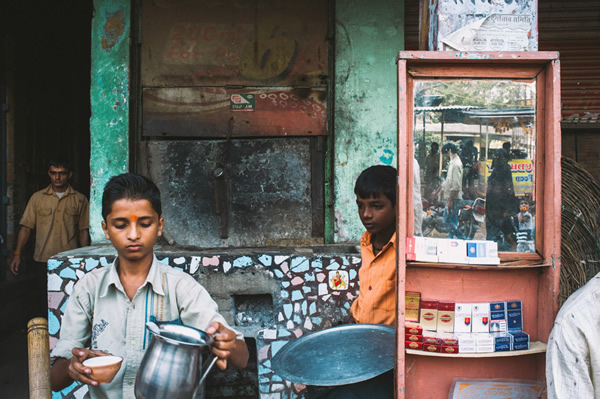 Quick Questions:
What is your idea of happiness?
Good company and good food.
What is your greatest fear?
That I wasted my life.
What do you consider your greatest achievement?
I dont know – I dont think of myself in those terms.
Where would you like to live?
By the sea, probably in the UK somewhere that gets a bit of wild weather every once in a while.
What is your most marked characteristic?
Im not sure – I like to be pretty honest and say it as I see it.
What do you most appreciate in your friends?
Honesty.
Who are your heroes in real life?
Ive photographed people who live in terrible circumstances and endure day to day hardships but still keep a brave and often smiling face – these people are really inspiring. My Father has tenacious battler of difficulties his whole life – I have always admired that about him.
What is your present state of mind?
Calm.
Who are your favorite authors?
Im more of a visual person – I love movies more than books.
What is your favorite motto?
Always do what you say you are going to do.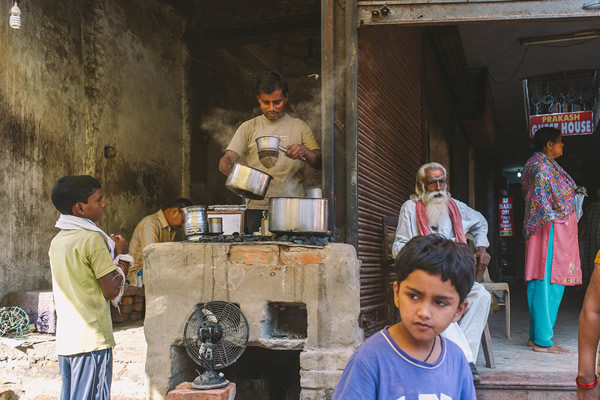 Thanks again for this great interview with 121clicks, any final thoughts for our readers.
If you want to improve your photography keep thinking about what you can do better, keep analysing your work, keep pushing. Try and understand better the technical sides of what you are doing – it is important and it will allow help you to shoot confidently in absolutely any circumstances. There is nothing worse that fiddling about with your camera settings wondering how to deal with the scene when you should be getting on and shooting it – learn your tecnicals.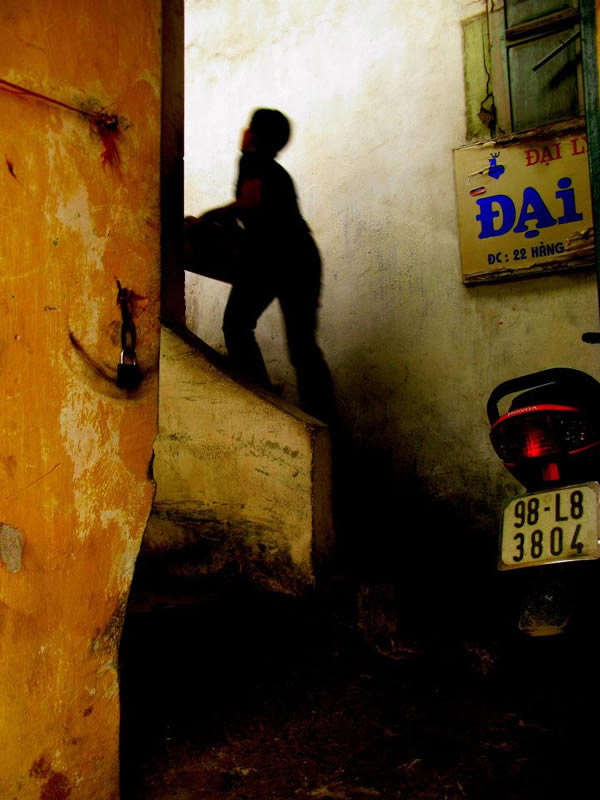 You can find Mark Carey on the Web :
Copyrights:
All the pictures in this post are copyrighted to Mark Carey. Their reproduction, even in part, is forbidden without the explicit approval of the rightful owners.