The Independent Photographer, an international network of photography enthusiasts & photographers, has announced the winners of its Street Photography Contest.
The Street Photography Competition aims to celebrate and reward photographers for being the best at observing and recording life on the streets. Whether the subject was your own urban environment or as you explored other territories and cultures: We were looking for those spontaneous and fleeting moments and it is our great pleasure to present the work of these incredibly talented artists!
Competition Judge by master photographer Martin Parr
We are delighted to present the images of 10 visual artists whose work shows an exceptional level of talent: Congratulations to the winners and finalists!
You can find more info about The Independent Photographer:
1st Prize: Florian Lang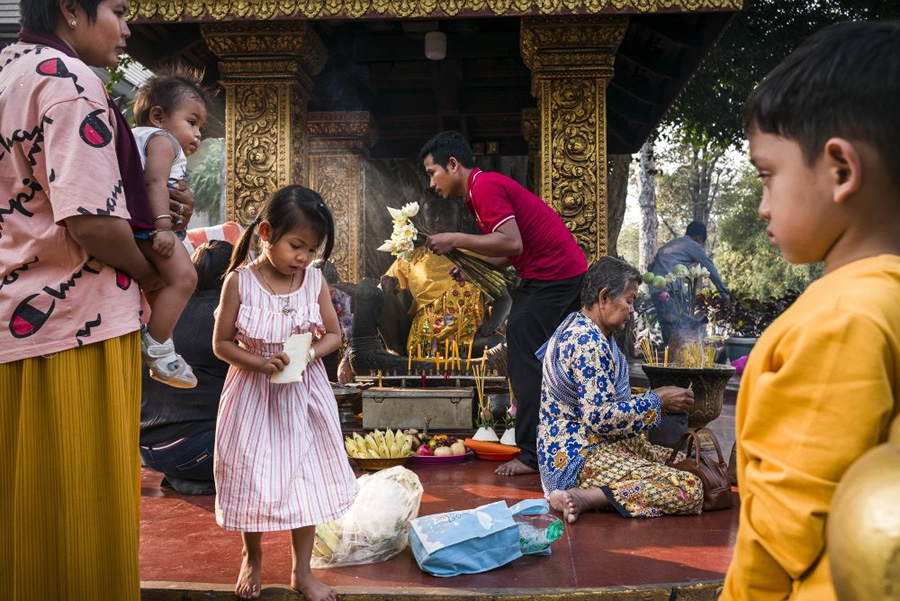 "Buddhist Roadside Shrine"—Siem Reap, Cambodia, 2020.
People are paying a visit to a Buddhist roadside shrine in the center of Siem Reap.
Prize: $1000.
"One of the hallmarks of a great street photo is to get every component lined up, so out of a jumble of people, objects with the background, everything has room to breathe. In this rendition of this roadside Buddhist shrine in Cambodia everything is in place, and the people have real presence within the frame. It is difficult to find fault with any of the details in this image, and I know how tricky this is to pull off." — Martin Parr
---
2nd Prize: Joseph-Philippe Bevillard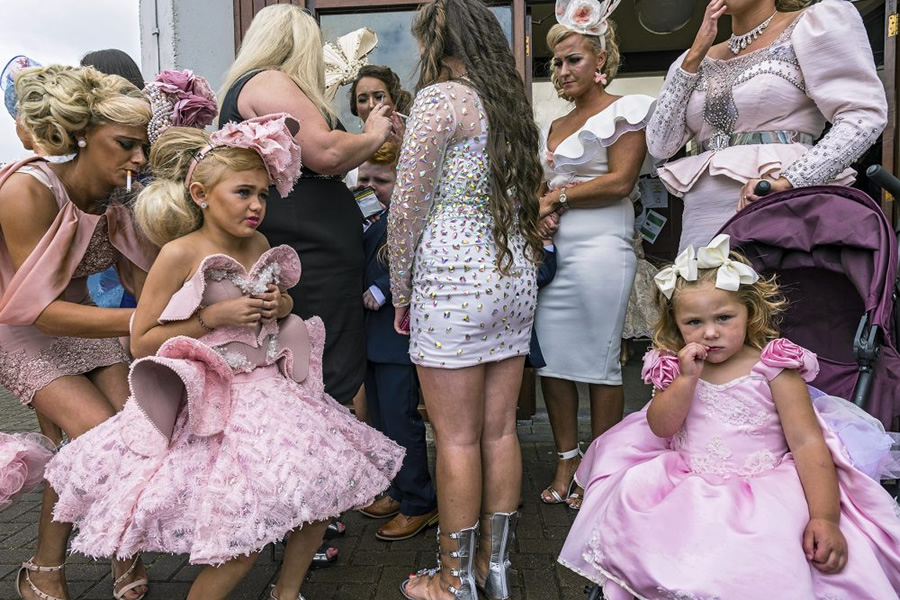 "After Church Wedding"—Wexford, Ireland, 2019.
Women and girls from the Irish traveling community get together after church. Girls as young as 3 wear high heels, false tan, eyelashes, make-up, and colorful dresses as part of their ritual.
Prize: $600.
"This image taken at a traveller's wedding in Wexford in Ireland really catches the atmosphere of such an event, with everyone in the right place. The woman on the left, adjusting her daughter's dress, with a cigarette in the mouth is exceptional, and this with the layers of pink dresses makes an exceptional image. It is a co-incident that the 2 winners both distilled a complicated real life situation into beautifully balanced images. You will see with my runners up, you often get a strong image with a lot more simplicity, but for me, the real challenge of street photography is to make order out of chaos." — Martin Parr
---
3rd Prize: Monia Marchionni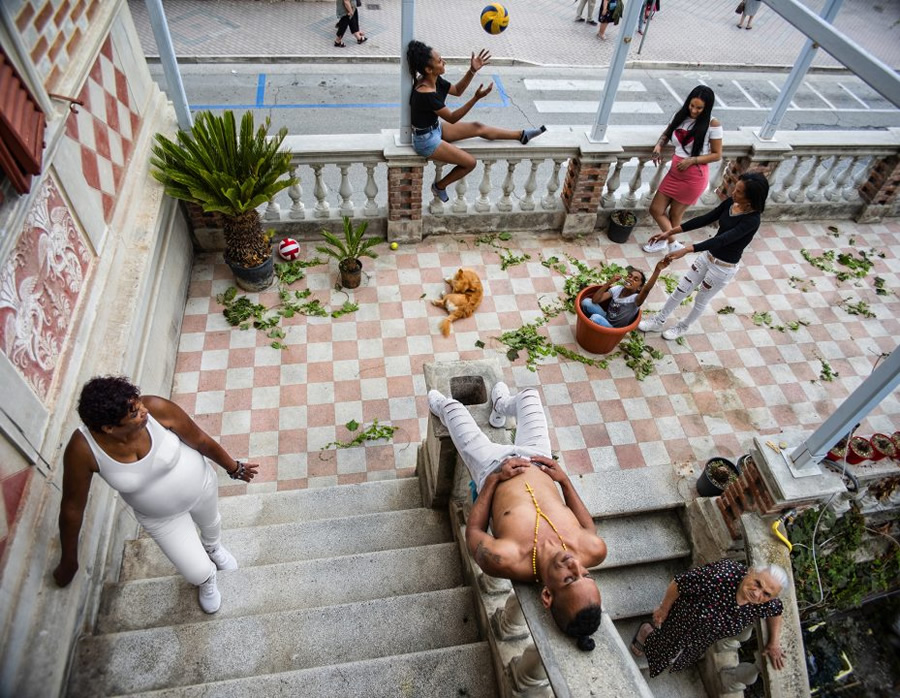 "The gardens from the sky"—Cuba.
During a summer day, the three generations of an Italo-Cuban family are serenely spending their time in a period house overlooking the sea.
Prize: $400.
"Theatrical and deeply expressive, Monia Marchionni's impeccably-timed image eloquently communicates the eccentricities of family life; capturing the unique temperament of each character with rare lucidity, it demonstrates how a seemingly quotidian scene can be transformed by the lens of a skilled street photographer." – The Independent Photographer Editors
---
Finalist – Marcel Van Balken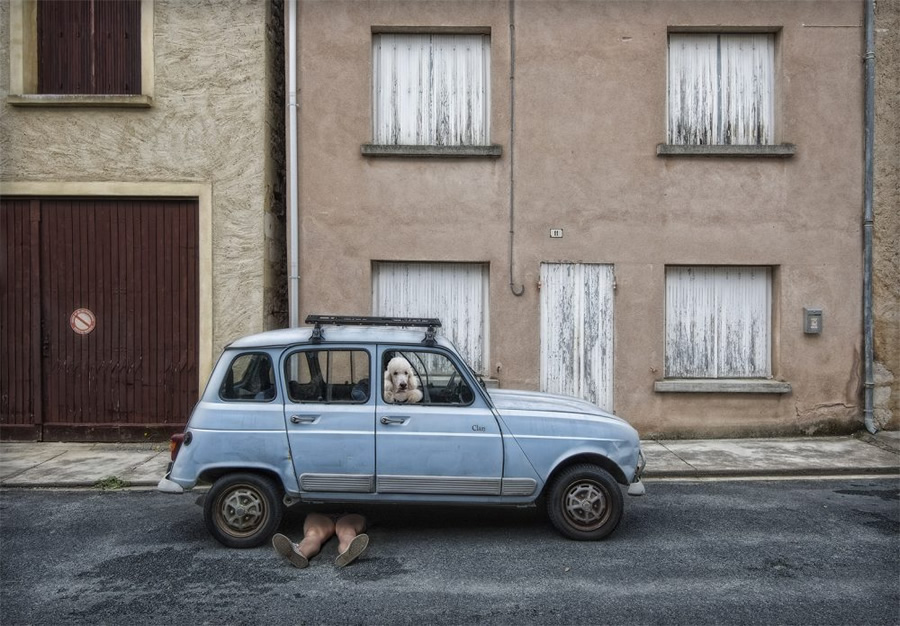 "Repair" – Dordogne, France
The car was apparently broken because there is someone underneath. But it's not clear what she is doing. The woman is perhaps trying to repair the car but her dog is still waiting and less confident in it.
---
Finalist – Andrew Biraj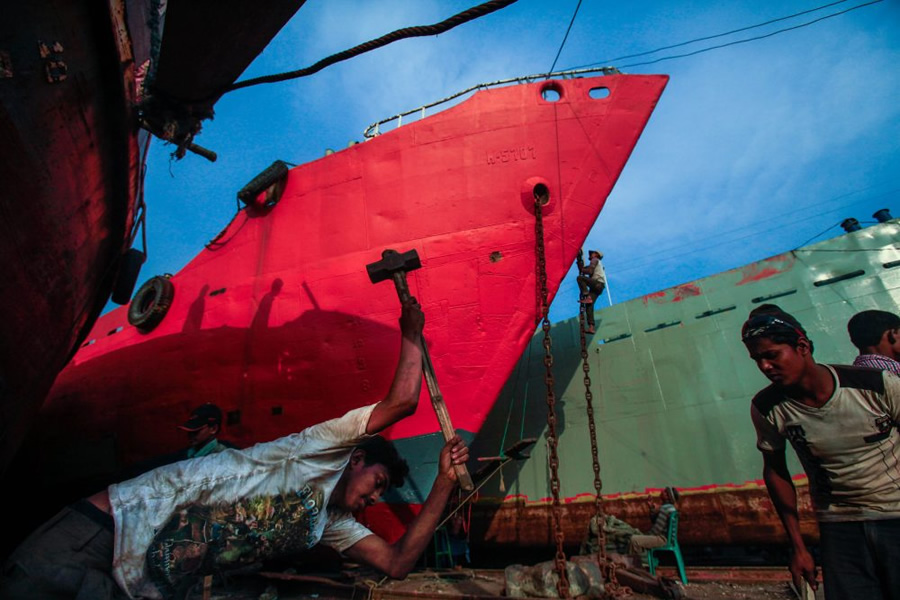 "Workers in a shipyard" – Dhaka, Bangladesh
Workers in a shipyard by the river Buriganga, on the outskirt of Dhaka, Bangladesh.
---
Finalist – Lorenzo Catena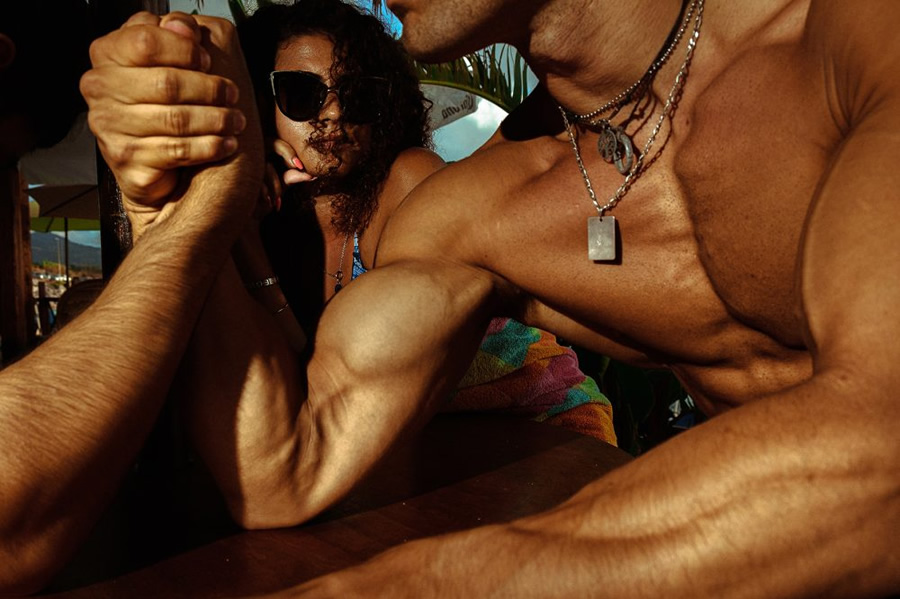 "La comitiva" – Paola, Calabria – Italia, 2020
"La comitiva" is an Italian term that indicates a group of young friends with a very close bond. I met this group randomly along the seaside and I spent some evenings with them portraying their everyday rituals along the rocky beaches of a small town in the south of Italy. © Lorenzo Catena
street color photograph of people in a train shot in Jaipur, India, by Giuliano Lo Re
---
Finalist – Giuliano Lo Re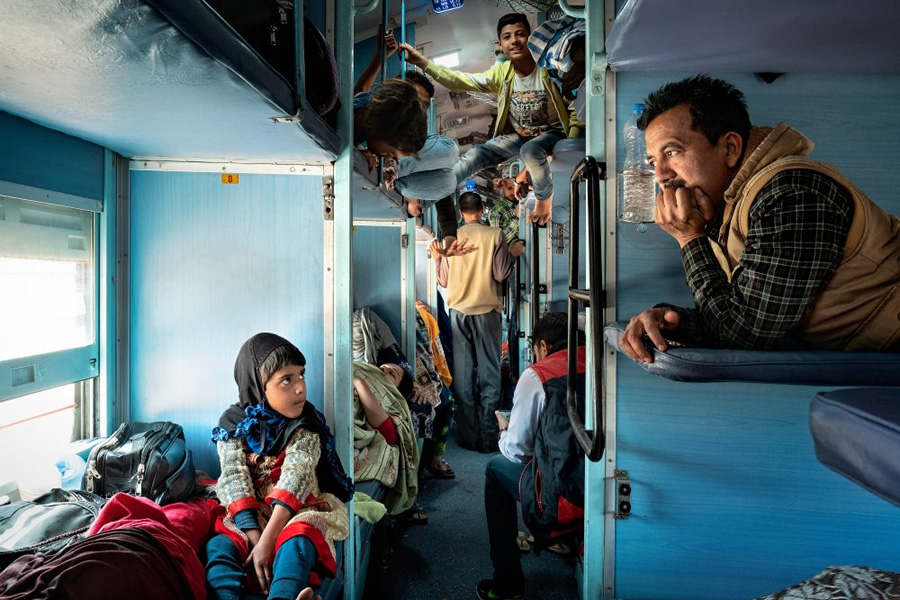 "The Train for Jaipur" – India
People are resting inside the train that will bring them from New Delhi to Jaipur. For a few hours, the wagon becomes their home. Some of them are resting on the seats and seem immersed in their thoughts, some brush their teeth, shave or prepare food. © Giuliano Lo Re
street color photograph shot in Florida, USA, by Carlos Antonorsi
---
Finalist – Carlos Antonoris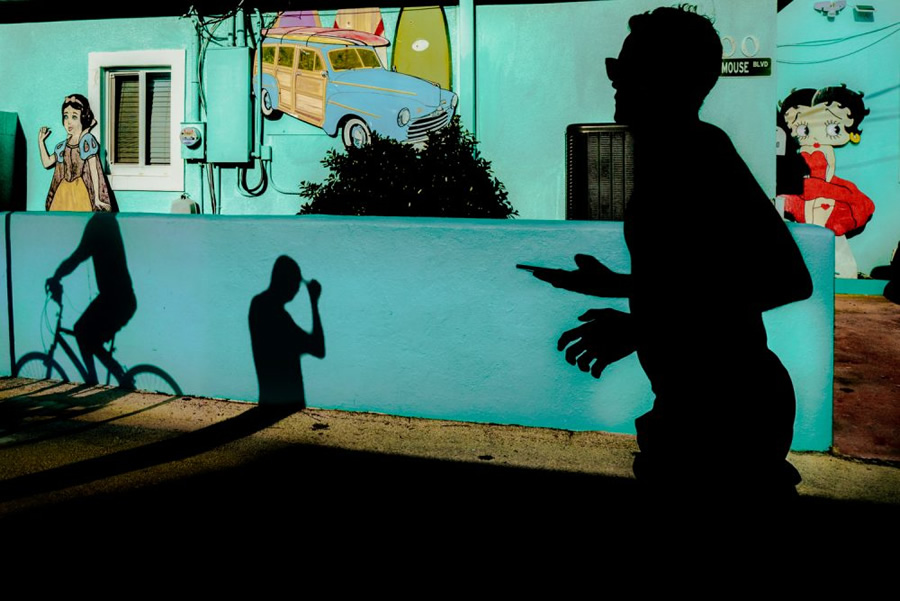 "Fantasy Alley" – Hollywood Beach, Florida, USA 2020
---
Finalist- Susanne Grether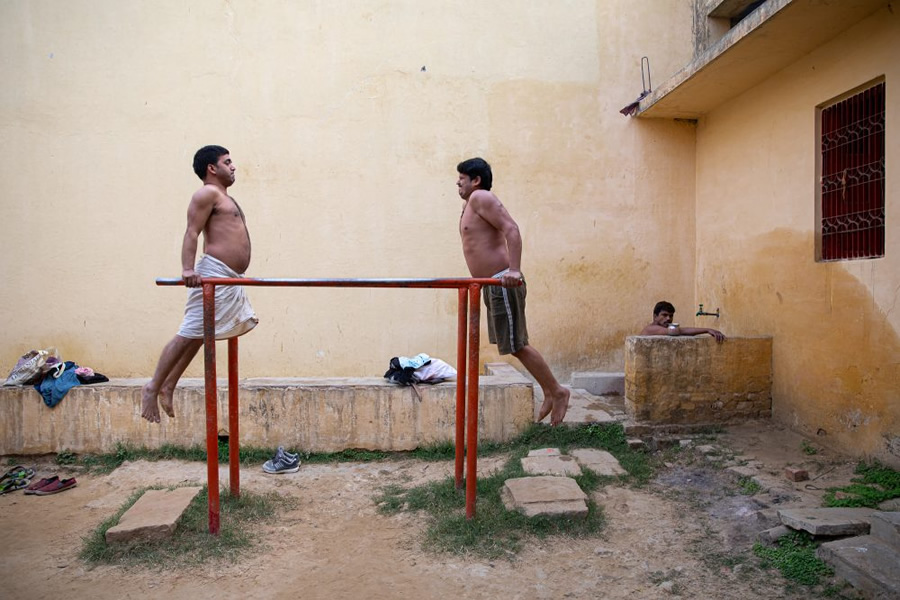 "Workout session" – Varanasi, India 2020
---
Finalist – Orna Naor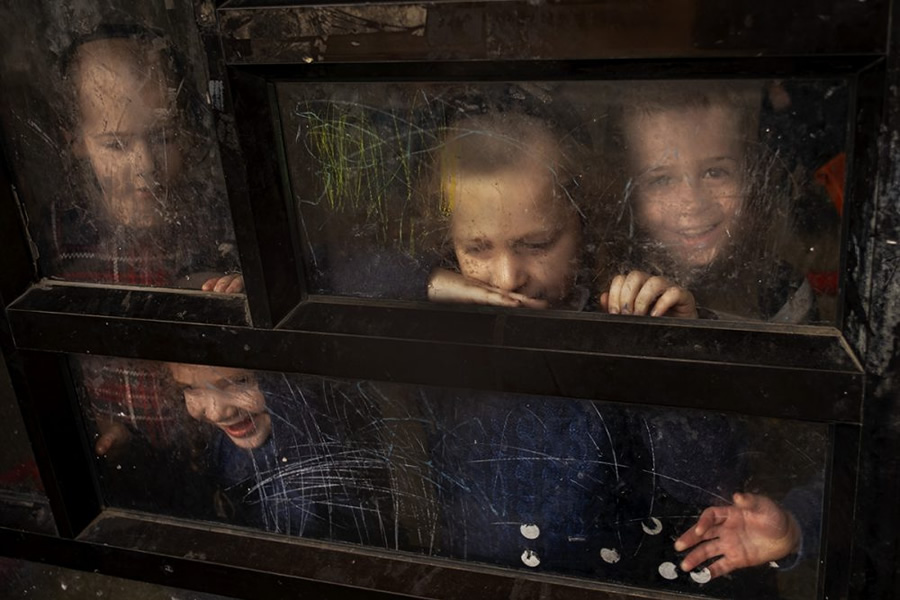 "Children looking through the glass" – Bnei Brak, Israel, 2000
---
Please check our previous related articles: