Here are the 10 winning photos from Kenya's The Greatest Maasai Mara Wildlife Photographer Of The Year 2022. Kenya's 'Maasai Mara' is one of the most important wildlife reserves in Africa. Over 1,000 entries were submitted this year by around 300 photographers.
All the pictures selected for the winning list of the competition were breathtaking and mesmerizing, showing a strong celebration of Africa's biodiversity. This photography contest also donates to the conservation initiatives that care for the land. The contest raised over $15,000 for various trusts and funds.
Congratulations to all the talented photographers who. Scroll down and inspire yourself. Check their website for more information.
You can find more info about The Greatest Maasai Mara:
#1 "Hallelujah" by Preeti and Prashant Chacko (Kenya). Winner
"We had spent a good deal of time with a small journey of giraffe, made notable by the antics of this youngster, who was keenly exploring its surroundings at a reasonable distance from its mother. Our guide Jackson told me to be prepared for when the calf would return to the mother, as that usually results in something memorable to photograph. The calf returned but what transpired was beyond what we expected, with the oxpeckers seeming to us like angels singing Hallelujah!"
---
#2 "The Probing Eyes" by Ashish Ranjan (UAE). Finalists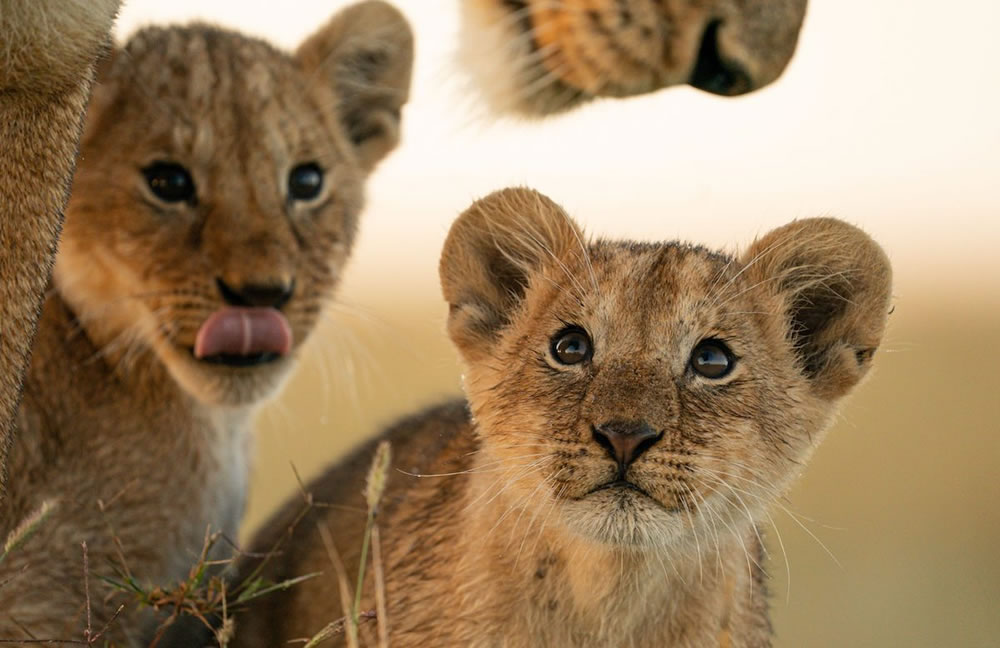 "It was a beautiful morning safari in the Maasai Mara when our guide decided to take us to the Topi Pride as they had been seen roaming in their territory looking for food. We spotted the cubs near the foot of the hills where they are known to live. We waited for more than 45 minutes before we could see the pack of lionesses coming towards their cubs. In anticipation of good moments of them meeting their waiting cubs, we positioned our vehicle close to an anthill hoping that the lionesses would climb over it and the cubs would follow. We were proven right and when one of the lionesses went up to her cubs, we got our moment where we took some close-up shots in the warm morning sunlight. One such moment was this where I intentionally kept the mother almost out of the frame and only focused on the eye of the cub resulting in this shot."
---
#3 "Droplets" by Andrew Liu (USA). Finalist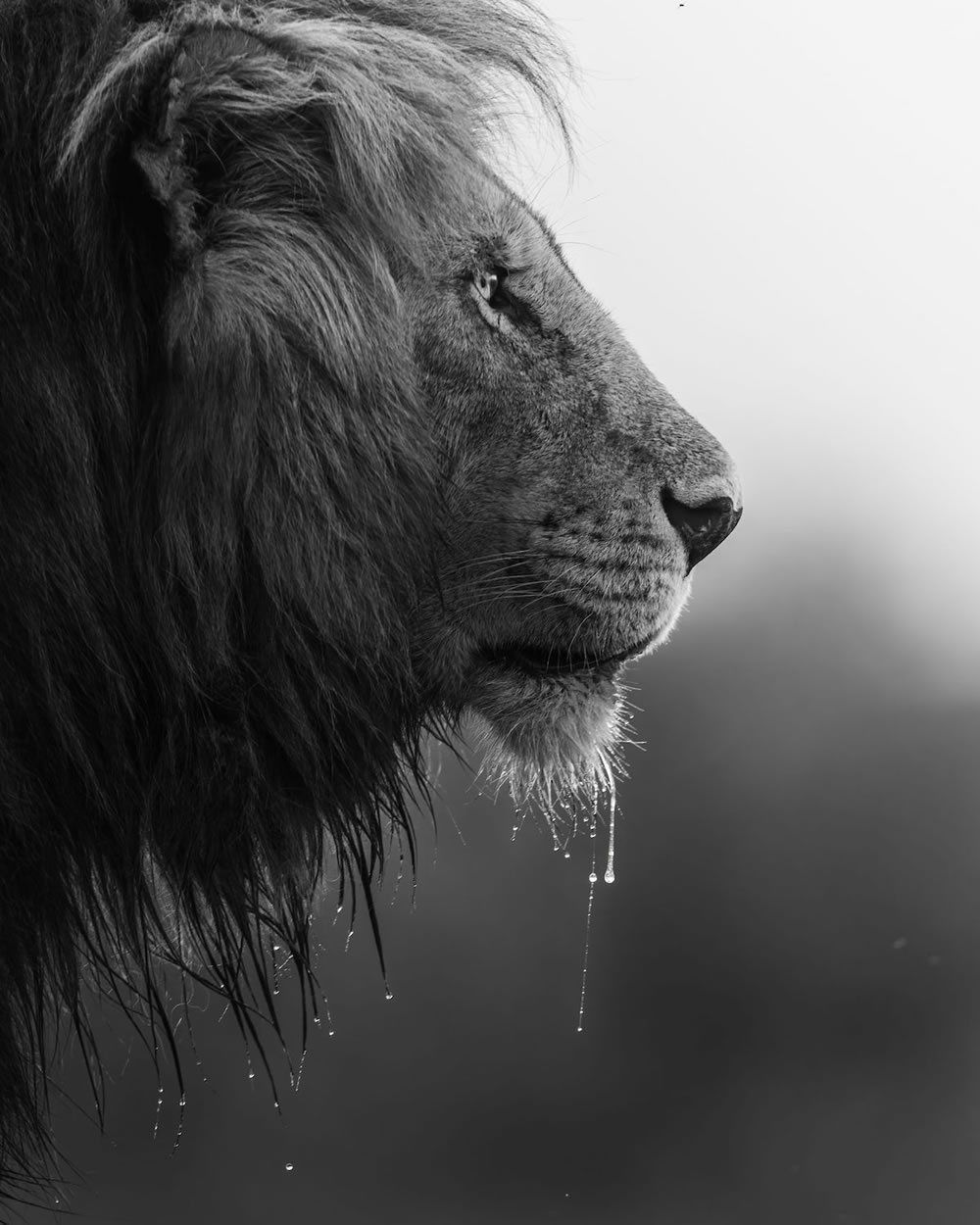 "We found Short-Tail lounging just after sunrise. He graced us with a little drink from a nearby puddle, resulting in this beautiful dripping of water from his mane and beard."
---
#4 "Leaning Towers" by Abderazak Tissoukai (UAE). Finalist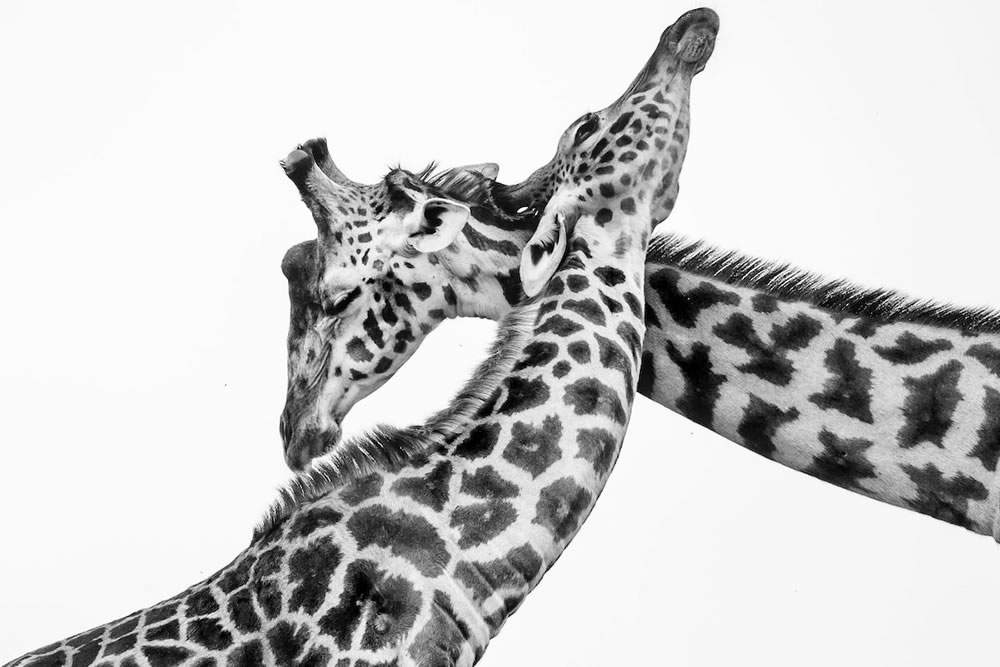 "I got to understand with time that powerful wildlife images are the ones that translate an emotion, which is often the result of the interaction between two or more animals. My experienced guide and I discussed this topic on several occasions in order to ensure his vision was aligned with mine. Luck was on our side when we crossed paths with these two young adult giraffes during their necking practice session. We noticed they were doing it in a quite friendly way, to avoid hurting each other as the moment of force generated by the movement of their long necks could indeed be harmful in real fight situations. When they went a bit too hard, a moment of care and affection almost immediately followed, as if it was their own way of saying 'sorry'. I felt this one was one of them."
---
#5 Stretch" by Kunal D Shah (Kenya). Finalist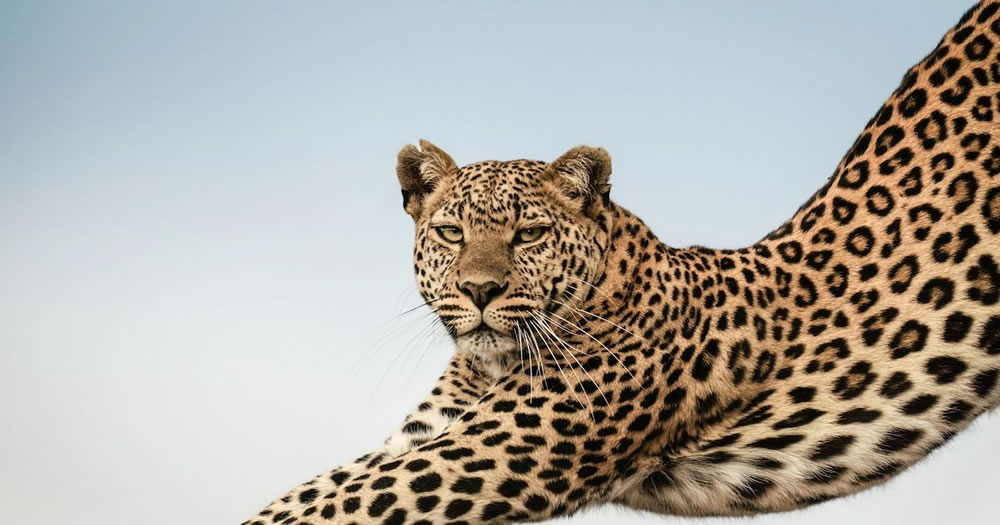 "Watching Nalangu kill an impala that afternoon was incredible. However, due to the size of the kill, it was impossible for her to carry it back for the little one. She walked to the usual hideaways and brought him out after about an hour of waiting. As she guided the cub to the kill, I realized we could get an amazing shot of her on her return, from the bottom of a river crossing. We quickly rushed to the bottom of the river bed and waited. She not only walked by it, but she stretched and looked towards us."
---
#6 "Glowing Serval" by Vrinda Bhatnagar (India). Finalist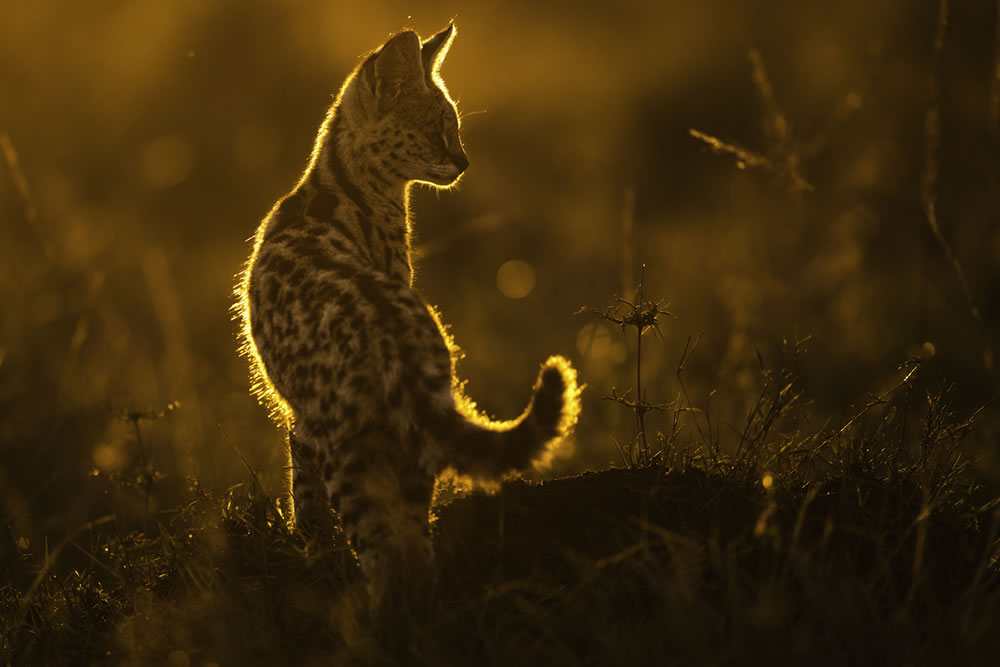 "We watched this serval cat scan the area, finally pounce and prey upon a mouse, and then stand satisfied for a few minutes as the early morning sun lit up her fur from behind making a glowing halo around her."
---
#7 "Inseparable" by Andrew Liu (USA). Finalist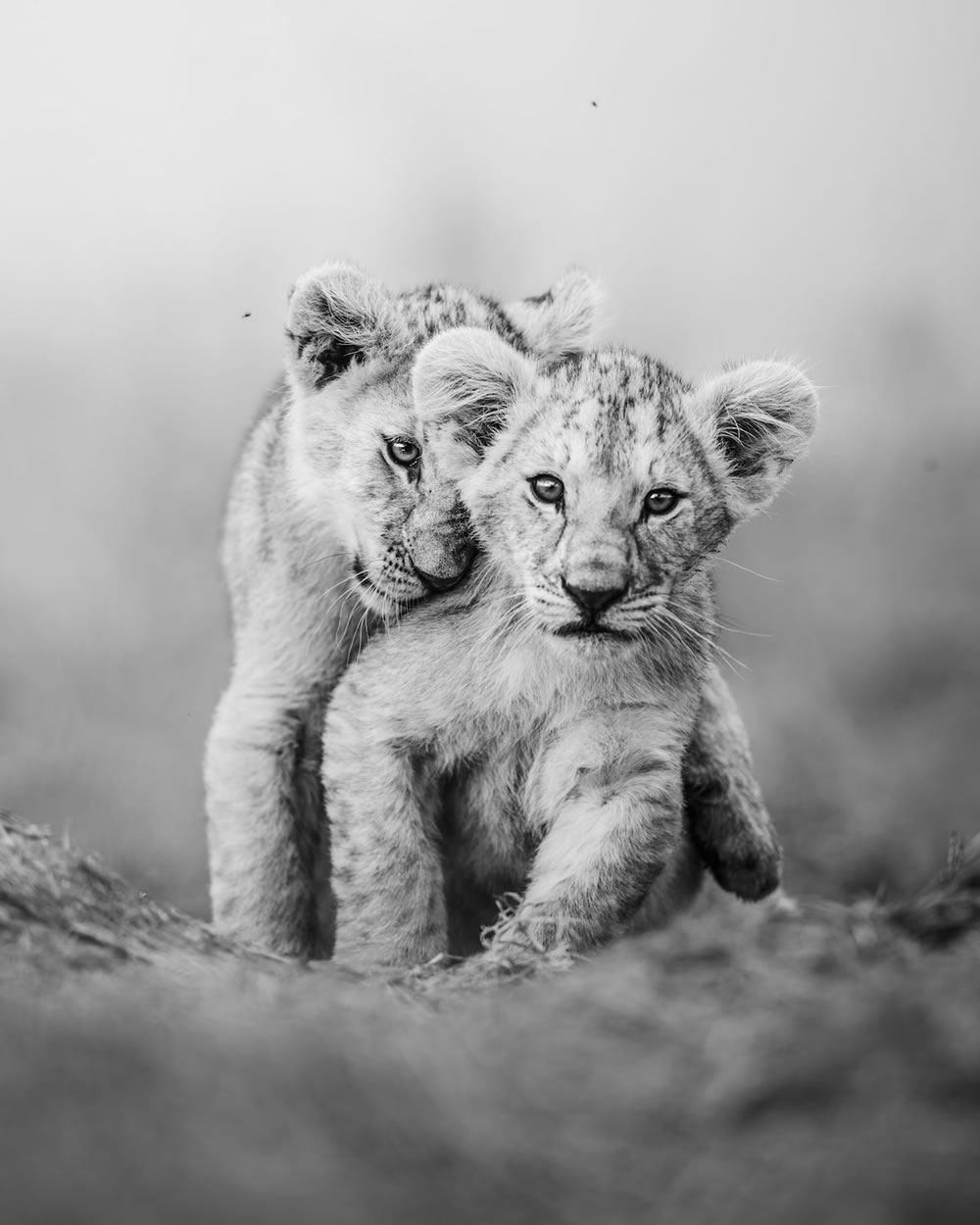 "After an hour spent watching the cubs, they finally took notice of our truck and decided to come explore. I captured this image as they made their way toward us along the path."
---
#8 "Little Mush" by Vicki Jauron (USA). Finalist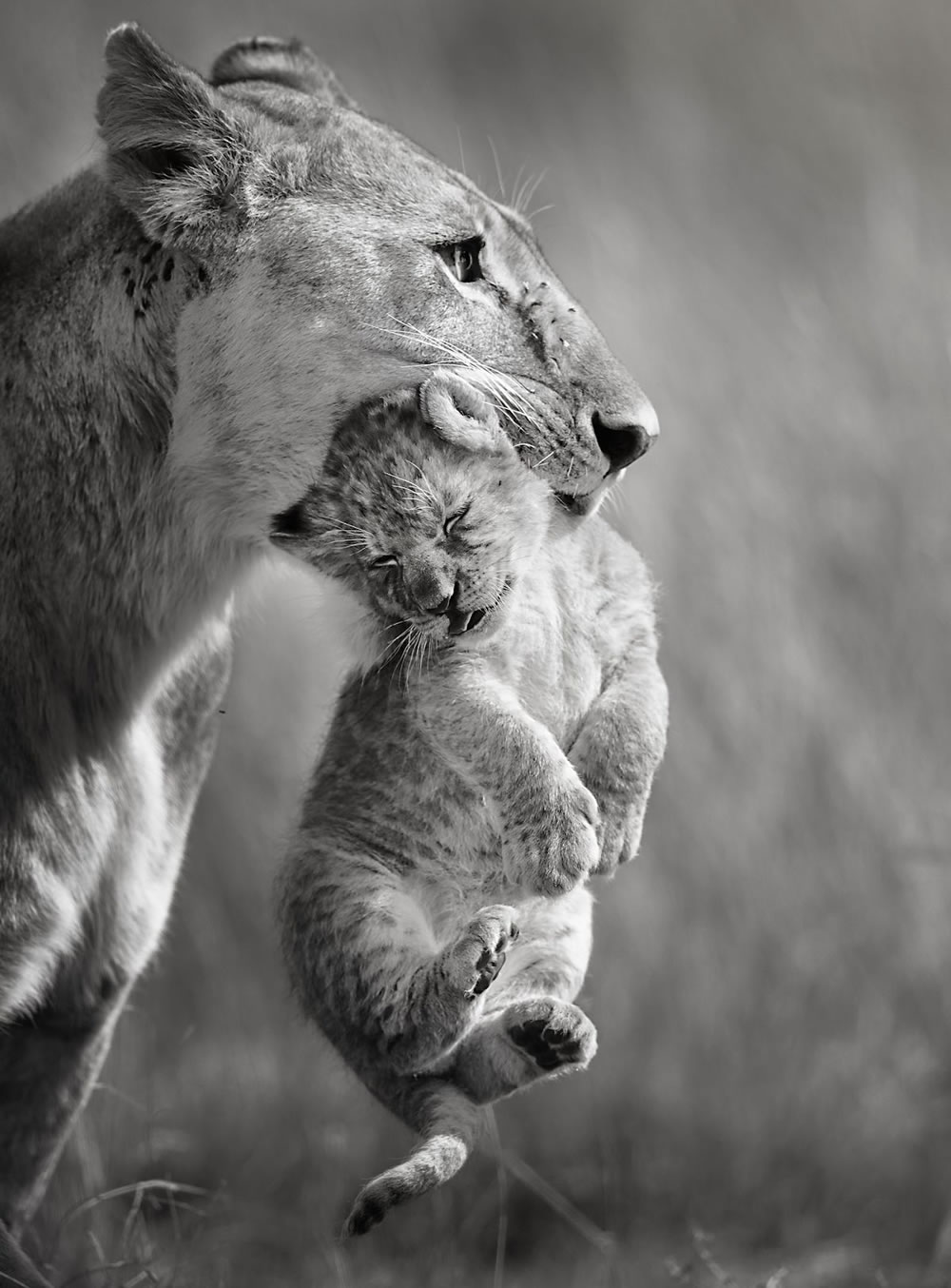 "We had seen this lioness a few days earlier and could tell that she was a new mother, but she was hunting and the cubs were hidden away somewhere. We searched a few times to find her with her cubs and on our last day, we were successful. It was a lovely morning and dad was around soaking up the sun while mom and her sister took the cubs on a walkabout. What made this all the more exciting was that there were very few vehicles nearby and so she had the ability to move without interruption."
---
#9 "Danger out of Dawn" by Silka Hullmann (Germany). Finalist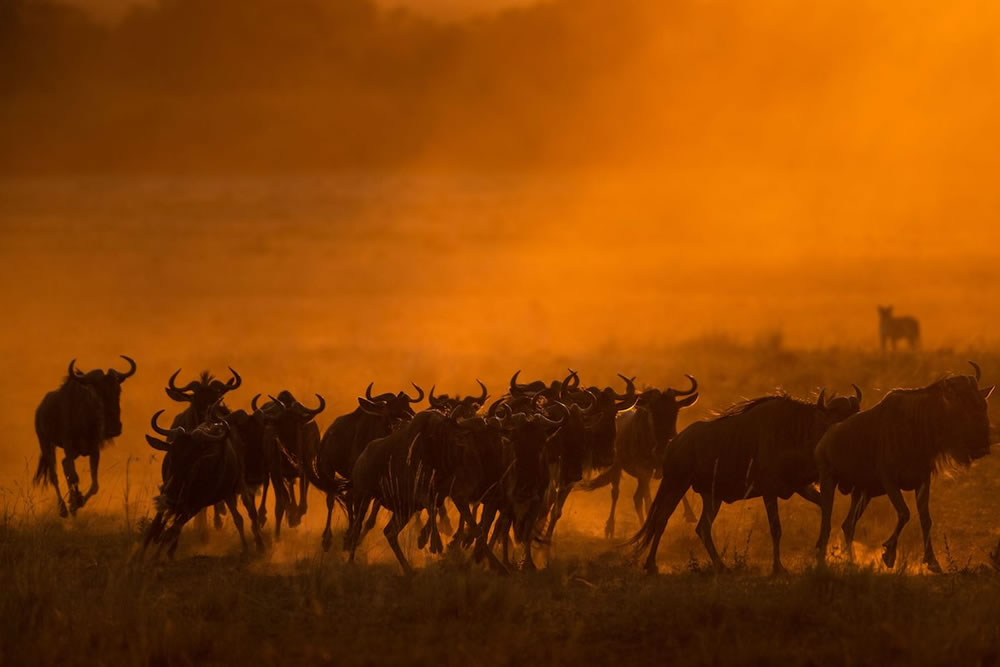 "Almost immediately after leaving camp, we encountered a group of three lionesses
strolling through the still dewy grass in search of prey. Hoping that the cats would still be somewhat active in the early morning hours and that we would get pictures in good light, we followed them along the Mara River. Suddenly, startled by the danger from the now blood-orange-red dawn, a group of wildebeest ran straight at us and disappeared into nothingness. We were rewarded: the morning sun and the dust of the savannah gave this brief moment in a beautiful play of colors and an almost mystical mood."
---
#10 "Sunrise Crossing" by Charlie Wemyss-Dunn (USA). Finalist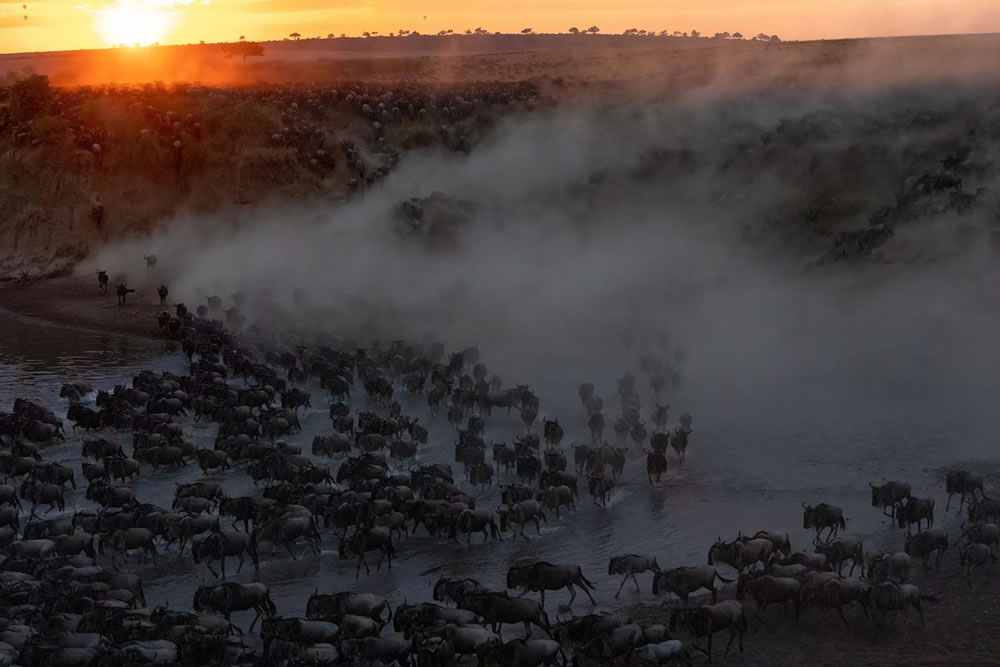 "Our guide encouraged a quick departure from camp early one morning as we'd previously seen a massive herd eager to cross over to the Triangle from Lookout Hill the evening before. Before we reached the river, a call from one of our other vehicles came in that the massive herd had just begun to cross at the Miti Moja crossing point. As we arrived we were greeted with a scene I'll never forget as a mega herd of wildebeest rushed down the bank as the red glow of a perfect sunrise pierced the sky. We were one of only three vehicles on either side to take in this epic scene while the early morning balloons can be made out in the far background in front of the rising sun. Photography was not surprisingly a challenge given the very low and contrasting light so I had to sacrifice ISO for a sharp image with the whole scene in view. A once-in-a-lifetime scene of nature's greatest show."
---
Related Articles: