Here are the winning photos of the 2022 British ecological society's photo contest "Capturing Ecology". These photos, taken by international ecologists and students from around the world, showcase the beauty and complexity of nature.
The overall winner from this contest won by Roberto Garcia Roa for his photo "A Light in the Shadows". The other winners include a mother leopard hunting and a bird floating peacefully on water, highlighting the intricate relationship between humans and the natural world.
Every year the British Ecological Society hosts 'Capturing Ecology' – an annual photography competition focused on showcasing the beauty of ecology. This year's winners tell a powerful story about the intricacies of nature, and our relationship with the natural world. From predator-prey dynamics on the earth, skies, and seas, to connections between people, wildlife, and the environments we share.
This year Capturing Ecology was sponsored by Dryad – a non-profit, community-designed, online service helping you make the most of your research data and meet emerging publisher and funder policies, worry-free.
Scroll down and enjoy yourself. Check their website for more information.
You can find more info about Capturing Ecology:
#1 Overall runner-up – Leopard Surprise! by Peter Hudson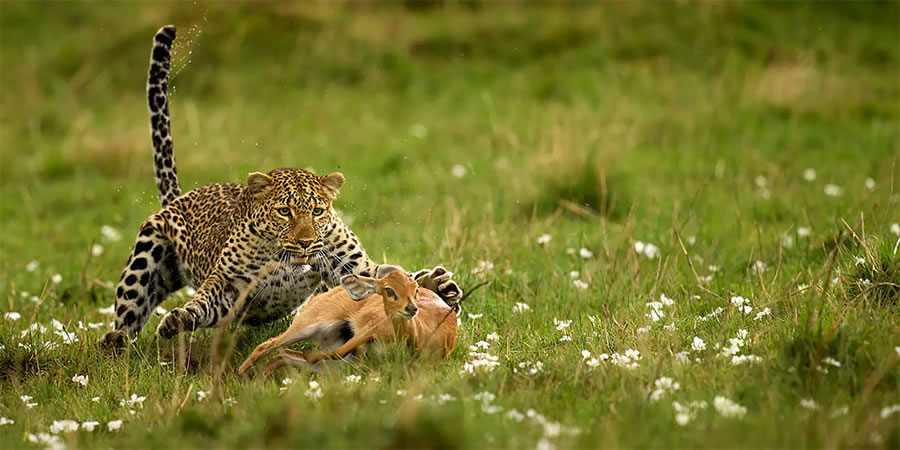 Leopards don't often hunt during the day but demand from her cub meant Luluka had to have a go. Steenbok are not easy prey; they exhibit multiple adaptations to avoid predation, so the hunt was long and careful. It took Luluka four attempts to secure her prey. Photograph: Peter Hudson/BES Capturing Ecology 2022
---
#2 Overall student winner – Takeout by Sam Eberhard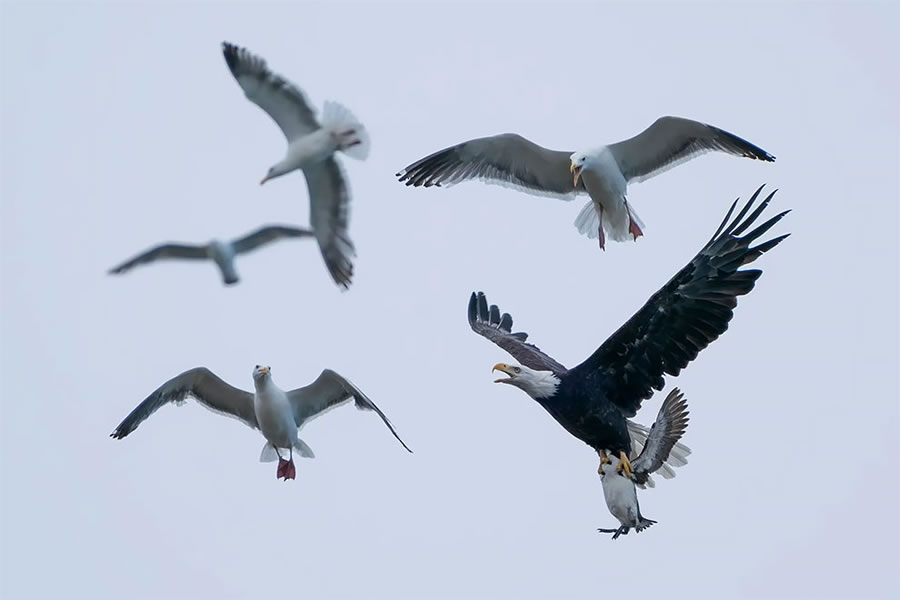 A bald eagle navigates the harrowing process of escaping from Haystack Rock on Cannon Beach, Oregon, US with a common murre that it snatched from the top of the rock. Photograph: Sam Eberhard/BES Capturing Ecology 2022
---
#3 Individuals and populations winner – Night Guardian by Javier Lobon-Rovira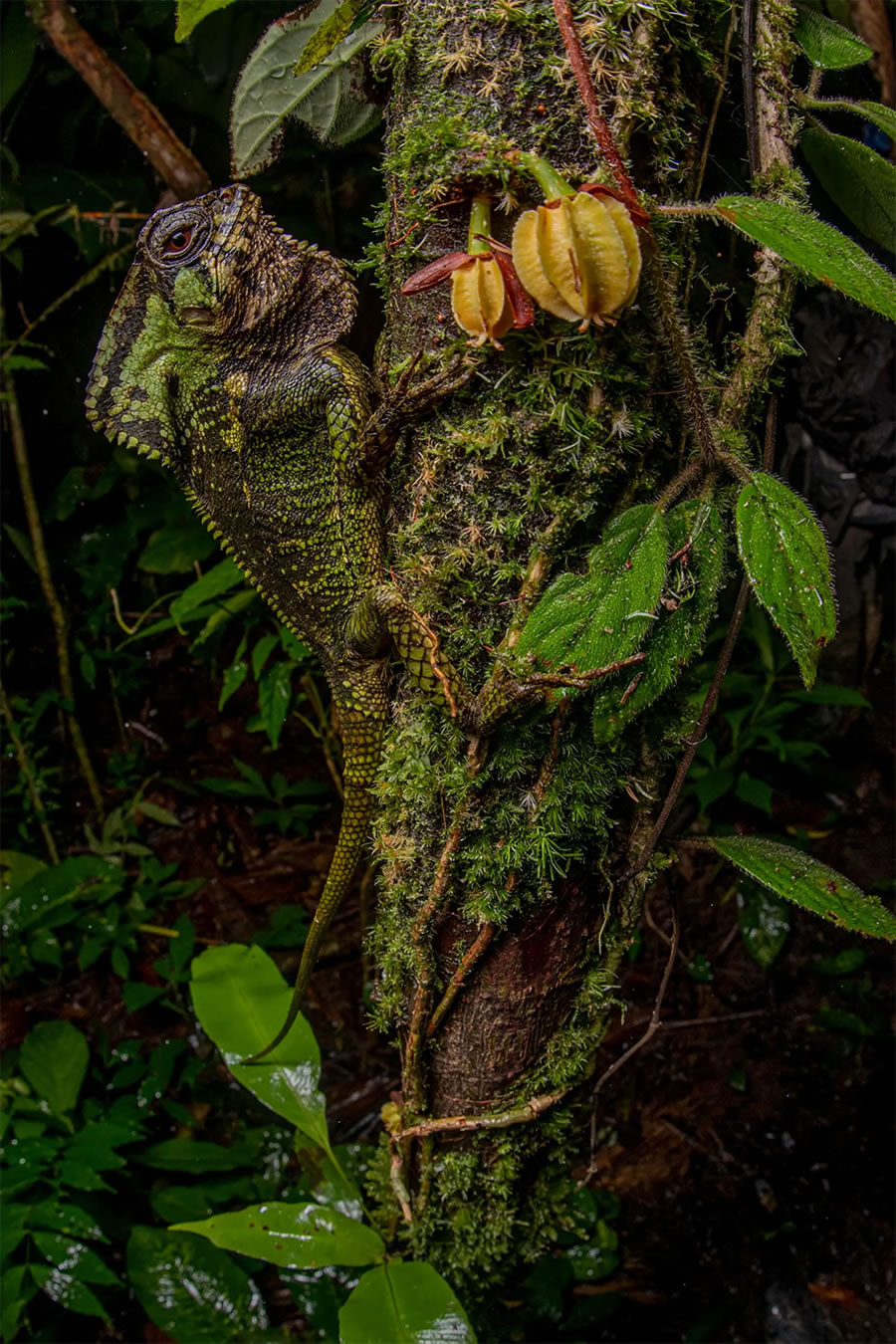 A smooth helmeted iguana clings to a mossy tree trunk, well camouflaged. Photograph: Javier Lobon-Rovira/BES Capturing Ecology 2022
---
#4 Dynamic ecosystems winner – Invasive Battle – Fire Fierce by Javier Lobon-Rovira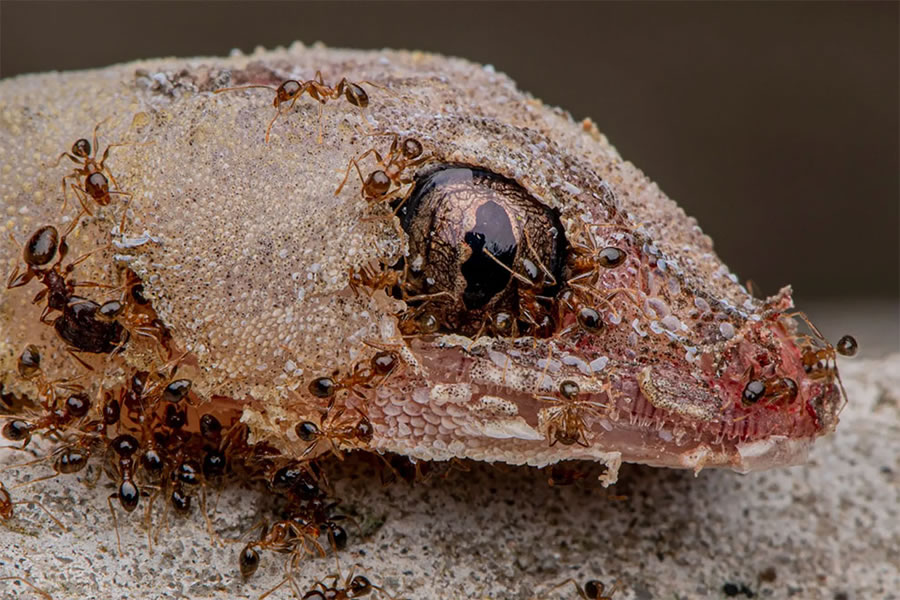 Lobon-Rovira said: 'Isn't it utopian that two invasive species cross paths in the race for survival? That is the case that crossed my lens when I found an army of fire ants immobilising, killing and causing the disappearance of a house gecko (Hemidactylus mabouia) in my backyard in Florida'. Photograph: Javier Lobon-Rovira/BES Capturing Ecology 2022
---
#5 People and nature winner – A New Plastic Home by Andreas Eich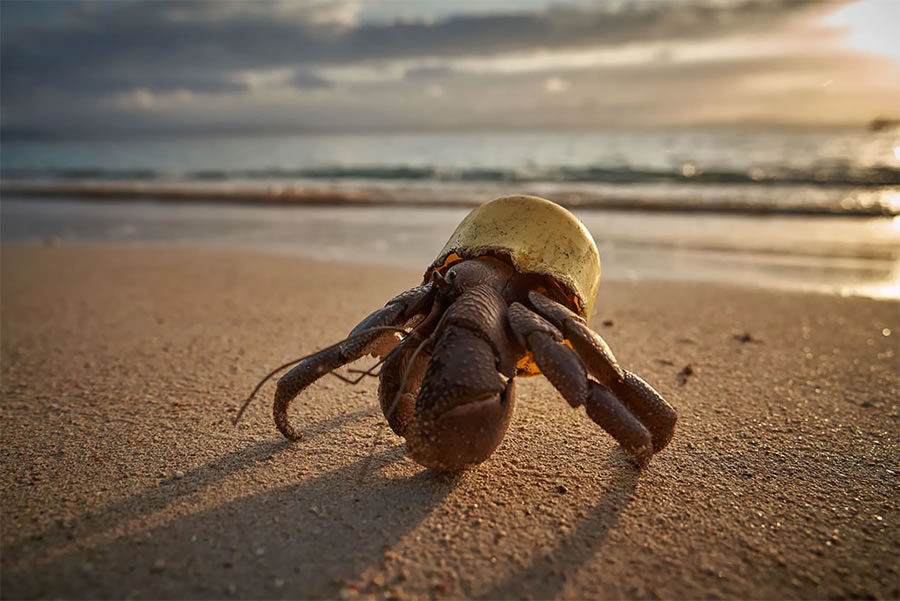 A terrestrial hermit crab (thought to be of the species Coenobita) finds a new home at a beach in Pulau Bangka, Indonesia. Photograph: Andreas Eich/BES Capturing Ecology 2022
---
#6 Up close and personal winner – Wild Pearls by Javier Lobon-Rovira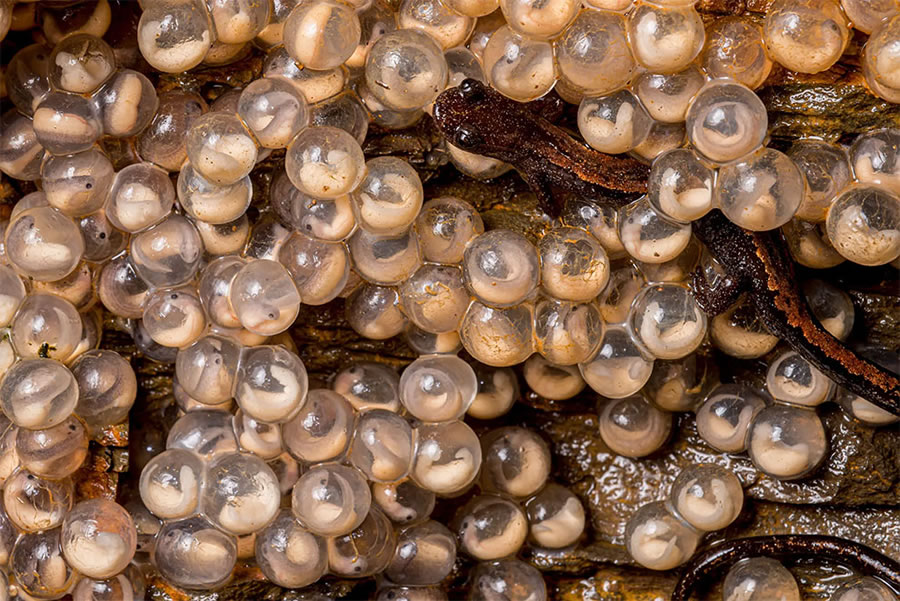 The golden-striped salamander is one of the species most vulnerable to water contamination, which is why its presence is used as a bioindicator. As vulnerable as it is elusive, this species breeds in caves and rock cracks, where pure water runs out of the rock bed. One single female can lay more that 500 eggs in every reproductive season, lining the walls with living pearls. Photograph: Javier Lobon-Rovira/BES Capturing Ecology 2022
---
#7 Art of ecology winner – Bubble Bath by Alwin Hardenbol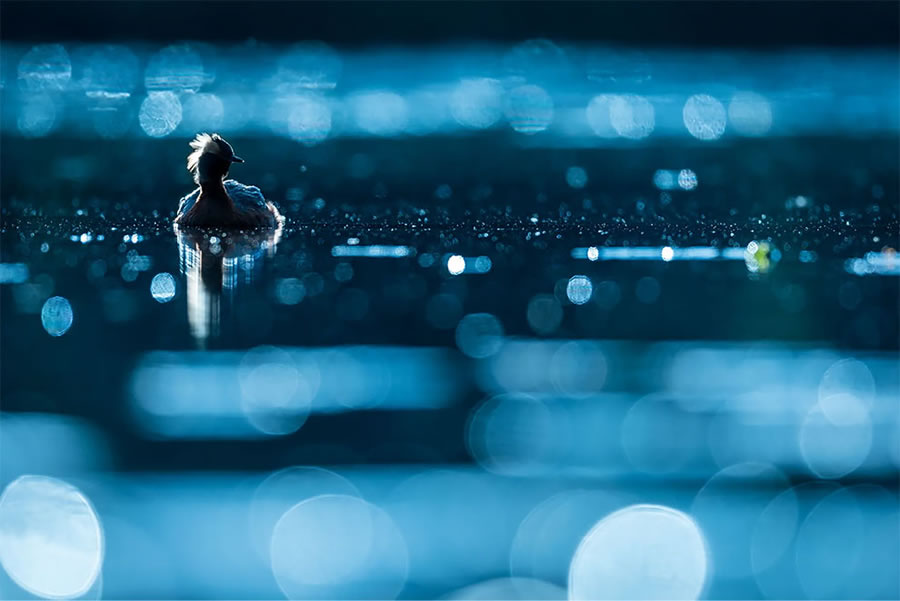 Hardenbol said: 'The image shows a horned grebe (Podiceps auritus), photographed from a floating hide near Tampere, Finland. I took this image in the early morning with a low white balance as the sun was rising behind the bird, creating a beautiful reflection on the water and the lily pads'. Photograph: Alwin Hardenbol/BES Capturing Ecology 2022
---
#8 Ecology in action winner – Bruma by Roberto Garcia Roa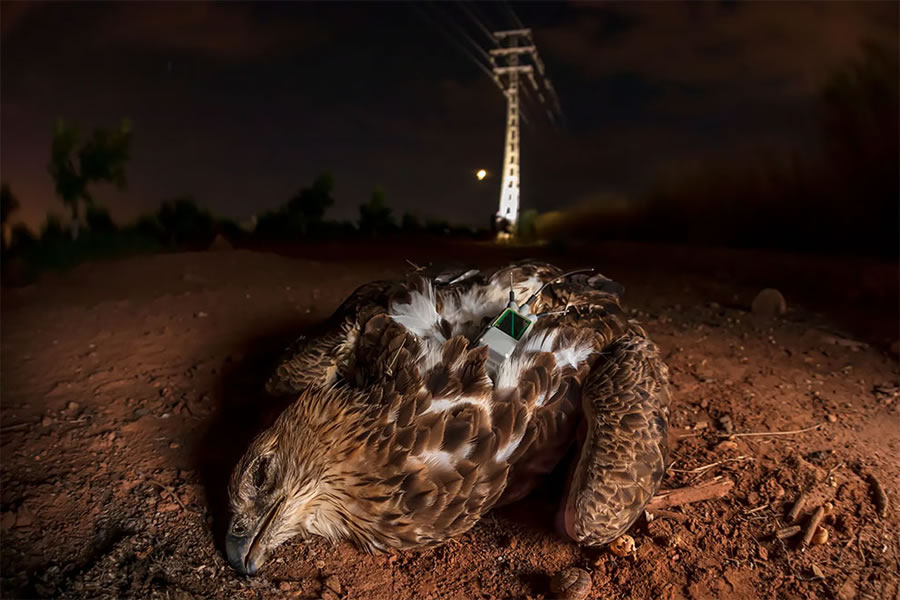 Bruma is a female Bonelli's eagle who died from electrocution. She was tagged with a GPS transmitter by the Movement Ecology lab (led by Pascual López at the University of Valencia) when born. It helped scientists and authorities identify the power lines responsible for her death so that they can be fixed to avoid future eagle electrocutions. Photograph: Roberto Garcia Roa/BES Capturing Ecology 2022
---
#9 Art of ecology student winner – Diwali in the Forest by Naitik Patel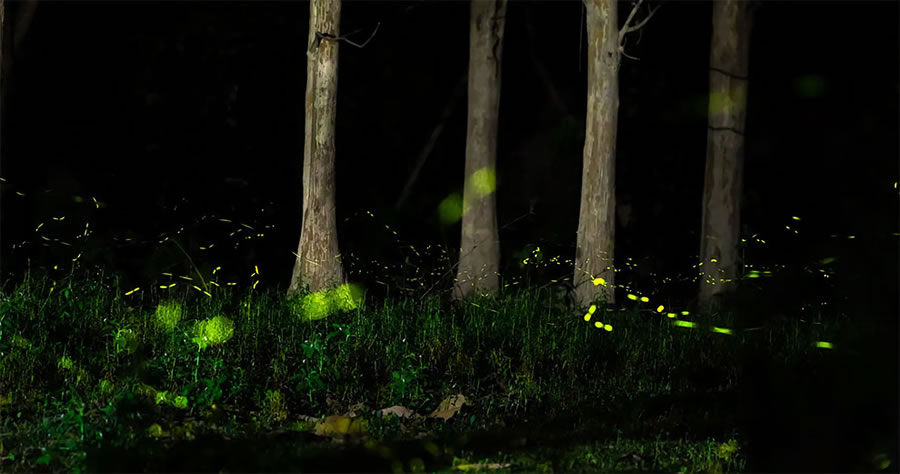 Patel said: 'Diwali is a festival of lights. These adorable little fireflies were creating their own festival of lights by gently glowing green and creating undulating trails of light on the forest floor.' This image was captured near Kaziranga national park, Assam, India. Photograph: Naitik Patel/BES Capturing Ecology 2022
---
#10 Ecology in action student winner – Studying the Most Trafficked Animal in the World by Ruth Smith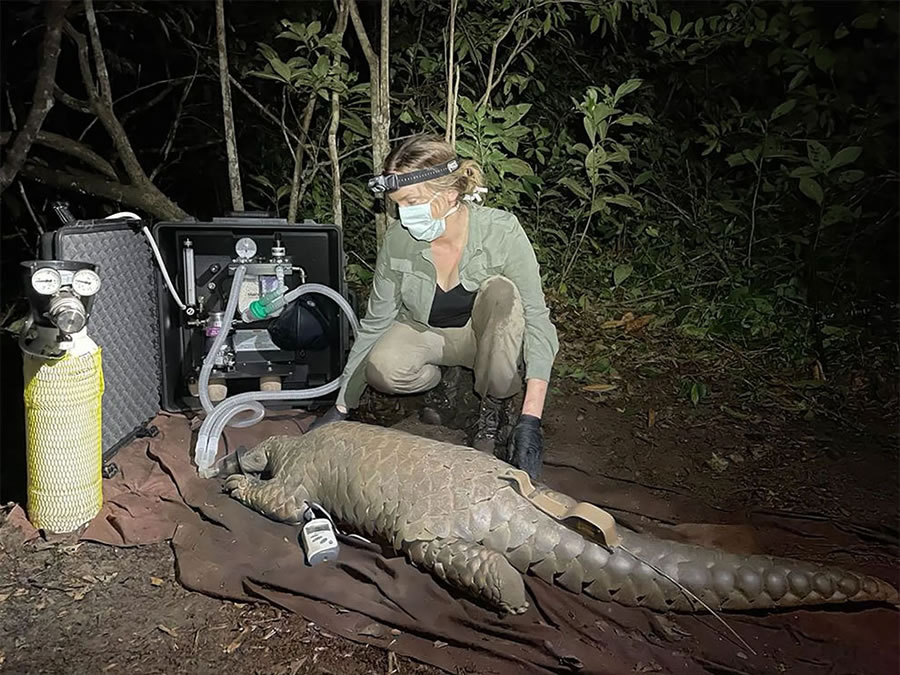 PhD student Smith with a 42kg male giant pangolin (Smutsia gigantea), the largest on record, found in Gabon, Africa by Dr David Lehmann and the Agence Nationale des Parcs Nationaux. The pangolin had just had tissue samples taken and a GPS fitted in order to learn more about this incredibly elusive and rare species. Photograph: Ruth Smith/BES Capturing Ecology 2022
---
#11 Ecology in action highly commended – Underwater Research in Fiji by Andreas Eich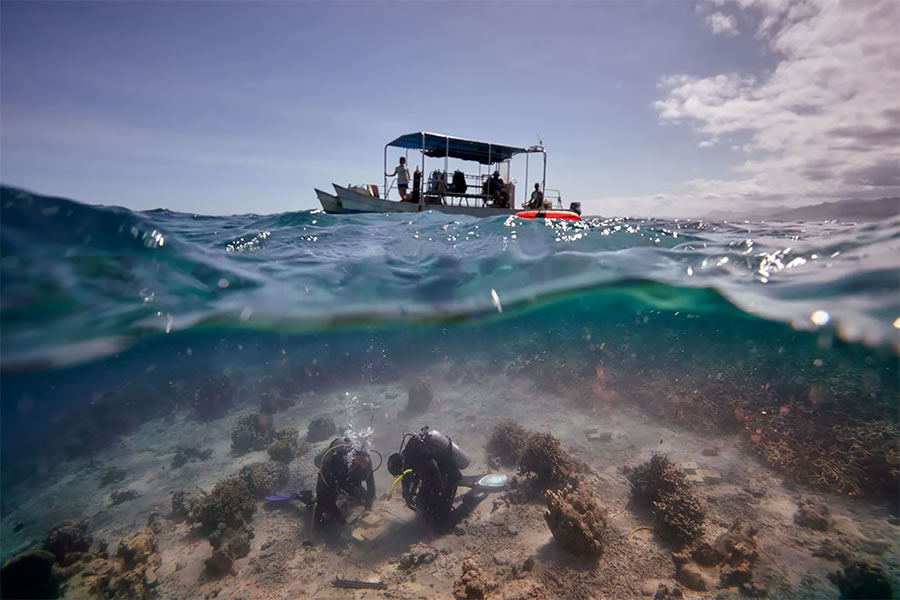 Scientific divers installing cages to test what happens to a reef without fish.Photograph: Andreas Eich/BES Capturing Ecology 2022
---
#12 People and nature highly commended – Urban Kittiwakes by Joshua Copping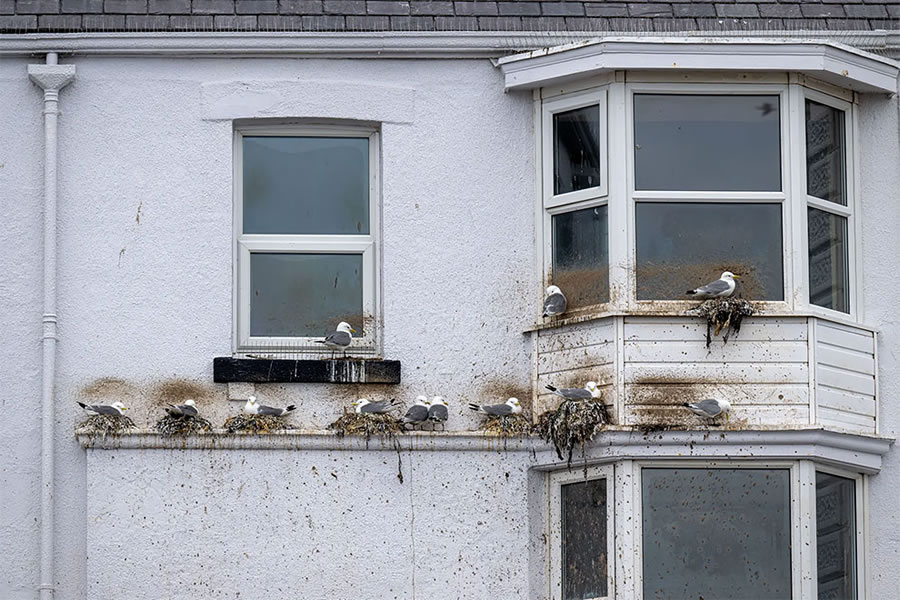 A group of black-legged kittiwakes nesting on the side of a building in Bridlington, England. It has become increasingly common for this species of seabird to breed in coastal urban areas, on manmade structures which represent the cliffs they would traditionally call home. Photograph: Joshua Copping/BES Capturing Ecology 2022
---
#13 People and nature highly commended – A Pair for Life by Subhashis Halder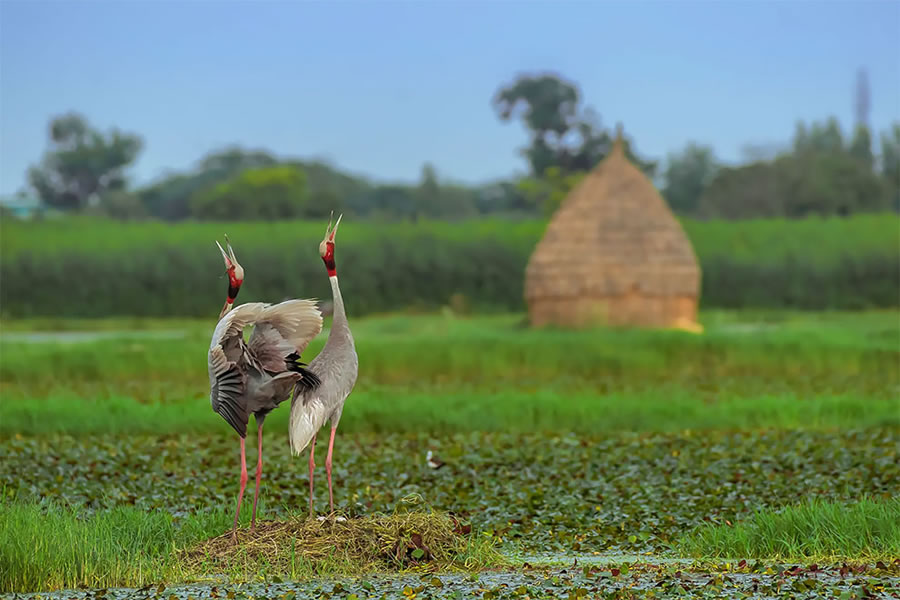 Halder said: 'The sarus crane is known for its majestic courtship display – if you look closely, you can spot the eggs as well. A pair for life! If unharmed, they return to the same nest for breeding. What I found more interesting, however, is the dome-shaped structure, amidst the crop field, in the background indicating that this pair co-habit.' This picture was taken in Rajasthan, India. Photograph: Subhashis Halder/BES Capturing Ecology 2022
---
#14 People and nature student winner – Tourists in the Wild by Mackenzie Meier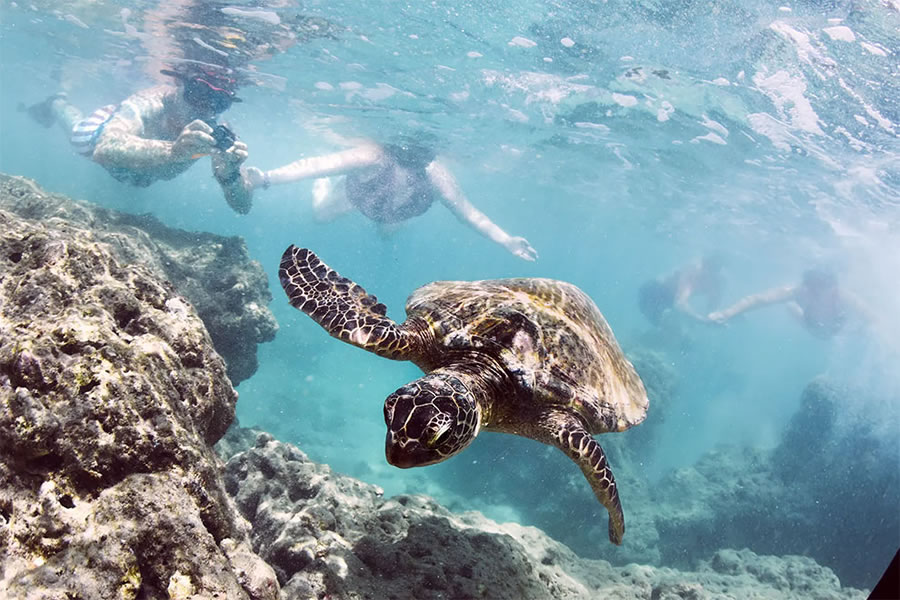 A turtle swims through Hanauma bay in Hawaii with a group of tourists watching from behind. Photograph: Mackenzie Meier/BES Capturing Ecology 2022
---
#15 Individuals and populations student winner – The Shrike Strikes Again! by Jennifer Holguin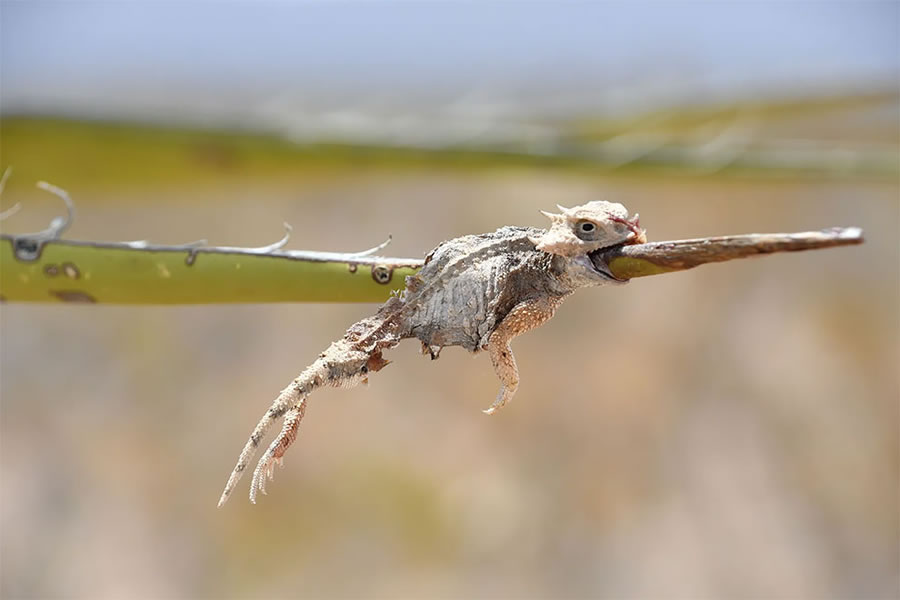 A round-tailed horn lizard (Phrynosoma modestum) impaled on a yucca stalk in the Chihuahuan desert, New Mexico, US. The culprit? A grey, medium-sized songbird known as the loggerhead shrike (Lanius ludovicianus) or butcherbird. Photograph: Jennifer Holguin/BES Capturing Ecology 2022
---
#16 Individuals and populations highly commended – Calling Out into the Darkness by Sam J England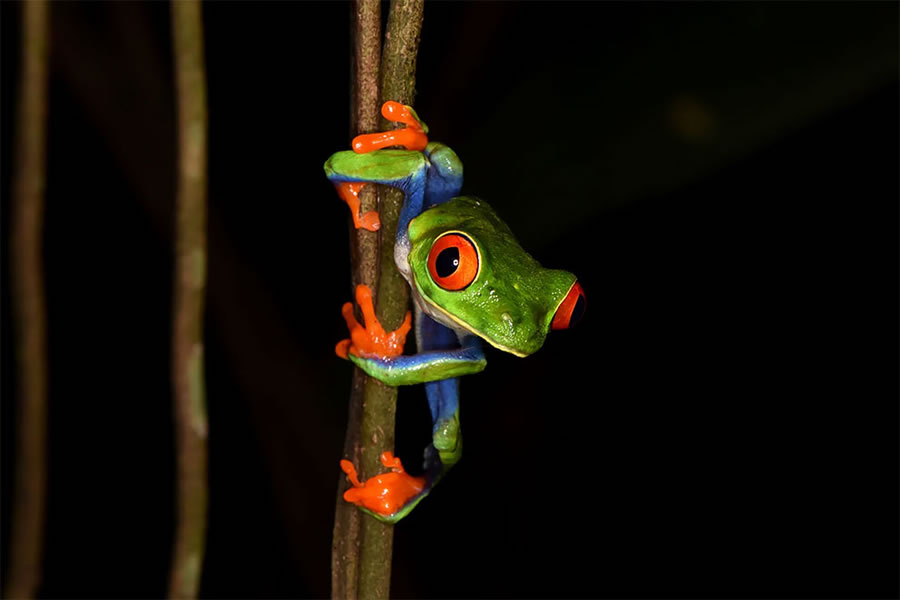 A red-eyed tree frog calls out into the pitch-black rainforest of Sarapiqui, Costa Rica, searching for a mate. Photograph: Sam J. England/BES Capturing Ecology 2022
---
#17 Individuals and populations highly commended – Proud Stag by Joshua Copping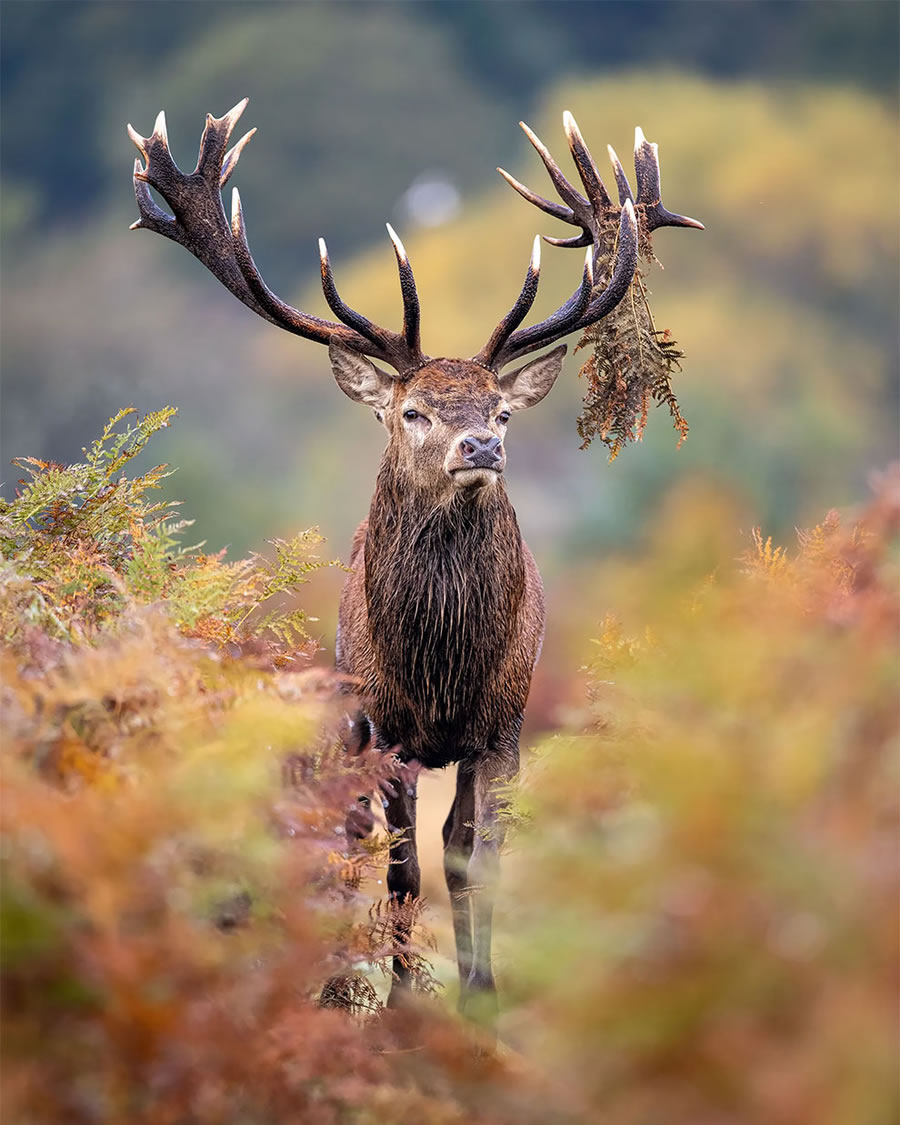 A red deer stag (Cervus elaphus) standing among the bracken wearing a small leafy crown, during the autumn rut in Richmond Park, England.
Photograph: Joshua Copping/BES Capturing Ecology 2022
---
#18 Individuals and populations highly commended – The Chase by Côme Denechaud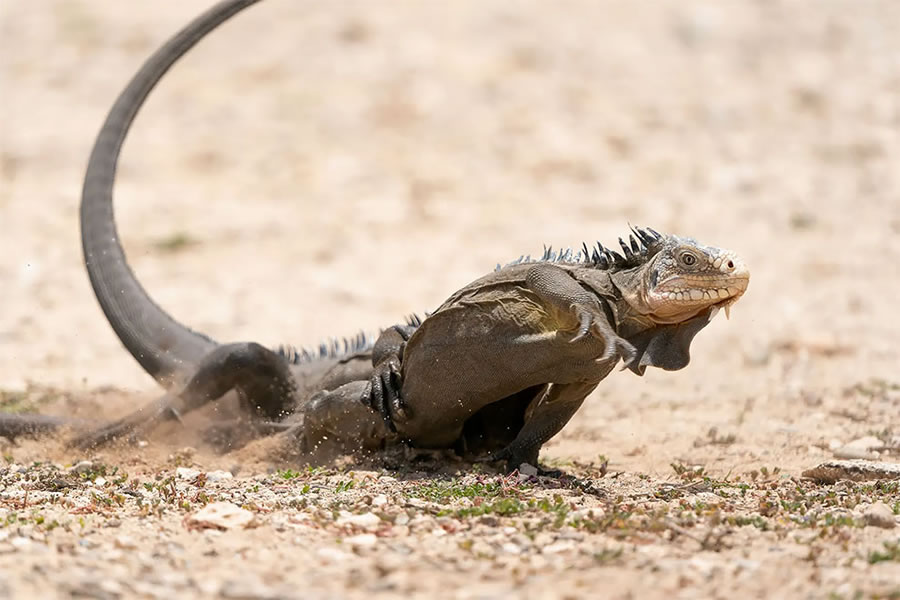 Petite Terre hosts the single biggest population of the critically endangered Lesser Antillean iguana, with more than 10,000 scattered across this protected yet small uninhabited island. It is threatened by habitat destruction from human activities, and competition from its sister invasive species, the green iguana. This small female came racing through an opening in the thorny bushes, chased by an inquisitive male trying to mate. Photograph: Côme Denechaud/BES Capturing Ecology 2022
---
#19 Up close and personal highly commended – Eternal Beauty by Mathew Rees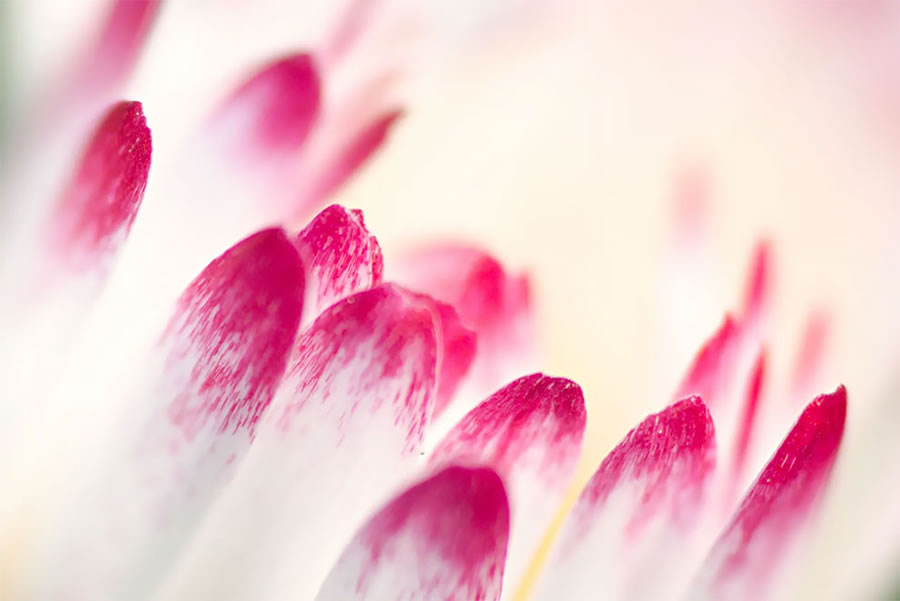 As the day comes to an end, the common daisy (Bellis perennis) closes its inflorescence. The bright red contrasts against the pure white of the ray florets. The Latin name of this species translates to perennial beauty, a plant that can persevere even during harsh times. This picture was taken on a garden lawn in Brentford, UK. Photograph: Mathew Rees/BES Capturing Ecology 2022
---
#20 Up close and personal student winner – Morning Dew by Francesca Martelli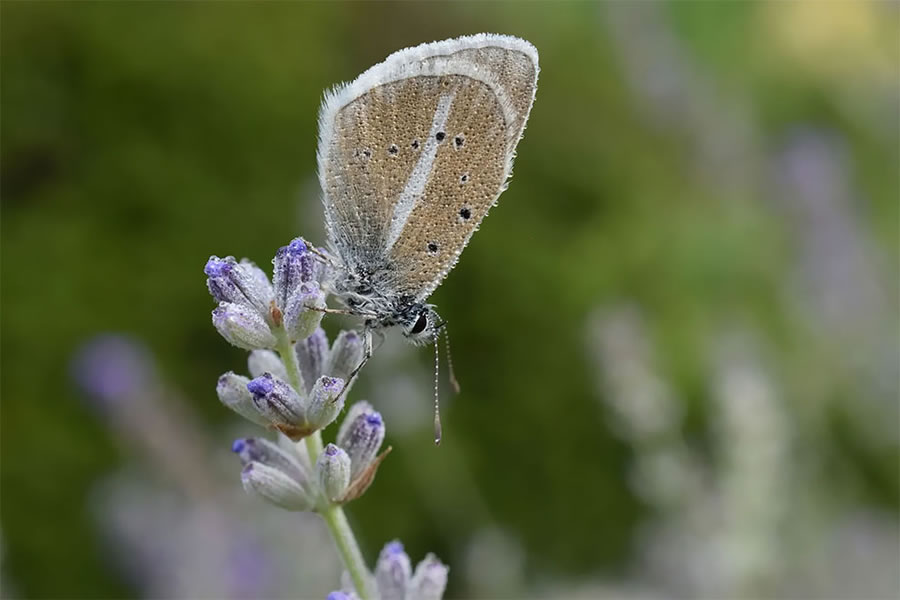 A Damon blue butterfly (Polyommatus damon) – a common late summer species in mountainous regions of Europe – is covered by dew drops at dawn, as it patiently waits to be warmed by the day's first sunlight in Cogne, Italy. Photograph: Francesca Martelli/BES Capturing Ecology 2022
---
#21 Dynamic ecosystems student winner – Danger Spawning by Emma Weschke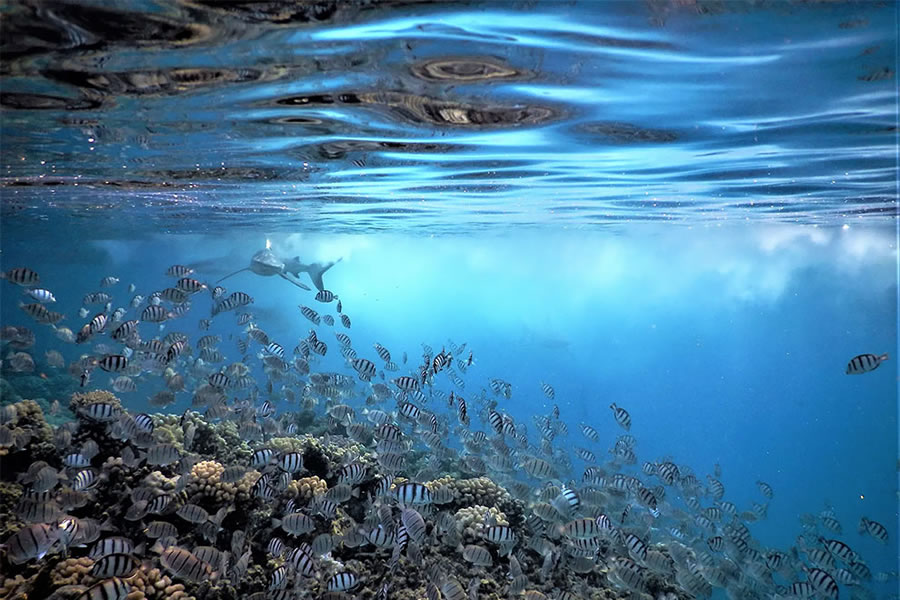 Convict tangs (Acanthurus triostegus) aggregate in the thousands to spawn at a remote island atoll in Fakarava, French Polynesia. Grey reef sharks (Carcharhinus amblyrhynchos) take advantage of the high densities of preoccupied prey. Photograph: Emma Weschke/BES Capturing Ecology 2022
---
#22 Overall winner – A Light in the Shadows by Roberto Garcia Roa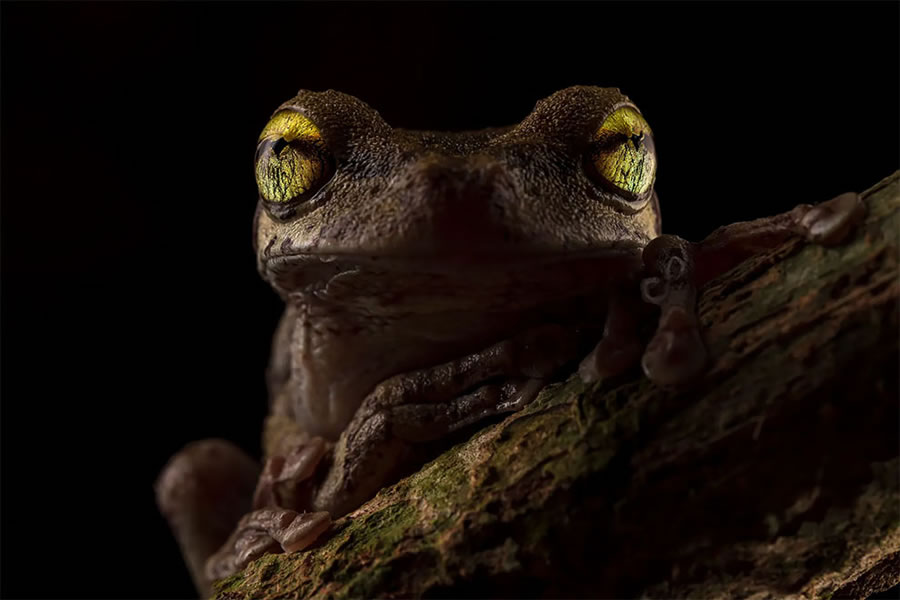 The glowing golden eyes of a Helena's tree frog pierce through the darkness. Photograph: Roberto Garcia Roa/BES Capturing Ecology 2022
---
Related Articles: