Shooting in RAW has become a prime objective and the basic step to create some breathtaking images. Ok that doesn't take anything away from shooting in JPEG, but still taking into consideration about the depth of impact, wide range of options in post processing, shooting in RAW seems to be a fantastic option.
Here Karthik Pasupathy, a photographer from Chennai has come up with a good effort to produce something for every beginner and of course professionals to brush up their skills on RAW image processing.
Go through the Manual to elegantly understand the concepts of image processing, tools, shortcuts, options, capabilities and much more. This Manual would definitely serve you for the right vision to capitalize on shooting in RAW. And further answering some important questions like why RAW, its merits and the luxury you have in enjoying with it.
Go ahead and download this free copy of yours!!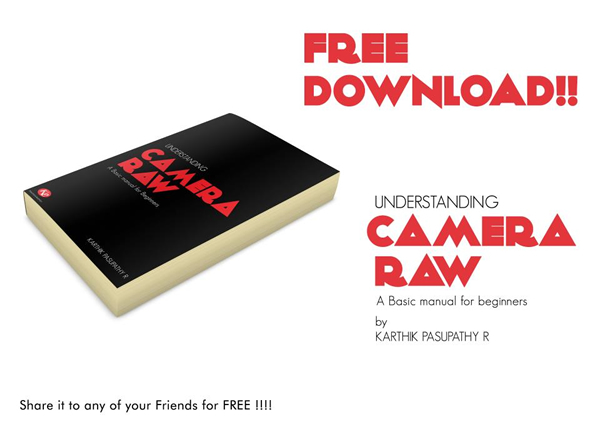 About the Author
Karthik Pasupathy is a graduate in Biotechnology and is currently pursuing his Masters degree at SRM University, Chennai, India. For the past two years he has been more than passionate in photography and associated himself with Chennai based photography group called The Chennai Weekend Clickers.
He has traveled to many places inside and outside Tamilnadu to take photographs. He has made published three photo series online titled "Eyes", "Life outside the city" and "Soap".
His photographs got published in many online and print magazines. His photographs have been exhibited on the 3rd year exhibition of Chennai Weekend Clickers titled "Third Eye".
Adding to that, he has conducted several seminars on Post Processing and Adobe Camera RAW.
You can find Karthik Pasupathy on the Web:
You may be interested in the following related topics :