Professional photographers have almost forgotten how to do retouching themselves, as there are lots of photo editing companies for photographers, which provide quality services fast and affordable. The shooting is a long and tedious process, so there are very few photographers, who want to spend several hours in front of their computer editing images in Photoshop or Lightroom.
Nowadays, you may find many photographers outsourcing photo editing, and I have already seen a similar article on Linkedin about Top 25 photo editing services reviews Jennifer Murlow, where the photographer tells us that about half of the 25 photo editing services haven't executed her order. Is it really true? Let's test the most popular professional photo retouching services and the quality of their work.
1. Fix The Photo
This photo editing service online opens our winners list. I have read lots of complimentary reviews about these outsource retouching services. In most lists, FixThePhoto confidently holds the first position. Excellent customer service and a very convenient website, which is simple, but contains all the necessary information for the first-time users. I am particularly pleased with their blog with many useful articles both for professional photographers and retouchers and for beginners. I was sure that all my requirements for photo retouching would be met and it was really so. I got the finished work the next day. I like that the FixThePhoto retouchers did not overdo with too fashionable style of photo editing, everything is pretty neat, stylish and moderate. Especially I like the work on the wrinkled fabric, as well as how they cleaned the girl's skin. It is so great that they provide quality pictures at a relatively low price.
2. WeEdit. Photos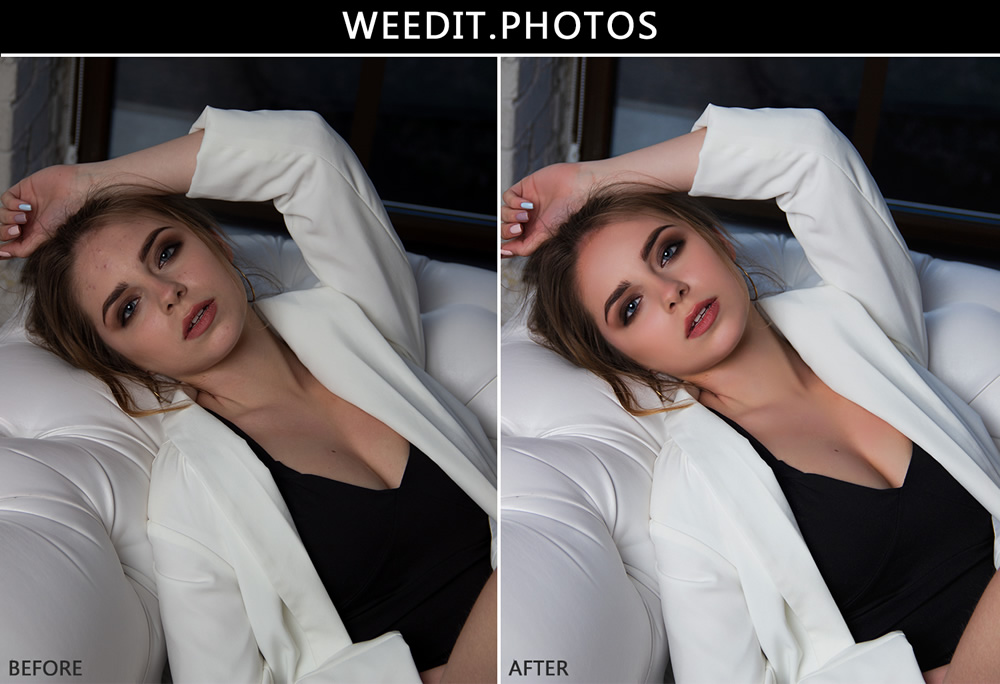 WeEdit.photos directly competes with FixThePhoto in absolutely all the lists of the best photo editing services for photographers. In fact, the clients can't definitely determine what photo editing service is the leader. To be honest, WeEdit.photos has one of the best website designs I've seen. Everything is made intuitively and stylishly, especially I like the way they display before and after photos. I like how they improved the color of the skin, removed all blemishes, it seems more alive now. The work with the contrast is just gorgeous. Prices, unlike competitors, are consistently low, even for portrait and beauty photo retouching.
3. Wedding-Retouching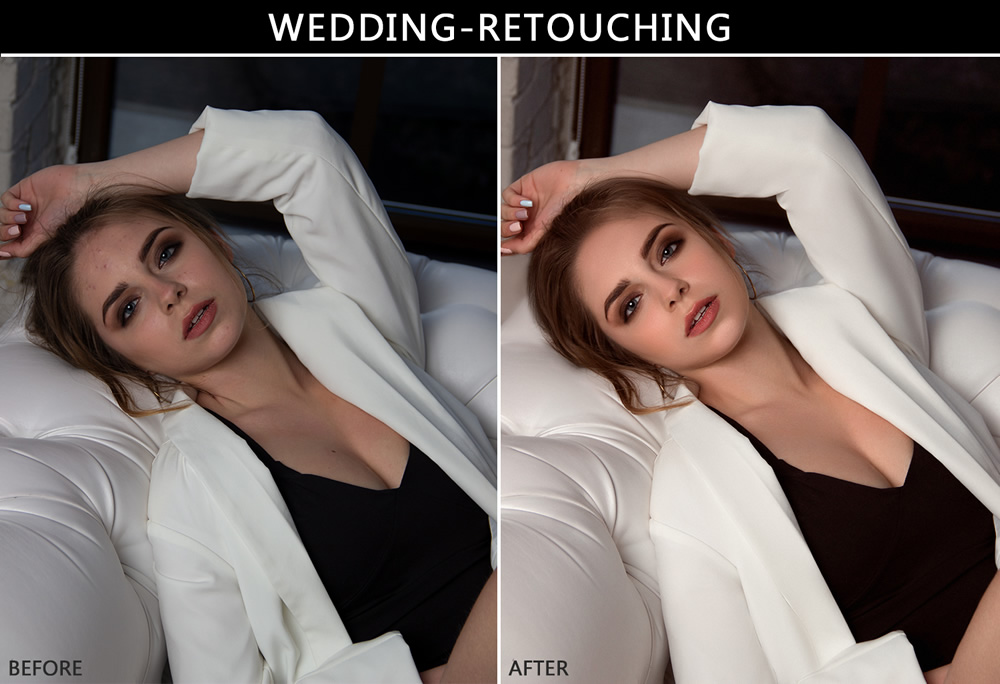 This is truly one of the best photo editing services for wedding photographers. Wedding-retouching retouchers work perfectly with event images and wedding portraits. The site is very simple and has an excellent user-friendly system with an intuitive interface. I like that they offer many types of photo post processing, and it is also possible to order wedding photo editing packages for more than 700 photos. As for Wedding-retouching work, I really liked the result. They answered all the questions I was interested in without any problems and haste. Photo editing was done soft and elegant. They added hair volume and significantly straightened the fabric. Nice color correction as well.
4. High End Beauty Retouching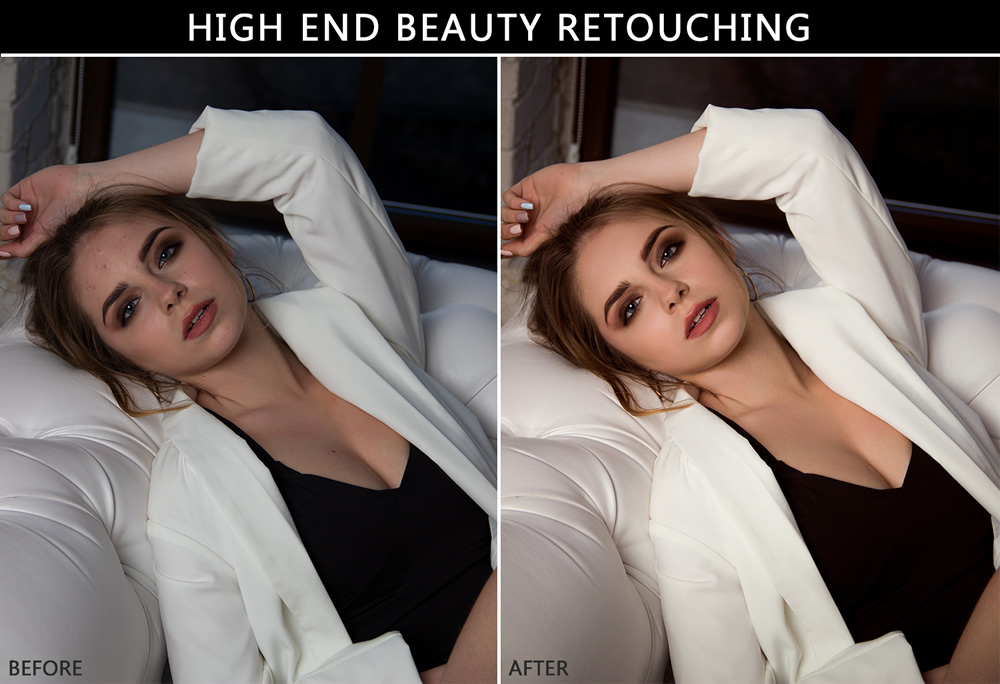 This is one of the most expensive photo editing services for photographers on this list, as the guys from HighEndBeautyRetouching are engaged exclusively in fashion image retouching, which cannot be cheap. The site is very simple with a convenient price list, where all the photo manipulations are clearly explained. The image retouching took little more than 2 days, but the result was really top notch. The skin tone was corrected and the work on the fabric was great. I was particularly pleased with the small vignette that gives my photoa new charm, as well as Dodge&Burn effect, which was very suitable.
5. Retouching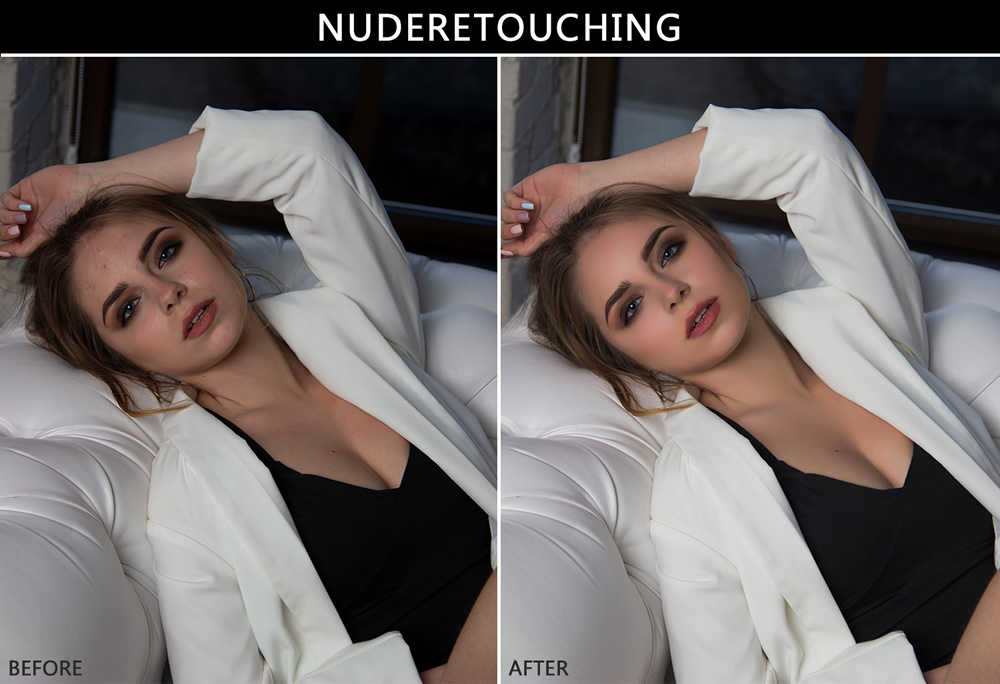 It is not a typical professional photo editing online service on our list. If the previous service specialized in fashion and high end image retouching, NudeRetouchingdeals with boudoir and portrait photo editing. The site contains many really high-quality before and after examples of their work. Prices are also very affordable, so the price/quality ratio is very reasonable. As expected – guys who specialize in boudoir photos will work with the skin a little differently. Here you can see the matte skin with detailed and accurate blemishes removal. What I like the most – the skin texture is still natural but silk.
6. Photographers Edit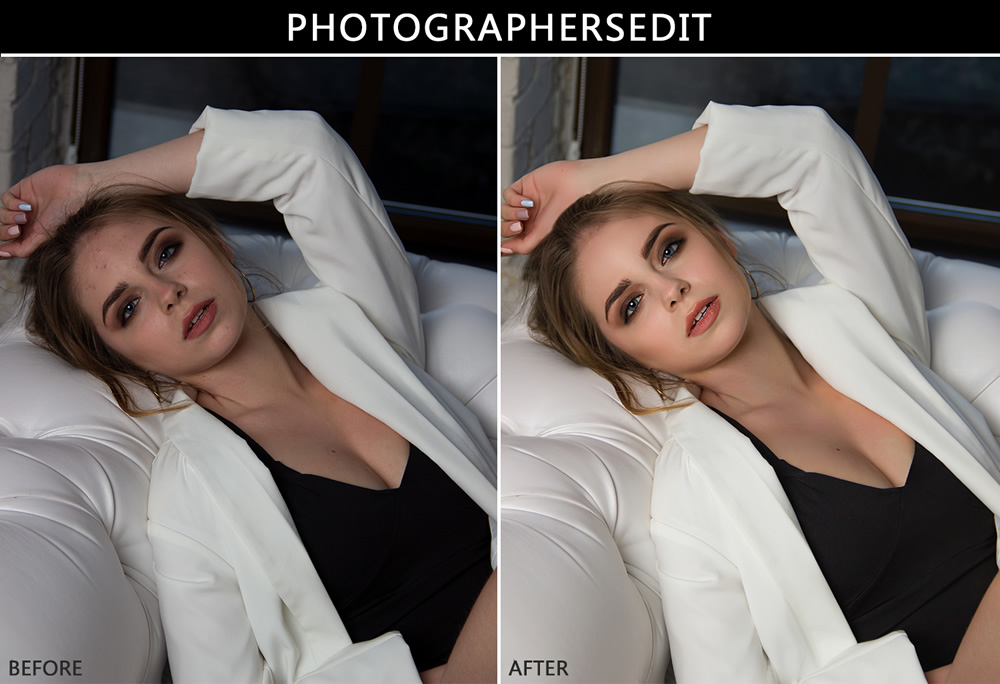 At first glance, it seems that Photographerseditis one of the wedding photo retouching services, but in fact, the guys are also engaged in portraits editing. The site is simple and clear, everything is intuitively understandable. The first thing I really didn't like was the price list. Actually, there was none. All I knew was that their prices start at $1 but I like to know the exact price before I place an order. You need to register before ordering. What I like is that you can attach the photos you like to your order for Photographersedit's retouchers to understand your style. Very few professional photo editing services for photographers offer such an option. The work was done for $7 in a couple of days. Skin and clothes retouching is done well, but the photo has a too vivid sepia effect, this is probably due to a problem with reading the format.
7. Photo Editing Company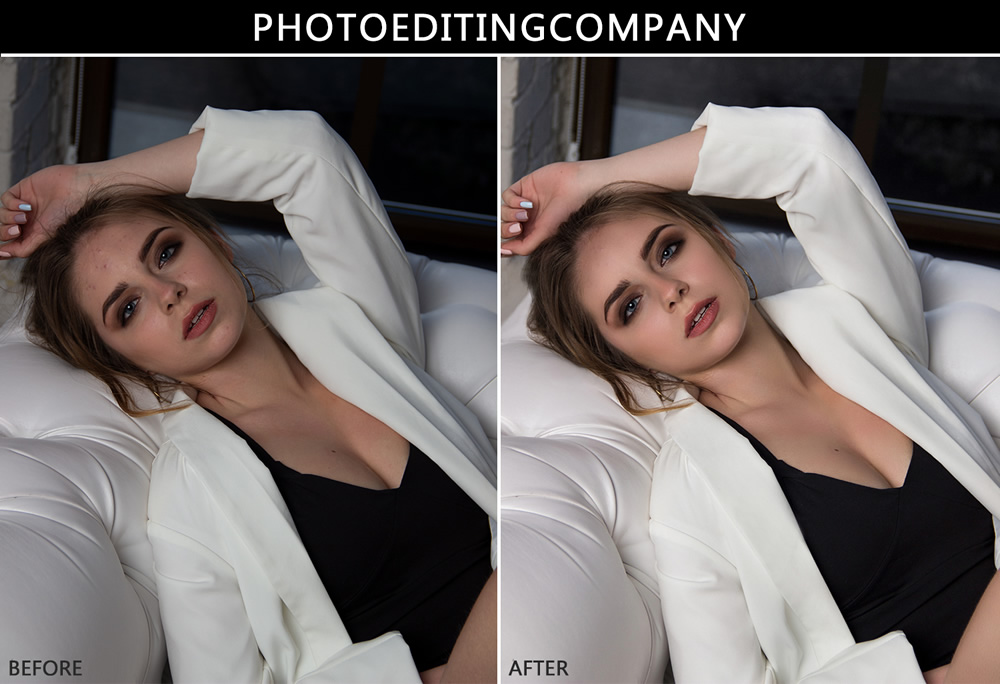 Photoeditingcompanyrepels with its outdated design – too much text, bright colors, watermarks on the images. But the examples of their works on the site (there were only two of them) made me think that the company, in general, can provide excellent results, but they simply cannot present their picture editing services in the right manner. Customer service is average, as I got an answer only a day after I had placed an order on the site. The order was ready a little more than a day for $3. The level of their work is great. I think that they have overdone a little with the sharpness of the face and left a few highlights. The hair wasn't cleaned enough. Overall, the photo looks good.
8. Shoot Dot Edit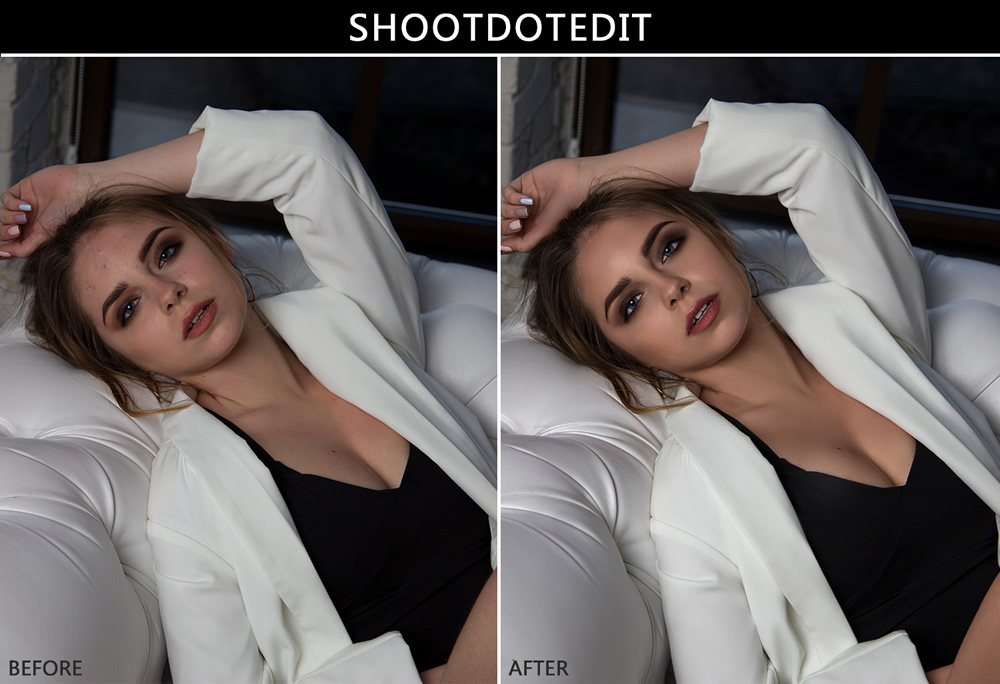 This is one of the most popular online photo editing services for photographers. ShootDotEdithas a good blog with the articles about wedding photo retouching online or wedding photography and marketing tips. What I really don't like is how their price list is done. You can place an order only using their expensive packages. There is a trial version, although I still don't understand how it works. They agreed to retouch one photo for $6 and I think this is an average price. Having received my photo in less than a day, I was almost satisfied with everything, except for the fact that it was too dark! The contrast and shadows were too increased, the skin seemed too dirty, although the fabric looked great. Most of all I was confused by the way they worked with her hair, as they didn't eliminate strays at all.
9. Photza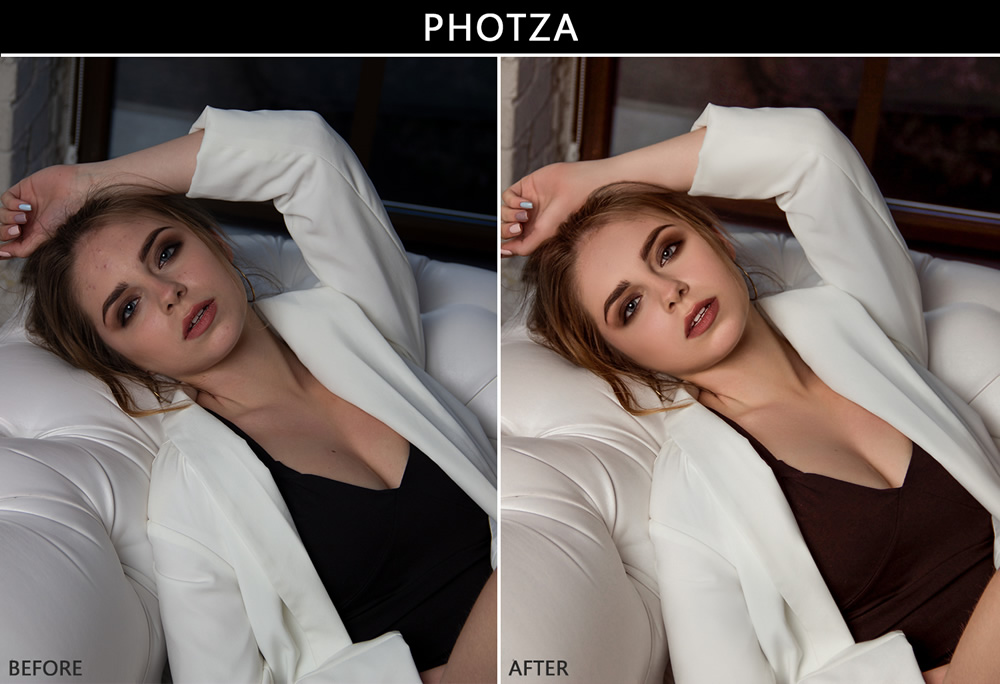 At first glance, this outsourcing photo editing service looks quite good. The design is simple, everything is very clear and conveniently located. The blog is quite good, but unfortunately, it is very rarely updated with articles – 1-2 articles per month, so I am sure that they don't have many readers. The price list is elaborately done, though the prices are a bit high. I also like that each type of photo retouching has a detailed description. I was very surprised when I saw the result of Photza'swork – they made the colors too warm. White colors became milky, the skin color became yellowish, and the black color turned brown. I think this is a blunder. If it were not for warm colors, their image retouching would have minimal drawbacks.
10. Digital Photo Editing Services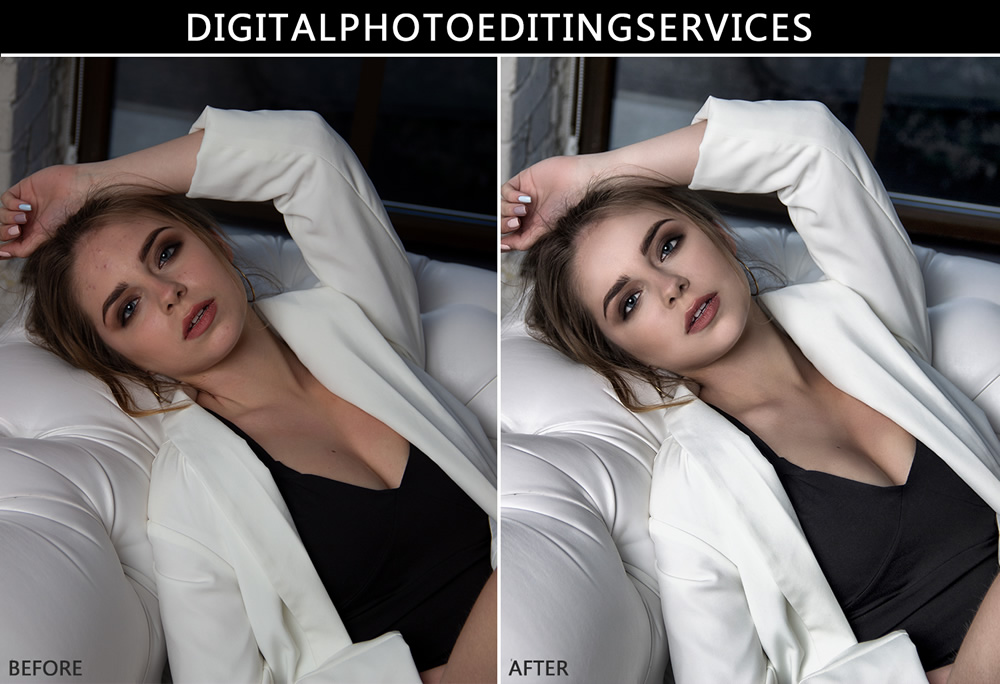 Though the site seems modern, the design is rather outdated. I think it is inexcusable for the photo editing services for photographers. The first serious problem is a lot of text and few examples of DigitalPhotoEditingServiceswork. Those examples that are shown only cause laughter, as the watermark on the whole image is just a stupid choice. The photos cannot even be zoomed and examined in details. All the pictures are in 300x100size. There is no price list, which is rather foolish, as people need to know the approximate cost before placing an order. When I received the finished photo I was unpleasantly surprised – a terrible skin color, as well as the worst Dodge and Burn I have ever seen. The skin now looks very dirty, even the small hairs became visible. There is a lot of noise on the background after they had tried to correct the exposure, the fabric looks faded. I asked for corrections but they refused.
11. Retouch Up
This is one of the most confusing photo enhancement services I have ever seen because there is a lot of information about image retouching and what they can do with your photo. They offer lots of picture retouching types, but the examples of work are really few. The blog seems to be good, but they post articles only once a month. I had to go through a very long registration to place an order. But I didn't get the answer back. So, I can't demonstrate the example of the work.
12. Pics Retouch
The site has a very simple and not attractive design. The examples on the main page are related only to the clipping path services. The available examples were in very poor resolution and were stretched horizontally. The photo retouching was done very amateurishly with too soapy or grainy skin. I didn't find the price list, though found the Free Trial. Unfortunately, I couldn't upload a RAW file.
13. Foto Enchanter
Here is an example of the photo editing service online that needs to be urgently updated, as I wasn't even sure if it still works. Examples of image retouching are really bad, everything is too overexposed, cheap and of poor quality. I was very interested in what Fotoenchantercan offer me. The answer is nothing. I emailed them, discussed the nuances but my RAW file could not be sent via the form on the site. Unfortunately, there is no other way to upload it. I asked them several times to accept my order via email, but nothing happened.
14. Evolve Edits
I really liked how the Evolveeditssite looks, everything is stylish and simple. Photos are very conveniently arranged – you can see the before and after examples using the slider. The blog disappointed as there is no useful information for photographers. There is no price list, so you have to clarify the cost via email. You cannot place an order in an e-mail, only by the site form, which works very slowly and RAW files weighing 20 MB are not always loaded. When I managed to send the file, the retouchers refused to do the job.
15. Fotofafa
This online photo editing service resembles WeEdit.Photos but there is very little useful information. In particular, I do not see a large number of image retouching examples that are obligatory for such kind of services for photographers. There is no price list, although you'll see the approximate prices– about $1 per minute of work. I don't like such an approach. I sent them my photo in RAW, and they accepted it, but within a week I did not receive any results. The payment was taken. I asked what I should do, and was told that the money would be returned to me. Still, I wouldn't get any retouched images.
Summing up
As you see, there are not so many really good photo editing services for photographer as we would like. You can find lots of cheap retouching services but only some of them will take on your task, and even a smaller part will do it really well. If you are a professional shooter, this article will be your guide for choosing really good editing companies for photographers.