Melbourne based photographer Debashis Talukdar spent 18 months capturing this time-lapse video of his home city. This 4-minute-and-10-second video is made from over 13,000 images that were all individually shot with a Canon 5D Mark II, and either a Canon 17-40mm EF or a Canon 24-105mm EF lens. Here are some of his insights on the making of this video.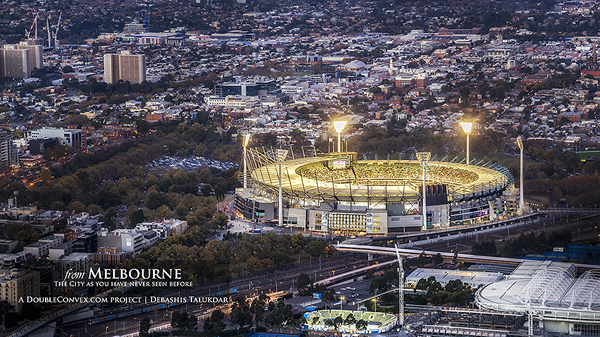 Why do you shoot time lapse?
I started of shooting landscape and cityscape images. One of the issues that you deal with in public places is random people and objects moving in and out of the frame. In order to come up with a clean composition, I would shoot multiple exposures so that I could clone out any random objects that I didn't want in the image in post-processing. After a while, when looking at 10 or 15 near-identical shots, I saw that there was potential.
Do you still shoot still photography?
Yes. I primarily do stills. Time-lapse was a bi-product of my methods.
Why did you make this video?
I moved to Melbourne in 2007 after spending several years in the United States. I still am in touch with friends from there, and I used to send them pictures of my city. But I always felt that they didn't quite convey what life here was really like. I found that using time-lapse photography was a great way to tell a story, and keep them engaged.
What is the biggest challenge shooting time-lapse?
Above all else, time. Time-lapse photography is the over-cranking of video. I render my videos at 30 frames per second. So in order to get 1 second of video, I need to shoot 30 images. If each image is taken at an interval of 5 seconds, each 4-second clip takes 10 minutes to shoot.
What are some of the other challenges of shooting time-lapse?
Memory is a big one… you create lots of big files when shooting time-lapse, so you can never have enough memory cards on you. You also need to have a spare battery on you to ensure that you don't get cut short when Your computer's processing power is another, because you'll be using some high end photo and video editing programs to manipulate very large files.
How did you find the time to do all this?
I have no social life! Just kidding… joking aside, I had to plan a lot of this into my regular life to be able to do it. I'm fortunate enough to live just outside Melbourne's Central Business District, and work a mere 20 minutes away on foot. A lot of these images were shot either before or after work during my commutes to and from work.
Why didn't you just use a video camera to record the video, and then speed it up in software?
The effects that you can achieve from still photography based time-lapse images are quite different from taking video and accelerating it in software. In still-photography based time-lapses, you can drag your shutter to lend a sense of frames blending into each other. You can increase your exposure times to achieve light trails and soft, flowing water movements. You can render the video in High Dynamic Range. When using an accelerated video clip, one remains somewhat limited in being able to achieve artistic effects like these.
Do you have any advice for someone thinking about shooting time-lapse photography?
Stop thinking, and just do it! All you need is a camera, a tripod, a means to automatically trigger the camera, and some software (Adobe Lightroom and LR-Time-Lapse, or Corel Video Studio Pro) to make these. And its another way to take better still photographs, if that is your thing! If you're curious about how to get started, consider looking through my introductory tutorial on time-lapse photography.
New Time Lapse Video
You can find Debashis Talukdar on the web: