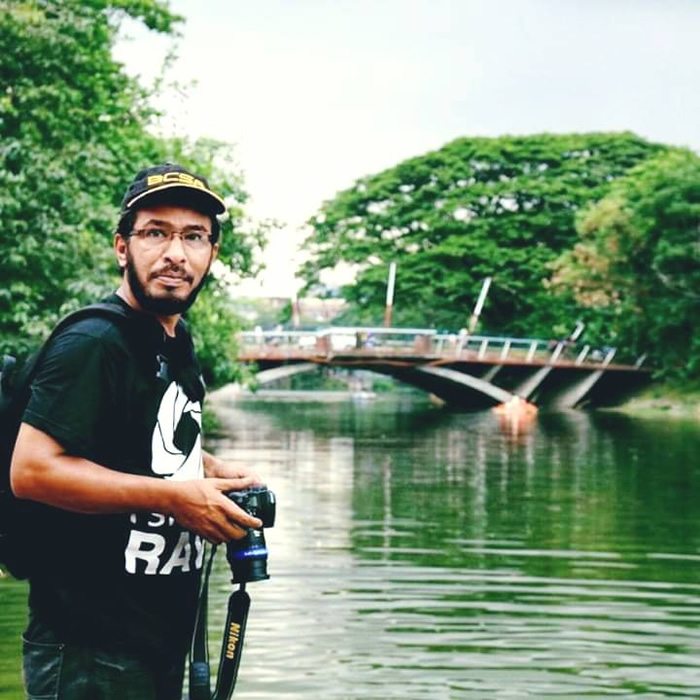 I am Saiful Amin Kazal, born 1969, in Dhaka, Bangladesh. I am an amateur photographer and I am doing photography from 1980. I am a private employee working in a construction company.
During the "Pilkhana Tragedy" (also called "bdr mutiny" or "bdr tragedy") 2009, 25 February, while on the way to my workplace, I got stuck at Jigatola bus stand, very near to BDR (now its renamed " BGB", Bangladesh border guard) 4# gate, they were openly firing to open place & running people with heavy machine guns & Chinese riffles, I had a sony digital pocket camera in my pant pocket (which I used to carry always) & I was taking pictures of them going or getting close to their gate, suddenly a bullet of a Chinese riffle shot me down, the bullet hit my left leg just above the knee, I was carried to govt hospital so soon by the public, my sciatic nerve was injured very seriously & my leg was broken into so many pieces. Total of 7 major operations have been done from 2009 to 2011, I went to Vellore CMC Hospital in 2012 also but nothing good happened.
I was at bed rest for 4 & 1/2 long yrs (until 2014), now I can walk but with an elbow cratch & brase always in the leg, very sad to tell that in those time (2010 maybe) my hard disc was crashed which later I failed to recover, I lost all my images of 80's to 2009 Feb, I became so much frustrated that time. When I got a DSLR Camera for the 1st time in my life in 2015, I started my previous job again & started my photography life once again, with heavy pain of leg I never stopped, I never left home without my camera for a single day, I did my self project "365 Project" in 2018.
I love street, lifestyle, portrait, documentary photography, I also love all kind of festivals, from late 2017, I am working on "harijan/dalit" & also working on "stranded Pakistani" (Bihari) in geneva camp & mirpur bihari camp. I am also doing some other documentary, such as "tannery", "plastic (flex)" and more. Photography is my hobby, my passion, my love. I never run for any award or fame or any certificate, I do photography as I love to do it.
Click on the image for an enlarged view.
You can find Saiful Amin Kazal on the Web:
Copyrights:
All the pictures in this post are copyrighted to Saiful Amin Kazal. Their reproduction, even in part, is forbidden without the explicit approval of the rightful owners.