But what would you do capturing the lives of these people? It's not going to benefit you in any possible way! think about your own future. Think about your own progress…etc. Well, most of the time documentaries as such require a static level of mental strength combating against mindsets who do you no favor at all.
Time seems to have stopped indeed people are dying every day; lack of jobs and placements; the increasing rate of depression and suicide cases and what not?
I am Sunil, a self-learner and documentary photographer based in Jaipur. No, I really am not a part of any authority and have no superpowers to vanish pain and misery from people's lives. But I would like to take this opportunity to let my capture speak and reach million hearts who think alike.
While we can't get enough of quarantined life, complaining about boredom and lack of amusement, there are some humans of all age groups crossing 1000 miles in form of hurdles every day in order to save their race we call them migrants as if from some other planet. Yes, my topic isn't really that colorful or appealing because my topic has got tonnes to do with mother soil and her ever looked down upon children. As we are slowly getting accustomed to the term 'Lock-down', things have deteriorated immensely for some as this major shut down has led them to the verge of extinction (as if they weren't already!)
I have taken up the task of capturing the life of a lady farmer who is still breathing in toxicity and giving out fruits for thousands of hungry souls including me. Her daily routine involves waking up at 4 am every day, finishing off pending chores, and rushing towards the fields of mother earth who welcomes her unlucky child wholeheartedly.
While so many of us are counting days to get back to the outside world of luxurious hotels and glamorous restaurants, this lady in my documentary works night and day to make ends meet with minimum resources and limited meals in her peaceful mud house which in turn teach me the main purpose of living, which is life itself. My vision of capture is absolutely changed as I perceive through my work the ever ignored, downtrodden people of our social ladder whose childhood gets lost somewhere admits dreams.
The tiny hands when supposed to be nurtured with tender touch takes up the load of the plough and reality which tears them apart. This photo series is of MGNREGA workers who are working in this pandemic situation after the government decided to push the lockdown and implemented unlock 1 after 68 days of a long breakdown in the country.
Mahatma Gandhi National Rural Employment Guarantee Act (MGNREGA) is Indian labor law and Social security measure that aims to guarantee the 'Right to Work'. It aims to enhance livelihood security in rural areas by providing at least 100 days of wage employment in a financial year to every household adult member who volunteers to do unskilled manual work.
I decided to document their life when they toil hard on fields and also what is their daily morning and evening routine at home when they are not working for monetarily paid work. I have tried to document their life for a week to know them deeply and to enhance the touch of emotions in my photographs. While working on this series I felt that their life is so much inspirational because they work under such conditions in June, a month in which temperature level hikes at its peaks in India. They eat basic meals during lunch hour and they are helped by their children to bring food in fields. After a whole day of hard work, they finally get their daily wages.
It is immensely pleasurable to see the joy on their faces, even after such a hard-tiring day. Looking at those faces gives me a positive perspective towards life that amidst the pain of life, how much happy one could be.
No, I really ain't any authority or superpower holder but well, I don't think I can ever stop wondering these people's fate.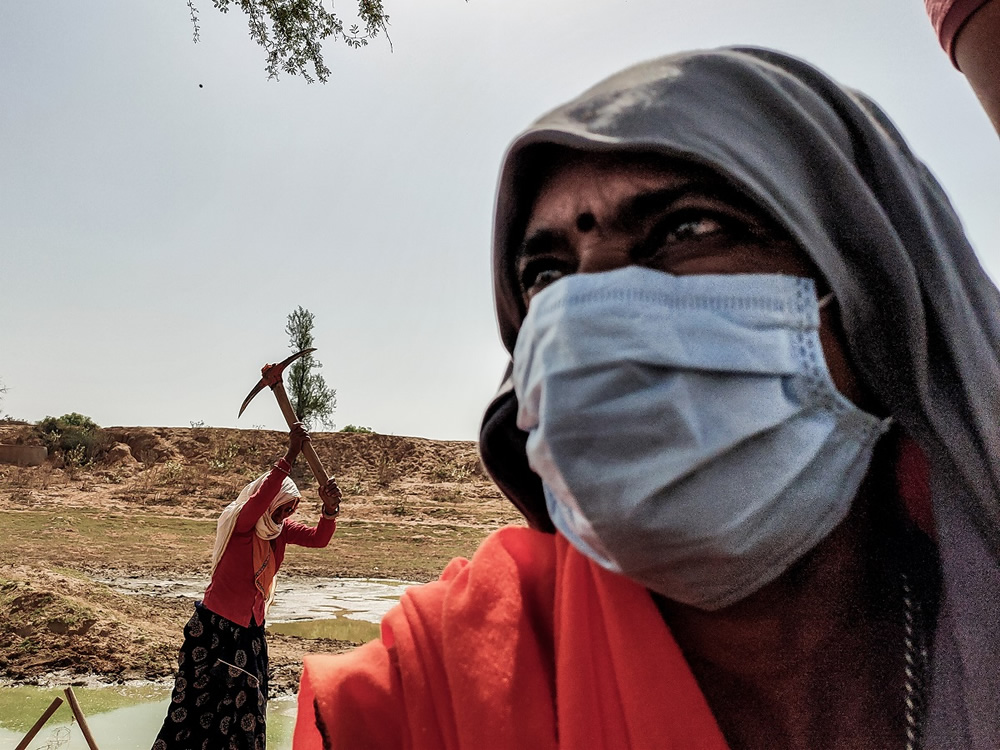 A women striking ploughing tool in background and a masked lady in foreground
Shot taken while they were ploughing in field.
Another woman in action throwing material.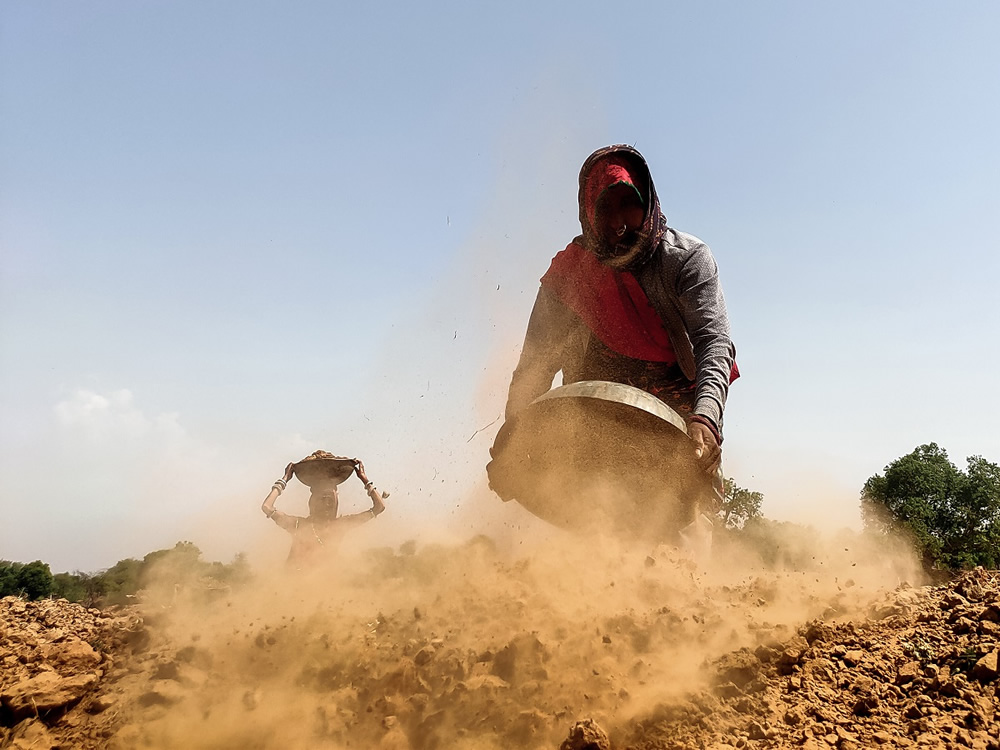 Two group of women in action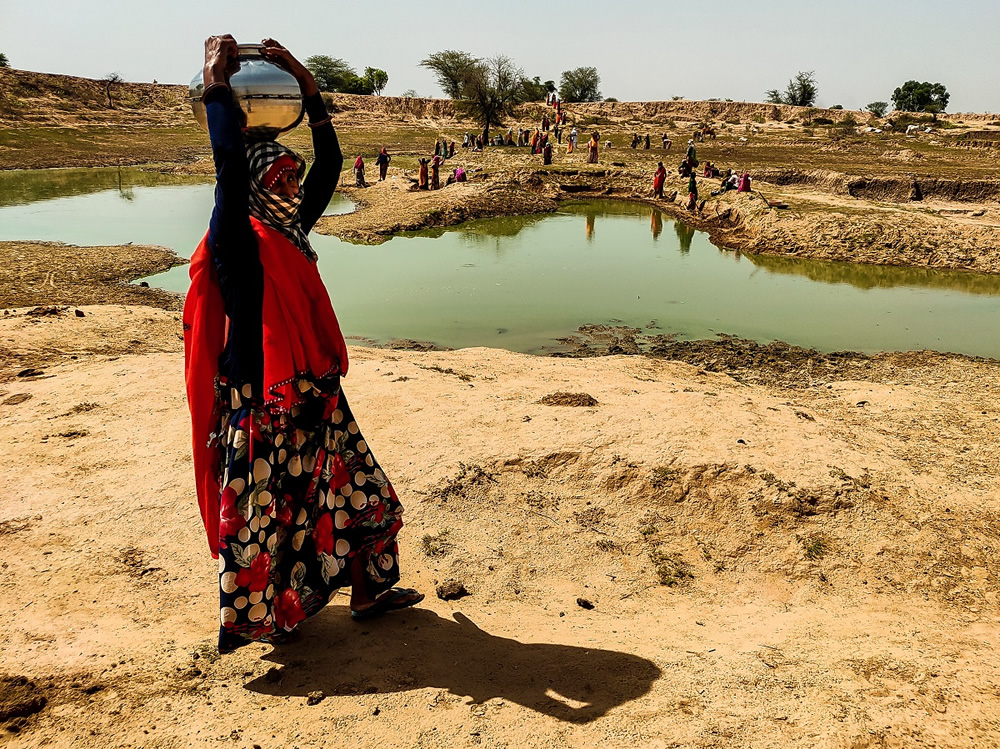 The woman delivering drinking water for all the labours working on field, she travel almost 5km to bring drinking water because of water scarcity in rural areas of Jaipur, Rajasthan.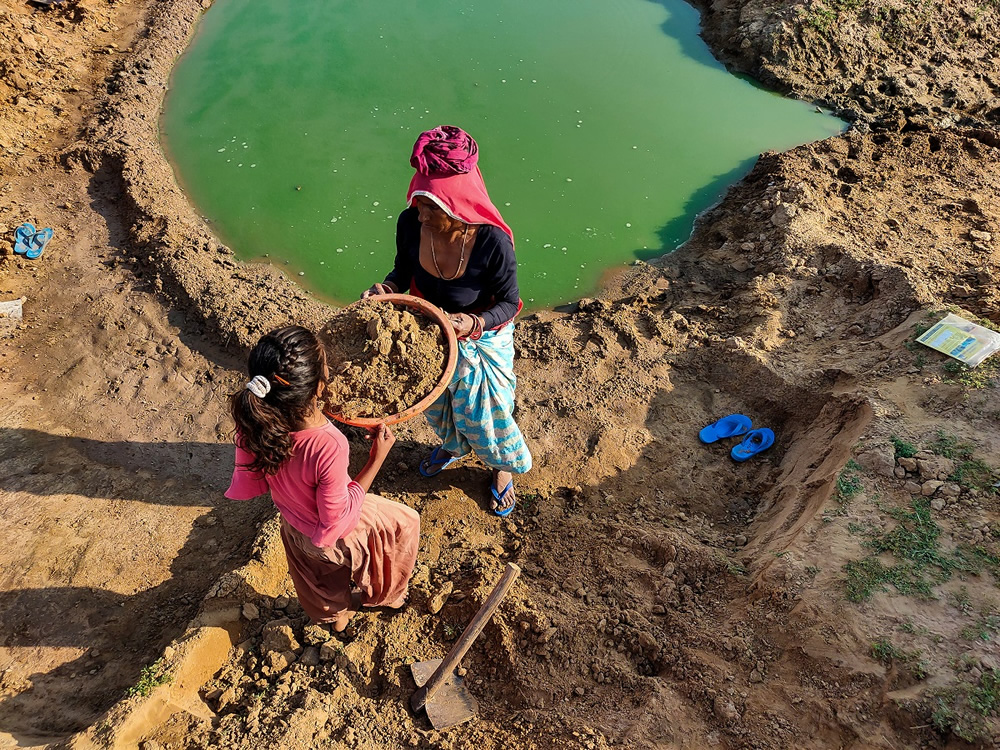 Her daughter helping the mother for carrying the material on head.
Women in action and her little daughter giving her company.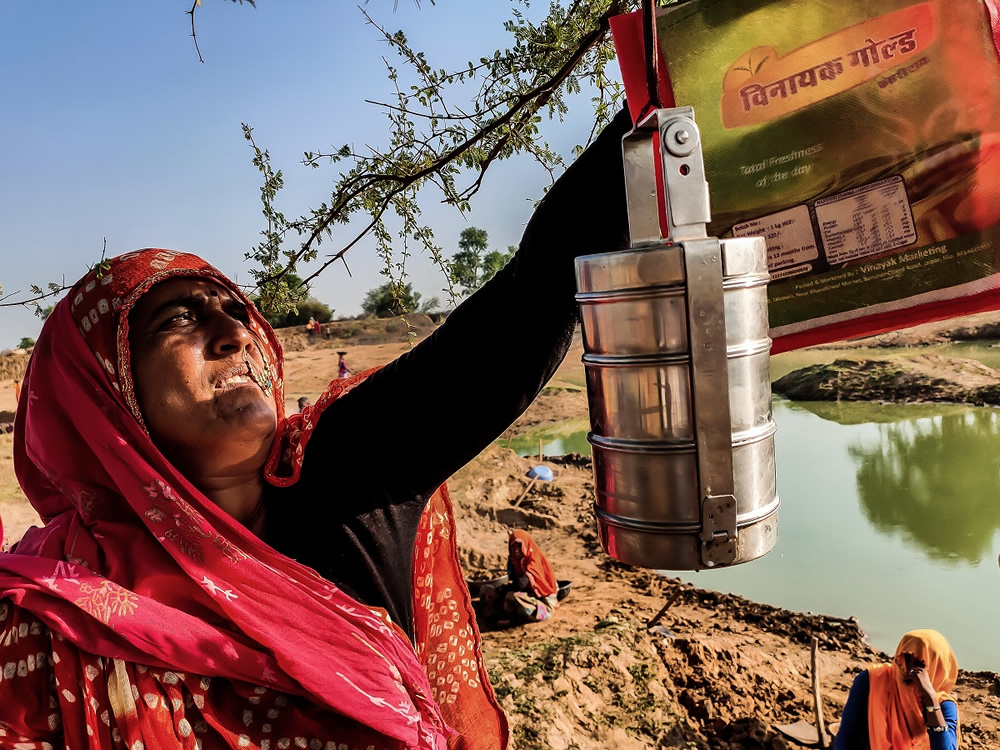 She is now checking out the tiffin for food during lunch hour.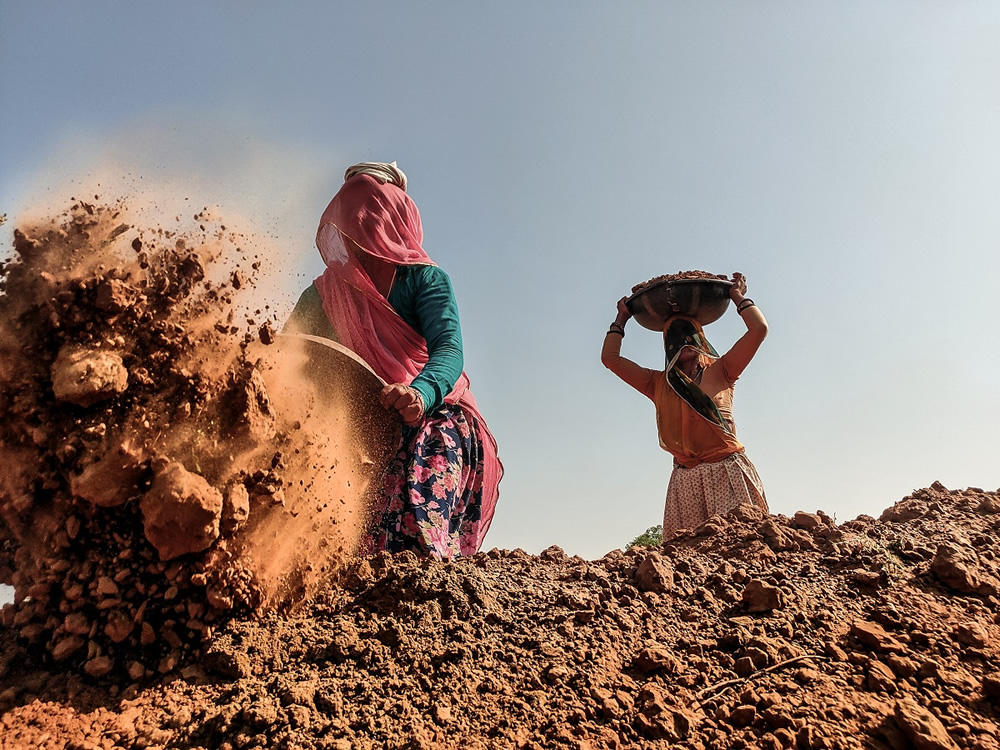 Two women throwing sand after scaling a height of almost 20 feet from the ground with material on their head.
Two very little girls carrying material on their heads and their boss sitting and instructing them.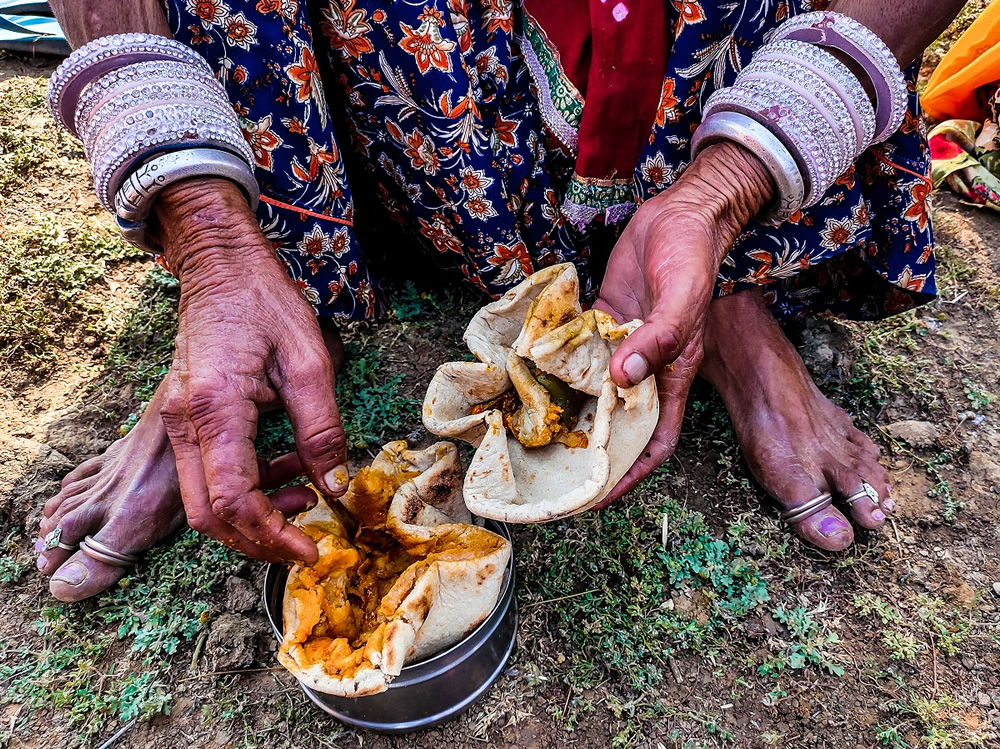 The very basic meal they have dry Rotis and Saag (dry Bread and vegetable).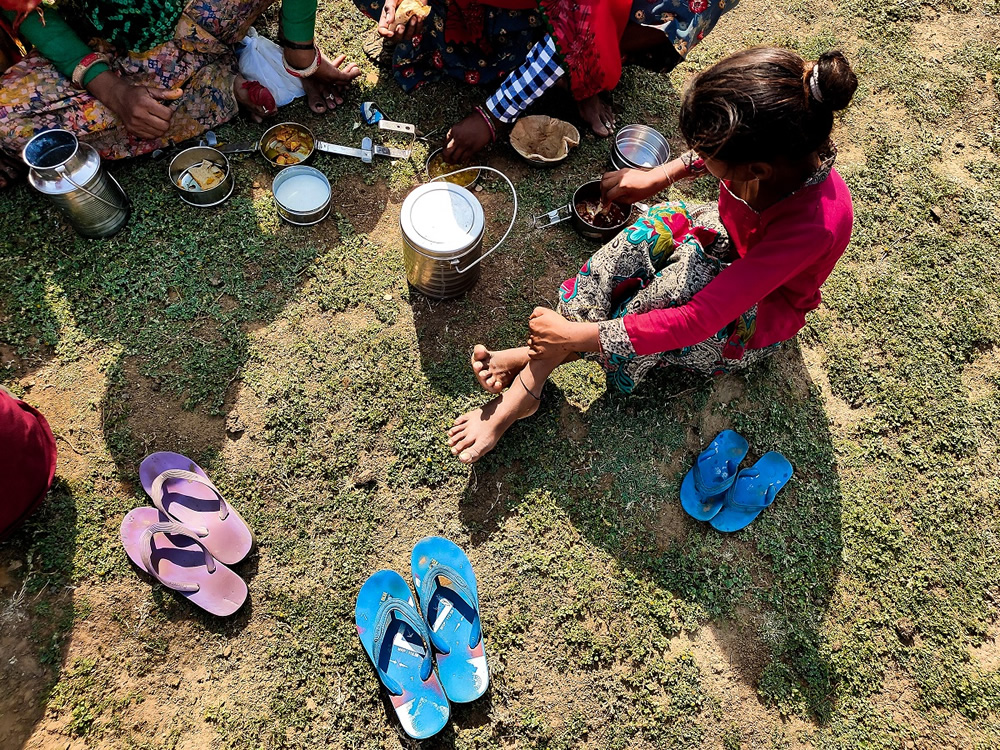 Lunch time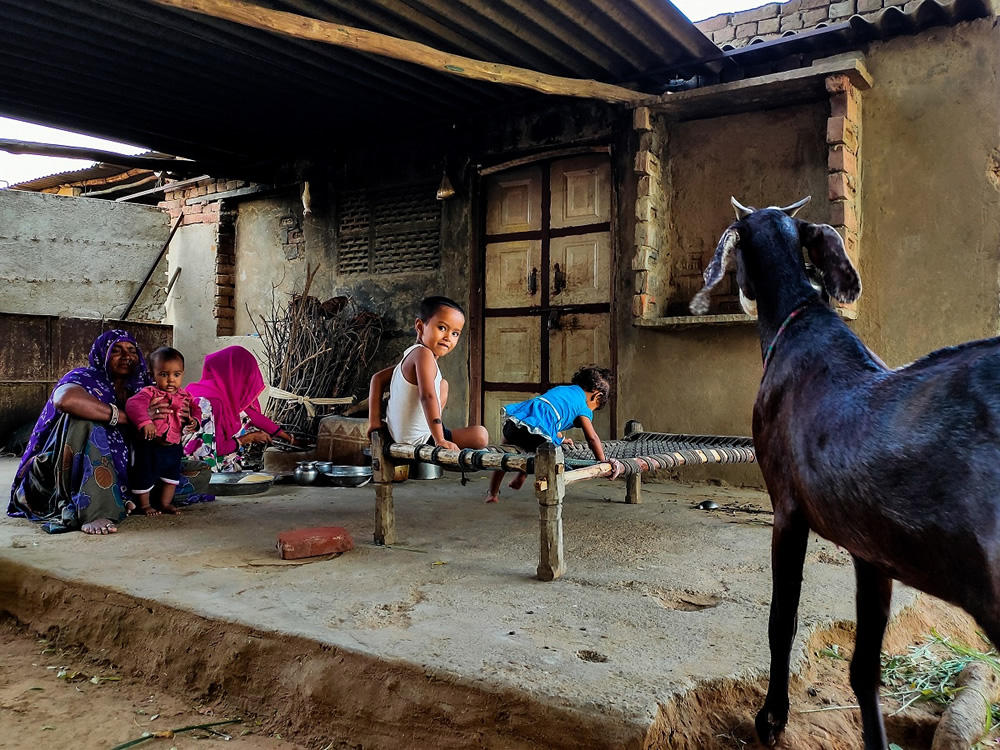 A family with their animal poses in evening times.
A young teenager throwing material.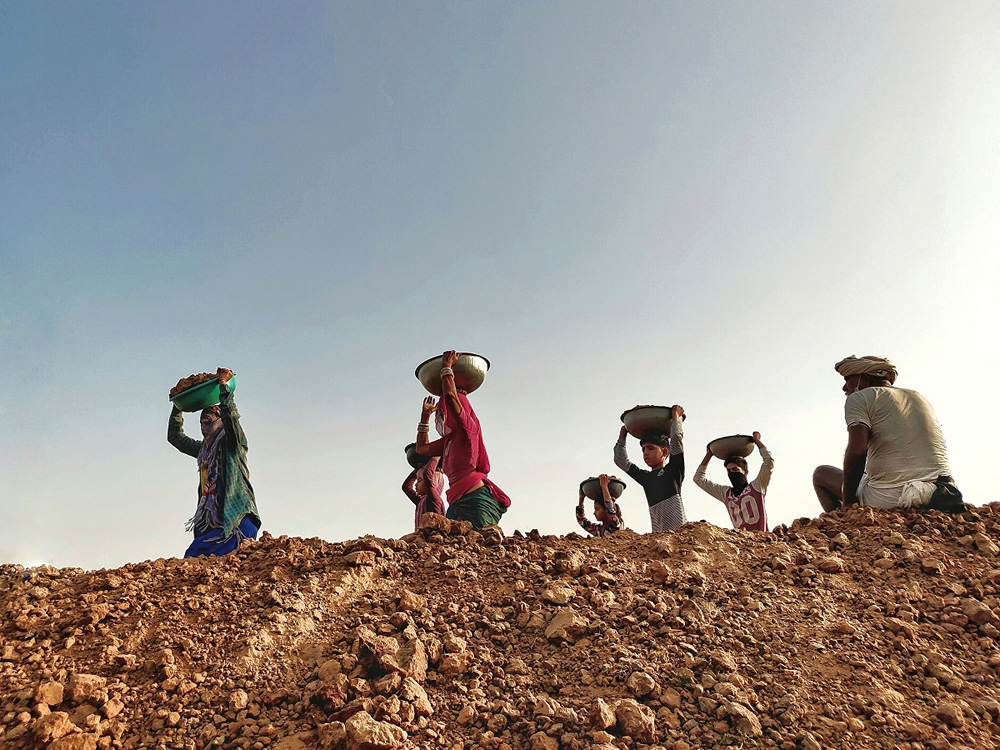 A group of workers mainly including young teenager carrying material.
Her little child ploughing and helping the mother.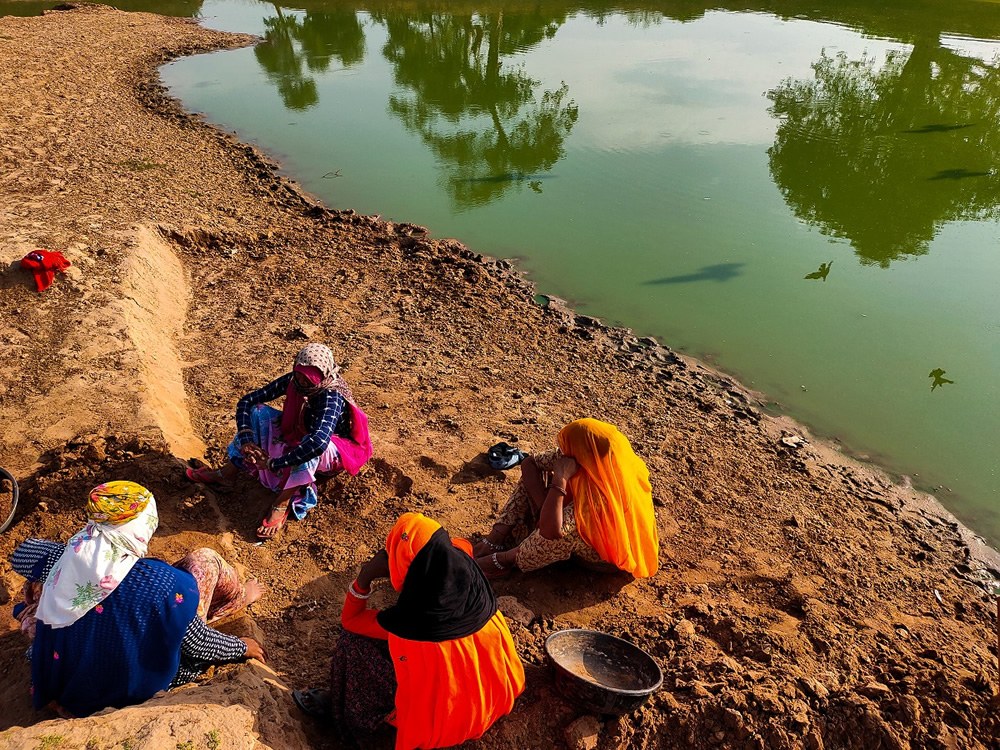 A group of four women resting for a while.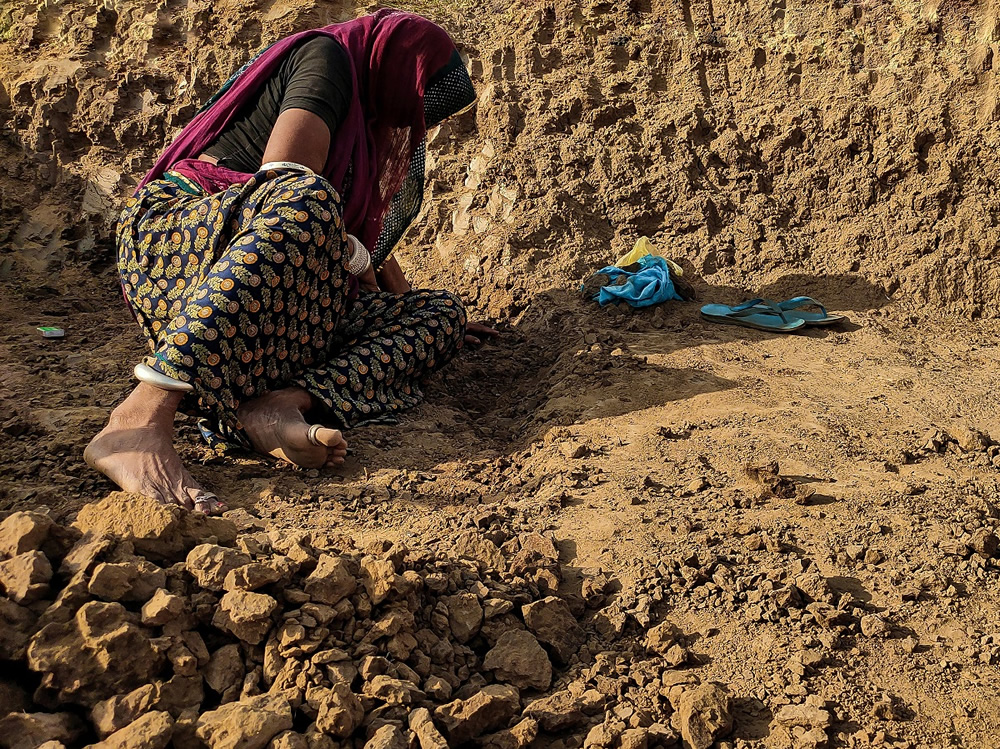 A women fall down to relax her body pain because of ploughing the very hard surface.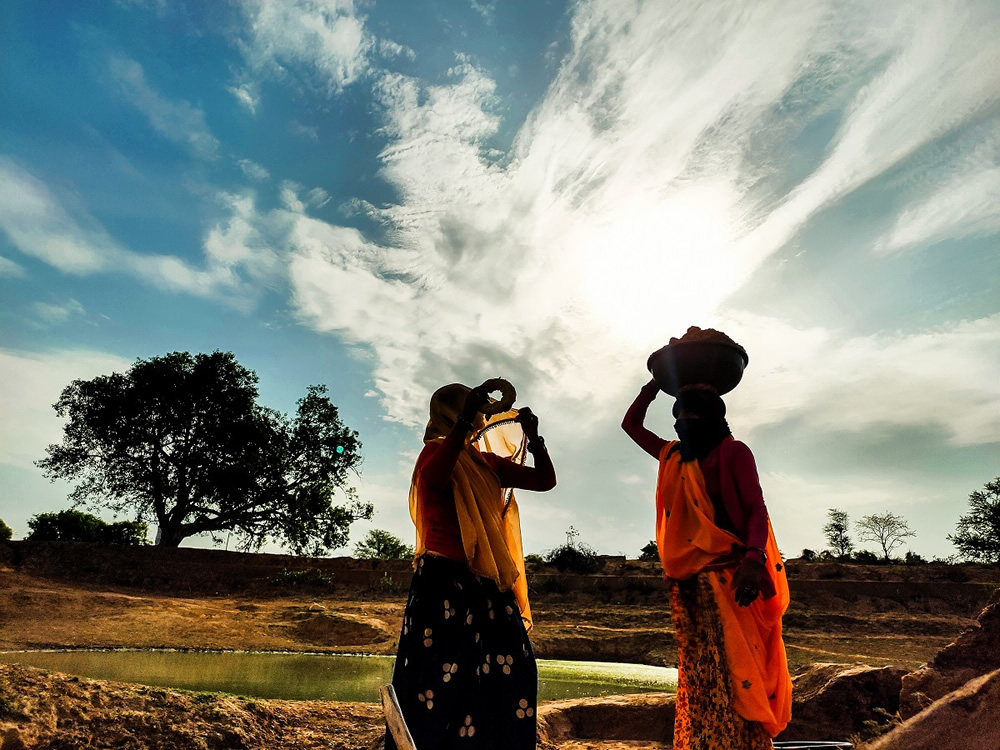 Some candid moments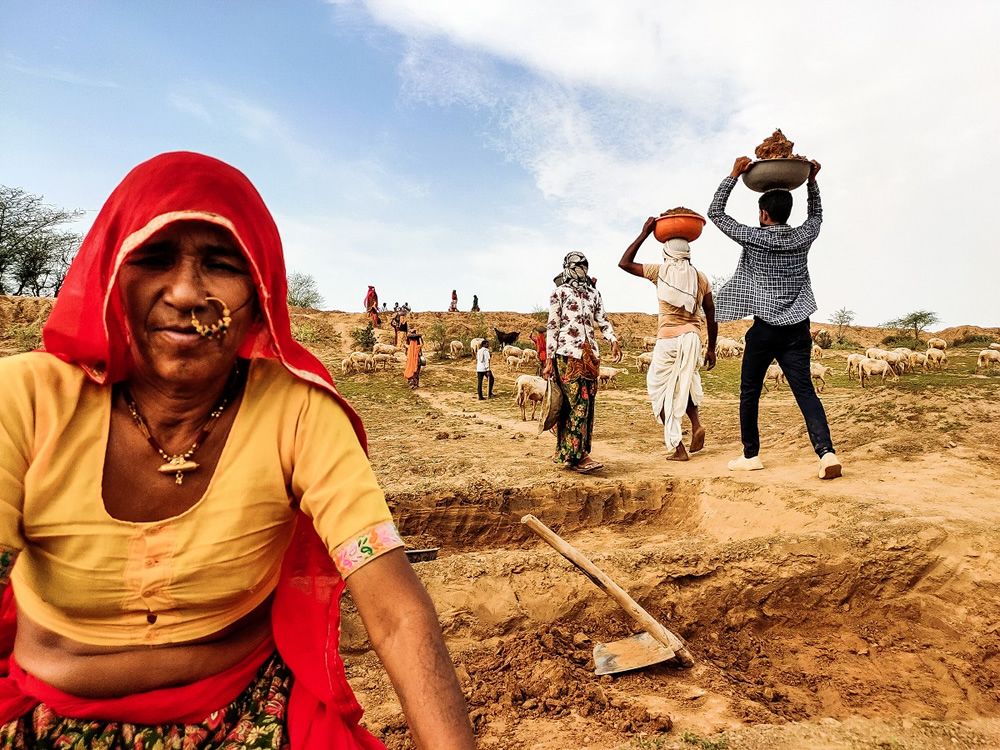 A woman poses for camera while many activities happening in background.
After they finish their work, they sit under this giant tree for attendance.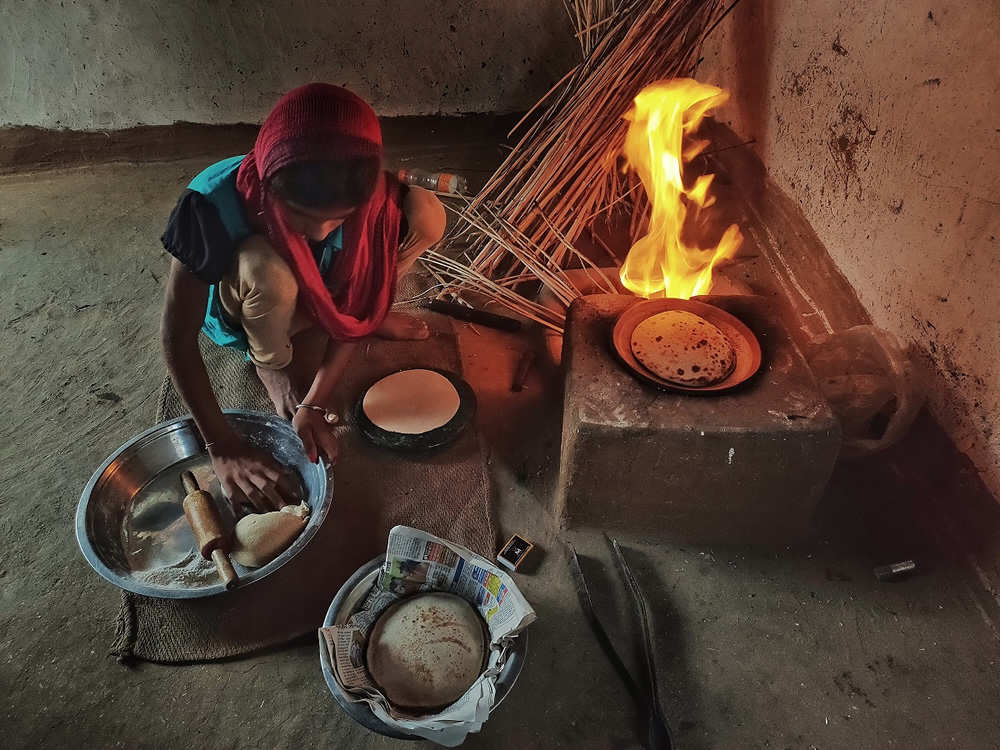 A nine years old girl making food in the 5 AM in morning, she will latter finish other morning chores and then she will serve the food to her mother on field and also will work on field.
A women finishing the butter extracting process manually in the morning.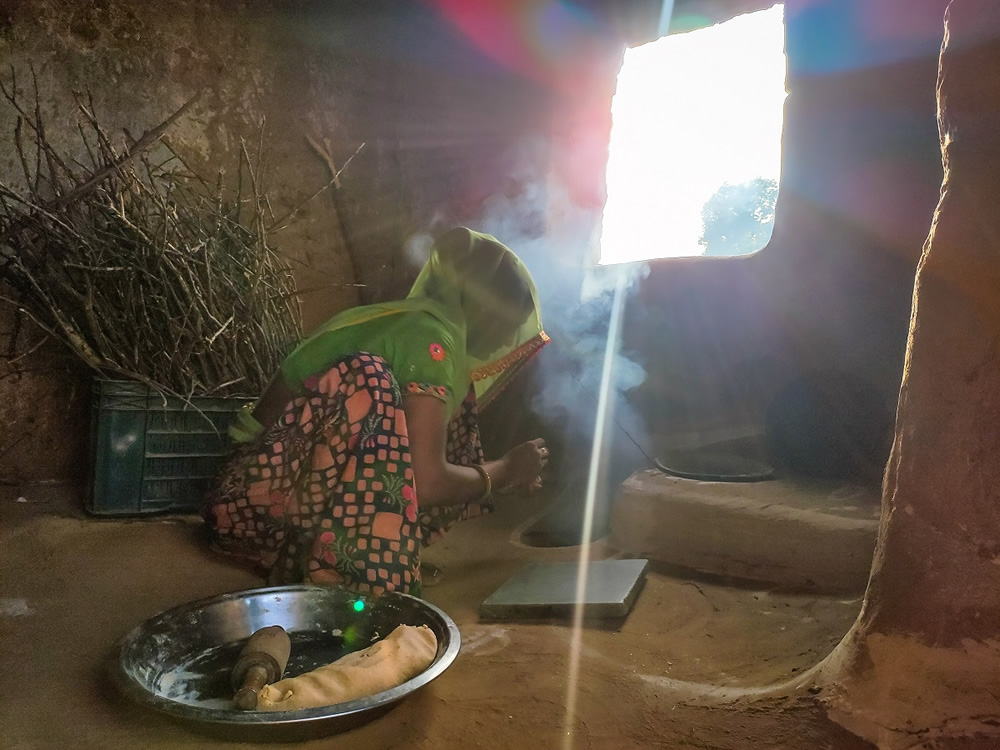 A women lighting the 'Chulha' for making the food in evening.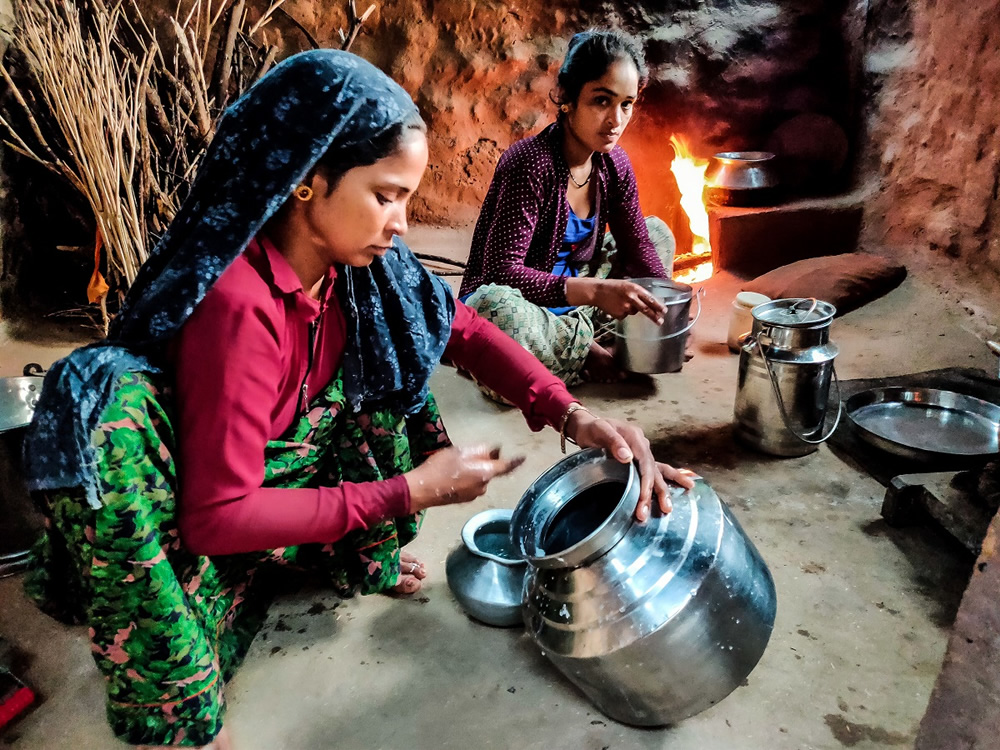 Two young teenagers finishing off the morning chores.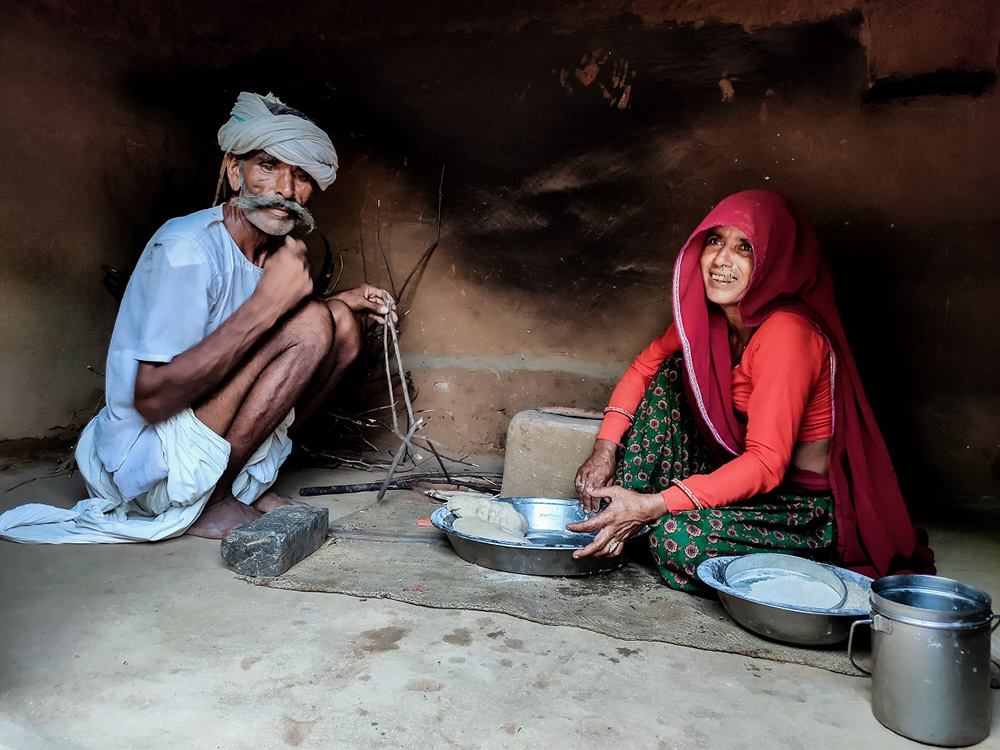 Husband and wife poses for camera in the morning.
About Sunil Khandal
My name is Sunil Sharma (24) Jaipur, Rajasthan based Documentary photographer. I hold a B.tech degree in mechanical engineering. I capture people, cultures, and lifestyles. After getting a tag of Mr. Introvert in college I decided that my photographs will speak for me. I chose to put away my shyness by coming out of my comfort zone and started meeting new people in the process of capturing them and their emotions. I have been practicing the art of photography for the last 1 year and undoubtedly, I am enjoying the process of taking photographs.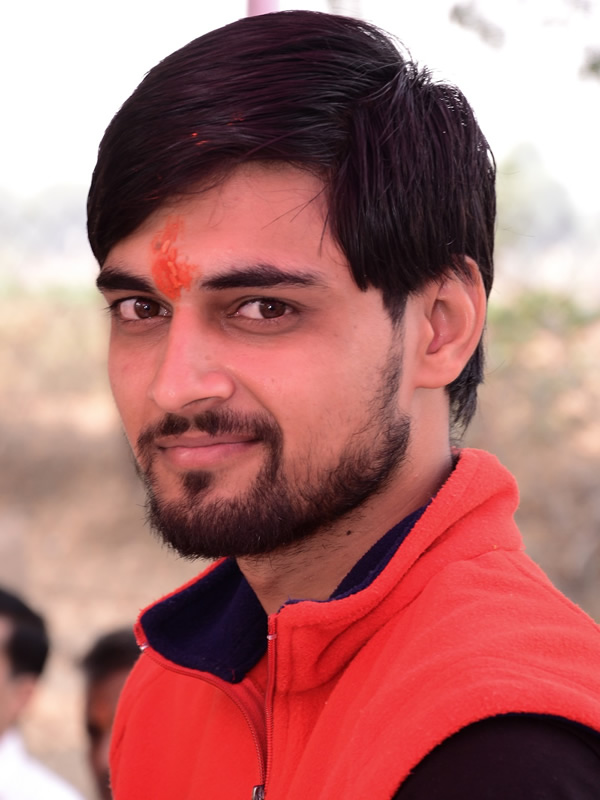 You can find Sunil Khandal on the Web:
Copyrights:
All the pictures in this post are copyrighted to Sunil Khandal. Their reproduction, even in part, is forbidden without the explicit approval of the rightful owners.