As urbanization has been already spreading over each and every corner of India bringing Social, economic, and cultural changes in India. It is very fascinating to see the rural part of India, still holding to their ancient old traditions and cultural activities. One such tradition is Chhau Dance. This dance was originally performed during the Bengali New Year (February-March) to celebrate the new harvests. "Chhau" is performed solo or in groups at villages of Purulia district by dancers in elaborate masks and headgear. The vibrant folk dance form with vigorous movements and steps.
It was a unique experience to photograph Chhau Dancers and Preparation for the Dance prior to the performance in Navi Mumbai, who came all the way from Purulia, West Bengal for this performance.
It was a freezing winter morning in Mumbai. I was at the venue much before the schedule, to get acquainted with the ambiance. I was a bit doubtful about the reaction, as we had no language in common to communicate. As I stepped in, I was proved wrong. The smile and the warm welcome, soon made me feel home. Maybe, this is what is called the power of the roots, the red soil. It makes humans so soft natured, that it molds any heart, into any shape.
The team consisted of all male participants only. However, they were accompanied by a few ladies and kids.
As rehearsal started, I realized that every participant had their own role specified and Mask. Slowly, I started interacting with them in person.
I spoke to a 62-year-old person named Surya Ray, a retired officer, who has been playing the role of a Bear for 40 years now. TulsiKalindi, who was close to his 60's too, stay at the backstage to play Shehnai. He is assisted with KiritiMahato, who plays the Drum. Then there is Durga, Swapan, Rumpa, and many others. The full team is lead by Master-da Gourish.
We all watch them performing on stage, there is lots of preparation, rehearsal, and hard work wend behind this. It's not just a performance, but it's a culture, which is borne by this tribe, and they are carrying it, generation after generation. As a folk dance performer, they get very little monetary benefits from the organizers but their sheer passion to carry our tradition is fascinating.
After the performance, a thought crossed my mind; these performers offered everything to us. However, the commercial capital of India with Billions of rupees turnover had very little to offer to these performers.
I realized, as a photographer, it's always our social responsibility to showcase the hardship behind this art form. My maiden attempt in photographing the dancers, the preparation, the anxiety behind the Mask.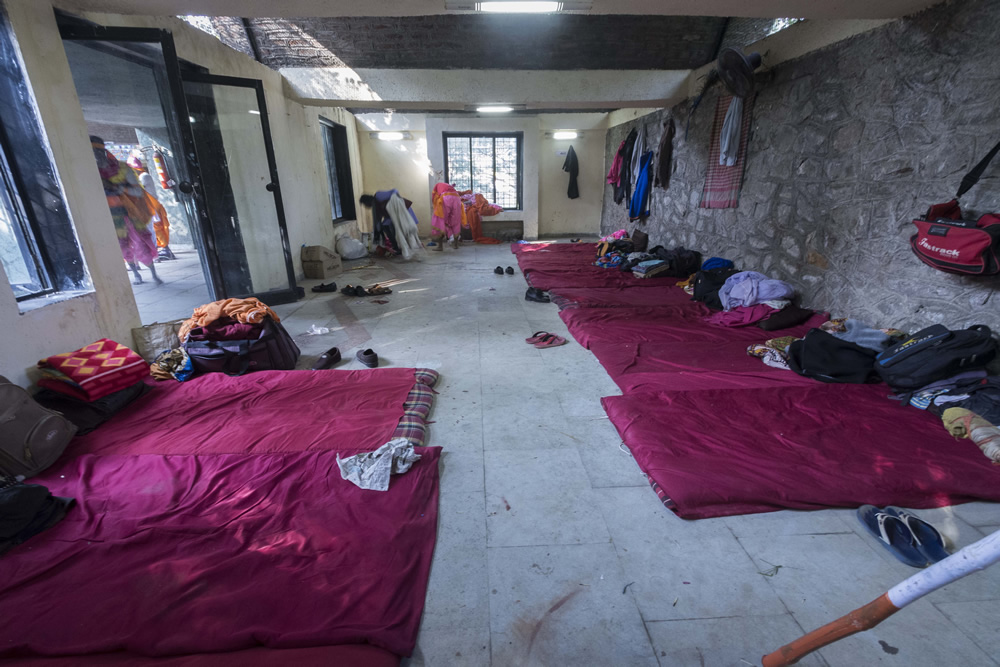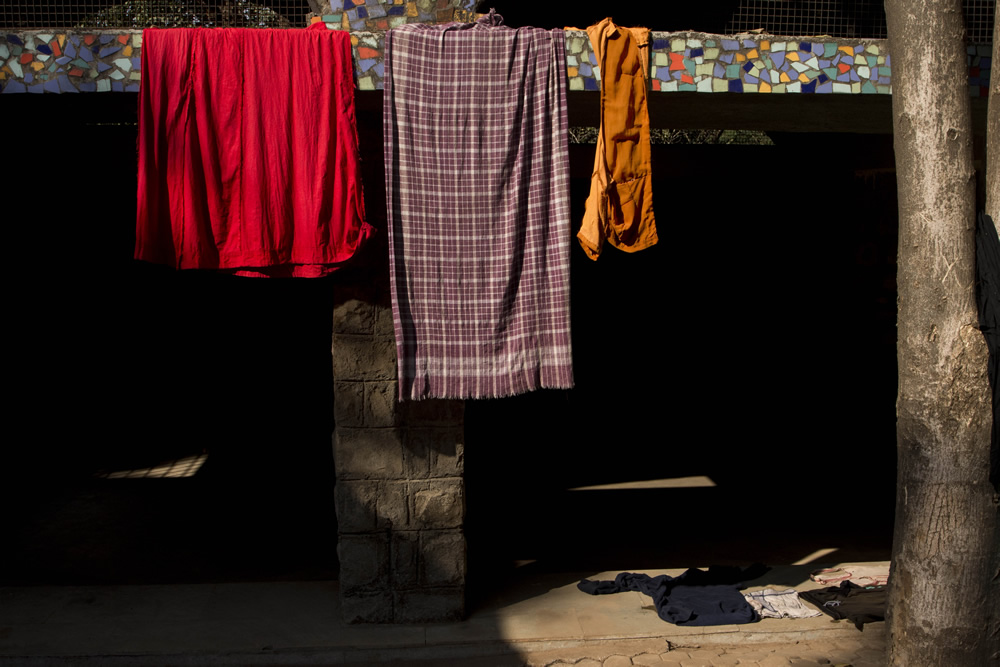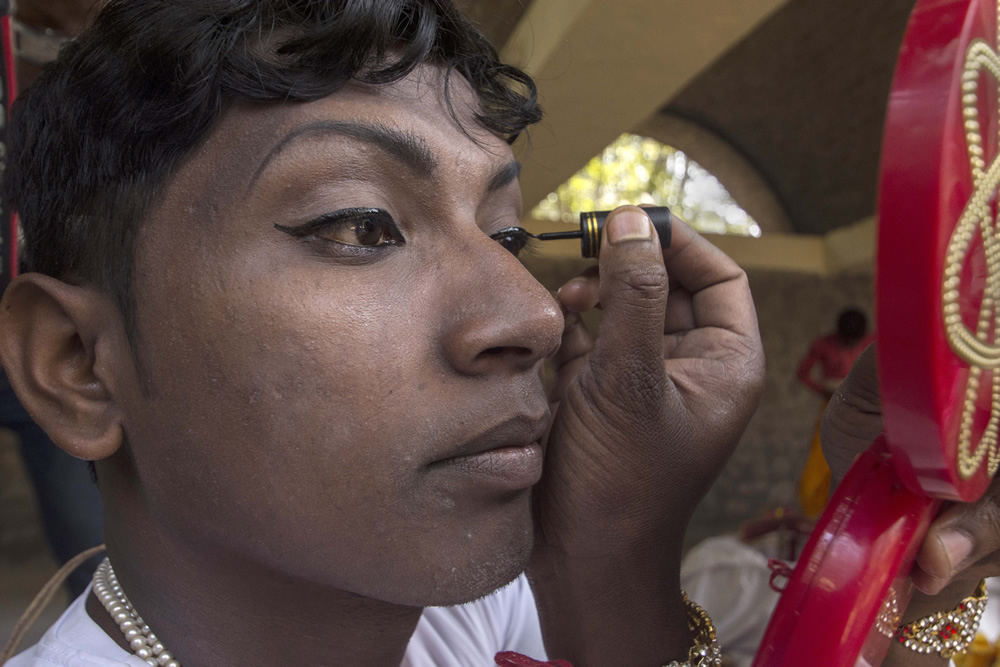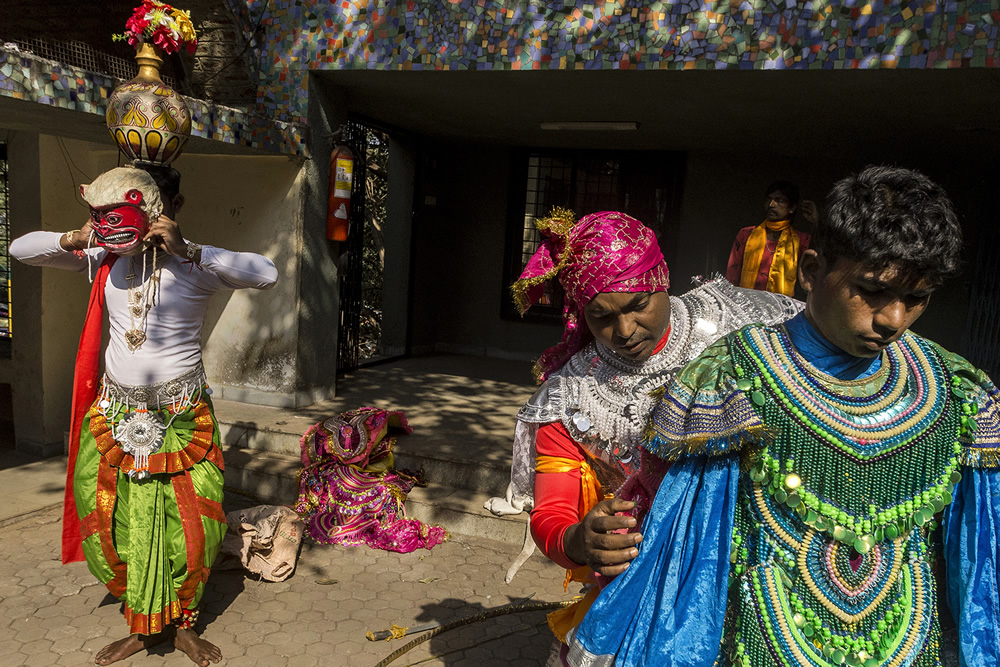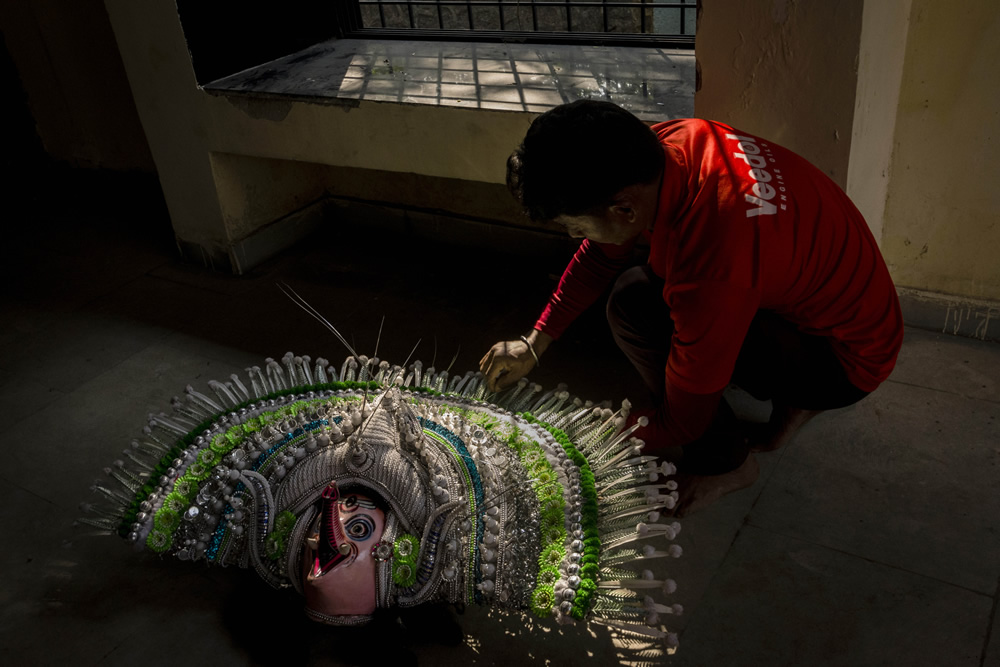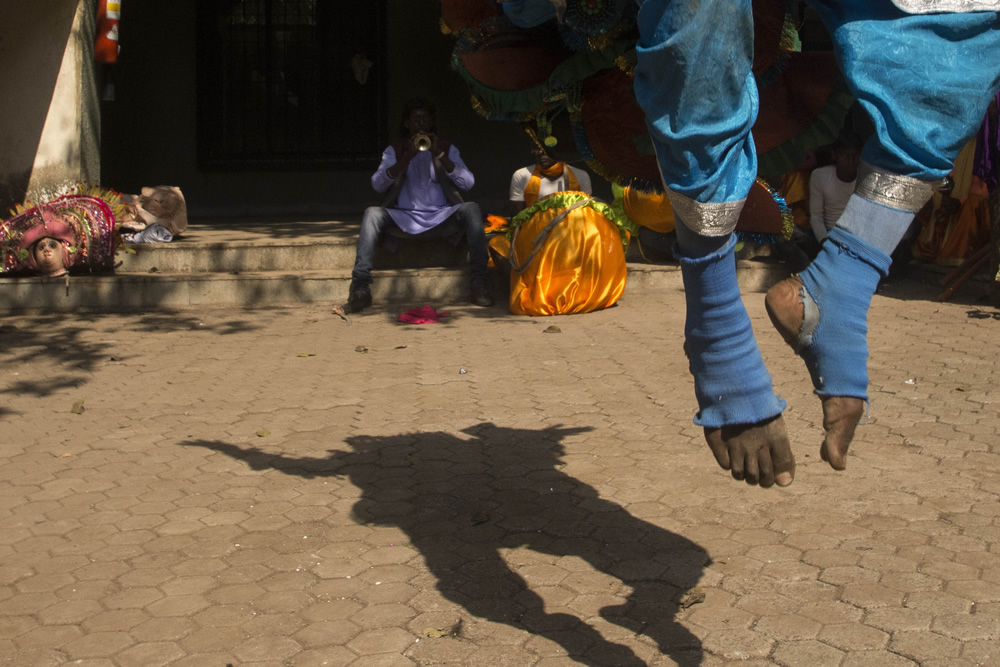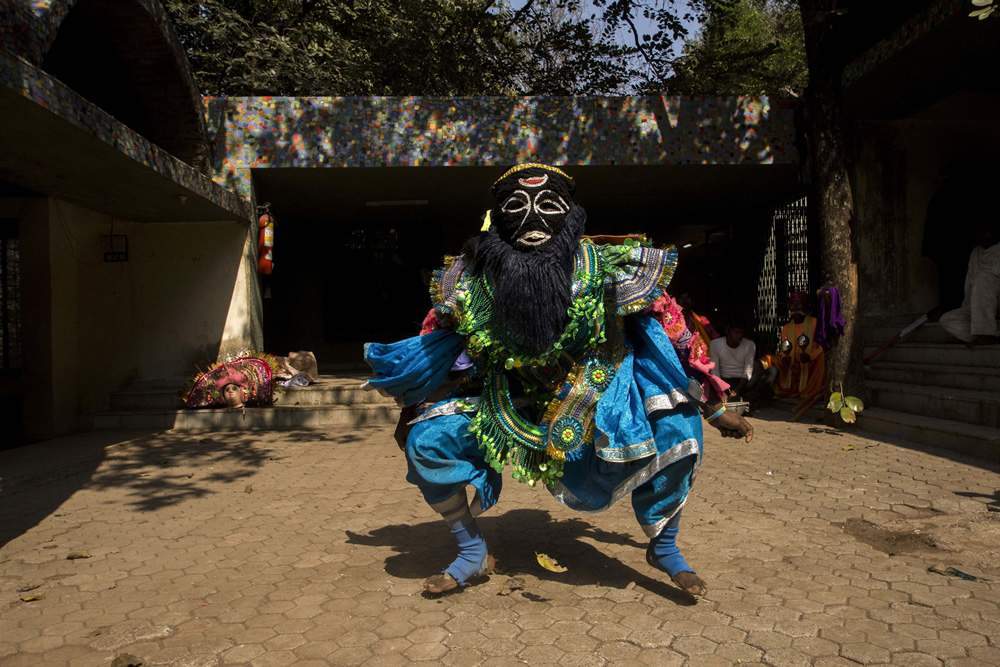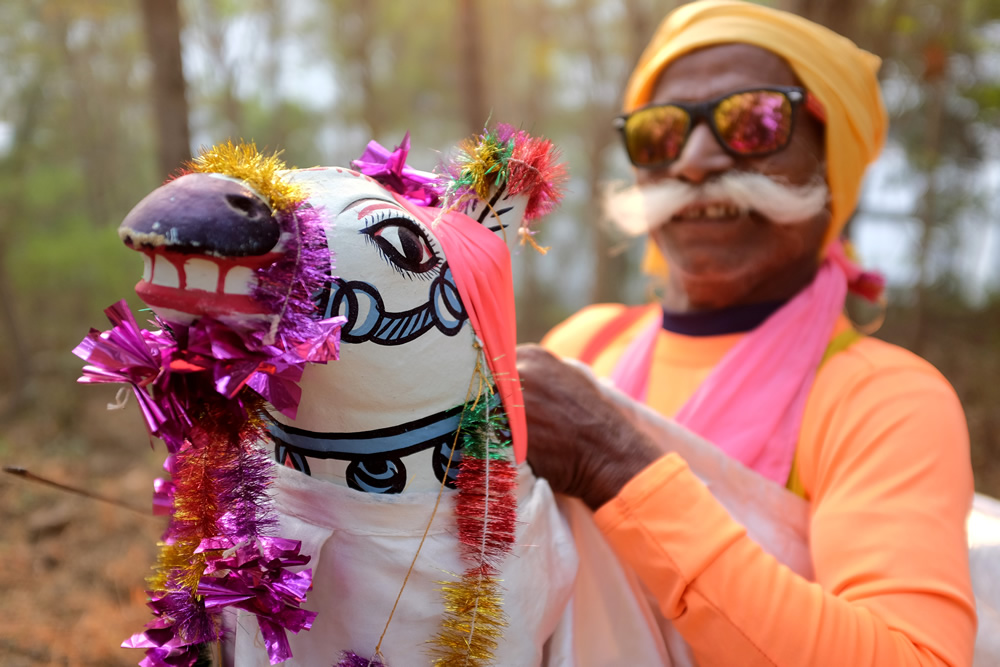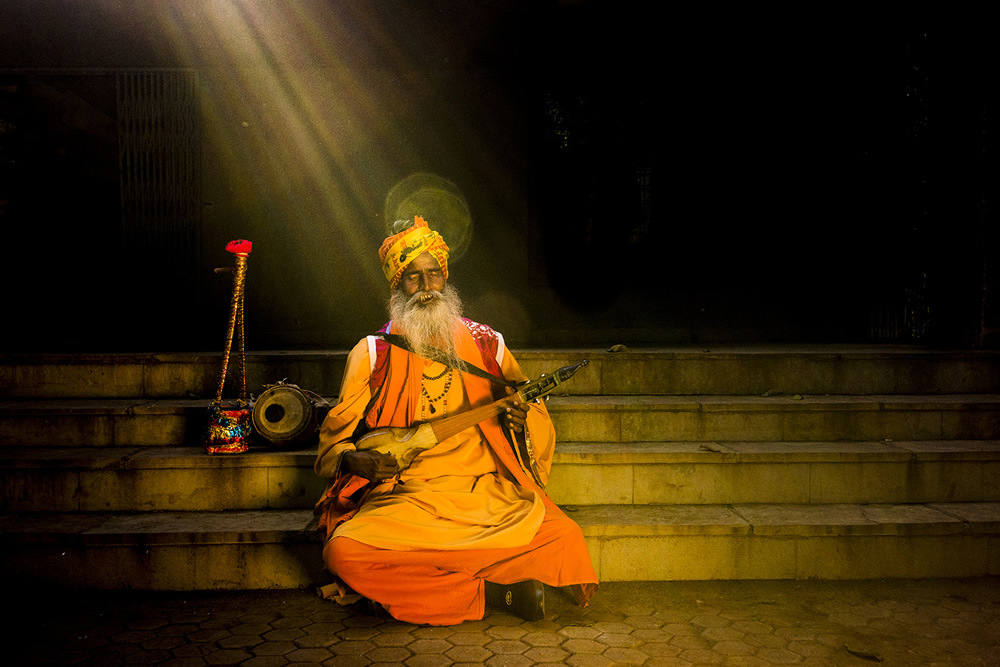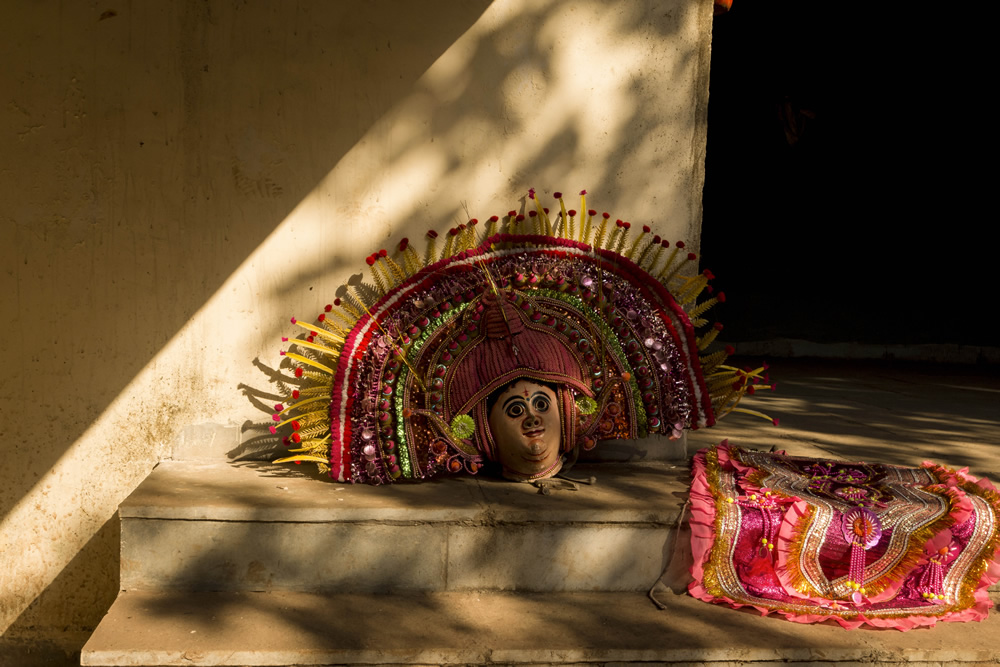 About Santosh Padme
Santosh Padme is a part-time Street/Documentary photographer from Mumbai, India. He is a Procurement Manager by profession in L & T Mumbai, India. Santosh started his photography journey in the year 2011 and got interested to capture the unusual moments of daily life, peoples, culture, and festivals. He does not have any formal education in photography but has attended workshops conducted by master photographers and photo walks in this art to fine-tune his skills and knowledge. He has spent more time outside on the field shooting people. The very nature of this genre, uncertainty, freedom of creativity suits to my personality. Street photography gives me the freedom to break away from mental barriers.
Exhibition and Features:
Chronicles of Nawas'photo series published on 121clicks.com in 2019.
Kolkata International Film Festival Digital Display in 2019
Baby Stem Creation 2nd prize all over India competition in 2018
Documentary Photo series "With Pride. For Pride" published on huffingtonpost.com online Newspaper in 2017.
Jahangir Art Gallery Exhibition in 2019& winner of 2nd prize in 'Peace in the City' competition.
Part of the Book 'Moments' Published by Photowalk Dubai in 2016.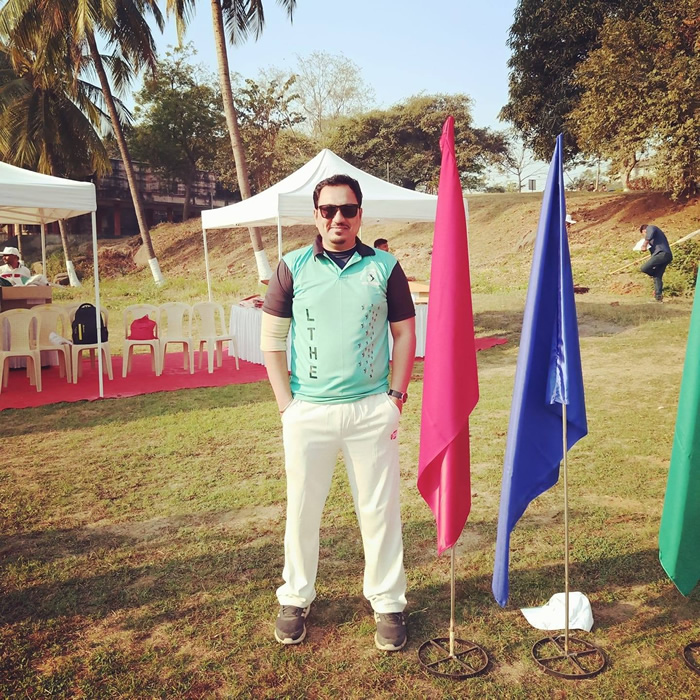 You can find Santosh Padme on the Web :
Copyrights:
All the pictures in this post are copyrighted to Santosh Padme. Their reproduction, even in part, is forbidden without the explicit approval of the rightful owners.