In earlier days, clothes were made through a manual process in India. The yarn was made from raw cotton through a handmade machine called Charka which was made of bamboo and wood. After the yarn is made, those were bundled and sent to the weaver for weaving of cloths in the hand-driven machine. This very process of cloth making not only took a huge time and manpower but also the quality of cloths were not good. It was coarse and thus not very comfortable to wear. However, it was less costly and available in the rural side too.
In course of the advancement of science, cloth making process became fully automatic with sophisticated plant and machineries. Weaver class also would produce cotton cloths through the manual process as it was exclusive and unique. Still modern times, there is a large number of people in the different states of India, who earned their daily bread through cloth making in semi-automatic process and produce different types of cloths with beautiful colors and designs.
In West Bengal (a state of India), many people in few districts are completely earned their livelihood from the Handloom industry. Handloom industries basically fall under small-scale industries where people are engaged in various stages of cloth making. The products from handloom are called Tant. The entire process of yarn processing, its coloring, dyeing, drying, designing, weaving, and marketing is done by separate groups of people in a locality. There are so many such localities in a town or village where people are engaged in this industry traditionally for a very long time and inherited its skill from their forefathers.
In cloth making through a manual process, yarns are made in different colors. Then subsequently comes stages of dying, drying, bobbin winding, and warping. Dyeing is a process of coloring raw yarns. It is a crucial preliminary step of handloom weaving. This process is done by hand in small lots or hanks using natural or chemical colorants followed by dyeing, bleaching, and drying up in sunlight as a manual process.
In this photo series, workers are engaged in dyeing, bleaching, coloring, and drying yarns. Thereafter, bobbin winding and warping for weaving in handloom machines. In the final stage, designing is a vital part of cloth making. Weavers use a traditional design or any other design as chosen by their customers. They fit those designs in the handloom machine and weave. One Saree ( cloth of Indian women) requires approximately 8 hours of weaving in a handloom machine. After a Saree is made, the same is again processed and put under direct sunlight for the final product. The photo series is made at Shantipur, which is a rural town of the State West Bengal, India.
#1 Yarn bundle for colouring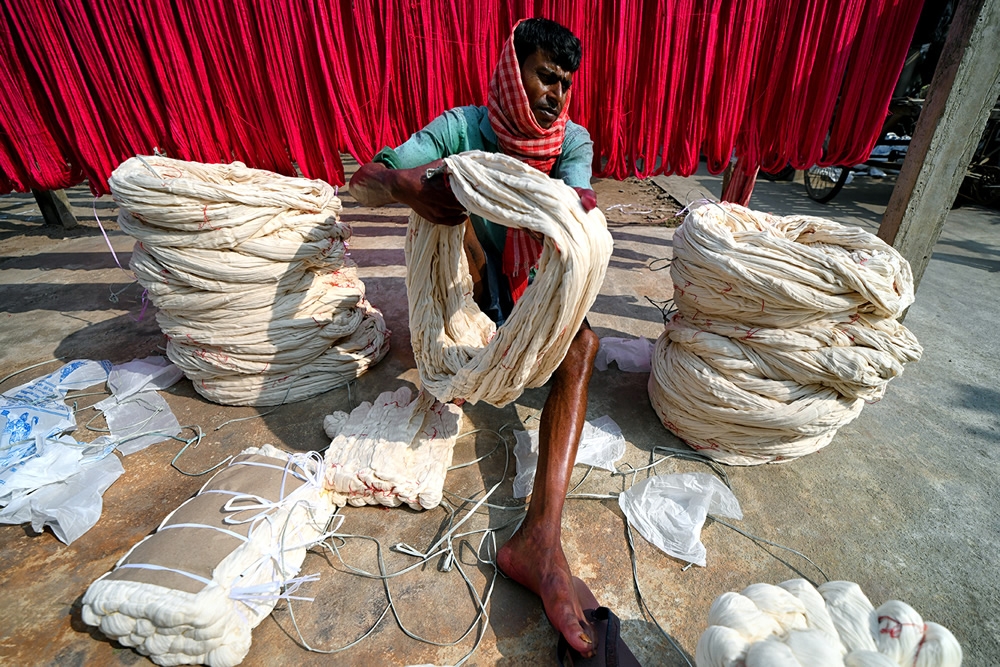 #2 Yarn dying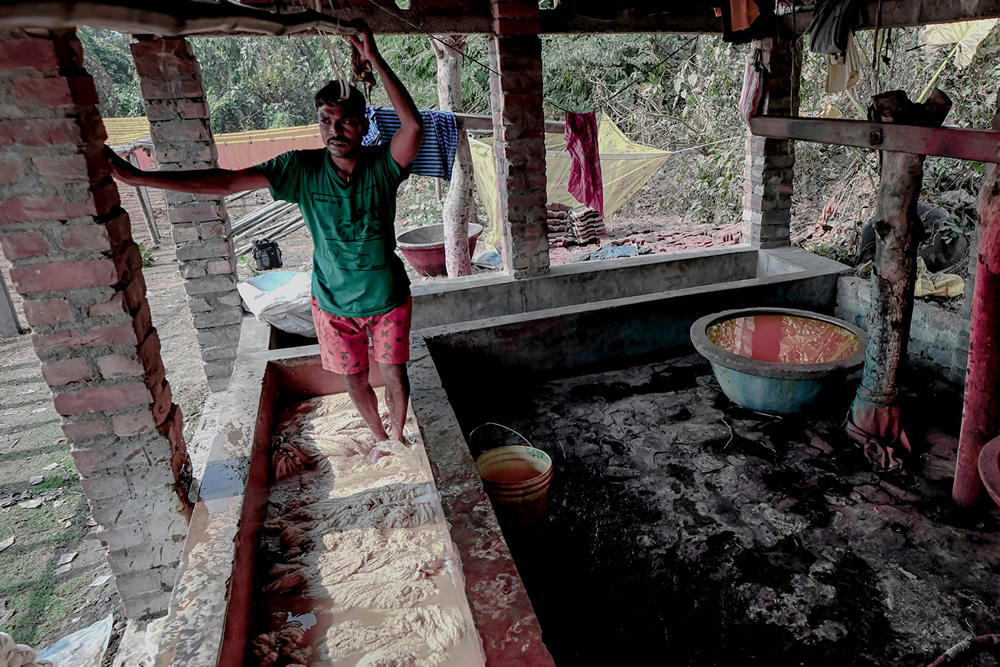 #3 Yarn bleaching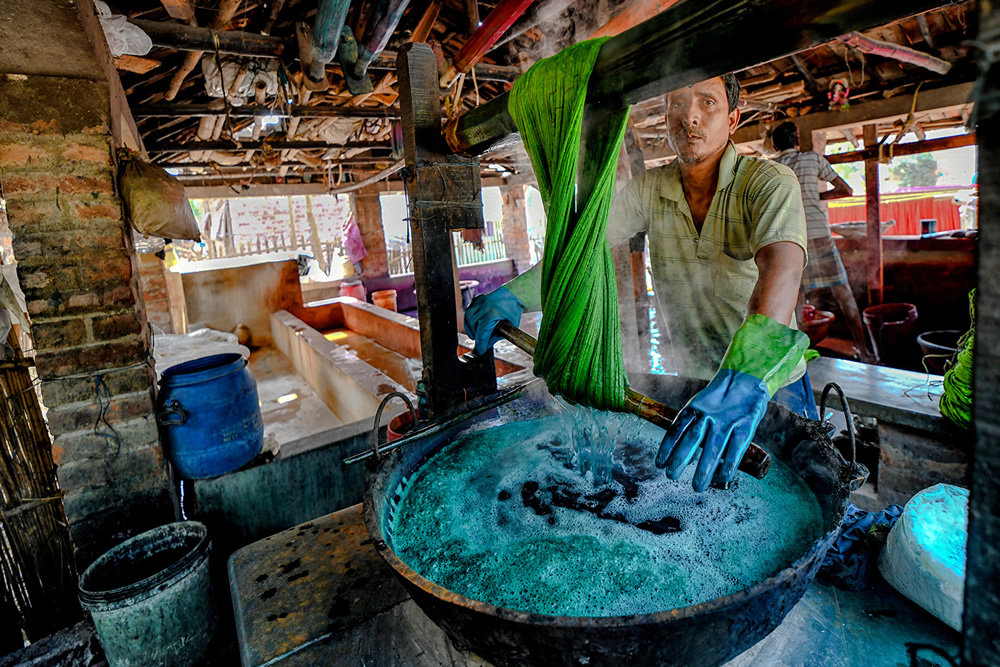 #4 Yarn drying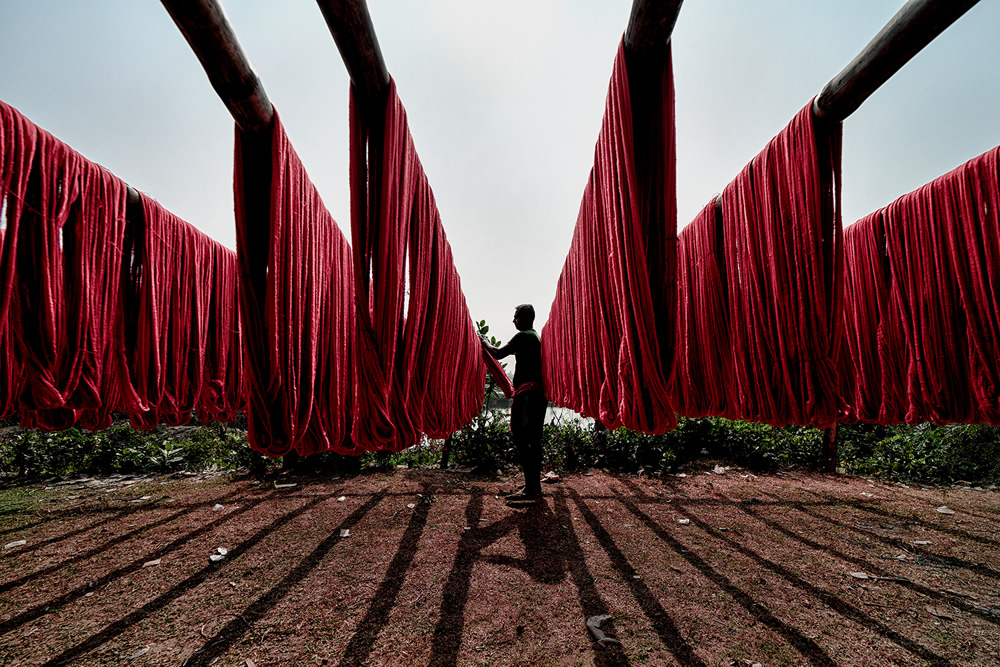 #5 Yarn drying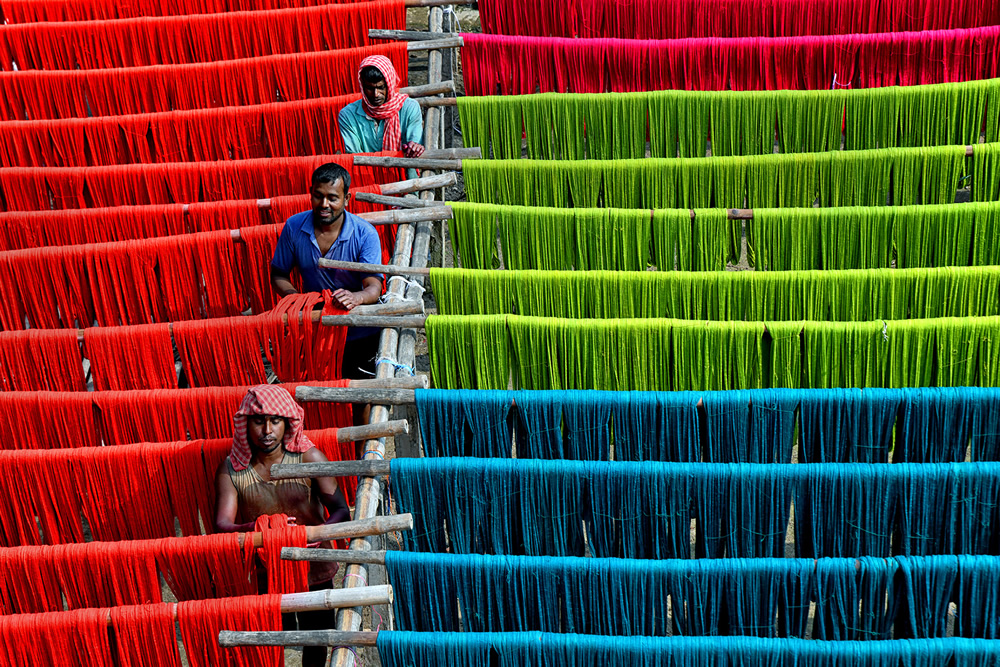 #6 Bundle after drying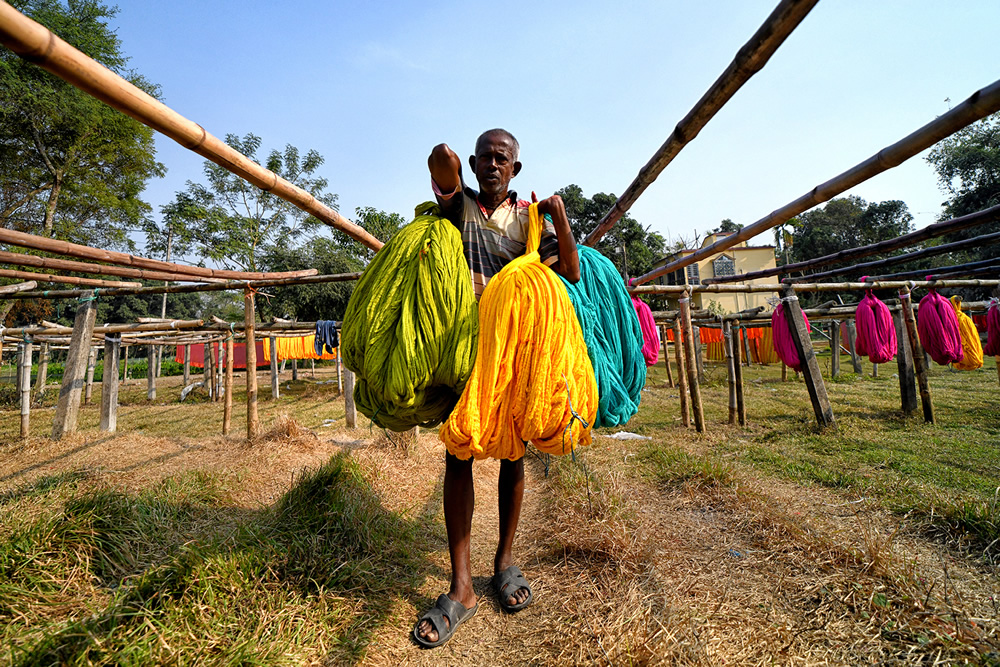 #7 Woman running Charka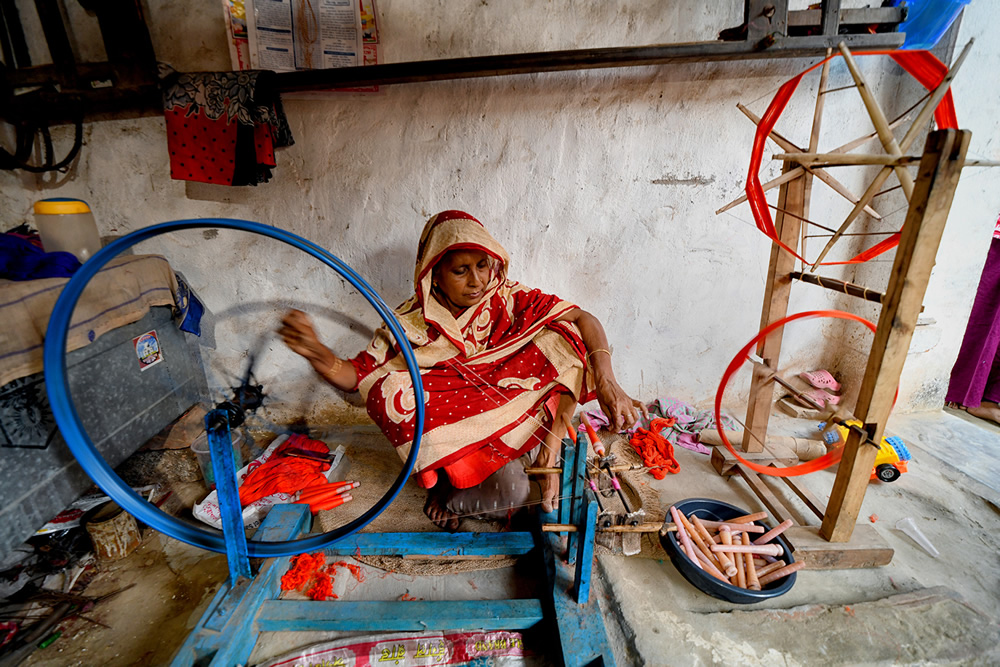 #8 Bobbin winding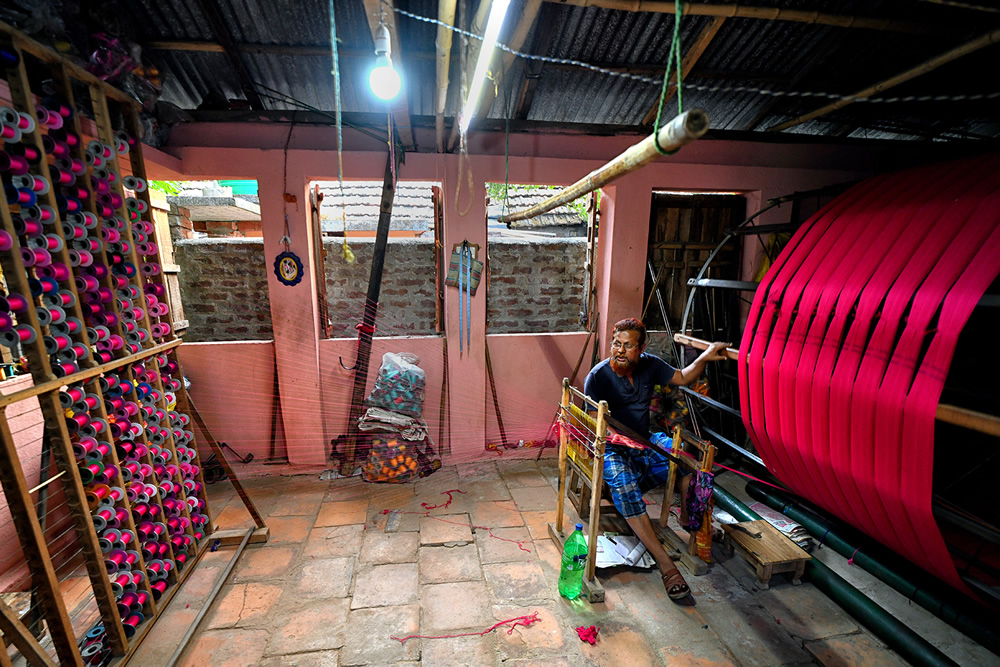 #9 Design making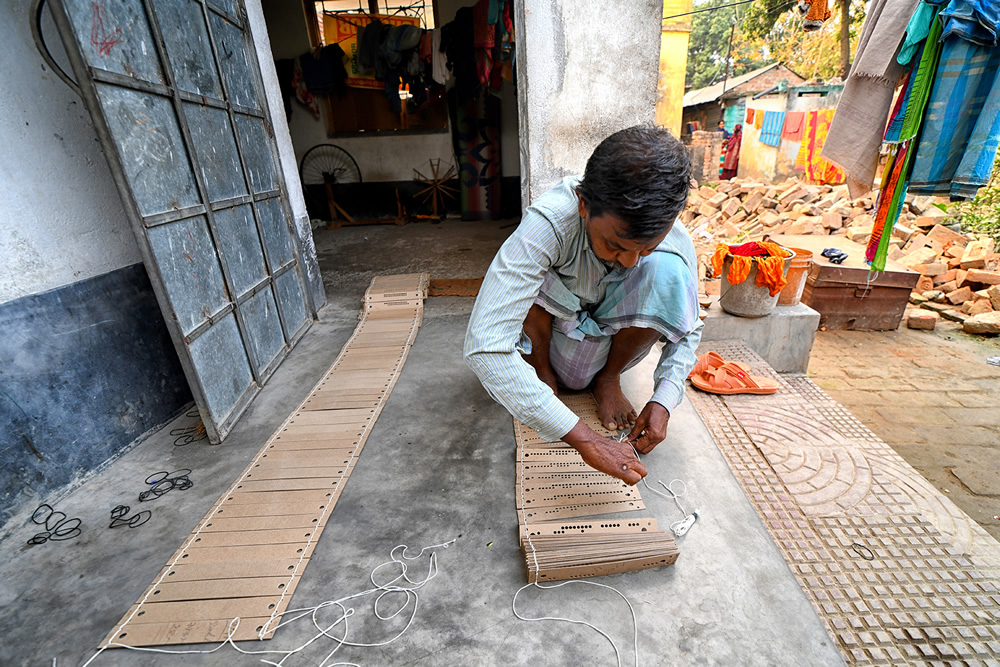 #10 Weaving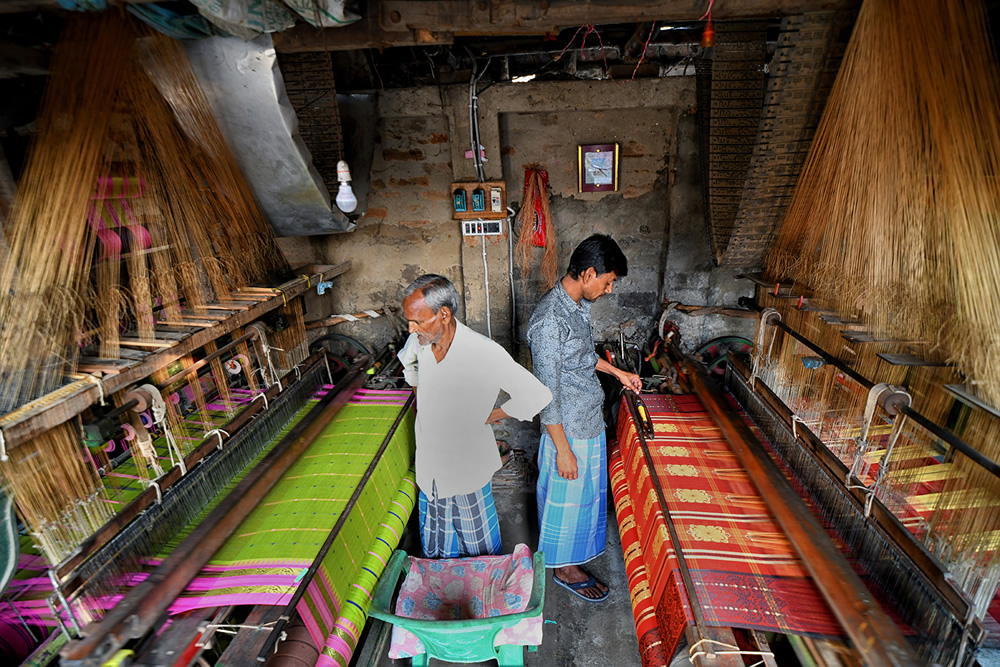 #11 Saree drying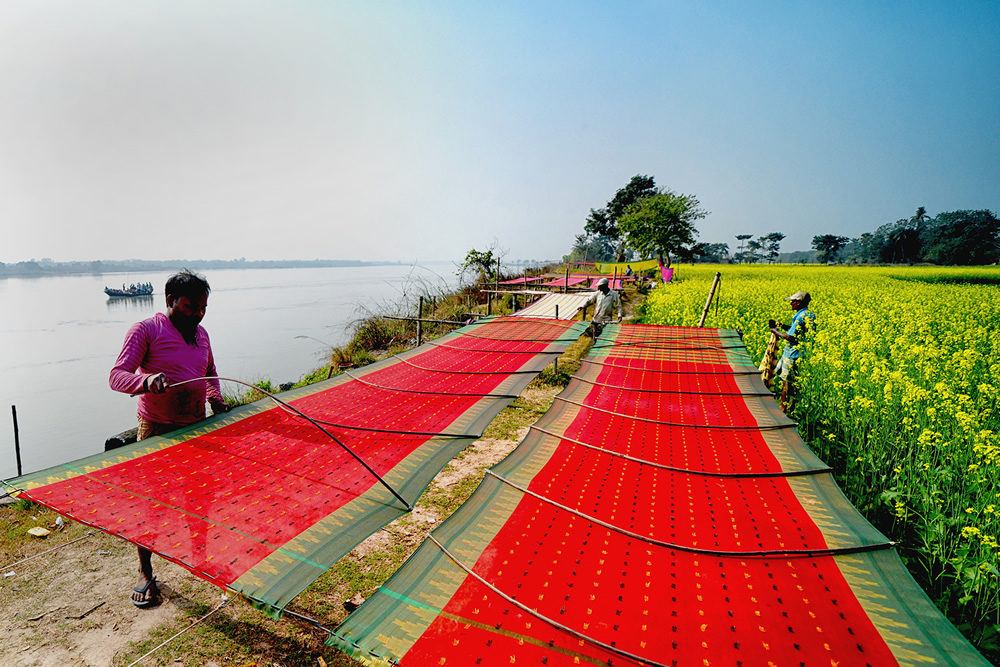 #12 Saree stretching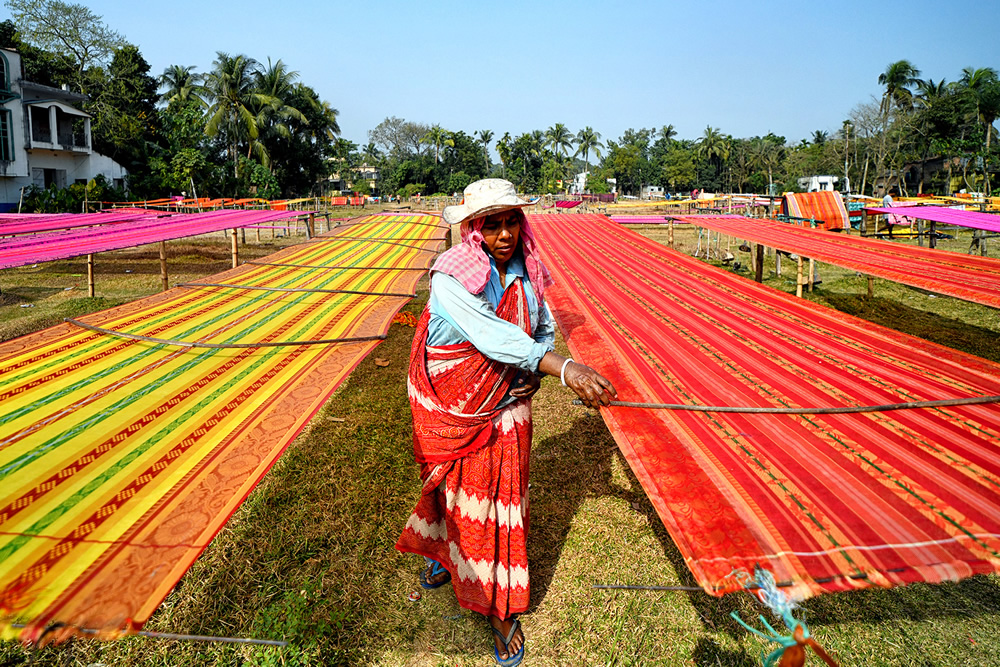 #13 Saree wrapping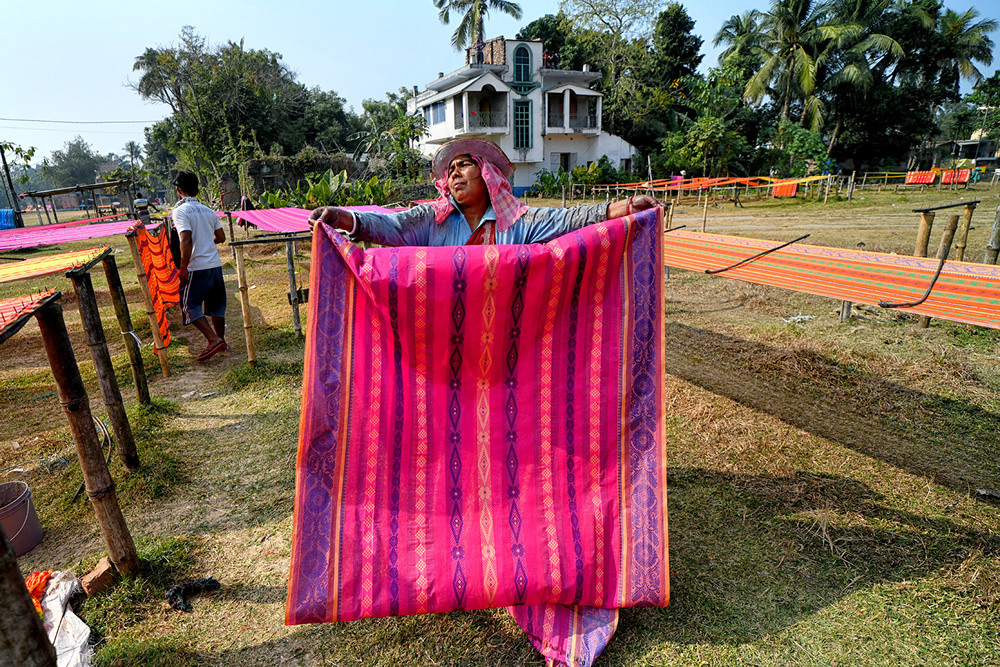 #14 Towards packing
About Shaibal Nandi
An amateur photographer of age about 53 years practicing photography seriously for the last 3 years. By profession, he is in government service and has taken up photography as a passion. He is basically interested in street photography with human interest, different rituals, cultures, traditions of people across the country. Some of his works have been published in a few international photography sites and magazines.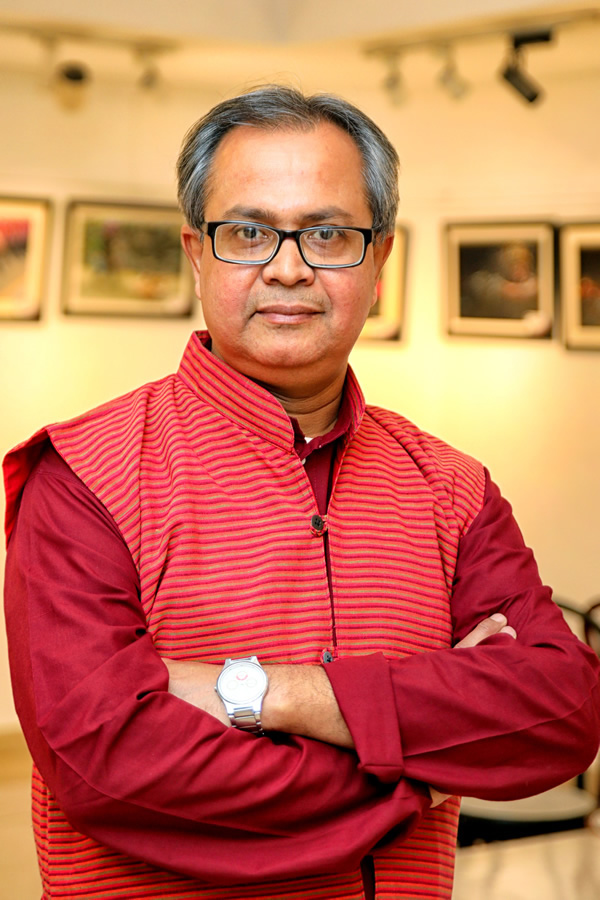 You can find Shaibal Nandi on the Web :
Copyrights:
All the pictures in this post are copyrighted to Shaibal Nandi. Their reproduction, even in part, is forbidden without the explicit approval of the rightful owners.