Documentary Project By: Snehal Kanodia
"In the twenty years of my existence, there is one thing I've become sure of. Every individual has a story to tell, a life worth knowing about, and a lesson to teach. We often join spiritual societies and read self help books to motivate ourselves, but little do we realize is that all we need to do is step out and soak in what we see.
'A Photo A Day' is a photo essay consisting of 32 pictures, the idea behind each being, to click people from different walks of life, and in the process, learn. This project was conceptualized only after the first picture was taken. I had only walked about a 100 mtrs after clicking Mr. Dulal Bera (on Day 1), on my way back home, when the idea struck me. I ran back, took down his details and uploaded the picture in the evening. What started as a selfish aim to hone my skills, developed into a habit of living a new adventure every day.
Though the project has come to a halt, the essay behind it continues. I am now giving back the pictures, and a team of us students have started to teach at Cartouche School (from day 2)."
Click on the image for Enlarged View.
A Photo A Day # 1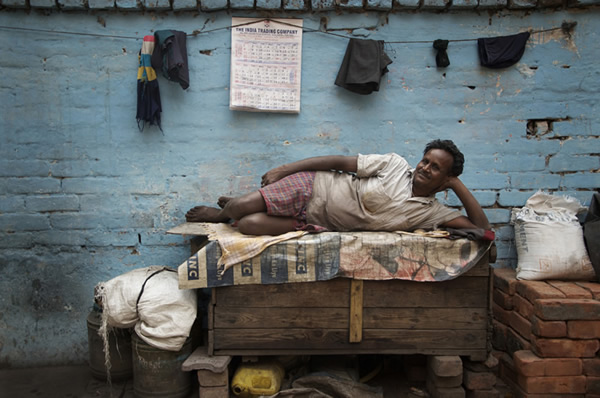 Name: Dulal Bera
Occupation : Washes cars
Age: 60 yrs.
LESSON LEARNT : You are never too old to pose for a photograph.
A Photo A Day # 2
Name: Mr. M.S.Hosain
Occupation: Principal at Cartouche school
Students: Ariyan, Ambia and Sania (left to right)
LESSON LEARNT: Look and you will find. Ask, and you will receive.
A Photo A Day # 3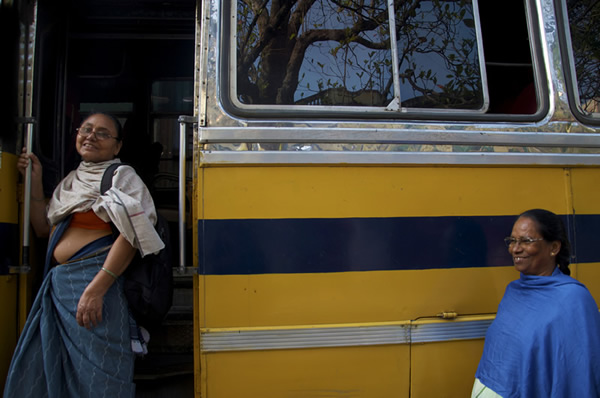 Name: Treesa J Simon and Anna Joseph (left to right)
Age: 68 and 55 respectively
Occupation: Personal maids to sister Jute and Stella of Loreto House.
LESSON LEARNT: King is king, only till his subjects cooperate.
A Photo A Day # 4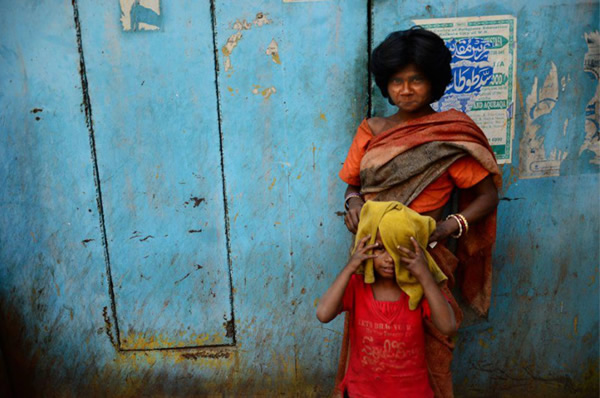 Name: Geeta (mother) and Pooja (child)
Age: Geeta does not know, and estimates pooaj's age to be about 3 yrs.
Occupation: "keechu na" as i was told
LESSON LEARNT: An untold story is better than an incomplete one.
A Photo A Day # 5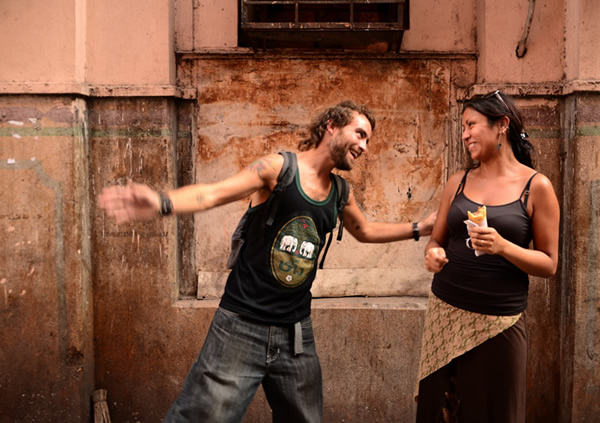 Name: Frank an Anna (left to right)
Age: 27 and 30 respectively
Place of origin: Spain and Argentina
Purpose of visit: Tourism (travelled more of india than I have these last 2 months)
LESSON LEARNT : Smile, and everything else will fall in place.
A Photo A Day # 6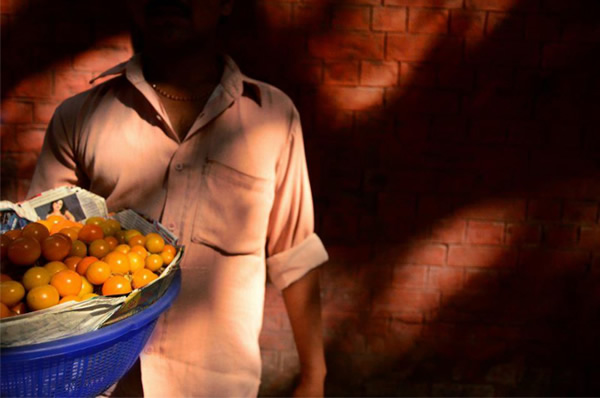 Name: Birendra kumar
Age: 28
Occupation: Sells gooseberry's at the signal outside my house.
LESSON LEARNT: Its always right there. we just dont search well enough.
A Photo A Day # 7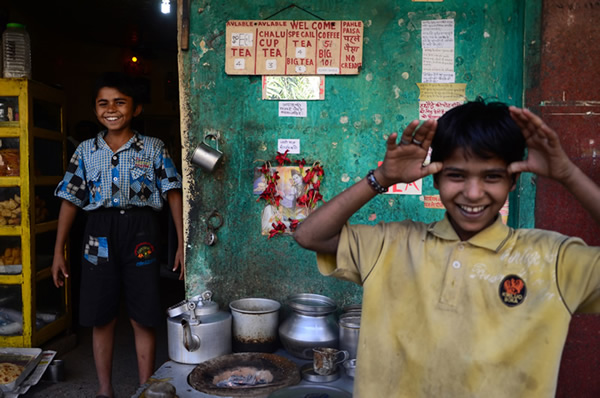 Name: Abdesh and Shyam( left to right)
Age: both 14
ps: according to govt.of india, Minimum Age for Admission to Employment is 14 (get the hint?)
Occupation: Work at the tea stall in park street
LESSON LEARNT: A lot can happen behind that cup of tea too!
A Photo A Day # 8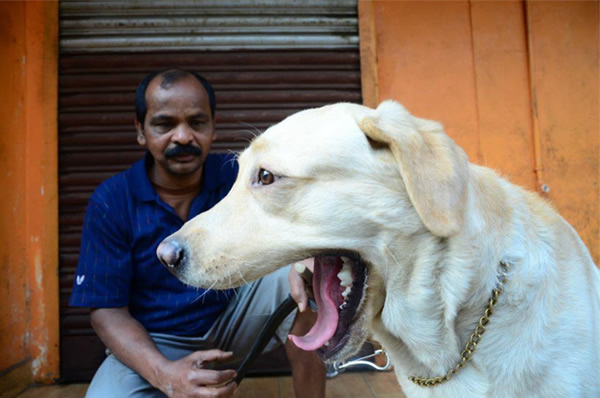 Name: Arun Kumar Nayak with Casper( 2.5 yrs)
Age: 43
Occupation: Casper's caretaker and home help.
LESSON LEARNT: Every dog is allowed one bite.
A Photo A Day # 9
Name: Lakshmi with pet talking parrot Meethu
Age: 86
Occupation: Runs a small kirana shop
LESSON LEARNT : Satisfaction is the key.
A Photo A Day # 10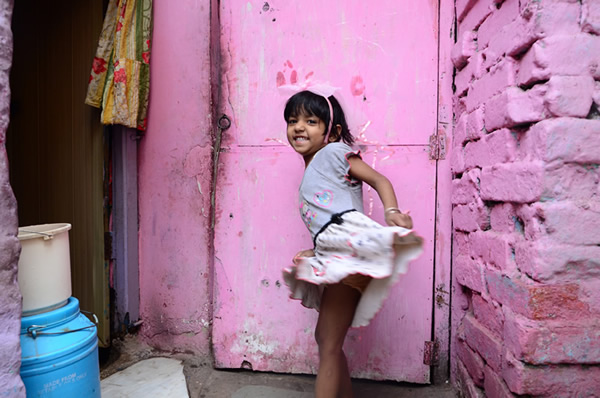 Name: Simran(didi) – She makes sure she adds the 'didi' while introducing herself
Age: 4
Occupation: Being a kid.
LESSON LEARNT: Respect yourself and the world will follow.
A Photo A Day # 11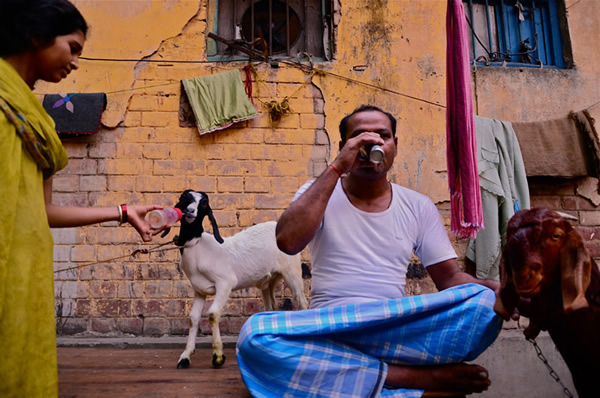 Name: Simmi , Ahmed hussain with his two goats Meme and Gungun (left to right)
Age: 25 and 51 respectively
Occupation: Own a small printing business.
Description: one reason why i love Kolkata- you always find the unexpected.Who would think that the building in ruins, bang opposite St. Xaviers college is actually 200 years old building owned by Nawab Sajid Ali and what more, where the huge bungalow remains mostly vacant, there is a a miny colony behind it. with rooms( earlier servant quarters) given on rent. Ahmed hussian is one such tenant who lives happily with his family( which includes 2 goats) right in the hub of the city.
LESSON LEARNT: Drink in style
A Photo A Day # 12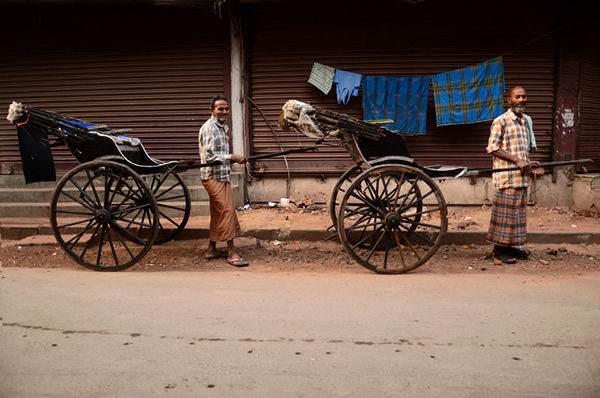 Name: Mohammad Seraj and Mohammad Rafiqu (brothers-from left to right)
Age: 48 , 49 years respectively
Occupation: Pull hand rikshaws (for the past 30 yrs)
LESSON LEARNT: Family first
A Photo A Day # 13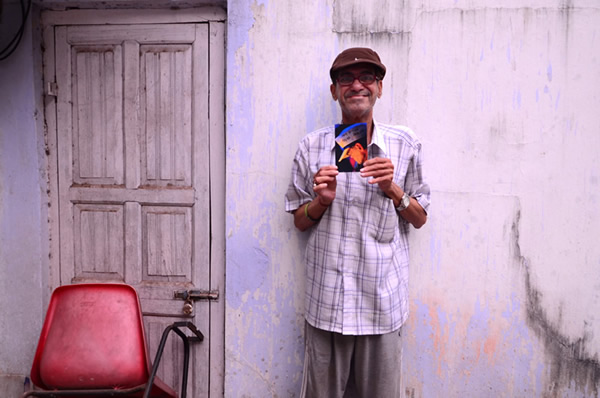 Name: Deepak Chopra
Age: 78
Occupation: Retired
Description: After months of losing numbers, msg reminders (yes he texts), forgetting to print the picture and not finding him, I FINALLY managed to meet him today . It made my day, and i think it made his.
LESSON LEARNT: The best picture is the one which finds you a friend.
A Photo A Day # 14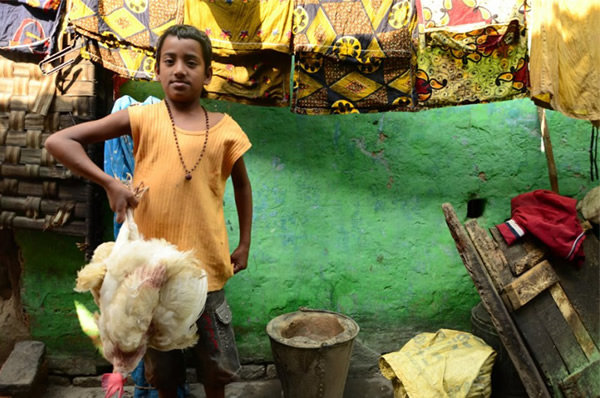 Name: Rohan Malik
Age: 11
Occupation: Studies at the nearby NGO and helps at home.
LESSON LEARNT: One needs more courage to live than to kill.
A Photo A Day # 15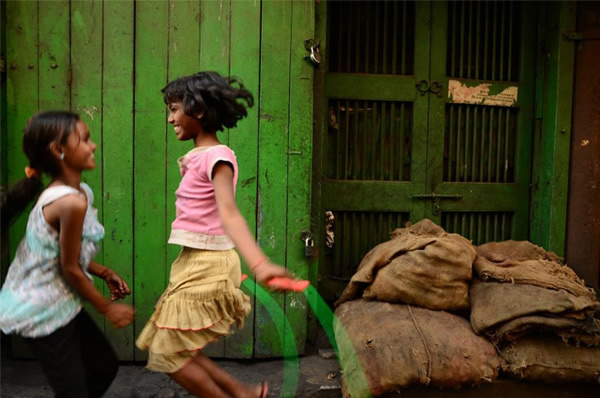 Name: Kusum and Preeti (Left to Right)
Age: 10 yrs( both)
Occupation: Students( to my delight)
LESSON LEARNT: The opposite of play is not work. It's depression.
A Photo A Day # 16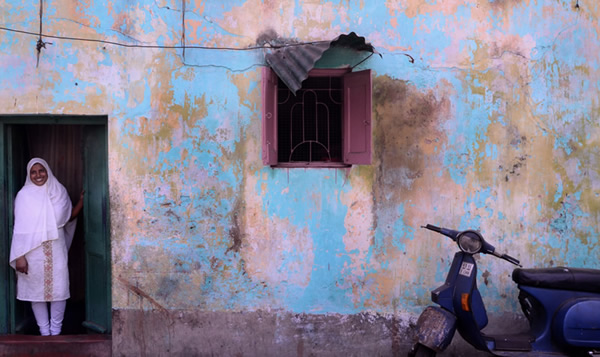 Name: Ishrat Begum
Age: 38
Occupation: A government employee in charge of the maintanance at Mohar kunj and runs a small candy shop at home.
Description: Reason why she is my new role model: At 31 she lost her husband and at 38, she is running her own candy shop, looking after 2 kids (Gausia and Bashar) both studying in ICSE schools. As Gausi asks me in perfect english if i would like to have some water and fishes out candy's ( 2 rupee limca in plastic sachets, cream cups, etc) i have never seen before, Ishrat invites me to stay for the Fariya( prayer). it is then amidst the agarbatti-smoke filled ,small room that i realized i was living another unforgettable memory.
LESSON LEARNT: Richness is measured, not by what u have, but by what you do.
A Photo A Day # 17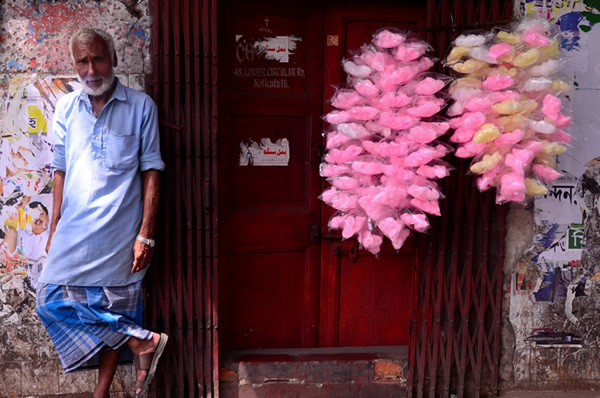 Name: Shamshool miya
Age: Above 55
Occupation: Cotton candy seller
Story behind the picture: I love clicking kids, and thus i decided to go to a nearby school, however i was early and classes had not yet ended.As i waited outside, i happened to chat with Shamshool miya, who has been selling cotton candy's for the past 10 years, makes about rs 100 a day, but is still far more carefree then we are. As i clicked his picture there, i heard the school bell ring, but i didn't hurry. i knew my picture for the day had been taken.
LESSON LEARNT: The simpler the happier.
A Photo A Day # 18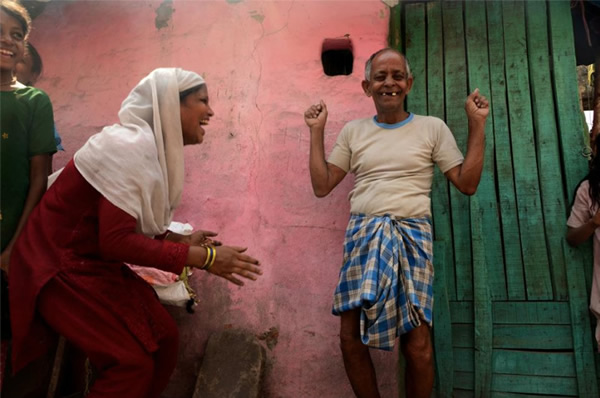 Name: Shahnaz, Mohammad jaanu (left to right)
Age: 22 and 60
Occupation: House wife and Bandar patti's famous Cha shop owner.
Why him: Heres presenting- bandarpattis, ' LOCAL SHAHRUKH KHAN'. at 60, his moves are as killer as it can get. As he flexes his muscles, shows me his latka-jhatkas,the crowd applauses him and i know he is enjoying his few minutes of fame.
LESSON LEARNT: Be original.
A Photo A Day # 19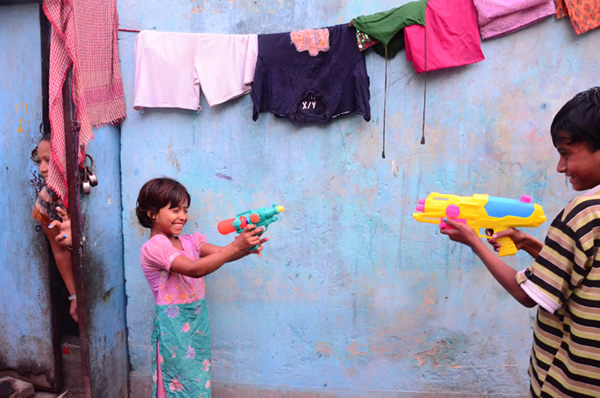 Name: Ekta and Rohan( left to right)
Why is this picture special: its the first thing i saw early in the morning. I promised Sonam (not in this picture) the last time i went to their paada, to visit her on holi. with everyone advising me i wouldn't be safe, i visited in the morning at 6. woke her up, gave her a tight hug and ran back home. i can now play holi with satisfaction, both of keeping my promise and getting a picture . my camera today can take a break.
LESSON LEARNT: No joy like guilt free joy.
A Photo A Day # 20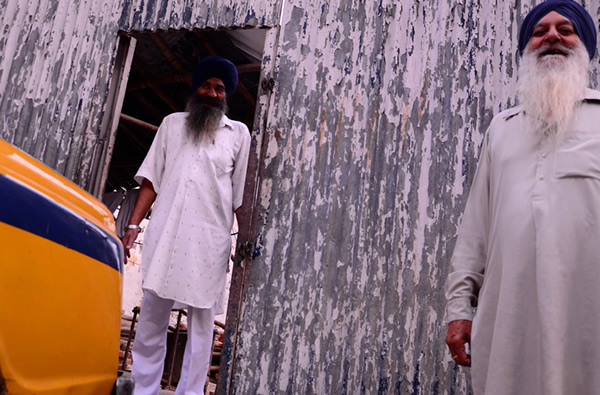 Name: Dharam singh, Jasbeer singh (left to right)
Age: 55 and 65 respectively
Occupation: Active members of the Santkutiya Gurudwara trust.
LESSON LEARNT : If You Can't Feed a 100 People, then Feed Just One – Mother Teresa
A Photo A Day # 21
Name: Rymon (left)
Occupation: Mechanic in Spain
Description: Having spoken to many tourists in Kolkata recently, I discovered one thing in common. They have no fixed plan. i asked Rymon how long he has been in Kolkata. a week he replied. and what is he doing next? " north India" . Where? and he shrugged" no idea"
I smiled and left. I knew exactly what how it felt.
LESSON LEARNT: It is better to travel than to arrive
A Photo A Day # 22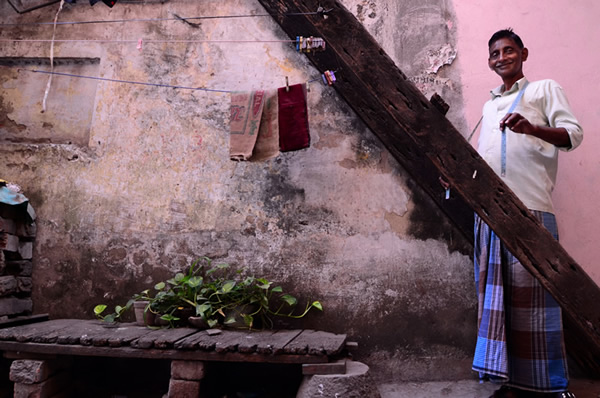 Name: Phatruddin ansari
Age: 54
Occupation: Tailoring for the past 35 years.
Description: Here is a man, who doesnt talk much, and hence when i asked him if i could take a picture he smiled and said no. i waited , clicked the wall and things nearby until he started to ask me questions. i waited till he said ok , and when i was done he made sure all his neighbours knew about "his photo shoot".
LESSON LEARNT: Speak less, say more.
A Photo A Day # 23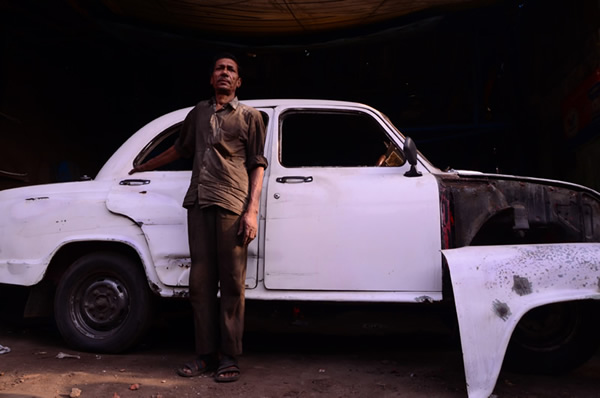 Name: Mahadev Samai
Age: 68
Occupation: Car mechanic
LESSON LEARNT: The time to repair the roof is when the sun is shining -John F Kennedy
A Photo A Day # 24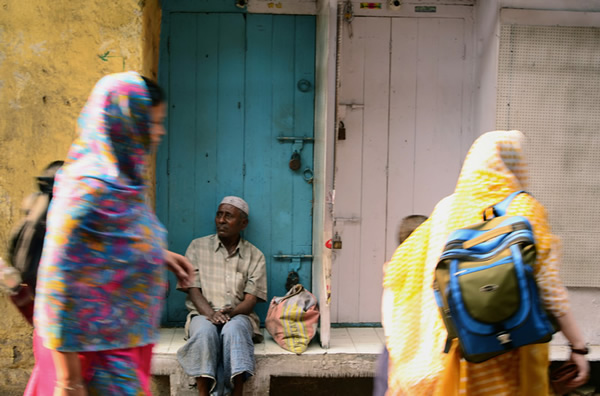 Name: Noor Mohammad(centre)
Age: 74
Occupation: Begs for a living for the past 1.5 years
Qualifications: Can read and write four languages (Hindi, English, Urdu, Bengali), Travelled most of india, Has a strong political view, Seen the partition and knows the indian history like the back of his hand, Worked in a plastic recycling business most of his life.
Description: One of the most interesting people i have met in recent times. He has the ability to make me both, laugh and cry just in a just matter of a few minutes. Disowned by his kids and unable to find a job, he has a humorous take on everything. when i ask him how being this educated he cant find a job he tells me how 'Bcom graduates' too are struggling for one. When asked about his kids he smiles and says "din ke suraj mein toh parchhayi bhi saath chhod deti hai to aulad kya cheez hain". After I listen to his childhood stories and life during the times of the British, in whose kitchen his father worked, i wonder what my future would be like, not in terms of my career but of my ability to laugh my way through trouble. ps: yes. i called my mother on the way back home.
LESSON LEARNT: The key to wisdom is knowing all the right questions.
A Photo A Day # 25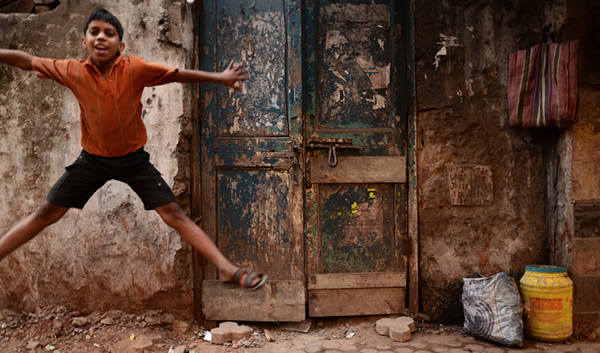 Name: Om Prakash Shah
Age: 12
Occupation: Part time student, full time chef (at his fathers road side restaurant)
LESSON LEARNT: Enthusiasm is contagious, and so is the lack of it.
A Photo A Day # 26
Name: Karthik pall
Age: 42
Occupation: Craftsmen at kumortuli (idol-maker)
Description: Karthik on getting to know that iam studying at St xaviers asks "the same college that Saurav Ganguly studied from?" I nod my head. "khoob bhalo" and turns to look at his wife. lots of time the wife says pointing to their three year old kid.with this the conversation begins. With old hindi songs playing in the background i listen to stories about the pall family. been in this occupation for more than a century, pottery is skill which is passed on from one generation to another, however diminishing business has caused several houses to shift to other forms of trade. Those who remain find it difficult to support their families with seasonal and insufficient earnings. The pall family is one of them,but they do not know how long they will be able to continue this tradition. I then understand why karthik dreams of a good college for his child.
LESSON LEARNT: Courage is another name for creativity
A Photo A Day # 27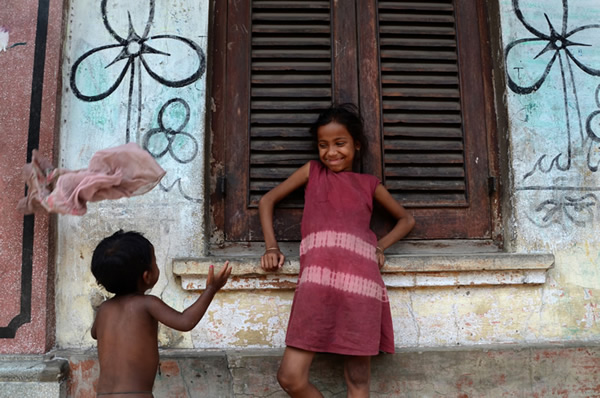 Name: Khushi and Laki (left to right)
Age: 2 and 9 respectively
Occupation: Laki works as a house maid.
LESSON LEARNT: Joy is not in things; it is in us
A Photo A Day # 28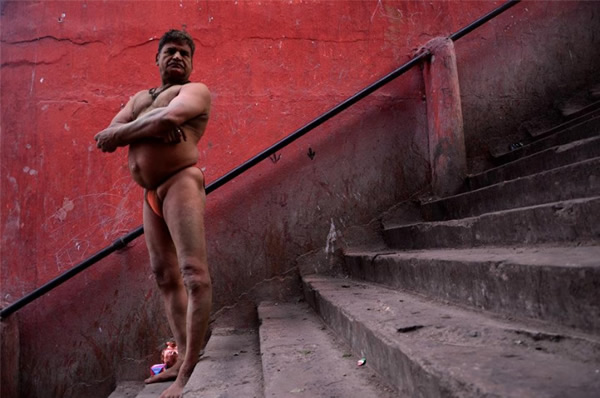 Name: Prahlad yadav
Occupation: Akhada wrestler
Age: 55 yrs
Description: I went there yesterday, they asked me to come the next day. I went today and was greeted with well practiced warmth. Mr jwala ( mr yadavs younger brother) told me how he has been featured in several movies and shows. " ek bangla picture ka shoot hai kal" he says. everyday photographers come to the akhada, some foreigners looking for them with a picture in hand! I could have mistaken his welcome speech to be arrogance but the rest of the conversation didnt allow me too. we chatted about kushti, how it started, world champions, governments ignorance towards the sport,etc. I realized that earning from an off-beat job isn't easy, and this is probably why i was hinted to pay money for the pictures i take.I hadn't gotten my picture and hoped i'd find a way to get it, but when i saw that they didnt allow another lady to take pictures after,i felt bad that i'd hurt them. i went to apologize when mr yadav came and asked me to not mind what mr Jwala said" he hasnt seen the best of times". It was then that i clicked this photo and learnt a lesson i had heard of, several times but never believed in.
LESSON LEARNT: Whatever you do, you cannot please everyone.
A Photo A Day # 29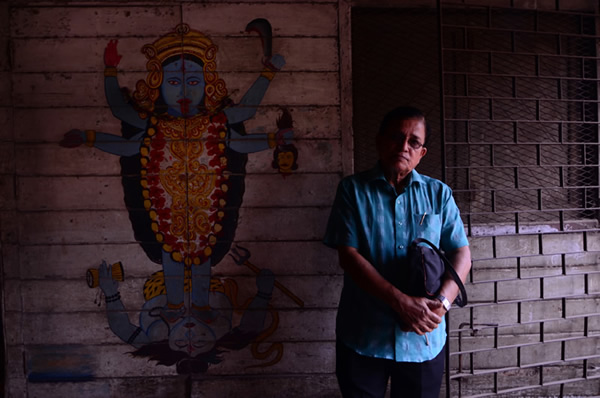 Name: R K Bose
Age: 68
Occupation: Retired engineer
Description: "What are you doing" was the question mr Bose asked me, as I was walking down the road with a camera in my hand. clicking pictures obviously, I thought to myself, what kind of a question is that? "Do you know anything about north Kolkata?" and this time though the question sounded more reasonable, I had no answer. Waiting for his wife who was at the doctors, Mr Bose took me through the entire history of the region, from it being the warehouse of all the arms of the british, to the traditional artisans, he explained it all.we even discovered that the the building we were standing in front of was earlier a store house for molasses now converted into a doctor's chamber.As I left, I asked him a question" where is the metro station" it was right in front of us,but I didn't find it silly to ask.
LESSON LEARNT: No question is silly, if you dont know the answer.
A Photo A Day # 30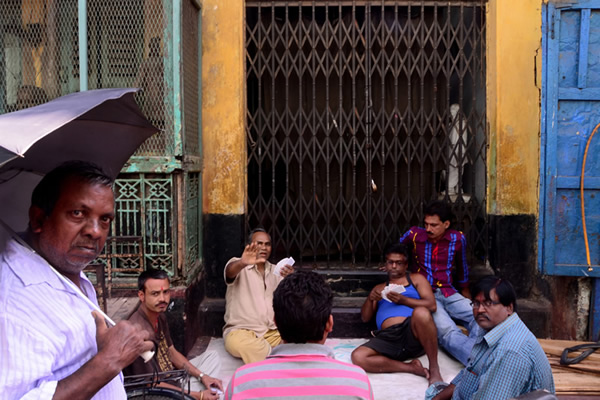 Name: Did not ask
LESSON LEARNT: One only hides when he is guilty.
A Photo A Day # 31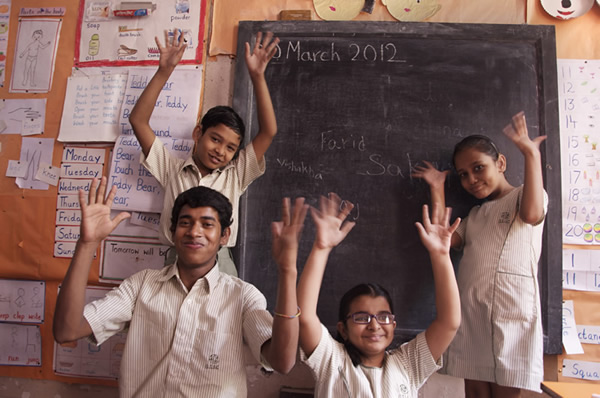 Name: Farid, Raj,Vishaka and Sakshi (left to right)
Ages: 8, 12,9 and 8 respectively
Occupation: students at "The oral school for deaf children"
Description: Who would think that in an old building, barely noticeable lies a school with bright orange walls covered with drawings and paintings by smiling faces, of kids who may not be as fortunate as we are but far more welcoming and less judgmental. THE ORAL SCHOOL FOR DEAF CHILDREN, a charity organisation started in 1964, lies right opposite St xaviers college but remains invisible to the eyes of most. This School came to my notice as i was walking back home from basketball practice one day, surprised that in my 1.5 yrs of college this was the first time i had noticed it i decided to take a visit. However i could not meet the principal and decided to come back some other day. I went there today and as i had thought, a visit is not all i got, i also brought a lesson along. The kids i met here were both equally enthusiastic about clicking as well as getting their pictures clicked. This was thus,one place where i had more pictures of mine taken,than taken by me. However,among all this, i was also made to realize the problems that schools like this face. Depressed children, insufficient funds, lack of knowledge of parents, etc to name a few.After challenges like this, would i be able to continue what i like most, i thought to myself, would i want to? what is the reason behind such dedication? As i was leaving the children started to wave, its a sign of appreciation the teacher told me. they like you. That made me happy, i had got my answer yet again.
LESSON LEARNT: There are a few things only money can buy, for everything else there is kindness, compassion and honesty.
A Photo A Day # 32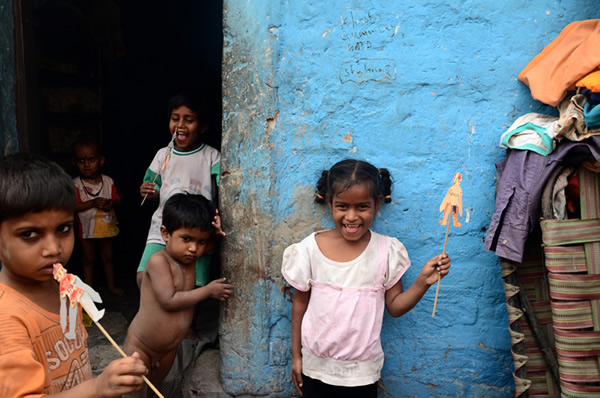 Name: Phausia (extreme right)
Age: 8
Occupation: Studies at cartouche
Location: Bandar patti
LESSON LEARNT: Every end is a new beginning
When i started this project, my aim was to take picture everyday, learn from it and thus make myself happy. however when i posted it online, i realized it made the audience happy as well. next, i decided to give back the pictures i take to the people i click and when i did this i understood what true happiness meant.
"We were just talking about you yesterday" Bandarpattis local Shahrukh said, "hamen laga aap photo nahin dogi" i smile and handed over the picture, but even before he could see it clearly, the kids snatched it. they ran from one house to another announcing "photo waali didi aayi hai" and within minutes most of bandarpatti had seen the picture.as it passed from one hand to another i saw the expressions change from curiosity to surprise and it ultimately left a smile on their face.
There are more smiles to spread, more pictures to give back and many promises to keep and above all a lot of 'lessons learnt' to be implemented,for which i need time.
A photo a day is thus taking a break and will be back as soon as every person featured in this album, has got the little share of happiness that these pictures have to offer.
Till then, I hope my lesson today will be proved right in the days to come.
About the Photographer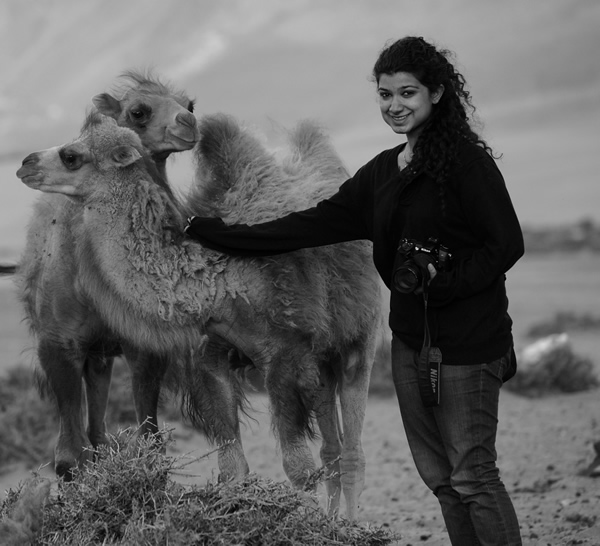 Name: Snehal Kanodia
Age: 20
Introduction: Iam from Bangalore, now study in Kolkata. Photography began as a hobby when I joined a workshop in late 2010, while doing my Bcom from st.Xaviers college but now it has become an indelible it part of my life and I wish to continue it seriously. I recently won a scholarship by 'travelling lens' to Ladakh where I got a chance to learn from photographers like Ami Vitale and Lana slezic. Since Kolkata is where I began as a photographer, most of my work draws inspiration from this city.
You can find Snehal Kanodia on the Web :
Copyrights:
All the pictures in this post are copyrighted to Snehal Kanodia. Their reproduction, even in part, is forbidden without the explicit approval of the rightful owners.