In Bengal, Gajan and Charak stand unique in the scenario of Bengal festivals and in today's modern age. Hindus celebrate the festival mainly on the last two days of the month of Chaitra, just before Bengali New Year. Basically this falls around mid-April. Although it is celebrated mostly in rural Bengal, the festival is still celebrated in some parts of Kolkata city.
The festival is actually linked to agricultural community, directly or indirectly. They pray for the rains and better harvest. Lord Shiva is said to be closely related to this community. However interestingly it's widely believed that the origin and the nature of these festivals is connected to the conversion of the Buddhist monks to Hinduism. It gradually transformed into a festival of Lord Shiva but the Tantric rituals of Buddhism got absorbed in the festivities including acts of penance as well as the thought of monasticism. Rituals like dance with human skulls, body piercing and fire plays are seen during this time.
The festival which is now called "ShiberGajan", which closely means "Lord Shiva's worshiping and songs" was once called "DharmerGajan". This Dharmathakur may have been originated from Dharmaraj of Buddhism.
Gajan celebration is performed by the devotees signifying marriages of the male forces of Shiva, Nil or Dharmaraj with their respective consorts. One way it signifies the union of the forces of sun and earth. On the other hand the tradition of Charak Puja is all about worshipping the Charak tree and the several penance acts performed by Charak Sanyasis.
It is believed that these acts of penance actually functions as a near-role reversal for men attempting to experience the pains of womanhood, including childbirth. It is believed that the agricultural community, which considers the agricultural soils as mother, believes they impart pain to the soil and thus to their mother, during acts like ploughing, harvesting, and thus they undergo such acts of penance to feel the same amount of pain.
The festival still to some extent a great social leveller. The persons who were involved in the festival become a Shiva Devotee and are respected by all. In earlier days the peasants who were involved in acts of penance were respected by the Landlord.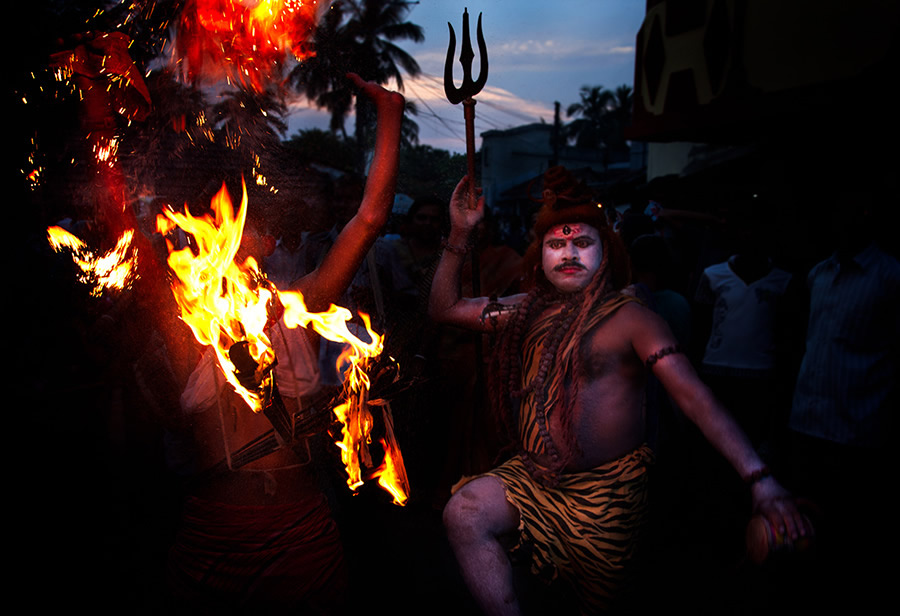 A man dressed up like Shiva dances alongside a devotee during a fire ritual at Radhudaspur Village in South 24 Parganas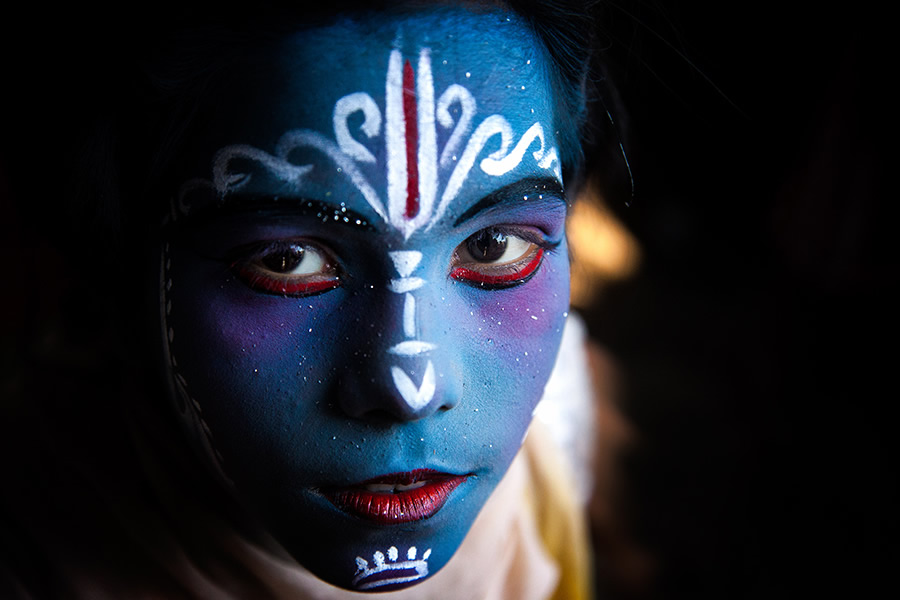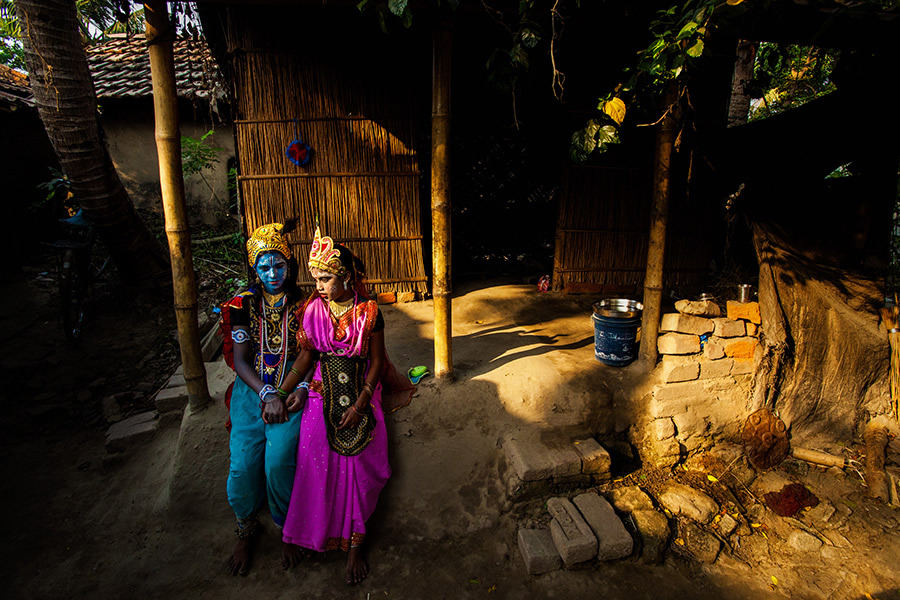 Two young girls, one dress up like Krishna and the other as Radha, on the eve of Gajan Festival in the Krishnadebpur village in Nadia district.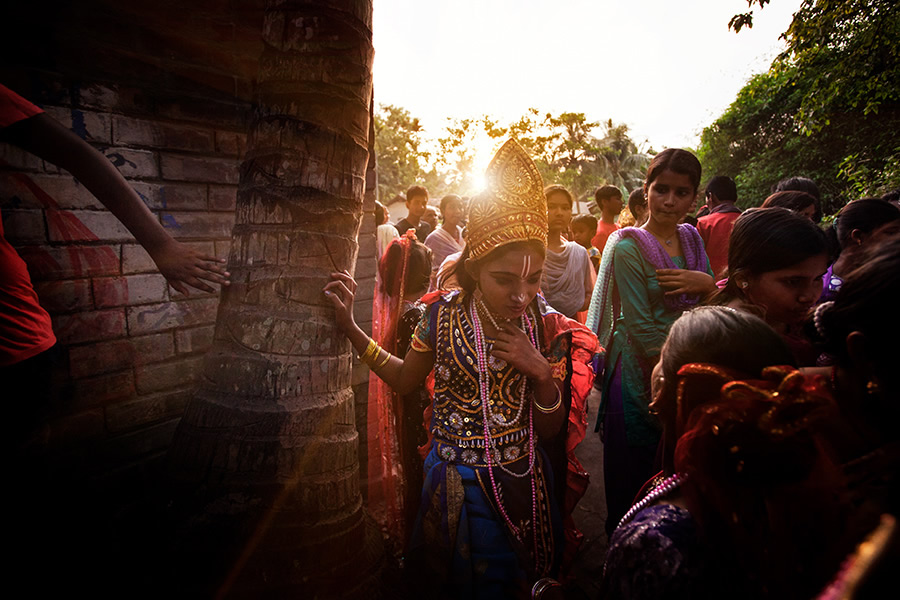 A young girl, dressed up like a Goddess (Devi), makes her way to the festival ground along with the other villagers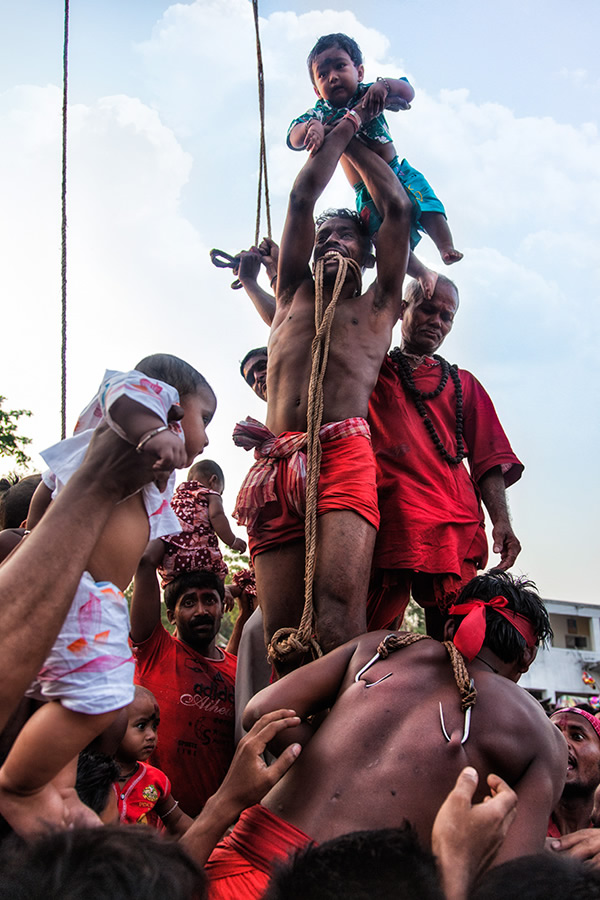 Men pierce sharp hooks on their back to experience the pain of womanhood, especially childbirth in these penance acts. During this ritual mother offer their children to be embraced by them which is believed to bring good luck.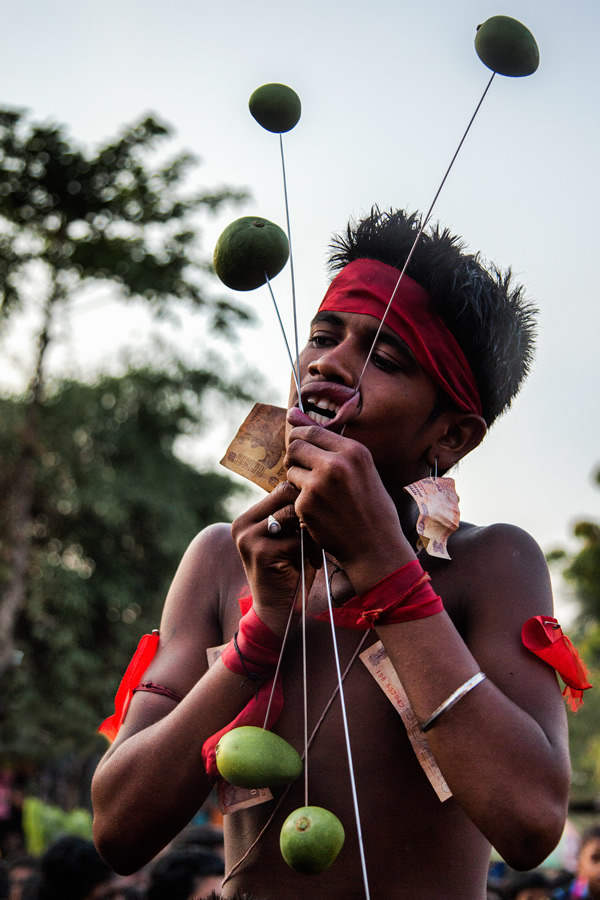 Others pierce their mouth with multiple metal rods and money is offered to them which are pinned to their body with safety pins.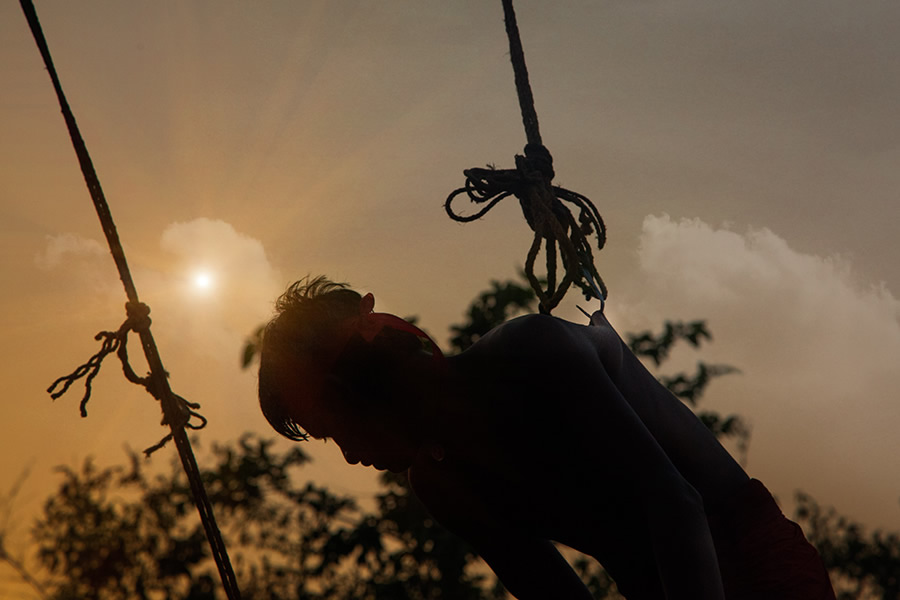 Afterwards these men are spun with their bodies hung by these hooks.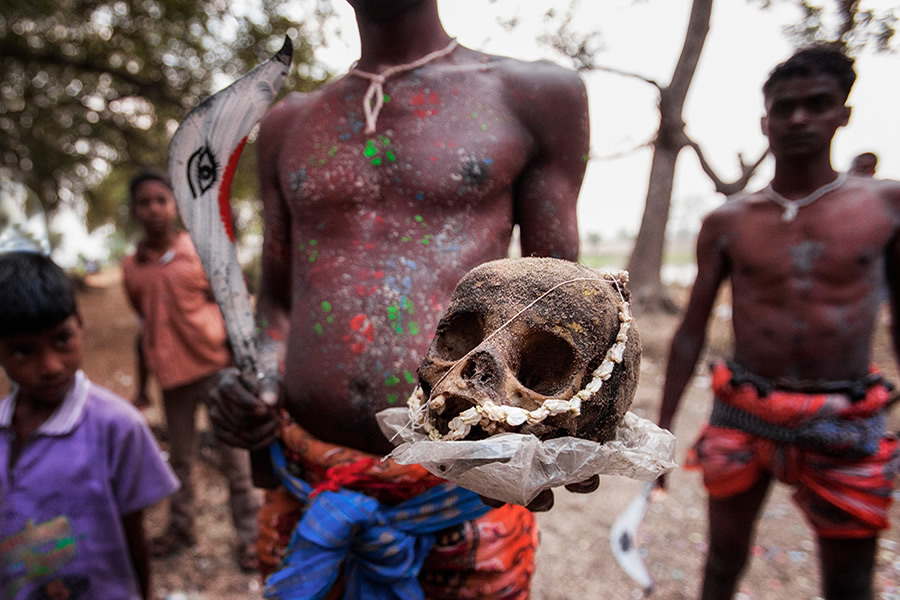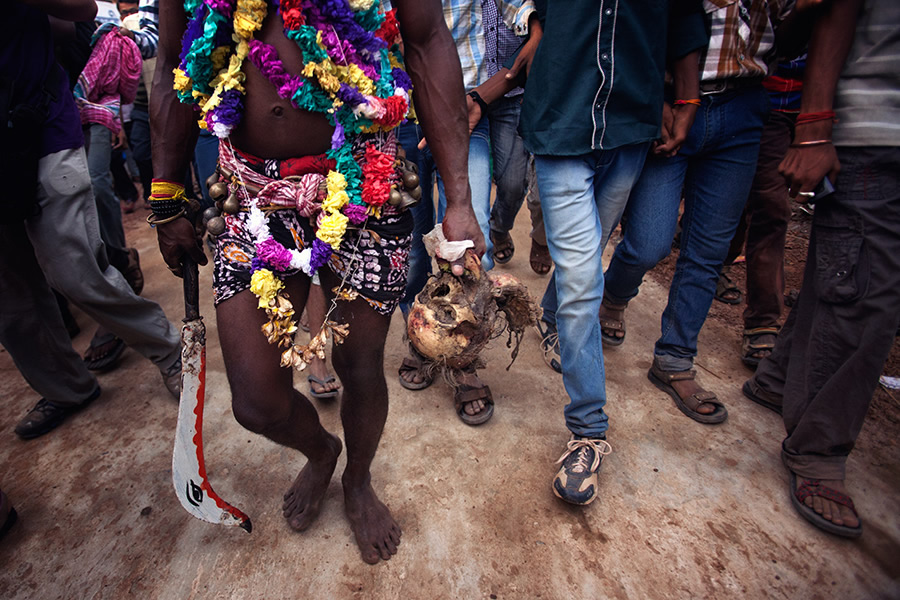 In this unique and strange ritual near Kurmun village at Bardhaman district, people offer prayers while holding human skulls or heads on their hand. These skulls or heads are procured each year separately by undisclosed methods.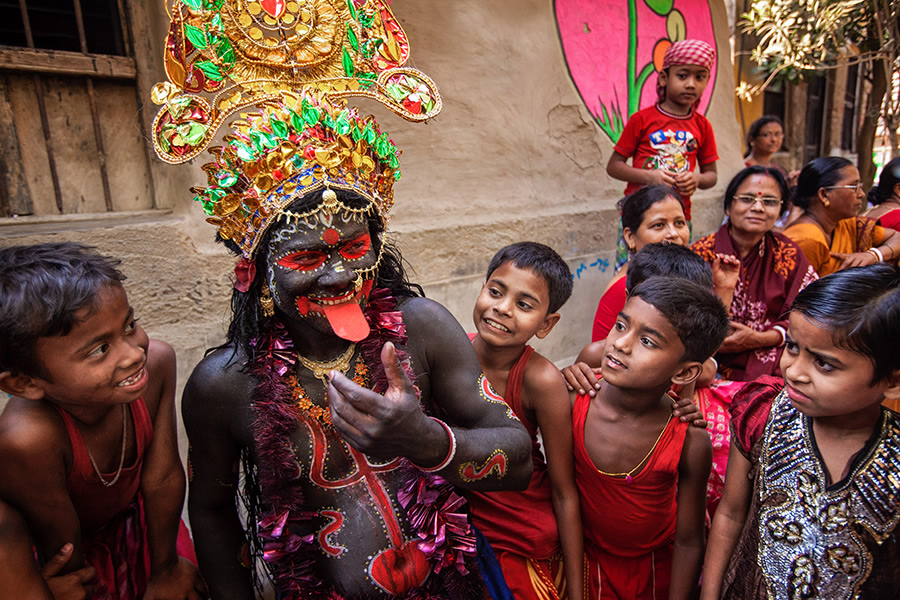 A man dressed up like goddess Kali have a light moment with the children.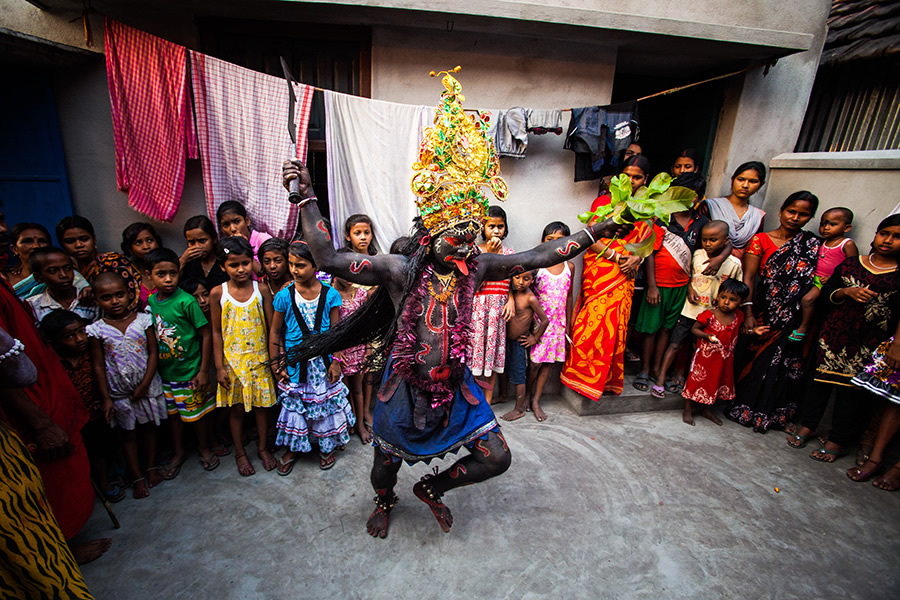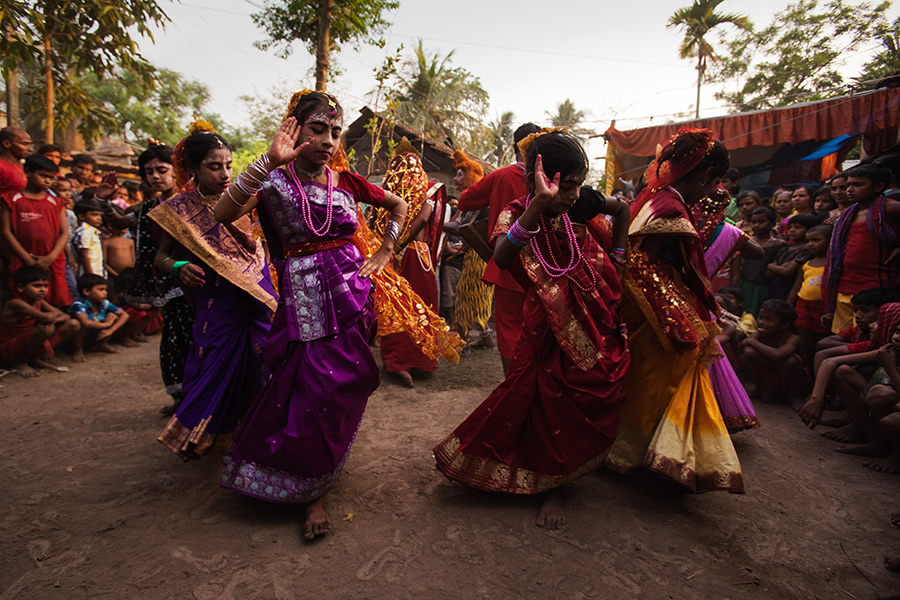 Men and women dressed up like Gods and Goddesses dance and enact various mythical stories at villages. Stories of Kaali, Durga, Shiva are popular among these.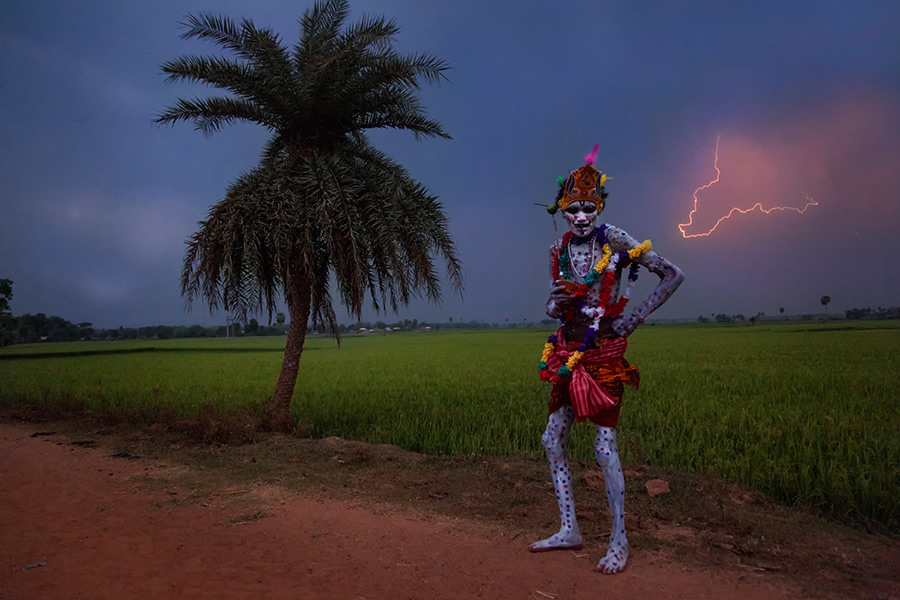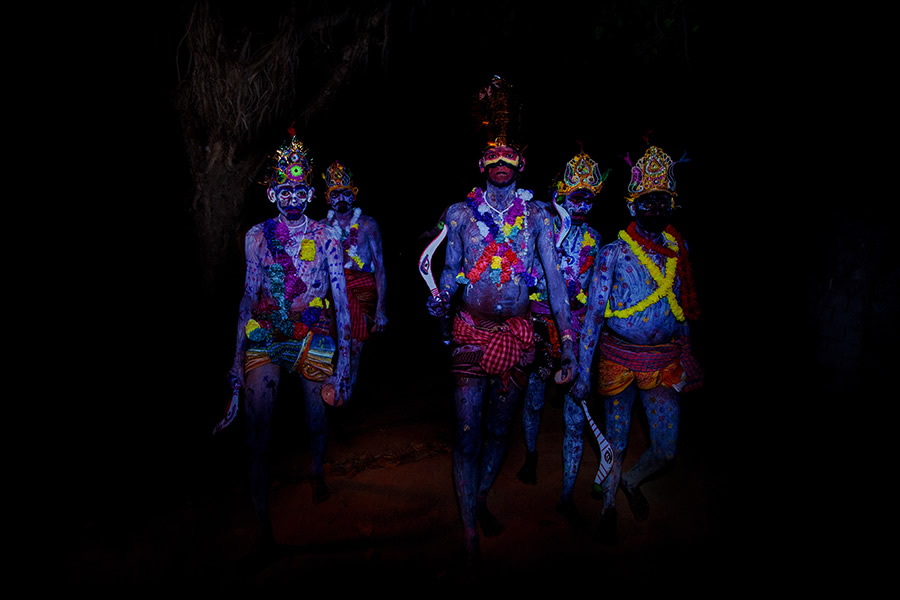 Shivaites (worshipers of Shiva) of Sonpolashi village paint their body blue in their age old traditional style and make way to the temple in a nearby village.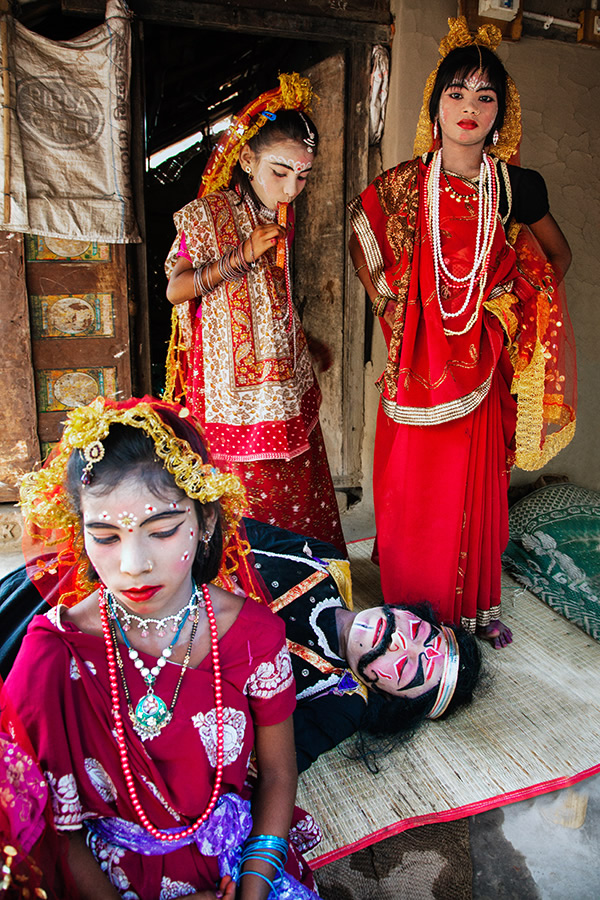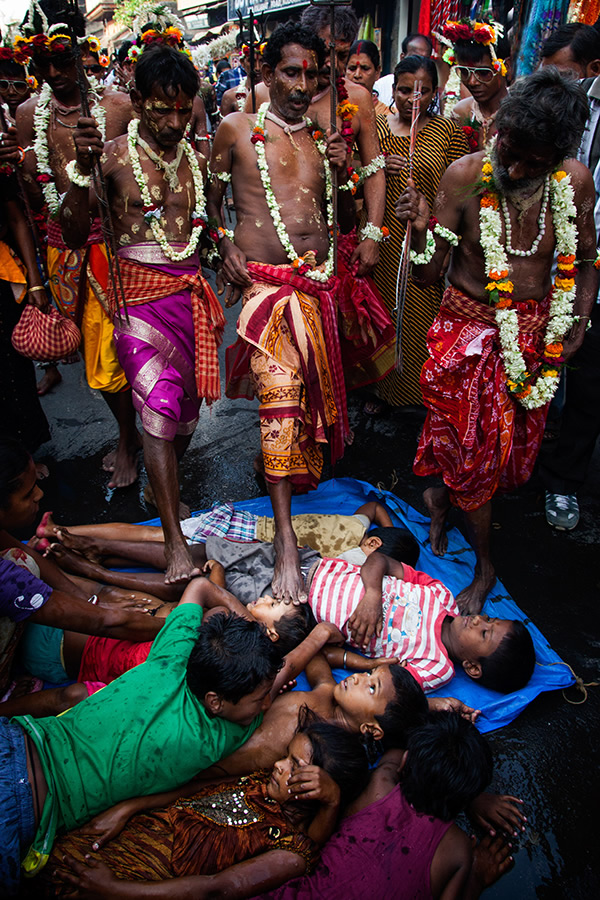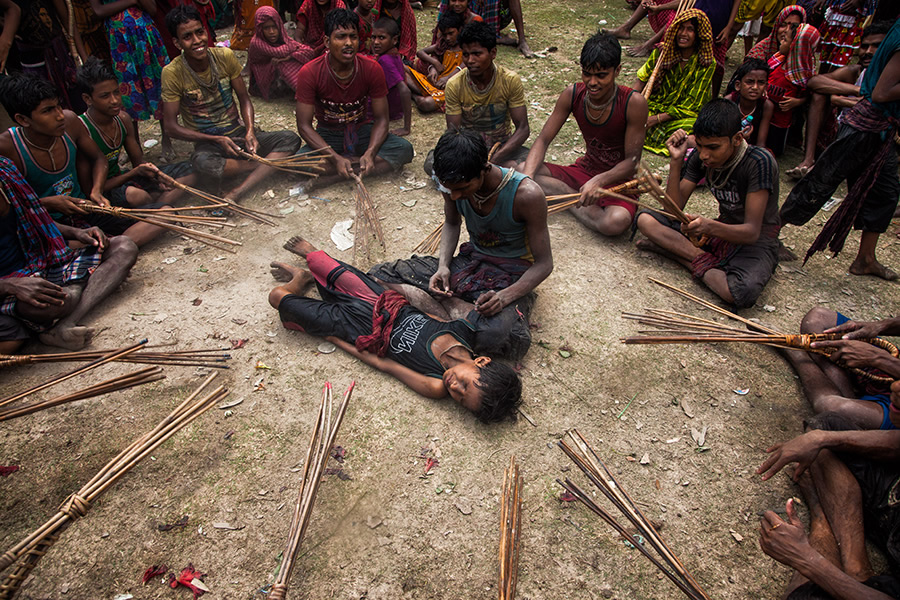 Bringing well-being to children is an important part in this festival. They are dressed up like Gods and Goddesses, and various rituals are practiced which are believed to bestow good luck and health to them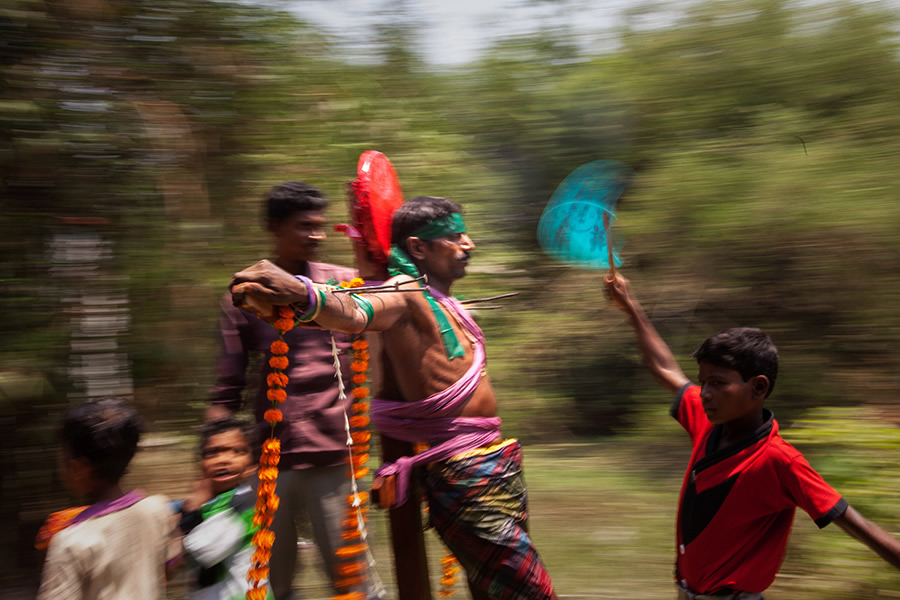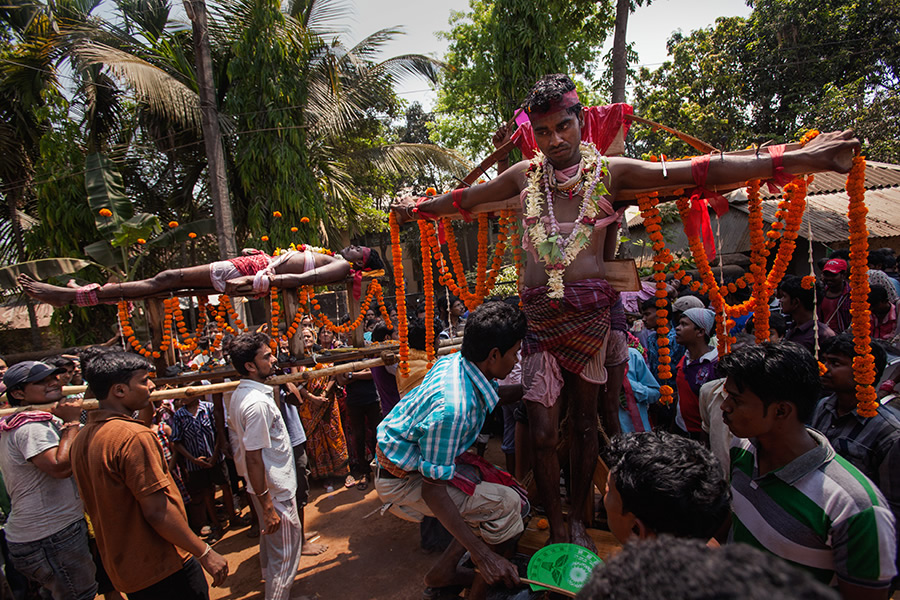 In this another age old penance ritual, men are taken around a village, near Arambag, in crucified form. The hands are tied to the cross and nails are pierced through their skin. Some also lie down and rods are pierced through the skins all over the body.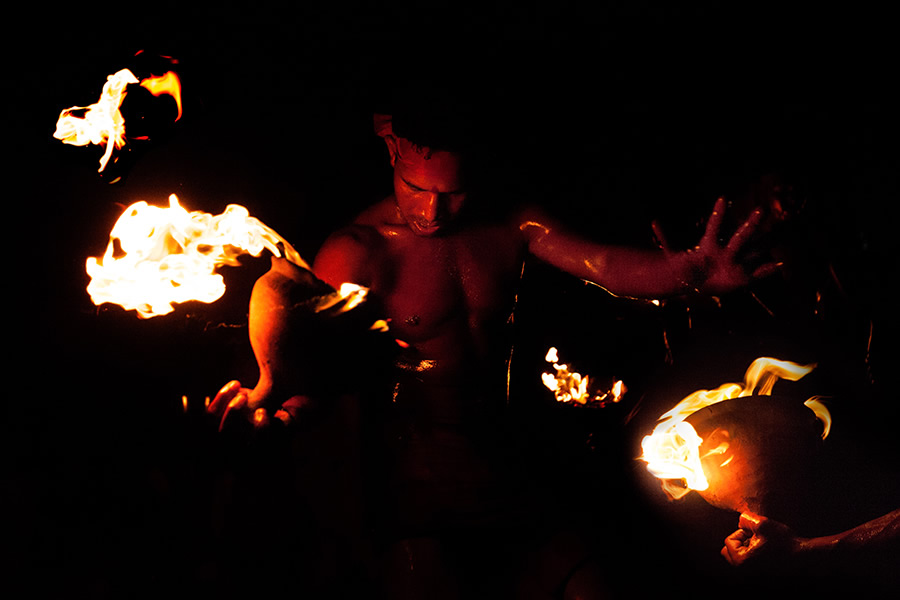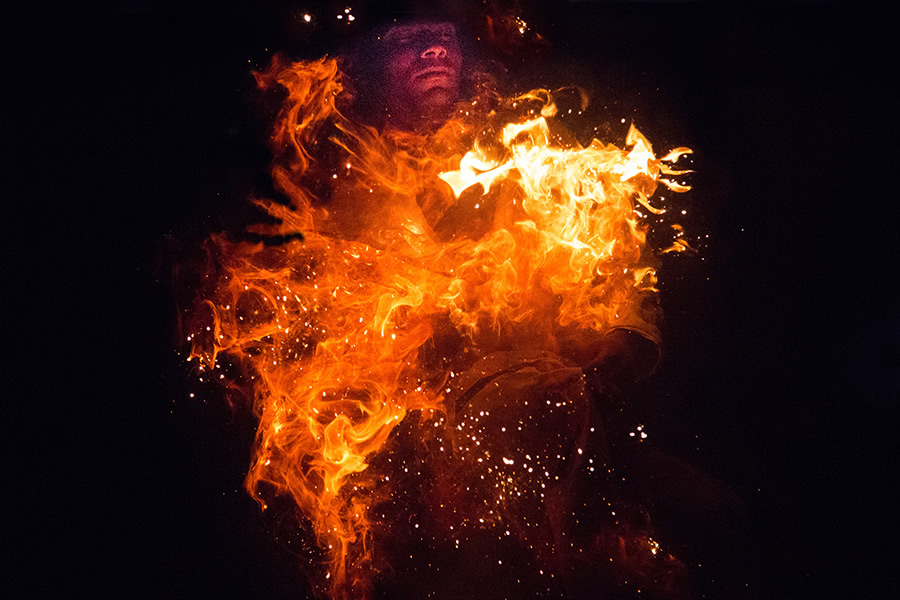 Rituals involving fire is an integral part of this festival. All these rituals have the same believe – that it will bring well-being to them or to their family.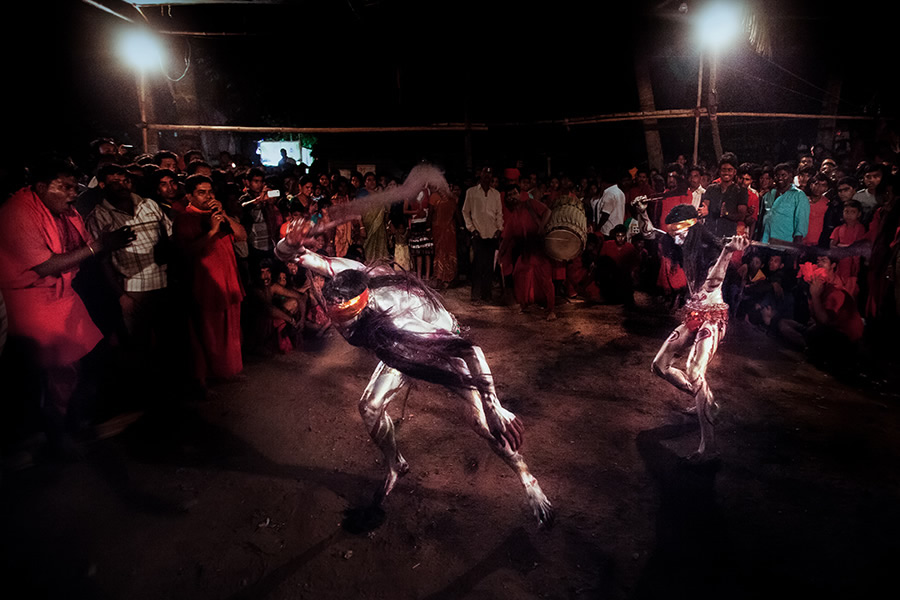 In this age old ritual, men paint their body and dance with khadag, the main weapon Goddess Kaali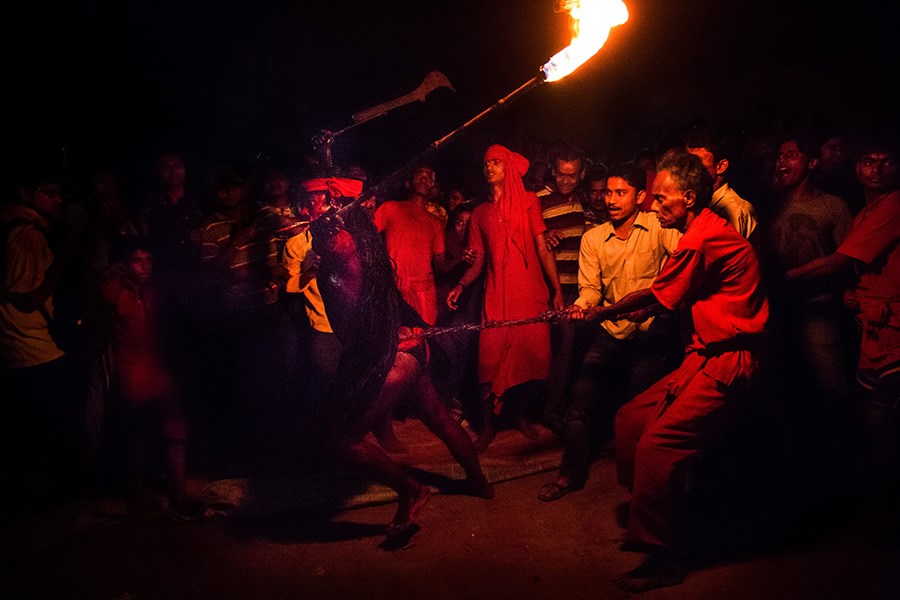 Another uncommon ritual – a man dressed up like Chamunda (a fierce Goddess) is tied to a rope and is controlled by others as he charges people. The man appears to be genuinely aggressive during this time and though it's commonly believed he becomes possessed, but the reason may be something else.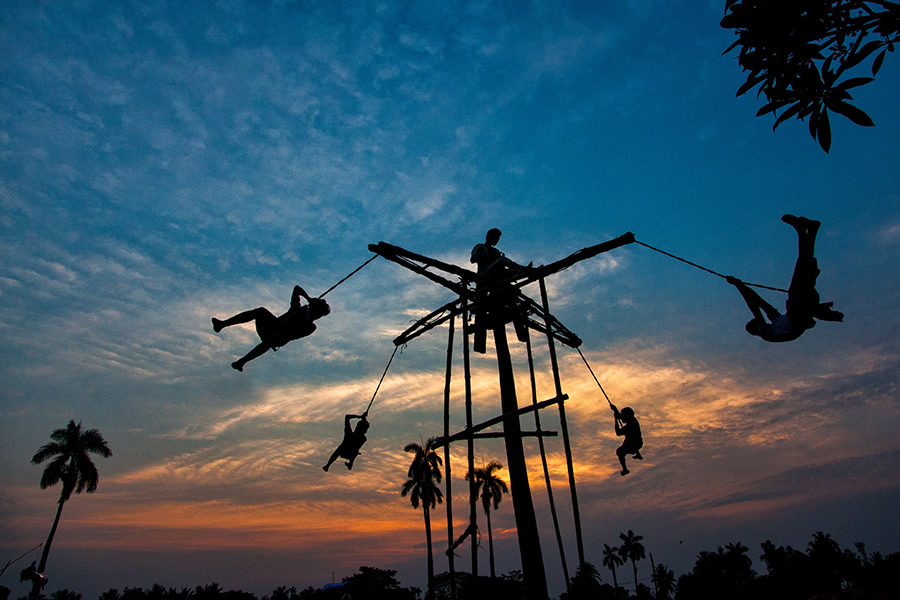 Men grabs on to a rope and spun high above the ground in this event. They do not secured themselves by tying a rope around them, they simply sit on a simple wooden stick attached to the end of the rope and hung on to it. The reason of this event is again the same as to bring good luck to them. This event is the last event of this festival.
About Arka Dutta
I am a Mechanical Engineer by profession, living in Kolkata and an amateur photographer who loves to engage in social and cultural documentary related photography. Two of my great passions in life is travel and photography. I believe that travel broadens one's view of the world and photography is my continuous lesson of living in the moment. I love to experience other cultures, meet different people from diverse communities. Through my photography I seek to document my own personal experience, and to capture the scenes and events as I see them and share them.
Living in the moment and capturing it, is my way of sharing with the world how I see things; whether it be humorous, sad, serious, playful, profound or just plain creative. Photography helps me to express my personality and how I view this world we all live in. Encountering the natural world both with my eyes and through the lens is an excellent reminder that I share this earth, this environment with all other living beings and also share responsibility for it well-being.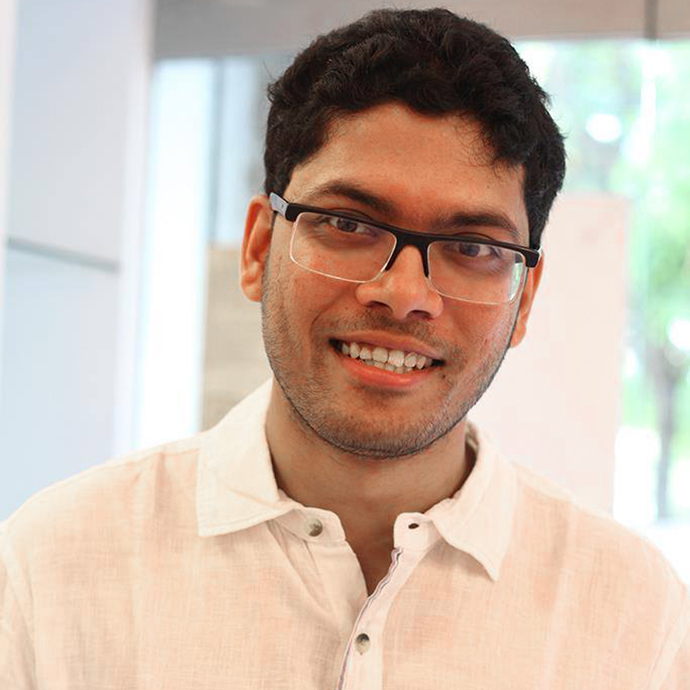 You can find Arka Dutta on the Web :
Copyrights:
All the pictures in this post are copyrighted Arka Dutta. Their reproduction, even in part, is forbidden without the explicit approval of the rightful owners.