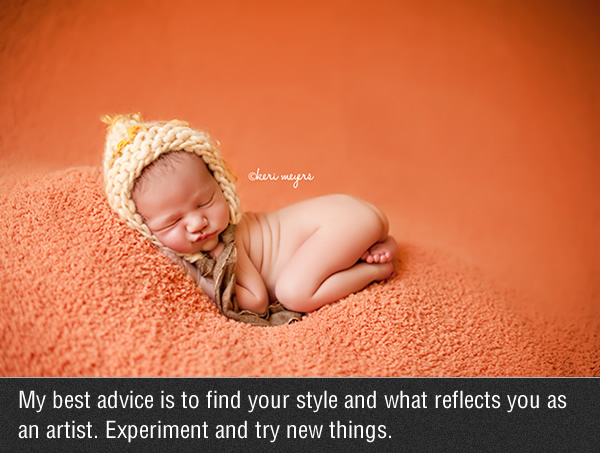 It's a great pleasure for me to interview Keri. She was very busy with her assignments, but still she spent some time for us. Thanks a lot Keri from 121 Clicks.
Hi Keri, Welcome to 121 Clicks. Please introduce yourself. Could you tell us where you're from and how you got started in Photography?
I am based out of Duvall, Washington. Duvall is a small town just 45 minutes east of Seattle, Washington. I have always loved photography, but started my own portrait business in the fall of 2008. When I first started out I tried everything from babies, to seniors, to families and weddings. I quickly realized that weddings were NOT my thing. After photographing several newborns I knew I had found my niche. I absolutely love, love, love photographing newborns. Newborns are a gift and it is such a pleasure to be able to document those first few days of life for my families.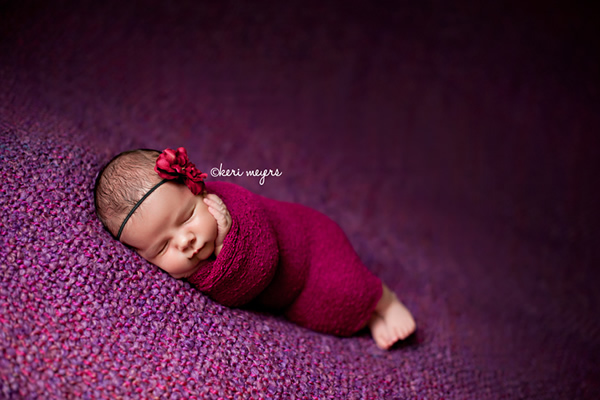 From Keri Meyers Photography you are providing Newborn and Family Photography Services. How would you describe your photographic vision? What kind of feel do you try and create in your photos?
My style is very simple and clean. My focus always remains on the newborn. I keep my props to a minimum so that they don't overpower those little babies. I want families to look at their photos years down the road and love them every bit as much as they did when they first set eyes on them. I don't want them to cringe at the props that I have selected, so I look for props that are natural with earthy tones. Lately, I have been playing a lot with color. I think it's important to push yourself and experiment with new things. It helps you grow and develop as a photography and artist.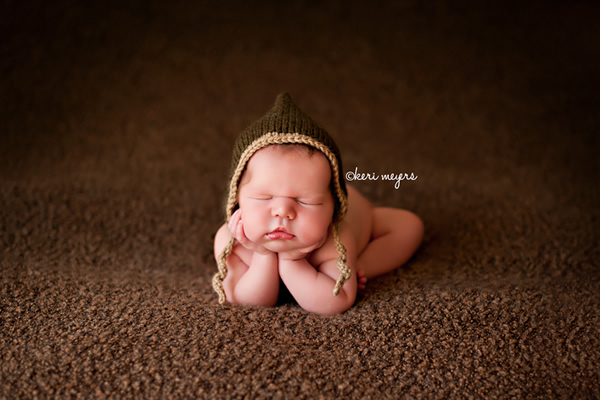 How do you keep yourself motivated and your photography fresh?
My clients motivate me. I am motivated every time a newborn comes into the studio with their family. I love meeting new parents and hearing their stories about welcoming their new little family members into the world. I live for the creativity I am able to channel with each newborn session. I enjoy matching blankets and hats and finding new props. After each session I am so excited to start editing the photos from that day.
I find my inspiration from simple things I see day to day. I will see a blanket or piece of fabric and have to have it. I will immediately picture a baby snuggled in or on an item and start going through my hat collection in my head and decide which hat (or headband) I will use to complete the image. I am always keeping my eye out for new and unique ways to capture the purity and innocence of a newborn.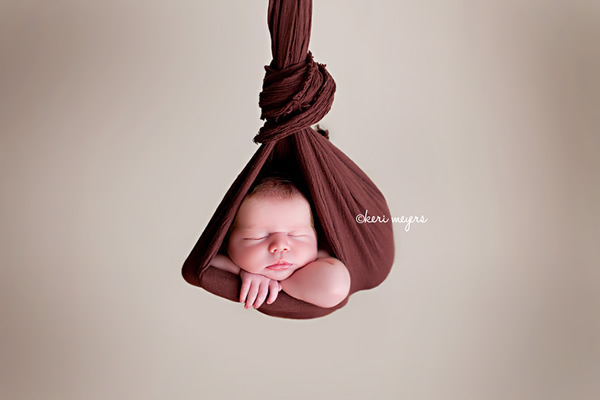 Mostly you are working with kids and family people, what is the secret behind to get a good expression or pose from them?
With small children my first goal is to get them comfortable with me. I will play silly games with them to put them at ease. It is often during these silly games that I get the best and most natural expressions. I don't often "pose" small children. Rather, I photograph them doing their "thing" whether it is in my studio or outside. I find I have the most success when allowing kids to be kids and capturing them in their element, not mine.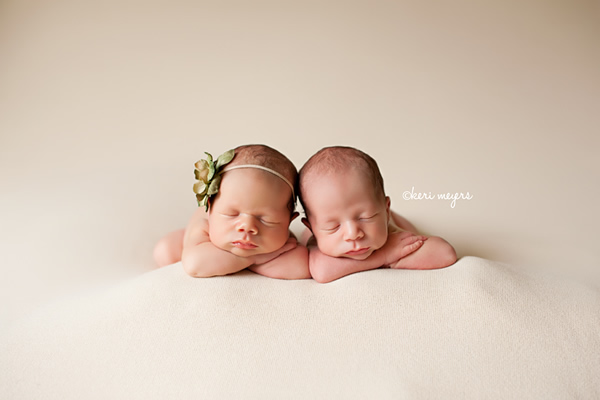 Before you start a shoot, how will you prepare yourself?
When preparing for a newborn session it is important to prepare parents. I send each of my newborn clients a list of preparations just before their session. I stress the importance of each item, as they are important to ensure a successful session. A couple of the items on that list include interacting with their baby as much as possible before the session and making sure they have a full belly just prior to the session. I like set out the props and hats I plan to use before the session. I set out hats and blankets that I plan to use and have everything set up before the family arrives. I wait to make final decisions on blanket colors until I have seen baby's skin. Some fabrics and blankets do not photograph well with certain skin tones.
What is your first paid assignment and what is your most memorable assignment?
My first paid assignment was in the fall of 2008. It was a family session. I don't have a particular session that I would deem "most memorable". Each new session becomes a favorite of mine because I am always trying to push myself to try new things.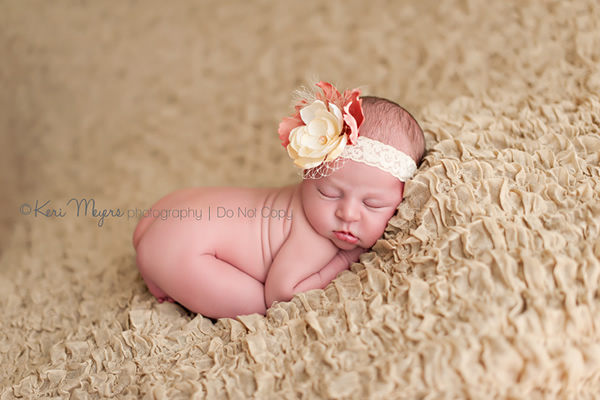 When you make Newborn Albums and Photo Canvas, what are the most important things will you consider in printing?
When I am selecting newborn images for myself to display in my studio or local businesses I am looking for my "best" work; work that really displays my style as a photographer. I like to display several different "top poses" of both boys and girls to give clients and potential clients an idea of what they can expect from me. When I am putting together albums for clients, they have the control over which images they want. I do give some guidance as to what might display well together, but ultimately they make the final decision.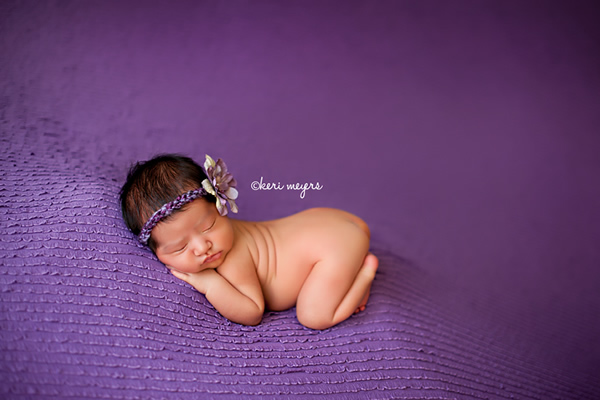 What type of camera, lenses and lighting equipment do you use?
I shoot with a Nikon D700, 50mm 1.4 and 60mm 2.8 macro. I prefer to use natural light and no artificial/studio lighting. My main light source is a south facing sliding glass door/window. To take advantage of the best light I schedule my sessions in the mornings, usually starting at 10am.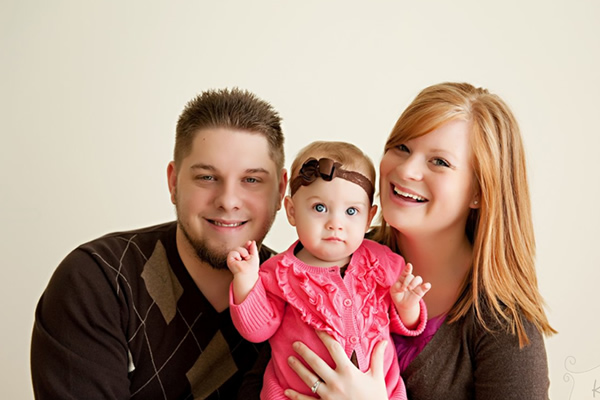 I'm very inspired by your Newborn Photography. Is this a big part of your business and who are your clients? For somebody wanting to get into this area of photography what are your suggestions?
Families with newborns make up 90% of my clientele. Once you find your true passion whether it's newborns, weddings or senior portraits then target your clientele. Once you've found your target clientele, for me it's expecting mothers, get in touch with other local businesses that also target your target clientele. I got in touch with other local businesses in my area that catered to moms expecting and with small children. I struck up a relationship with these businesses owners and we worked together to help promote each other. You might offer to display their business cards/fliers in your studio in exchange for displaying your work or you might team up to offer joint specials. It's a win-win situation.
List of your Favorite Photographers here and why you like their work?
Meg Borders – I sought out Meg to photography my family this past spring. I love her work because it is so natural and whimsical. She displays pure emotion in her family portraits and really knows her natural light. She can photograph a subject in the glaring sun and rock it every time.
Kristen Cook – I love looking at Kristen's wedding imagery. She captures every detail so eloquently. Everything is so natural and organic. You can feel the emotion in everything she captures.
Barb Uil – I love Barb's work with children. She is a master at showcasing the imagination and innocence of children. Her work is clean and soulful.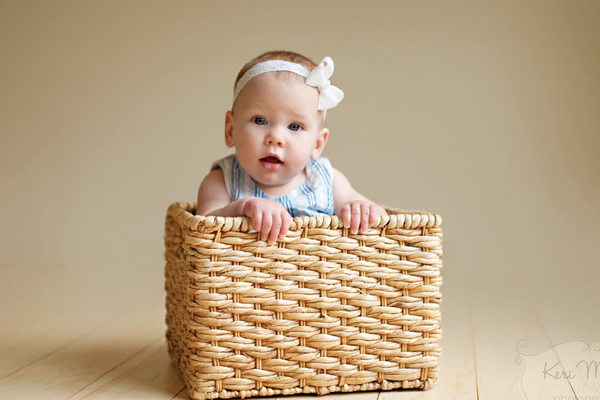 If you could go on assignment anywhere in the world to shoot whatever you wanted; where and what would it be, and why?
Living in Seattle I never get to photograph newborns outside because it is generally raining and never warm enough. I would love to photograph a newborn on the Hawaiian Islands, both on the beach and in their lush greenery.
I realize that each photographer has love with particular subject such as Landscapes, Nature, Portraits, etc. Other than Newborn and Family Photography what would you like?
If I were to specialize in something other than Newborns, I think I would like to do more documentary work. I love capture life as it happens. Some of my favorite imagery is from my personal photography in which I have captured the bits and pieces of our family's day-to-day life.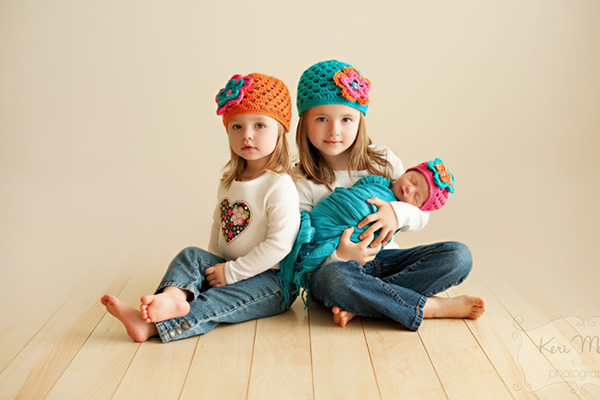 If not a Photographer, what would you have been?
I used to teach grade school. I have a master's degree in elementary education.
A photography website or blog you visit often?
I really don't visit many photography websites. I love Facebook to keep me up-to-date with new happenings in the photography world. I have a great network of photography friends on Facebook and I enjoy keeping up on their latest work and projects.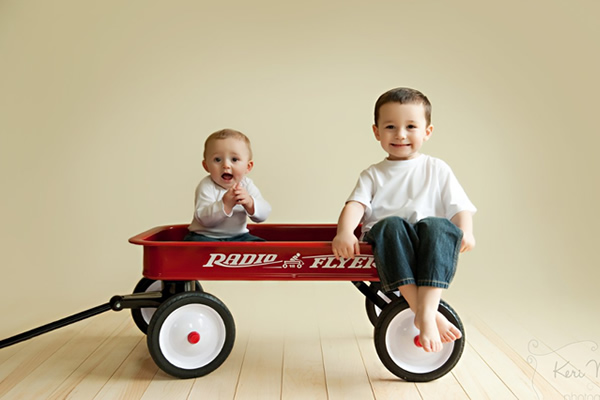 What are your plans for the future? Do you have any new projects on the go at the moment, or anything that you're planning to do?
This next year is an exciting year for me because I will be doing a lot of traveling teaching workshops across the United States. I look forward to meeting and working with other photographers that also share my passion for newborn photography.
What is the best compliment do you have ever? Could you please share Happiest Moment in your Photography Life?
My clients and supporters have been amazing. I receive encouraging and inspirational messages every day via e-mail and Facebook. I am truly blessed to be doing something that I have such a passion for. I am even more thankful that others have find inspiration in my work – that is the BEST compliment. I don't have one particular moment that stands out. I am grateful for everything I have experienced along the way.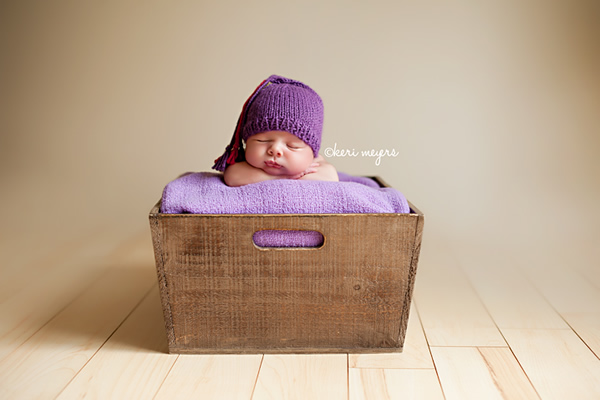 Apart from photography, tell me about your hobbies and interests?
I am a pretty easy going and lad back kind of girl. I enjoy sitting on the front porch with my husband watching our two boys play on our property. I love getting outdoors and family outings. It doesn't take much to make me happy. As long am surrounded by family and friends, I am a happy girl.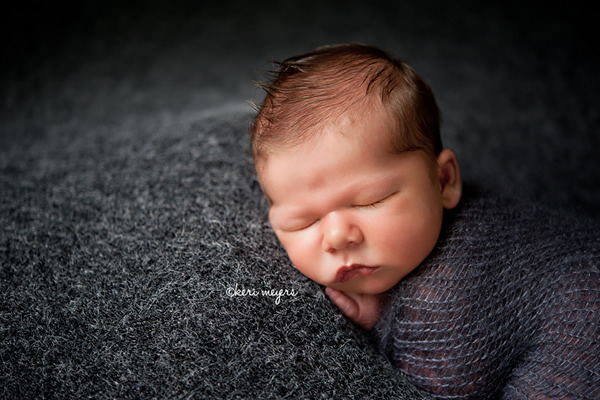 Thanks again for providing 121 Clicks with this opportunity to interview you. Any final thoughts for our readers?
Thank you for having me!! My best advice is to find your style and what reflects you as an artist. Experiment and try new things. You will soon find what you are most passionate about. Develop that passion and your style. Don't get discouraged if you've made a few mistakes along the way. I have become the photographer I am today because of the silly mistakes I made and will continue to make.
Finally, find a support system. There are several great online forums in which you can interact with other photographers around the world; my personal favorite is Rock The Shot. These forums offer a wealth of information that surely inspire you and help develop your passion and style.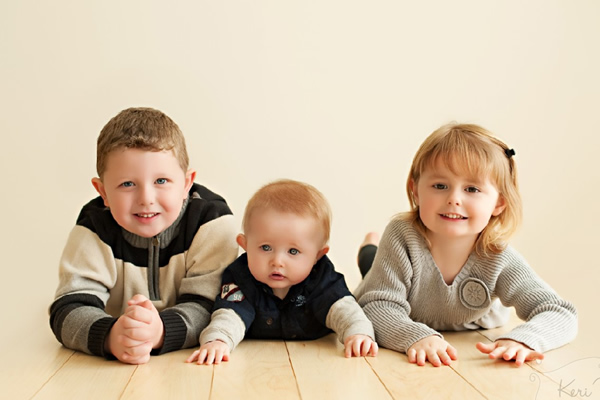 You can find Keri on the Web:
Website      : www.kerimeyersphotography.com
Facebook   : www.facebook.com/kerimeyersphotogrphy
Twitter        : www.twitter.com/kerimeyersphoto
Copyrights:
All the pictures in this post are copyrighted to Keri Meyers Photography. All images displayed are protected by copyright. Their reproduction, even in part, is forbidden without the explicit approval of the rightful owners.