Apratim Saha is a photographer who wants to travel to any place with thousands of people around. A die hard travel and street photographer his pictures are vibrant and very rich in all aspects of cultural India. Having learnt the art of photography through his father who owned a camera at his young age, Apratim Saha has his own way of narrating stories through his photography.
In this wonderful interview with 121clicks, he speaks about his inspiration, travel as a photographer, the most memorable photograph, his favorite destination for shoot and a lot more.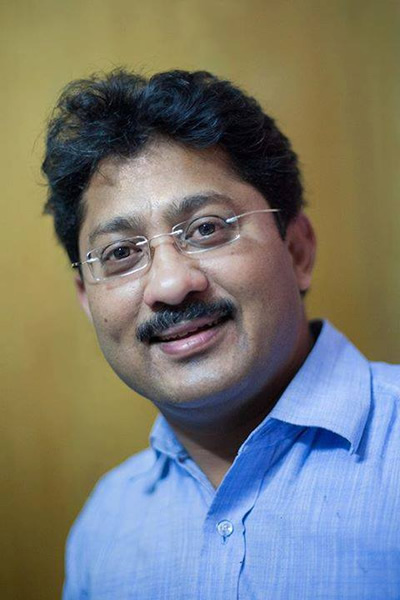 Could you please introduce yourself?
I'm an entrepreneur and a die-hard photographer : )
How did you start photography and what inspired you to take up photography?
I've started photography at age of twelve inspired by my father with his Yashica FX3 Super, a fully manual analogue camera. As a young boy I passed much of my leisure time seeing my father's photos and processing him his black and white photos. I feel capturing images that people enjoy to look at and are impressed with has not only inspired me to take up photography seriously but to give people a reason to care was the main intension for me also.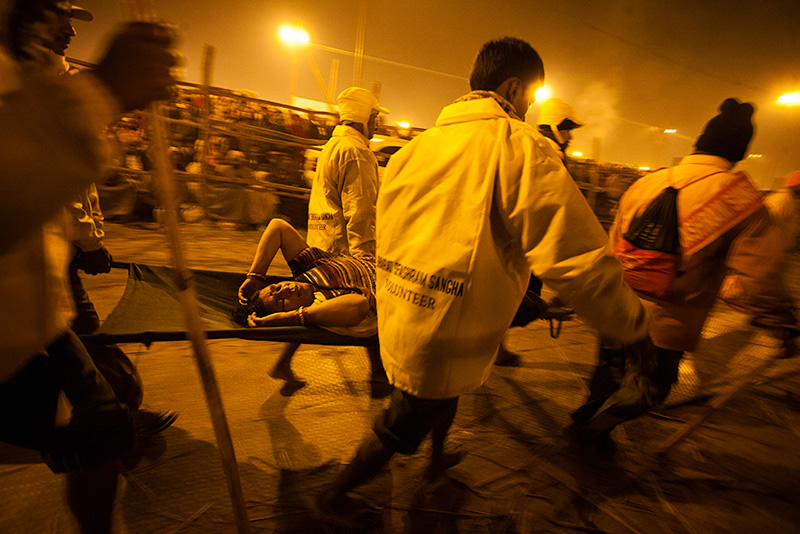 How important is Culture & Tradition for any country. Since your pictures strongly reflects Indian culture?
If you really want to know any country you must understand the culture and traditions of that country. The culture of India is among the world's oldest, inherent from its rich and diverse migrations and invasions from over 5000 year old history. Many sources describe it as "Sa Prathama Sanskrati Vishvavara" — the first and the supreme culture in the world.
Indian traditions and rituals have an immense physical, religious, ethnic and linguistic variety. Indian culture is defined by the ideas, thoughts and philosophies predominant in the country and its people.
Since I'm into people photography naturally Indian culture and traditions are very much associated with my photography.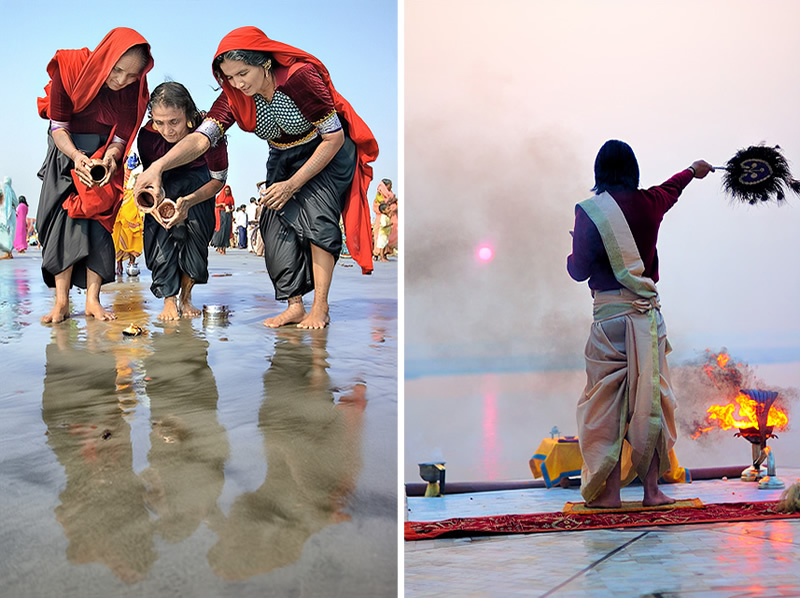 What does it take to make a good photograph?
If we look at the photographers whose work we admire, we see that they have found a particular place, theme, or subject, dug deep into it, and carved out something that's become special. That takes a lot of time and a lot of work; it's not for everyone. A great photograph really needs to say something about a person or give some insight into their life or how their life is different than yours and mine. A good picture makes us curious and makes us want to know more.
Lot of people ask me how I can identify the perfect moment to take a photograph. You are never sure of the perfect moment because you're always looking and anticipating. You are never quite sure when the moment is right, because it can either peak or disappearing. So it's your intuitive and reflexive to guess for the perfect moment!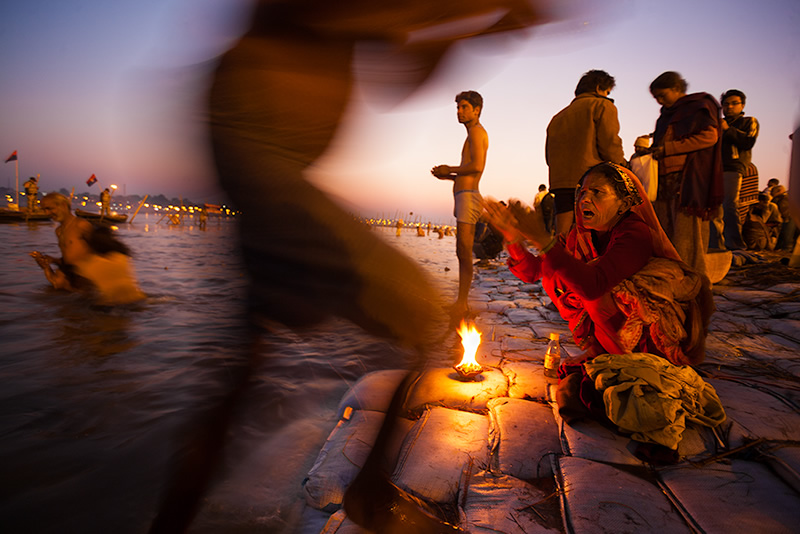 Which photographers inspires you?
There are many great photographers whose work inspired me. Among them I think Henri Cartier-Bresson is the photographer who has inspired a lot of other photographers too. Elliott Erwitt, Garry Winogrand, Robert Frank, Raghubir Singh are among the others who has inspired me also.
One place you all always want to visit for Street Photography?
I'll be really happy if you put me in between thousands or crore of people : )
Yeah Varanasi is a place which attracts me a lot. Mark Twain truly said that "Varanasi is older than history, older than tradition, older even than legend, and looks twice as old as all of them put together."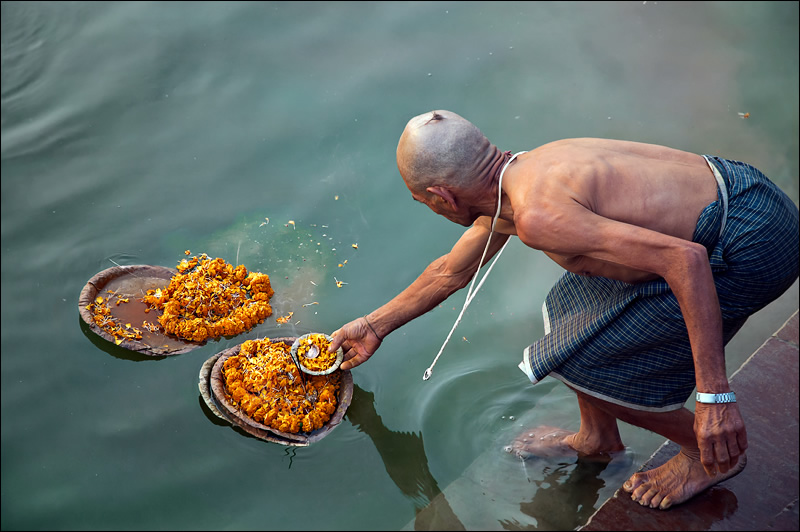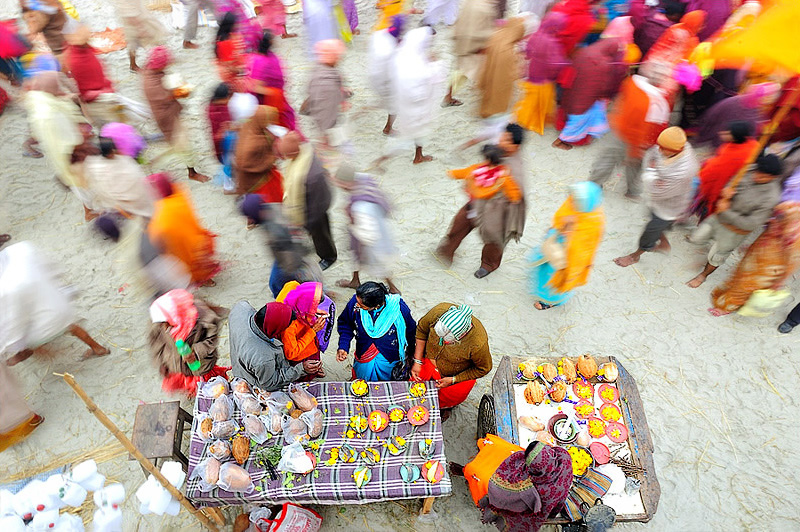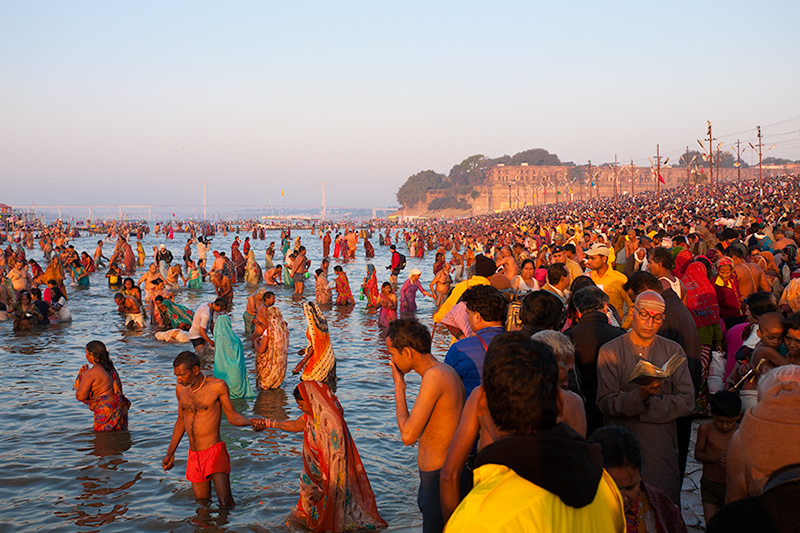 Tell us something about your best shot and share the story behind making of the picture?
This is really a tough question for me : ). It's very tough to select a single image and say it's my best shot!
OK… let's discuss about a photo which is one of my favourites. The title of the image is "Handful of blessing"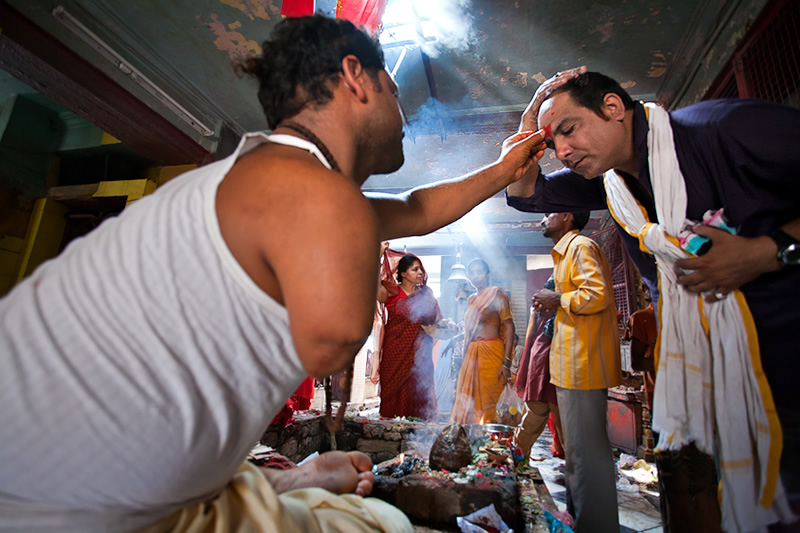 I shot this image at Shitala Mandir, Dasaswamedh Ghat, Varanasi. I was roaming around the Ghats of Ganges. It was a sunny day. Naturally when I entered at the Shitala Mandir I was not able to see anything. My eyes were totally blank. Then gradually I saw a small ray of light which was coming from a small hole somewhere on the roof. Suddenly I saw that priest on the holly smoke. That time also I didn't see that he has only one hand. Still today I cannot understand what, but there was something which attracted me. Something was telling me that I can get a very good picture there… Anyway… as it is normal with me to talk with my model before shooting, I started talking with him. Then I saw he is giving Puja with his left hand which was unusual and his right hand has been amputated. His name was Pradeep Kumar Dwivedi, who is one of the few survivors of a tragic bus accident on 3rd June 1996 morning where more than fifty people were killed. In that accident he lost one of his hands. At the same time when he was remembering his tragic memory I was looking for a good POV as well as trying to include that sun ray into the picture. He was saying that as the time passes by he realized that he was being neglected by his family as he became physically challenged due to that tragic occurrence. One day he told his father that he'll earn himself and he came to Varanasi. When he came to Varanasi he fell in love with the ancient city. Then he became a priest. Finally I got a place from where I can show both of his hand along with the sun ray. You see in this picture you'll be able to see that Pradip was giving Tika to a man's forehead and the sun ray has fallen to that man like a ray from heaven. This was really a magical moment for me and clicked the shutter.
The Best achievement / Compliment you have received so far?
For me the compliment and achievement is something different. It's not the award or any certificate; it's an inner heart's smile of a very common person's face, who maybe never have been photographed in his entire life. When I saw that smile on any person's face that gives me an enormous satisfaction which no award can give. In a way I show them their photo they become very happy; this way you express your gratitude and respect to that person also.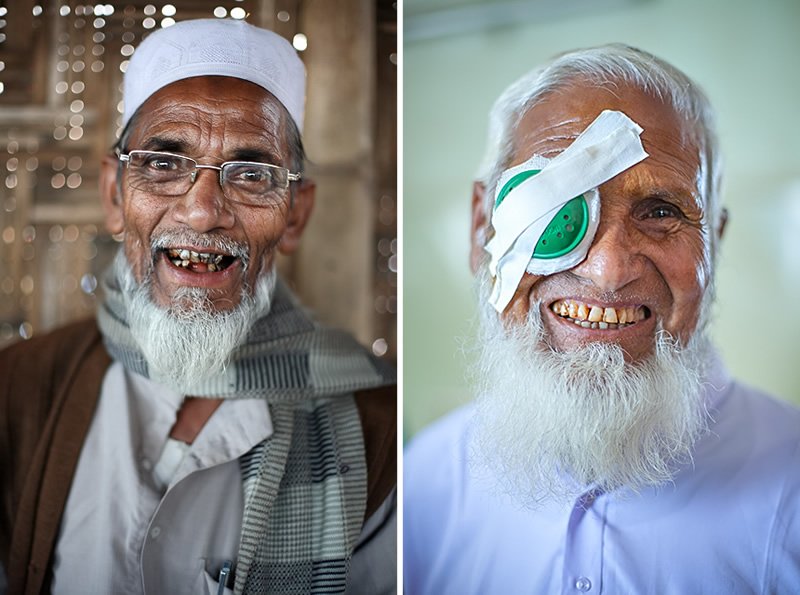 How important is it for a photographer to "connect" with his subjects to bring out their true self?
Yeah this is really very important. As I'm into people photography I feel that the most important part about photographing a person is winning their trust and confidence. Being able to come up or down to one's level to ensure a strong communication is what it takes to honestly connect with a person. Then only you'll get the perfect expression of that person.
RAW or JPG and why?
See I was an analogue guy and determined that I'll never switch myself in to digital, but as the time passes by and the total industry was rapidly changing around me and I had no other option except converting myself into the digital world : ), because there was no alternative at the end. You know at some point of time it was really very difficult to get transparencies and finally they have stopped their production also!
From the very first day I converted myself into digital I shoot in RAW because I love the flexibility of it. I also like how the RAW format is like working with a blank canvas where I can manipulate it exactly how I saw it, where with jpg there is in-camera processing done to each image according to the data it has, which I don't like.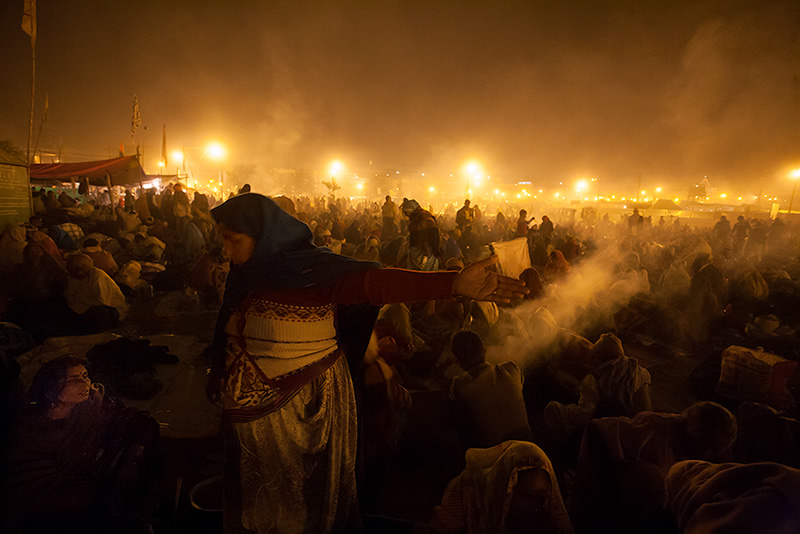 Do you crop your images ?
No I don't like to crop my images normally. What you see that's what I saw in the capturing moment. I don't like to crop my photos because it's a matter of discipline also and it's a way to learn how to compose very fast in the shooting moment. I will get closer or further to create an emphasis on the subject, and to make my frame much stronger. If it's not correct it's not by cropping in the Photoshop and making all sorts of tricks that you improve it. No it's not the way. If your picture is average, it will remain an average picture. You'll not be able to make that picture extraordinary by cropping it! It's always better to pay attention at the time of shooting because only there you'll get lot of other options that which is to keep and which is not to keep in you frame.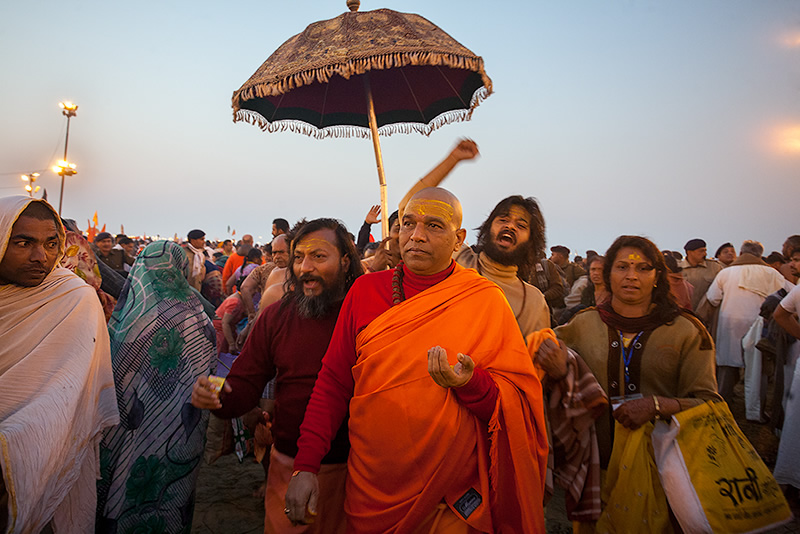 Which software you use for processing your images ?
I use adobe Photoshop CC with a very little plugin. One thing I'd like to add here that though I process all my images but my workflow is very restricted up to a certain level. I believe that in my kind of photography editing is acceptable up to that level when it is not understood by any one that the image is edited. In most of the times camera gives you wrong information. It's your responsibility to correct it. Edit up to that much only exactly how you saw it at the time of shooting.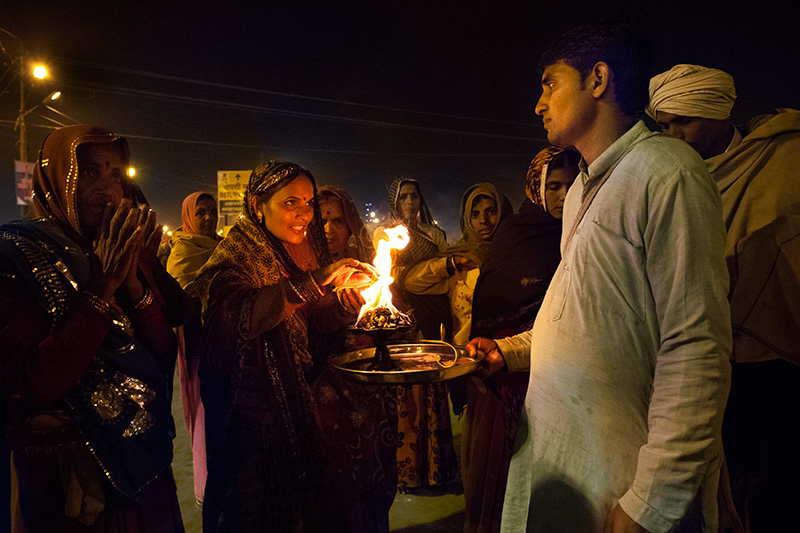 Any Secrets/Advice to aspiring Photographers?
If you use digital camera, do not just click. Plan your shots as though you are shooting with film. Not only you will learn the technical aspects of photography faster, you will also develop skills. Study light whenever you can. Light is your best friend and your worst enemy. I always say that you must remember one thing that you should never be handicapped of your camera. It's not the camera who takes a photo, it's you; you are taking the picture. You have to see, you have to visualize and you have to find a message that's what you want to express through your picture. That is more important. Camera is just a tool nothing more than that.
Try to show your best shot; don't show your average shots. It's also very important how you select your best shot. By critically analysing and rejecting you'll be able to select your best shot. Every photographer shoots a lot but show a single one!
During the course of time, be ready for criticism. Do not be discouraged as you will not be able to satisfy everyone. Develop a style on your own and fill a niche that sets you apart from the rest, which is really important.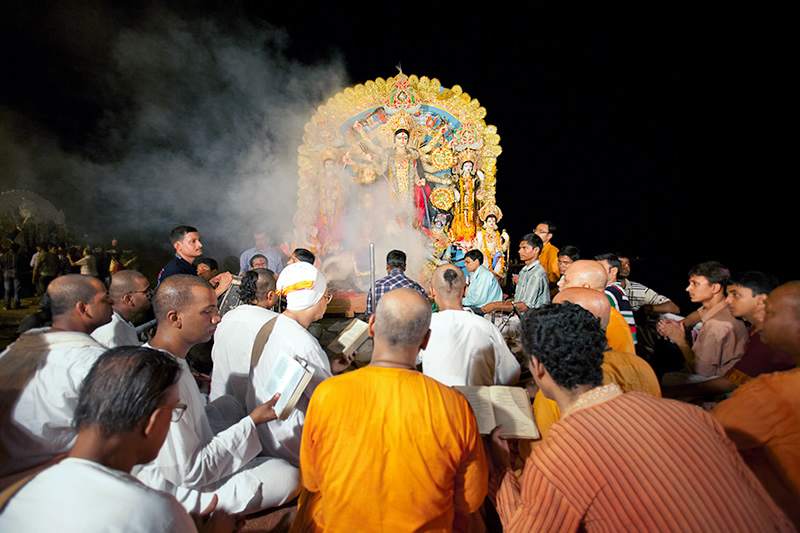 Quick Questions:
What is Happiness for you?
Being able to bring a smile on a face.
What kind of a person Apratim Saha is?
Simple, emotional, touchy and who never gives up.
What do you most appreciate in your friends?
Honesty
The last book you read?
Secret
Who are your heroes in real life?
My father
What is Love?
The best love is when two people touch each other's soul. Love is helping one another. Love awakens the inner soul with an unconditional commitment to an imperfect person, it's not just a strong feeling it's something about a decision, a judgement and a promise.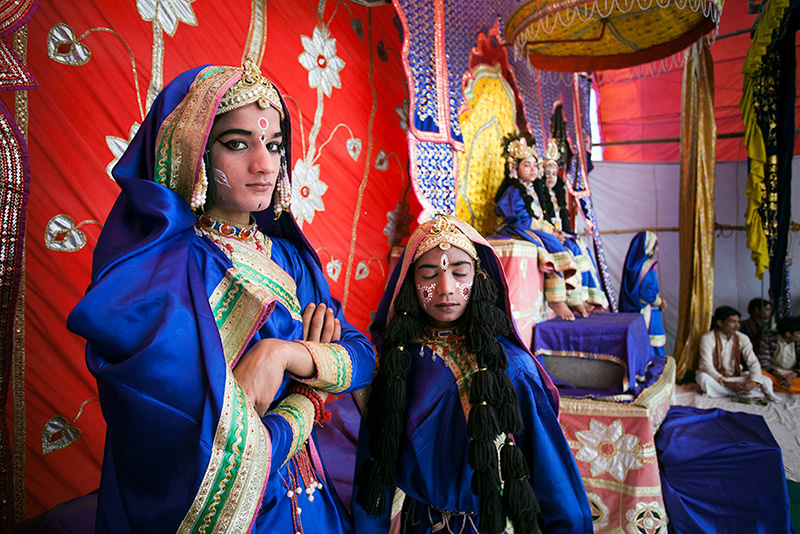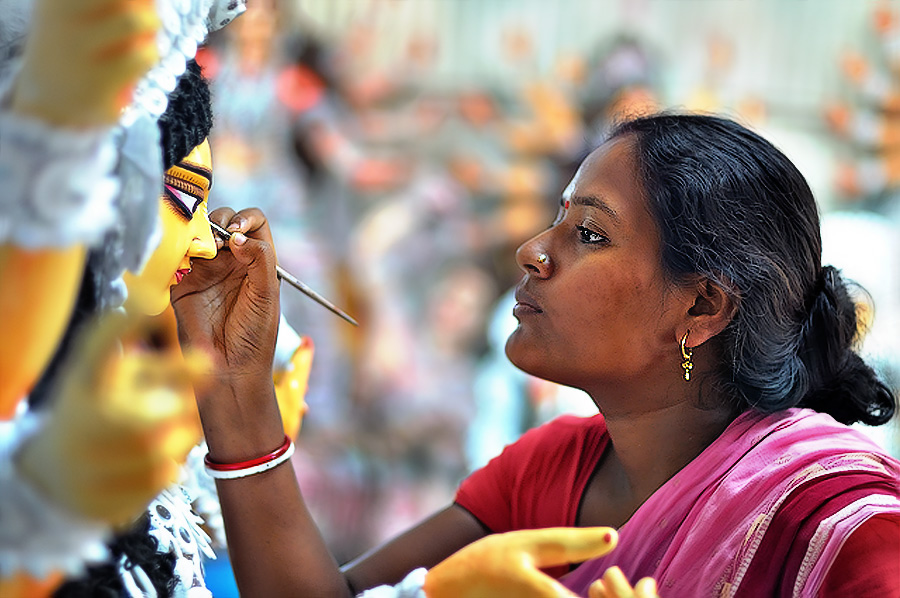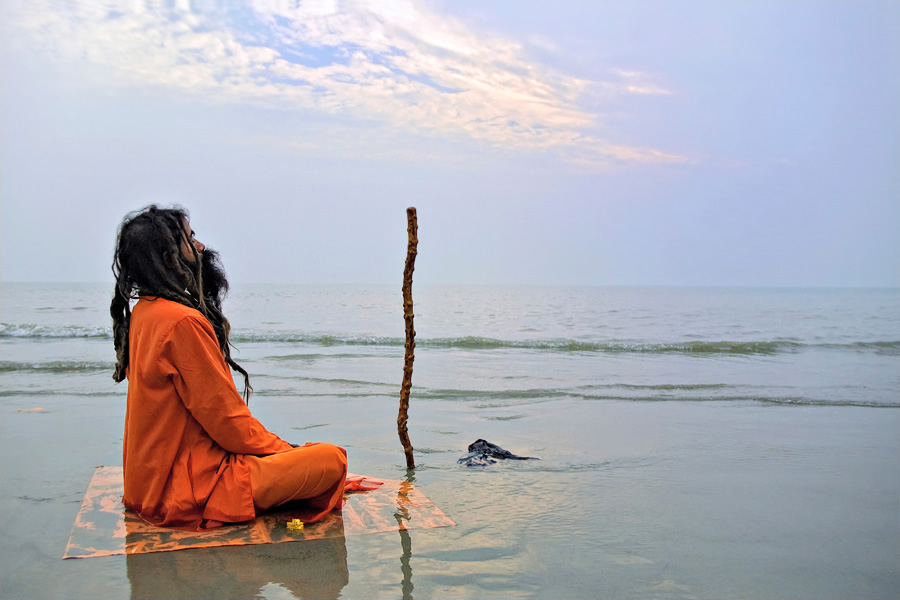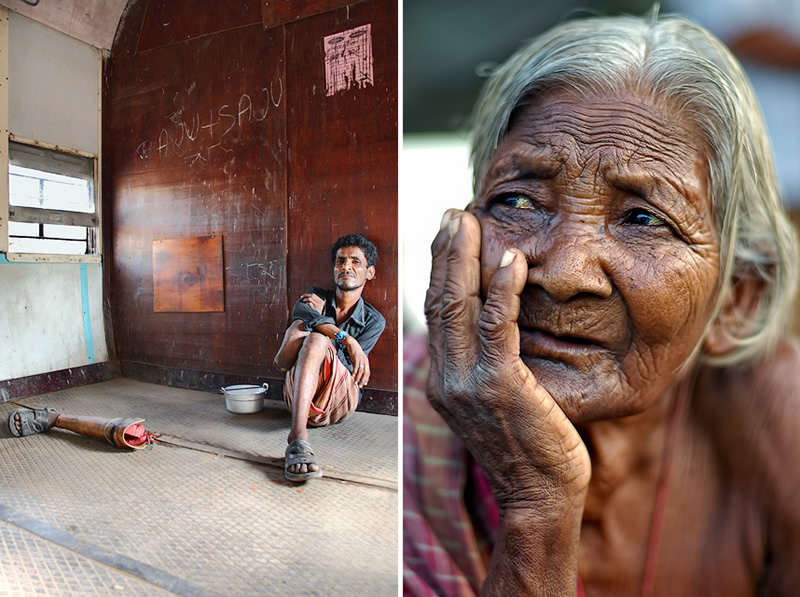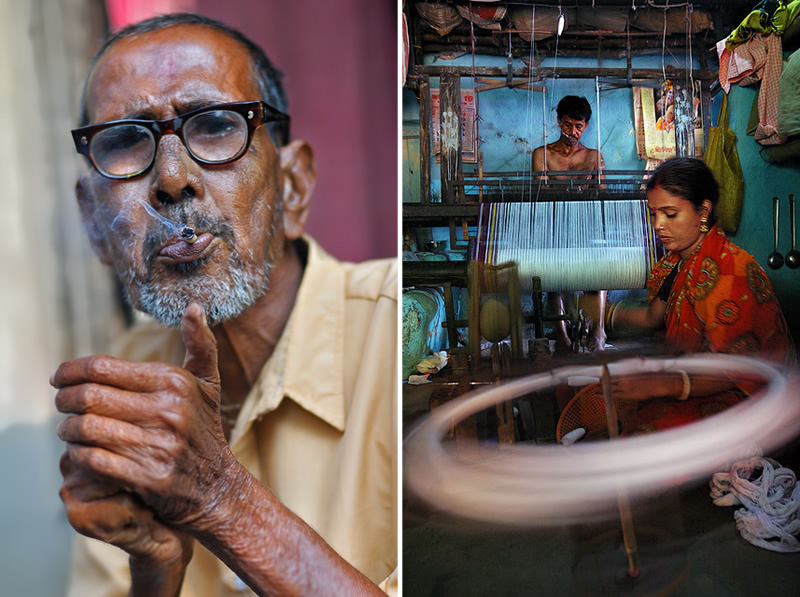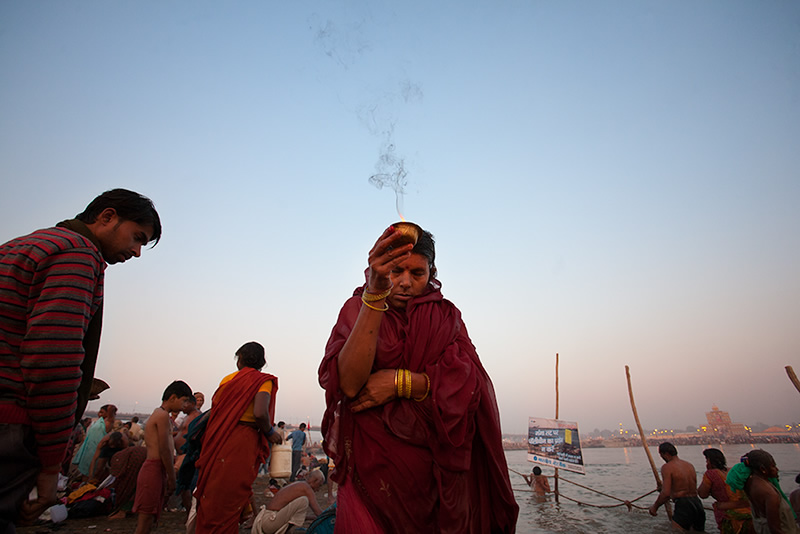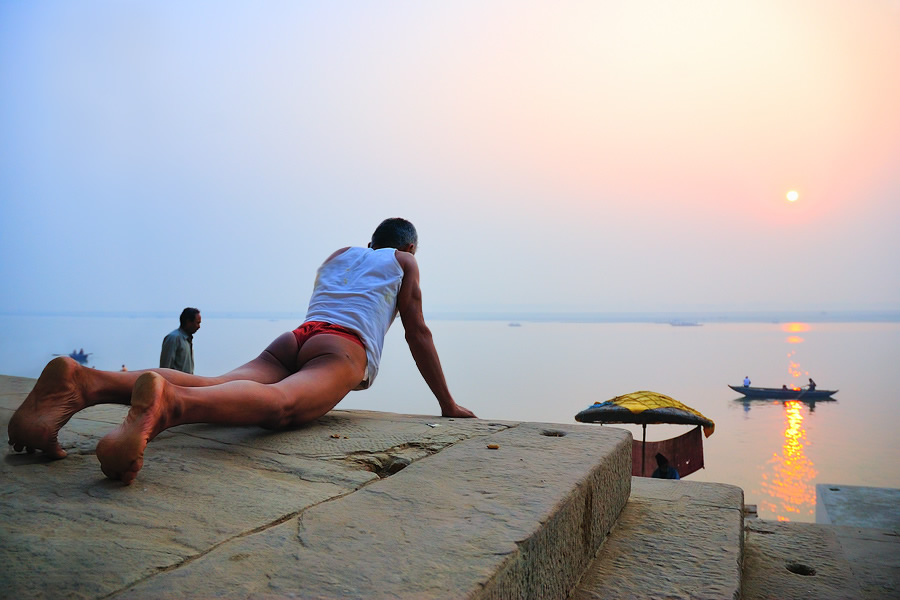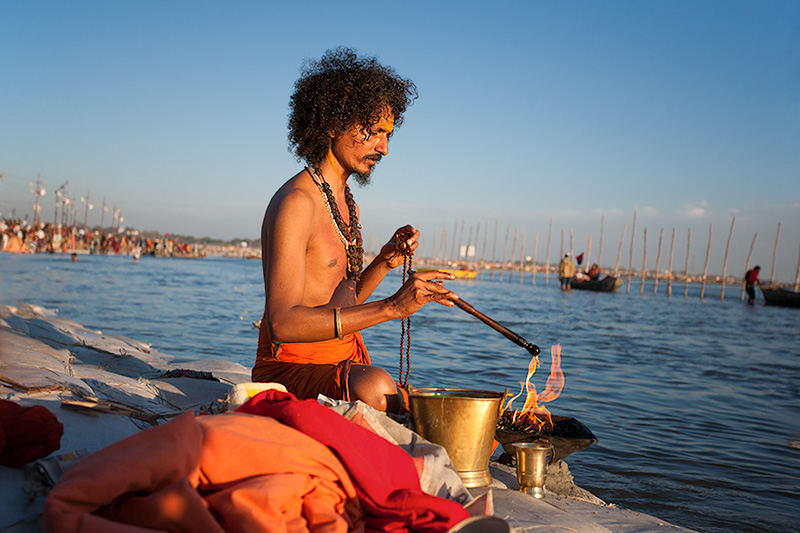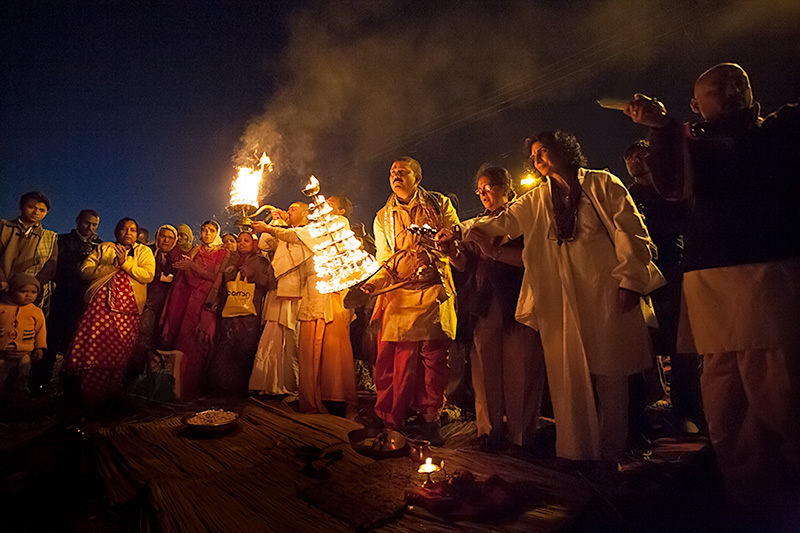 You can find Apratim Saha on the Web :
Copyrights:
All the pictures in this post are copyrighted Apratim Saha. Their reproduction, even in part, is forbidden without the explicit approval of the rightful owners.