Quite surprisingly atleast for us, a doctor is found to carry huge bazooka lenses in the wildest forests you will ever imagine. His pictures are certainly story telling and makes you feel in the zone of wild and most importantly aesthetically very much appealing. Meet Dr.Srinivasan, who has been more than passionate over the last 25 years in this incredible genre of nature photography.
In this Interview, he slowly brings back his old memories, those wonderful tales and some thrilling stories on his adventurous trips. Take a look and lets get to listen more from the Photographer/Doctor himself.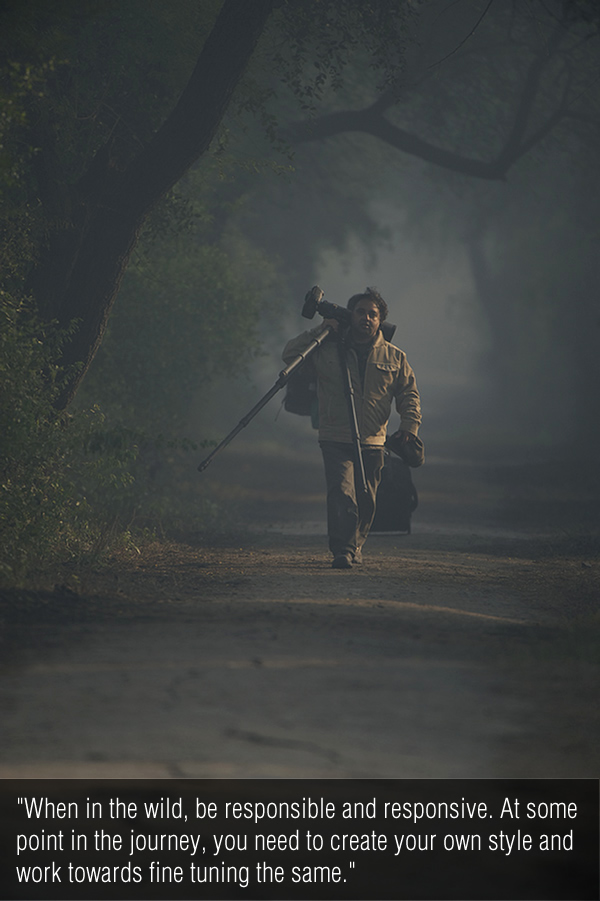 A brief introduction about yourself?
I grew up in a small town in South India called Tuticorin (also called Pearl City). I was lucky to have a wonderful childhood and the full support of my parents (for the right things!) in my many endeavours including kite making, bookbinding, selling vegetables and fruits to mention a few. I am a medical doctor and established Lister Laboratory, a diagnostic centre in Chennai. I am also the co-founder and chairman of Jeevan Blood Bank and Jeevan Stem Cell Bank (a public cord blood bank). We work towards ensuring free and easy access to stem cells from donated umbilical cord blood to Indian children with blood cancers and Thalassemia.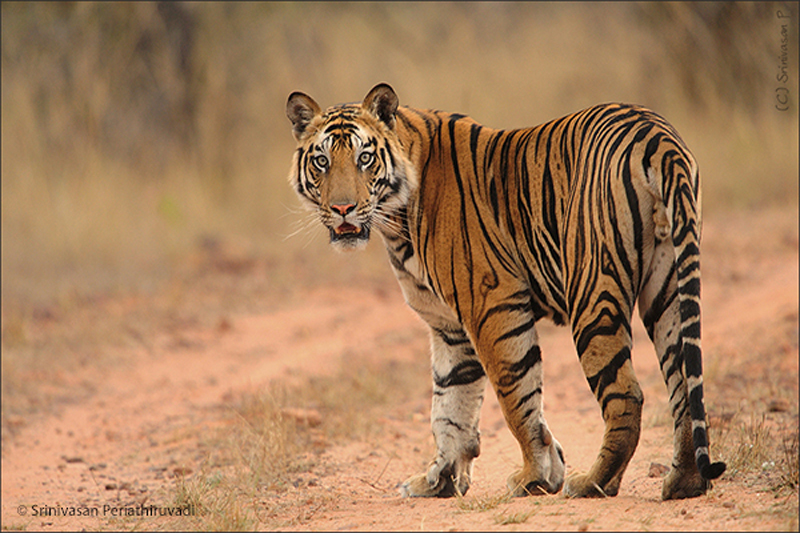 Please Go Away: My first encounter with a tiger in Bhandavgar. This was a mesmerizing moment.
Can you please share the story about the start of your photographic journey?
It all began with a Kodak film camera that I had access to when I was 11 years old. This then led me to the dark room of a studio in my home town to learn the processing techniques. In 1973 I graduated to Pentax and Super Takumar lenses thanks to an industrial photographer called Govindarajan in Chennai. My photography and the dark room at home continued till 1986, when I had to stop photography because of my professional commitments as a medical doctor. It was not until 2005 that I began shooting again with a Fuji S2 Pro digital camera. In 2006, I met members of the 150 year-old Photographic Society of Madras and this rekindled my passion for photography.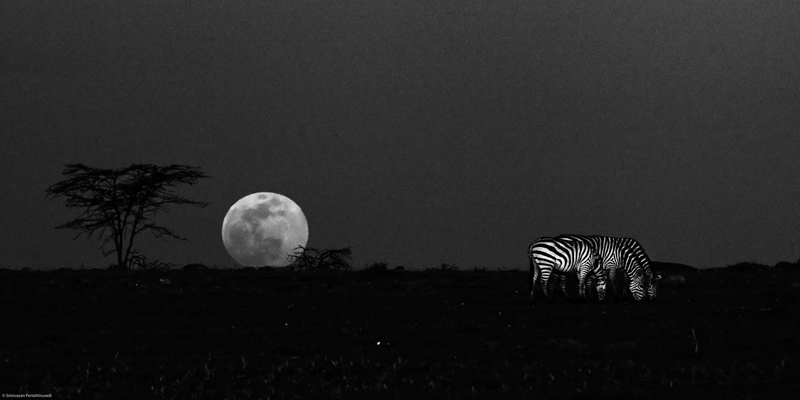 Moon Walk:This image from Masai Mara is one of the favourites. I had planned this trip during the full moon period. Watched the moon rise the second day of the trip and went back the next day, set up the equipment and waited with the hopethat some animal will walk into the frame when the moon comes up. I was lucky!
What started your interest in wildlife photography, what inspired you?
I've always hesitated to take photos of strangers on the street and preferred nature as a subject. I began photographing birds and animals to begin with, and have also focused on wildscapes in recent years. My wife always says that I communicate better with animals!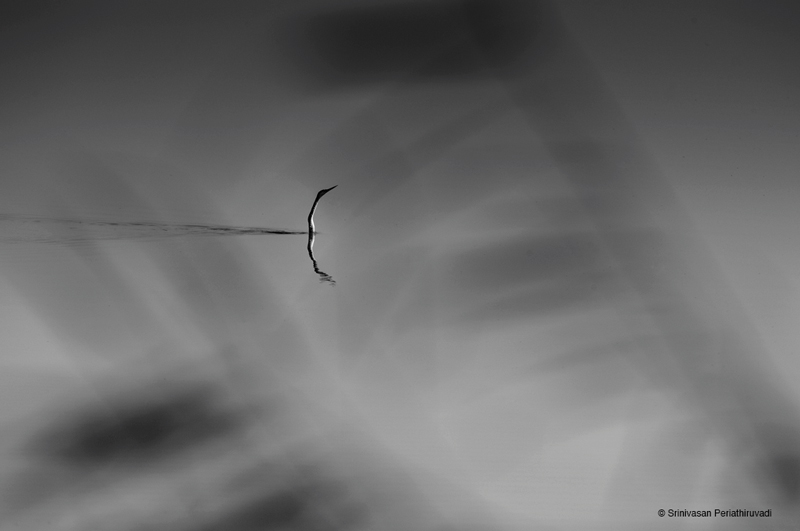 Calm Water: One of my early challenges, when I switched over to complete manual focusing.
For Srini how important is mastering field craft or animal behavior ? How do you balance the two and avoid making a cliche image?
For me, mastering the craft is more important than studying the behavior of the subject. Over a period of time most of us get to understand the behavior of animals. It's more important to plan your shot before pressing the shutter – such as visualizing the final image and according deciding the composition, take a call on what to include or exclude of the surrounding objects and choosing the appropriate settings in the camera.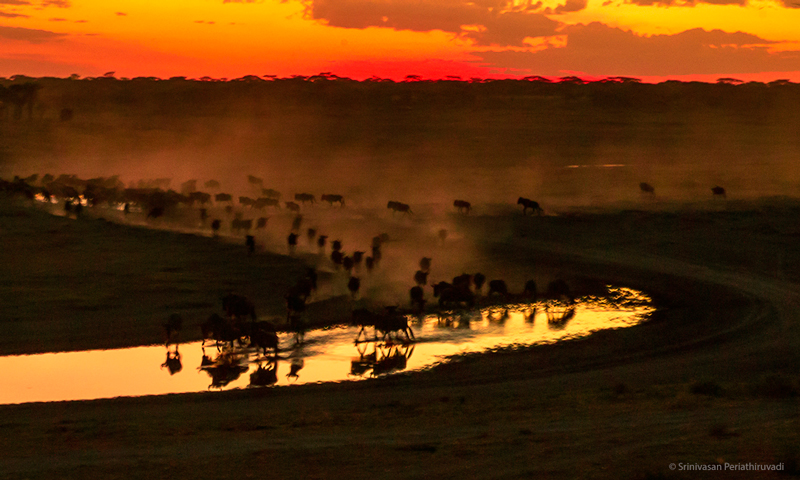 Chaos at sunset in Ndutu: This image was a challenge because of the low light and varying degree of light and shadow in the image.
How do you think photography can change people's attitude towards few endangered species/wildlife?
I've never believed photography can play a major role in changing the attitude of people in general. But photographers can certainly contribute a lot to conservation by documenting and reporting any event (including poaching) that threatens nature. The tremendous work of photographer Ramki Sreenivasan and his colleagues in Amur Falcon passage is an example. Click here to read the article.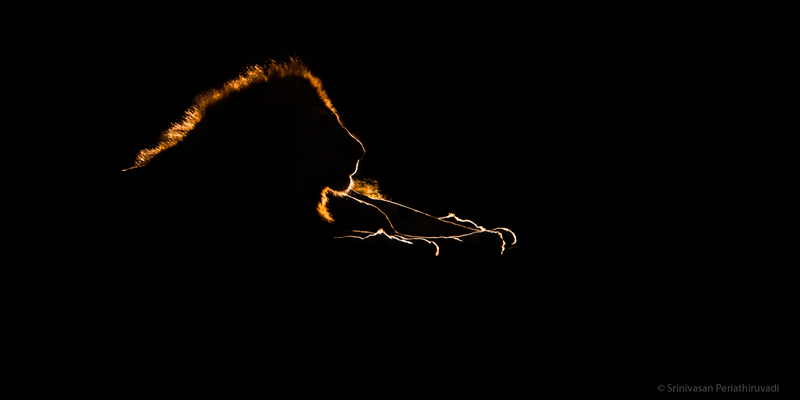 Golden Lion: Another image from Ndutu, an example of being in the right place at the right time. Needed to take a quick decision whether I have the sun behind me or against me. I am glad I did it this way.
From last 25 years you are into the photography and you travel a lot. What is the biggest change you feel in photography?
On a lighter note, everyone is now a photographer – with the cell phone camera on hand. On a serious note, access to equipment of one's choice and the numerous online programmes and books to learn about photography and post-processing is a major game changer. Personally, over the years, I have started seeing nature photography as an art.


End of the day: With the last few rays of light and the three zebras kicking the dust off the ground became an ideal frame for a monochrome image.
What were the biggest mistakes you made when you first started out as a wildlife photographer?
Probably the most important: after a trip to Bharatpur in 2008, armed with my Nikon D300, 600 mm lens and a 1.4 tele-converter, I was lucky to get some amazing images of a darter and a fish. For some reason, at that point, I believed that the photographer hasto show what he or she sees and should not edit images! I posted the un-edited image here. The comments from my colleagues forced me to learn post processing and changed the way I started looking at the frames and presenting the images!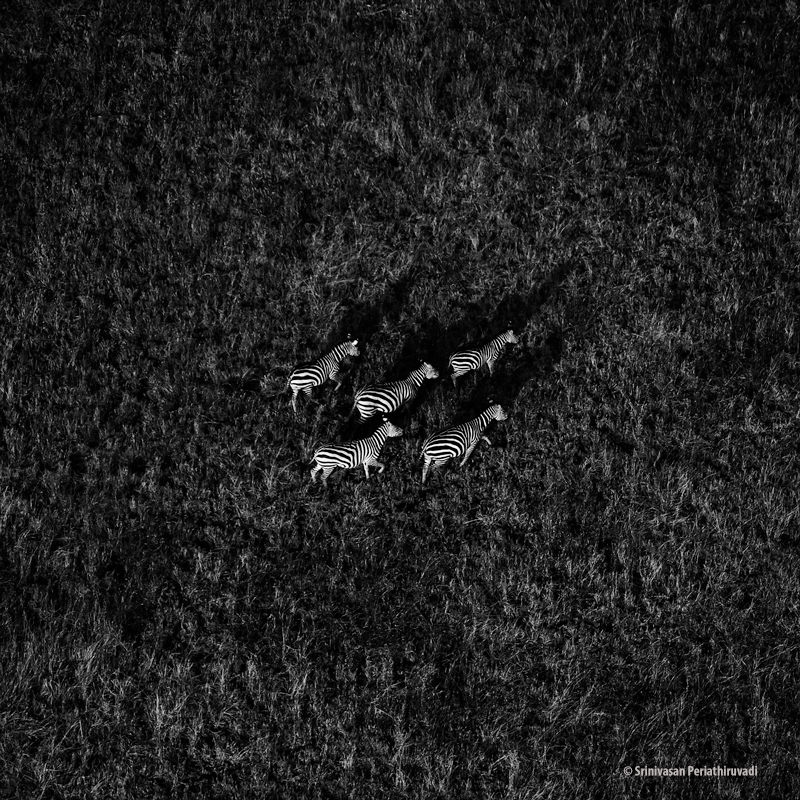 An aerial image from Serengeti was one of my first attempts from shooting from a balloon.
For Srini what makes a Best Wildlife Picture?
When someone tells me "it makes me feel like I'm right there, now" or "it looks like a painting". Personally, I want the image to tell a story.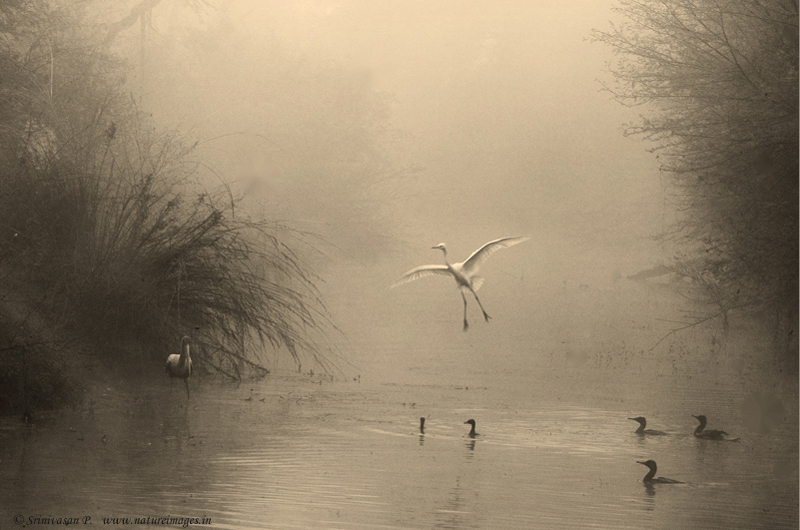 The Mist: One of my early images of mist from Bharatpur, which forms a part of my book on Misty India.
How do you prepare yourself before a tour/safari?
I believe in accepting the challenges and opportunities. I do read about the past experiences of others and gather information about the timing of sunrise, sunset and moonrise of the place. These information help me to conceive certain ideas and frames and hope to execute them. Well, I succeed less than 25% of times.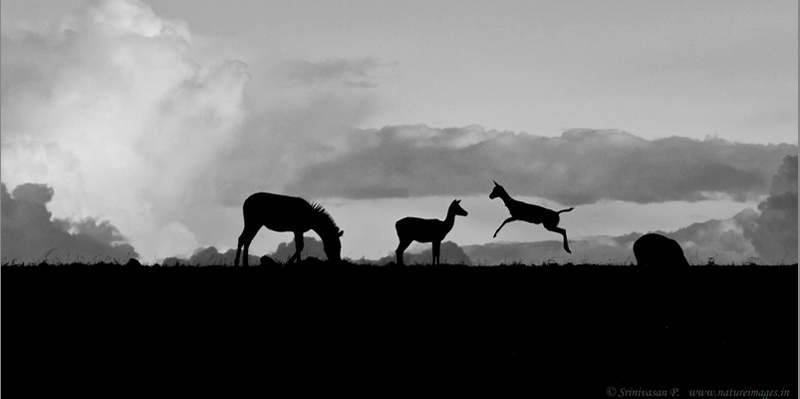 The Game: Image from Masai Mara
How important is Gear for any Wildlife Photographer?
I strongly believe gear is important but the photographer should choose the appropriate one for the scene. This can be done only when the photographer matures enough to visualize the final frame and decide the equipment for that scene.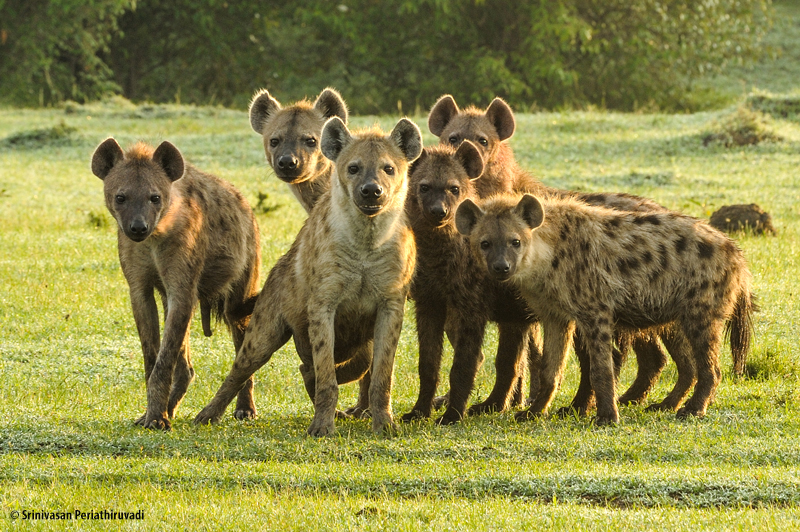 Cheese: Hyenas get curious when they hear any form of sound. This understanding made me shoot in continuous mode with the hope that one frame will get all of them and sure enough it happened.
What cameras / lenses do you use?
I am a hardcore Nikon guy. I did use for a long time the long lenses like 600 and 200-400 with tele-converters. My current kit consists of Nikon D3S and D4 bodies with 21 mm Carl Zeiss, 24-70, 70-200 and 300 mm lenses. In recent times, I tend to use more of 21 mm and 24-70.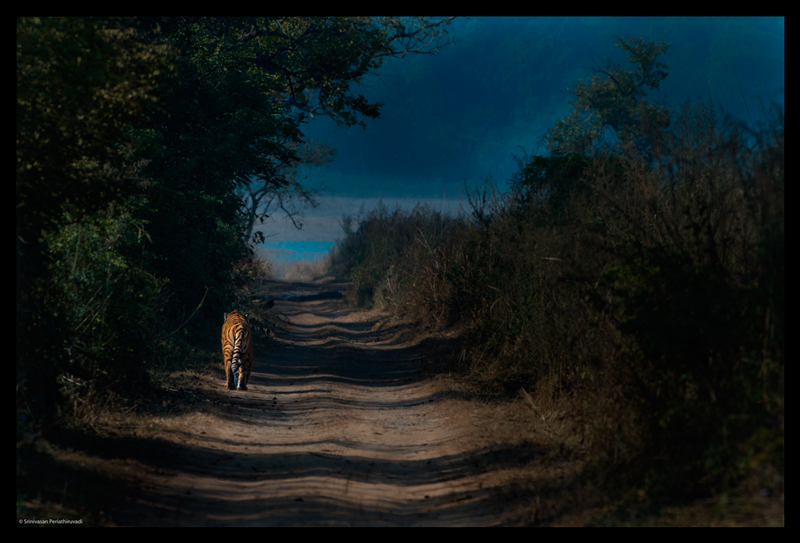 Lonely Walk: I am really glad that the tiger was walking away from me giving the opportunity to enjoy the whole frame. Had it been the otherway, the focus whould have been on the tiger!
What has been your favorite photo location? Are u always armed when on photo location?
I have fallen in love with Serengeti! Every time I go there the landscape or should I say Wildscape presents itself differently. I am always armed when in the wild to shoot – but with a camera! Nothing else.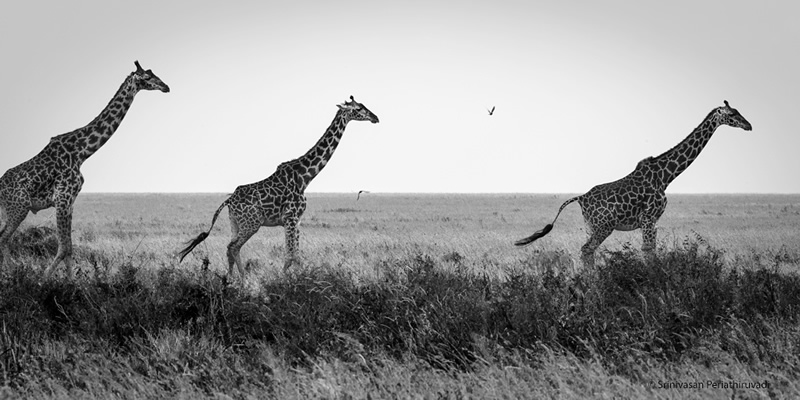 Which photographer, has been the greatest influence on you? What set them apart for you?
Let me be honest. I have never allowed anyone's style or work to influence me. Having said that one person contributed immensely to my understanding of fundamentals and to break away from them is Ganesh H Shankar.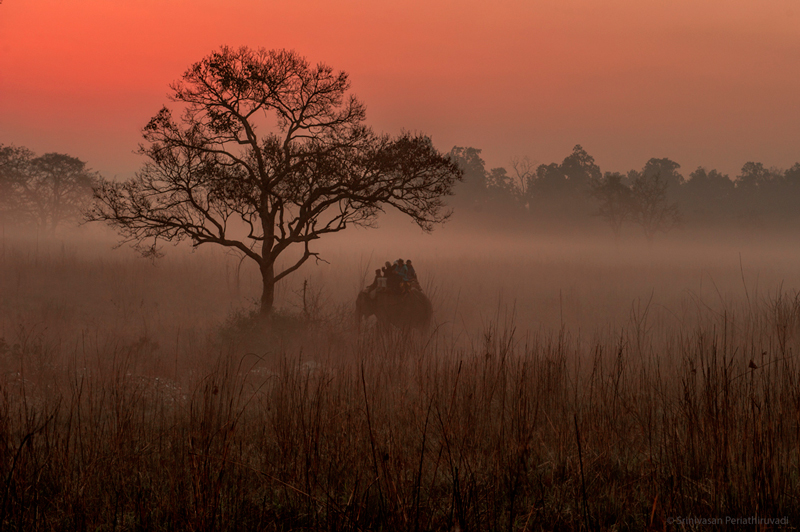 Safari in Mist: Another one of the images which form part of my book on Misty India.
Your achievements so far, and what do they mean to you?
Some early recognitions include awards in the national salons organized by the Photographic Society of Madras including one first prize in 2009 and 2010. My first exhibition in 2012 at Lalit Kala Academi, Chennai with over 50 prints, mostly 30 x 20 and printed entirely by me is possibly the happiest memory. I used to be called Aurangazeb (no interest in any form of art!) and that has certainly changed in my family circles!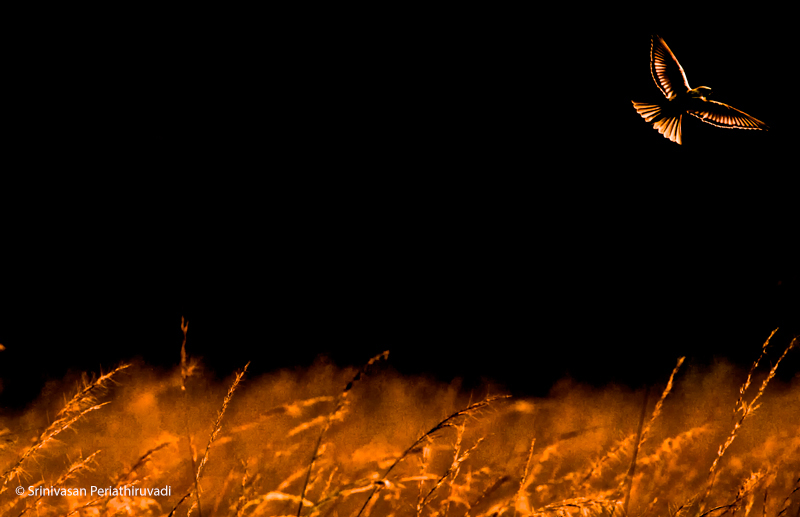 Going Home: This image of the Green Bee Eater flying in the direction of the setting sun was the winning one in the National Salon of Photographic Society of Madras in 2009.
Few words on your future projects and goals?
I am working on my next exhibition scheduled for 2015 and two picture books on nature photographyand a series of visits to Himalayas.

Stalking for meat on grass carpet
Apart from photography, tell me about your hobbies and interests?
Long walks and hanging around with friends are my other interests.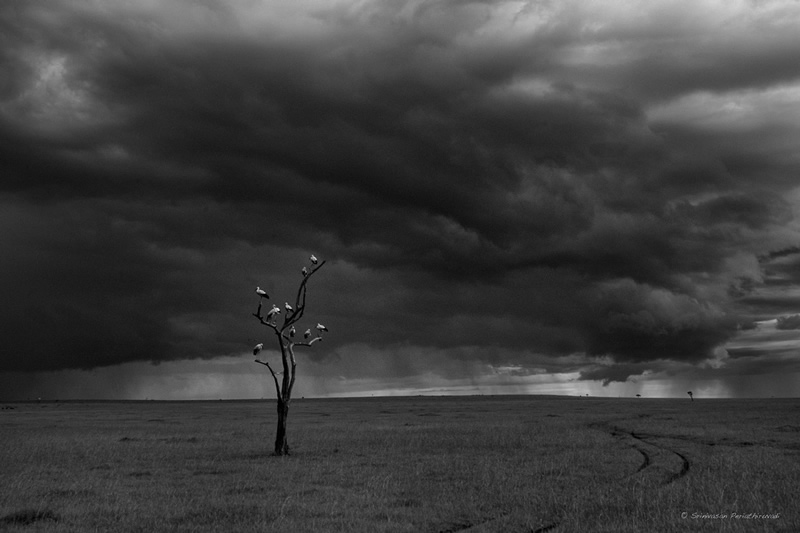 On a rainy day
Any secrets / advice to aspiring Wildlife Photographers?
When in the wild, be responsible and responsive. At some point in the journey, you need to create your own style and work towards fine tuning the same.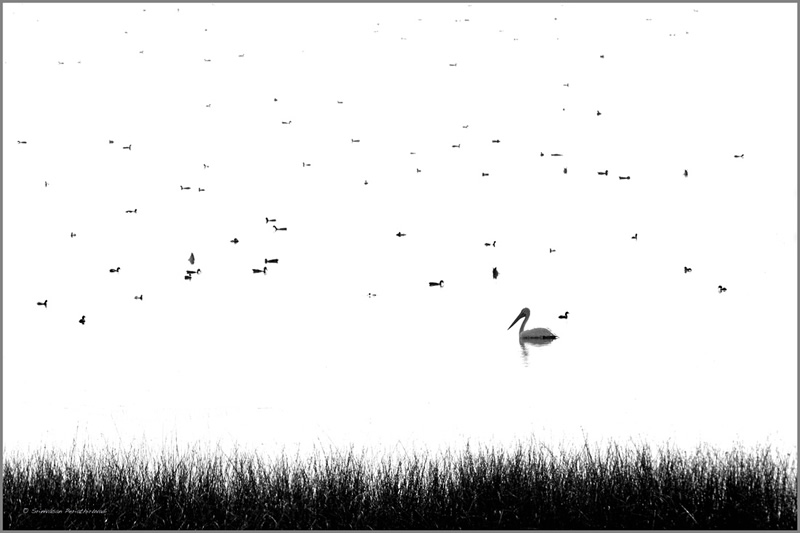 Dots and Duck
Quick Questions:
What is your idea of happiness?
Enjoy the minute, the hour and the day
What is your greatest fear?
Believe me – NONE including the fear of death!
What do you consider your greatest achievement?
Fortunate to follow my heart and remain happy with what I have.
Where would you like to live?
Middle of Serengeti!
What is your most marked characteristic?
Perseverance
What do you most appreciate in your friends?
They are there when you need them most.
Who are your heroes in real life?
They keep changing in different phases of life – It was Dr. Christian Bernard (heart transplant) when I was in school which resulted in me becoming a doctor.
What is Love?
Ability to share
What is your favorite motto?
Live like a king, don't die like a king!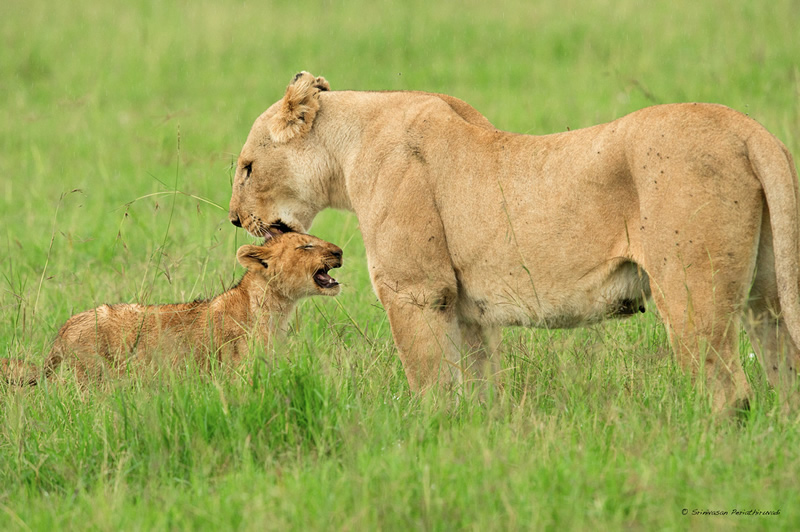 Motherly Instinct
Thanks again for this great interview with 121clicks, any final thoughts for our readers?
Take images that give you happiness and never shoot pictures to satisfy others!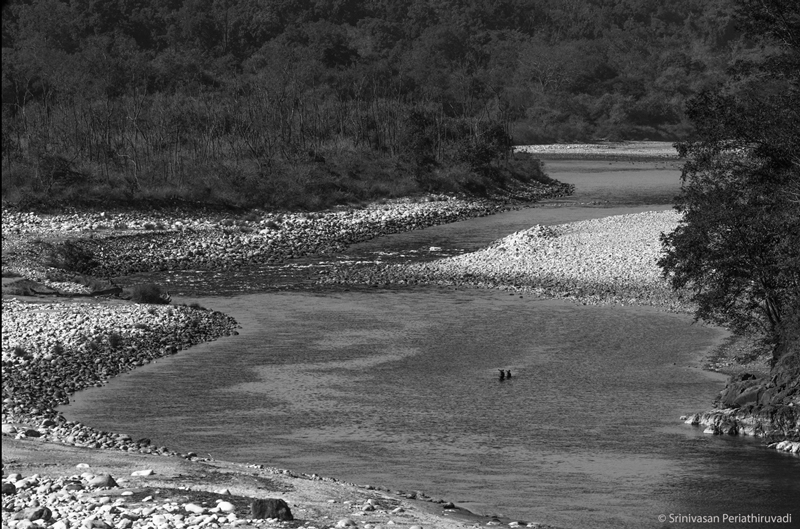 The Swim: This image of the Sambar Deer and the young one in water is from Corbett. High Bank area provides some interesting opportunities for black and white photography.
You can find Srinivasan on the Web:
Copyrights:
All the pictures in this post are copyrighted Srinivasan Periathiruvadi. Their reproduction, even in part, is forbidden without the explicit approval of the rightful owners.