Paris-based digital artist Sébastien De Oliveira has been giving old photos new life by colorizing them, and his works are simply amazing.
When his interview with Bored Panda, the artist shares "I spend lots of time finding images that tell a story. After spending some time on WW1 and WW2 images, now I am more interested in simple street views or peaceful 'tranche de vie' (pieces of everyday life) or colorizing portraits of actors from the golden age of Hollywood," says Sébastien. "I like to get into all the details that can be found in a photo and try to give my own interpretation."
Check his Instagram Page to view some more amazing work.
You can find Sébastien De Oliveira on the Web:
#1 Circus Girls In Sarasota, Florida, By Nina Leen In 1949
Image Source: Sébastien de Oliveira
#2 Happy Anonymous Couple, 1948
Image Source: Sébastien de Oliveira
#3 Jacqueline Cochran, (1906-1980), 1939
Image Source: Sébastien de Oliveira
#4 Blue Island, Illinois. The Senise Family Going To The Movie, By Jack Delano, Feb 1943
Image Source: Sébastien de Oliveira
#5 Parisian Girls Enjoying The Fun Fair, Paris, 1935
Image Source: Sébastien de Oliveira
#6 Audrey Hepburn (1929-1993) In 1956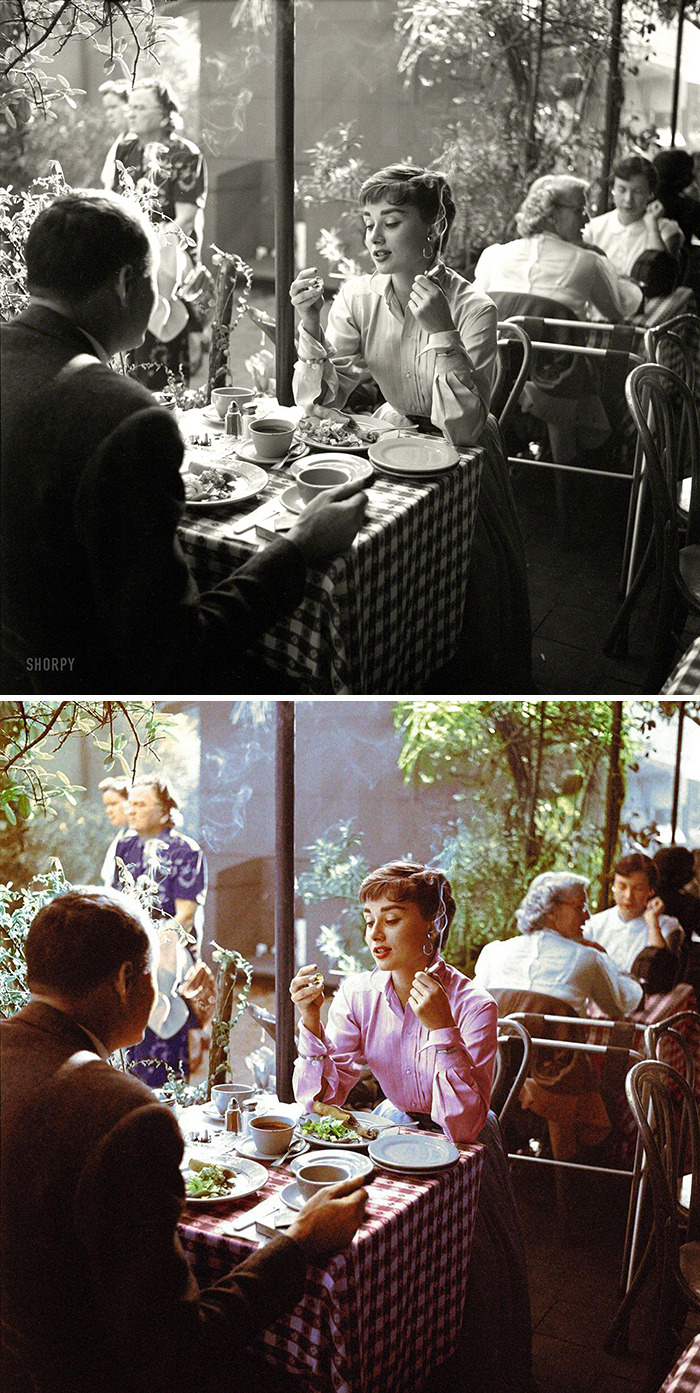 Image Source: Sébastien de Oliveira
#7 Chicago, 1941
Image Source: Sébastien de Oliveira
#8 War Time Beach On An English Coast, 1941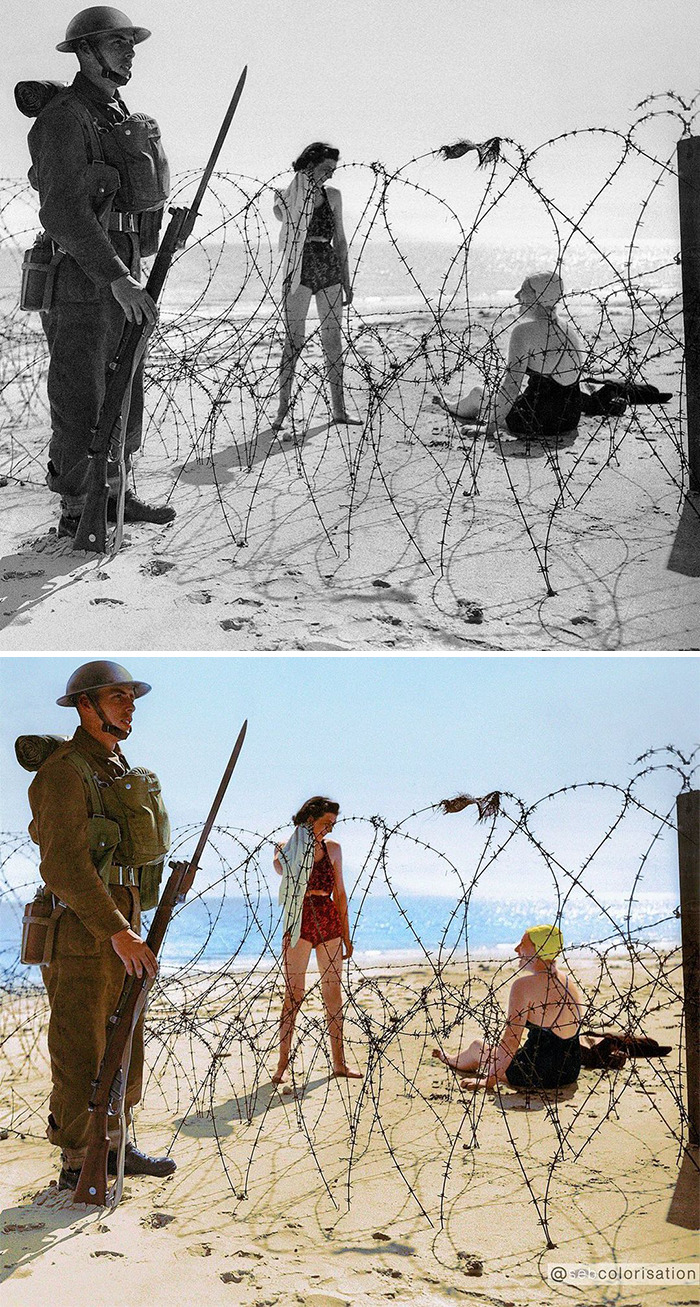 Image Source: Sébastien de Oliveira
#9 Cars And Girls, 1942
Image Source: Sébastien de Oliveira
#10 Althea Gibson Winner Of The Wimbledon Championship With Her Compatriot Darlene Hard, 1957
Image Source: Sébastien de Oliveira
#11 Saturday Afternoon In Florence, Alabama, June 1942. By Arthur Rothstein
Image Source: Sébastien de Oliveira
#12 New York In 1942, By Marjory Collins
Image Source: Sébastien de Oliveira
#13 Rainy Day In Pittsburgh, By John Vachon, June 1941
Image Source: Sébastien de Oliveira
#14 Family Of Cherry Pickers By John Vachon, 1940
Image Source: Sébastien de Oliveira
#15 Bar At Central Park In New York By Marjory Collins, 1942
Image Source: Sébastien de Oliveira
#16 Marilyn Monroe Resting On The Set Of The Misfits, By Eve Arnold, 1960
Image Source: Sébastien de Oliveira
#17 Along The California Highway Us99, 1937. By Dorothea Lange
Image Source: Sébastien de Oliveira
#18 Anonymous, France, 1967
Image Source: Sébastien de Oliveira
#19 Young Actresses Having A Sun Bath For A Film Promotion During The Cannes Film Festival, 1955
Image Source: Sébastien de Oliveira
#20 O'reilly Bar, New York, By Marjory Collins. 1942
Image Source: Sébastien de Oliveira
---
Don't miss to check these articles: