Uğur Gallenkuş is an Istanbul-based digital artist who creates heartbreaking collages to show the contrast between different parts of the world. By contrasting the images of these different realities, the artist aims to show the whole range of issues affecting today's children, including poverty, hunger, and child trafficking. "One question we all at some point ask, especially when we understand what it means to be a parent, is this: What legacy are we leaving the children of the world?" asks the artist.
Seeing all of this injustice has even inspired Uğur to publish a book titled Parallel Universes of Children. "The book takes the United Nations Convention on the Rights of Children, enforced since 1990, as its foundation, aiming through these 50 collages to convey the essential rights each child should have, regardless of their circumstances or geography," explains the artist. "Each collage represents one of the U.N.-determined rights of children and is accompanied by statistics indicating the pressing realities putting children in danger worldwide."
Uğur hopes that his book will inspire a shift in the consciousness of adults, inviting them to leave their greed and egos behind in order to make the world a better place for the children of today. "This book is dedicated to all children in the world: poor or rich, in developed countries or undeveloped countries, educated or uneducated, hungry or obese, or dead or living," says the artist. "This book is a CALL TO ACTION!"
You can find Uğur Gallenkuş on the Web:
#1 Profession Before Education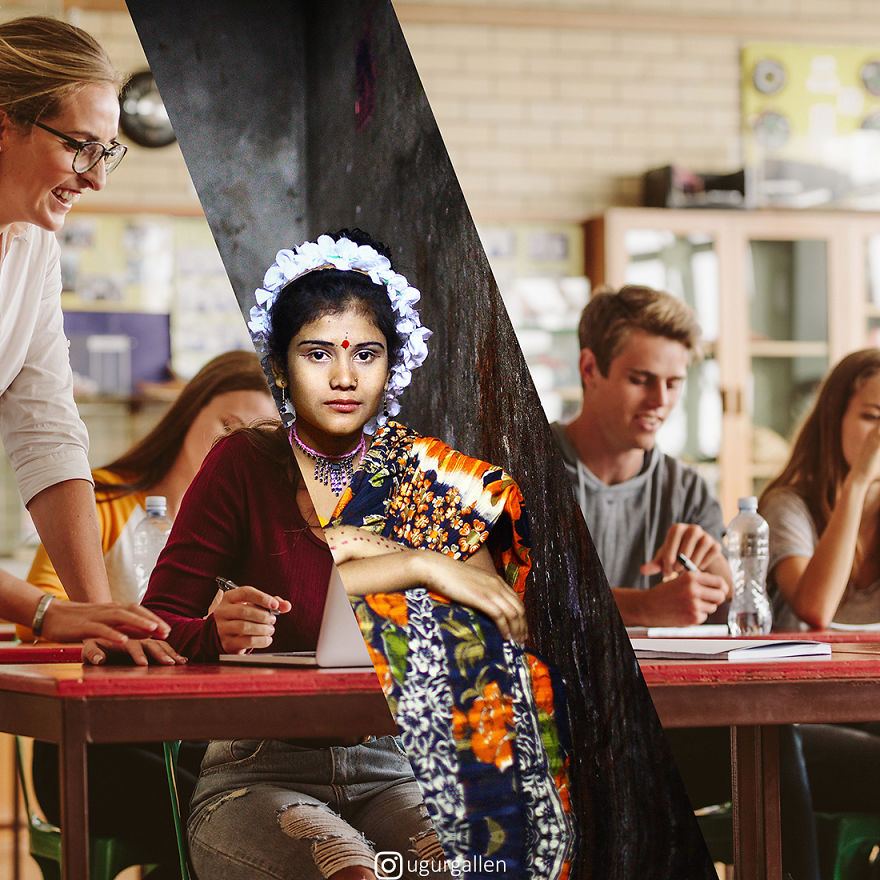 This is Shaila, a 15-year-old sex worker. Due to her stepmother's torture, she ran away from home and tried to go to her aunt's in Dhaka, Bangladesh. "Somehow I managed to get a seat on a bus which was going to Dhaka. There was too much traffic, so my bus was stuck in one place for hours. It was getting darker and I did not know what to do. When I got off the bus, it was midnight, 12 am. I was so afraid that I asked every single female passenger to give me a shelter for one night. I was crying and did not know what to do. No one believed me. If on that day, someone would have given me a shelter for just one night, my life would not have fallen into hell," she said. During the journey, she was kidnapped by a group and she found herself in a brothel.
Editorial Photo: GMB Akash
---
#2 Children Are Children First – Seesaw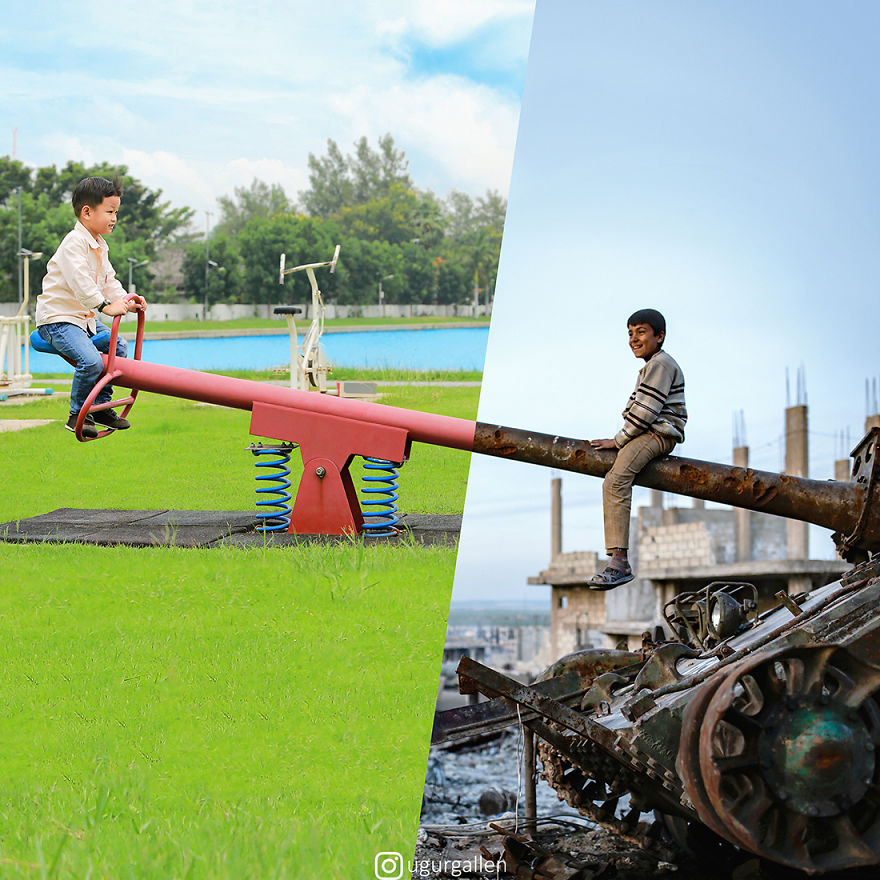 A Syrian boy sits on a destroyed tank in the Syrian town of Kobane, also known as Ain al-Arab, on March 27, 2015.
Editorial Photo: Yasin Akgül
---
#3 Bathing At War, Bathing At Peace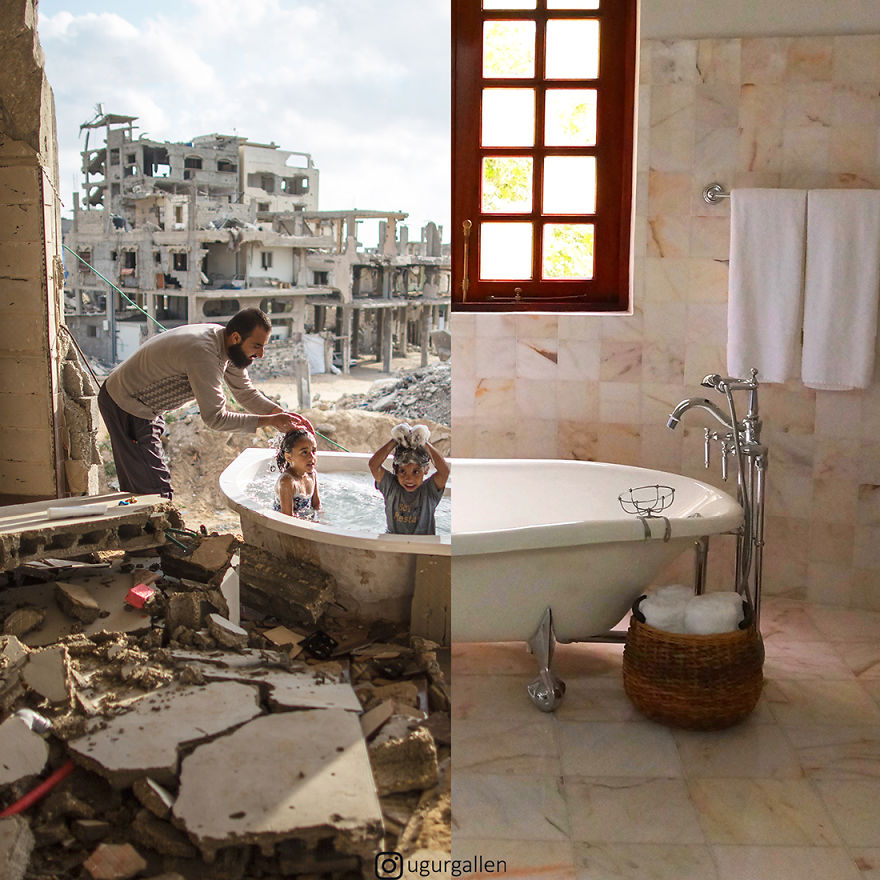 Salem Saoody, 30, is bathing his daughter Layan (L) and his niece Shaymaa 5 (R) in the only remaining piece from their damaged house, which is the bathtub, after the Israeli airstrike. 2015, Gaza.
Editorial Photo: Wissam Nassar
---
#4 I See You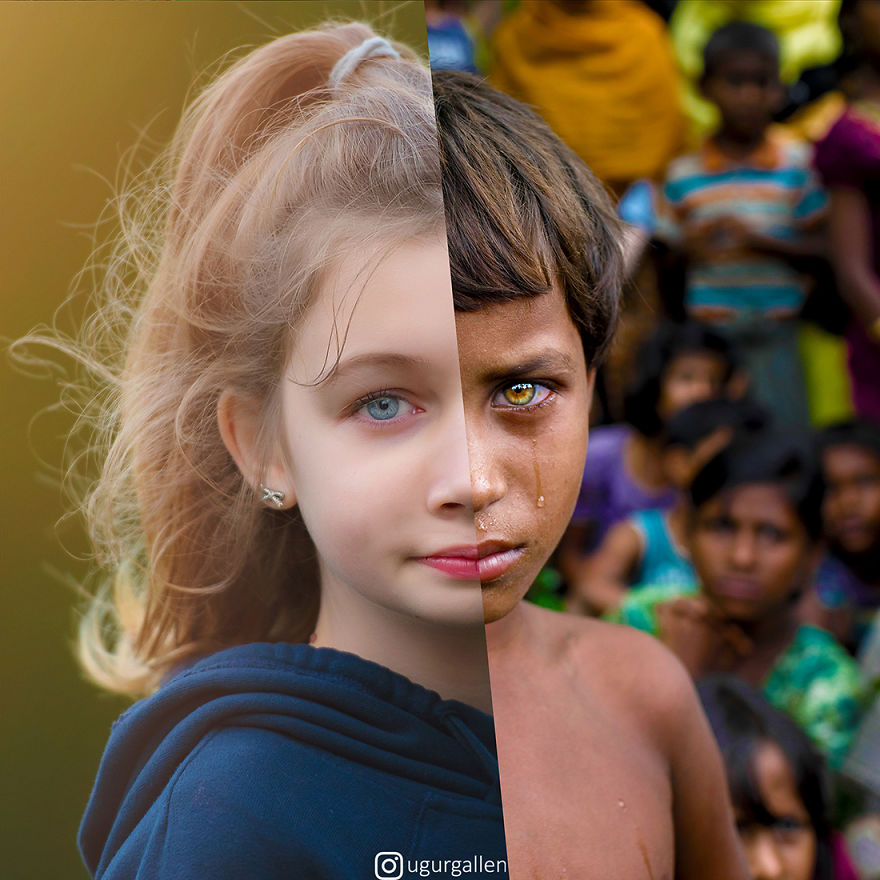 A Rohingya refugee girl looks next to newly arrived refugees who fled to Bangladesh from Myanmar in Ukhiya on September 6, 2017. With children making up around 60 percent of the Rohingya that have fled into Bangladesh, many below 18 years old arrived into the makeshift tents highly traumatized after seeing family members killed and homes set on fire.
Editorial Photo: K.M. Asad
---
#5 Wounded Girl With A Pearl Earring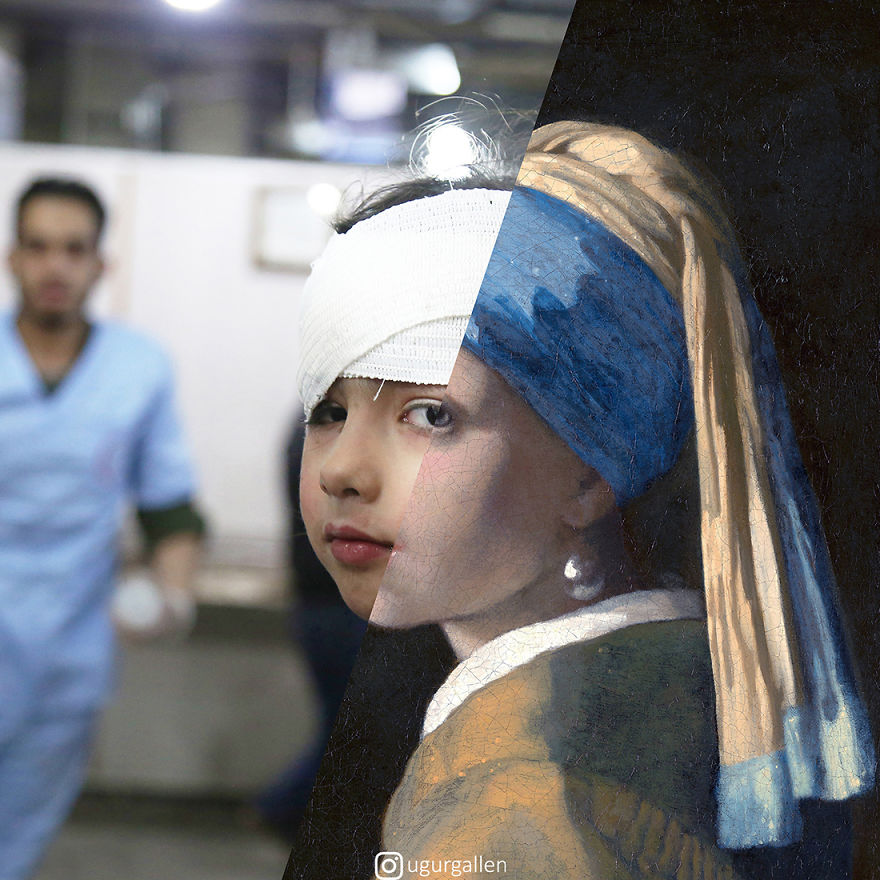 A wounded Syrian girl receives treatment at a makeshift hospital in Kafr Batna following bombardments on the Eastern Ghouta region on the outskirts of the capital Damascus on February 21, 2018.
Editorial Photo: Ammar Suleiman
---
#6 Tin Soldier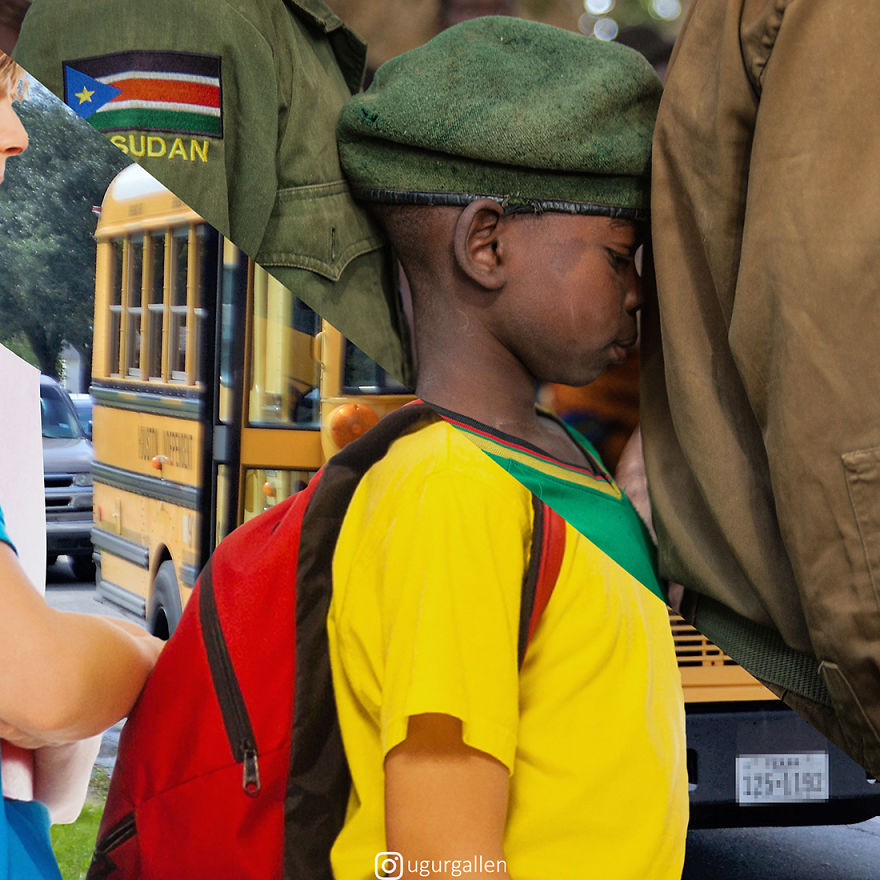 Newly released child soldiers wait in a line for their registration during the release ceremony in Yambio, South Sudan, on February 7, 2018. More than 300 child soldiers, including 87 girls, have been released in South Sudan's war-torn region of Yambio under a program to help reintegrate them into society, the UN said on Februar y 7, 2018.
Editorial Photo: Stefanie Glinski
---
#7 School-Bound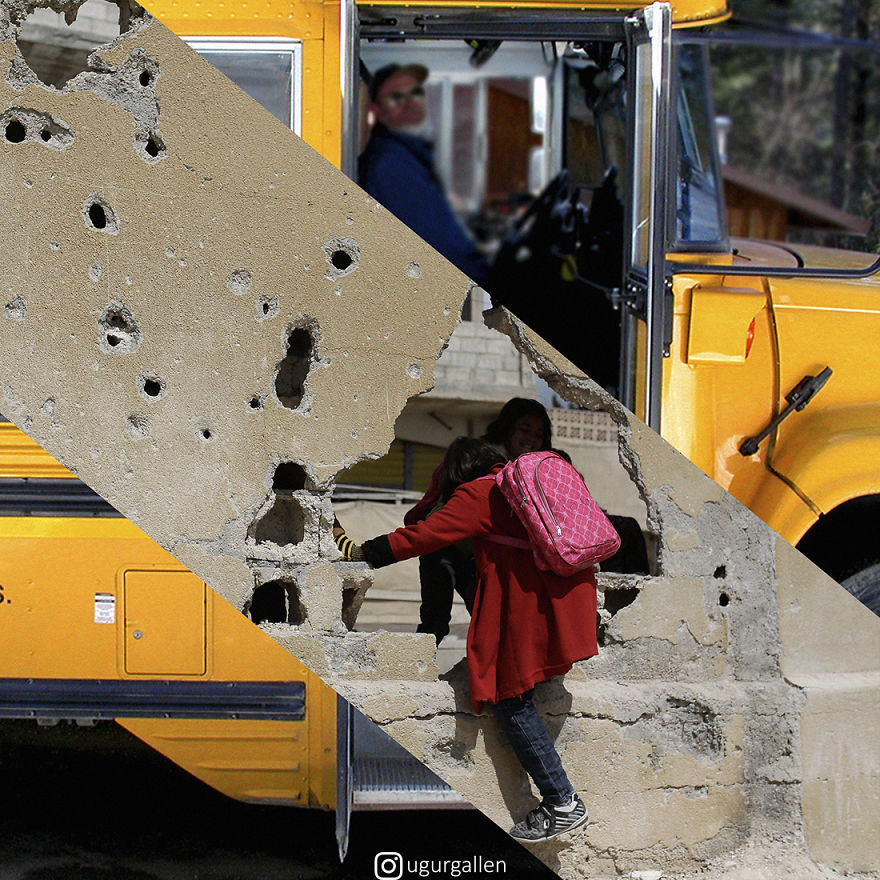 A Syrian schoolgirl crossing through a damaged wall outside her school in the Syrian town of Kobane, also known as Ain al-Arab, on March 25, 2015. Islamic State (ISIS) fighters were driven out of Kobane on January 26 by Kurdish and allied forces.
Editorial Photo: Yasin Akgül
---
#8 Children Are Children First – Swings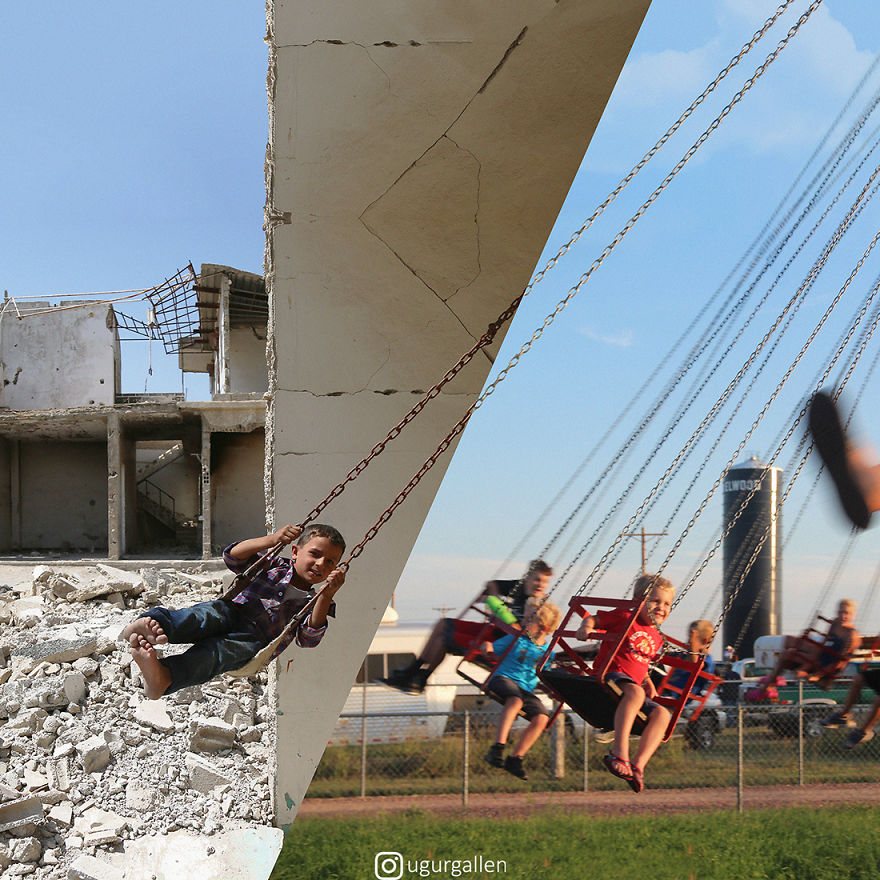 A Syrian boy plays on a swing in a destroyed building in the rebel-held town of Douma, on the eastern outskirts of Damascus, as Muslims celebrate the third day of the Eid al-Adha holiday on September 3, 2017.
Editorial Photo: Amer Almohibany
---
#9 Earning Play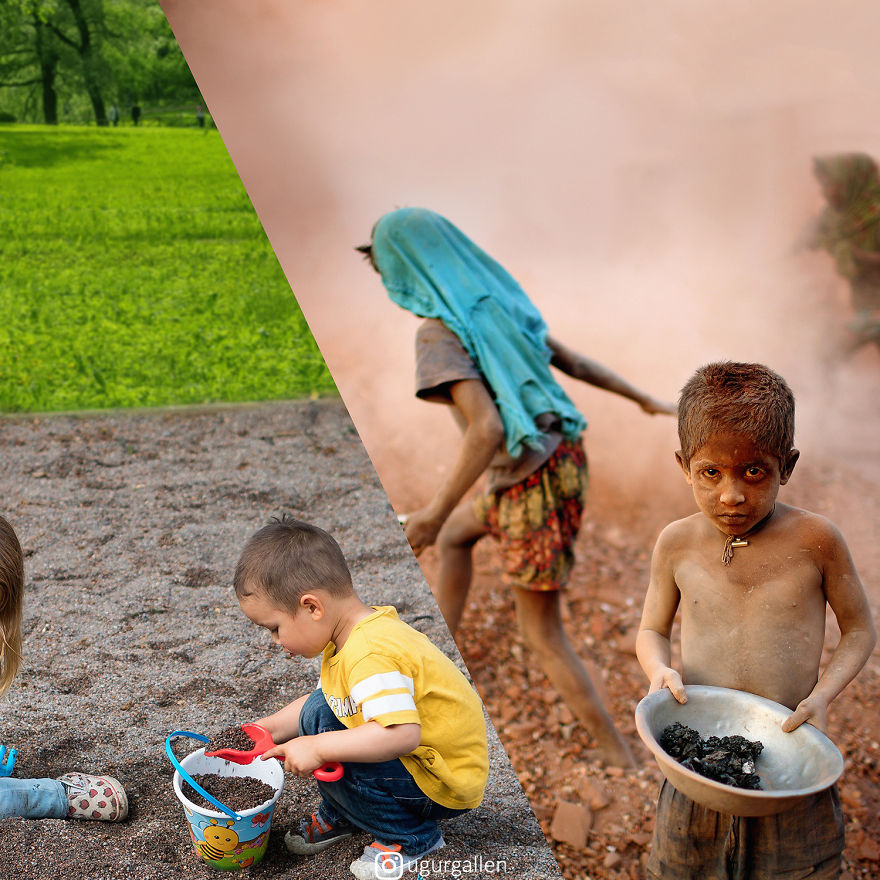 Children at a brick factory in Fatullah near Dakka in Bangladesh. For every thousand bricks they carry, they earn the equivalent of 0.9 USD.
Editorial Photo: GMB Akash
---
#10 Lunch Break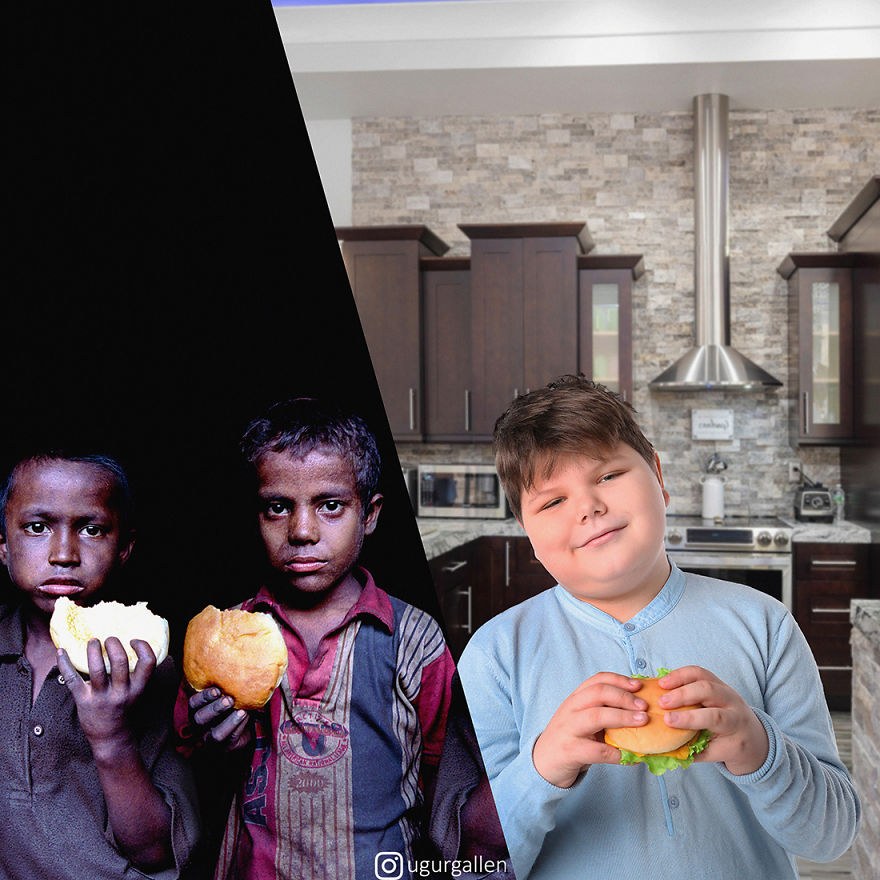 Two child laborers eating their lunch during a break at the factory where they work. Dhaka, Bangladesh.
Editorial Photo: GMB Akash
---
#11 Best Friends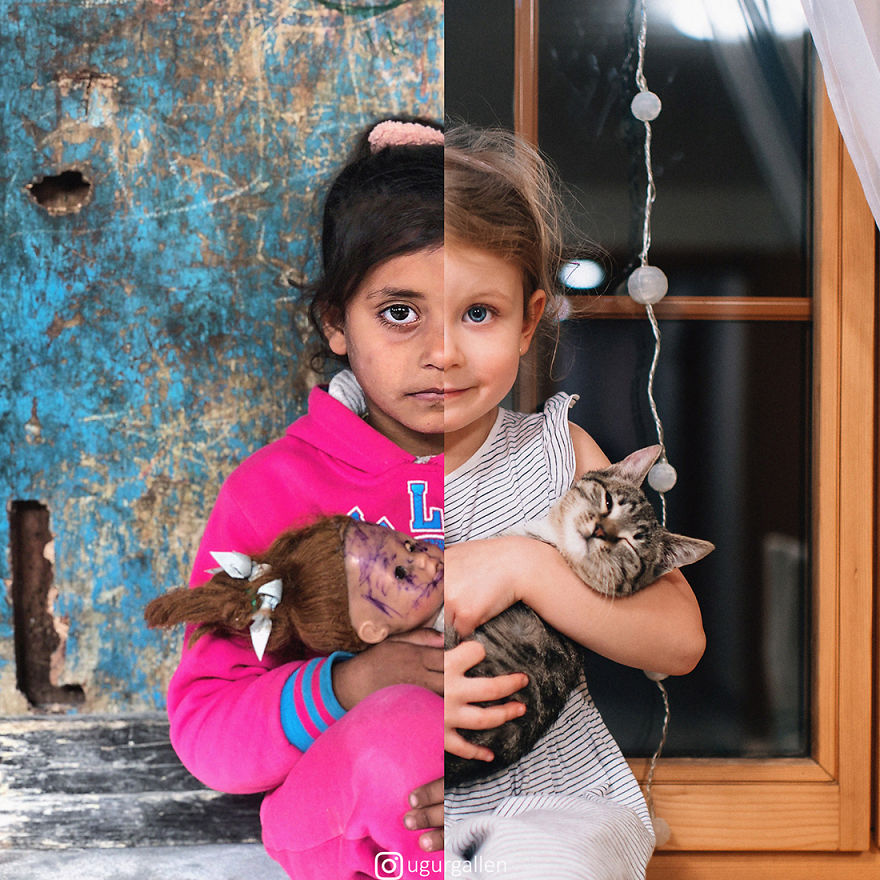 Noha Abu Mesleh, 5 years old, is seen inside of her home in the Nuseirat refugee camp in central Gaza Strip.
Editorial Photo: Wissam Nassar
---
#12 Peaceful Sleep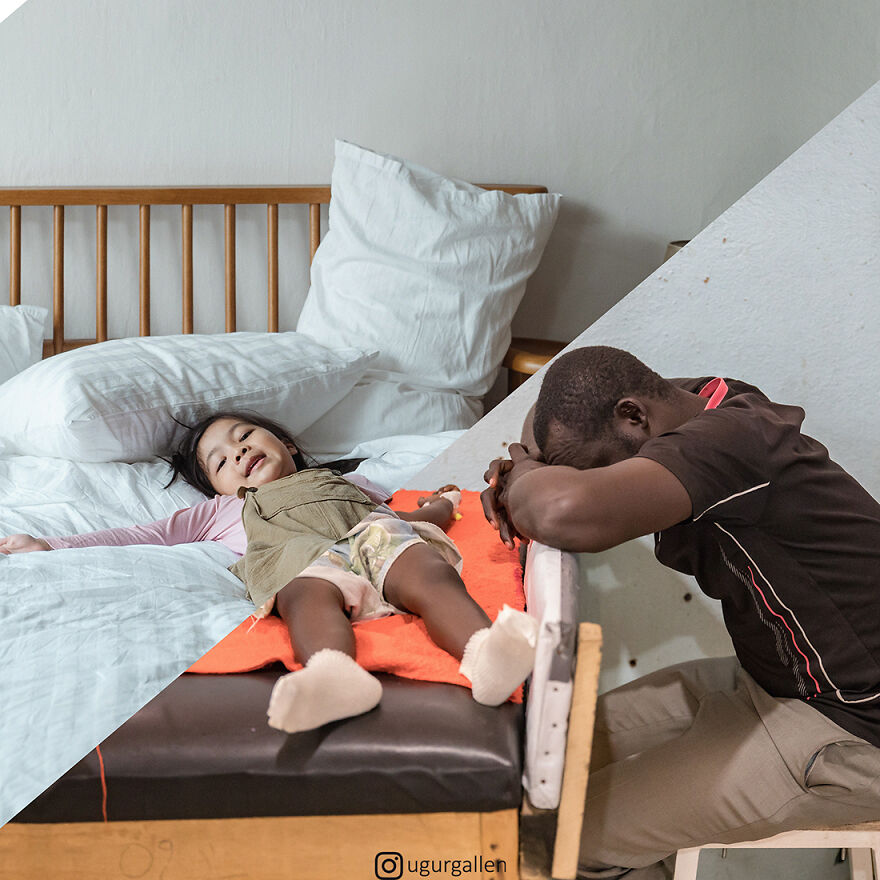 A father with his child in the intensive care unit of the district hospital in Mora, Far North Region, Cameroon. The diseases most prevalent among African children are malaria, diarrhea, and malnutrition. February 20, 2019.
Editorial Photo: Pierre-Yves Bernard/MSF
---
#13 Children Are Children First – Skiing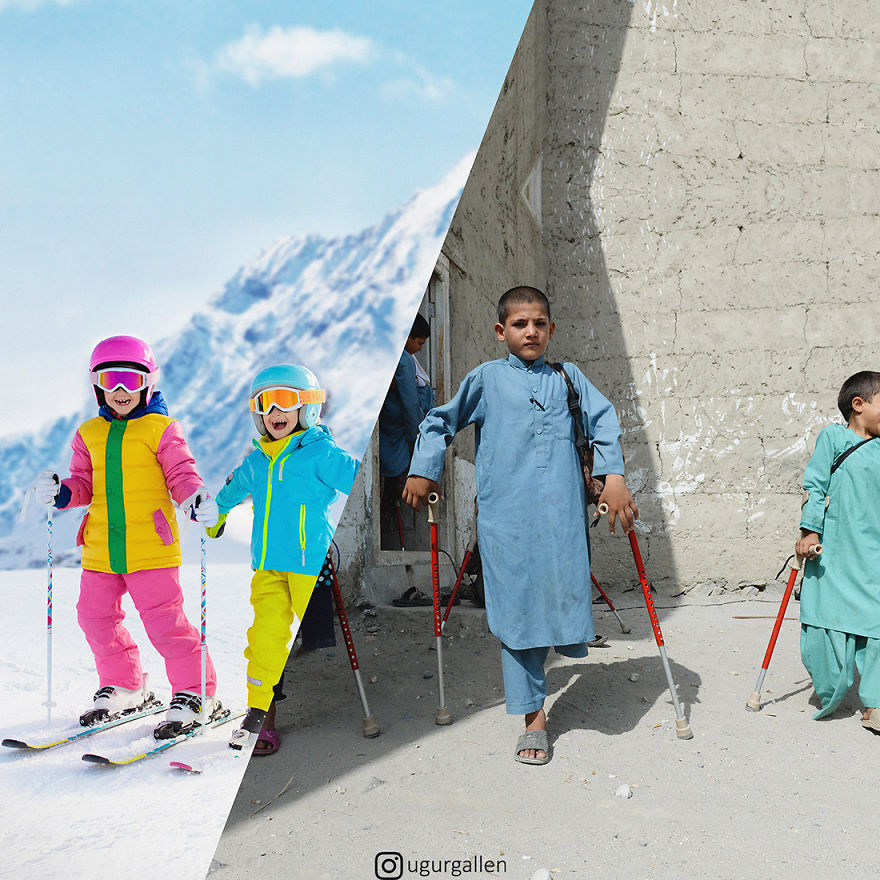 Children bear the brutal cost of endless war. As 10 children from the same family were walking to school last year, they came across an unexploded mortar bomb—a common sight in Afghanistan, where war still rages between the Taliban and US-backed national forces. Not realizing what it was or the dangers it posed, the curious kids picked up the device and took it to show to an aunt. And then it exploded. Three children and the older relative were killed, and the remaining seven lost at least one limb each.
Editorial Photo: Noorullah Shirzada
---
#14 A Rohingya Refugee Mother And Child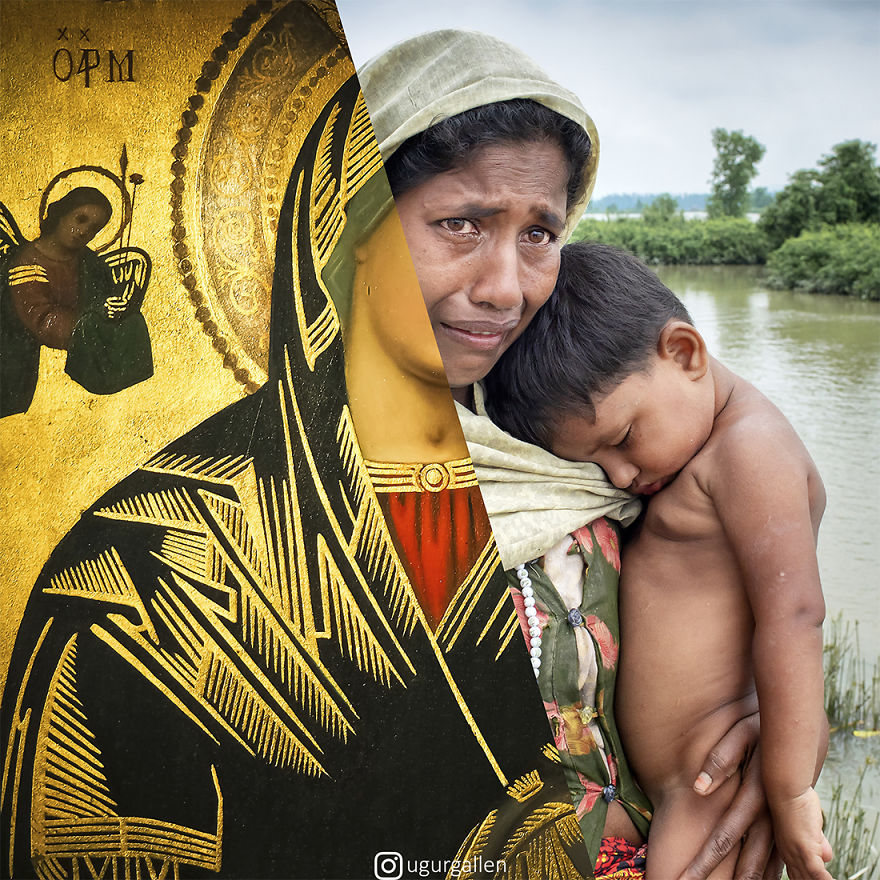 A Rohingya refugee mother and child's exodus from Myanmar to Bangladesh. According to the UNHCR, more than 720,000 Rohingya refugees have fled from Myanmar to cross the border and reach Bangladesh.
Editorial Photo: K.M. Asad
---
#15 Crossing The Red Sea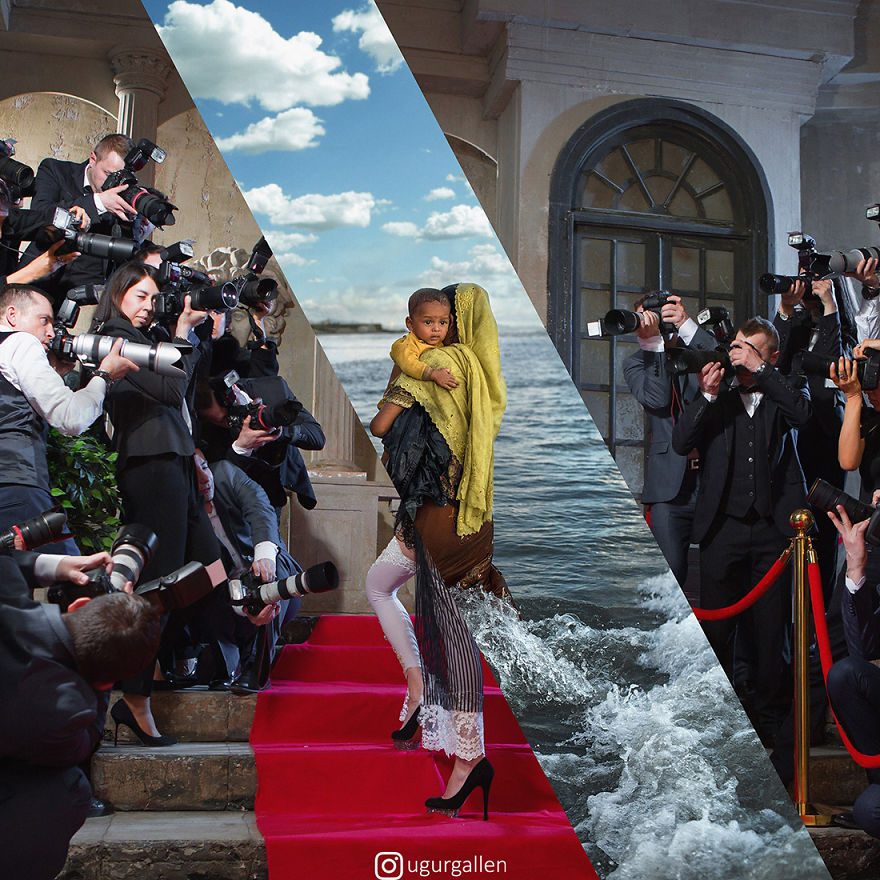 A Rohingya refugee woman holds her son, seen after arriving with a boat to the nearest beach to the Bangladesh-Myanmar border, Shah Porir Dip Island Teknaf, Bangladesh, September 14, 2017.
Editorial Photo: KM Asad
---
#16 Children Are Children First – Balloons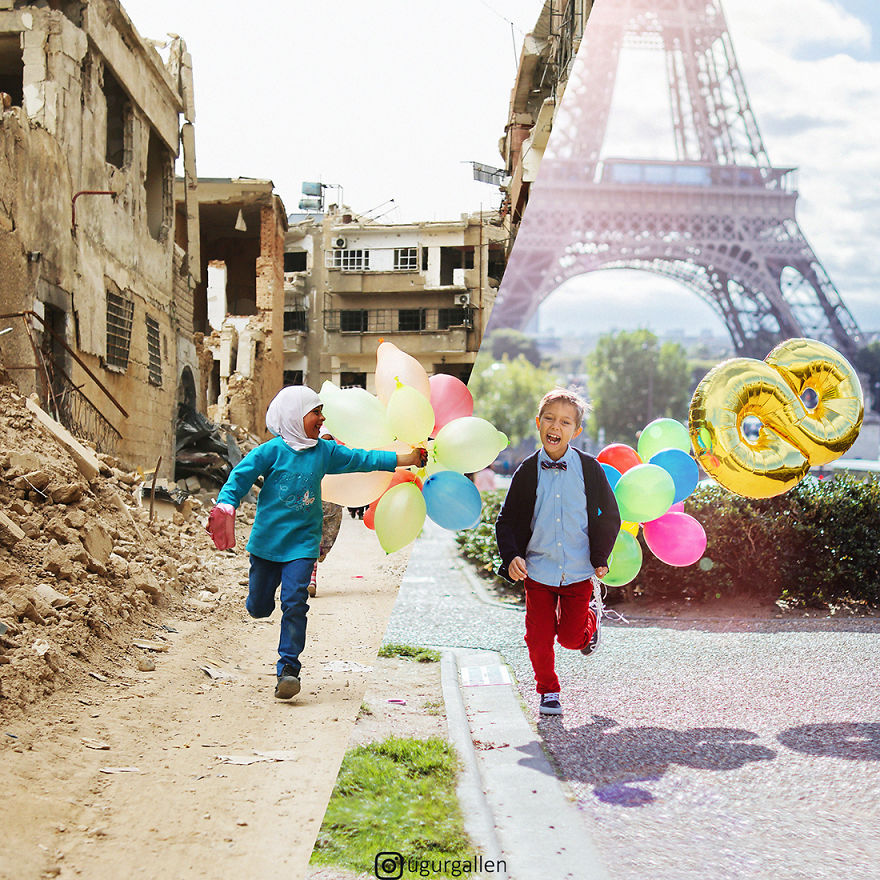 Syrian children run with balloons past heavily damaged buildings in the neighbourhood of Jobar on the eastern outskirts of the Syrian capital Damascus on April 9, 2016.
Editorial Photo: Amer Almohibany
---
#17 Not All Heroes Wear Medals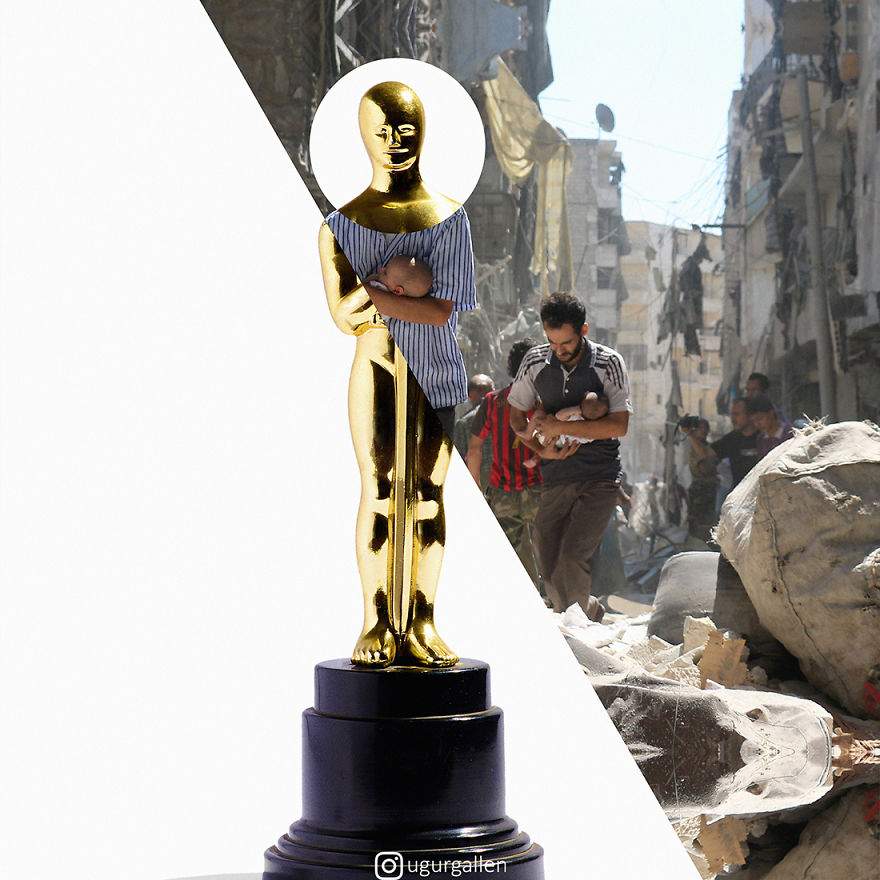 Syrian men carrying babies make their way through the rubble of destroyed buildings following a reported airstrike on the rebel-held Salihin neighborhood of the northern city of Aleppo on September 11, 2016.
Editorial Photo: Ameer Alhalbi
---
#18 Red Lipstick, Ocean Eyes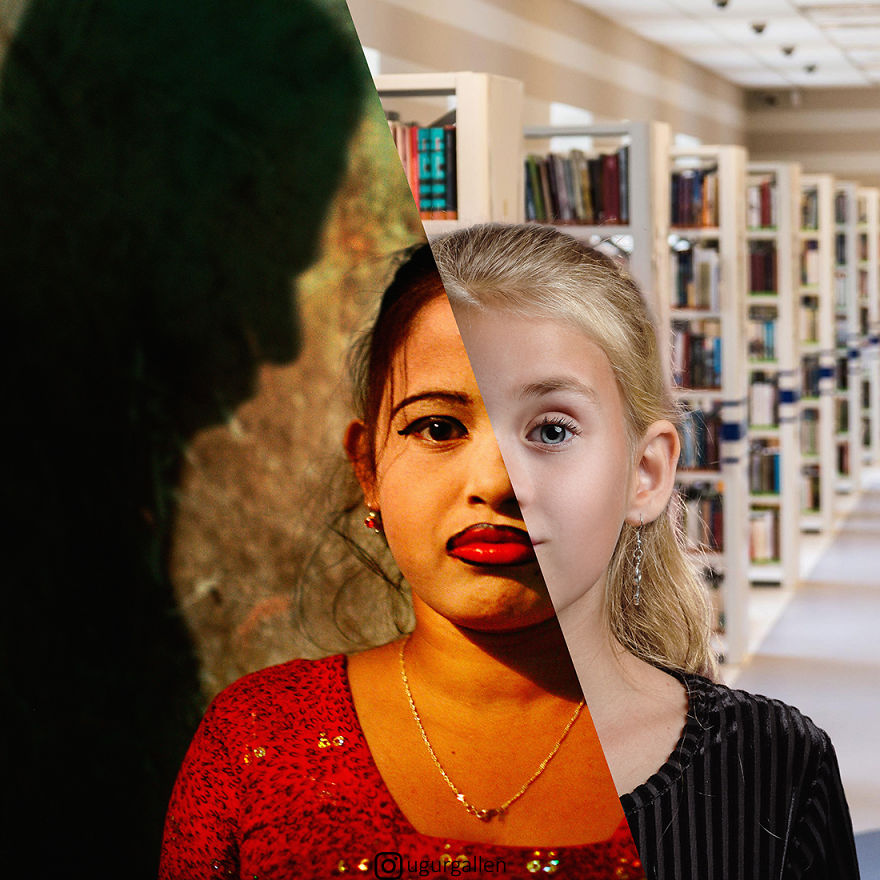 She is Rosina. She is a 14-year-old sex worker in Bangladesh.
Editorial Photo: GMB Akash
---
#19 Waiting For A Chance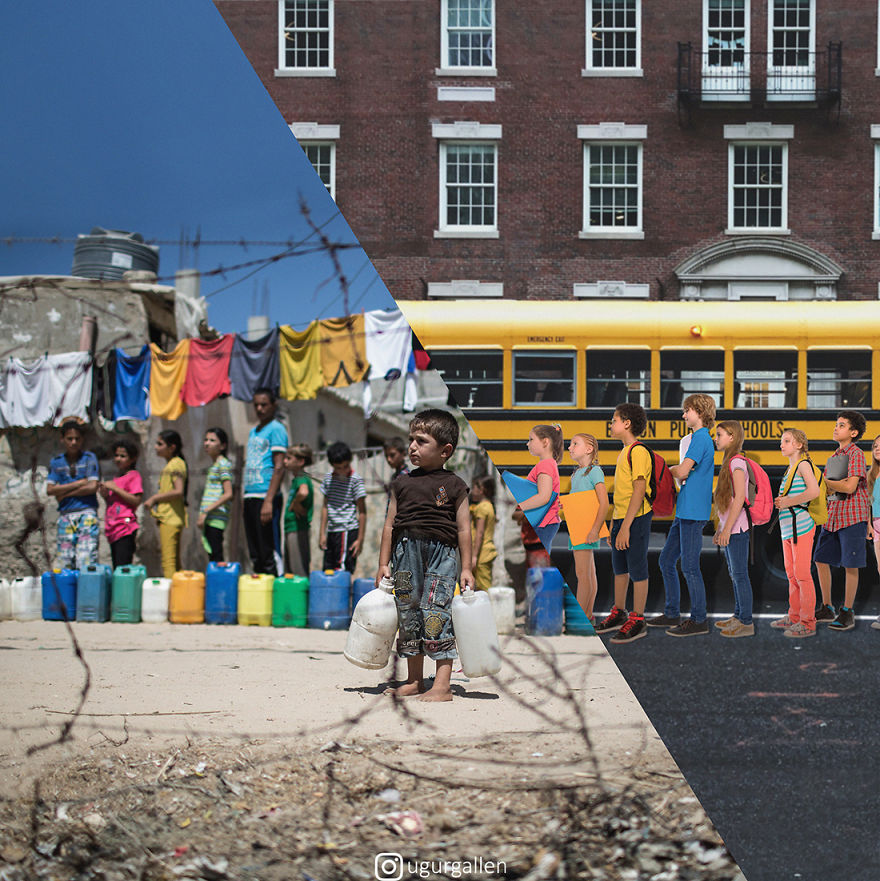 Palestinian children waiting to fill jerrycans and bottles with drinking water from public taps at the Dair Al Balah refugee camp in central Gaza Strip in 2014.
Editorial Photo: Wissam Nassar
---
#20 Until Every Girl Goes To School
Pakistani girls attend a school attacked twice by the Taliban. Nowshera, Khyber Pakhtunkhwa, Pakistan, 2013.
Editorial Photo: Diego Ibarra Sanchez
---
You can find our previous related articles: