In this video photographer Tatiana Hopper looks closely at the photography of William Eggleston, one of the most popular and widely recognised American photographers of all time.
This video breakdown as:
00:00​ – Intro
02:31​ – Eggleston in Black & White
04:12​ – Eggleston in Colour
06:17​ – Evocative use of Colour
08:18​ – Emptiness
09:07​ – Photographic Projects
11:58​ – Conclusions
We are sharing this video from T.Hopper Youtube Channel. You can follow their channel for more amazing videos.
Don't miss to check:
About William Eggleston
William Eggleston (born July 27, 1939) is an American photographer. He is widely credited with increasing recognition for color photography as a legitimate artistic medium.
William Eggleston was born in Memphis, Tennessee and raised in Sumner, Mississippi. His father was an engineer and his mother was the daughter of a prominent local judge. As a boy, Eggleston was introverted; he enjoyed playing the piano, drawing, and working with electronics. From an early age, he was also drawn to visual media, and reportedly enjoyed buying postcards and cutting out pictures from magazines.
Eggleston's early photographic efforts were inspired by the work of Swiss-born photographer Robert Frank, and by French photographer Henri Cartier-Bresson's book, The Decisive Moment. Eggleston later recalled that the book was "the first serious book I found, from many awful books…I didn't understand it a bit, and then it sank in, and I realized, my God, this is a great one.
First photographing in black-and-white, Eggleston began experimenting with color in 1965 and 1966 after being introduced to the format by William Christenberry. Color transparency film became his dominant medium in the later 1960s. Eggleston's development as a photographer seems to have taken place in relative isolation from other artists.
In an interview, John Szarkowski describes his first encounter with the young Eggleston in 1969 as being "absolutely out of the blue". After reviewing Eggleston's work (which he recalled as a suitcase full of "drugstore" color prints) Szarkowski prevailed upon the Photography Committee of MoMA to buy one of Eggleston's photographs.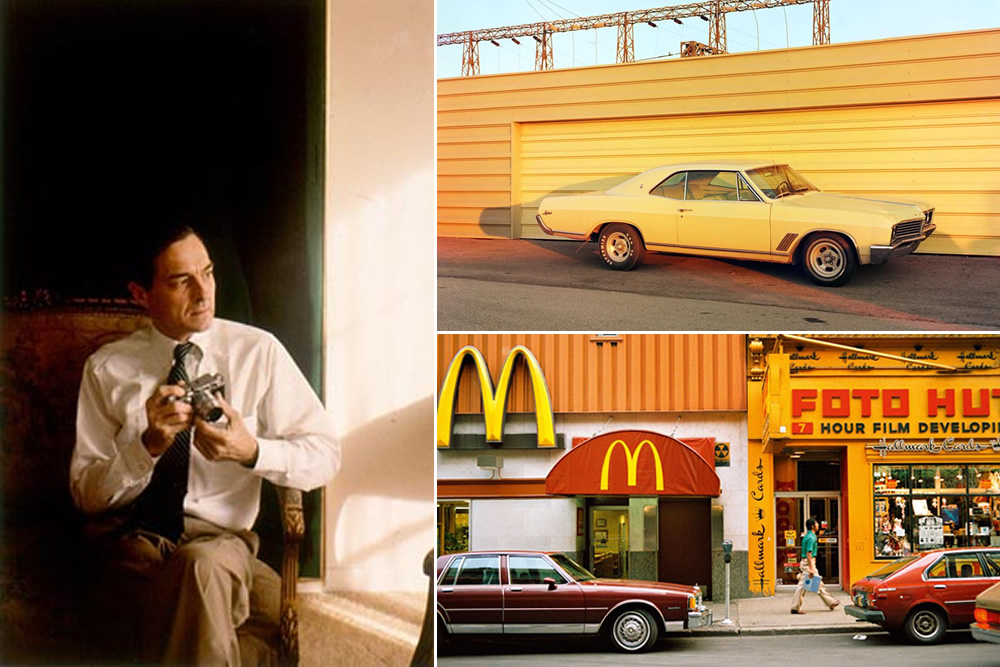 You can find more info about William Eggleston: