My name is Niki Colemont. I'm 34 years old, living in Belgium in a village called Diepenbeek. I was born in Rwanda in 1986, just a few years before the genocide started.
When the Rwandan Genocide war began in 1990 my ante brought me and my sister to an orphanage for adoption. I was 4 years old and my sister 9 years old. I have never known my real parents my mother died while giving birth to me. My dad died in the war.
Now recently in 2019, I lost my sister she was only 38 years old. The moment she died it was like a piece of my past died with me. I miss her every day.
Check previous article from Nii Colemont:
Welcome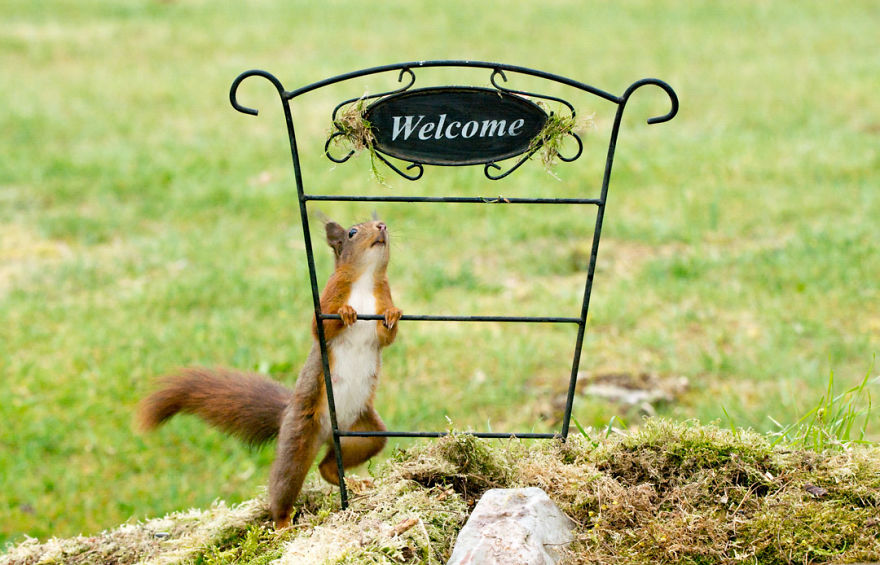 Currently, I take photos of squirrels in creative and entertaining poses in my girlfriend's grandmother's garden. I started doing it in 2016 with no formal education and I learned everything through trial and error. When I saw my first squirrel in her garden, I bought a squirrel feeder to get them on the same tree each day. I went to a local animal store and bought peeled walnuts to place in the feeder. I waited for 2 months, then the magic happened: the first squirrel learned how to open the feeder and 5 days later, 2 new squirrels did the same thing. I was so happy! On my 30th birthday, I bought myself a tele-lens to use on my Nikon D5200 and a wildlife hide tent for observation.
Blocking my view
Buying these 2 things opened up a new world full of opportunities. I started to build a natural setup for the squirrels and placed food on the setup each day. My brain was on fire and I started to get ideas—my goal was to get the squirrels into special poses without using Photoshop, thinking about things nobody else had done before.
For 4 years, I've used food in every setup, but I have to place it in such a way that it won't be visible in the pictures. In 4 years of shooting squirrels, I had some images and moments I will never forget.
Covid vaccine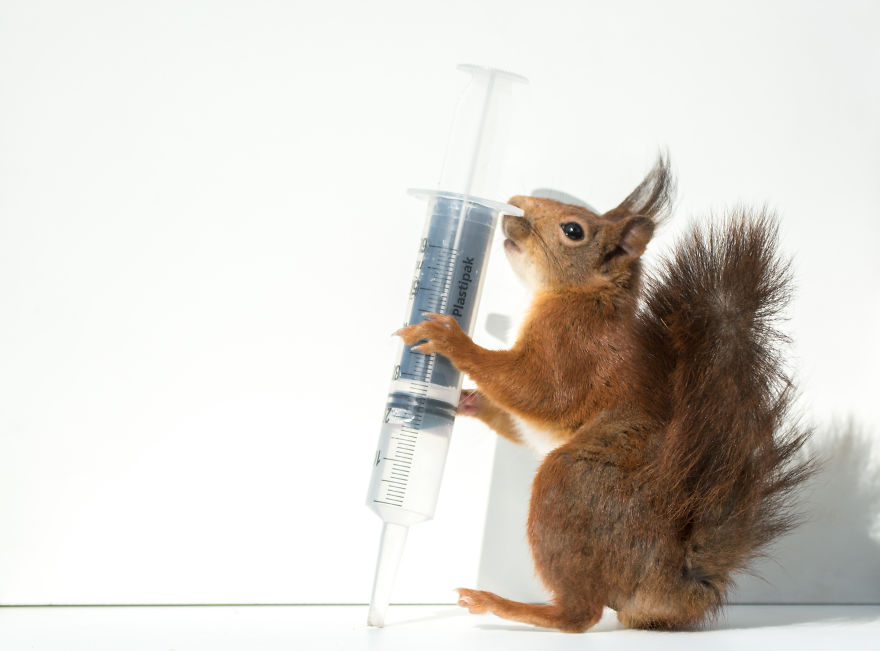 Guys don't look any further my squirrels found a cure for the coronavirus. You can see the bubble in the syringe.
Obstacle avoiding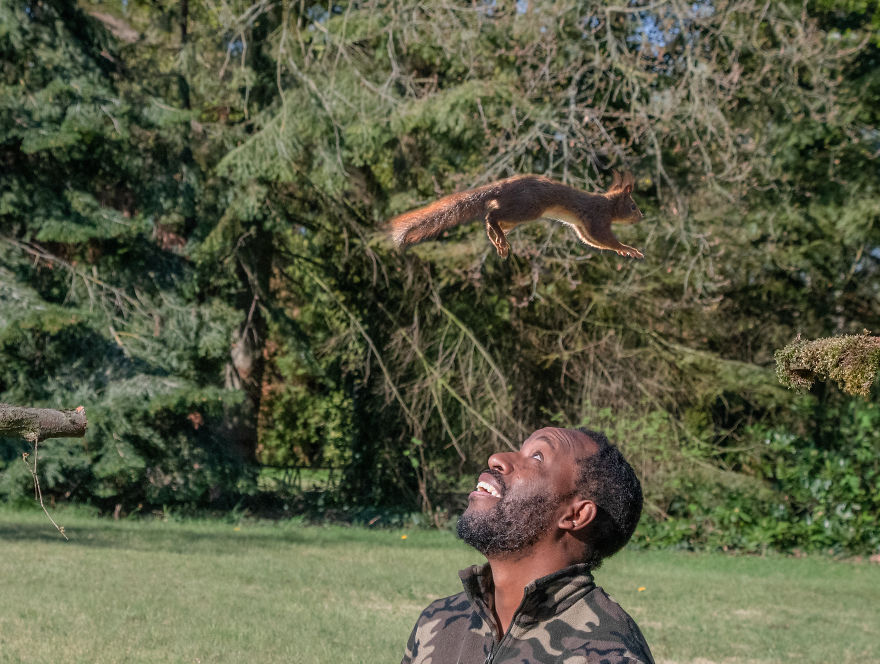 It inspires me that I can be myself in my photography. It's a great way for me to express my feelings. I'm a very happy guy and always smiling and that's a feeling that I want to show in my pictures.
If you want to become a photographer, try not to be scared of making mistakes. Even if you miss a shot, there will always be a next time to try again, which is why you shouldn't give up on trying to reach your goals. You can start small in your own garden or house, experiment with ideas. Every object can be interesting.
Squirrels of duty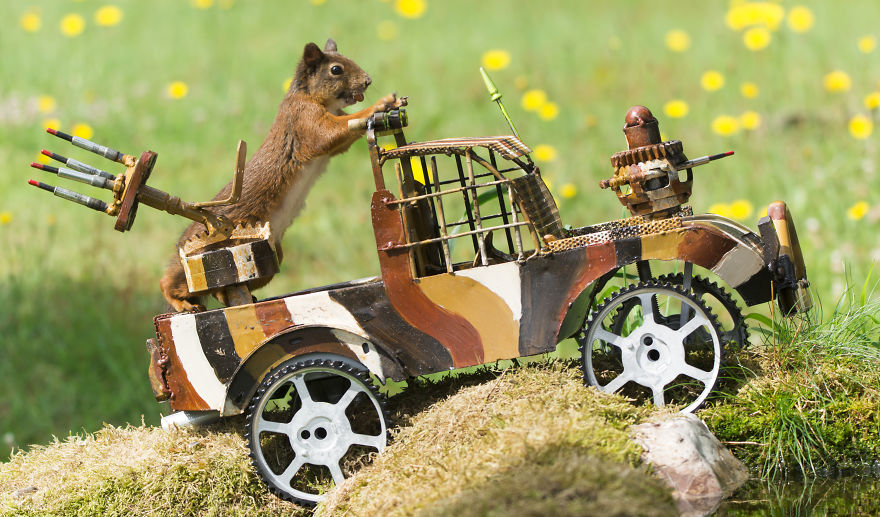 Social distance?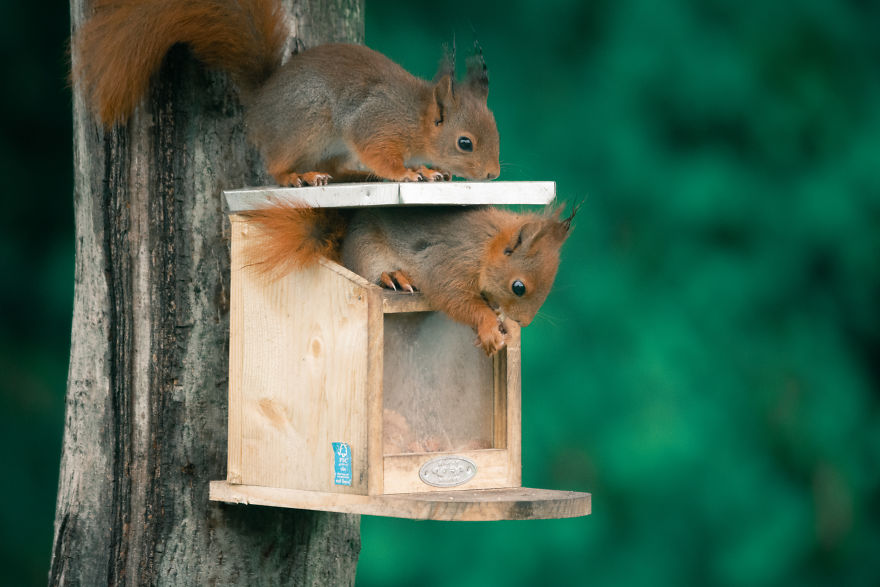 One of my funniest moments as a wildlife photographer. I Could not stop laughing when I took this picture, I had to laugh in silent mode. Normally squirrels are always fighting but these are 2 young squirrels.
In my opinion, what makes a good photographer is to shoot something that you find fascinating, intriguing, beautiful, or funny. When I see a picture, I need to have the feeling that I can forget everything. It has to bring me joy.
Stuck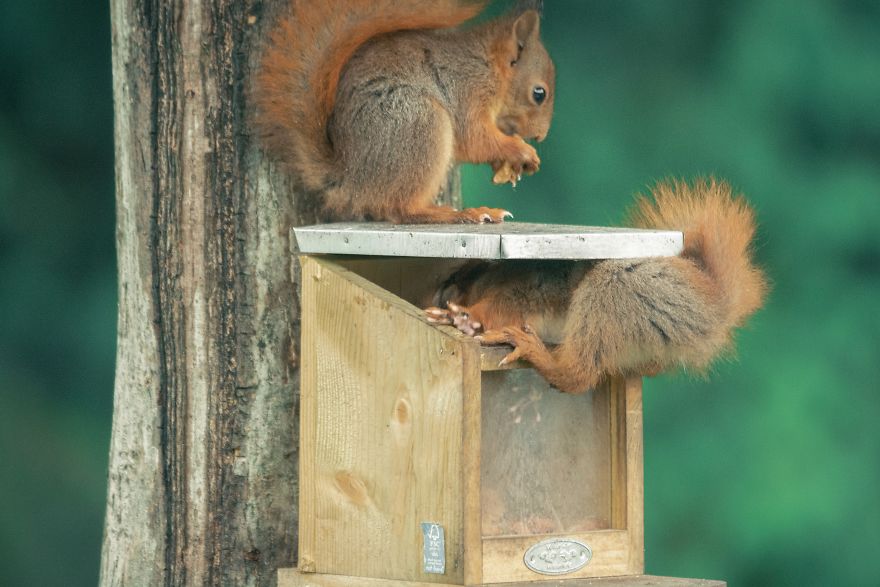 Warplane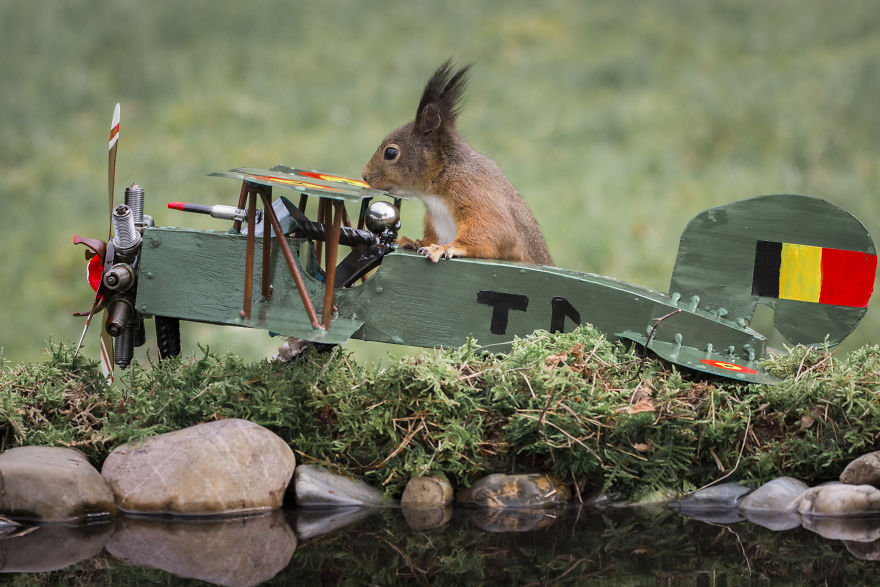 I spent about 5 hours a day for 4 years observing my little friends. I had days when nothing in front of me happened. It's important to not give up and always to go back and try to capture that one image you have in mind. The moment my sister died I was broken I did not want to pick up my camera for a long period. Eventually, time by time I found the power again in nature photography I was still blessed with the squirrels that visited each day and I had a lot of support from my parents-in-law and my girlfriend as I don't have any contact with my adoptive parents.
Little Voodoo man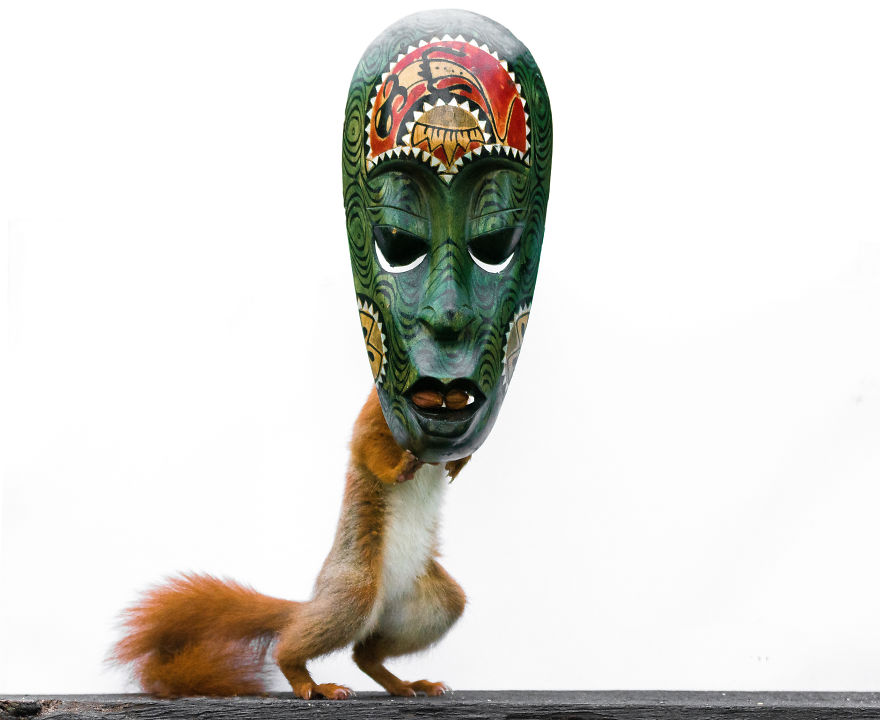 The most precious image I have ever made! No photoshop used, food is behind the mask. Worked 4 hours on this setup.
I somehow developed a special kind of affection for squirrels. I consider them the perfect models. They can do a lot of things that humans can. They are cute, curious, persistent, and very smart. The goal of my photos was to show people what you can achieve without Photoshop and how smart squirrels really are. I hope that my pictures can bring joy to many who view them and that I can make them forget their problems, even if this is for two seconds.
CheckMate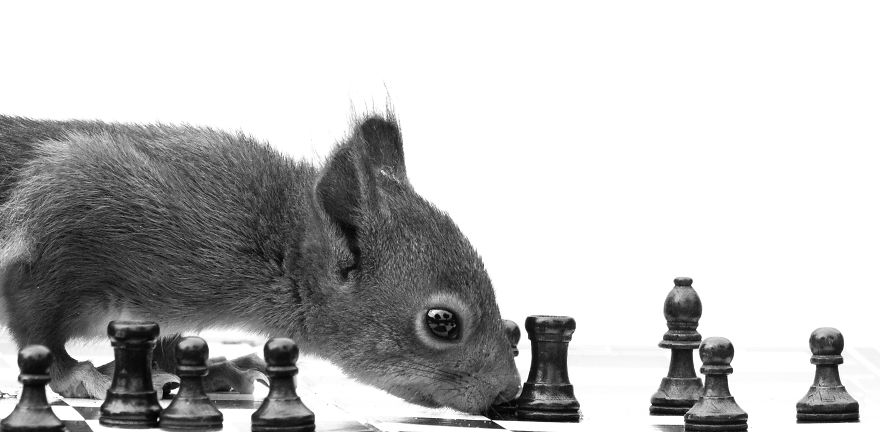 Favorite scent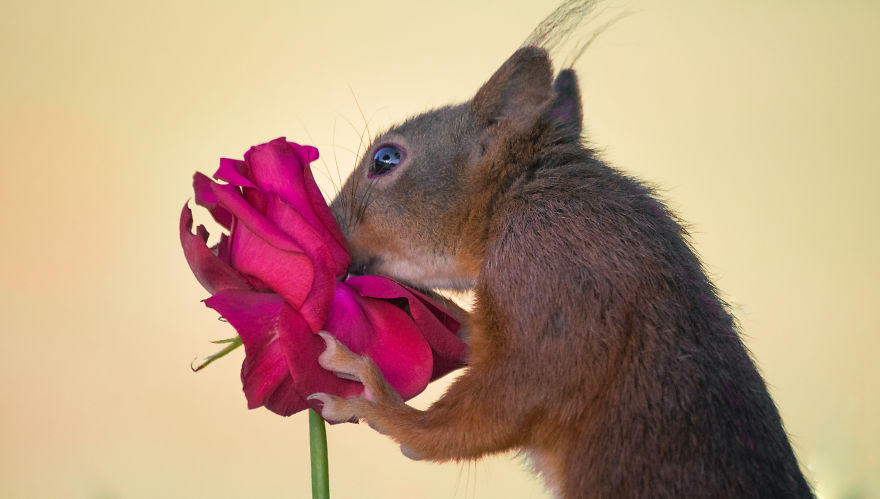 Here are a few more details on the process of my photography: First I search in cheap stores to find the right size props for the squirrels or look on second-hand websites. Then the preparation starts. Trying to get the squirrels behind my props takes a lot of patience. I start with feeding them 3 times a week to get them in the spot that I want. On weekends I try to go out and take the shot. When I have captured the image, the fun starts on my laptop when I can edit my shots in Lightroom.
Battle Of the year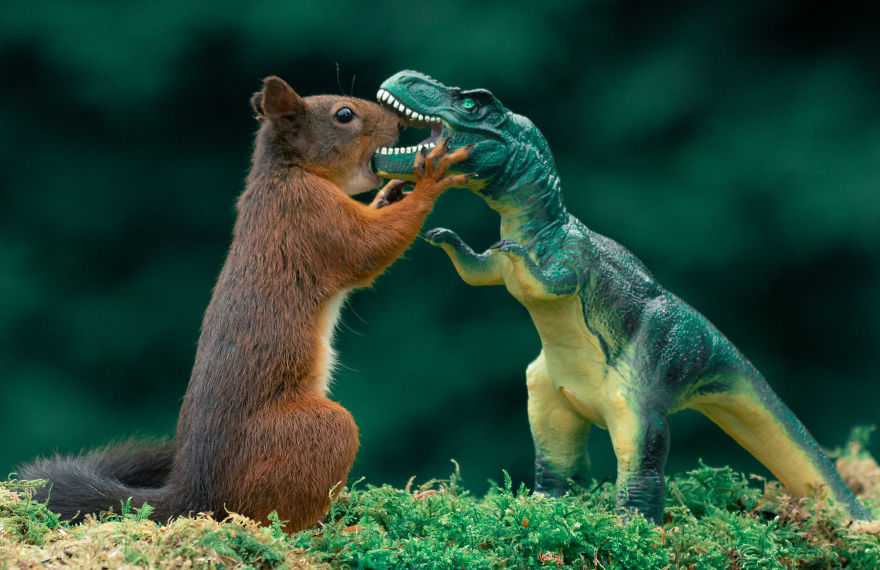 This shot took my 3 days because the Dino looked a bit dangerous, and the squirrels had to adapt to the Dino they didn't trust the Dino.
18+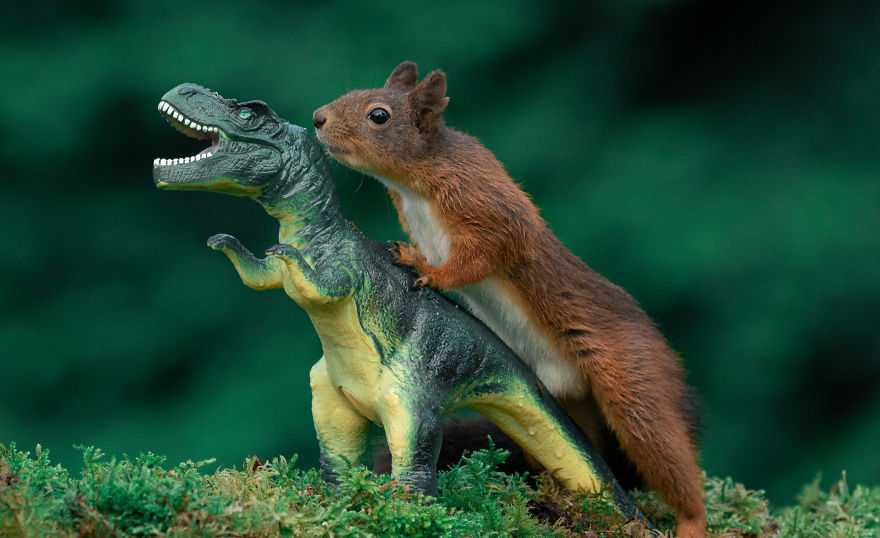 Picnic time
I'm 35 years old and I work for an automotive company in Belgium and my day job involves making sound-proof dashboard isolations for cars. I don't earn any money with my photography. I'm so blessed to have the squirrels in my life and to spend my free time with them. They gave me a lot of power and motivation to keep going. When I was knocked down, nature helped me get back up. My journey was a real rollercoaster. I came to Belgium with my sister at the age of 4. It was hard growing up in a country without knowing the language. The money came out of the wall, snow was falling down from the sky, I had to go to a special school because I was way behind with my knowledge. As a 4-year-old kid, I had no clue how to make friends and I was always alone and scared to talk to someone because everybody was white. With all the things that have happened in my life, I was still able to enjoy my hobby. Luckily, my girlfriend and her parents believed in me from the start and gave me the freedom and opportunity to buy the professional Nikon camera gear I needed to pursue what I love. Now I do have a lot of support from people who follow and appreciate my work. They also push me to continue with what I'm doing and I'm very happy to have them in my life.
Jump for joy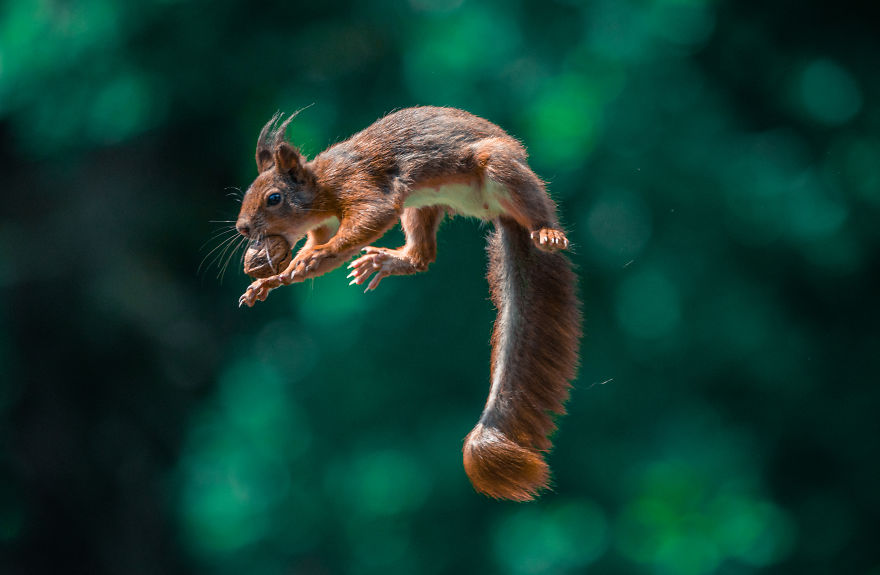 When the corona started and all the borders closed in Belgium I could not go to work. with all the free time I had, I started to build a jumping setup for the squirrels. spend a lot of time capturing some highspeed jumps.
Squirrels can jump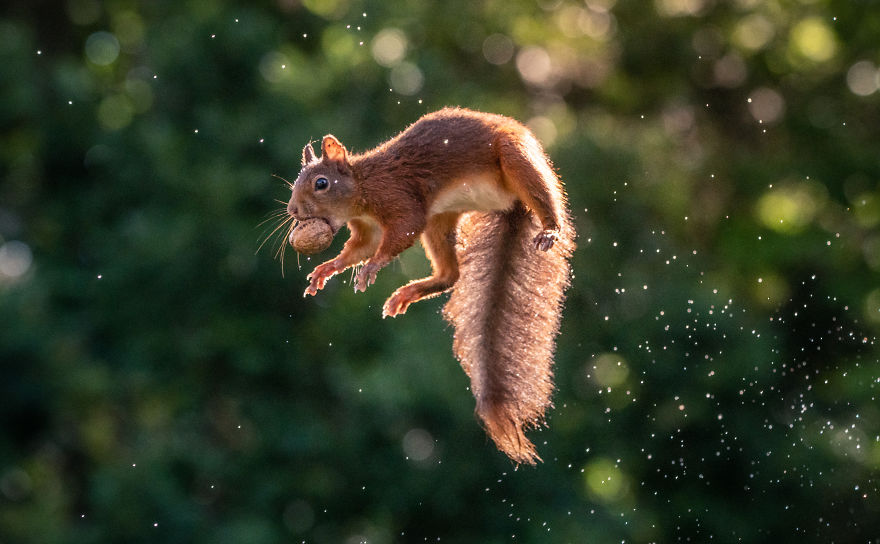 Superman pose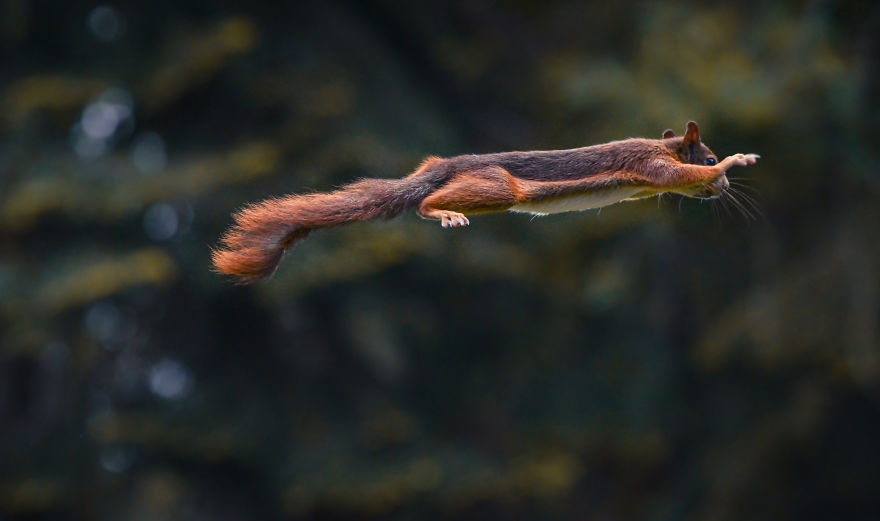 Incredible smell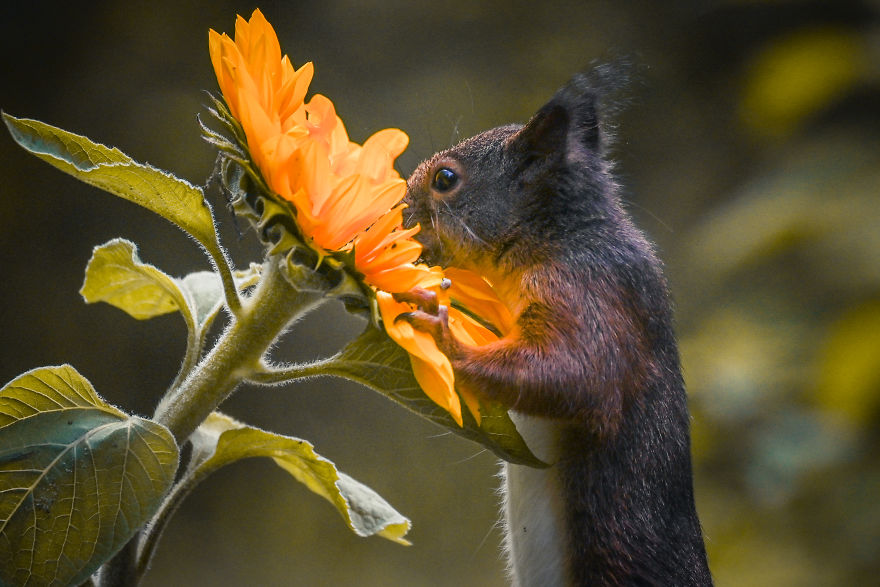 I'm naturally a very positive guy, always smiling and dancing. I don't take life too seriously and that's what I wanted to show people in my pictures. I want them to be happy when they see my pictures. The world has to be a happy place!
Little shoplifter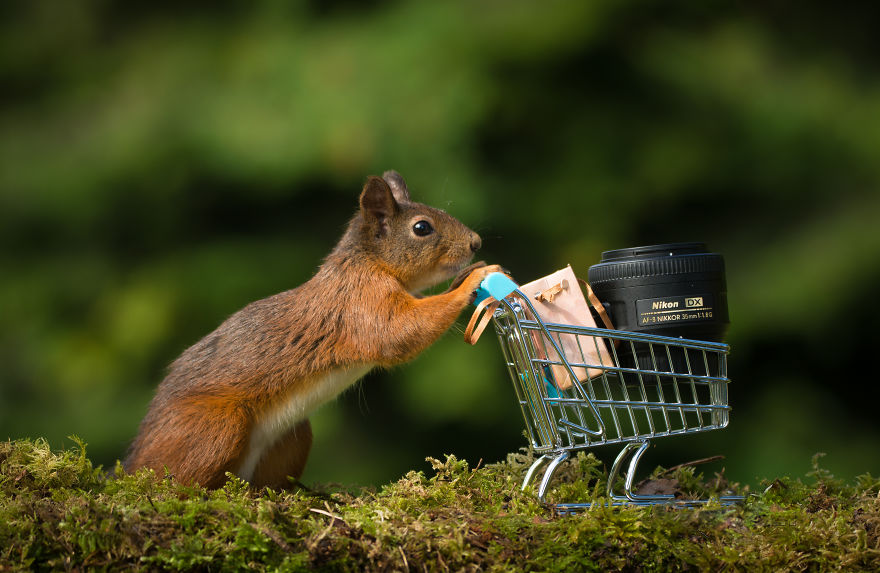 Shopping list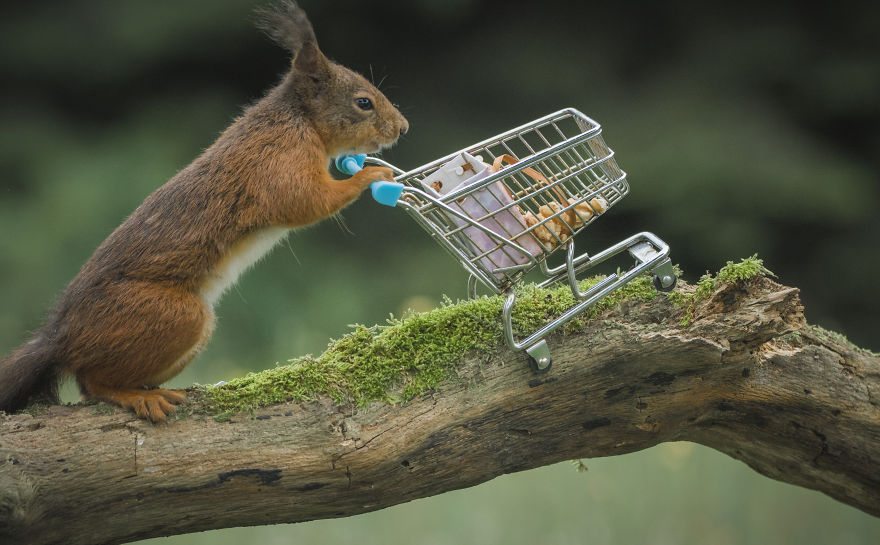 I hope to inspire others to go out and enjoy nature as it has so much to offer, especially during unexpected moments, which makes it all the more special experience to be there and enjoy it, with or without the camera. For buying prints or digital work (wallpapers) I would like to refer you to my online store.
Sneaky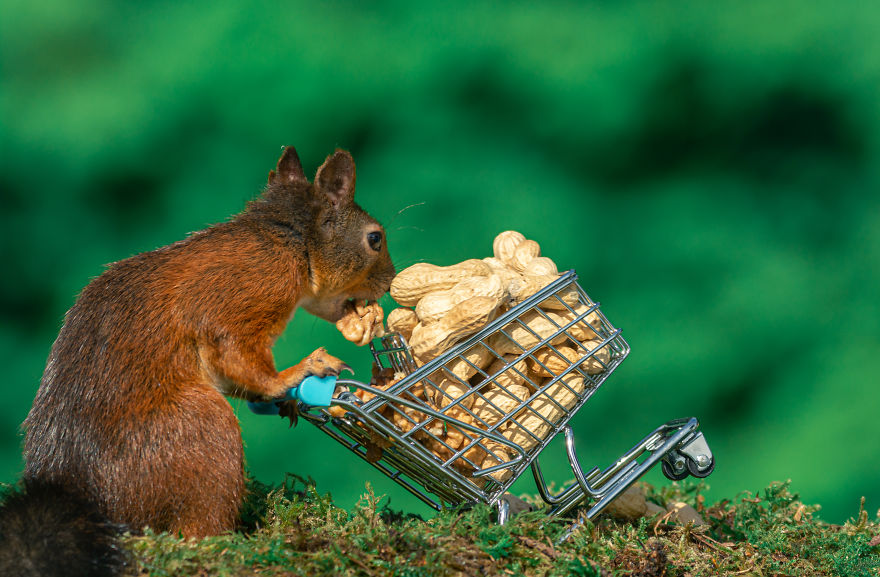 You can find Niki Colemont on the Web:
Copyrights:
All the pictures in this post are copyrighted to Niki Colemont. Their reproduction, even in part, is forbidden without the explicit approval of the rightful owners.