Fueled by his passion for history, photographer Drew Gardner recreated portraits of some of the world's most famous historical figures, featuring their direct descendants as models.
Getting ready for the series required much more than a few phone calls. Not only did Gardner carry out in-depth research tracing the direct descendants and verifying their lineage, but he also created sets with painstaking attention to the smallest of details. In the end, however, all of the hard work paid off. Sourcing the period costumes and props created such authentic backgrounds, they look like something straight out of a history book. Gardner even carefully analyzed the lighting in each original portrait and patiently recreated them as closely as possible, using all kinds of gear and techniques.
The end result is something that you'd find in the 'different but same' category. Of course, in a totally good way.
#1 Thomas Jefferson (Left), 1800 And Shannon Lanier (Right) Sixth Great-Grandson Of Thomas Jefferson
#2 Charles Dickens (Left), 1858 And Gerald Charles Dickens (Right) Dickens's, Great-Great-Grandson
#3 Emeline Pankhurst (Left) And Helen Pankhurst (Right) The Great-Granddaughter Of Emeline Pankhurst
#4 Napoleon (Left), 1812 And Hugo De Salis (Right) The Great-Great-Great-Great-Grandson Of Napoleon
#5 Oliver Cromwell (Left), 1653-1654 And Charles Bush (Right) The Great-Great-Great-Great-Great-Great-Great-Great-Great-Grandson Of Oliver Cromwell
#6 Frederick Douglass (Left), 1863 And Reuben L. Andrews (Right)
#7 Charles II (Left), 1653 And Lord Charles Fitzroy (Right) The 9 Times Great-Grandson Of Charles II
#8 Liza De Giocondo (The Mona Lisa) (Left) And Irina Guicciardini Strozzi (Right) The 15 Times Great Granddaughter Of Liza De Giocondo
#9 Berthe Morisot (Left), 1872 And Lucie Rouart (Right) The Great-Granddaughter Of Berthe Morisot
#10 Arthur Wellesley 1st Duke Of Wellingston (Left), 1824 And Jeremy Clyde (Right) The Great-Great-Great-Grandson Of The 1st Duke Of Wellington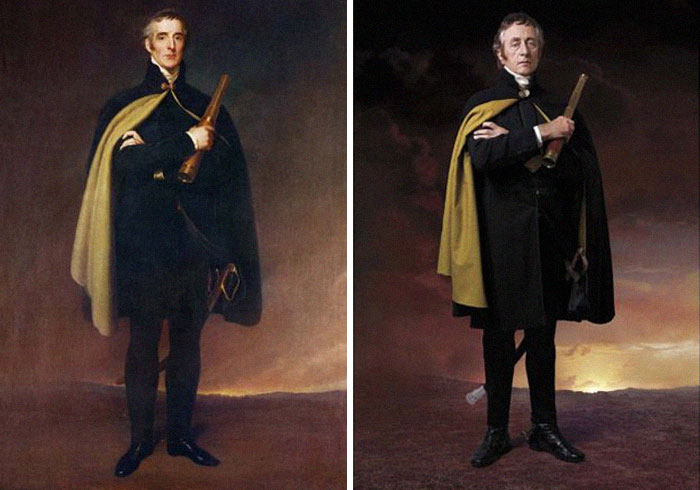 #11 Elizabeth Cady Stanton (Left), 1850 And Elizabeth Jenkins-Sahlin (Right)
#12 William Wordsworth (Left), 1798 Andtom Wontner (Right) Wordsworth's Great-Great-Great-Great-Grandson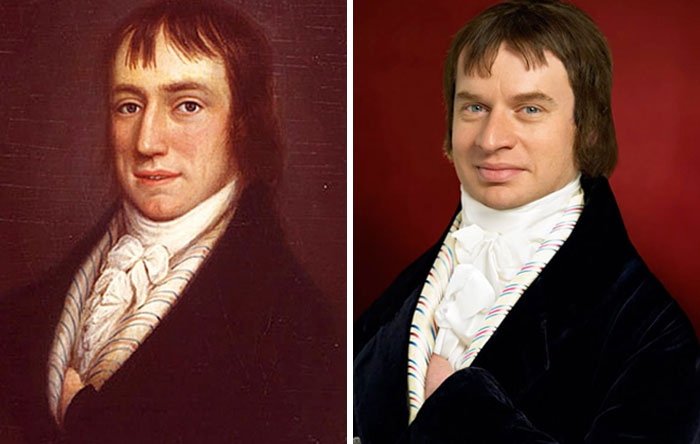 #13 Horatio Nelson (Left), 1800 And William John Raglan Horatio Tribe (Right) Nelson's Great-Great-Great-Great-Grandson
#14 Isambard Kingdom Brunel, 1857 (Left) And Isambard Thomas (Right), Brunel's Great-Great-Great-Grandson
#15 Clive Of India, Robert Clive, 1773 (Left) And Robert Holden (Right) The Great-Great-Great-Great-Great-Grandson Of Clive Of India
About Drew Gardner
I started my career at on a local newspaper getting my first front page at the age of 15. I went on to work as a photojournalist travelling to over 50 countries photographing a wide spectrum of news events and personalities for the world's most respected magazines and newspapers. Witnessing world events such as the wars in Bosnia and Kosovo and the release of Nelson Mandela.
My work is influenced my life experiences and my love of history, bringing a strong narrative and cinematic feel to my imagery. My unique and innovative approach to photography combined with my use of light and my attention to the detail distinguish my work.
My fine art work has been exhibited worldwide with shows in London, Europe, the USA and China, winning many awards along the way.
I am always looking for innovative ways to tell stories and I have been producing powerful interactive photography, film and virtual reality experiences for global brands for the likes of Sports Illustrated and the New York Times.
I am also an educator teaching workshops and seminars around the world.
I have a passion for people and my craft getting the very best from any given situation.
You can find Drew Gardner on the Web:
Copyrights:
All the pictures in this post are copyrighted to Drew Gardner. Their reproduction, even in part, is forbidden without the explicit approval of the rightful owners.