There's no doubt that the iPad sparks people's creativity and have given mobile photography and editing a boost in popularity. There's a fantastic amount of photo apps on the market. Below we present 25 Useful Photography Apps for iPad. All Apps are linked to Apple's website. Please feel free to explore further apps in their website.
Explore Flickr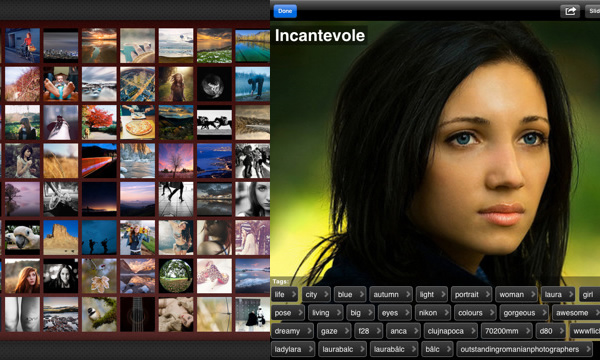 Want to see the most interesting, vibrant and beautiful images on flickr.com right on your iPad or iPhone? Explore Flickr will show you this stunning photography from around the world in perfect high definition. Browse a vast library of beautiful photography from flickr.com, Move between full size images by just swiping, Find beautiful wallpaper and lock screen images, Download high definition images direct to your iPhone or iPad photo library, View photo details and browse photo comments right on flickr.com from within the app and more.
Filterstorm Pro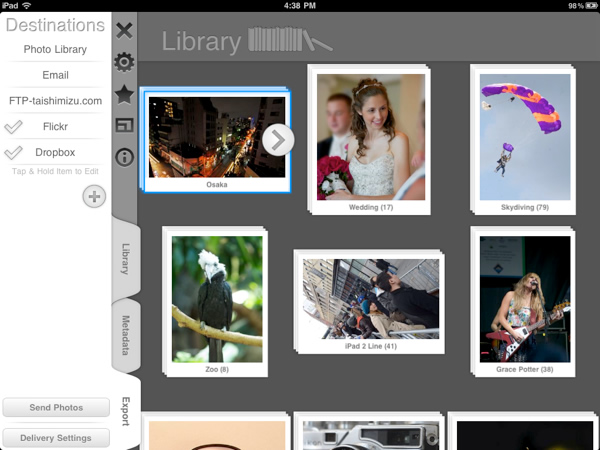 No more must a bulky computer dominate a photographer's workflow. Built with the needs of photojournalists in mind, FSPro brings photo editing, IPTC metadata tagging, and image delivery to heights yet seen by a mobile device. With powerful batch processing and tagging tools, Filterstorm Pro lets you get your images prepared and delivered where they need to go as quickly as possible.
HelloPhoto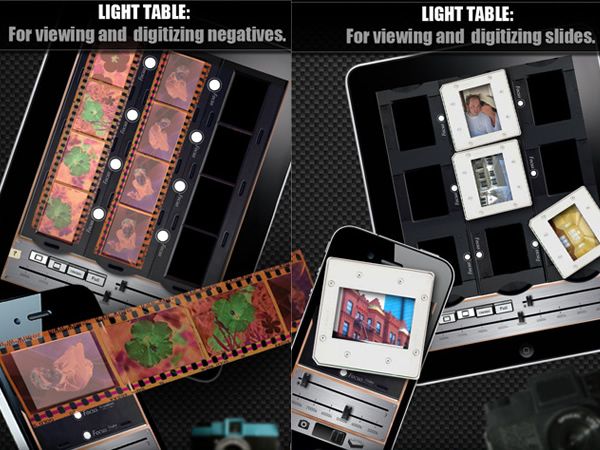 HelloPhoto is here to resurrect photos taken on slides and negatives, reviving an art form that's slowly being overlooked in this digital era. Whether you are nostalgic, a photo purist, or have boxes of slides and negatives and have no idea what to do with them, HelloPhoto can rescue your film from dust.
Artify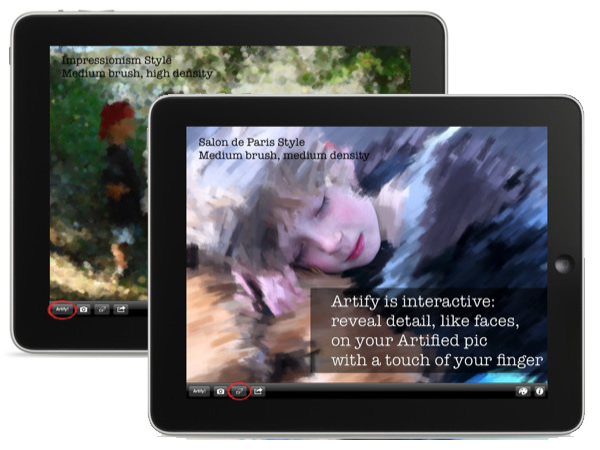 Inspired by the great Impressionist painters Monet, Renoir, and Degas, Artify lets you transform your favorite photos into masterpieces. Simple, elegant and instant, Artify puts creativity in the palm of your hand.
Photogene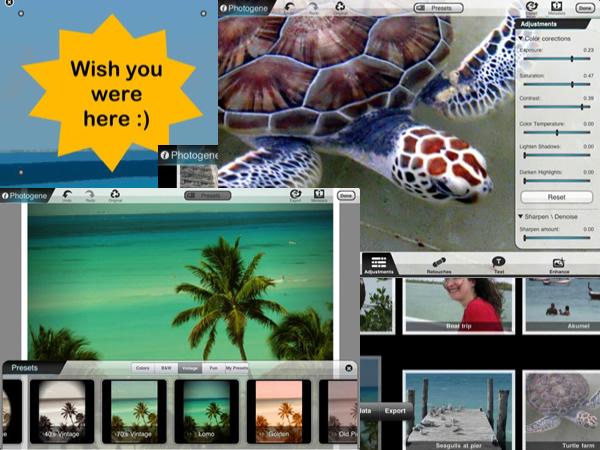 Photogene is about improving your digital photos and having fun while at it. Photogene offers a wide selection of photo editing tools. No gimmicks – they will actually make your photos look better. The user interface is quick and responsive. Most actions happen in real time. Photogene includes a convenient full screen photos browser with large thumbnails (requires location-services permission).
Adobe Photoshop Express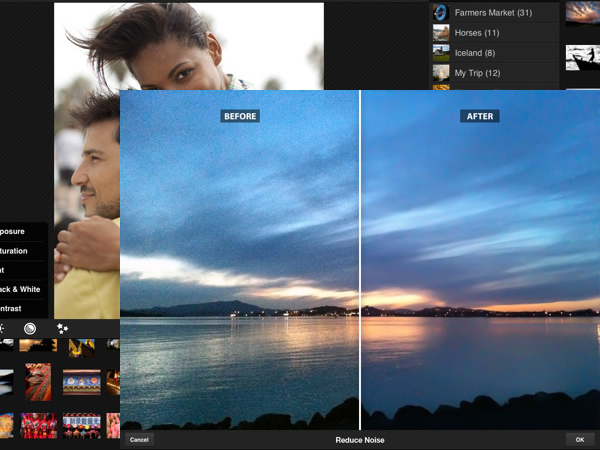 Adobe Photoshop Express software lets you use simple gestures to quickly edit and share photos from your mobile device. Enjoy having your photo and video library right in your hand — without wasting your device's valuable storage space. Photoshop Express is a companion to Photoshop.com, your online photo sharing, editing, and hosting resource. Create a free Photoshop.com account to upload and store 2GB of photos and videos online.
Color Effects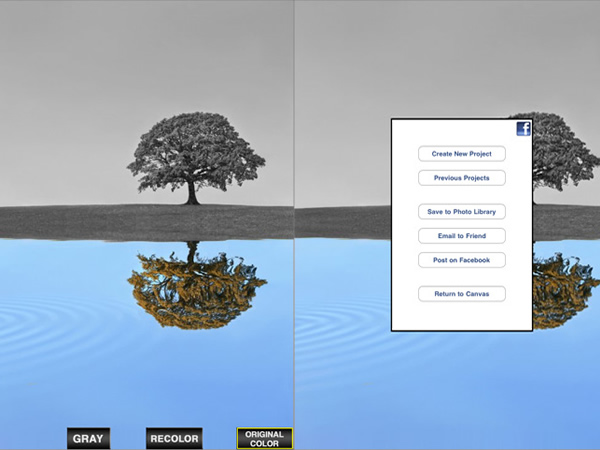 Create dramatic images by removing colors or changing them entirely. Gray out everyone in an image, except for you. Make the sky green/yellow/rainbow or whatever. Make your hair purple. Change the color of anything!
Photo Editor HD Lite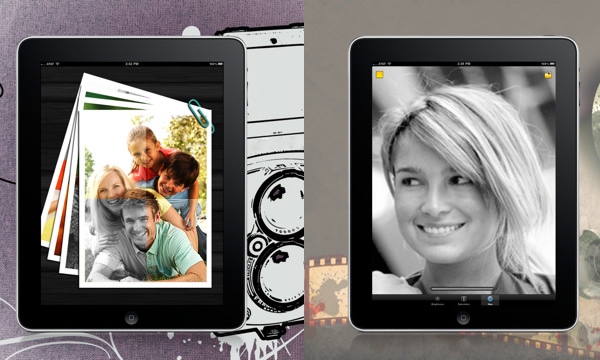 Well try Picture Editor and enhance the color so they look their best! Gradually change the: Brightness, Saturation and Hue. Save them and then email them to everybody!
Picasa Photo Albums Lite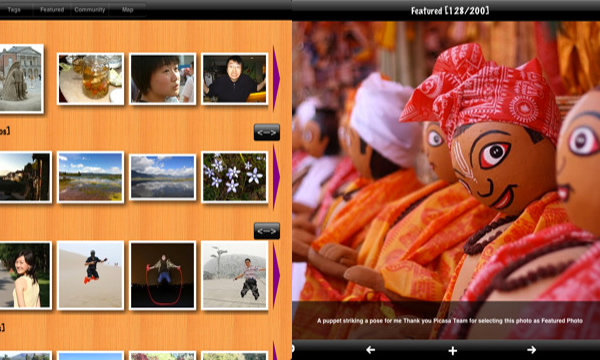 The app allows you to view your own Picasa photo albums and view/explore public albums. Multiple account support, View your Picasa web albums, View Picasa featured photos, Search and view public community photos and more…
Fotopedia Heritage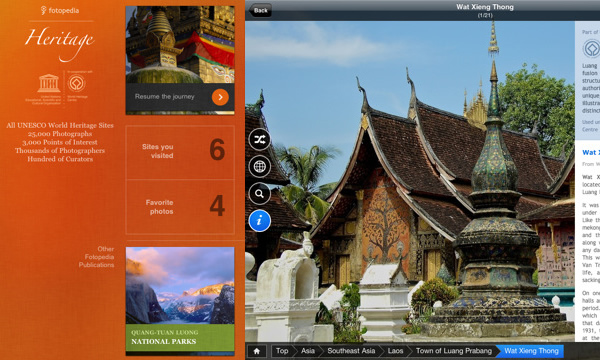 Celebrate the beauty of our world!
This app was recently selected as one of the top 50 apps of all time in Apple's new Hall of Fame. With 25,000 awe-inspiring photos, this much loved app has been called the world's largest photo book, an inspiring travel guide, an entertaining teaching device and even a bed-time relaxation tool.
MobileMe Gallery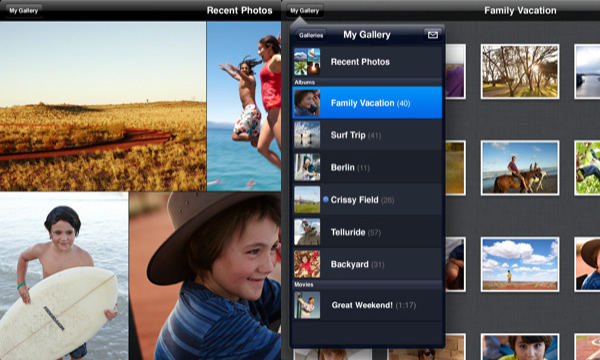 Take your MobileMe gallery everywhere with a beautiful viewing experience on your iPad, iPhone or iPod touch. Just enter your MobileMe member name and password to see all of your published albums and movies. Easily browse your most recent photos or select a specific album with a tap. Flick back and forth through photos, pinch to zoom, or rotate to view in landscape view. MobileMe Gallery app automatically stores photos you've viewed, so you can view them again even if you don't have a network connection.
HP iPrint Photo 3.0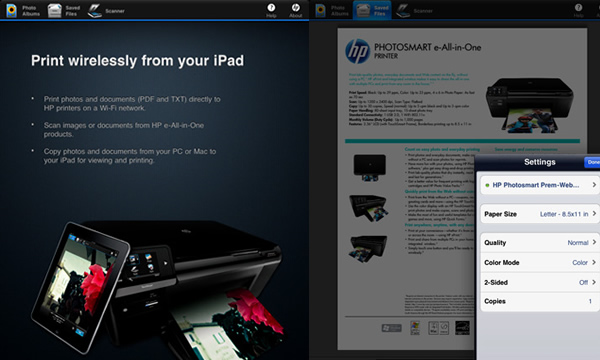 One-stop photo app for the photo enthusiast! With this free, one-stop app – you can capture and edit photos. Wirelessly print photos, PDF, and text files directly from your iPhone, iPod Touch or iPad to HP Inkjet printers connected to a local wireless (WiFi) network.
LIFE for iPad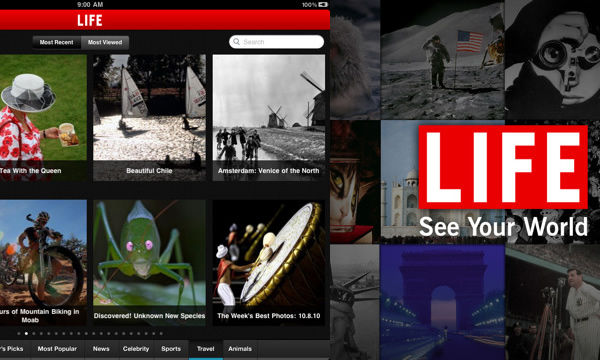 LIFE for iPad is a spectacular experience: LIFE's legendary photo collection at a never-before-seen resolution. Download the free app to explore LIFE's vast archives, up-to-the-minute news photos, and special features not available anywhere else.
DSLR Camera Remote HD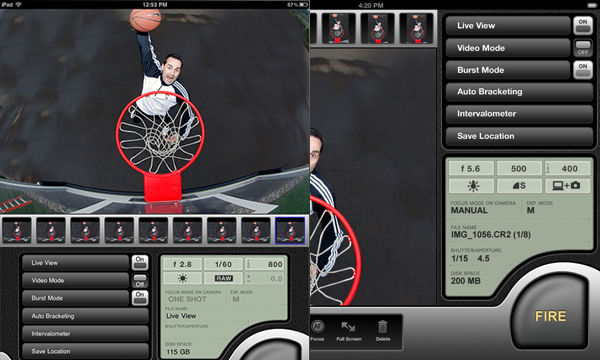 DSLR Camera Remote HD is the next-generation cable release for your Canon or Nikon DSLR camera. Just connect your camera to a WiFi enabled computer and you can instantly adjust its settings, fire the shutter, review images, get a live viewfinder preview, even start video recording using your iPad.
PhotoRocket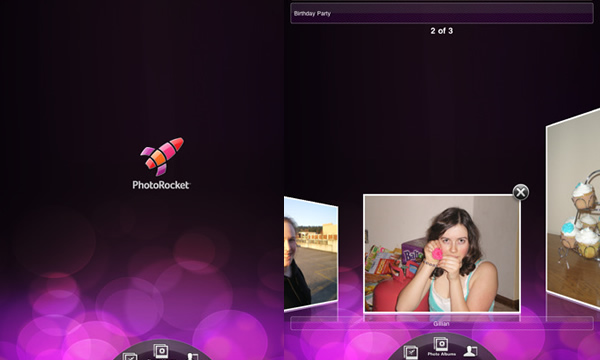 PhotoRocket for iPad simplifies the task of sharing lots of photos simultaneously to people and sites such as Facebook, Twitter and Flickr. Even though it's simple, it also offers extra options such as captions and automatic online backup.
Grungetastic HD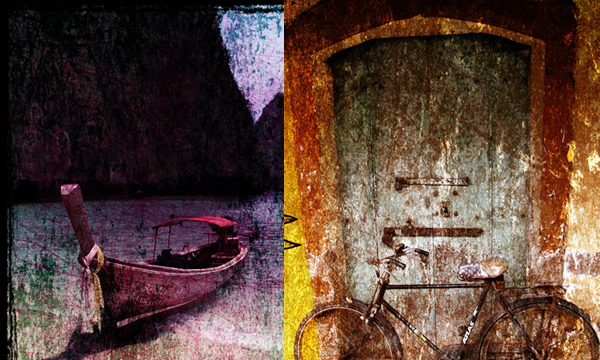 Clean Photos Are So Yesterday! Grungetastic for the Photographer that loves everything grungy. Simple, fast, and the output is something very much less than elegant. Grungetastic is the very best at creating grunge, distorted, and distressed images. If you are looking for a clean elegant photo then you are in the wrong place!
Best Album (+Transfer) for iPad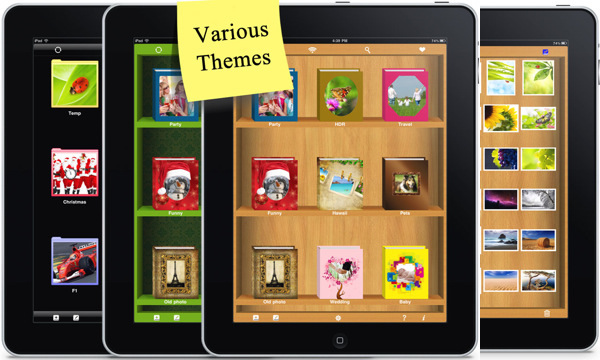 What's new in Best Album 2: Transfer photos over wifi. You can upload and download photos over wifi, but also view photos in browser, Add two new themes: Classic and Wood and Drag and Drop sort sub albums.
Diptic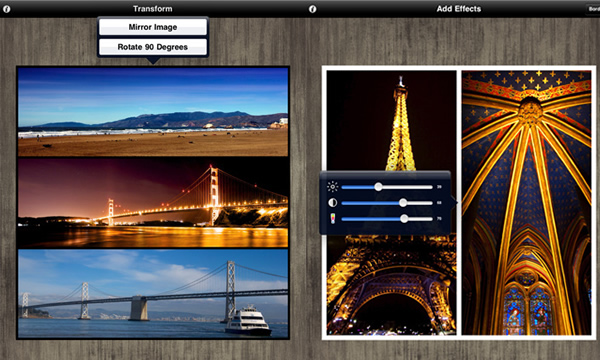 Tell a story with Diptic by easily combining multiple photos from your iPhone, Facebook or Flickr. Share your creations with friends and family via email or post them to Facebook, Flickr or Posterous. Use Diptic to make a before-and-after sequence, produce a photographic series, or juxtapose contrasting images.
Fat Photo Kiosk © HD Lite
Do you want to see the future?
Look fat without the food! Lots of fun with this hi-tech app that increases your size and looks, as you gain weight or age. Avoid this by knowing how bad you might look. A new visualization app that adds the effects of weight gain and aging to any frontal photo.
The Guardian Eyewitness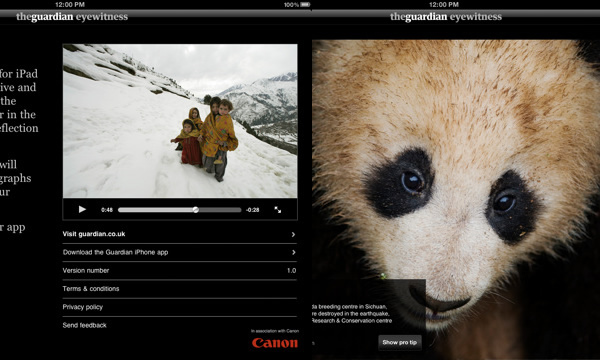 The Guardian Eyewitness app for iPad showcases the world's most distinctive and provocative photographs, providing a daily, visual reflection of global events. Developed by the most popular digital newspaper in the UK, the app provides free access to our award-winning Eyewitness photography series, which appears in full colour in the centre spread of the Guardian newspaper each day.
Photo Transfer App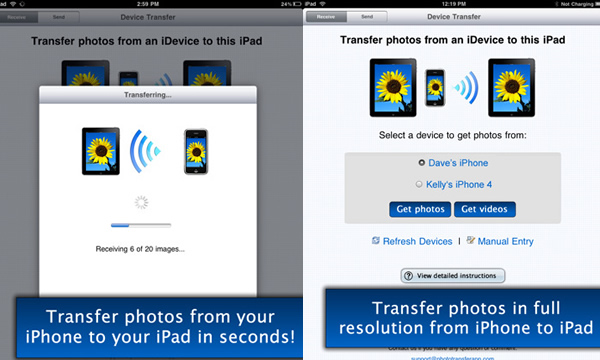 Photo Transfer App allows you to easily download photos from your iPhone or iPad to your computer as well as exchange photos from and to your iPad, iPhone or iPod touch. Transfer photos over WiFi, no cables or extra software required.
Snapseed for iPad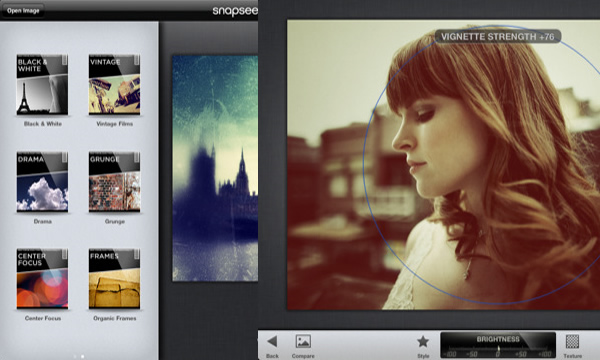 The only photo app you'll want to use everyday! Snapseed for iPad makes any photograph extraordinary and puts a fun high-quality photo experience right at your fingertips.Get the #1 iPad Photography paid app! Now anyone can enhance, transform, and share their photos with ease using incredibly advanced features from the leader in digital photography software!
Canon Easy-PhotoPrint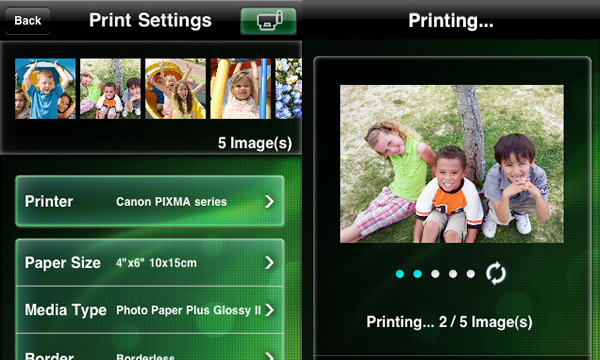 Canon Easy-PhotoPrint (Canon iEPP) is a free application that allows you to easily print photos from your iPhone, iPod touch or iPad on a compatible PIXMA printer via a local wireless network (Wi-Fi).
Brother iPrint&Scan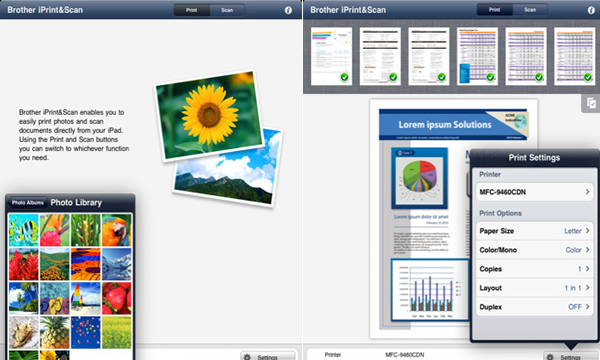 Brother iPrint&Scan is a free application that enables you to easily print and scan photos or documents from your iPhone, iPod touch or iPad on a Brother printer or all-in-one using a local wireless network. For a list of supported models, please visit your local Brother website.
Photobucket for iPad
Use Photobucket on your iPad! The Photobucket app allows you to upload existing media from your iPad directly to your Photobucket albums. Looking for a quick visual extravaganza during moments of downtime? Check out our Find Stuff categories or search our billions of photos. Easily download images to your device for use as wallpapers, contact IDs, and more. Share your images with others via email, or grab image URL links to post on your blog or favorite social network. Manage your Photobucket albums and show off your collection in full-screen view.