Getting Started with Newborn Photography?
Introducing the Comprehensive Online "Newborn Photography Workshop for the On-Location Photographer"
Receive Lifetime Access of All the Tools & Resources You Need for a Successful Newborn Business!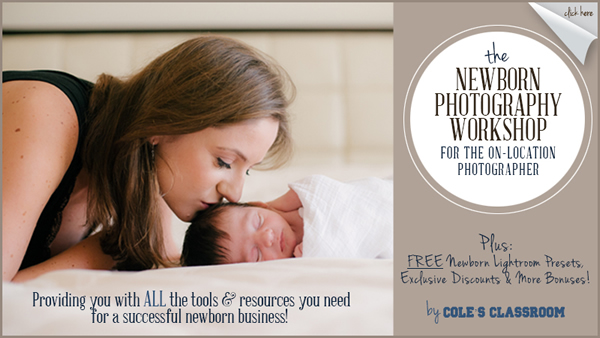 "I've just finished watching all the videos & would like to say the advice is absolutely fantastic. I've studied photography for 4 years & am now ready to launch my business in the New Year. I'm focussing on maternity, births, newborns – children & families. Your workshop has given me all the additional information I needed to kick start everything!"
 – Jackie Morrison
Newborn & Family Portrait Photographer

How the Workshop Will Help You
Save yourself from investing years of time & energy learning the hard way & let our Newborn Photography Training course put you on the fast track!
The best way to learn is "on-the-job" training but unfortunately finding someone to let you shadow them is extremely difficult so we brought a real on-location shoot to you! Watch & learn from a behind the scenes viewer as Chrystal walks you through her process & insights.
See Cole & Chrystal's newborn photo editing workflows and learn how to create final edited photos that WOW with the simplicity of a few clicks in Lightroom!
Learn key business fundamentals that will set you up for profits and success to stand out from the competition in a sea of photographers
Be guided step by step in Photoshop to learn how to create "composite images" and how to safely set those photos up on location.
Use our process & given tools for efficient pre-session prep that will ensure you have successful & smooth newborn sessions that turn your clients into raving fans.
The online Newborn Photography Workshop contains over 5 hours of downloaded HD video training giving you the comfort and convenience to learn and review at your own pace and watch on multiple devices.
FREE Bonus Tools
Cole's Essential Newborn Lightroom Presets Pack! ($49 Value)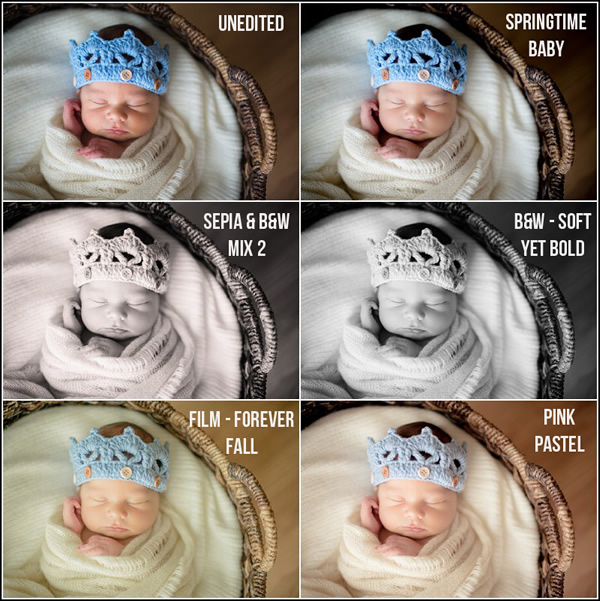 Featuring 24 stunning 1-click develop & 5 brush presets hand crafted to save you time while giving you endless refined photo edits made specifically to tackle common challenges associated with newborn photography!
Pricing & Position Yourself for Success: Cole's Guide to Creating a Pricing Structure that Works for YOU! ($49 Value)
The exclusive & extensive 20 page/5,000 word PDF pricing guide shows you exactly what you need to master the art of pricing. This eBook dives into detail on the topics below.
Pricing Structures – Packages vs. A La Carte
Which Pricing Structure is Best for You
Creating Packages that Sell Themselves
How to Capitalize with A La Carte Pricing
Finding the Right Price: How Much Should You Charge?
The Importance of Knowing Your Costs
The Key to Higher Profits
Also includes proven sample packages & a la carte pricing templates you can modify & use for your business!
The Newborn Photography Toolkit: Proven email templates, session prep checklists, recommended gear lists & more to keep you more organized and your clients more prepared while saving you time!
Save money with exclusive discounts from our favorite companies & products!

About Cole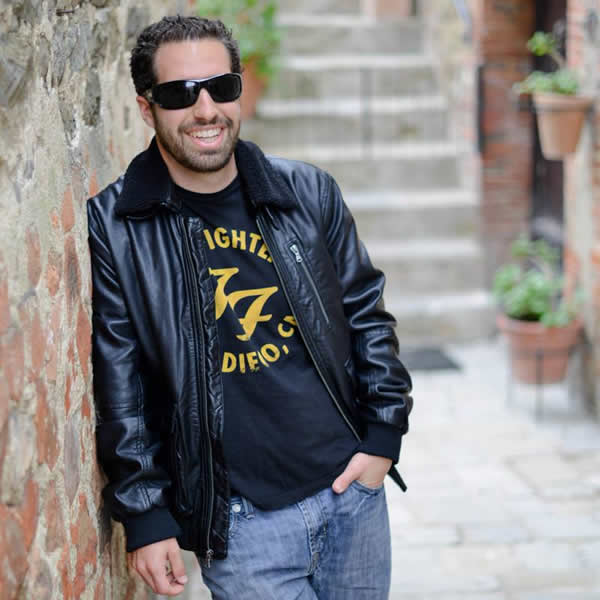 Hello! I am Cole, the guy behind this website on those YouTube videos. I decided to create Cole's Classroom to share with you everything that I have learned and everything I wish I knew when first starting out, so that you can jump-start and propel your photography skills and photography business!
Both shooting & teaching photography is my life these days but it didn't start out that way, and it wasn't an easy road.
You can follow Cole on the Web: