It must have been an experience of grace and wonders for the Winners of World Press Photo Award 2012. And we take this time to congratulate all the winners of this year.
In this article, Mohammad speaks about the winning pictures , an in depth study on the environment at which these pictures were taken, the role of the photojournalist and the effect of these pictures on the affected people. It enlightens with the message these pictures have been produced, the struggles, passion & risk the journalist must have underwent. This synopsis about these photo-stories and singles do help us in reaching out soulfully much better with these Photo-Projects.
Guest Article By: Mohammad Moniruzzaman
From Maika Elan's poignant series on homosexual couples in Vietnam to Paul Hansen's intense photograph on the deadly impact of Israel's aggression on the lives of Gaza people; World Press Photo Awards 2013 catches the glimpses of an unblessed Earth in 2012. As the most prestigious competition in the field of photojournalism, World Press Photo is entered by thousands of photographers every year, 2012 being no exception. 5,666 photographers. 103, 481 photos. Only 52 winners. You get the idea.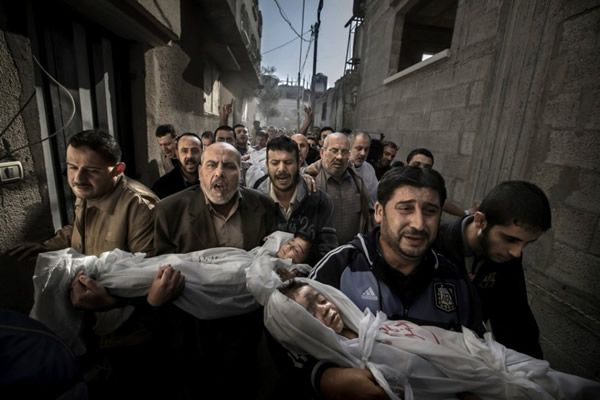 © Paul Hansen – World Press Photo of the Year 2012/Gaza Burial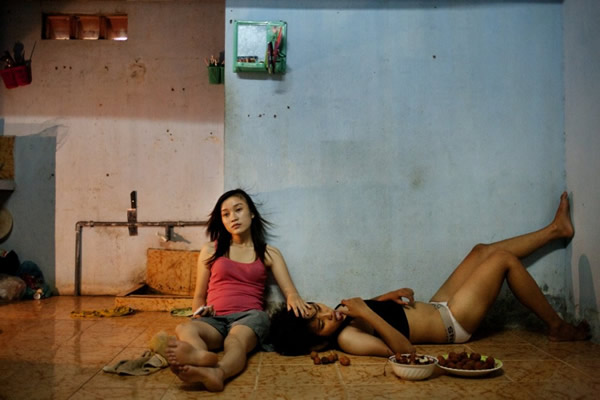 © Maika Elan – The Pink Choice/Contemporary Issues Story/1st prize
Majeed Saeedi shows a less revealed aspect of war in media, where people tries to live a normal life bearing the trauma of decade long war in their hearts or sometimes right in the heart of a war. Morenatti's photo from Argentina on the infrastructural and emotional aftermath looked like a poetry to me. An image with shattered window in the foreground and the crying shop owner in the back is a pinnacle of photojournalistic achievement, which blends the art of photography with the impact of raw, realistic message it can convey.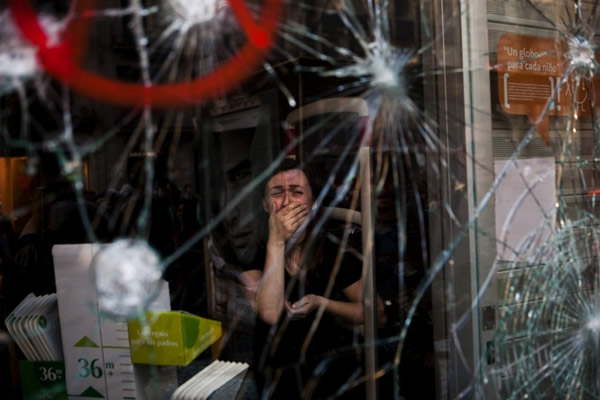 © Emilio Morenatti – Barcelona Demonstrations/General News Single 3rd Prize
A couple's 43 years of journey together is ending in a battle with Alzheimer's, which only deepens their love. Observing this series by Fausto Podavini will undoubtedly be an enlightening experience for you. Paolo Patrizi's environmental portraits of migrant sex workers are glamorous, inviting, and anonymous. The images blur the boundary between the reality and a dream, yet somehow shakes the core of the viewer with the nakedness of the actual situation. While portraits of sex workers inside green and golden fields with their faces hidden keeps the viewer wondering and wanting for more, the view of an empty bed and scattered condoms quickly pulls them back into reality. At the same time, the gangs of El Salvador inflict irreparable damage upon themselves and others. Tomas Munita successfully portrays a story of resistance, bruise, truce and tattoos, with a touch of death.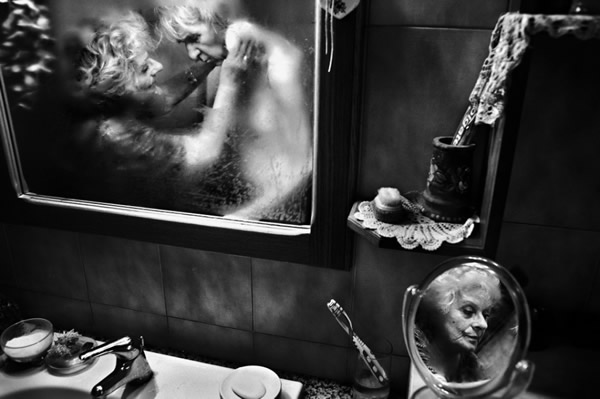 © Fausto Podavini – Mirella/Daily Life Story 1st Prize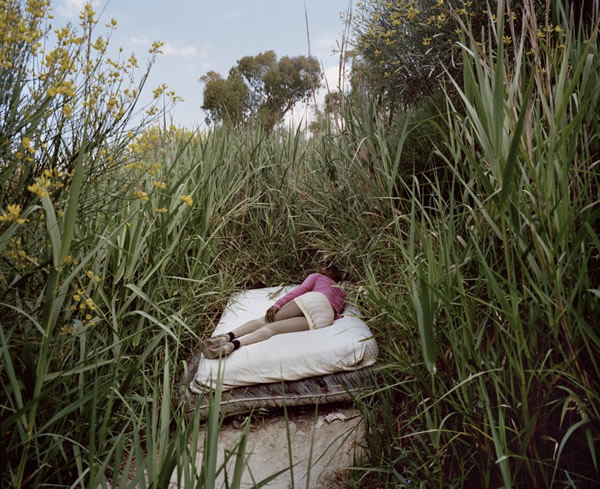 © Paolo Patrizi – Migrant Sex Workers/Daily Life Story 2nd Prize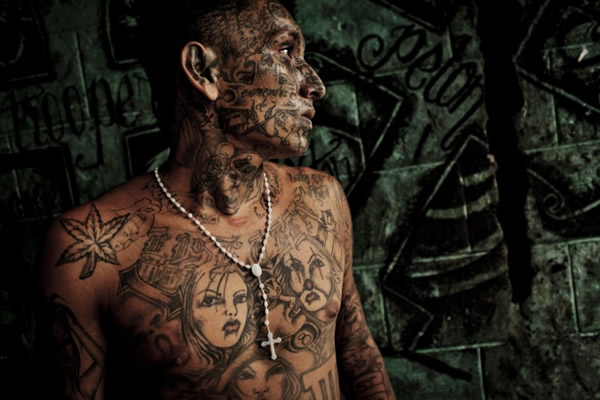 © Tomas Munita – El Salvador Gang/Daily Life Stories/3rd Prize
Soren Bidstrup's single taboo breaking, intimate image of a family's early morning might come as a shocker to a lot of us. One profound image shows how vulnerable creatures like us face the everyday world with extraordinary strength.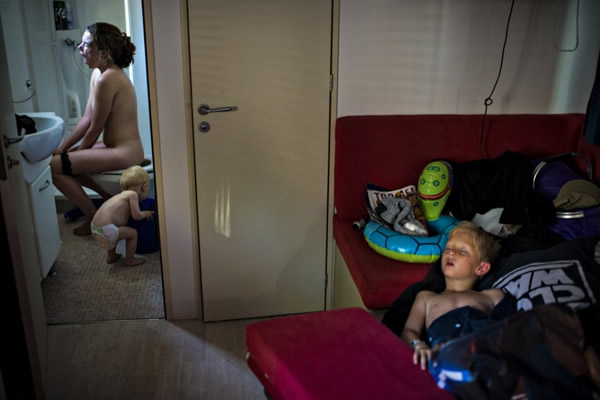 © Soren Bidstrup – Early Morning/ Daily Life Singles/Second Prize
World conflicts dominate the general news category of WPPA 2013. In the series "Seria under seige", Alessio Romenzi shows the face of a war of the government against its own people, leaving 60,000 dead. People flee through the birb wires to save their lives and lay dead in the morgues. An American series by Paolo Pellegrin covers a community called Crescent in Rochester, New York. In the end it becomes a tale of human vulnerability and failure to rise against all odds, just like the story by Tomas Munita. It's hard to pull out such a series from contemporary America where stories are becoming subtler day by day, but Pellegrin did it successfully.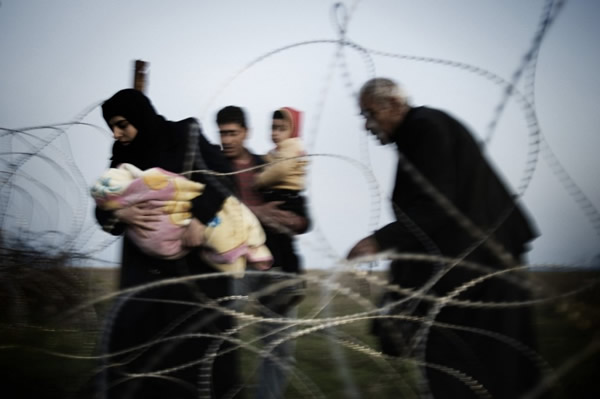 © Alessio Romenzi – Seria Under Seige/ General News Story/1st Prize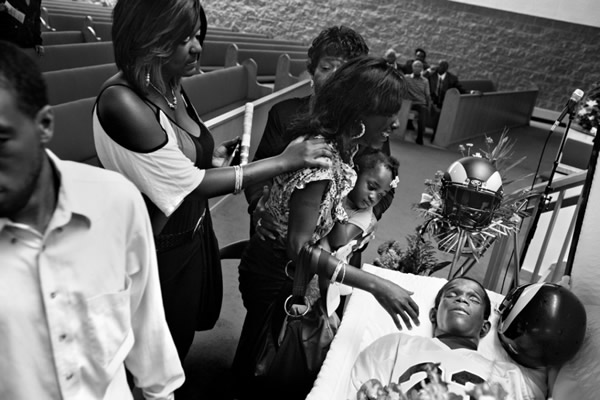 © Paolo Pellegrin – The Crescent/ General News Story/ Second prize
Daniel Berehulak's awarded works brings Japan's plight to fight back one year after the devastating Tsunami to the world. The faces of the story are contorted in pain, yet everyone of them is a flame of resilience. A story of rising from the ashes must contain both grief and courage. Smiling shipbuilders or the little contemplative visage of a little girl in the cemetery; Berehulak impeccably captures these emotions in a mixture of images.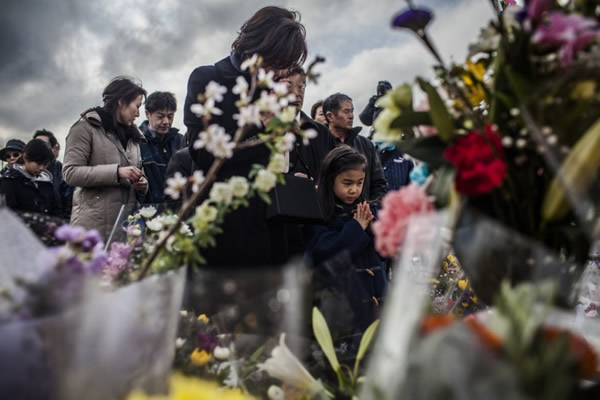 © Daniel Berehulak – Japan after the Wave/General News Story/3rd Prize
First and second places singles featured the crushing of humanity in the Syrian civil war. The third prize is an striking image by Dominic Nahr, which masterfully creates a clash of raw reality with mushy landscapes. The photo of a dead Sudani solder floating amid a reflected blue sky is a supreme achievement in aesthetics of photojournalism.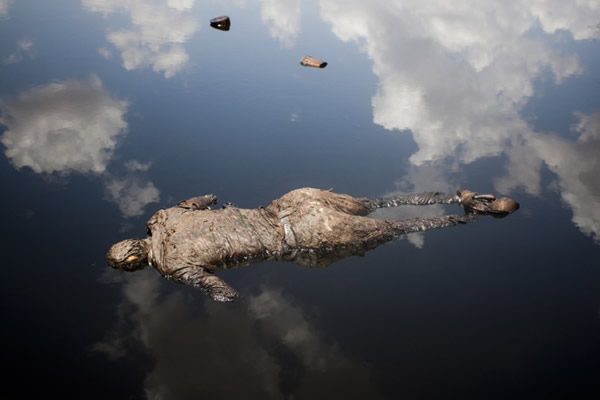 © Dominic Nahr – Sudan Border War/General News Singles/3rd Prize
I've seen a documentary few days ago where the photographer shows how birds in an island face a cruel fate by consuming bits of plastics that we dispose in the ocean. A winner in nature story category shows a similar fate faced by whale sharks. They have survived 60 million years in the ocean, and now we humans are working hard so that they get an appointment with extinction. Another fine example of nature photojournalism successfully complements a scientific research on emperor penguins. The jury was probably looking for something out of the cage this year and that's why they chose several photos depicting animals in captivity. Ali Lutfi's photo of a monkey in a doll's mask is particularly striking; it appeared like a deformed human baby at first sight.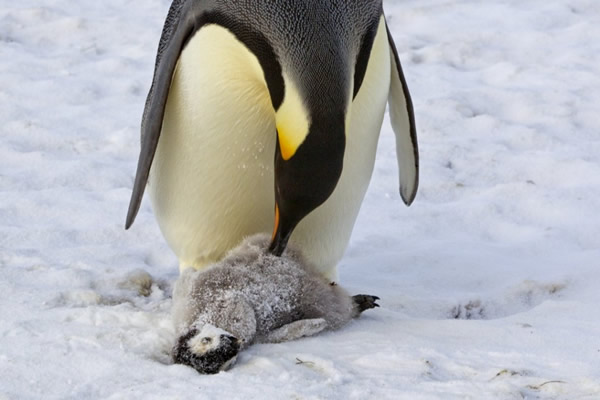 © Paul Nicklen – Emperor Penguins/Nature Story/First Prize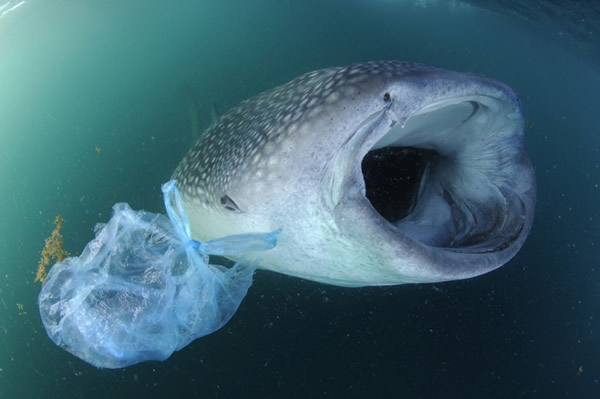 © Thomas P Peschak – Whale Sharks/Nature Story/3rd Prize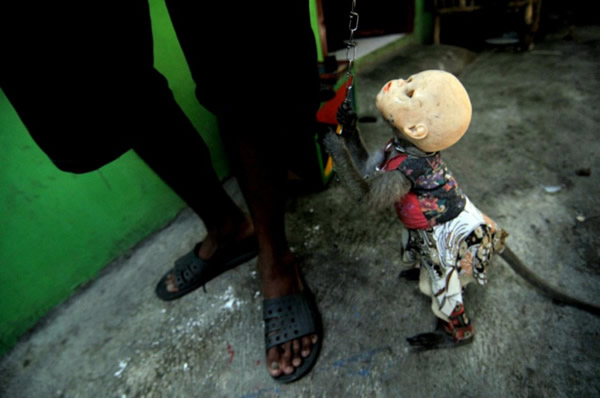 © Ali Lutfi – Mimin/Nature Singles/Second Prize
You won't even imagine the image that you'll encounter when you start checking the series 'Forced Love' by Ebrahim Noroozi. It begins with a humble 'passport size' photograph of a girl and then turns into a nightmarish hell. Well, for the subjects of this series a hell would probably serve better than the life they are living. A mother and her child who were burned alive with acid by the husband are desperately trying to remain alive. You can't look at their faces. You can't keep your eyes off the shuddering images. The series ends with a defaced Somyeah performing her prayers with deep faith. None but God is there for her anymore.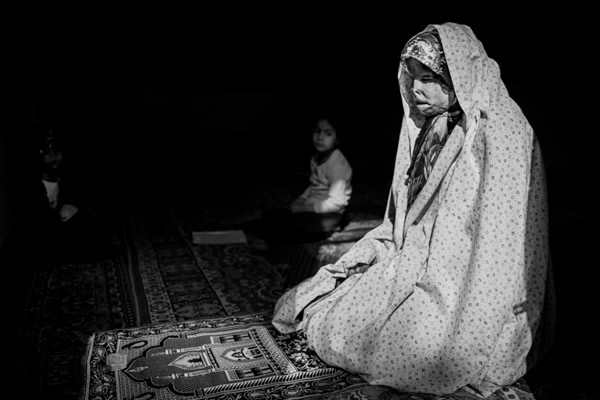 © Ebrahim Noroozi – Victims of Forced Love/Observed Portraits Story/1st Prize
Nemanja Pancic's BW portrait of a little child who survived an intentional 'family free fall' to avoid financial problem is particularly haunting. Both his father and mother died in the suicide attempt. The portrait is masterfully done, which will evoke the personal memories of the child inside the viewers.

© Nemanja Pancic – Little Survivor/Observe Portraits Singles/1st Prize
'Staged Portraits' is a new category added this year in the world press photography awards. Fu Yongjun's apparently simple photo-story realizes a powerful idea into photographs. Through a series of portraits of a teacher with her little students, he shows how a society of isolation has emerged, where children remain separated from their parents for a long time who are busy working elsewhere. It tells a lot about the industrialization, competition and the change that China is facing during the post-communism era.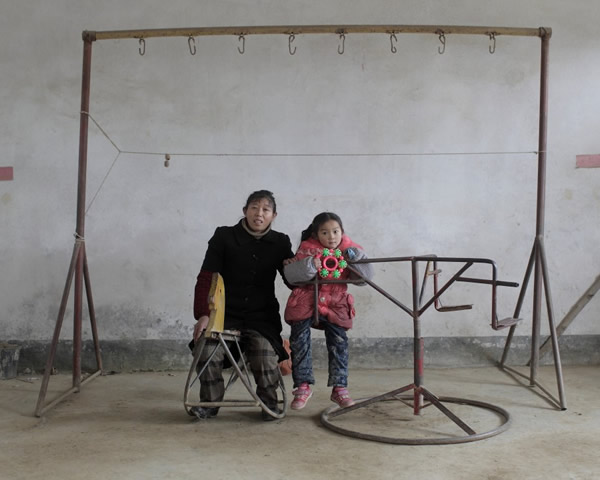 © Fu Yongjun – Miss my Parents so Much/Staged Portraits Story/3rd Prize
Chinese artist Ai Weiwei was a prominent figure of 2012, and continues to be so in 2013 too. Stefen Chow portrayed his undaunted character in one single photo. Interestingly, a somber faced Weiwei holds a smartphone in his hand, probably to show the power of internet activism.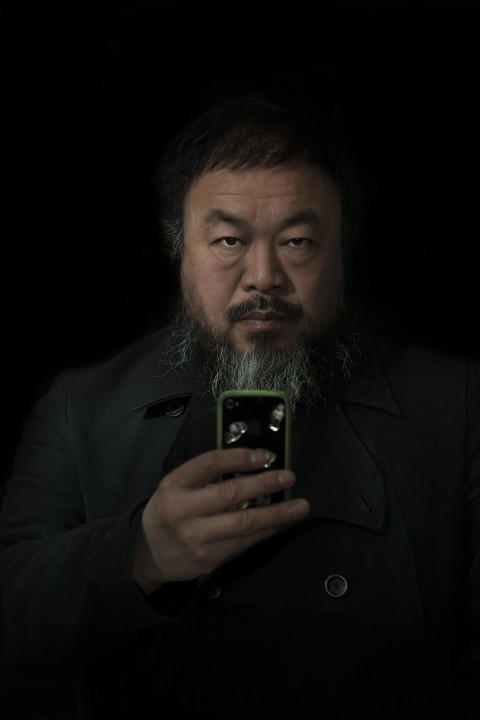 © Stefen Chow – Ai Weiwei/Staged Portraits Singles/2nd Prize
Perhaps one of the most notable and regrettable events of 2012 was the Israeli strike on Gaza in November. World press photo awards always features photos of wars and atrocities happening worldwide every year. Blood, Gore, Tears, Brutality, Guns. This year, Gaza strike images claimed a large share of the awards. World press photo of the year went to Paul Hansen for his image of two dead children being taken to the funeral. The photo is under heave debate right now for 'image retouching' issue; however it doesn't fail to convey the impact of Israeli aggression on Palestine for decades.
Two particular images struck me cause I have a similar image in my head. An executed collaborator was being kicked by Palestine people. In another frame, a collaborator was being dragged behind a motorcycle. As a Bangladeshi, I clearly remembered an image where 'Razakars', the collaborators of Pakistani army during the 1971 Bangladesh independence war were being executed by the freedom fighters. Collaborators are rarely forgiven in the history of wars.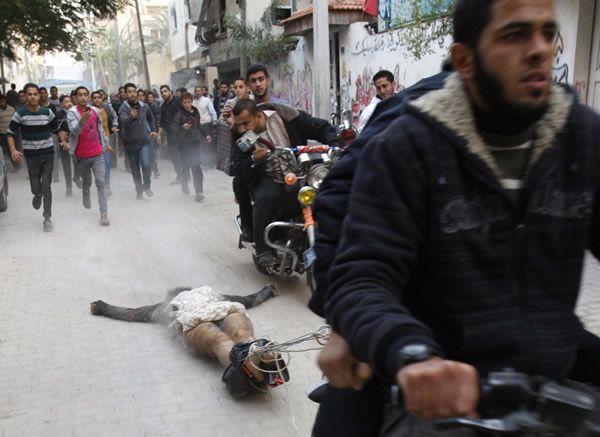 © Adel Hana – Collaborator/Spot News Singles/3rd Prize
Visit http://www.worldpressphoto.org/awards/2013 to check out all the winning works. Thanks for reading my thoughts on some of the notable images of 2012.
About Mohammad Moniruzzaman:
Mohammad Moniruzzaman is a Bangladeshi Photographer who has been practicing photography since 2007. His photography represents the humans around him, in the well and in woe. His subjective approach to photo documentation results in images which reflects his own perspective on life.
He has been making images out of variegated aspects of life in Bangladesh for the last five years. Currently he is staying in United States where he is trying to visually translate the subtle aspects of western lifestyle.
You can find Mohammad Moniruzzaman on the web: