Gmb Akash is a well known documentary Photographer from Bangladesh. To underline more about him and his photography, one should definitely find this word "Humble" perfectly suitable. For him photography is a language through which he is able to communicate with the world and also make them hear.
For the Love of Photography and his continuous strive to serve the humanity, his pictures are a mere proof. He promises to keep walking, touching every faces and showing the unknown sufferings of them to this entire world. If a photograph could bring a change into their lives that is the real joy for someone like GMB Akash.
His work towards humanity had fetched him numerous awards and appreciations, here this time Akash has come up with a book "Survivors", something very heart whelming with stories of human spirit dwindled in their own daily struggle.
He believes his task as a Photographer, is to show the world, ask them to witness, and shed some light on the something which we have never encountered before. Here, Akash adds more on his book "Survivors".
To get a copy of this book please write to akashimages@gmail.com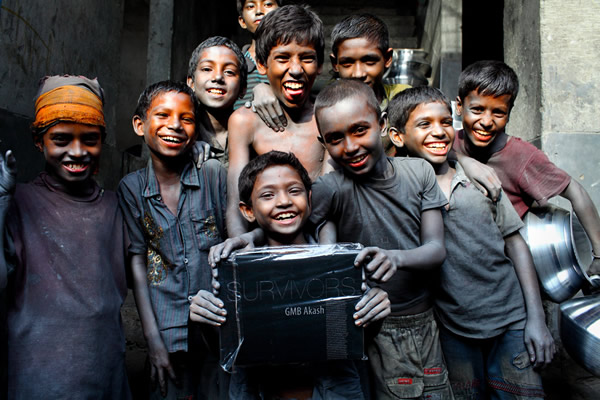 "These children are a big part of my life and I'm richly blessed to be able to stand by them. The book 'Survivors' is making differences in their lives. We together are cherishing this happy moments, won't you be able to lend your hand to join us?" – GMB Akash
My project "Survivors" spans a 10-year-period and stretches across Bangladesh, India, Nepal, Sri Lanka, Philippines, Pakistan and Bhutan. It depicts the invincibility of the human spirit to survive against all odds. "Survivors" focuses on the people at the bottom of societies – those who must struggle on a daily basis, simply to survive. People who live on the margins of society have had a big impact on me and have served as an inspiration for the photographic work I do.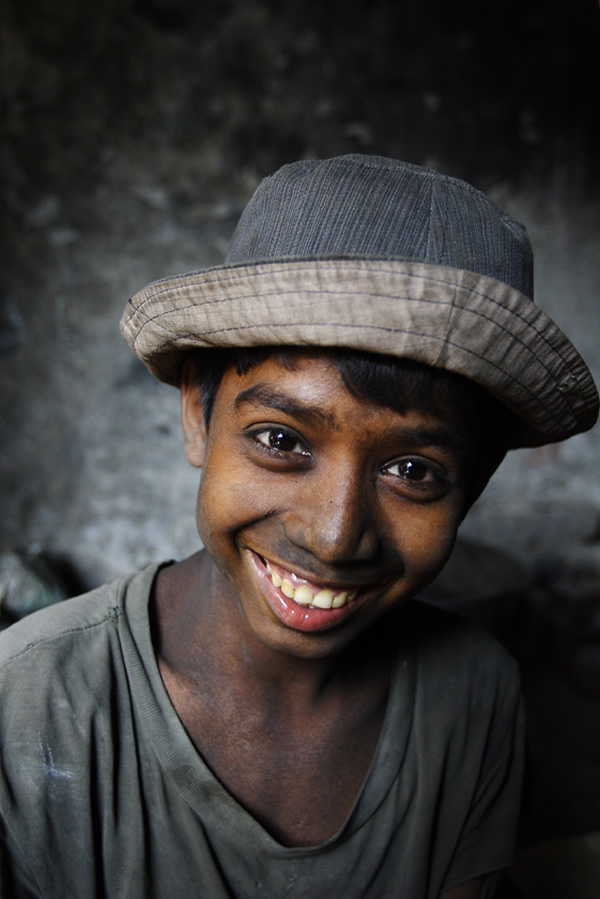 The social orders I've witnessed have brought me to realize that those who live at the lowest rungs of the economic ladder are "survivors" in humanity's truest sense. Deprived of even life's barest necessities, these people still manage to live each day with a smile on their face. Through this project, I trace the lives of those whose existence is based on serving others, rather than themselves. They have no means to break the vicious circle of poverty they are locked – even born – into. It's their "curse" to bear — for a lifetime.
As a photographer, I feel it is my task to show the world these "unseen realities" and to shed light on what most of us never see with our own eyes. I want to show the things that simply "shouldn't be." For many years I have been working on child labor as part of this project: situations where childhoods are sold for less than a dollar a day — and gone forever. Once an 8-year old balloon maker told me: "I took some damaged balloons for my little sister, I have no time to play. I have only time to support my parents."It was at that point that I realized I should turn my lens on lives like her's.
Over the course of the last decade, I have built a collection of photographs depicting the wise, resigned, sad and sometimes bewildered faces of children, sex workers, climate change survivors and many others who share the "struggle" day-in and day-out.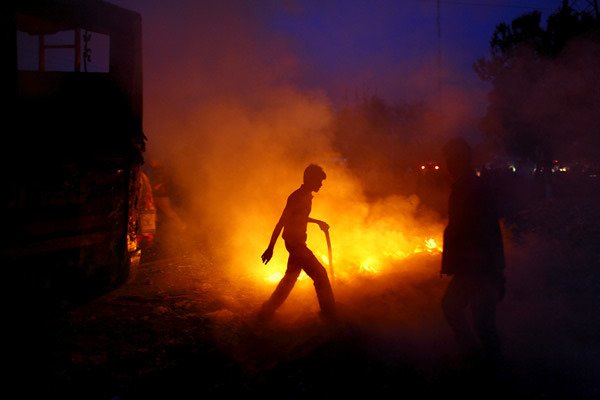 And although the circumstances of many of the people I portray may be grim, as individuals they are oftentimes people of remarkable character. And it is the beauty of such people and the human soul that remains when nearly all else is gone. This beauty I strive to capture in the photographs I take. When born in a poor country like mine, people acquire the natural ability to fight against the odds.
Surviving in a poor country — facing adversity daily — is akin to a lifetime of tragedy. So in a number of ways, the images presented on these pages are my own experiences, too. My journeys connect me to the many characters. Sometimes I had to run, take a ride on the roof of a moving train, sleep on a flooded floor and spend many hours walking the maze of avenues through sprawling city slums. It is the reaching of my protagonists, the welcome into their homes and their lives, that makes my work worthwhile. And if mine is the hand that blocks the scorching sun from their eyes — bringing shade for just a single minute, then there's value in the work I do.
I sincerely hope that 'Survivors' will be a powerful voice to reach and touch people's hearts. I have given years of my own life to this project and through it, I feel I have taken on a responsibility for the people I photograph. It's been a journey that portrays not just people, but the varied and undeserved circumstances they are in — a battle that is fought in large part, with little more than a fleeting smile.
But my aim with "Survivors" is to move beyond documentation only. My goal is to bring whatever help possible to such people as these. To this end, I have formed a small, but growing activist group, comprised of friends and well-wishers who wish to personally "make a difference" — to break the circle of poverty that these lives endure.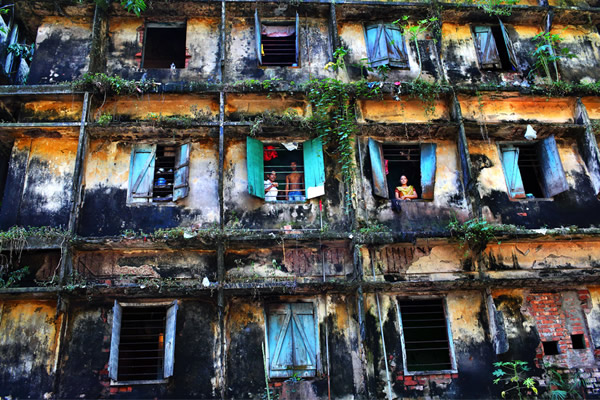 I have engaged in specific projects for certain groups: targeting one family/ one slum/ one brothel/one area of working children/ one particular community and providing help for their long-term improvement. Activities include donating rickshaws to a child labour family, seating a vegetable shop for a single mother, sewing machines to brothels and providing education for working children and so many more. With this goal in mind, 25 percent of each book price collected will go directly to help run these ongoing projects. Already 10 families have been helped through this project. And my intention is, by the selling price of every '30 books' one new family from the book will get a gift of business.
In the book Director of Photography, GEO magazine, Ruth Eichhorn said, "Akash does not want to present them as victims. He wants to show their pride and dignity. He wants to show that they have a deep wish to survive the calamity of their situation and are full of hope for a better life. Even though Akash produced his long-term documentary projects in the purest sense of journalism, he does not want, in his own words, "to profit" from his subjects. He wants to give back as much as he can."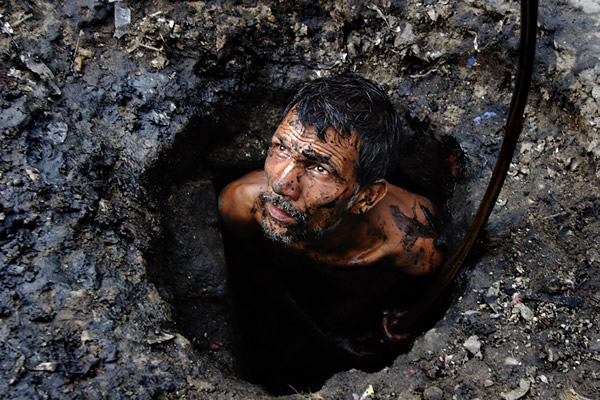 I am touched that people started valuing my small step. Yes, one never can complete one's quest for serving for humanity but I am trying. While photography is a big task but beside it is my willingness to serve these people whom I photograph which is more challenging. I am gifting business to each family I am able to give. Finding people from the book whom I captured 7-10 years ago, talking/sharing ideas with them, finding the right business even in some cases doing the business for few days, educating them, monitoring them become toughest than photography. But after all these sweat comes in a point of pleasure when I see a silver dust covered child can come to study to me, his family become able to have their own bed which comes from their own business and entirely they break the cycle of acute poverty, these things pleases me in highest degree.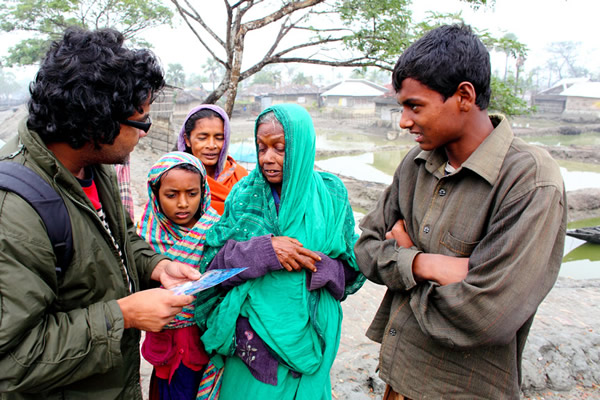 "I was searching for 'Survivors' to help their families. It was a long journey to find each and every face after 10 years later."
A quote is a big inspiration for me in this journey which I want to share with you all:
"I am only one, but still I am one. I cannot do everything, but still I can do something; and because I cannot do everything, I will not refuse to do something that I can do."- Helen Keller
GMB Akash
Photographer
'Survivors' is distributing by Akash Images. Yet, online selling is not open. And Still I am suffering for a good distribution channel. Please write to akashimages@gmail.com if you want to buy a copy of 'Survivors' or want to a part of this journey.
People expressed their feelings after receiving their copy of 'Survivors':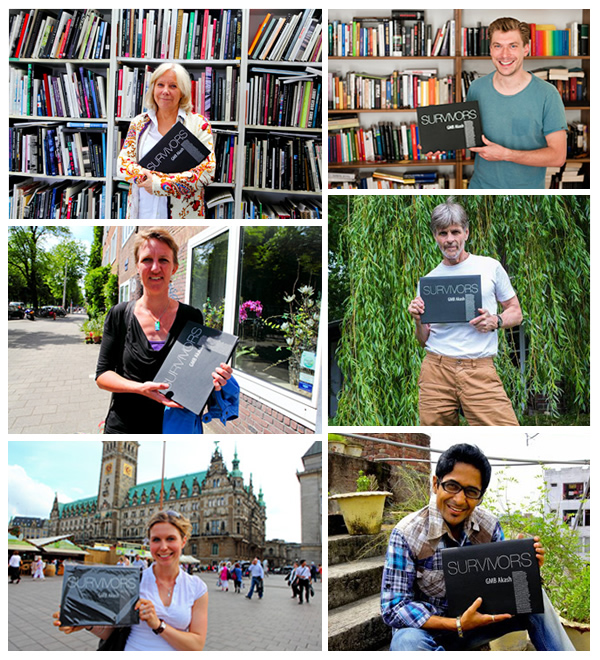 "I just received your book. I'm happy I have it. Really great, moving story with soul! As I already told you, it's really great that your idea came true. People like you make life more beautiful. Congrats again!" – Mirka Gmaj
"It is beautiful. I am so happy that it has seen the light of day, thanks to your perseverance. It is optimistic and celebrates hope." – Jacob Mathew
"Received my copy today – it's beautiful! Congratulations on your project well done!" – David Bathgate
"A beautiful book with amazing pictures. And with buying this book, you can help Gmb Akash to help them. – "Antoinette Termoshuizen
"Just received your wonderful book! Applause for your book. Salute to you for a unique, intelligent idea for helping these children families and others. I am amazed at the level of and at the range of topics you engage in, so superbly. A drop of tear comes upon when I saw how beautifully you have changed people's lives as a single person! Blessings of the Almighty to you and please move on, you will get thousands of active and silent companion in your journey." – Mannat Malaika
You can find more info about GMB Akash :
To get a copy of this book please write to akashimages@gmail.com