No matter what brand of camera you use or what genre you follow, if there's one aspect that's pretty much common throughout photography, it's the habit of shooting at eye-level. Nothing wrong with it, some of the most iconic images fall under this category. But, as photographers, we are always hungry to create something new, to show world around us the way less seen, to ignite the curiosity of the viewer and most importantly, to leave our signature, to stand out.
What may look like just another frame could change drastically when shown from a different point of view. Its good to experiment and come up with something extraordinary out of an ordinary scene. This is very much possible, if you just think beyond the usual.
As you see a scene with potential, play with angles. Get low or get high, try various vantage points, put to work all the composition rules you have learnt over the years, do not settle, like I always say, "dance around your frame with eyes sticking to your viewfinder", till you hit the sweet spot.
In todays blog, lets look at the perspective of "Getting High and Shooting Down".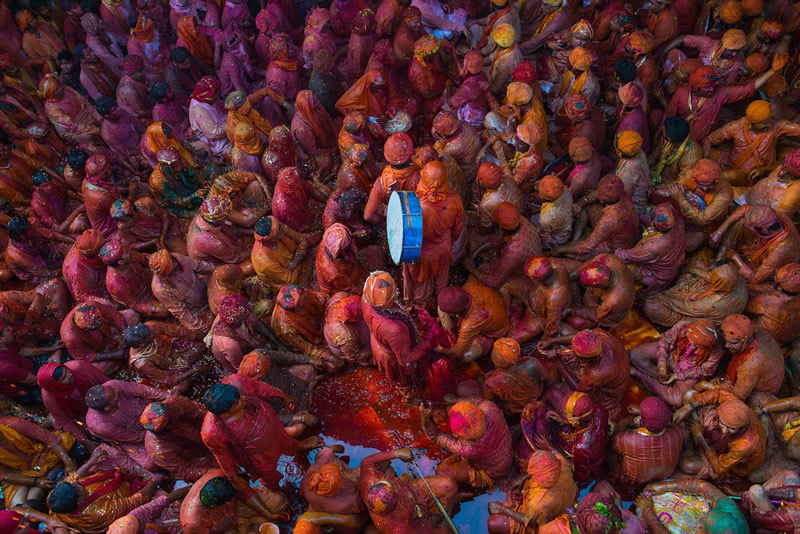 Finding a high vantage point and looking down is the easier part. Just looking down at a potential frame doesn't make it a good image. You have to think of various other aspects to better the frame. For instance, knowing what to include and more importantly what to exclude plays a major role in making or breaking an image.
In the example above of Holi in Barsana, I had firmly placed myself on top of a temple, looking down, I could see the scene unfolding with devotees filling the frame from edge to edge, beautiful tsunami of colors worked to my benefit but the photograph wasn't complete yet. The strength of the image was repetitive pattern but to better it, I had to break the pattern. Few minutes rolls by and the person with blue drum walks in and stands right in centre of my frame. Bingo !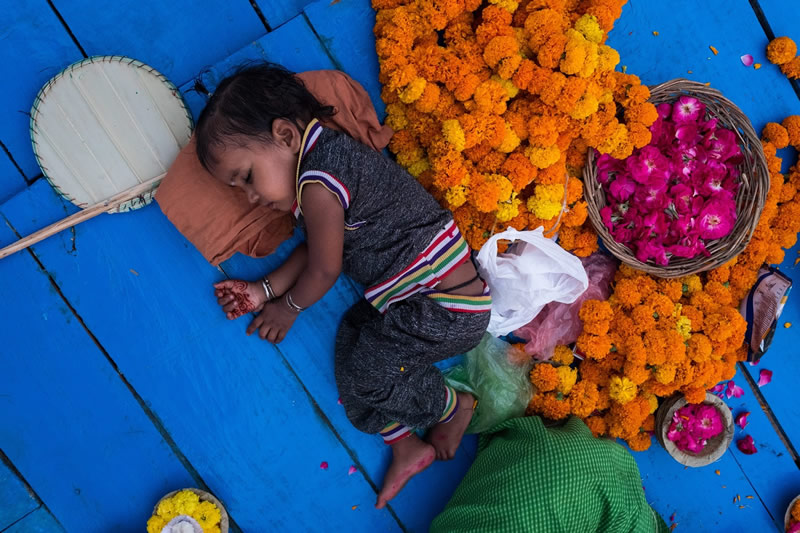 And here we have another example from Varanasi. A baby having sound sleep while her mother sold flowers at her little stall on the banks of river Ganga. At eye level, it was a pretty busy scene. Background had too much of information to convey the mood. Solution was simple. To change my perspective from eye-level view. With permission, I got on the little platform of the stall, looked straight down, kept the visible lines as diagonals and froze the moment. From a busy cluttered background to a clean canvas of blues, just by change in point of view and looking straight down.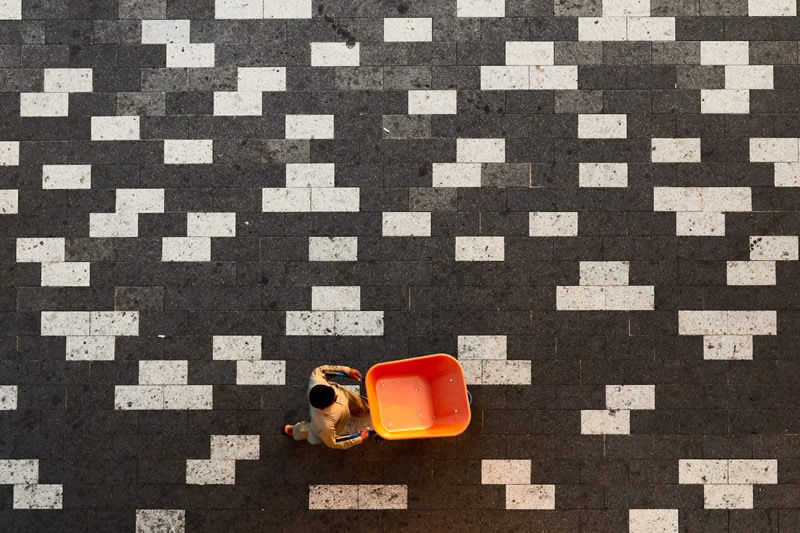 As I walked searching for photographs on the streets of Dubai, I observed the footpath having patches of white and blacks, which on closer observation, reminded me of tetris, the game we have all grown up playing. How do I convey this message ? Yep, by getting high and looking down. Adjacent to the footpath was a 10-story parking lot. Once on top, looking down, I had my canvas set. It was now just a matter of time before the right subject passed through, which apparently happened about 15 mins later. Tetris collector walked in and I got what I wanted 😉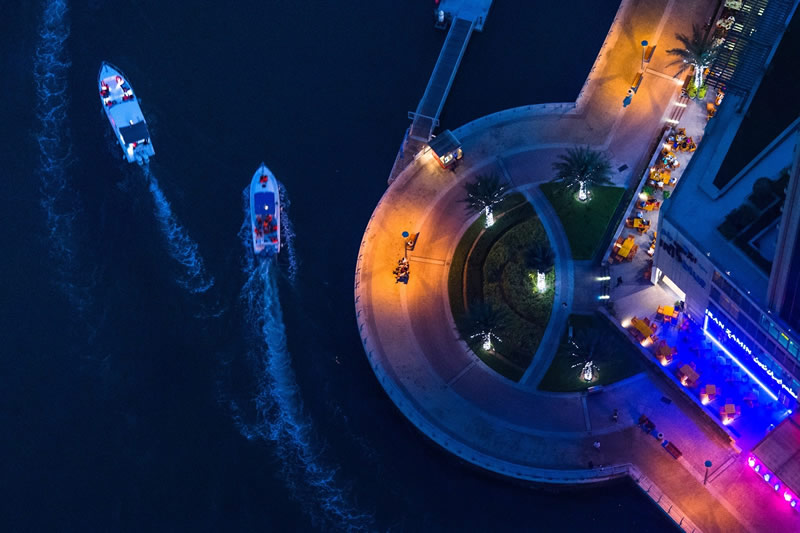 Cayan tower in Dubai Marina is among the most accessible and most shot rooftop in Dubai. 1000s of images shot from this very roof top showcases the grand wide angle view of Dubai Marina and Palm Jumeirah. But surprisingly, not many photographers have tried looking straight down. Looking down, once the vertigo fades away, whole new world opens up. Theres beauty in small details and thats exactly what I try to see. Imagine the above photograph, minus the boats, that was my canvas as I looked down. Boats were the elements which completed the image.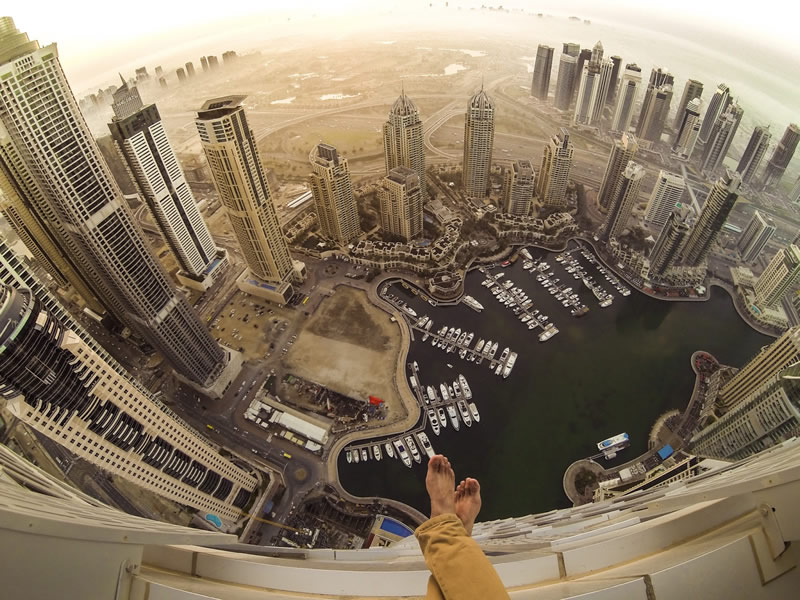 And another example of looking down, yet again shot from Cayan Tower. I'm sure you get an idea by now. Here are few more examples.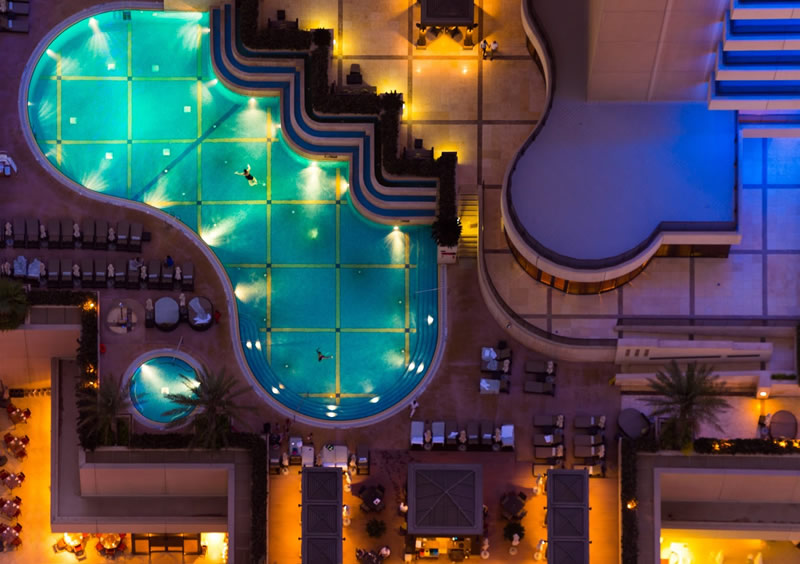 Shot from Cayan. A swimmer having good time on christmas eve. Keeping vertical and horizontal lines in check was the key in success of this image. I repeat, its about little details 😉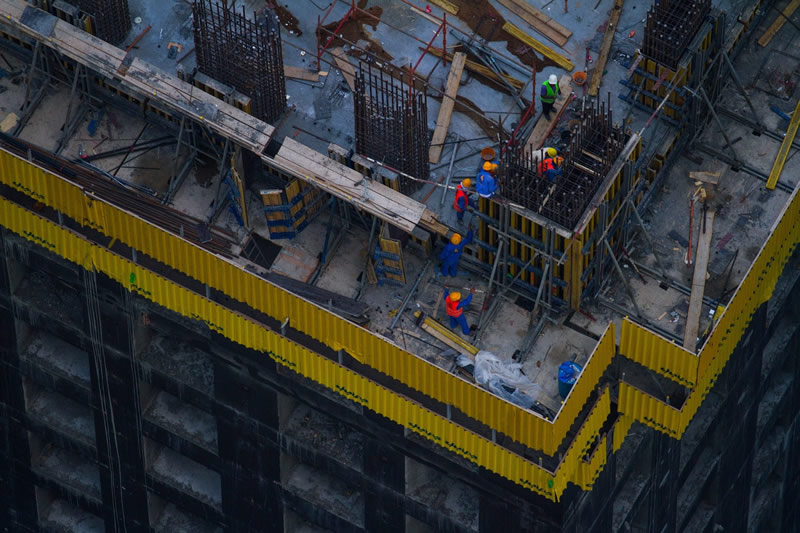 Constructions workers dotting the frame and the yellow band adding balance to the image.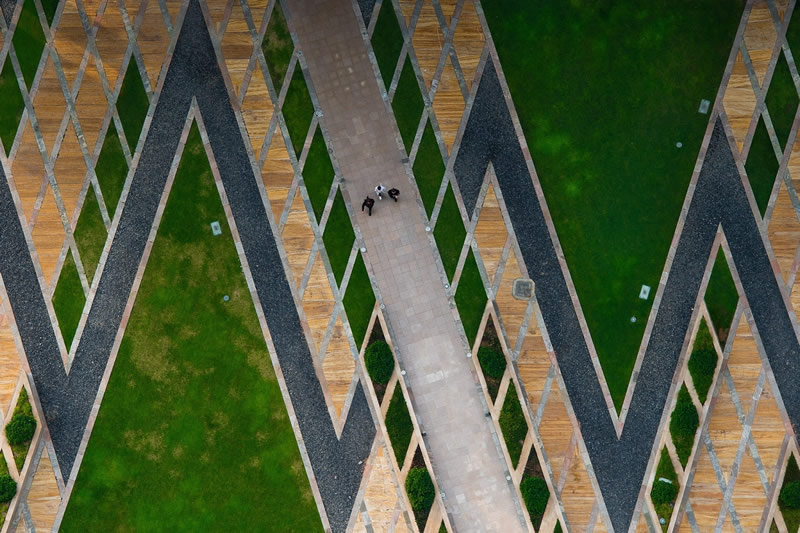 Looking straight down some 60 odd floors, the beautiful pattern, which goes unnoticed when on ground level, becomes the centre point of the image when see from birds view point.
Next time you head out to shoot, think beyond the usual and change your perspective 🙂
You can find Subodh Shetty on the Web :
Copyrights:
All the pictures in this post are copyrighted Subodh Shetty. Their reproduction, even in part, is forbidden without the explicit approval of the rightful owners.