Background:
The sudden outbreak of Corona virus had restricted people into their homes. During lockdown period and subsequent times, different aspects of lockdown have been emerged, which are new to this world. I found people have lost their jobs, forced to remain far away from homes, begging for food and other bare necessities, medical support. It shook my mind and I have decided to make a series of photography on sufferings of people. As going outside for photography purpose was prohibited during lockdown period, so I decided to make frames by arranging different materials to show the crisis of lockdown in a symbolized manner and capture those frame with my camera. So, photographs fall under creative photography category. There are total 12 photographs in my series by which I have tried to express my thoughts.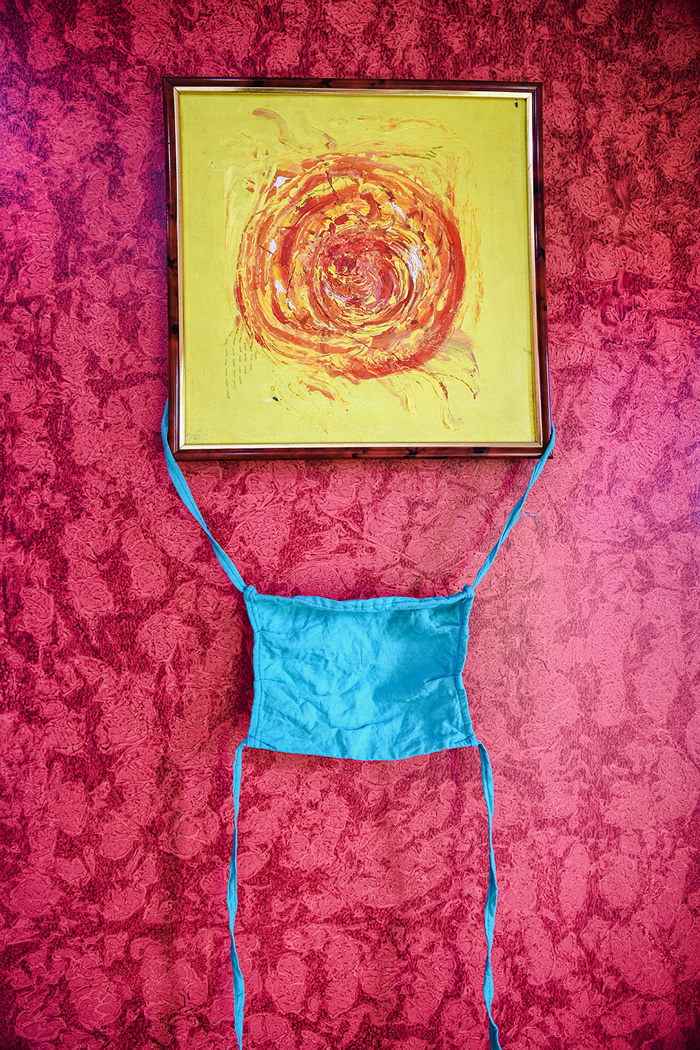 Preface:
The outbreak of the lethal Covid- 19 has brought the world into a standstill. India is no exception of it. While the world waits for a panacea, health experts have advised that the best way to control the spread is to stay indoors and maintain social distance. In order to tackle the pandemic, the Government of India, announced lockdown in phases covering two and half months. The impact of the lockdown has fallen very heavily on the poor and vulnerable groups. More than 80% of the work force in India are casual labourers who are working beyond the boundary of their home States. Thus due to complete lockdown in the country, millions of such migrant labourers with their families stuck at their work places as public transport facilities were withdrawn. All factories, establishments were shut down suddenly and within overnight these vulnerable wage earners became jobless and started suffering from loss of livelihood and lack of food, shelter, health, and other basic needs.
My photo series is concerned with the sufferings of common masses of India who are economically, socially affected by lockdown. All photos are basically symbolic and I am trying to show the sufferings of people in different perspectives. I had to depend on the pictures as published in different newspapers to show pain and sufferings of poor people and used those by making a collage. All frames are created by me in my home during lockdown period and are imaginative in nature.
As per expert opinion, the only way to combat Corona virus is maintaining social/ physical distance among people and to remain confined in home. Thus the universal slogan of the world at present time is 'Stay at Home'. However, in such a big populous country with heterogeneous masses and migration of people due to socio- economic reasons, physical distancing among people is quite impossible. Majority of the population cooperated with government by confining them into home during complete lockdown period for the welfare of the country.
But at a point of time, there is no food in most of the homes. So, people are forced to go outside for collecting free ration, withdrawal cash from bank, emergency medical treatment and other emergency purposes. It is advised by medical experts that using mask restricts Corona virus to spread. So, using mask becomes mandatory by the government while people are going outside home. Thus it seems to me that mask has become a symbol of obstruction/barrier from earning bread and means of livelihood which is associated with social distancing. Few pieces of bread/ biscuits have come into my pictures as a symbol of means of livelihood which cannot be ensured due to social distancing and mask.
In this Covid pandemic time, the whole world is perplexed and trying to find out solution for coming out of this situation. Such kind of situation has never come in the past where entire world has collapsed! It seems that even powerful God has become powerless to stand beside the people! Churches, Mosques, Temples failed to show any path for saving the people from virus. So, it appears to me that religious leaders are also helpless to handle the situation and advise the people. I have also tried to show such helplessness of God in this crucial situation in my photos in symbolic manners. It appears to me that God also sitting idle wearing mask and looking at vulnerable masses.
We know that poor people of India are badly depended on government sponsored public distribution system. Economic condition of overall people has worsened to such extent that those who are above poverty line has fallen under poverty and ask for free ration from government. Under Food Security Act, poor people are entitled to get free food grains from designated ration shops on regular basis for their livelihood. But in present situation, when there is no income or economic activities, poor people has become more and more dependent on such public distribution system for free rationing and relief provided by NGOs, local youths. Even, those who are above poverty line are now standing in queue asking for free ration in ration shops. I have tried to show how afraid people are trying to run away from the virus on one side and how the hungry people are rushing towards raw rice (one of the main food of Indians) on other side. All my photos symbolize these two extreme crisis of masses.
The Covid 19 has thrown the entire Indian masses into a vicious cycle. As there is restriction in movement there is no source of livelihood and, so survival has become a challenge. So for livelihood, people are forced to go out with an unknown fear in the soul maintaining social distancing and wearing mask. It is like that people including God are tangled in the web and unable to come out of it. The virus is coming aggressively to grab human civilization to ruin it. Two of my photos in the series tell such an imaginary situation in symbolized manner. Sometimes it appears to me that entire human society is confined and surrounded by masks and gloves…..and I have used Chakra to indicate time which seems to be standstill.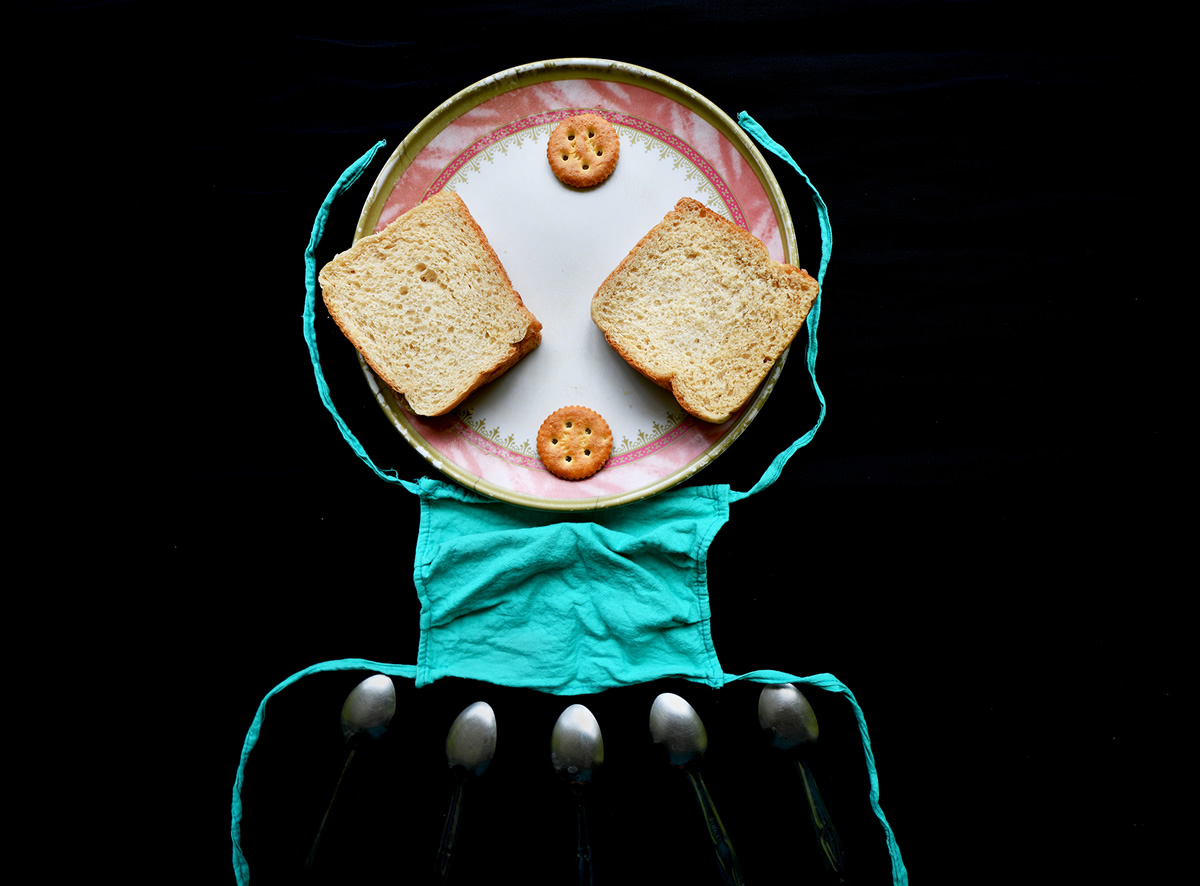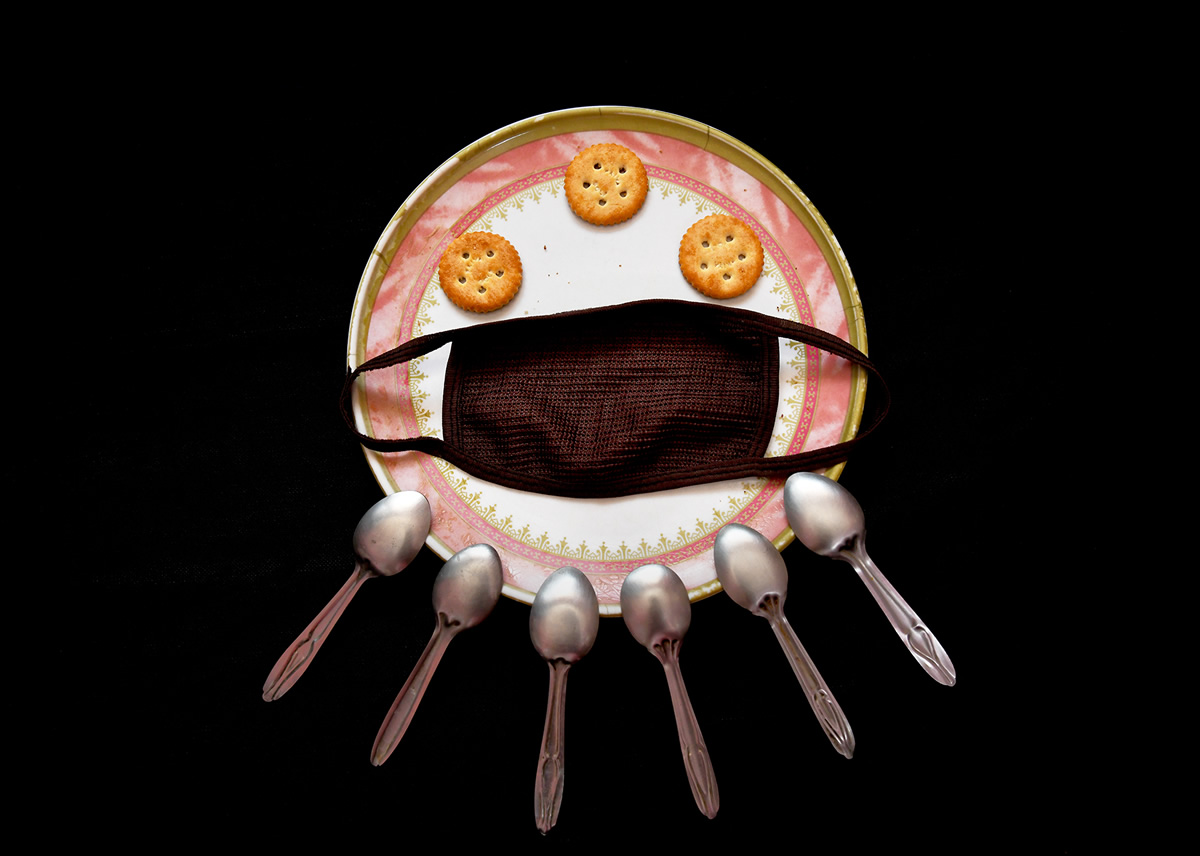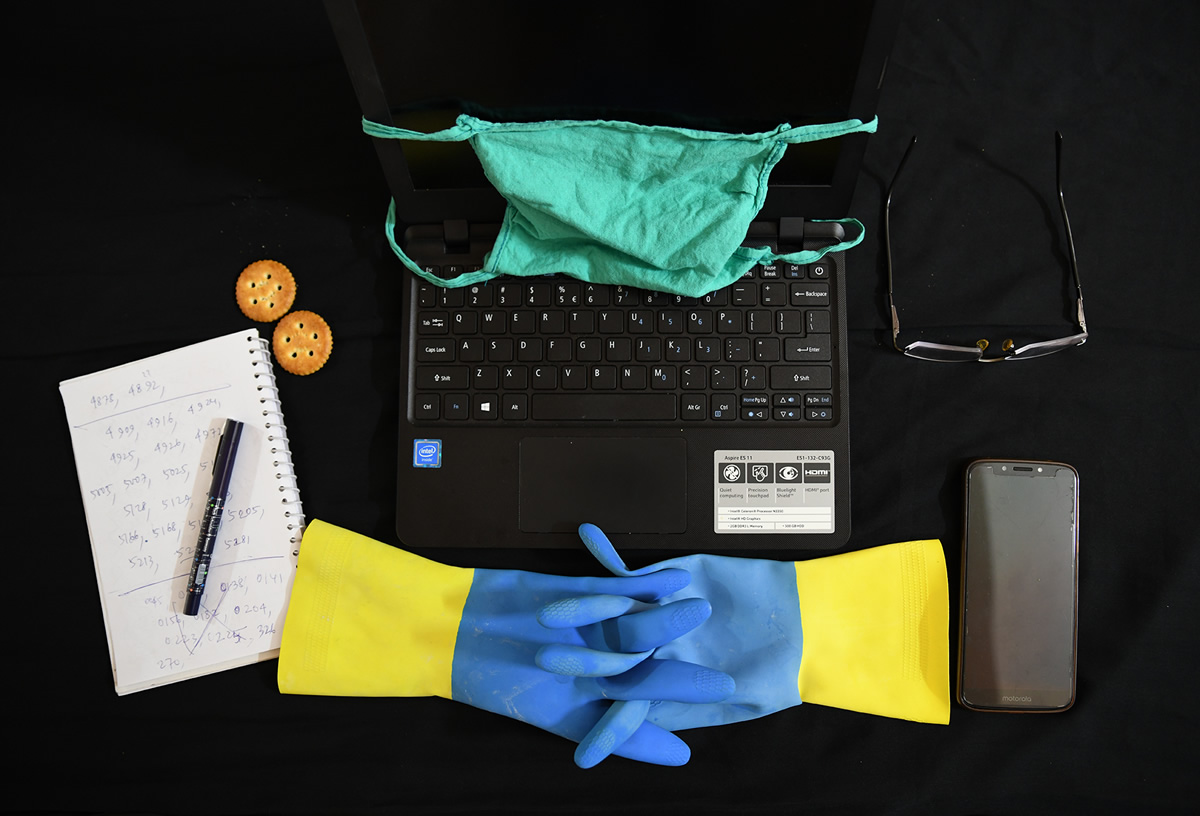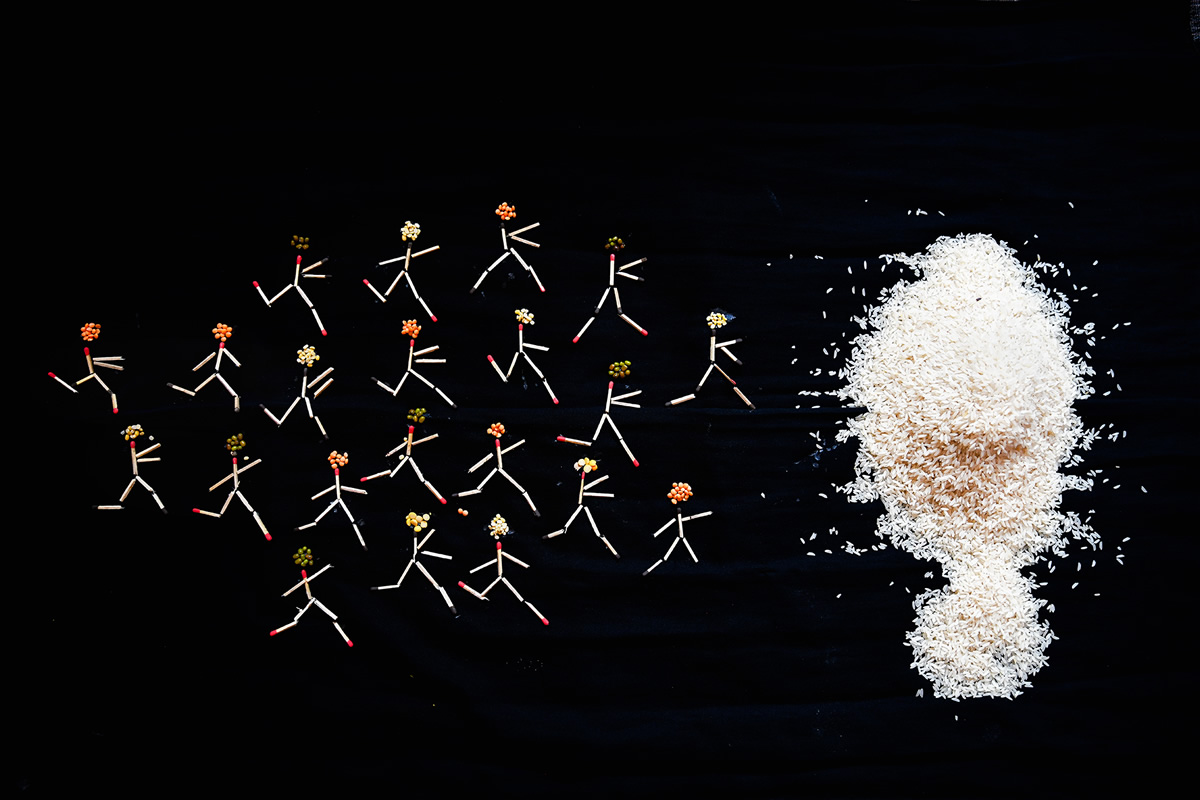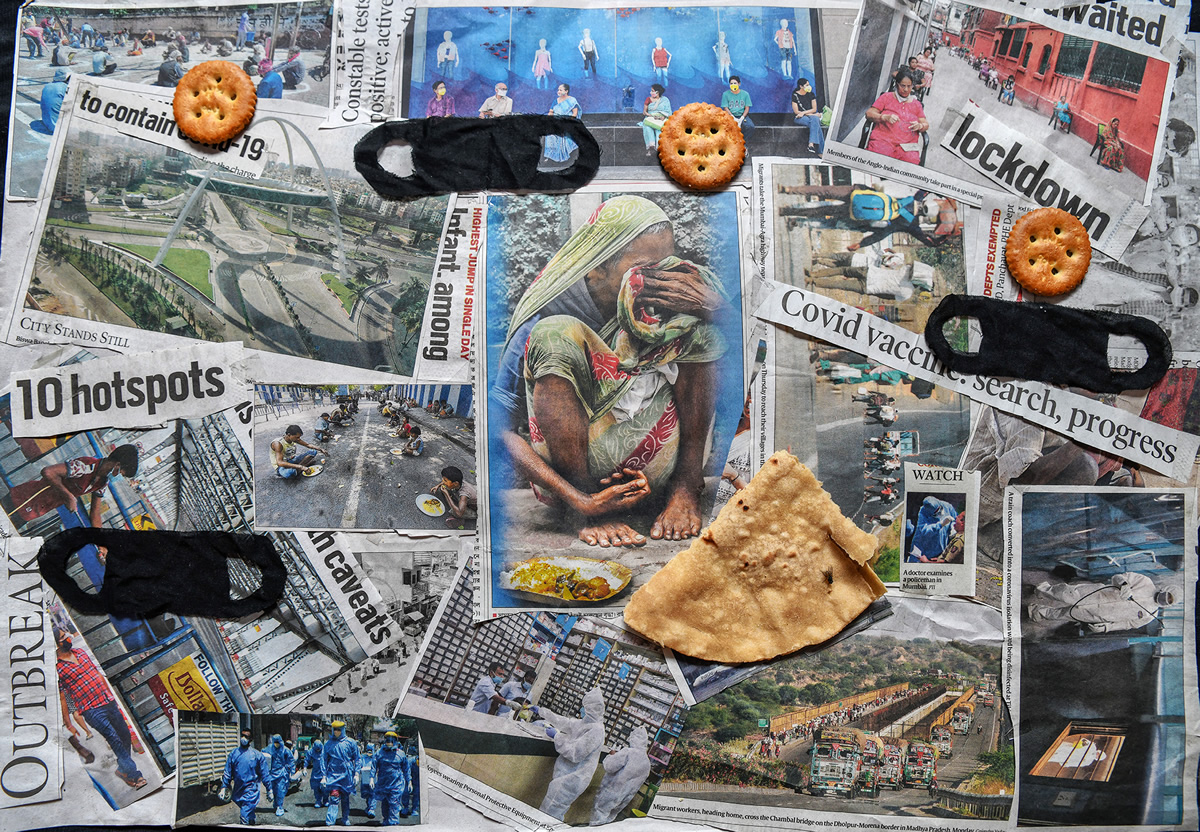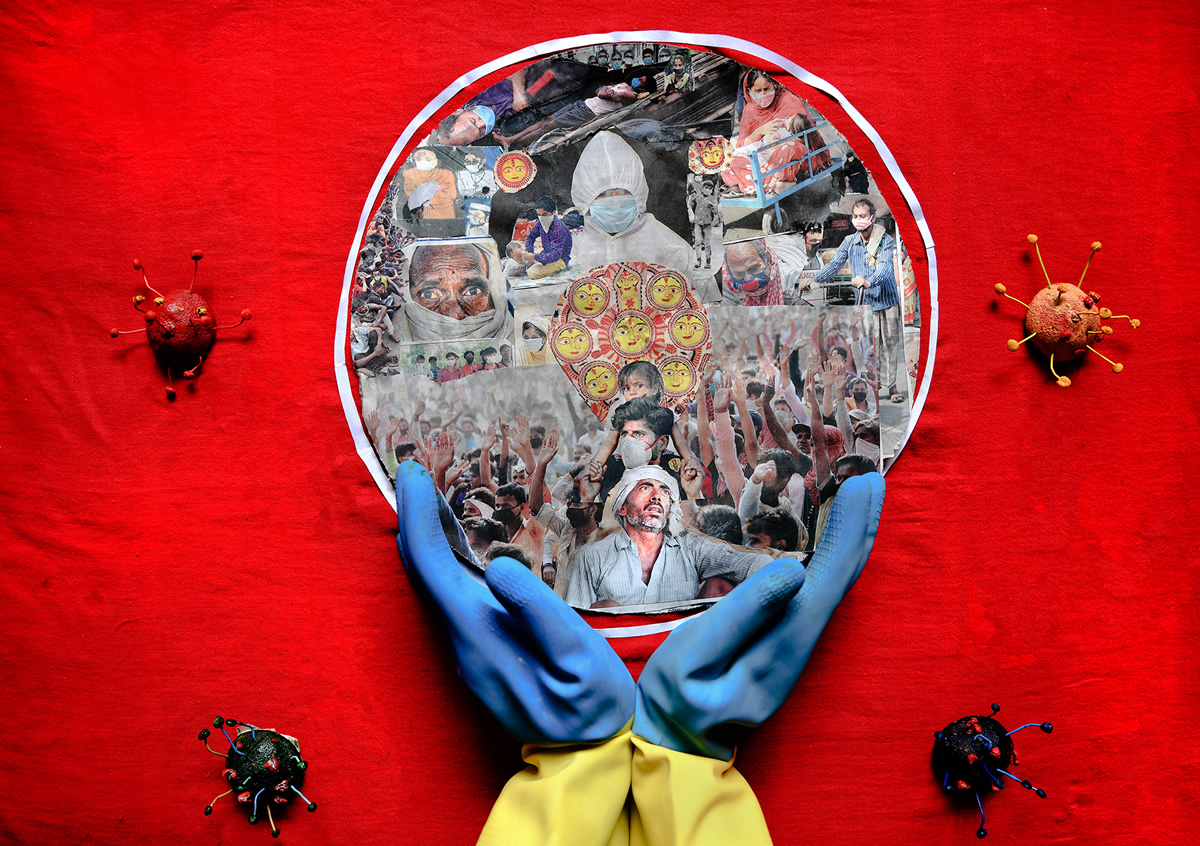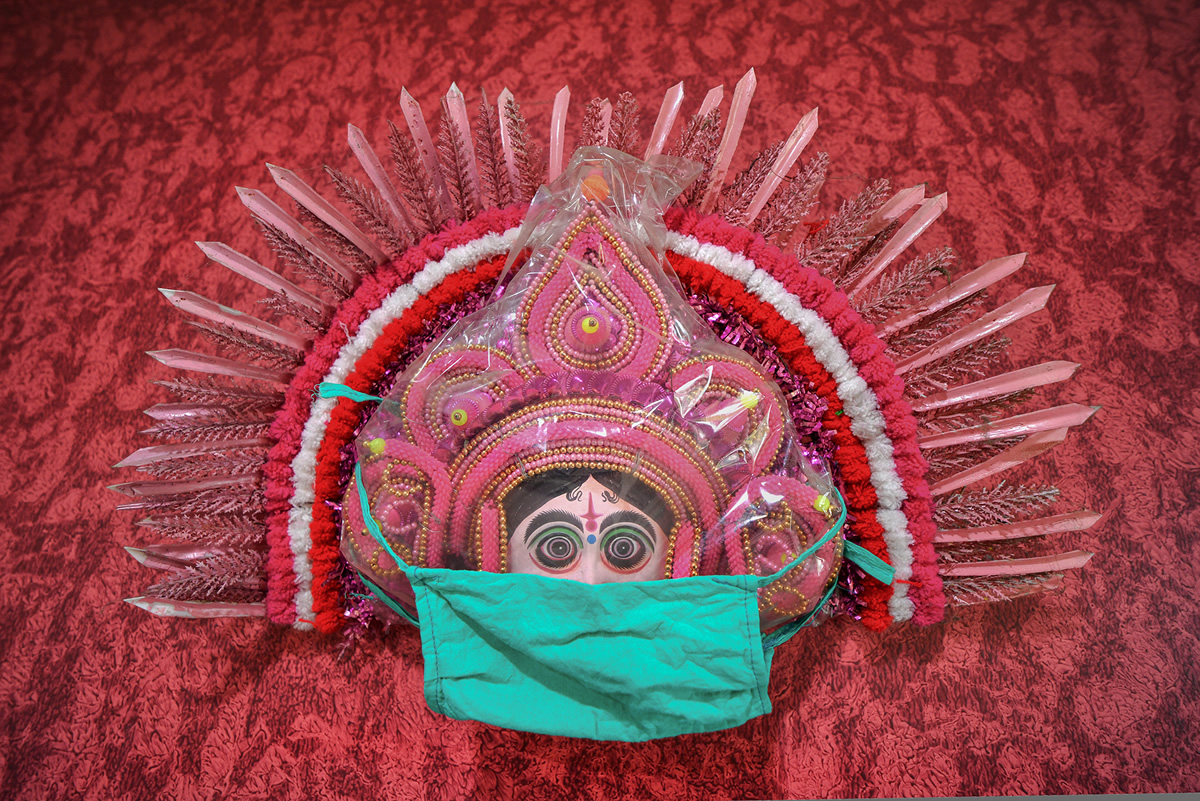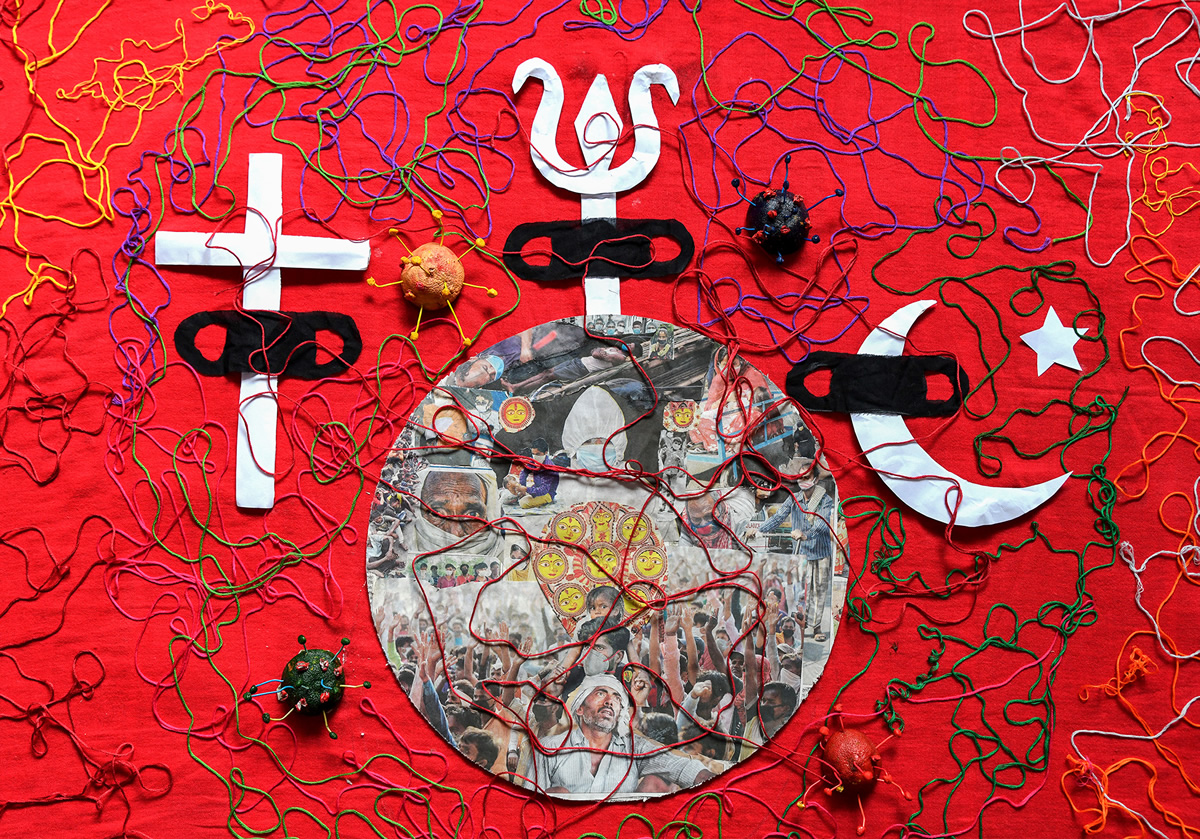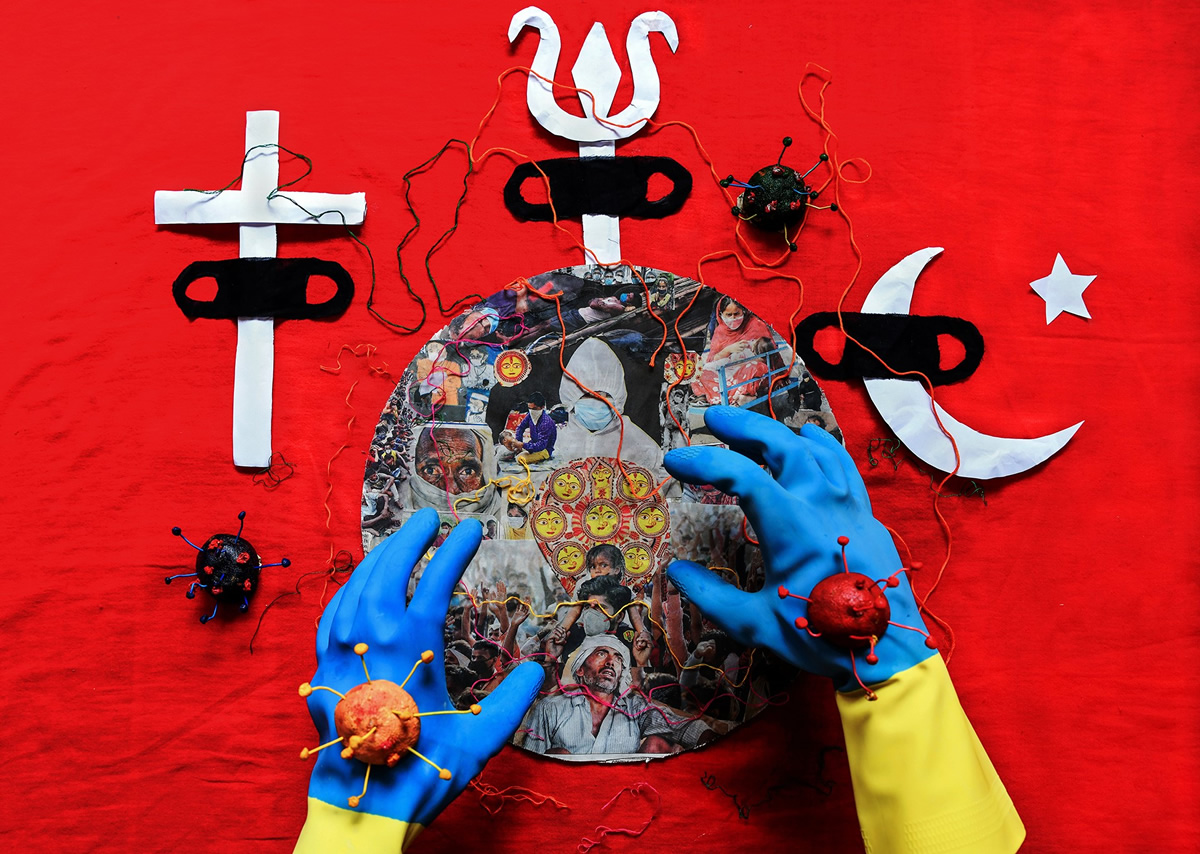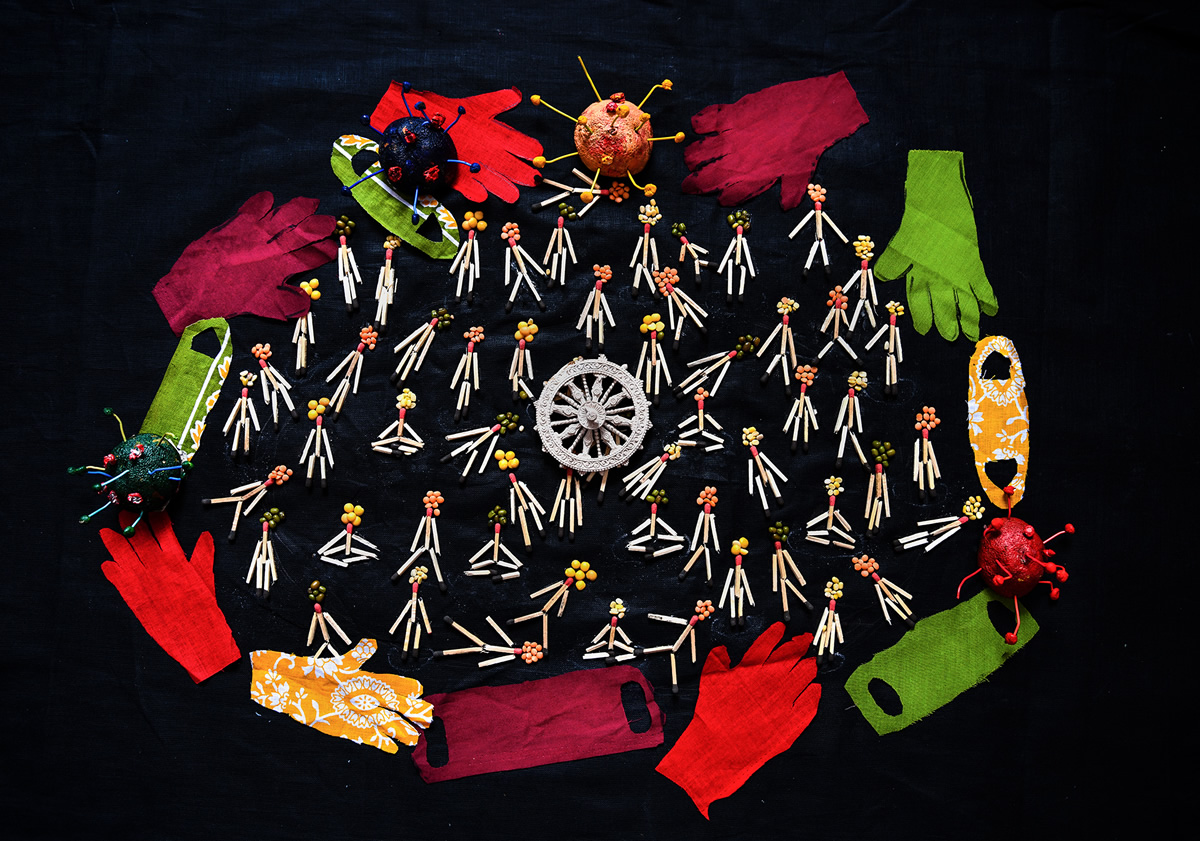 About Shaibal Nandi
I am an ameteur photographer of age about 52 years practicing photography seriously for last 2 years. By profession I am in government service and has taken up photography as a passion. I am basically interested in street photography with human interest, different retuals, cultures, traditions of people across the country. My social media links are given below.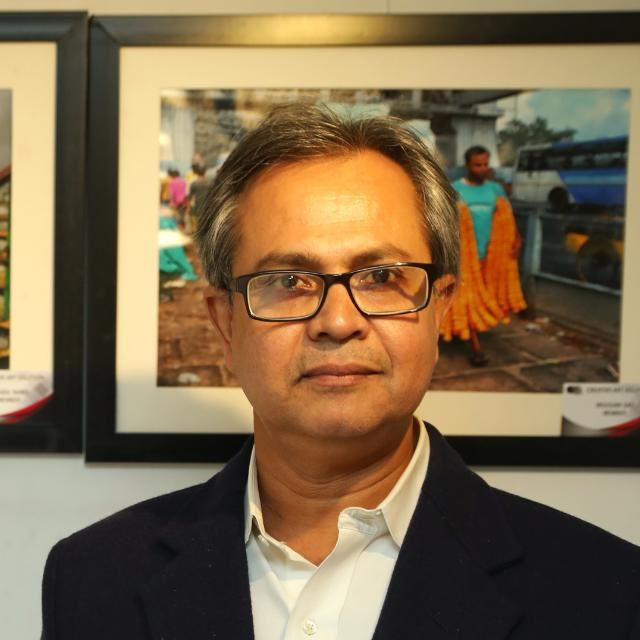 You can find Shaibal Nandi on the Web :
Copyrights:
All the pictures in this post are copyrighted to Shaibal Nandi. Their reproduction, even in part, is forbidden without the explicit approval of the rightful owners.