Paintings on the clay walls of the tribal villages have been a long-prevailing practice in India. In West Bengal, this is known as 'Deoal Chitra' (means wall paintings). It is predominantly found on the walls of the dwellings of the Santhal (the largest tribal community in India) communities across Birbhum, Bankura and Purulia districts in West Bengal. The wall paintings are done during agriculture and harvest festivals.
Rural women are the creators of these paintings. The wall paintings are a representation of the strong bond between the rural woman and her immediate environment. The personal experience of the artist and her interaction with nature is the biggest influence on this art form.
Santhal women paint the walls of their homes using mud and natural pigments like rice and flour gathered locally. Sometimes, they use cloth swabs or chewed twigs from the local Sal tree as brushes. They take around three-four days to paint an entire wall.
Only women undertake the entire labor of collecting raw materials and preparing the canvas throughout the year. A coating of lime is first applied on the wall over which colors and designs are painted. The motifs are usually regular arches, flowers, plants, and various geometric patterns. The design is drawn out with the fingertips.
The simplicity with which these wall painters of West Bengal bring out their philosophy makes their creations singular representations of this folk art. Unfortunately, little or nothing has been done to recognize this. This series is a tribute to all those unnamed women artists who have kept this age-old tradition alive.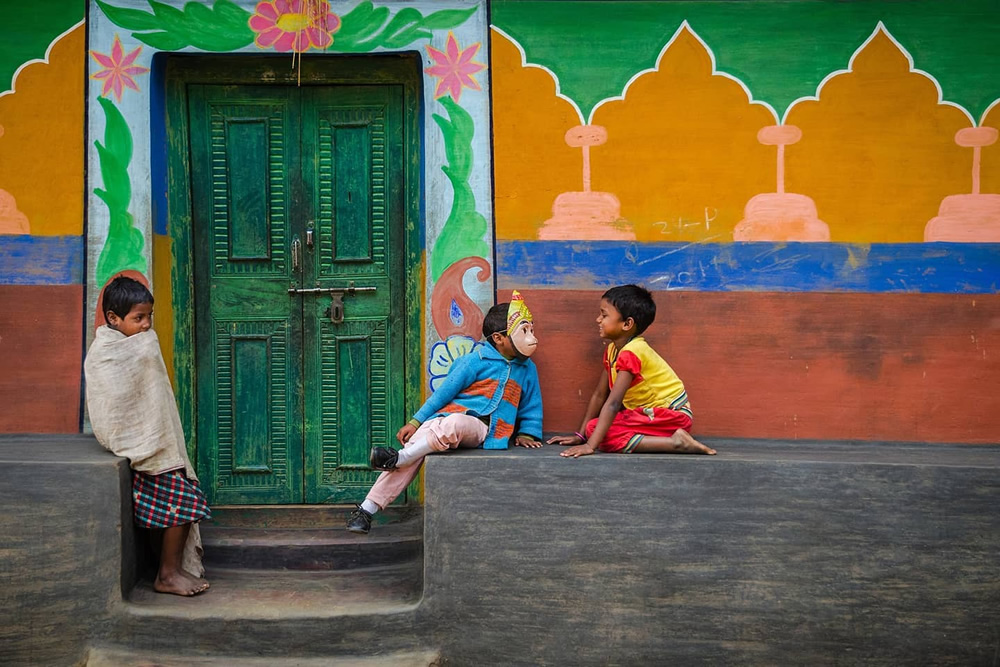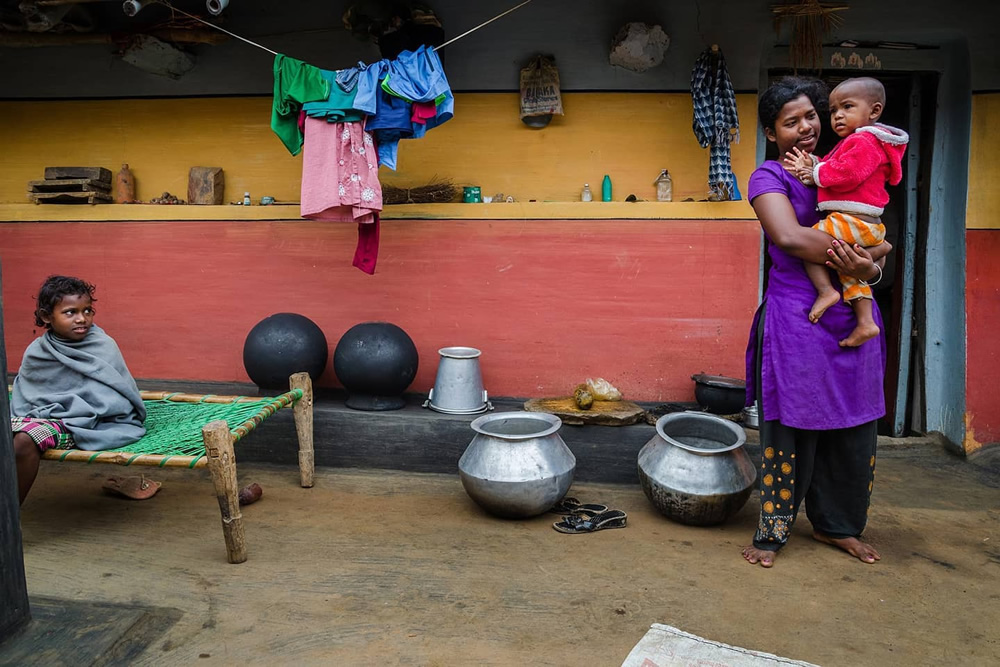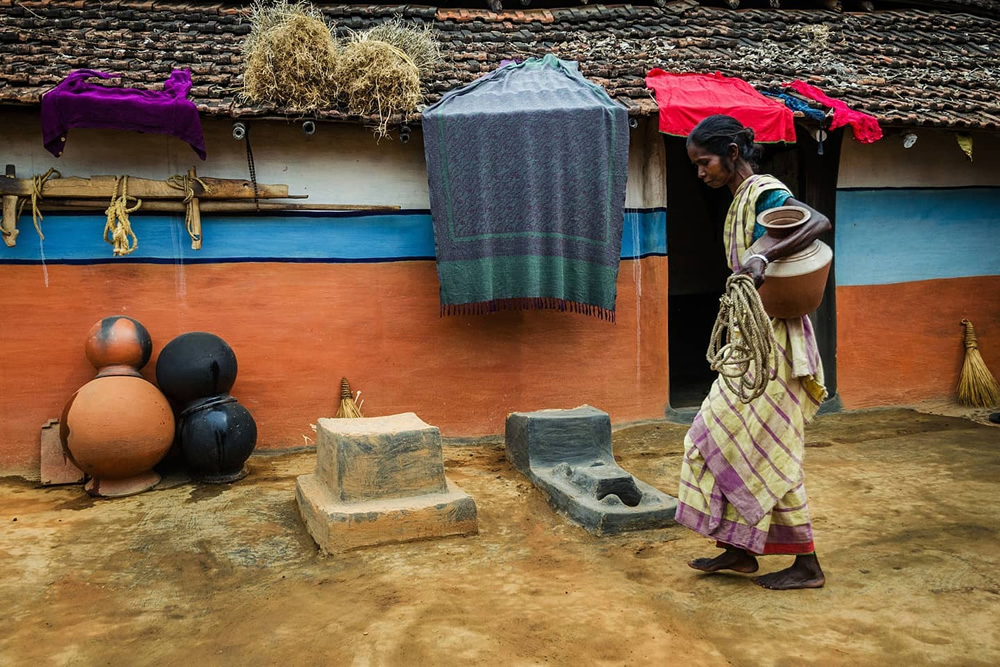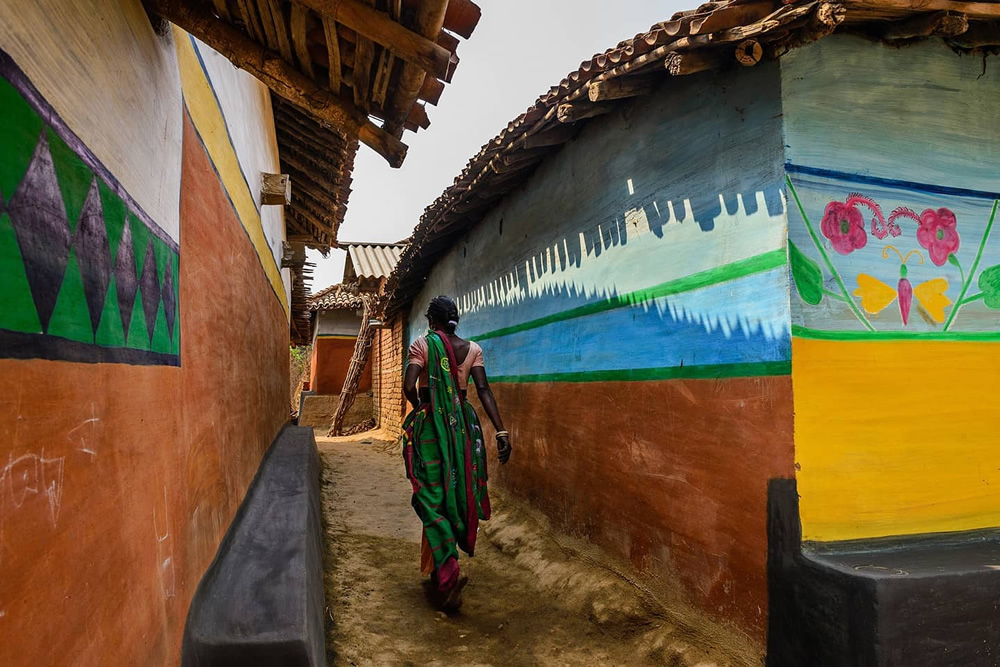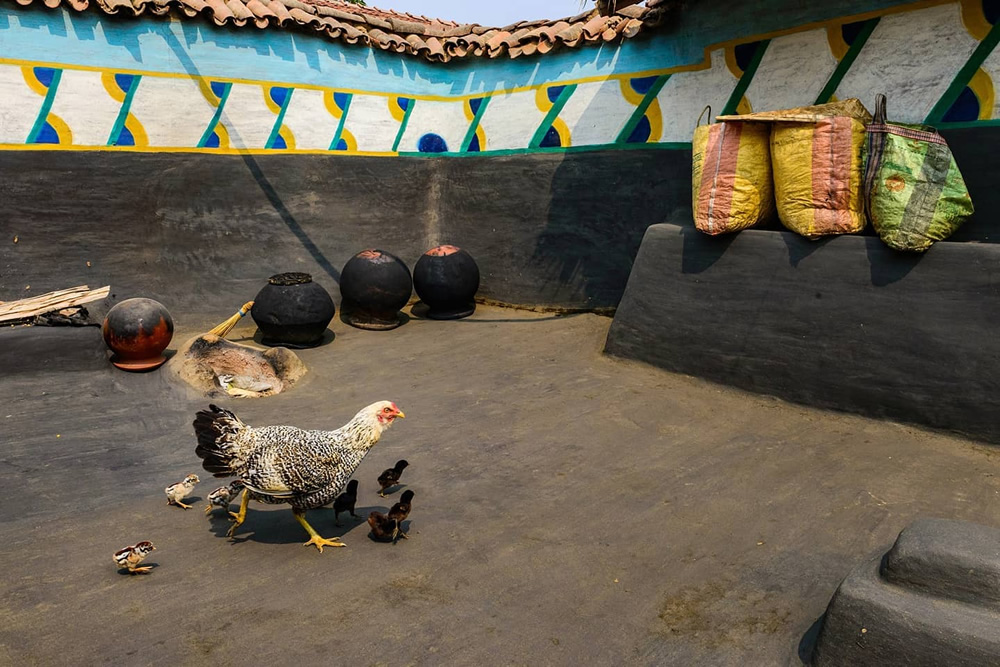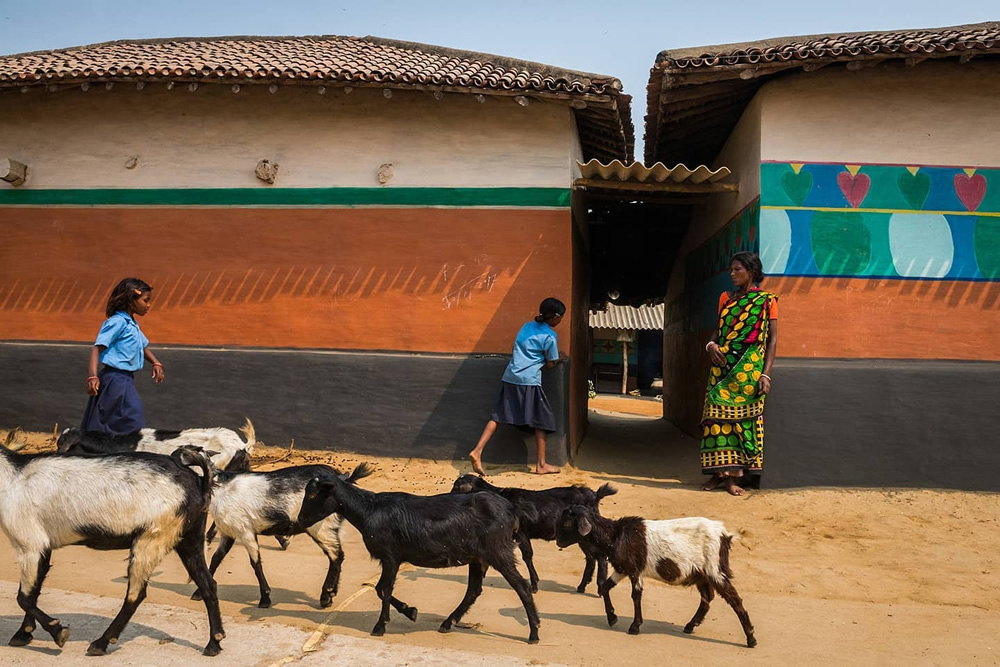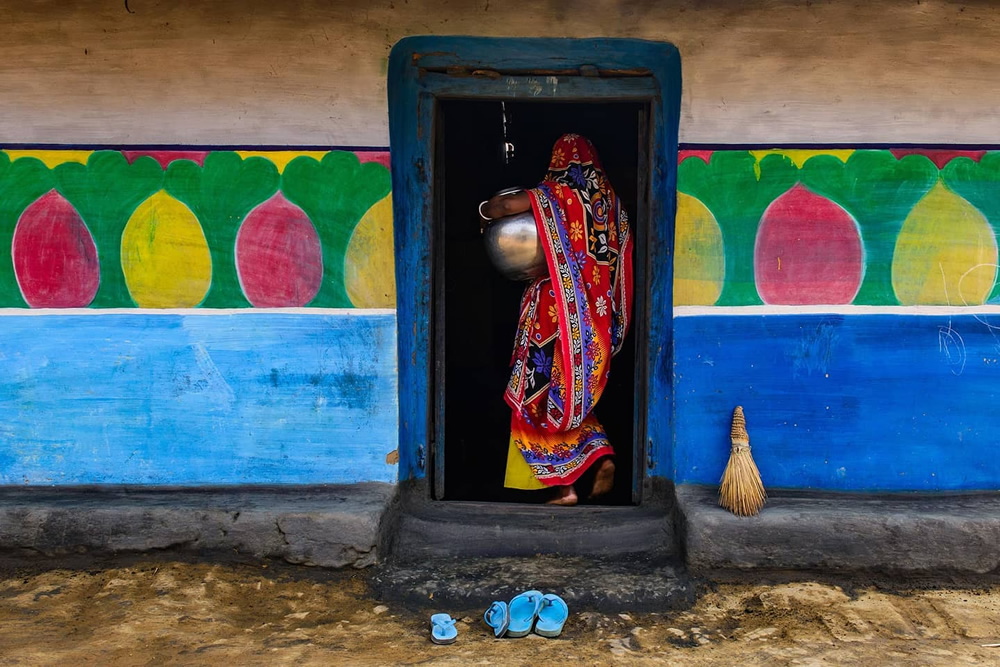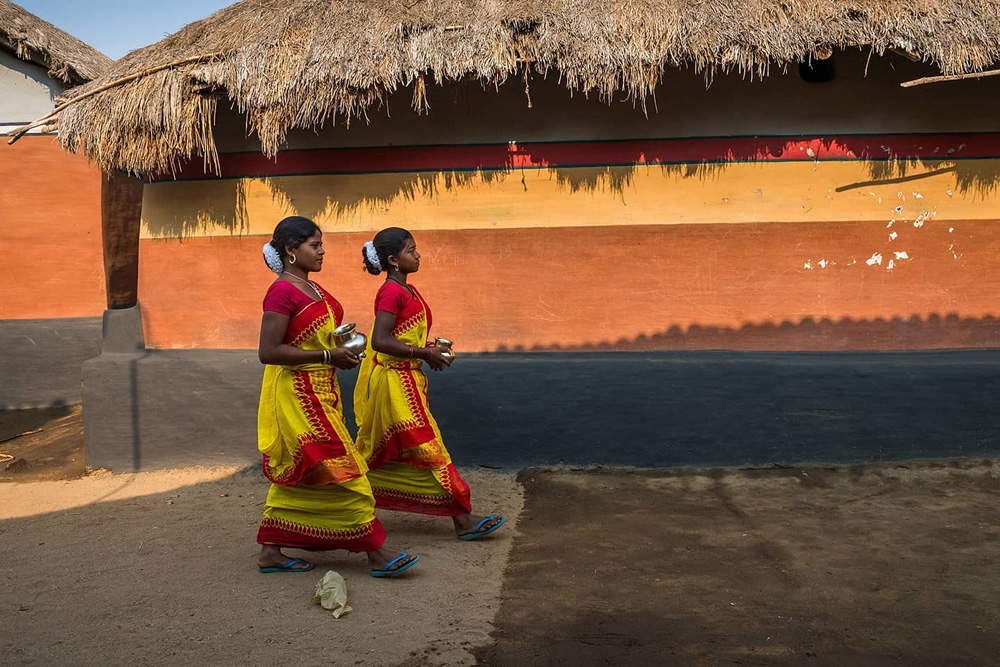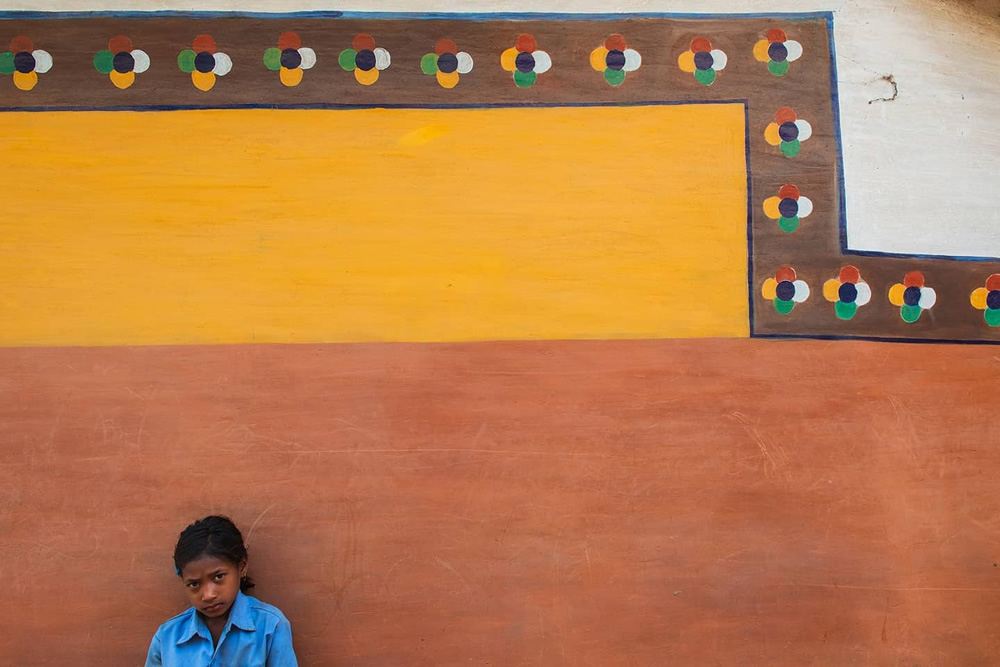 About Saumalya Ghosh
I really love to see the small drama of everyday life as it is staged on the streets. Common people are my heroes and heroines who play themselves in this drama. I'm just a keen observer, a mere admirer and my job here is just to capture the candid, unposed and unguarded moments of this fascinating 'Real Life' drama through my own vision. I don't interrupt or influence this show. I accept it as it is, in its original and purest form. I believe that reality can be stranger and more fascinating than what I can think of. To me that's the charm of photography.
Saumalya Ghosh is a Kolkata based Street and Documentary photographer. His work and interviews have been published in several national and international magazines, photo books and websites including National Geographic, NatGeo Traveller, Better Photography, Asian Photography, ViEWORLD, International Street Photographer, Vistara, TERRA, 121Clicks, Street Photography magazine, URBAN photobook, Roli Books, Eccentric Outdoors, Eyeshot and Creative Image magazine. He has won several awards including HUMANITY PHOTO AWARDS from UNESCO & China Folklore Photographic Association(2013, 2015) and CBRE Urban Photographer of the Year(2014).
His work has been showcased in different International Street and People Photography competitions/festivals like Miami Street Photography Festival 2017, 2018, Sun Francisco StreetFoto Festival 2017, 2018, URBAN Photo Awards 2017, London Street Photography Festival 2017, 2018, SIENA International Photo Awards 2017, Italian Street Photo Festival 2018, 2019, Indian Photography Festival 2018, Kolkata International Photography Festival 2019, Egaro Photo Festival 2018 etc. His work has been exhibited in different national and international galleries in Agra, Delhi, Kolkata, Hyderabad, Guwahati, Agartala, Chennai, Greece, China, London, San Francisco, Miami, Rome and Milan.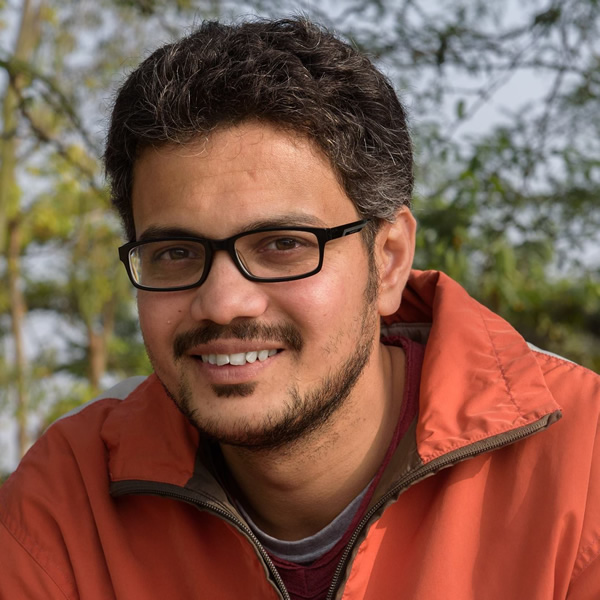 You can find Saumalya Ghosh on the Web:
Copyrights:
All the pictures in this post are copyrighted to Saumalya Ghosh. Their reproduction, even in part, is forbidden without the explicit approval of the rightful owners.