"Behind every face is a mask and behind that is a story." – Marty Rubin
What is a mask? A mask is a tool that one may use to alter one's exterior appearance, and sometimes one's personality also, temporarily. The influence of a mask may be very personal or have broader social implications. Wearing a mask may also change the wearer's actions and other people's reactions to the wearer. This double impact is a basic characteristic of masks and is also what makes them so attractive for people to use, as has been discovered from antiquity to the present time.
But sometimes, a mask carries something more, like art,culture and traditions, from the ancient times to the present and presents infront of us something extraordinary.Located in west Bengal, India is the district of Purulia. For a person craving peace amidst the daily hustle and bustle of life, Purulia is surely to be the ideal place. The ambience here is rural, free from the tension and streets of the urban life. The greenery here is a real pleasure for the eyes, alongside with various raw huts here and there. But the vivified the elegance of the place is its long, age old tradition; the "Chhaunach (Chhau dance)".
Chhau dance is a genre of Indian tribal martial dance. This dance form was actually developed to train people in war combats, to make them courageous and keep them physically fit. These is ancient times, this is unconsciously a rehearsal of battle. During the festive season display of these traditional gymnastics, acrobatics and the dance by various villages-groups are arranged on competitive bans. Masks along with matching outfits are made with household goods and living examples of true hard works of the villagers and then the Chhau dance is performed with great enthusiasm. There is no doubt that Chhau dance is evidently not ephemeral.
The Chhau dance is really a treat to the eyes of the spectators, but the harsh truth is that the majority of the people are completely oblivions to this incredible experience. Hidden behind the usage of these happy masks, are the miseries of the performers. Their hand works are not at all compensated. It is said that on an average, a group receives a nominal sum of a thousand rupees taking into consideration the fact that a group consists of around 20 members; each members shall receive 500-1000 rupees. Is this really enough for a person to feed for his family? Also there are the transportation costs, making costs etc. Taking all these into consideration one can easily imagine how hard life is for these "talented people".
The revered Chhau dance itself is endangered now. People love to enjoy YouTube, Facebook, What Sapp, Netflix etc. at the cost of real entertainment, such as these. A person prefers 1000+ unknown (maybe dangerous and fake) friends on Facebook to 10 known relatives. One cannot ignore the fact that there exists a divine bliss, a relief in these festivals, but as said already, most of us are ignorant to this. In my opinion Chhau dance is a blessing vouch safe by heaven, and obviously not to be missed out.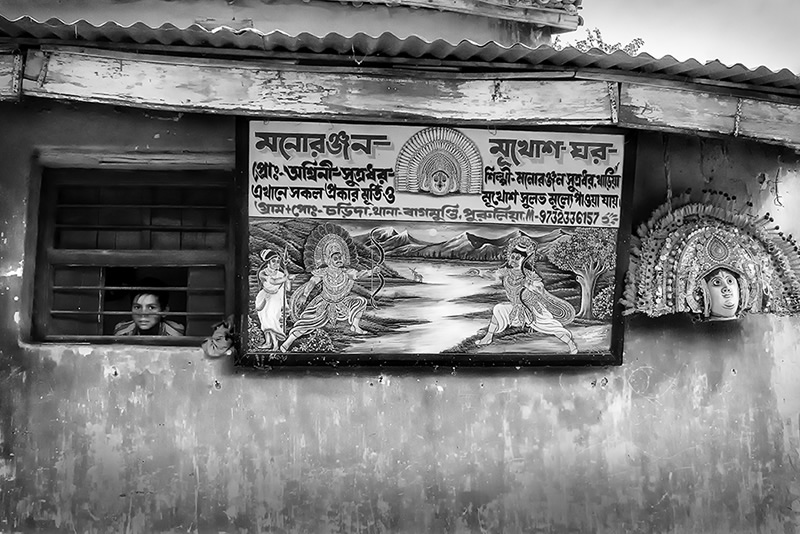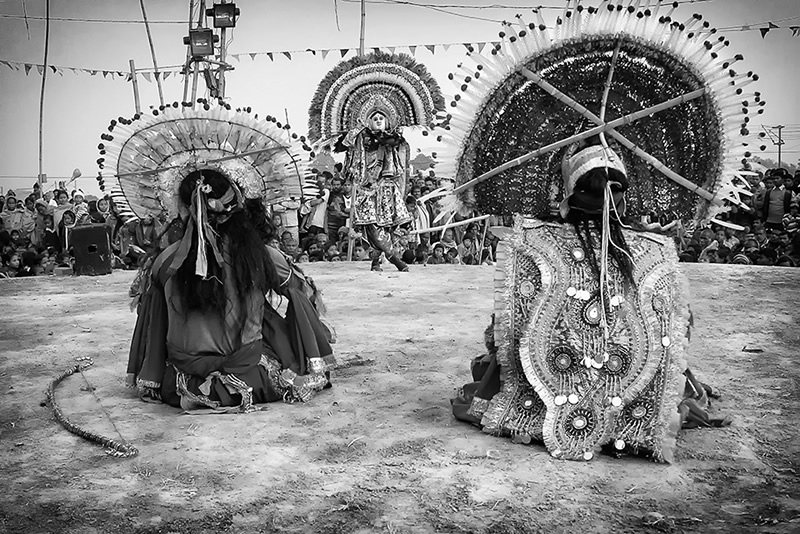 About Santanu Dey
Born and raised in Calcutta, the city of Joy, it was at the age of 10 when I found my deep interest in painting and art works of various types. Inclined toward this passion I realized how beautiful everything is in colors, as well as in monochrome. I love to trek and visit mountains. In mid-2013, before my trek my family gifted me a Sony Digital camera, and I started my journey of clicking. What started as my hobby then is now my passion. Be it street photography or documentary photography or capturing nature, I am the happiest to be behind the camera.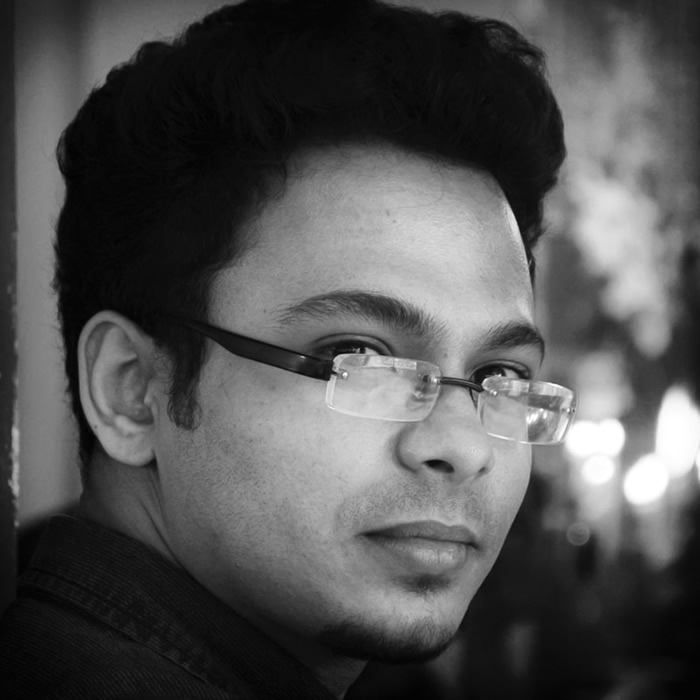 You can find Santanu Dey on the Web :
Copyrights:
All the pictures in this post are copyrighted Santanu Dey. Their reproduction, even in part, is forbidden without the explicit approval of the rightful owners.