In the Indian subcontinent, the potter community is known as Kumhar or Kumbhar, derived from the term Kumharkar, literally, maker of kumbha (earthen pot). The kumbha is believed to have emerged from the cosmic ocean during the SamudraManthan (Churning of the Ocean), a mythological episode that finds mention in the BhagavathaPurana as a tug-of-war between the devas (gods) and asuras (demons) for gaining possession of amrita (nectar of immortality). Interestingly, the Kumhars identify themselves as Prajapati, after the God Prajapati (alternately Brahma), who is believed to be the creator of the universe in Vedic Hinduism.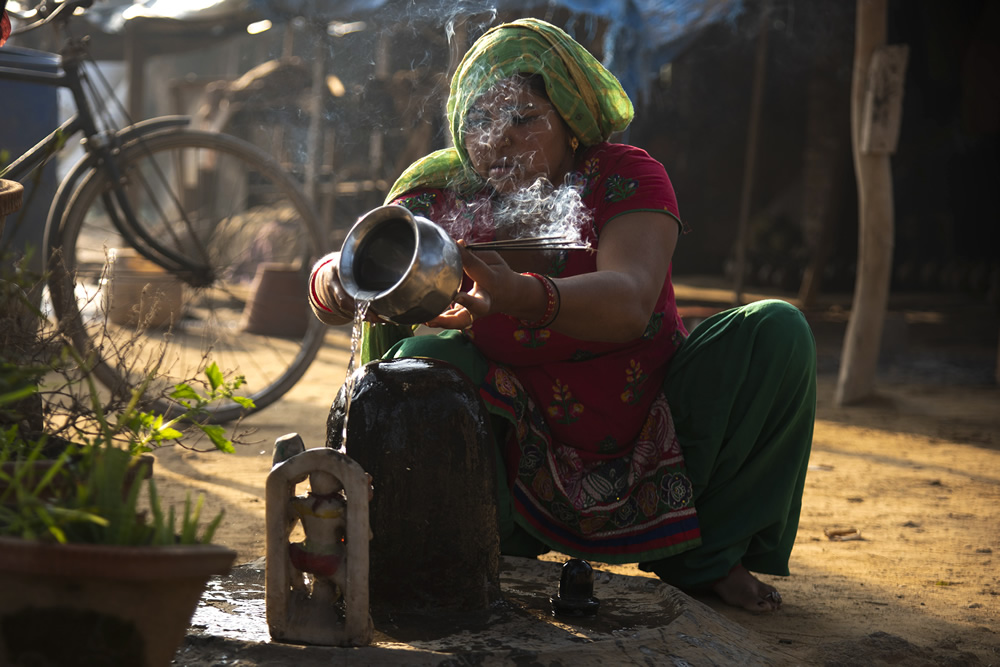 According to Hindu mythology, pottery is considered to be the oldest industry on earth, and indeed India has a long history of pottery, evident in the references found in the Vedas and Upanishads and archaeological finds going back to the Bronze Age and the Indus Valley Civilisation. Symbolically, the kumbha is associated with fertility, a metaphor of the womb which gives birth, and is associated with Lakshmi, the goddess of wealth, fortune, prosperity and abundance.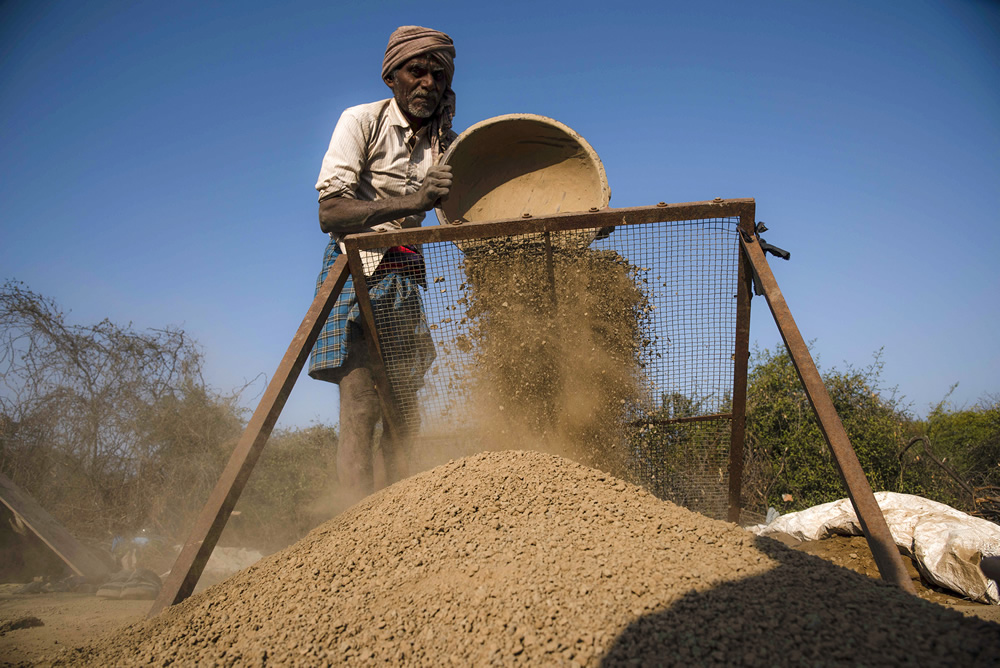 Growing up in a Bihari family, I was exposed to myriad rituals, many of which involved the purnakalasha (full pot), adorned with mango leaves and a coconut placed on it. These were placed outside homes on the occasion of an auspicious ceremony, be it a wedding or a house warming. I also observed newly-wed brides tipping over a pot containing rice kept at the doorstep with their right foot, a symbol of her bringing prosperity to the family, when entering their husband's home for the first time. Curious to know more, I decided to meet and document the Kumhar community of Delhi, and understand their culture, lifestyle, oral history and craftsmanship.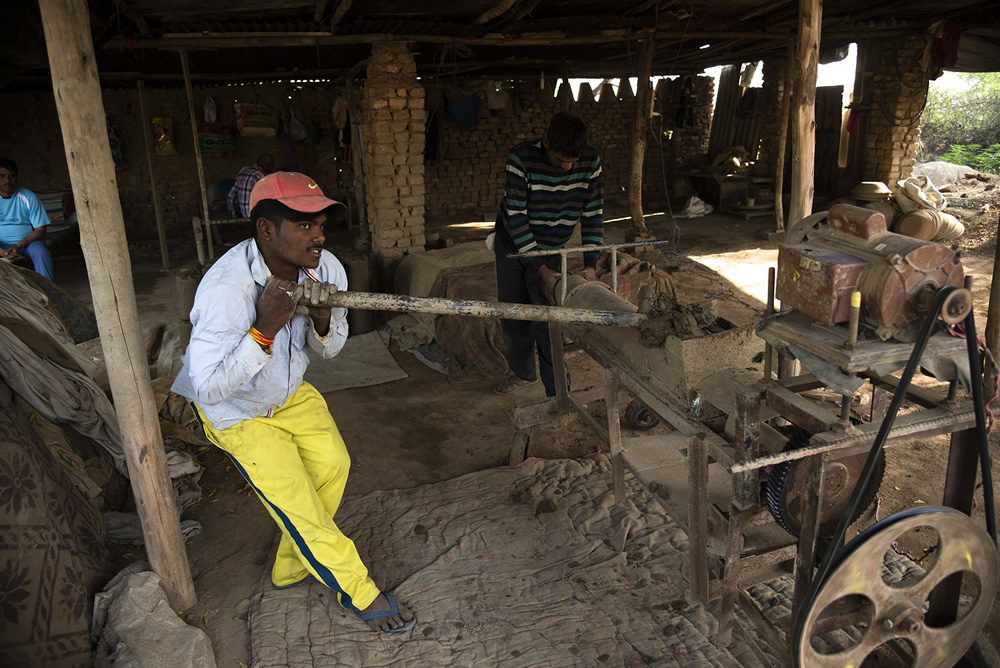 KumharwaliGali in Uttam Nagar, West Delhi, is home to approximately 700 potter families who migrated from Rajasthan. While roaming the lanes of the colony, I approached a house and asked permission to interact with the family. There I met JagmohanPrajapati, whose father had moved to Delhi from Alwar in 1965. Jagmohan now runs the family business along with his brothers Bhajanlaal and Harish. His extended family consists of seventeen members, and they all work as potters. From my conversations with Jagmohan, I gained some insights into their livelihood and method of working. The mud used in making pottery is sourced either from Kakrola in West Delhi or Jhajjar in Haryana. On the potter's wheel (chaak), they employ the throwing technique, in which a lump of clay is placed centrally on the wheel and then squeezed, lifted and shaped as the wheel is turned. Water is used as a lubricant to control the clay, but sparingly, as it also weakens the clay. Another technique is used to make hand-beaten pottery, though it is the longer process. His family believes in producing eco-friendly products and do not use any glaze, artificial colours or chemicals. Whatever paint they apply are made from natural ochres sourced locally, commonly known as Bani/Geru. Also, for some products they use white chalk as colour.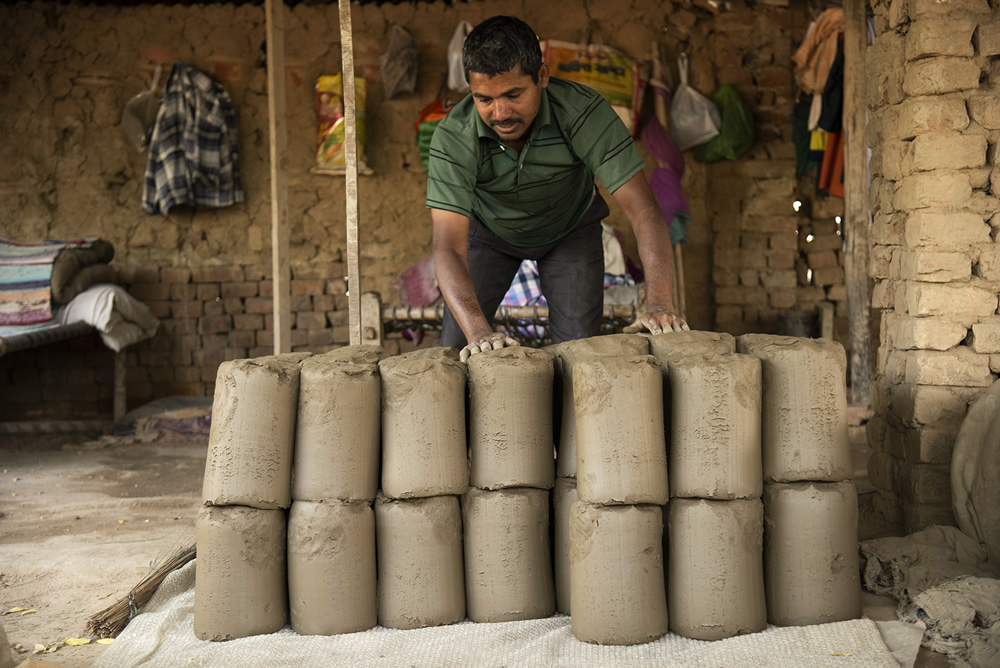 Other than this family I have covered the works of 34 year old Sujan Singh who together with his family members running this legacy for last 20 years. He also informed me that informed me that chaaks now run on electricity and they are small and portable. Other than ergonomic benefit, the shift to electric wheels have reduced manual labour and increased production. Sujan's family worships Lord Shiva. Like hi, most of the Kumhars worship Lord Shiva and Shiva's father-in-law, DakshaPrajapati.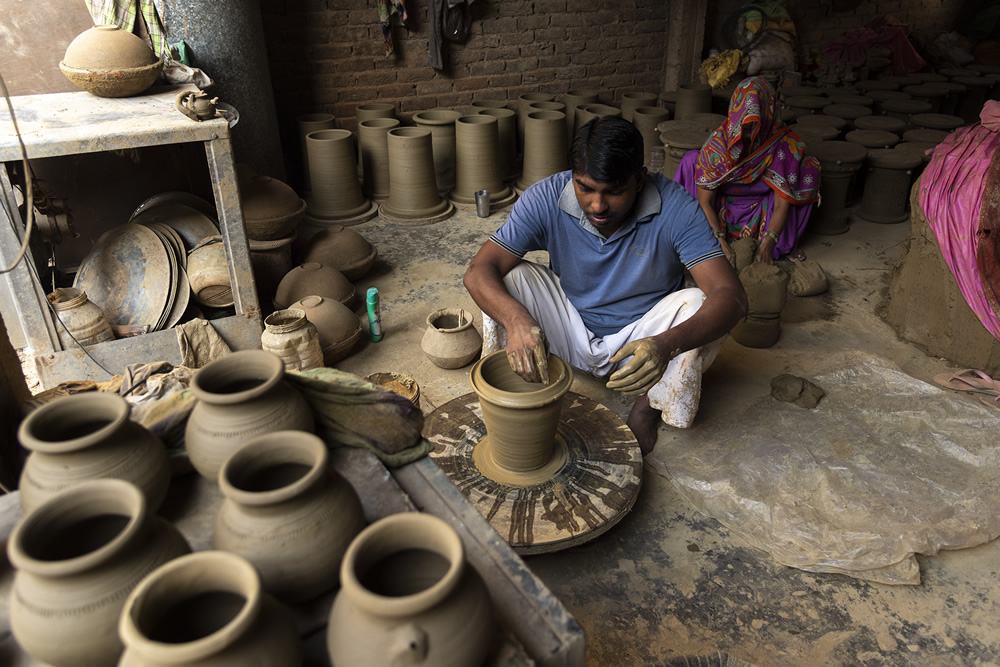 Earlier pottery products were used for cooking, but due to the popularity of metal utensils, Kumhars now make flower vase, plant tumblers, piggy banks, terracotta tiles, shrines and pots of various sizes. While pots meant for storing water sell more during summers, during Diwali, diyas (earthen lamps) are in high demand. Peak business happens in the festival season, starting from Navratri till Diwali. During this time, retailers come from different parts of the country to buy their products and place advance orders. Even though campaigns like 'Make in India' has given new hope to potters, most of them don't want their children to pursue this profession as they are apprehensive about the future. Sujan Singh sums up this crisis in so many words: 'As long as they are satisfied—I will leave the decision to my kids, whether they want to continue this work or want to explore other fields.'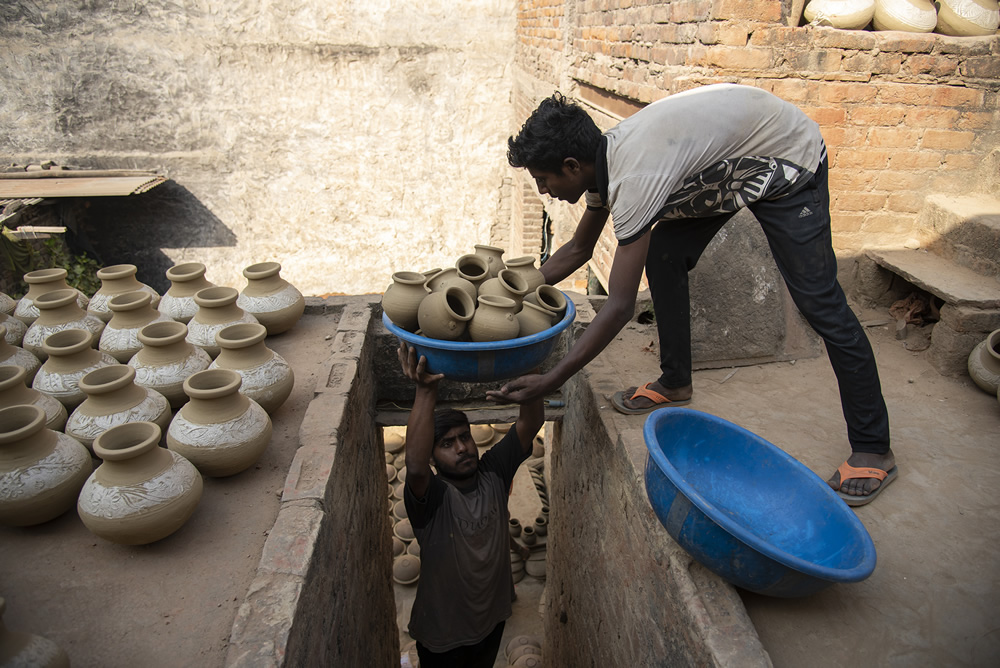 Though the art of the Prajapati community has survived for thousands of years due to consistent demand, it may be noted here that in the last decade potter communities across India have been facing stiff competition from plastic products. Currently the Diwali lamp market is flooded with Chinese-made goods, cutting into the profits of the local potters. Though a cause of major concern, Kumhars have proved to be resilient, and take great pride in their talent and hereditary tradition. They believe that new markets will emerge and they will innovate. One such silver lining in recent years has been the banning of plastic cups at railway stations by the Railway Ministry, due to which the humble kullhad (disposable clay tea cup) has made a comeback. With global concern over plastic pollution and need for sustainable alternatives, such initiatives, backed by fair trade practices, would definitely help potters sustain this ancient craft.
**This story was first published on Sahapedia as a part of Frames Grant awarded to Jai Thakur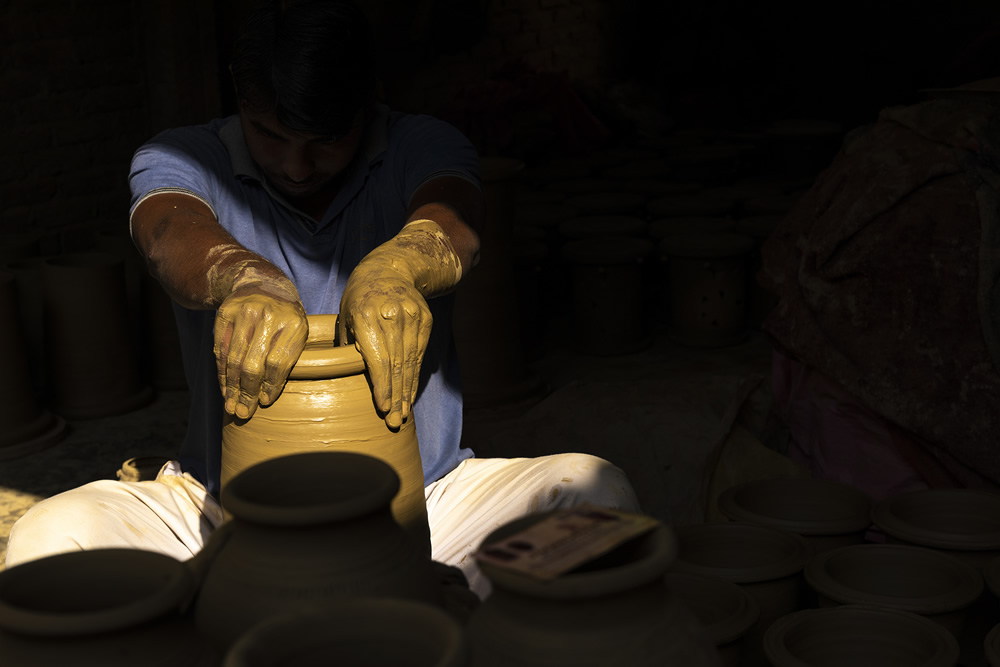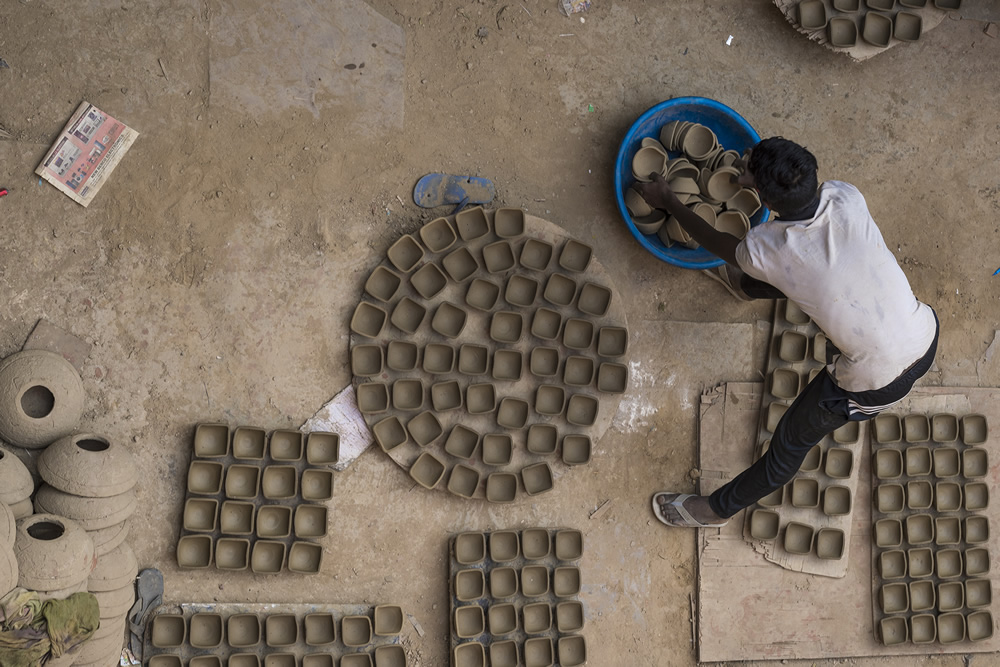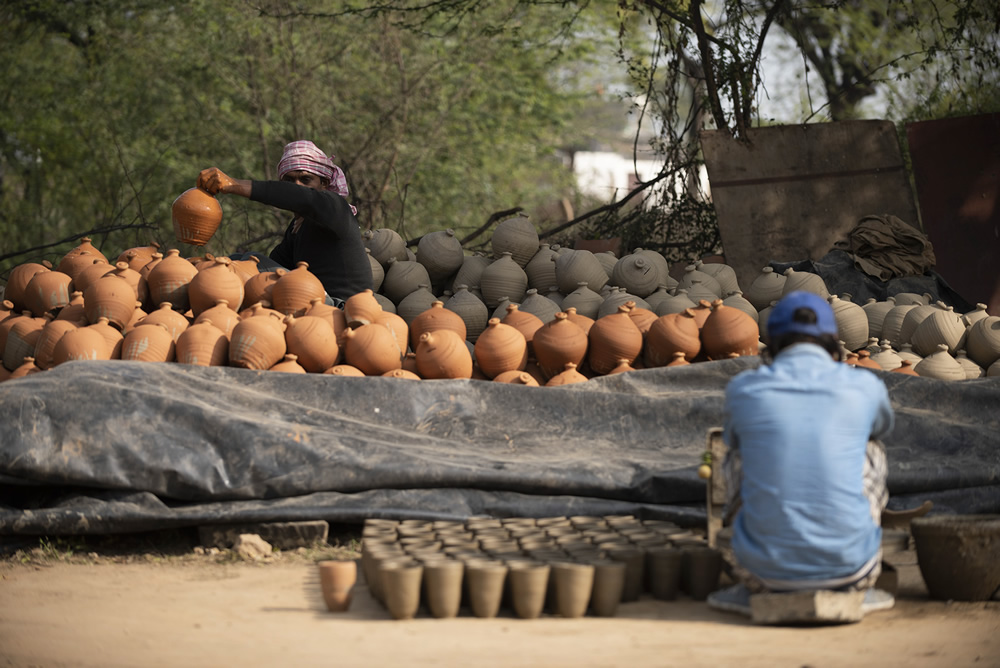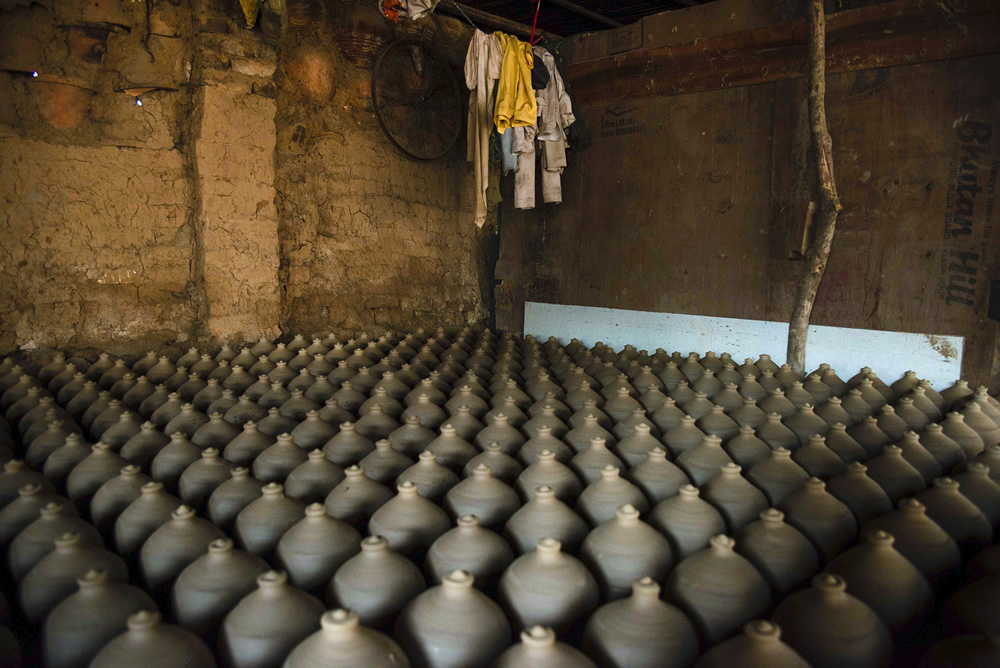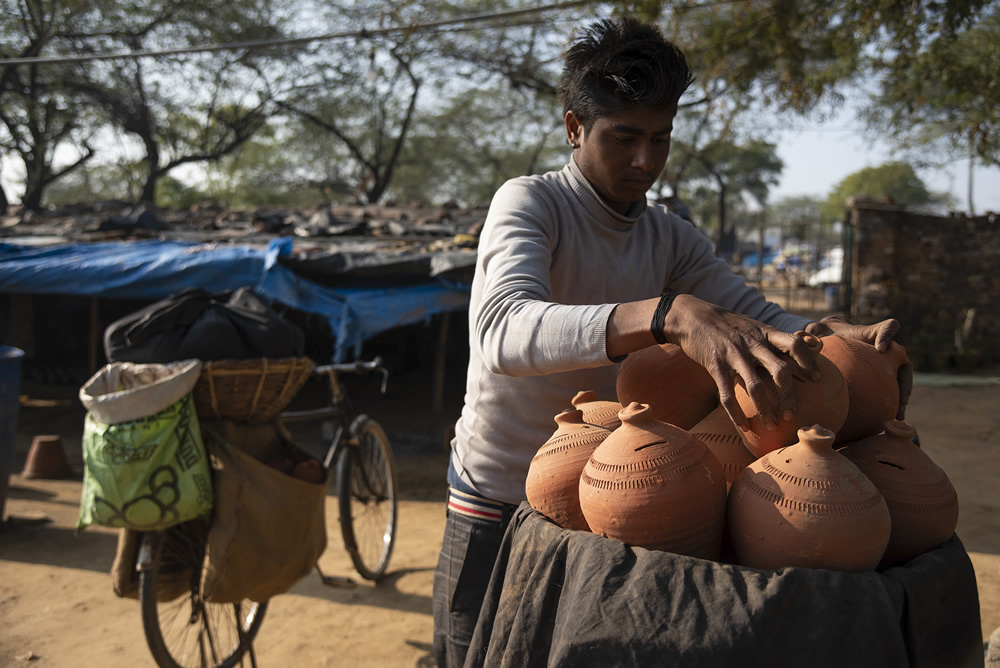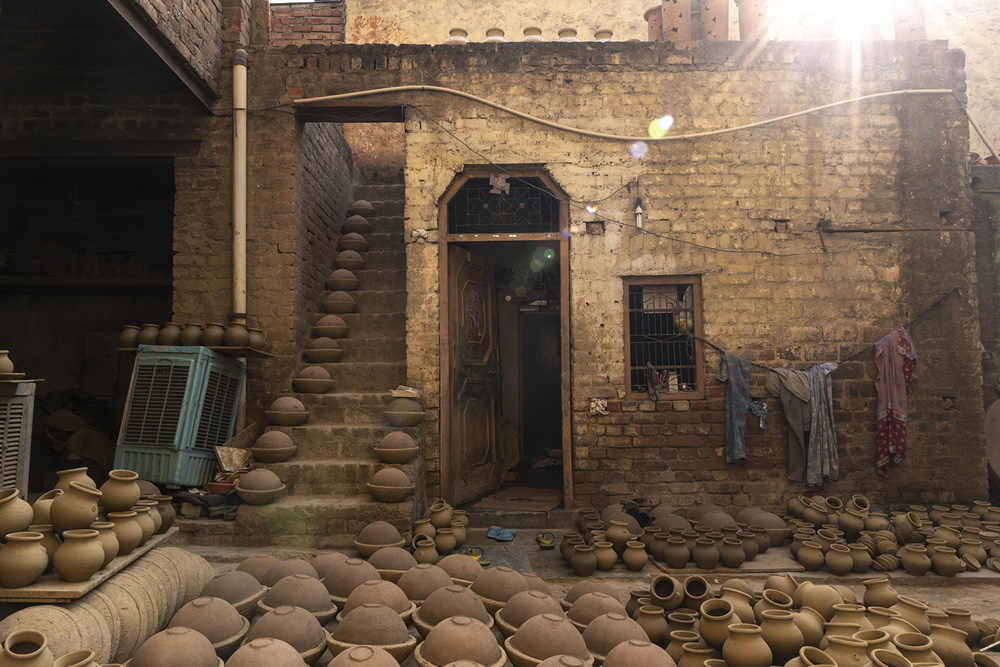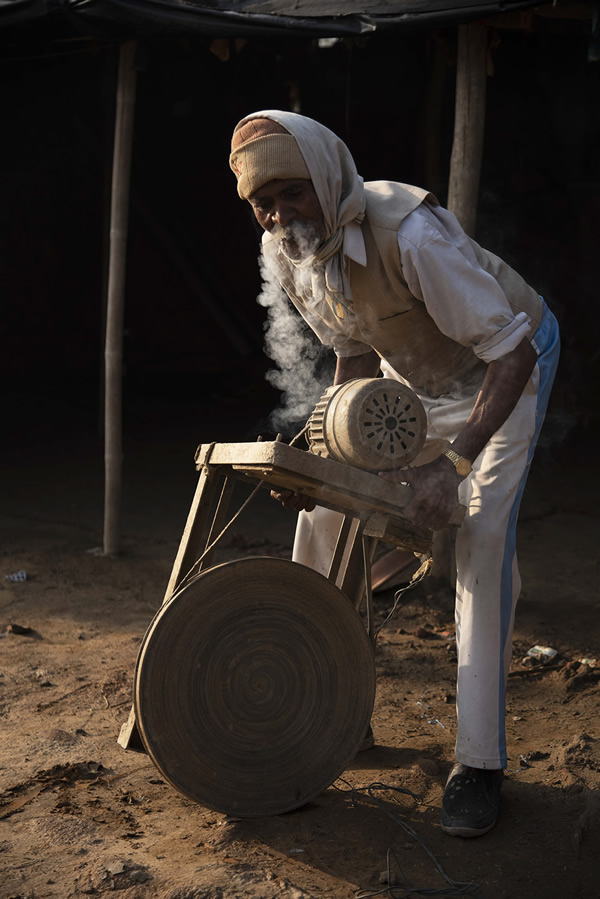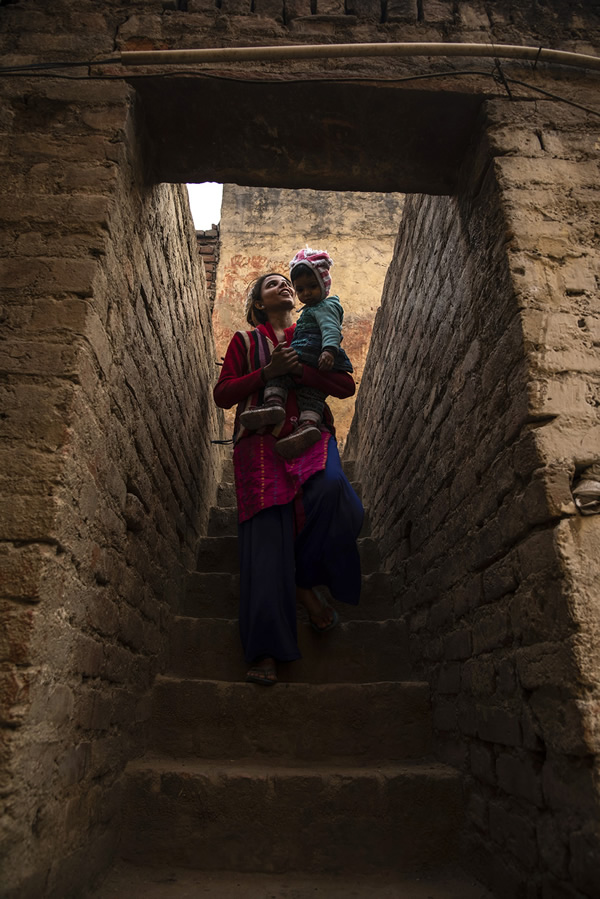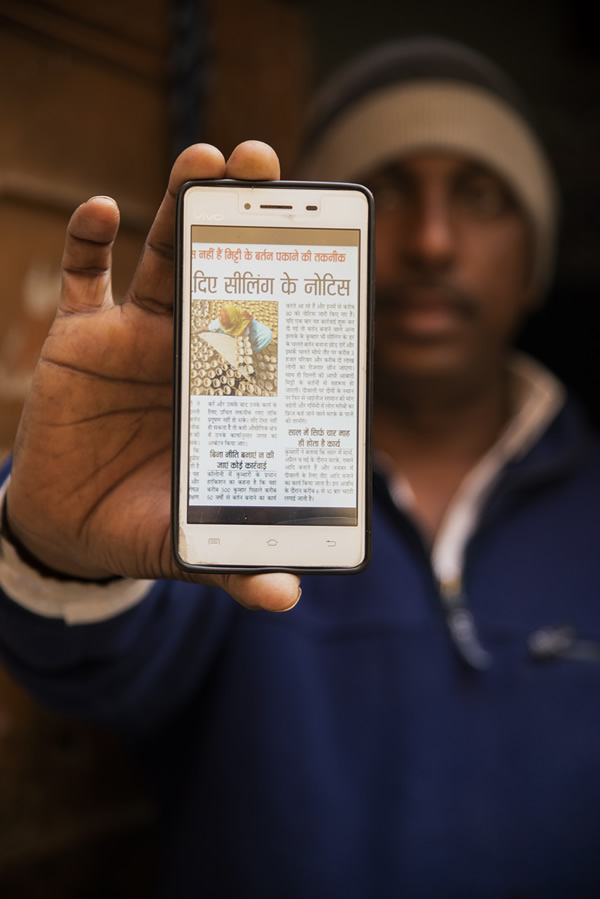 About Jai Thakur
Jai Thakur is an Indian Travel & Documentary Photographer from Delhi and has been practising photography from last seven years. The majority of his works revolve around the socio-economic environment of the society. Other than the number of group exhibitions and City Experience Festivals, he is a recipient of various national and international awards including Sahapedia Frames Grant, Water Hero Award by Govt. of India and National Geographic's MyIncredibleStory.
His work has been published in multiple platforms like Dodho Magazine, National Geographic, HIPA.ae, Indian Photo Arts Magazine, 121Clicks, Photographers Forum's Book, Edge of Humanity, etc. He appeared in the MX Player Web series "Express Yourself" on River Conservation. He is also a member of the Federation of Indian Photography (FIP). As a day job, he works as a Business Research Analyst.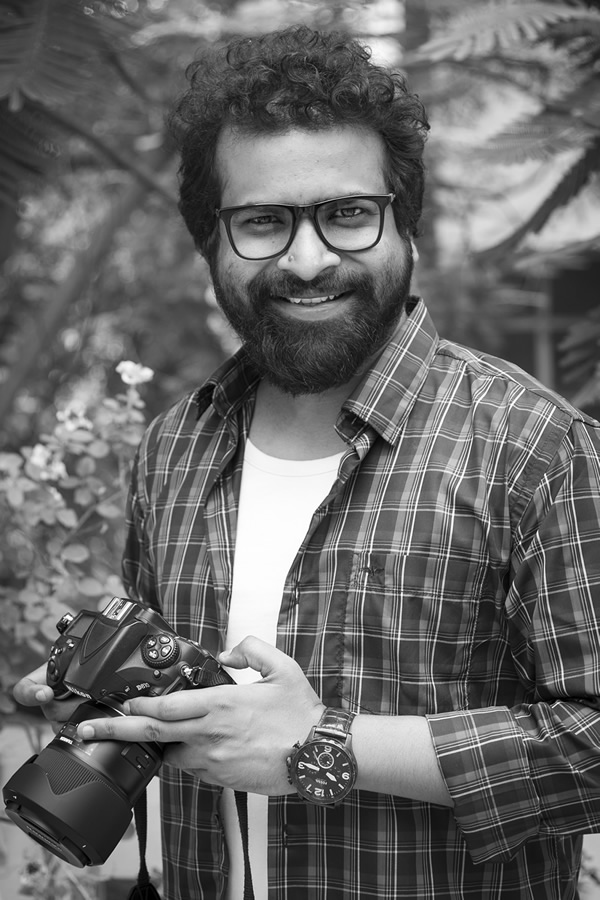 You can find Jai Thakur on the Web:
Copyrights:
All the pictures in this post are copyrighted to Jai Thakur. Their reproduction, even in part, is forbidden without the explicit approval of the rightful owners.