You may choose to call this place The Land of Faith. There is a famous saying – "Sab TeerthBaar Bar, Gangasagar Ekbar" – Which means you may visit other holy places several times- but a visit once to Gangasagar is worth a lifetime.
This is the land of impassioned faith where the river Ganga meets the Bay of Bengal. It is one of those gateways which offer tranquillity with acres of silver sand, calm sea & clear blue sky. Lying on the Continental Shelf of Bay of Bengal, Gangasagar or Sagar Island is a cut off island from the mainland in the lap of Ganges delta, about 100 km south of Kolkata under the jurisdiction of South 24 Parganas District of West Bengal.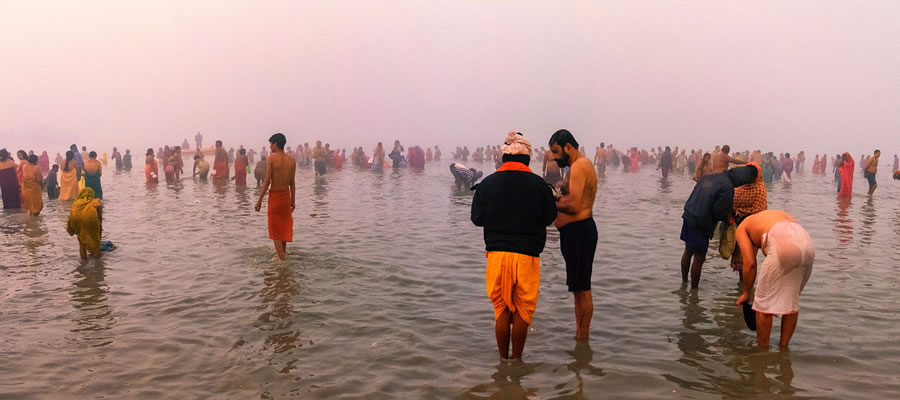 Gangasagar is an emotion of the poetry in motion. A Journey to Gangasagar depicts a fascinating pictorial journey from samsara (the cycle of death and rebirth) to nirvana (salvation), a journey that has fascinated scholars, writers, rationalists and spiritualists since decades. The teeming multitude at Gangasagar Mela offers us a visual insight of man's relentless quest from the mundane to the spiritual.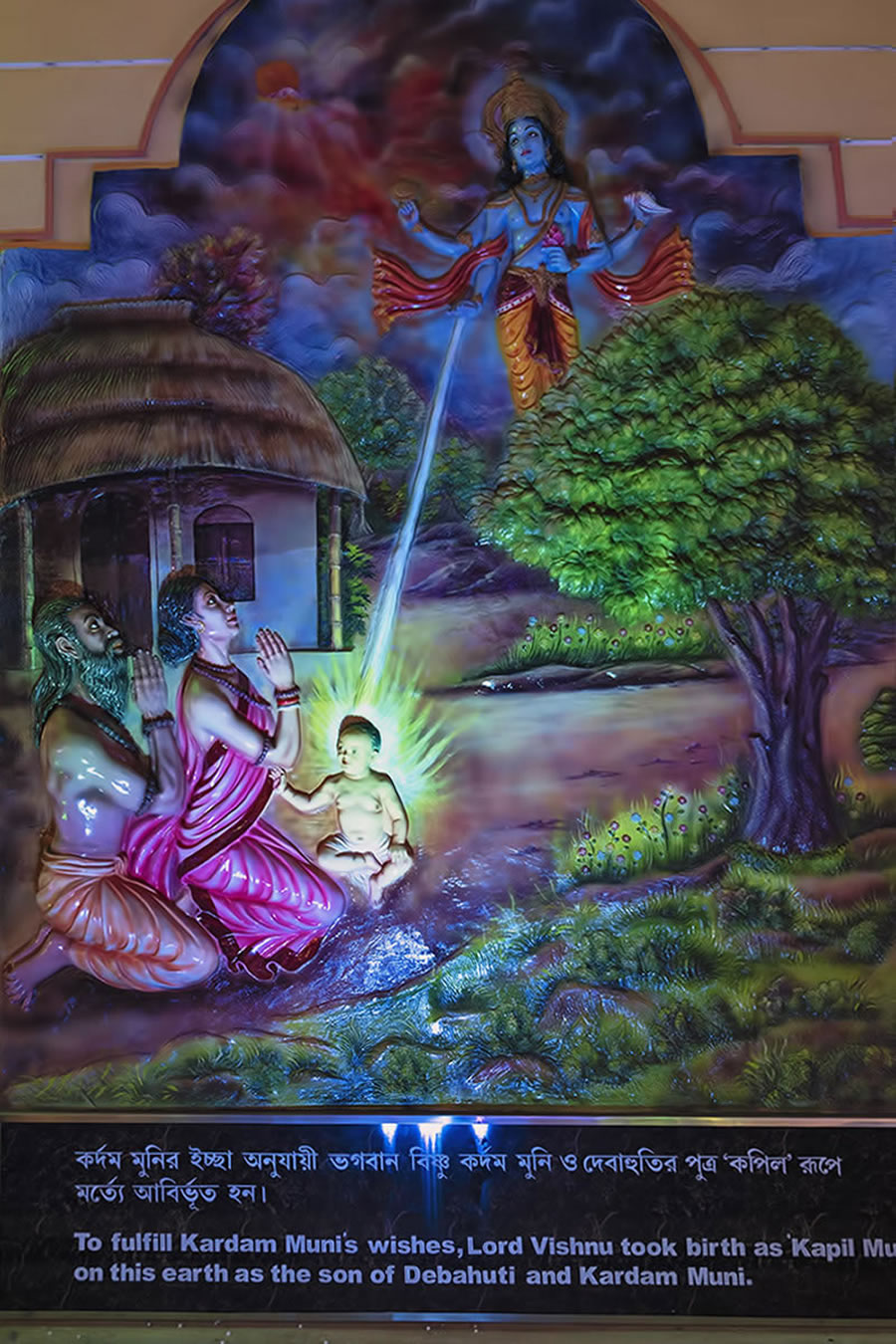 It is often considered as the gateway of Moksha by many devotees & pilgrims, as more than 30 lakhs of pilgrims across the nation & World gathers at Gangasagar to take a dip in the holy waters of Ganga on the day of Makar Sankranti with a belief, that it will purify their soul leading them to the path of Moksha. Apart from the general pilgrims, the assemblage of Naga Sadhus here gives a unique identity and spirituality to this fair. A good number of devotees believe a dip in the right river at the right spot on the right day resets their sin counter to zero; Gangasagar Mela has grown out of this belief for over centuries.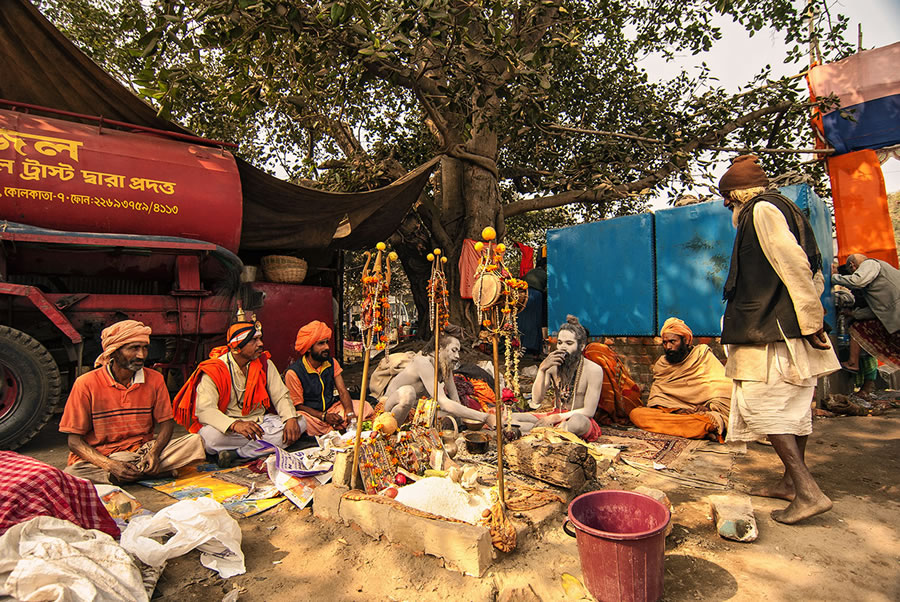 The Gangasagar is a great pilgrimage, because it is a metaphor for human life.
According to mythological sources, Ganga's descent on Earth from heaven was due to a plethora of events that unfolded over centuries. At the confluence of this great river is the site where pilgrims believe that they can attain moksha.
Let us now turn the pages of ancient mythology to discover more about this pilgrimage of celestial proportions.At the heart of Gangasagar lies the temple of Kapil Muni.This great saint was an avatar of Lord Vishnu and was born to Kardam Muni and Debahuti Devi. Going by the mythological stories,all his life,Kardam Muni had dedicatedly followed all directions of Vishnu for his only wish was that the Lord be born as his son.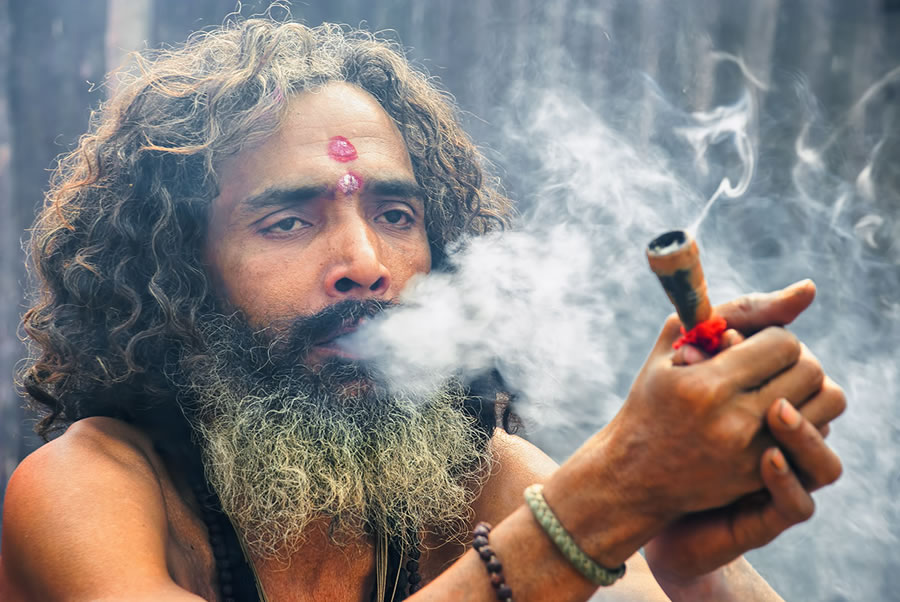 His wish was finally granted with the birth of Kapil Muni.
Having said this, King Sagar is another indispensable character whose name itself is a source of inspiration for the name Gangasagar. This Ayodhyan king was performing his 100th Ashwamedha yajna when Lord Indra intervened. Fearing that he might lose his throne if Sagar acquired too much piety, Lord Indra hid the sacrificial horse under the Kapil Muni ashram (Patal). Seething with rage, King Sagar sent his 60,000 sons on a mission to find the missing horse. His sons went on a rampage, in and around Sagardwip and finally reached Kapil Muni's hermitage. The saint was meditating when they interrupted him and accused him of theft.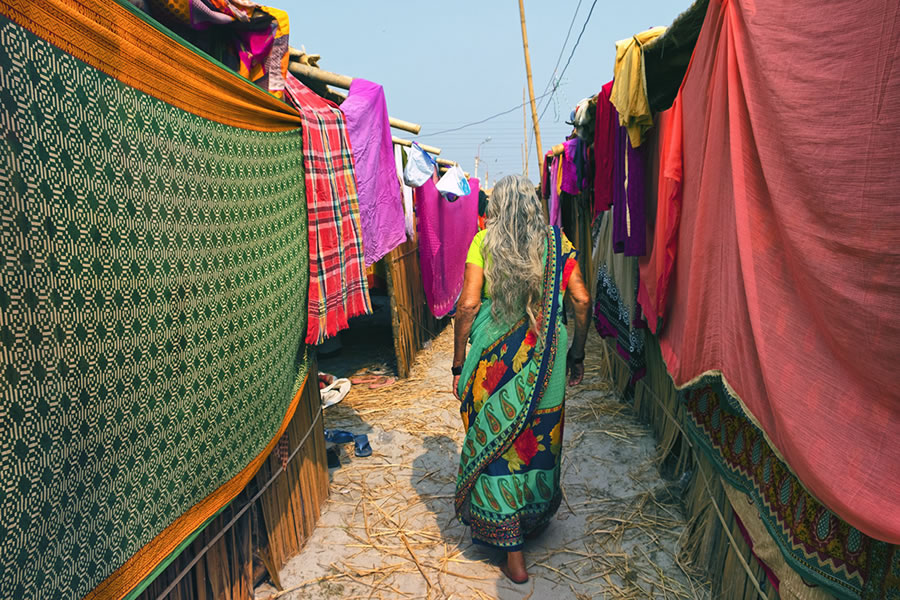 With a single glance, Kapil Muni turned King Sagar's sons into ashes. Years later, the grandson of King Sagar, upon guidance from Kapil Muni meditated for long to persuade Ganga to descend to Earth from heaven.Through Maheswar's (Shiva) hair, Devi Ganga trickled down from the Himalayas and washed away the sins of Sagar's sons.The same Ganga that freed the souls of 60,000 people now inspires lakhs of people from not just India but all over the world to congregate and take a holy dip. And all of this is aimed at attaining moksha: the ultimate freedom of the soul.
More often than not, religion is deeply embedded with the culture of the land, and Gangasagar, held on Makar Sankranti is no exception to that norm.Gangasagar is more than a pilgrimage; it is the intermingling of emotions with faith; it is the celebration of life itself.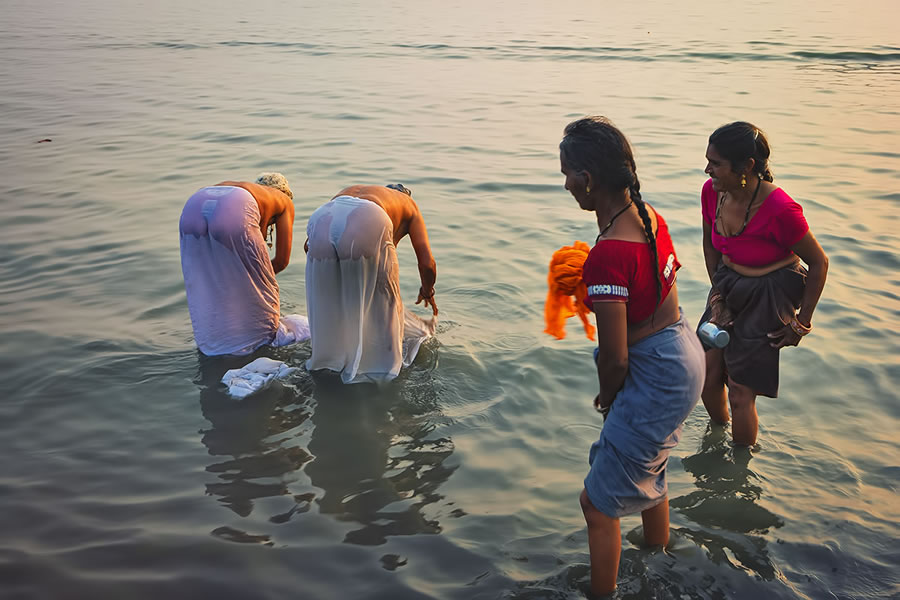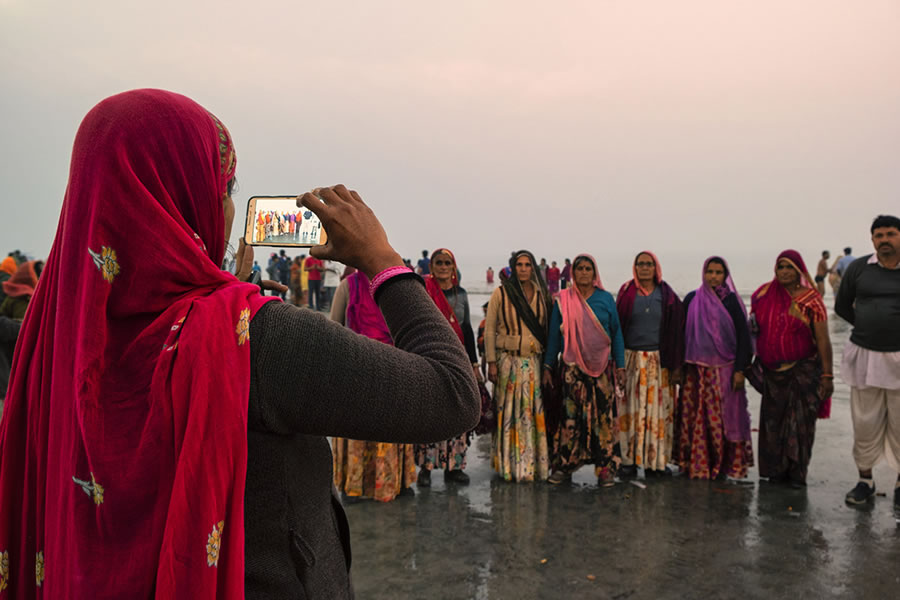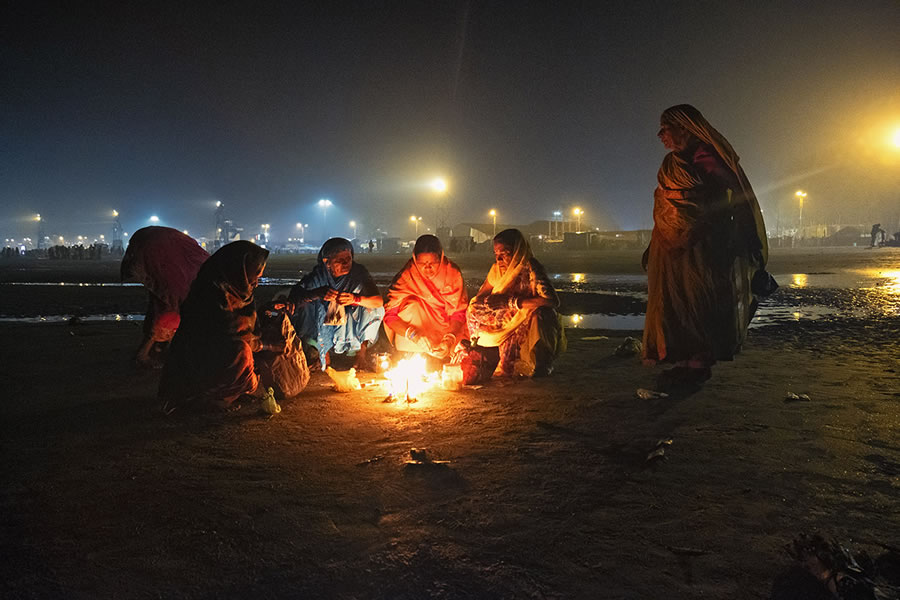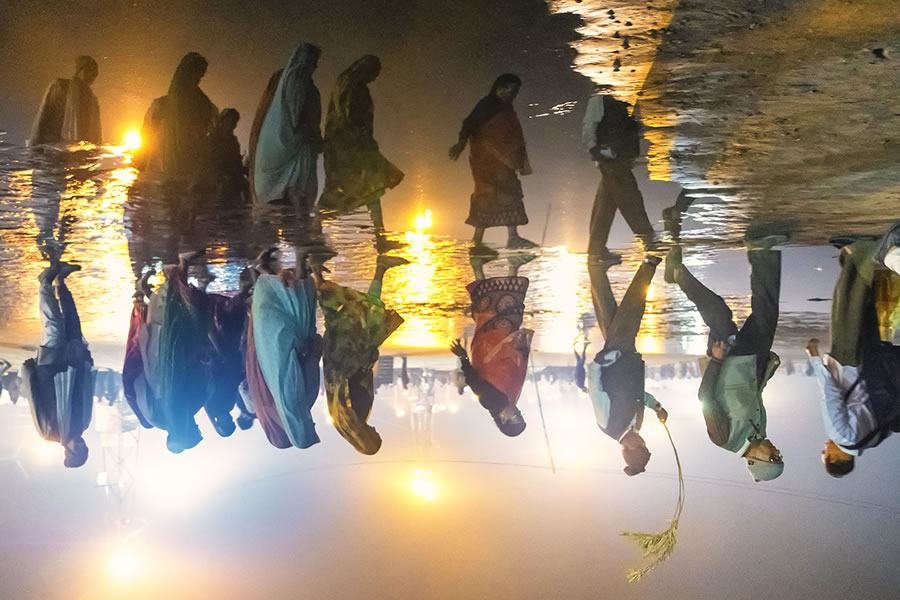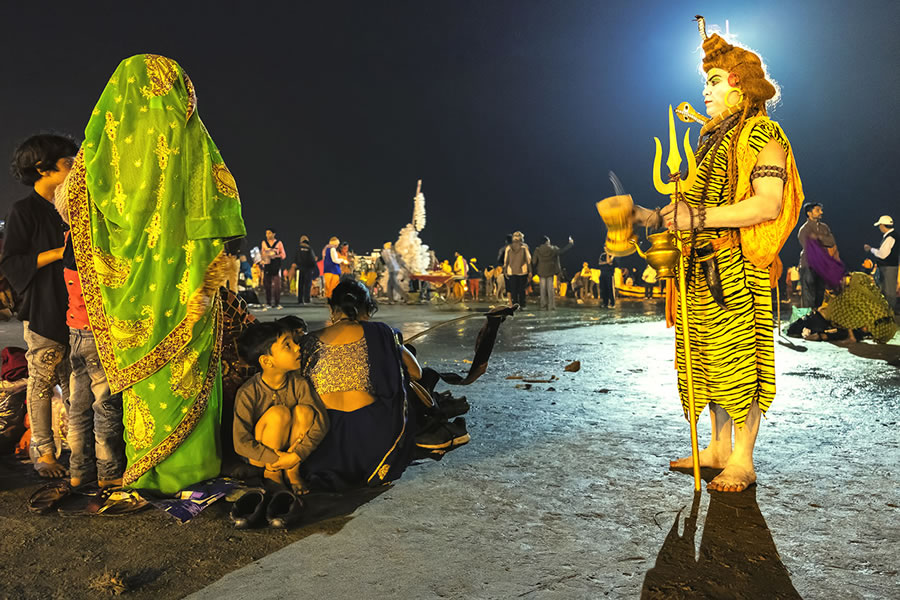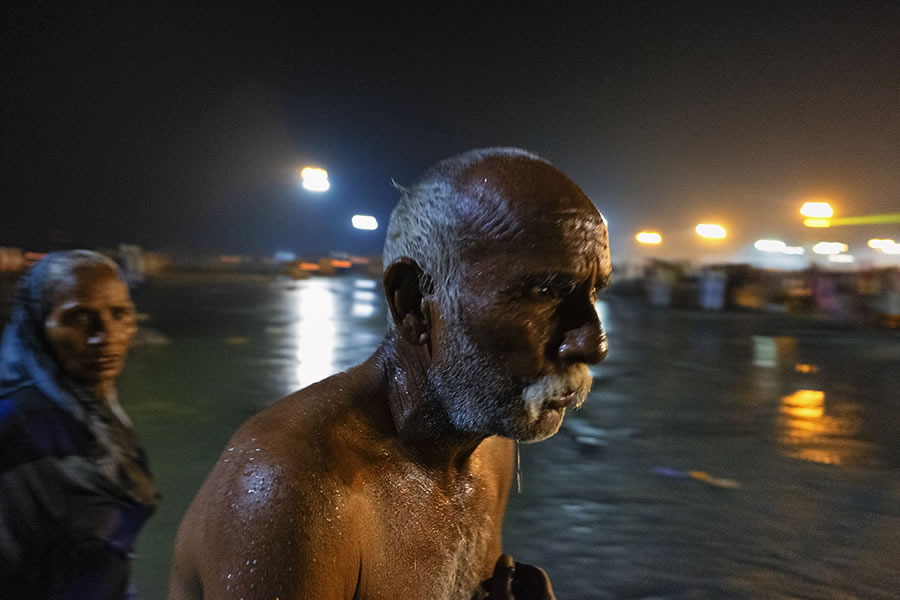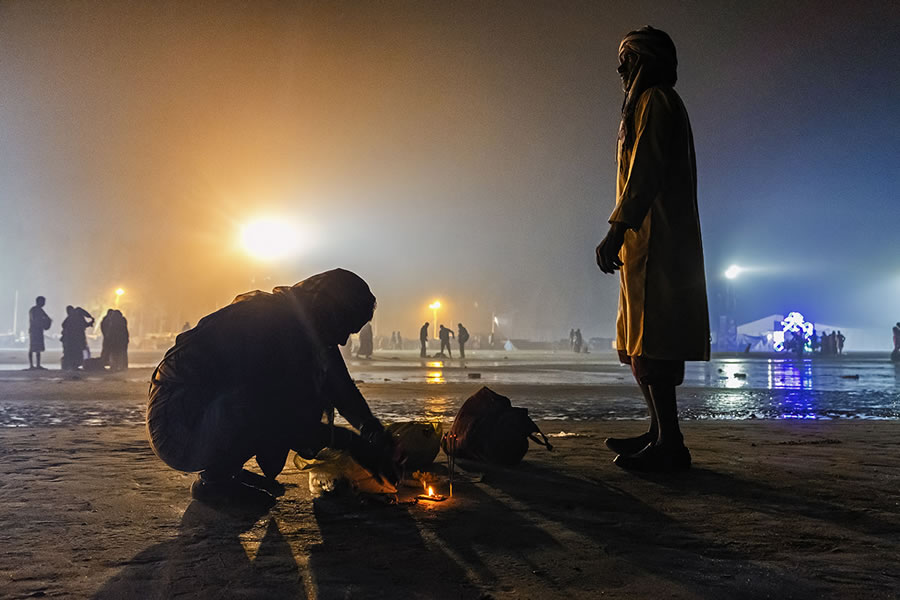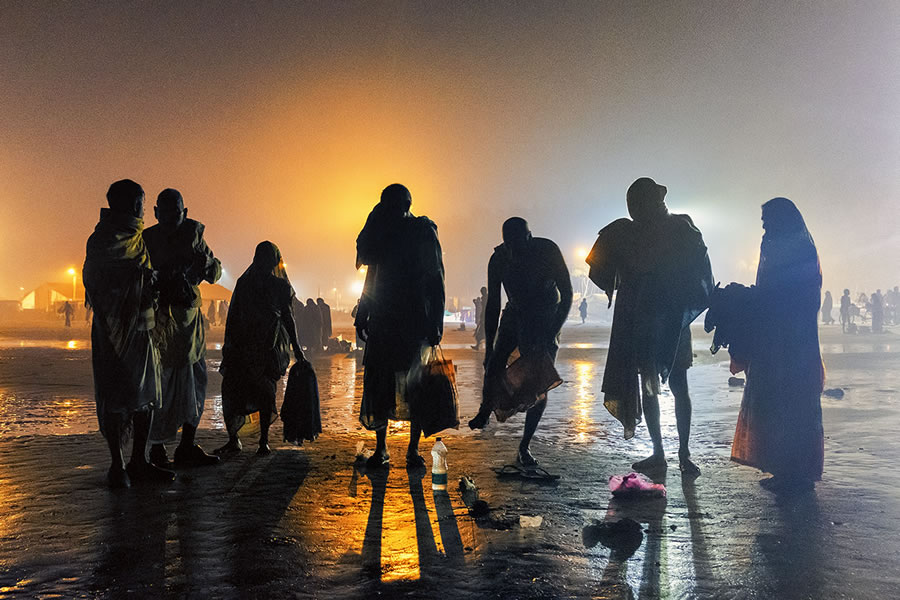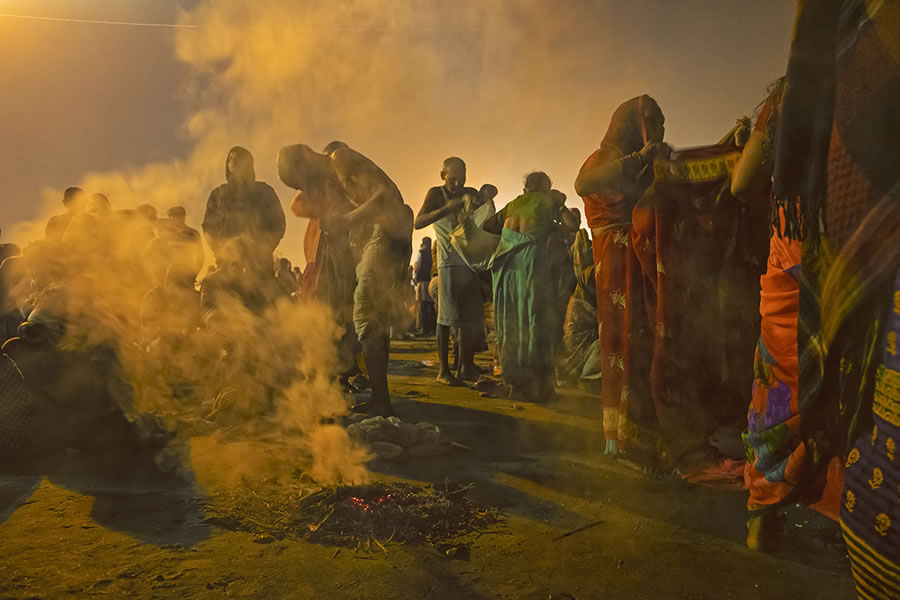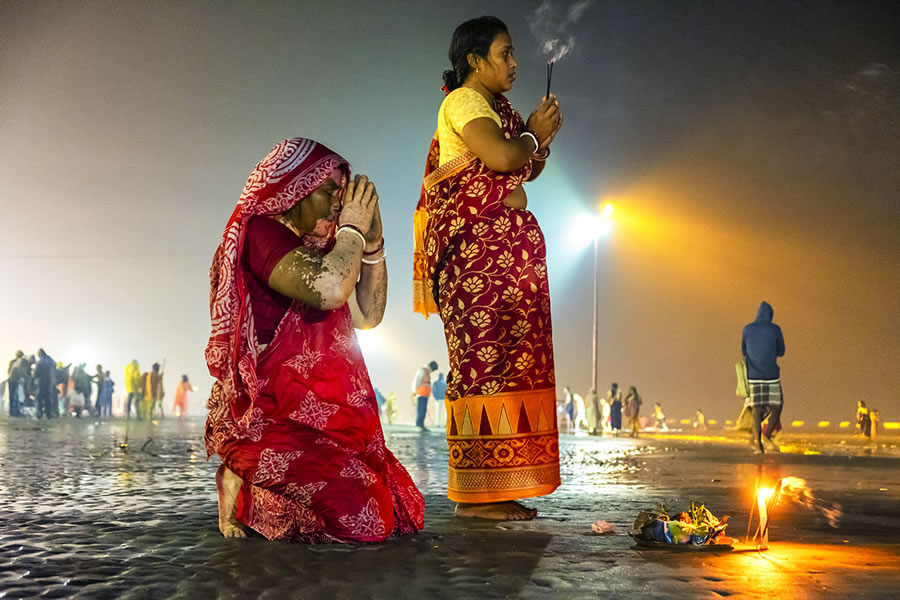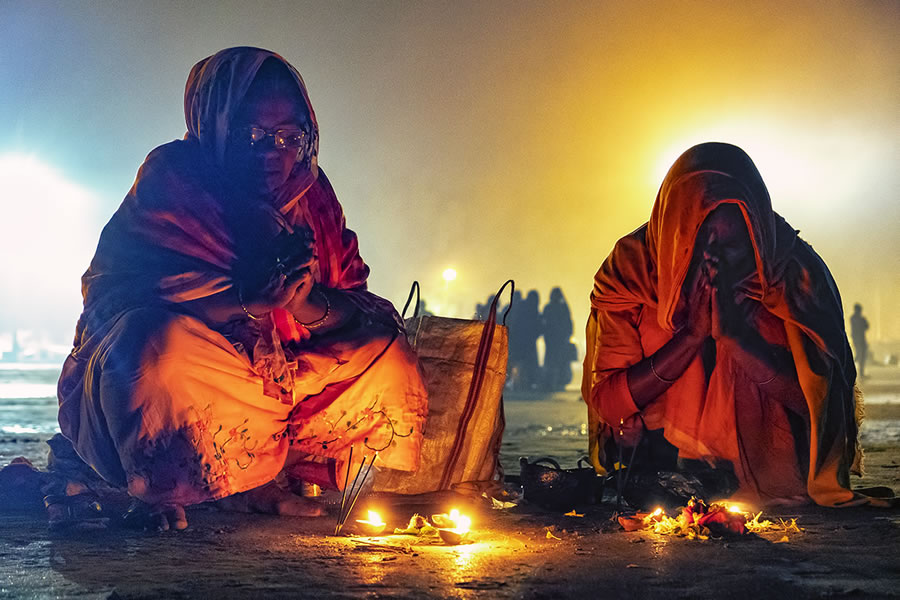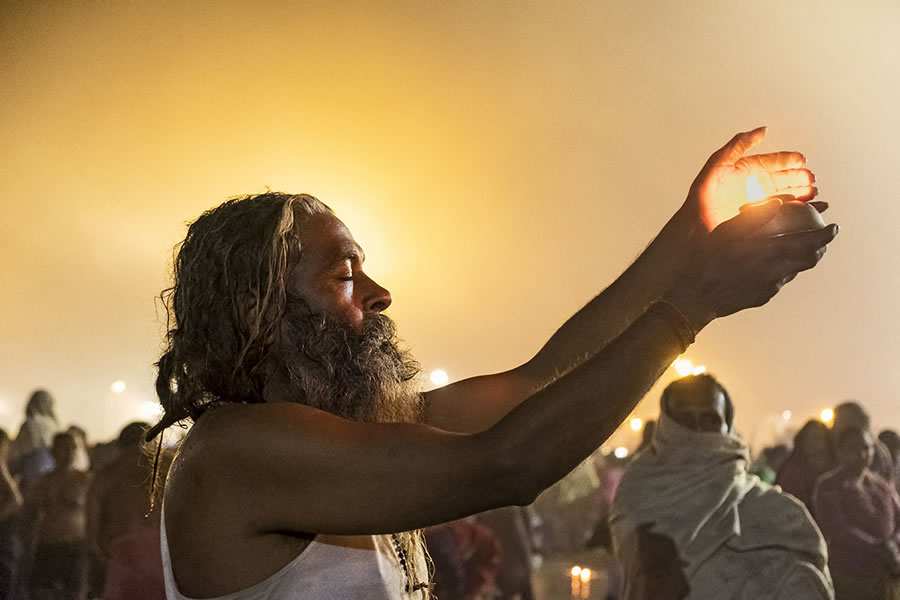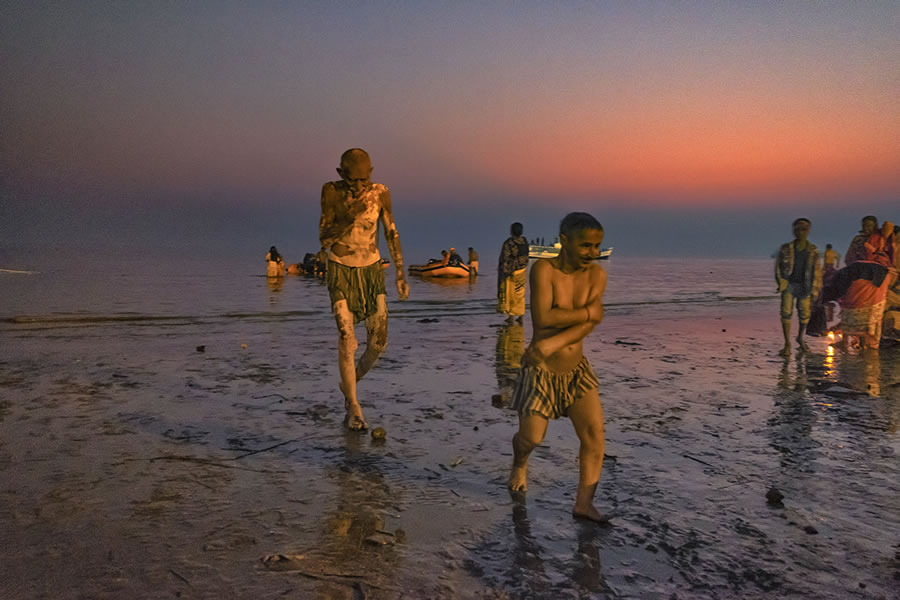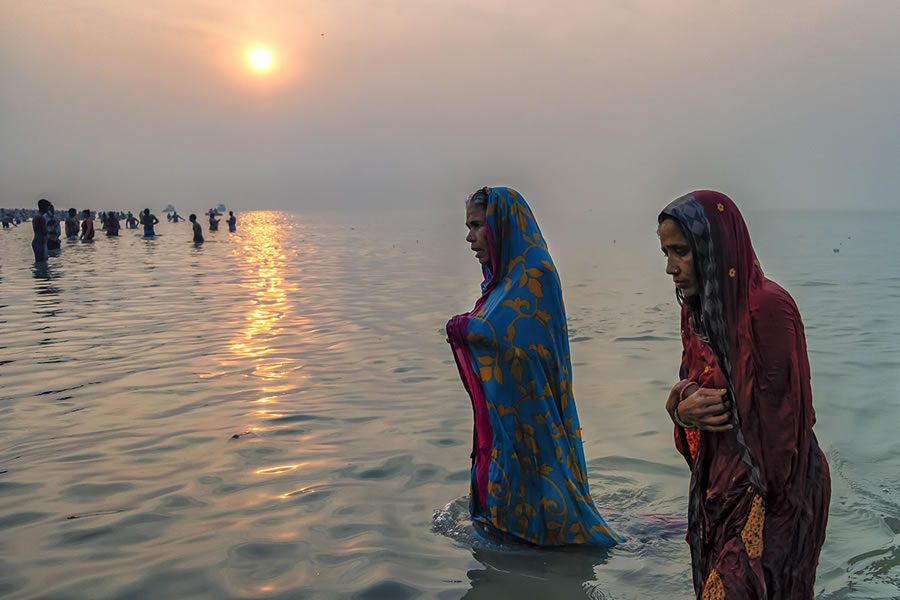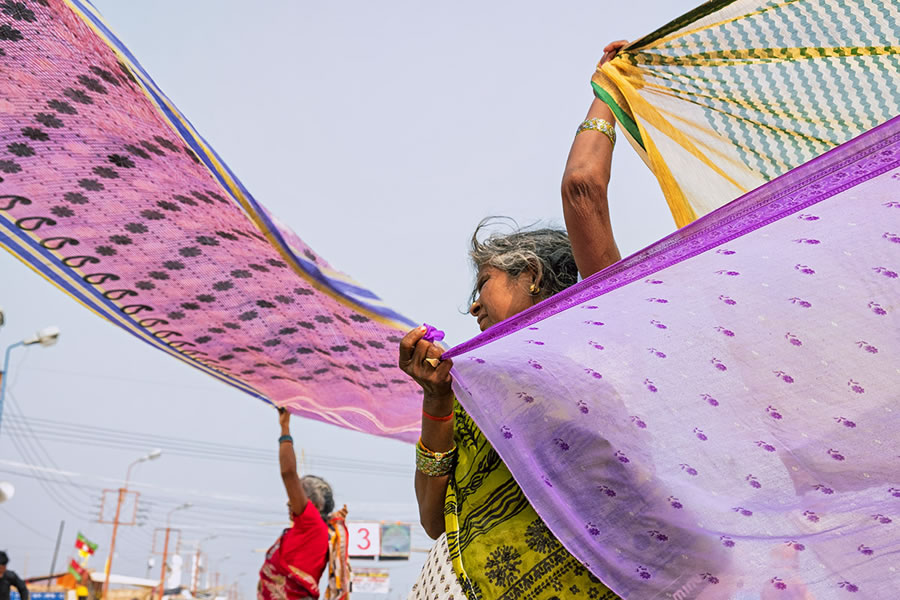 ---
My Thoughts on Gangasagar Mela
Located on an island in the Sundarbans, Gangasagar offers the charms of an un-spoilt beach on the estuary of the river Ganges. Gangasagar offers acres of silver sand and clear blue sky, and the calm sea for pilgrims who would like to spend their time in tranquillity. Situated at a point where the Ganges (Ganga) River meets the Bay of Bengal, the island is held to be particularly sacred and is a noted Hindu pilgrimage centre.Gangasagar is still relatively unknown and thus, unexploited.
Each year,the holy month of "Poush" welcomes the grand affair of Gangasagar Melaon Makar Sankranti (mid-January), a large number of devotees from all over the world, in pursuit of salvation and renaissance, congregate at Gangasagar for a sacred dip at theconfluenceof the river Ganges and the Bay of Bengal, followed by offering prayers at the Kapil Muni Temple. It is believed that taking a dip in the sacred waters at this pious location can help one alleviate his pain and sufferings.
The Gangasagar Mela is among the second most popular Hindu pilgrimage places in the country after Kumbh Mela. The best thing about Gangasagar is that pilgrims from various genders, cast, creed, ethnicity, language etc. flock to the pilgrimage and this in factfor me, is a true sign of the thought we Indians Harbour – "Unity in Diversity". It is quite a spectacle to see how people go about with so much devotion in their hearts.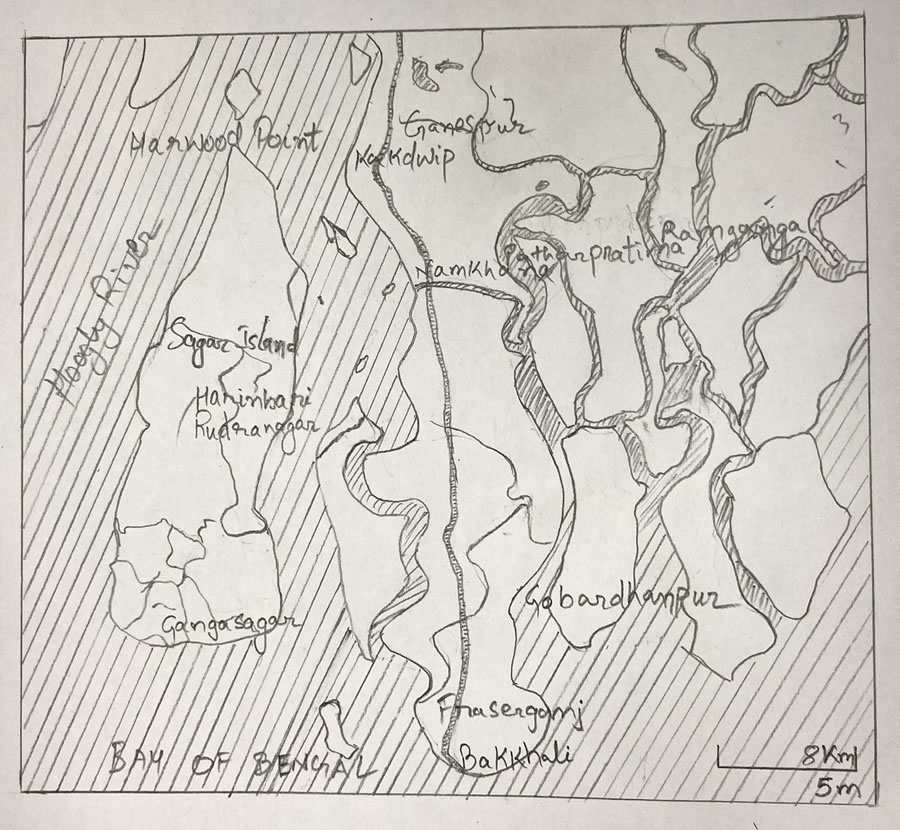 ---
About Krishnendu Chakraborty
I am Krishnendu, and this is my story – of joys, celebrations, emotions and tears; frames which speak of many subtle, loud, boisterous and bold moments encapsulated which are timeless and eternal. During the initial years of my life, Photography for me was never a priority. During those days what interested me most was Sports. At one point in life I was actively playing Cricket and Badminton which continued even after my college days. Little did I know that things would take a pleasant turn when I first joined at work. One fine day, while I was chit-chatting with my colleagues during a hard day, at Office, one of my colleagues told me about his interest in photography and his photographic stints.I immediately had a feeling of Déjà vu. This, suddenly sparked my interest and, I all of a sudden wanted to own an SLR Camera. As a person I am very instinctive, and as a result I immediately rushed to a local store and gifted myself a Nikon D40 Camera with 18-55mm kit lens. At that time, it was my most prized and cherished possession.
Now that the camera was sitting on my lap, reality struck me. I was looking at stunning images from Stalwarts but could produce anything remotely near to their quality. I was completely heart broken and wanted to move on. During this process, thankfully I met few likeminded people, and I became part of few Photography Groups on Orkut (those days before Facebook) which finally acted as oxygen to my dying interest in Photography. I am really thankful to my mentors who help me understand the art, and hence my journey in photography started with baby steps.
I started experimenting with almost all genres of photography but couldn't understand where to focus. During this process I met many people, got to understand their views, and finally started introspecting. I found myself browsing through a lot of images everyday but, the one those interest me most were from the genres – Streets, Documentaries, Travel and unusually even Landscapes. In these 14 years I have changed and updated my gears, changed technology, matured everyday as a photographer but, I sincerely understand & acknowledge the fact that my achievements till date are very insignificant compared to many, and every day is learning process and even today I approach my subjects like a newbie.
Academically I am a Mechanical Engineer, a Marketer and a Process Quality Consultant. I have a 9 to 6 job and always keep busy. Office work and travel was consuming majority of my time. After 14 years of professional life, things were becominga bit monotonous. I started feeling lonely as I couldn't dedicate time to family too. Among all my engagements, I was failing to keep my interest in photography alive. It was difficult but I somehow held on. After practising the art for 14 years, it was only me who was seeing and appreciating my own work. In the interim, I was always being advised by a lot of seniors/friends and colleagues to share my work with the world. Finally, I found my calling and thought of sharing my work though this website.
With his thought, I would like to extend a warm welcome to you all, in my world of photography, and I just hope and wish you like the experience of being on my website and more importantly find my work worthy enough of your time that you have invested till now in browsing through the pages.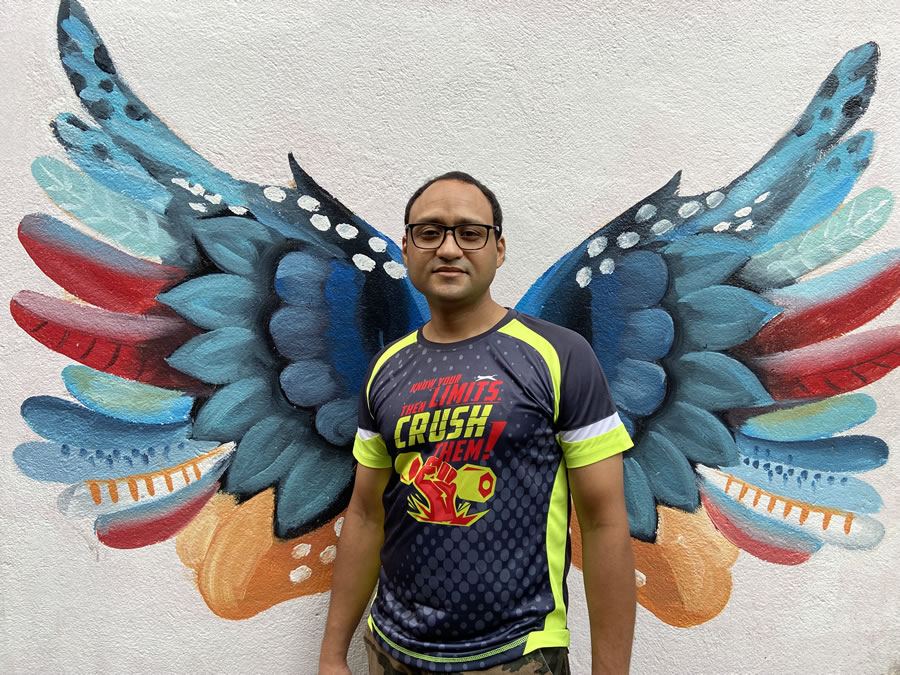 You can find Krishnendu Chakraborty on the Web :
Copyrights:
All the pictures in this post are copyrighted to Krishnendu Chakraborty. Their reproduction, even in part, is forbidden without the explicit approval of the rightful owners.