This long-term care facility accommodates forty five people, all suffering from severe degenerative diseases. One hundred doctors and nurses work there. Silence predominates. The extreme dependence is omnipresent.
It is a world apart, where the perception of time and space is altered: sometimes compressed, sometimes distended.
In their own care bedroom, this photographic representation is first of all the expression of one of their dream, wish, or fantasy. Once restrained, this thought occupies the whole physical space of the room to reach a representation in which the imagination supplants the human condition.
After holding meetings and interviews for one year, I realised these eleven photographs over a period of two and a half years. Each portrait required two to three months of preparation of which two days were on-site dressing the medical room for the photographic session. The people present in these photographs are not disguised extras. The photographs are processed in a conventional way without any form of digital alteration.
LAURENT (51 years old) – Room 61, wing L – 2013
Laurent loves plants, flowers. For sanitary reasons in the residence, they are forbidden in their rooms. Then he imagines them.
OLIVIER (54 years) – Room 58, wing K – 2014
Olivier has lived beautiful things and other less beautiful. He was in love and it's over. He was a bartender and it's over. Contemplative and sensitive, he dreams of a wheelchair adapted to gain autonomy and no longer waste time.
DANY (33 years old) – Room 55, wing K – 2013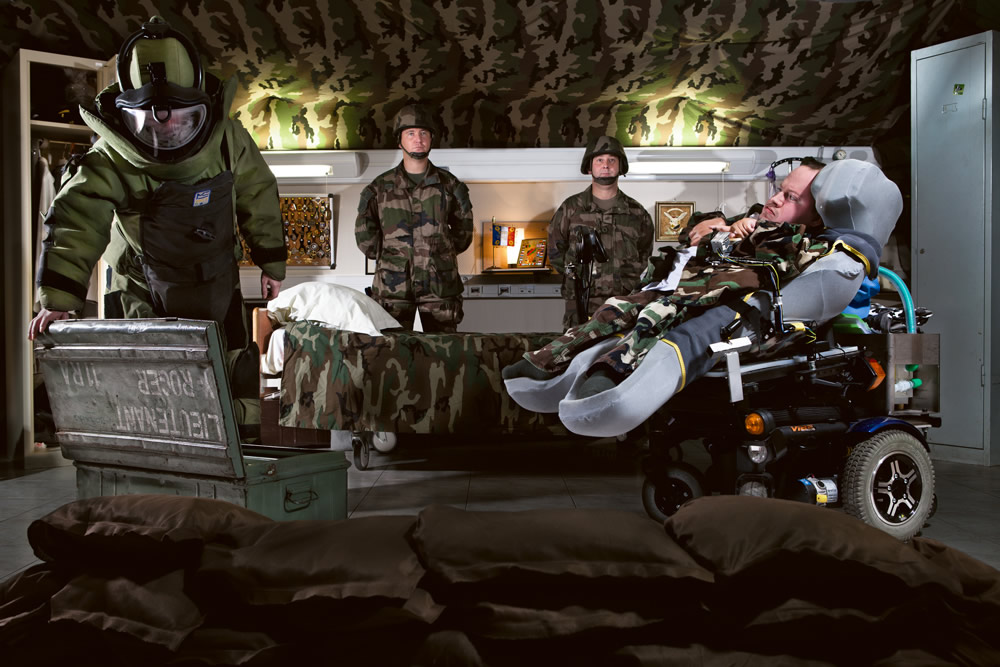 He's a fighter, a warrior, a tiger. I havet like a kind of "nuclear bomb" inside me. He would have liked to integrate the army, for the spirit of brotherhood, mutual aid and solidarity that reign within it.
FRANCOIS (55 years) – Room 36, wing I – 2014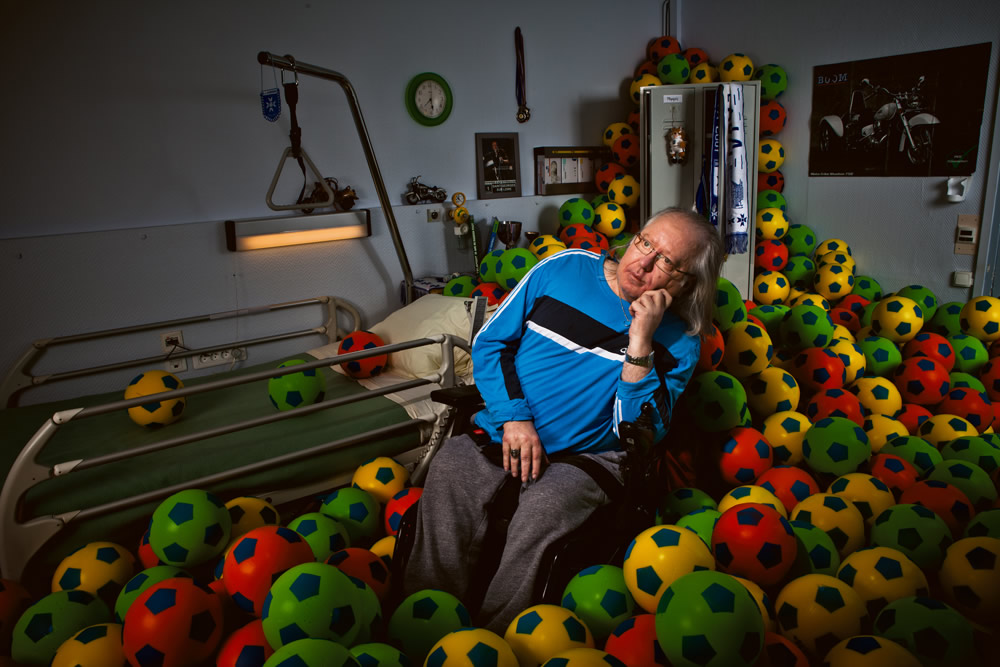 Arrived in 1989, François is the dean of the residence. It is an athlete: the blowgun, the boccia, and above all the powerchair football. "Yes, I love football, the team of AJ Auxerre, Footballers Stéphane Guivarch and Bernard Diomedes and especially the coach Guy Roux". François met him in 2000.
GUILLAUME (33 years old) – Room 73, wing M – 2014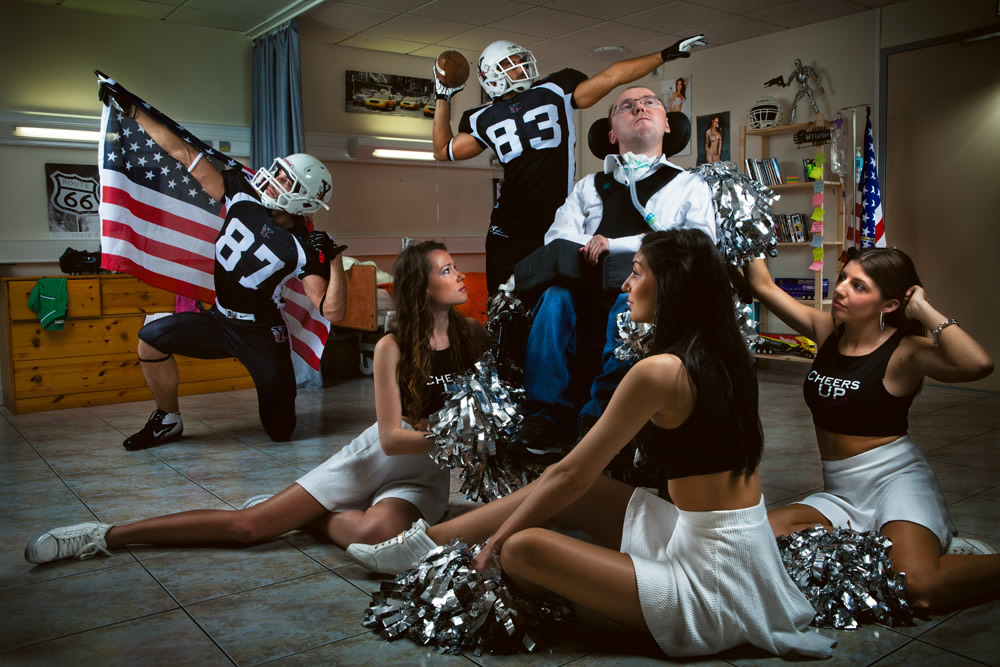 It is a yankee, a truck driver on Highway 66. He collects the calendars of pretty bare girls on the walls of his room. He dreams of crossing the great spaces of the American West. "Everybody has their own America, and then they have pieces of a fantasy America that they think is out there but they can't see… »Andy Warhol
ANNICK (60 years) – Room 24, wing H – 2015
She is a painter. His mouth don't serve him to speak but rather to paint. In her room, her studio, she paints in watercolor, landscapes, square centimeter per square centimeter. She loves Claude Monet and David Lynch.
JULIEN (31 ans) – Chambre 45, aile J – 2013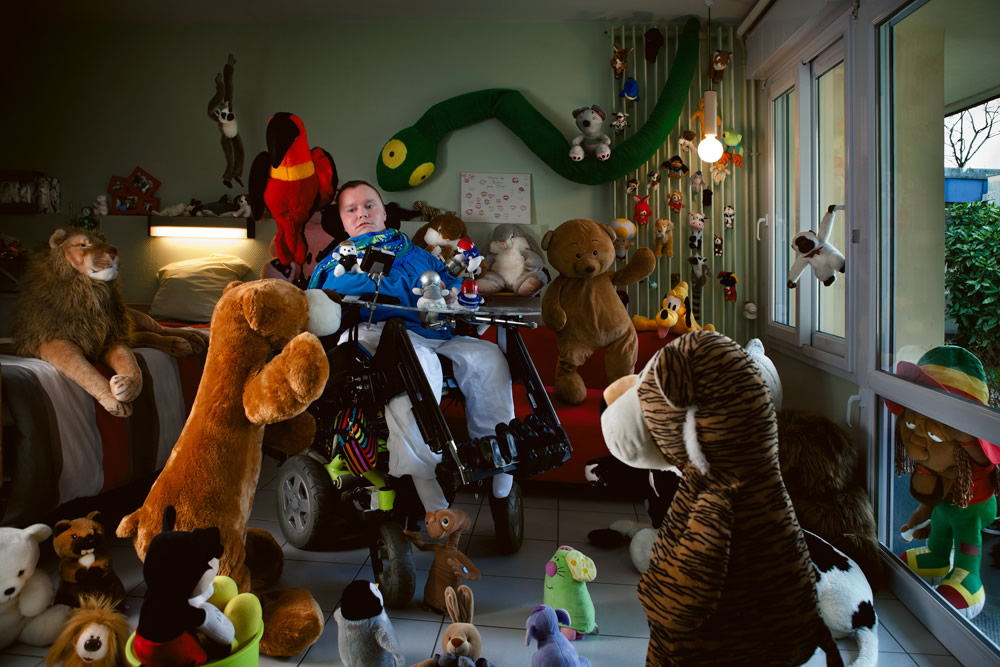 Julien is a 31 year old child; he does not speak a lot; He perpetually smils at anyone who wished to pay him attention. In his colorfull bedroom, the TV cable chain, filled with cartoons, runs in a loop; he and his cuddly toys look at the TV window.
PATRICIA (51 years) – Room 22, wing H – 2014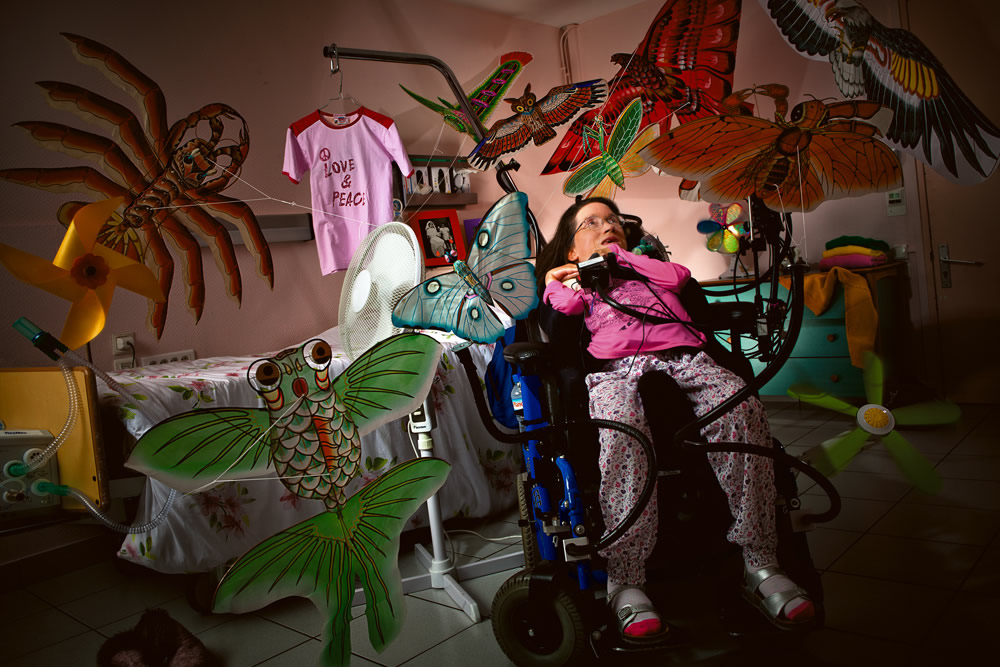 Patricia has character. A little thing get easily upset her. Sometimes she even insults people. She loves animals, but not cats. She loves the sea, but not sand. Her holidays, she spent them at Guérande, watching the boats, listening to the waves: "I like the sound that it makes, it make me feel good; Like the wind, I love the wind."
MICHAEL (31 years old) – Room 44, wing J – 2016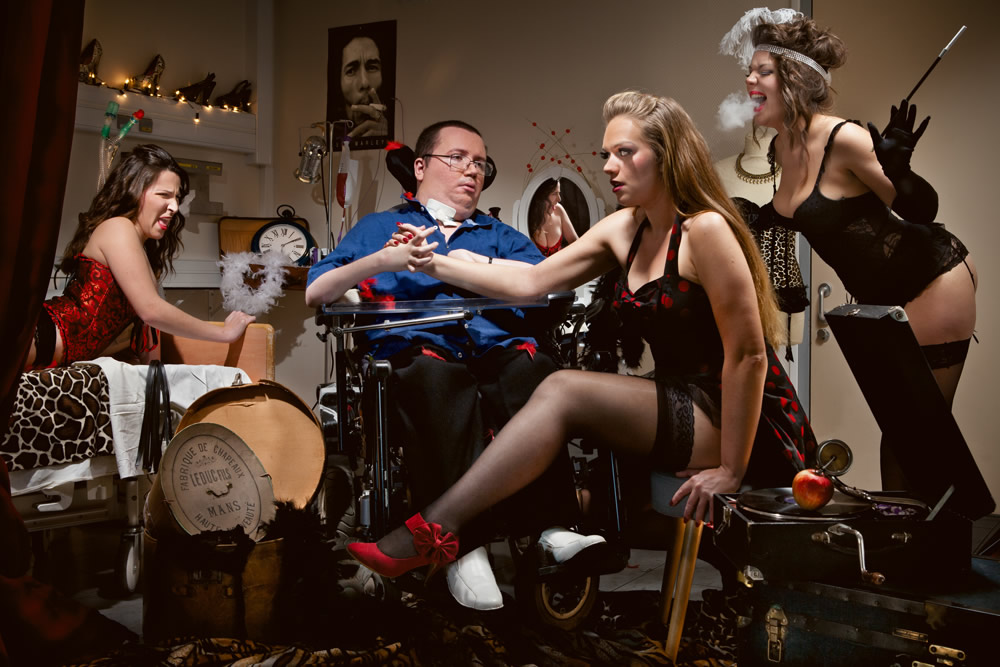 Michael is a music lover and a literary man, who listens and watches the nightly storytellers girls on his television. A shy man who loves women and who speaks of tolerance, humanism and sensuality. "Yes, I'm different but like everybody else."
NICOLAS (39 years) – Room 57, wing K – 2015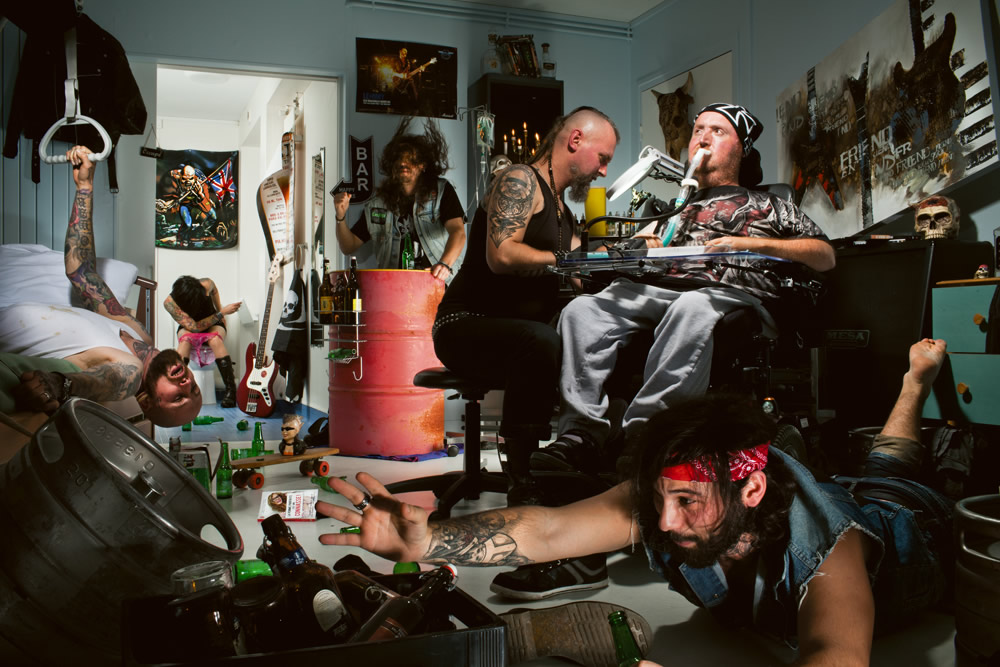 A false calm that has anger in him, anger to be there, anger to be like that. So, he listens to metal, strong, very strong. And when he puts some Slipknot, the other residents hear him as far as the wing M. When he finds an accomplice to help him, he drinks a good beer to relax; Even if it is forbidden here.
STAN (30 years) – Room 35, wing I – 2015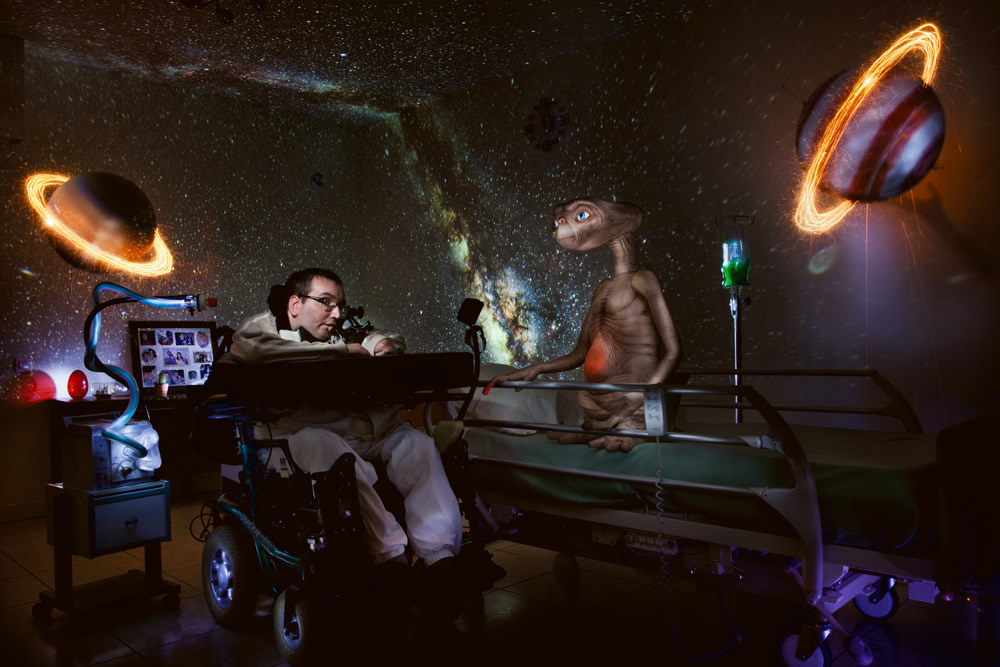 Stan is a geek. Fan of sciences, astronomy and computer science; He programs, codes and decodes. His room is clear and simple, barely a few trinkets and toys on a chest of drawers. He is not materialistic because when you love traveling, you must know how to travel light. So, at night, he travels.
About Christophe Hargoues
My first life is a "forestry" life. Engineer of formation, I work in this sector during 8 years. In 2007, I leave the wood and decide to go into photography. Parallel to my customer orders, my personal works are naturally oriented towards graphic, colorful, and offbeat universes, sometimes tinged with humor and poetry. Born in Montpellier in 1973, I live and work in Paris.
Exhibitions:
2010: Exhibition Caddies®Superstar – Galerie Images de Fer – Paris VI
2012: Exhibition Caddies®Superstar – Off Month 2012 – Paris I
2014: Exhibition Train'Somnie – International Art Biennial – Nancy
2016: Finalist Bourse du Talent BNF category Portrait – Paris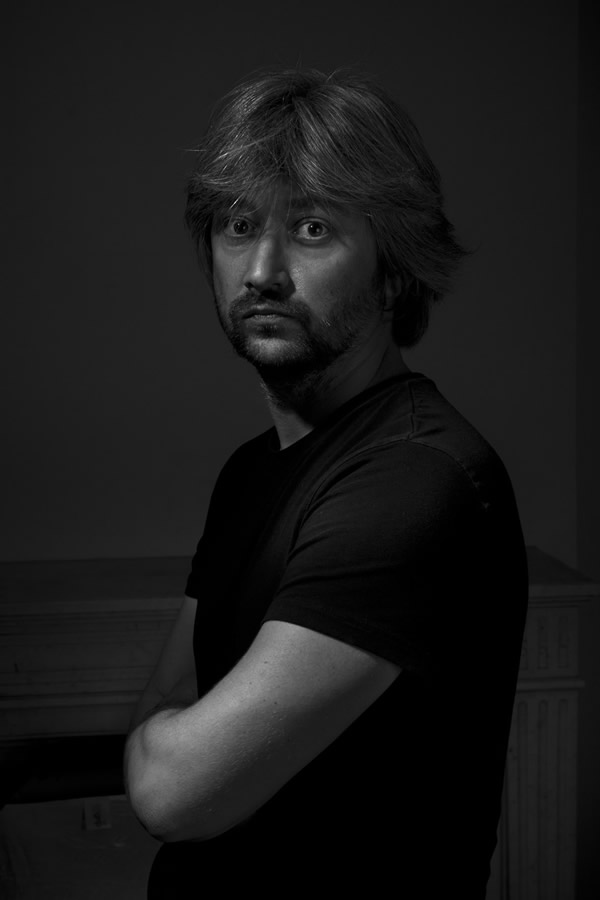 You can find Christophe Hargoues on the Web :
Copyrights:
All the pictures in this post are copyrighted Christophe Hargoues. Their reproduction, even in part, is forbidden without the explicit approval of the rightful owners.