Time seems to be standing still as the world is battling with Covid-19. The nationwide lockdown was announced in India on 24th March 2020. Generally, we were never homebound till we turn old, but this pandemic left no choice, and "Stay Home Stay Safe" became the new normal.
Two young kids getting down in a hurry from the rooftop while playing hide and seek.
---
I have been living in the same neighborhood as Mehrauli, Delhi from the past 13 years. I only had the joy of spending time on the roof of my building in the early days when it was almost a ritual for any kid to go to their roof just to gaze around and kite to fly kites. Since lockdown was announced, I decided to spend my evenings on the roof.
In the beginning, coming out to the roof was just an escape from four walls of 'home'. While news about lockdown was creating panic all around the world, my gaze followed a different direction. I noticed that coming to the roof was not just an escape for people, but eventually, it started to become a routine.
Staying in a city where people are often strangers, I wondered when and how life got so busy? Standing on my roof I noticed different lives. Some were scared while some were playful, some were sad but some grateful. I witnessed different kinds of people. One's under different roofs but
all united with hope.
Coming to the roof for 40 days gave me the insight to observe the surroundings and see the new yet unfamiliar pattern in the ordinary life of neighbors. Every shot I have taken during this time is a gentle reminder that with this coronavirus pandemic sweeping across the globe, everything we do and everything we see has changed, if only for now.
"Home & Neighborhood are one of the places where we learn the most and it's a great phenomenon to watch your surroundings change in a certain way and yet remain the same another way."
Rooftop gave a limited yet an added perspective sneaking into the life of people who are quarantined. This evening, the pursuit of creating pictures gave me the inspiration to involve in the situation in my own way and do my part in this very own battle that mankind is facing with the virus.
There is a different kind of vibes floating around. We have never faced it and we were never prepared for it. And now, when this has become the reality, let's hope for a better tomorrow in which we come out of this as a responsible and conscious citizen.
Stay Home Stay Safe.
People flying kit as the sun sets for the day in lockdown.
---
Residents of the building come together on the roof and play along.
---
A mother and her son as seen standing in the balcony while mom looks at the phone and son watch the silent streets.
---
A family sitting outside of watching kids playing.
---
A lady gazing at the view while holding the boundary.
---
Brother and sister spending their sunset on their tiny little rooftop surrounded by the multi-story apartments.
---
A child spotted a scene to laugh while her mother making sure he doesn't fall.
---
A girl riding a cycle on a roof.
---
Two young boys having fun while flying kite.
---
Two families standing out in their balcony and roof respectively to look around surroundings.
---
A Person talking over the phone in the balcony while a pigeon sits quietly.
---
Two boys standing on the topmost point of the building for the sight of the horizon.
---
As seen a person is jogging on the roof.
---
About Avdhesh Tyagi
I am a Delhi, India based photographer who is in love with the process of making the pictures and always in observer mode to find solace in light and dark to achieve fulfillment in life. I only indent to capture the moments as they are seen and felt since 2012. I don't limit myself with the ideas of practicing one genre in photography hence I am also a commercial photographer who earns his living perusing the ideas by creating commercial visual values for the brands.
Apart from doing Travel & Documentary photography, Avdhesh Tyagi is also a Founder of "Your Photographer Productions".
Which specializes in Advertising, Interior & Architecture, Products, Event & Lifestyle, and Conceptual Photography. I've worked with several organizations as full time & freelance photographer. Presently based in New Delhi, India & willing to travel anywhere for assignments.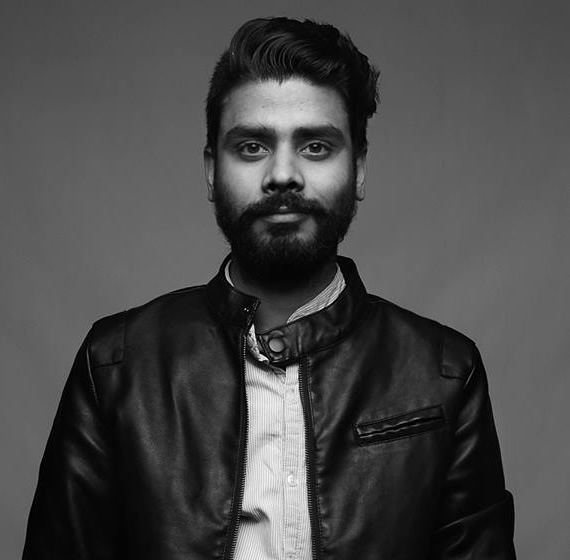 You can find Avdhesh Tyagi on the web:
Copyrights:
All the pictures in this post are copyrighted Avdhesh Tyagi. Their reproduction, even in part, is forbidden without the explicit approval of the rightful owners.