"Traveling – it leaves you speechless, then turns you into a storyteller." – Ibn Battuta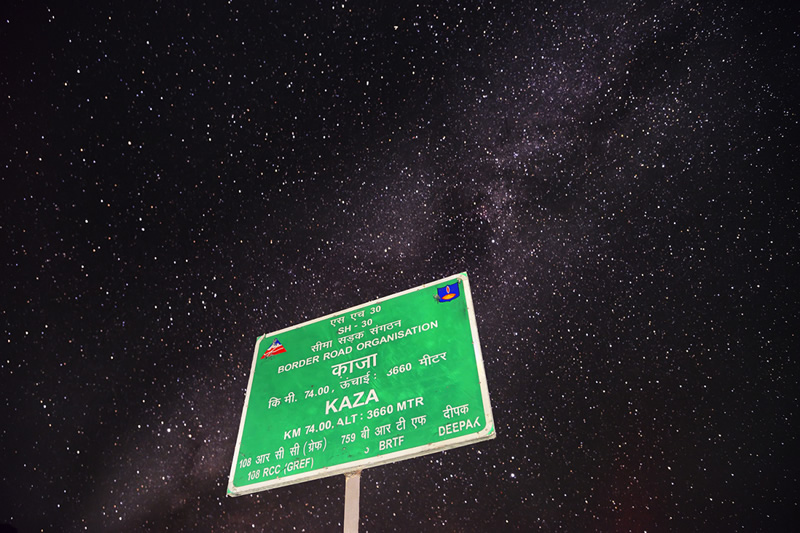 The above quote by Ibn Battuta makes a lot of sense. We are all travelers through the pathways of life. Along these chequered pathways, we meet and leave friends, stay glued to our families and seek belief in a source, for inspiration and for the strength we require to struggle on to our destinations. Regrettably, only very few of us get there. And those who get there are the ones who understand perfectly that the journey of life is about tenacity and perseverance. I am not traveling since childhood. My first trip out of my home town ( Delhi ) was in 2010, Kerela. I have been travelling nonstop ever since. Capturing and documenting places with my camera has become an addiction now. I always carry a diary whenever I travel – to write my activity of the whole day at night before sleeping so that it becomes easier to jot down all the main points for blogging. In this blog I have highlighted my experience in Kaza, the sub-divisional headquarters of Spiti Valley in the Lahaul and Spiti district of the state of Himachal pradesh in the western Himalayas of India.
Jagged mountains rise on either side while the river coils across the valley floor like twisted locks of long smooth hair. The town of Kaza boasts of high mountains with snowy crowns, crystal clear rivers, streams and barren brilliance mixed together with patches of green. It is positioned along the Spiti River at an altitude of 3,650 meters (11,980 ft) above mean sea level, is the largest township and commercial center of the valley.

Beautiful Mountains and Spiti River.
~Day 1~
Kaza was on my list since a year and finally I got the opportunity to visit this mesmerizing place with a friend named Arjun. In a private Volvo bus we left for Manali from Delhi on the 11th of Sept 2015th evening. After a thirteen hour tiring journey we reached Manali securely. On our way in a pre booked taxi, the driver informed us about the poor conditions of the under constructed hotel where we were going to stay and about the uncomfortable rooms as well, at the same time he suggested another hotel nearby which was providing free wi fi and a hot shower. So as modern era kids we were tempted to go to the suggested hotel. The moment we reached my friend checked the hot shower & it was working fine. We were not so much interested in the free wi-fi because our 3G was working well in Manali. It was a decent hotel with fine rooms in just 400 INR. We slept early after dinner around 8 pm because both of us were extremely tired after a hectic and sleepless journey. We had already hired a shared taxi for 800 per person for Kaza from Manali. Pawan, the taxi driver said he will pick us around 5 am. So we woke up just about 3:15 am. I opened the hot shower and guess what? Hot shower was not working and freezing cold water scared the hell out of me. I dropped the idea of taking bath and instead washed my face and hands. We got all set around 4:30 am and immediately called the driver who must have been sleeping like a log because even after continuously calling him he did not respond. Out of worry we called the concerned person who booked our taxi and luckily after 3 tries he picked our call. We complained about the driver not picking our calls and making us late for the departure. In another ten minutes the driver called us back and asked us to wait for half an hour. Finally around 5:45 am we started from Old Manali's bridge for Kaza.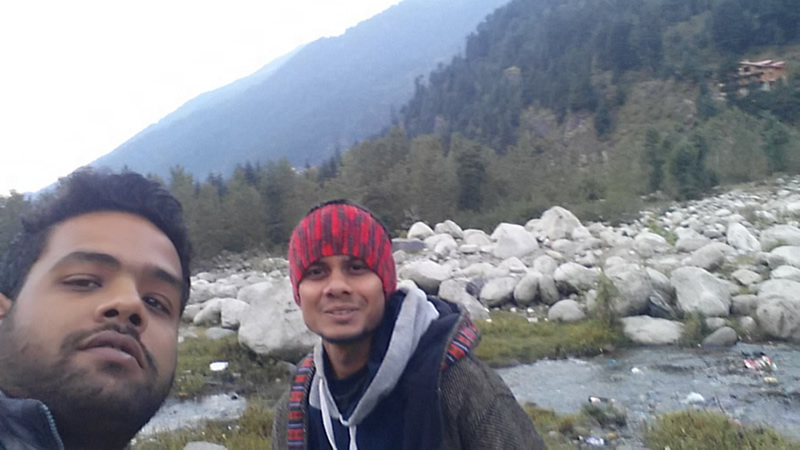 Selfie at Manali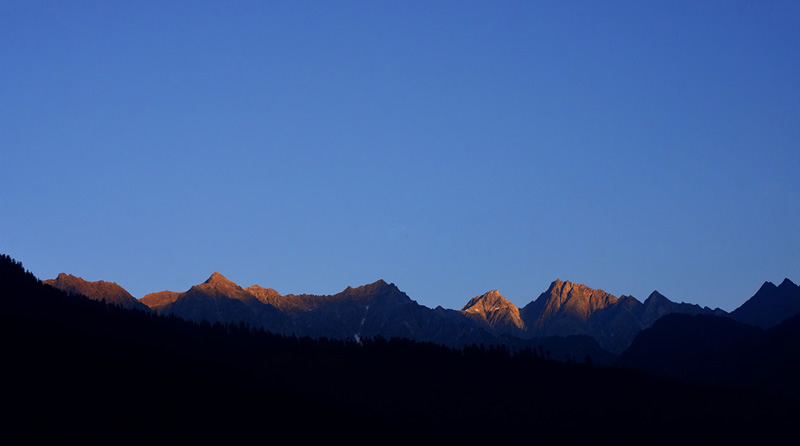 First light in Manali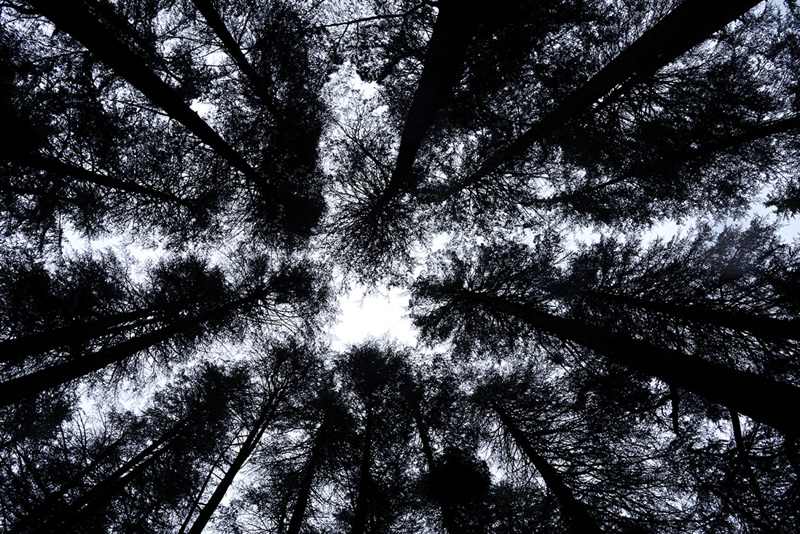 Our first stop was the very famous Rohtang Pass where we halted for half an hour for breakfast. We stopped in two other places for a cup of refreshing tea. Our second last stop was the well-known Kumjum Pass, a perfect place to walk around, get some snack to eat and to freshen up a little bit.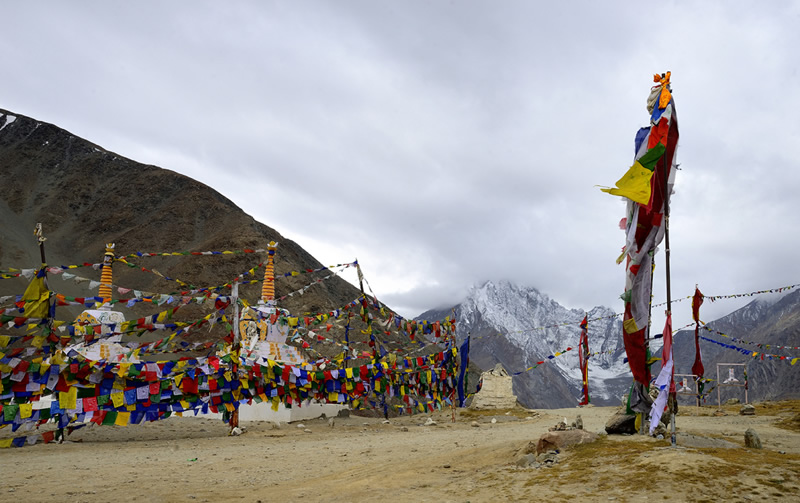 Kunzum Pass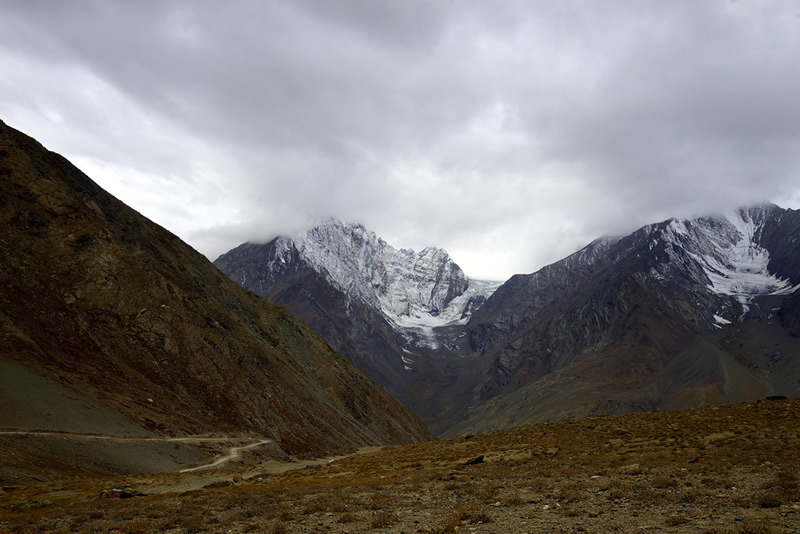 Anonymous Mountain
We reached Kaza around 4:30 pm. For your information only BSNL network works here and most of the villages are out of reach of mobiles. We did not had any hotel booked and did not had any contact to connect in Kaza. Our search for a cheap home stay begun where we found Nyingma House with good rooms and a nice location at a reasonable price of 600 per night.
After covering 740 kilometers from Delhi (229 m = 751 ft.) to Kaza (3,650 m =11,980 ft) in 48 hrs I was feeling mentally and physically fatigued. My body required rest. As I was starving we went to eat where I met the chef of Nyingma named Sagar who is just like the Male 'Basanti' of Sholay movie. This guy could speak nonstop on any matter. I was eating food and due to my heavy head I wasn't speaking much. But this guy did not like me silent at all. He assumed I was upset so again and again he said to me "Arey Nimit sir itna kam kyun bol rahe ho aap…zindagi mein khush rehna chaiyeh… And blab la bla. (Nimit sir why are you speaking so less, in life one should stay happy … and bla bla bla) and I was so tired that I was thinking deep inside "abey chup hoja…yaha dimag ka vaisa hi dahi bana hua hai and tu bol bol ke aur Kadhi banaade". (Shut up dude, already my mind has become like curd and your nonstop talks will make Kadi out of it).
After some sound sleep I felt better. The best part of Nyingma was Free Wi-fi. At night we clicked some shots from the roof of the hotel. Milky Way's visibility was less here in comparison to Ladakh.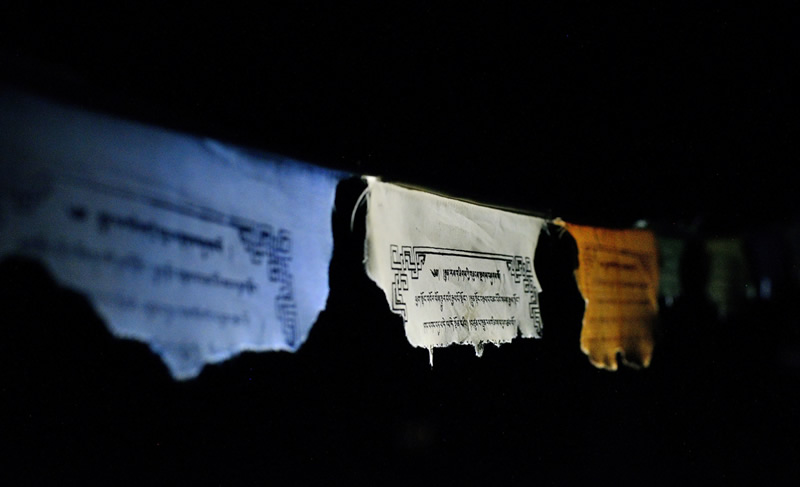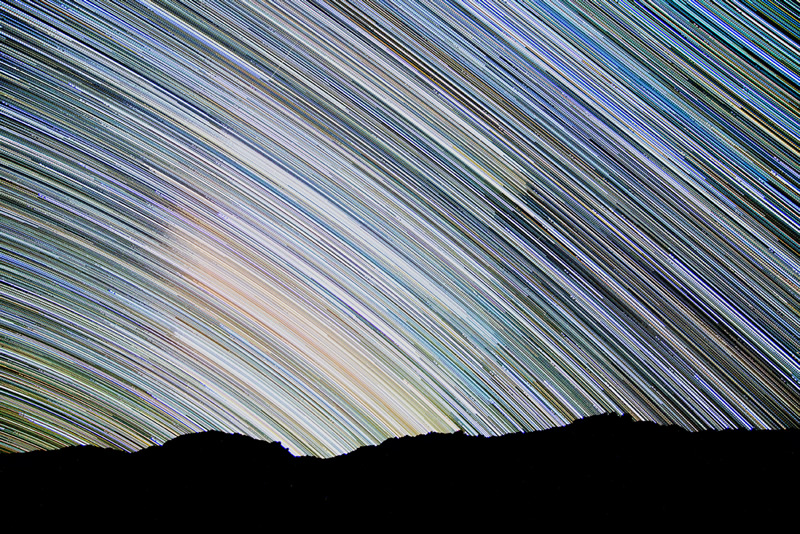 Colorful startrails from hotel.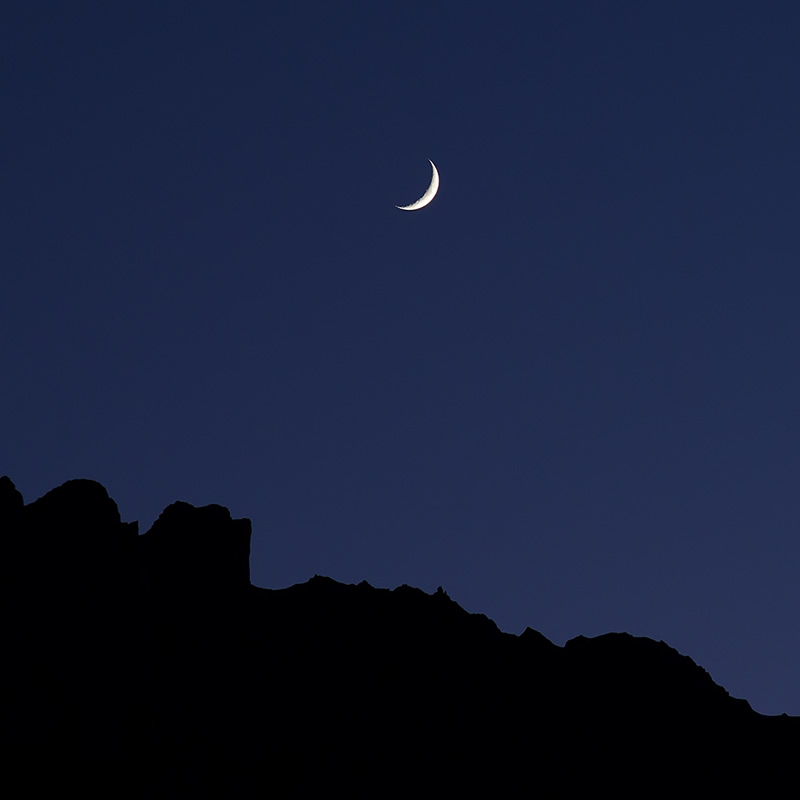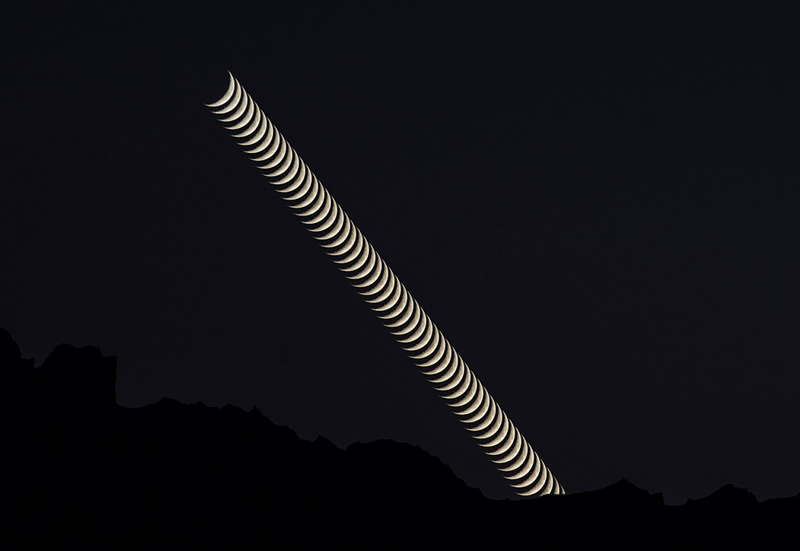 Moonlapse
~Day 2~
On the second day we decided to go to Kee Monastery hence stayed there for two nights so that we could get some good nighttime shots. We left around 12:30 from the hotel for kee and waited near the petrol pump for a shared taxi but no one was going to that road and everyone showed us a hand sign about which we had no clue what it meant. We stayed there for 1:30hrs. Someone told us that a local bus comes around 4 for kee. In the meanwhile we ate some apples, dry fruits and after 1.30hr a man gave us lift to kee in 700 INR.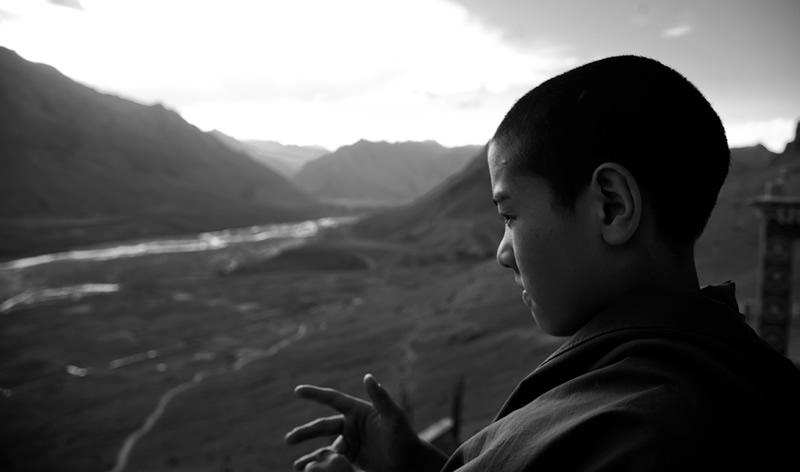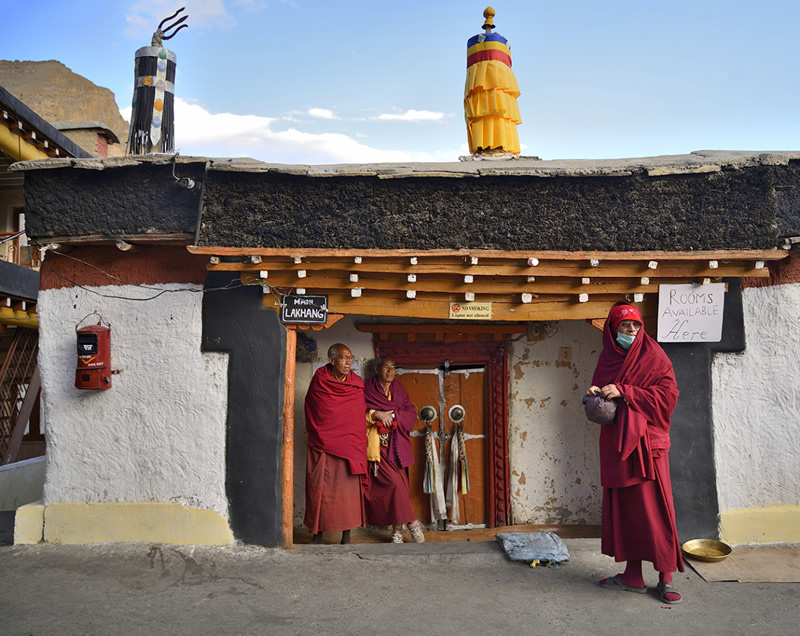 But our bad luck continued in kee monastery as well. Monks notified us that the administration has changed so they do not have any vacant rooms. We got worried about the stay but because my friend had a tent and I was carrying a sleeping bag, we decided to camp out near Kee monastery.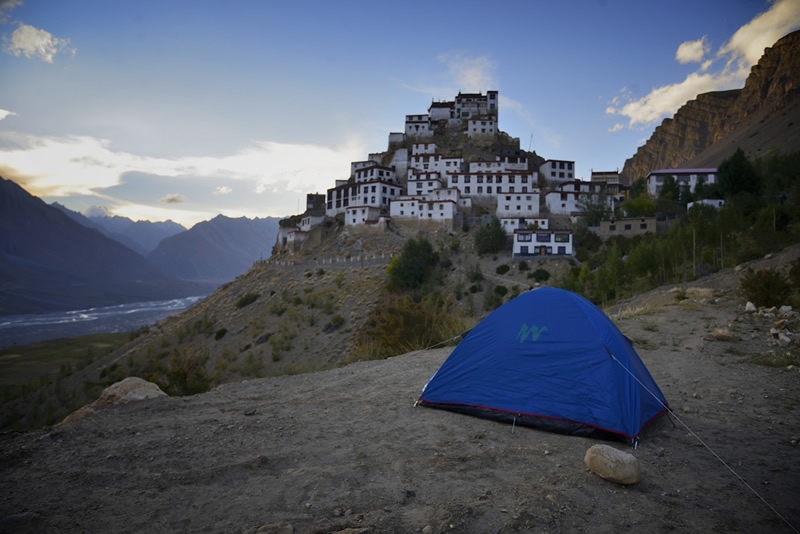 Camping near Key Monastery ( #Campwalkers )
Monks offered us dinner at Kee Gompa which also helped a lot.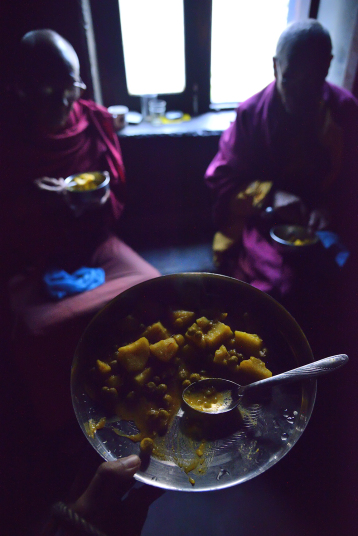 We camped and it was terrific to see million of stars and kee monastery together. It was a wonderful experience. We clicked star trails and Milky Way. Arjun also tested Steel Wool photography over there.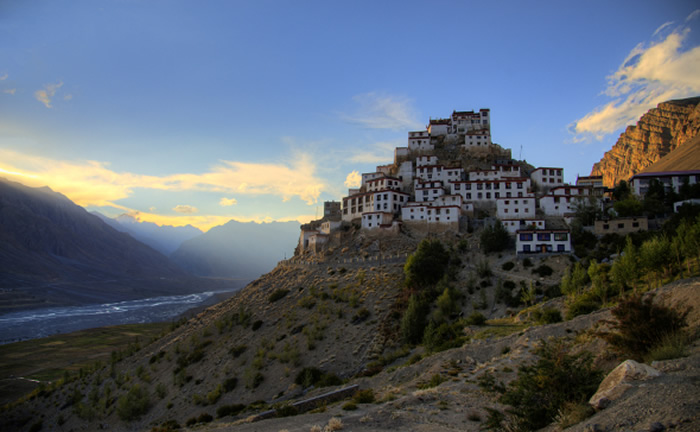 Beautiful sunset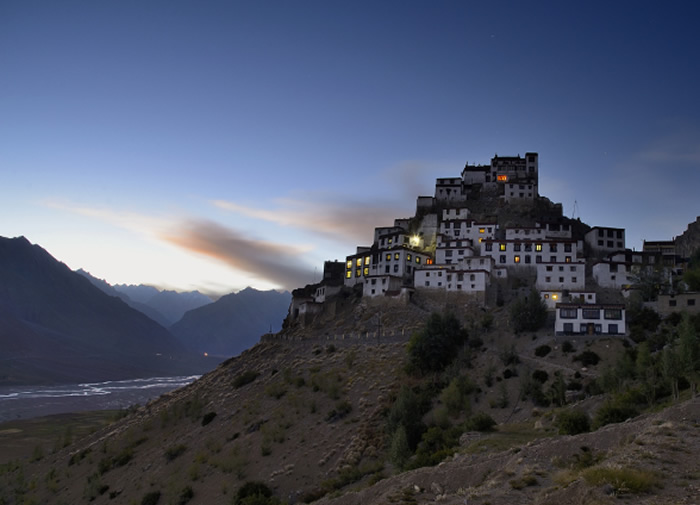 30s long exposure of sunset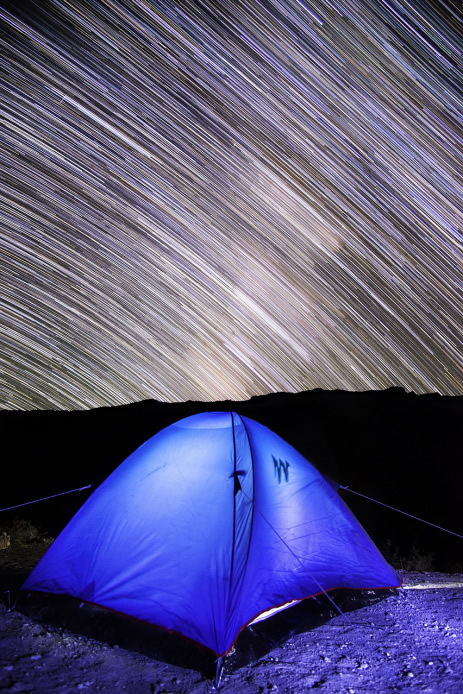 Camping under million stars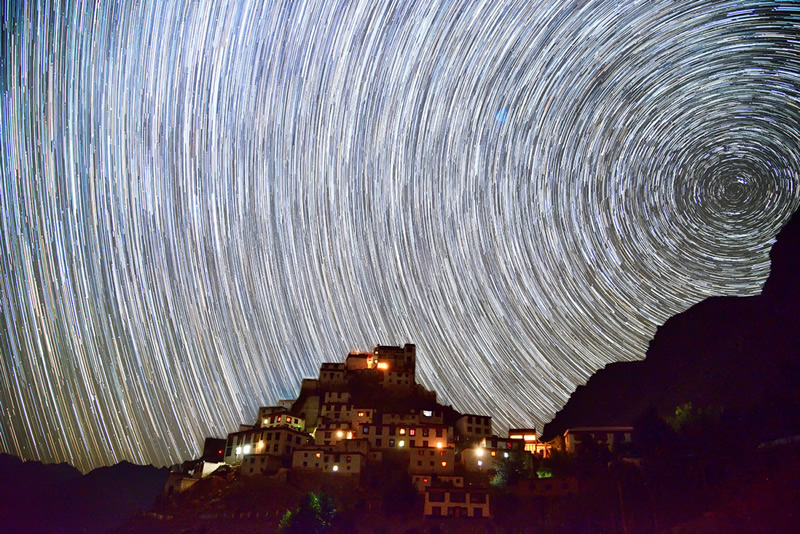 Night at Key Gompa
Because we had already got some good shots of Kee so next morning we decided to go back to the Kaza hotel. A man gave us lift from Kee to Kaza in 600 INR. We again rested there for one more night because travelling and waiting for any means of transportation in Spiti is very hectic. I did some experiment with milky-way and the star trails shots at that night from the roof again. I had heard so much about Spiti from friends that it's more beautiful and better than Ladakh but in my opinion I found Ladakh much more beautiful and photogenic in comparison with Spiti. Ladakh has vast nature varieties like lakes, desert landscapes. In Spiti there is only one lake which is Chandratal. But yes Ladakh is more commercial than Spiti. Locals informed us about the Indian army making an Airport in kaza and one road connecting directly to Ladakh as well, so in the coming year Spiti will be easily approached by the travelers which is helpful for Spiti's natives because their main earning source is Tourism. You can find so many Israeli here in Kaza. Kaza has a very good marketplace and if you love Gol Gappa, you can find in the bus stop. Chowmein, Momos, Thukkpa, Samosa, Jalebi, Rasgulle are easily available in the market.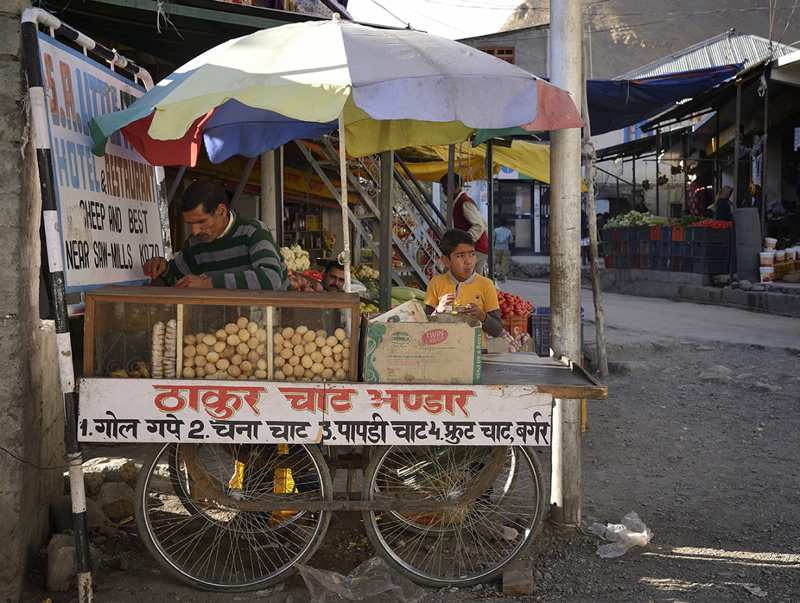 Chat wala at Kaza Market.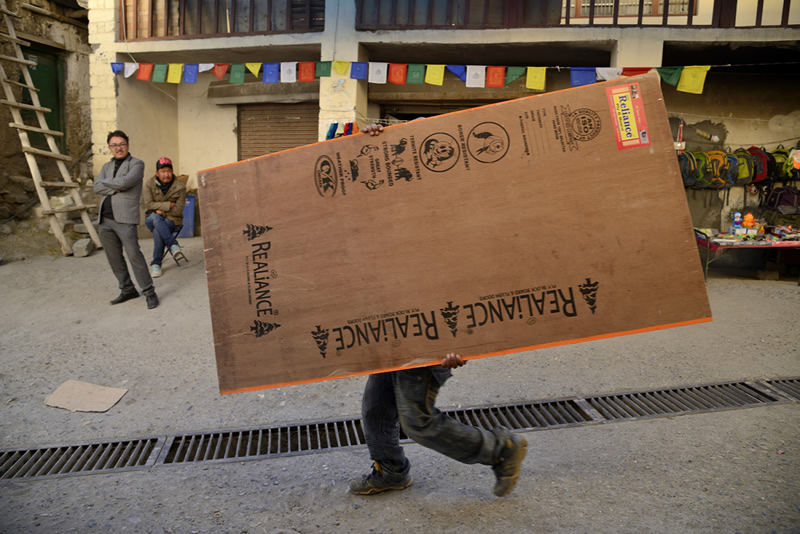 Streets of Kaza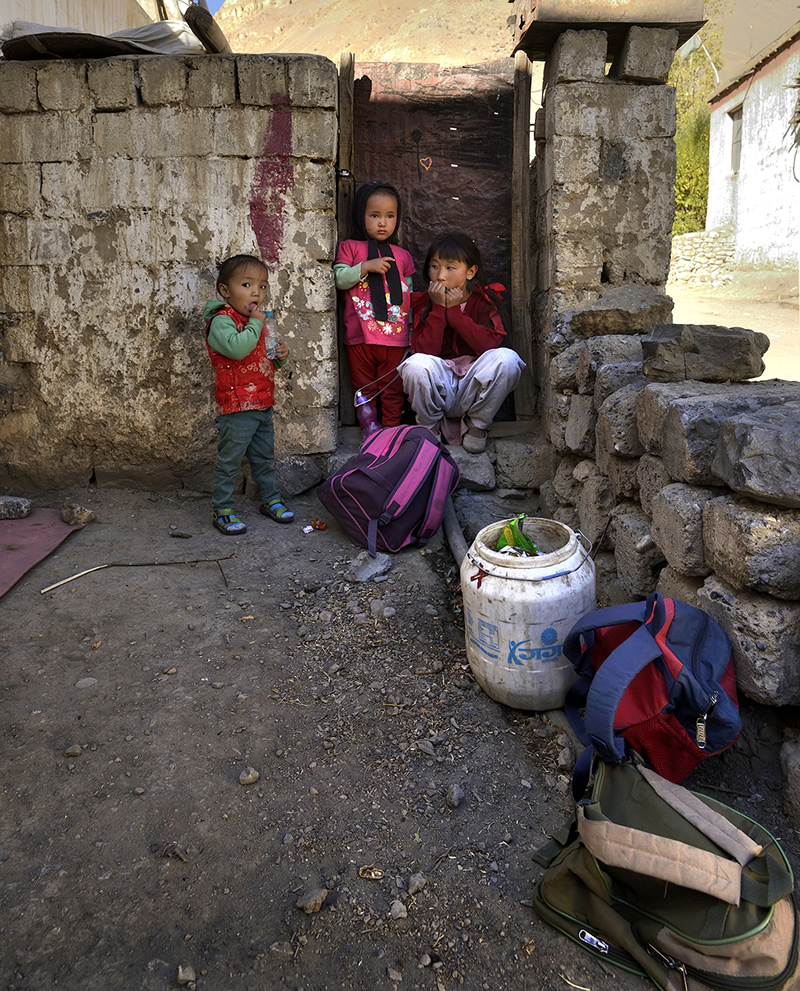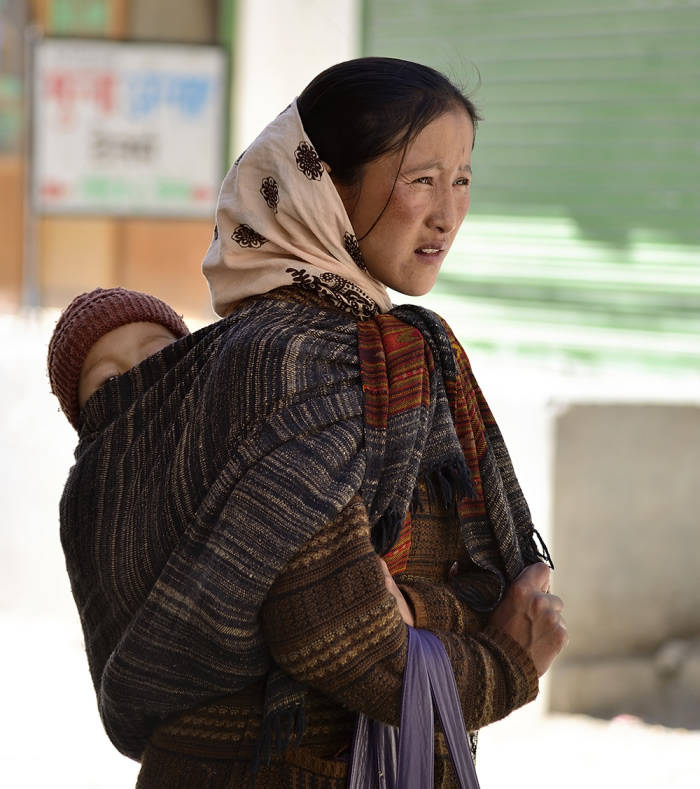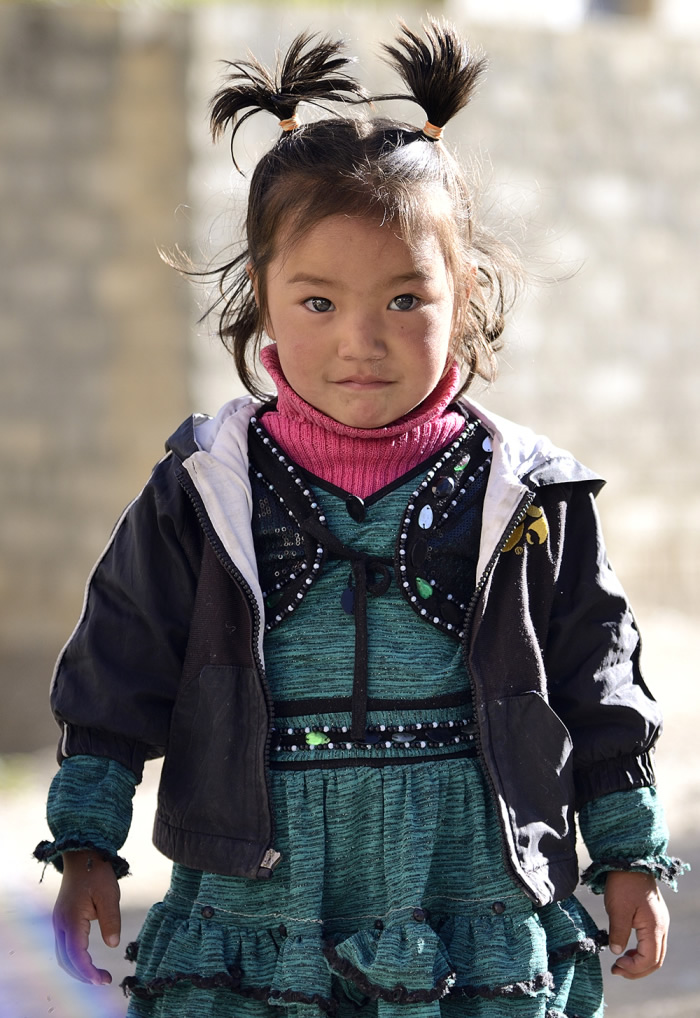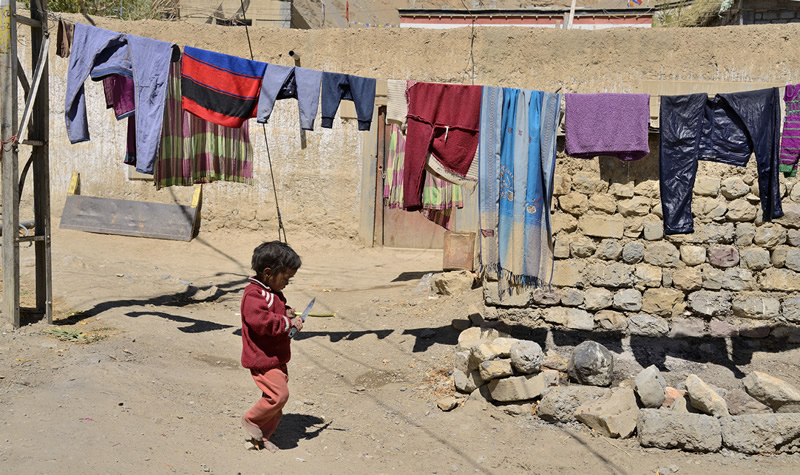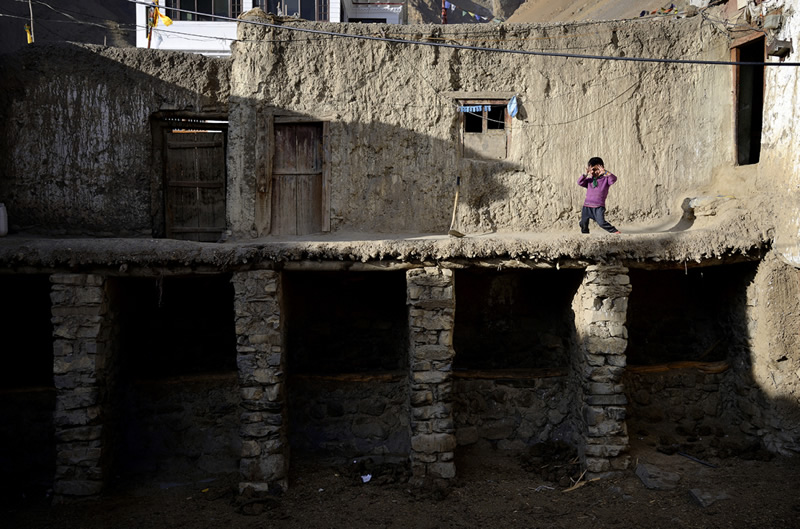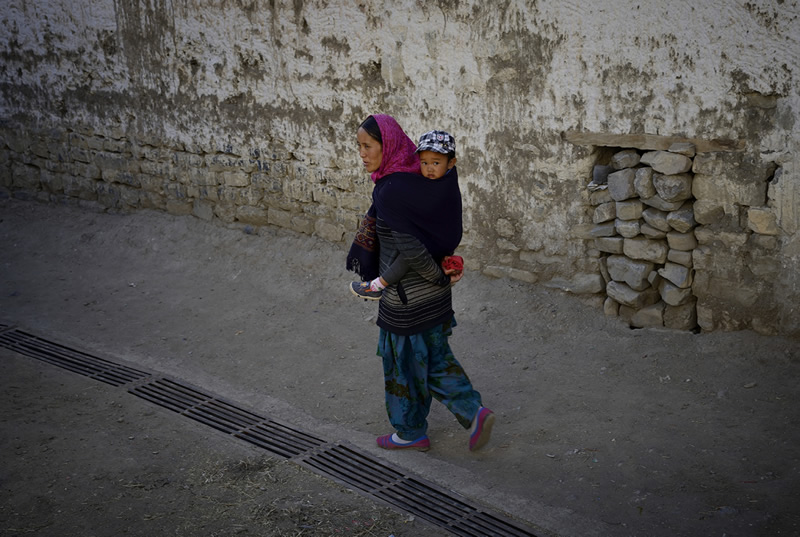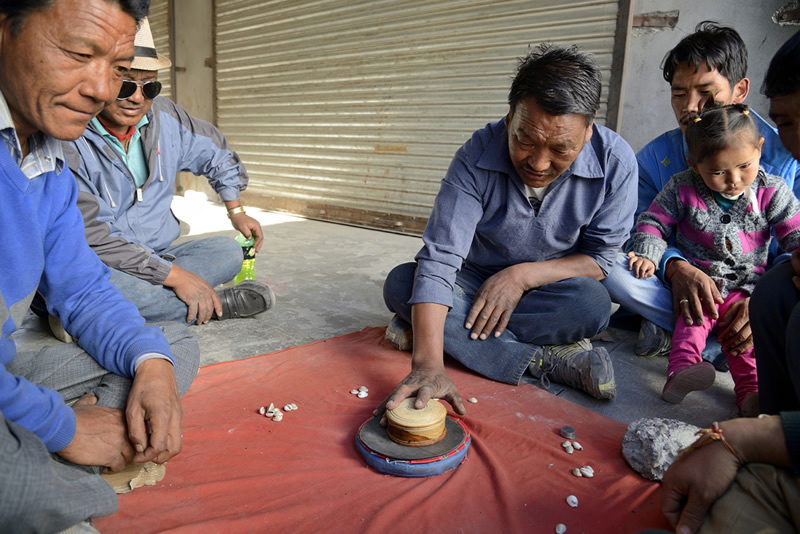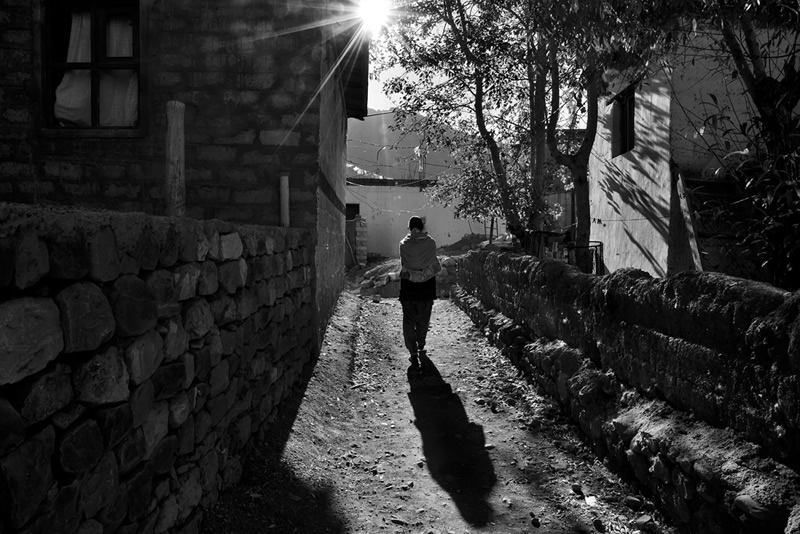 ~Day 3~
Next day we left for Langza. It was just 16 km from kaza. Taxi charged around 700 INR.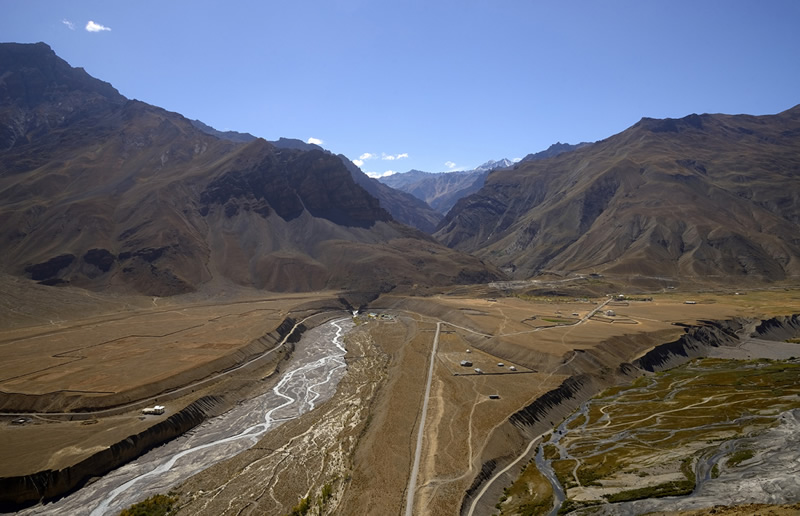 Clicked while going to Langza Village.
The first scene of Langza is spectacular. I couldn't control saying wow when we reached. It is that beautiful. You can find a lot of home stays in Langza village.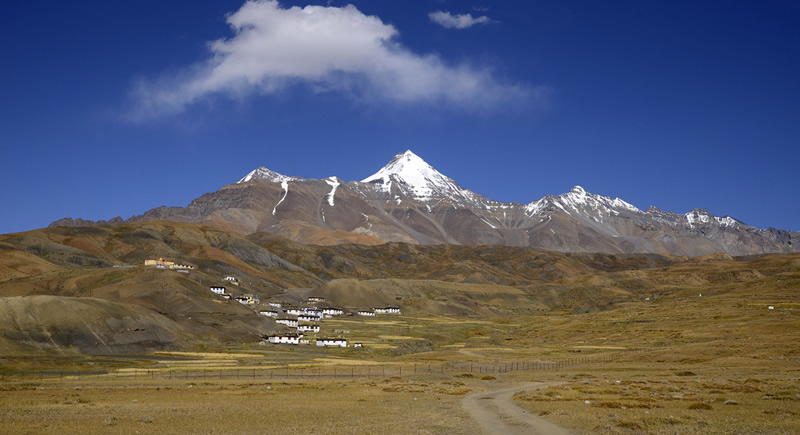 First view of Langza.
We decided to click some nighttime shots because it was looking gorgeous at daytime. But our bad luck continued here as well. In the evening weather changed so drastically from a clear sunny sky to heavy clouds. We managed to take out 1-2 shots even in the heavy cold wind. Our fingers and face were frozen. Wind was so damn ice-cold and fast that even I could not stand stable. I kept my camera on interval for some star trails over "Sheila Peak". The Valley was looking gorgeous in twilight layers. After half an hour cloud covered our 10 – 15 stars so we decided to come back at home stay for dinner. They served us Chapattis (bread) with Aalloo (potato), matar sabji (peas) and achaar (pickle). The family was so pleasant and nice that they shared some of their life stories. After dinner we went to our room and put our alarms of 3'o clock so that we could check if the clouds moved out or not. We had to leave next day for Dhankar. The weather worsened at night. Snow started falling so we decided to go back and sleep. At 8 am we got ready. While waiting for our hotel owner who was going to give us lift to the city, I clicked some photographs of people including children. I had clicked sheila peak before as well. While on our way to Langza I clicked the same view again. There was a drastic change in the view, this time mountains were more visible because of the heavy snowfall.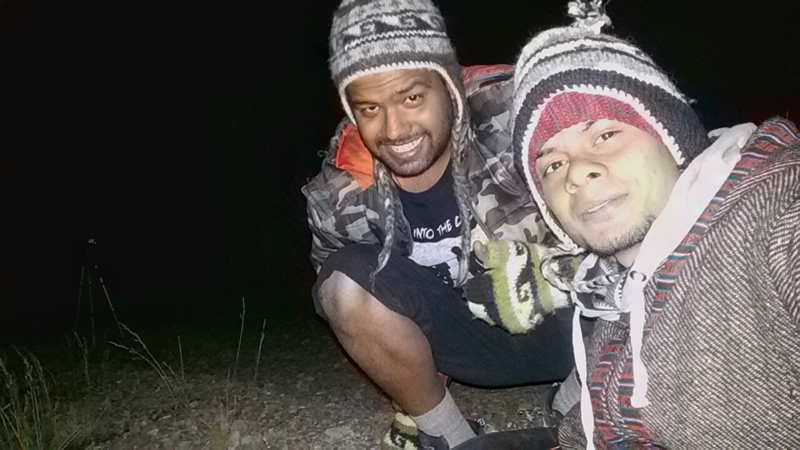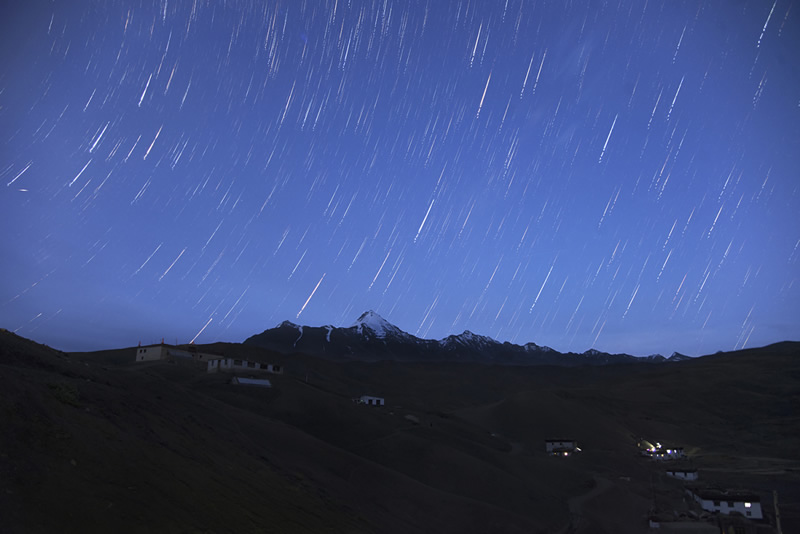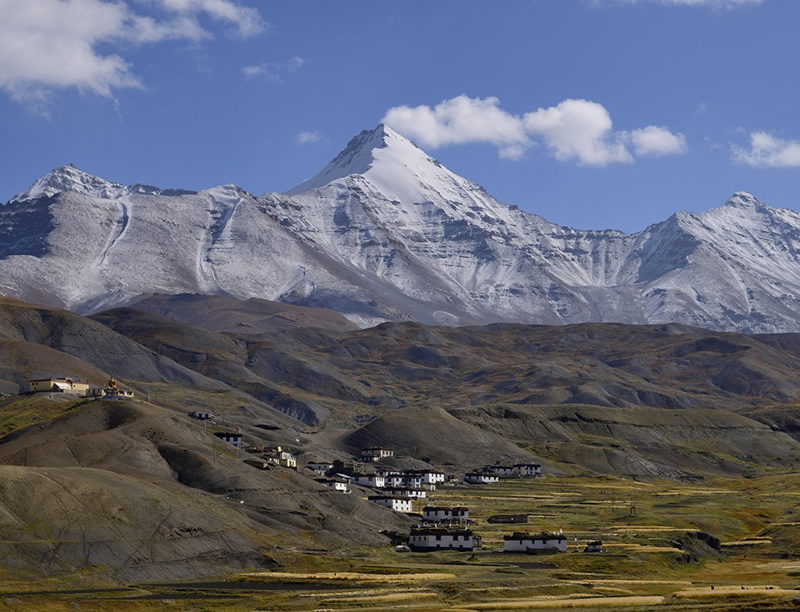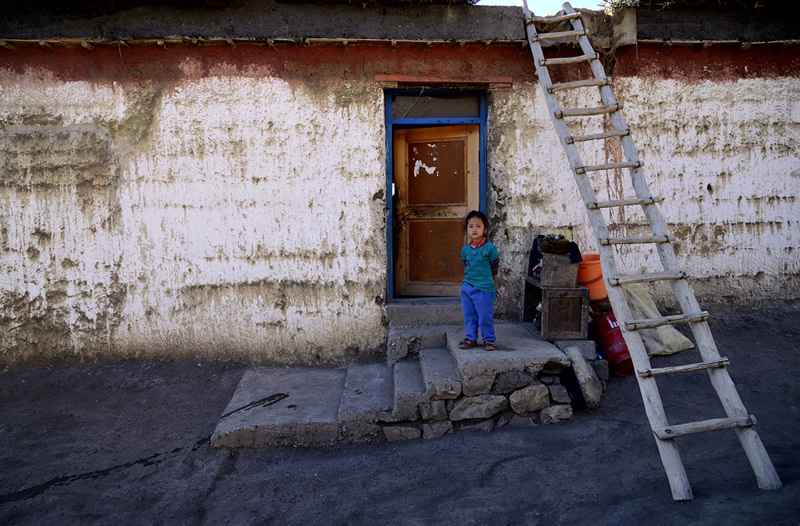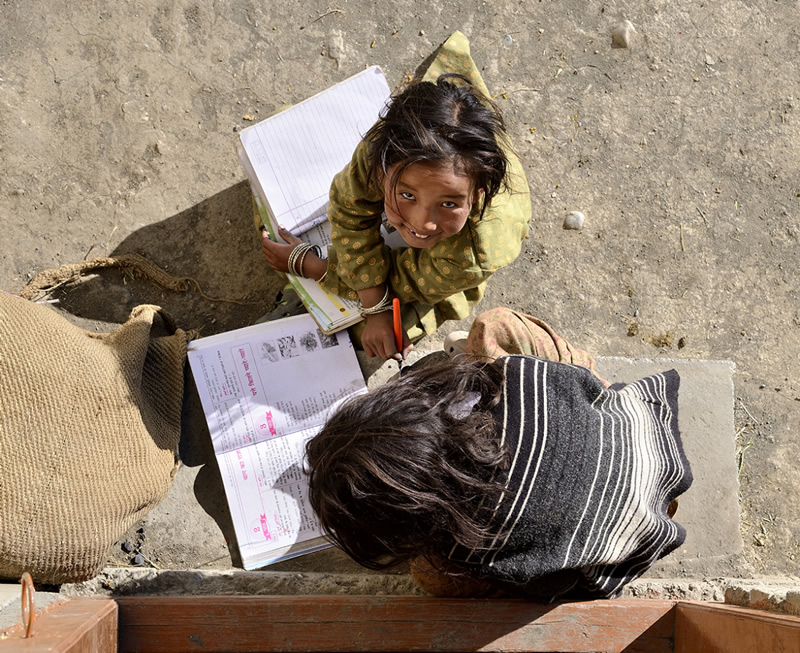 Girls studying in Langza Village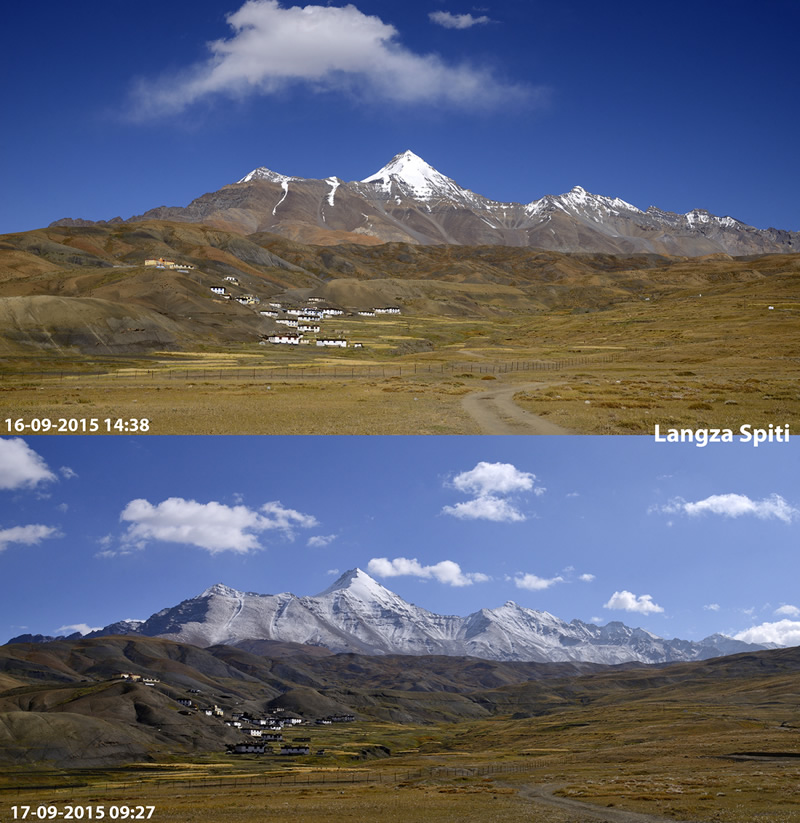 Before and After Langza.
~Day 4~
Because our plan for Dhankar got cancelled, we decided to hire a taxi at night to travel near by for night shots from a higher view. We asked for a taxi from our hotel manager named Urgian Chhering Dongthoth (UC). He arranged one of his friend for driving at night for 3-4 hours which turned out to be a spectacular idea as we got really amazing astro shots and after coming back to the hotel we rested for few hours and right after dinner we decided to walk out for few more astro shots. At night we decided to do steel wool along with stars and Milky Way shots. Arjun was not ready to go out with me due to exertion. But after convincing him for 15 minutes he also got ready to come for the shoot. We walked around 1 km to avoid houses and street light pollution with our cameras, tripods, torches, steel wool and water bottles. Because roads were empty so after few distance we decided to try first steel wool normally. I wanted steel wool with Milky Way on the top since long. So I set my camera on tripod and on timer on interval shoot mode. My friend helped me to burn steel wool as it was windy. And I got fortunate because I got my perfect shot on the very first try. After that for next 3-4 hours we tried steel wool and other Milky Way shots. I also clicked few star trails. While coming back to the hotel Arjun said thank you to me because I made him go for the shoot and he was highly content with the result of the photographs. Late night around 2 am we came back to our hotel and slept because we had to take the tempo traveler next morning for our way back to Manali.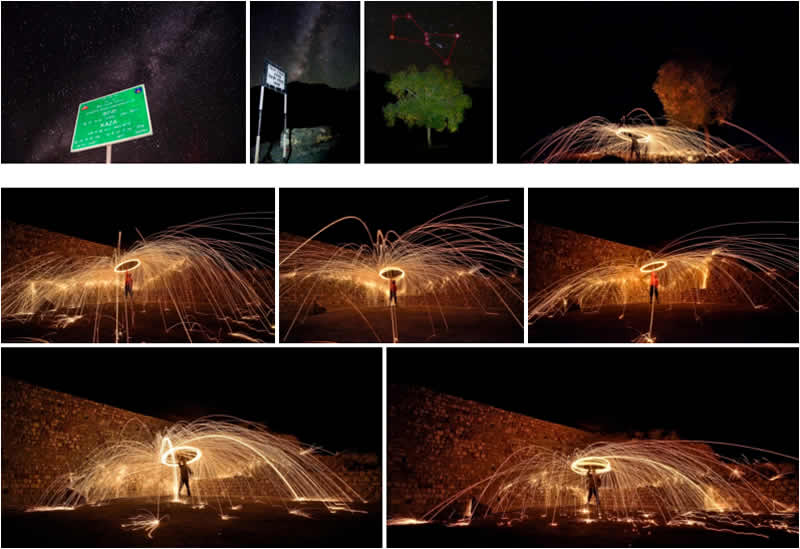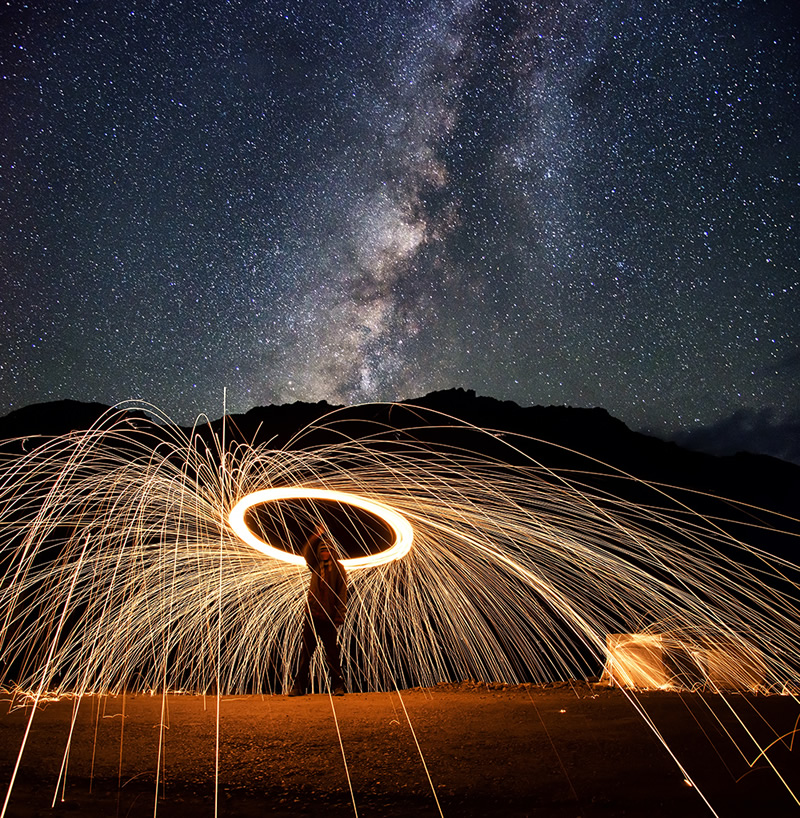 Stars – SteelWool – Selfie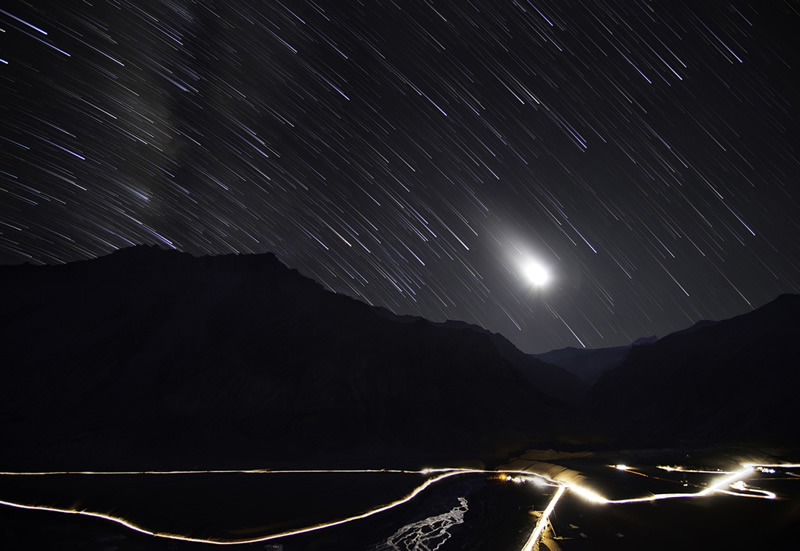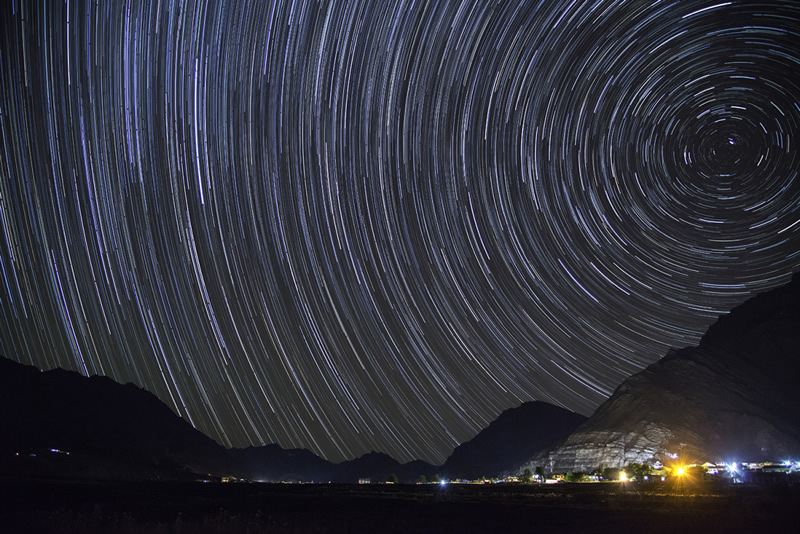 At morning we took the tempo traveler with other unknown travelers who were coming back to Manali.
Before leaving Kaza nature showed me it's one more magical "First light on Kaza" view. While the driver was busy in filling diesel, I decided to go out and took a shot of that wonderful frame. I am blissful that I went out and clicked.

First Light at Kaza.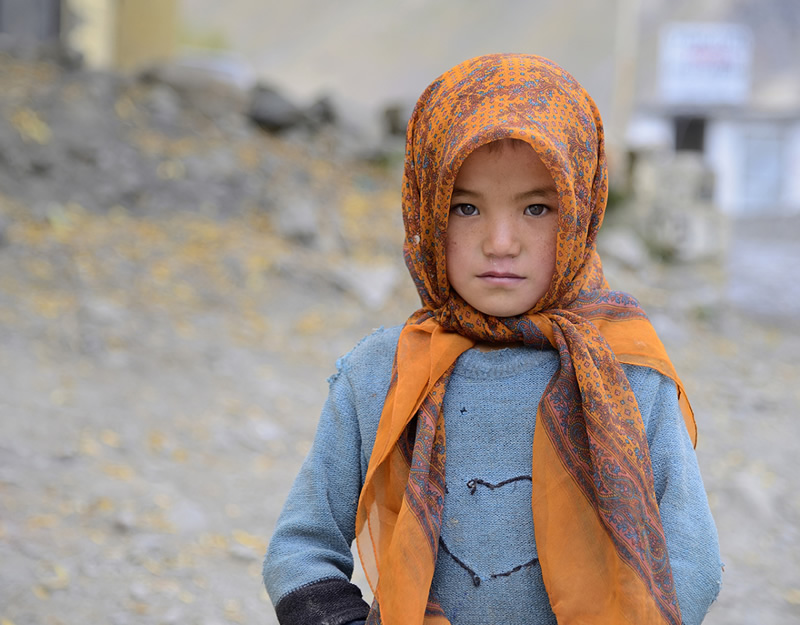 Portrait from Losar
It has been a wonderful experience at Kaza. After coming back to Delhi, when I saw the pictures I realized that it was not the bad luck following us. That did not happen in fact it was the hard work I did to get these fascinating shots. I must say it was completely worth the entire struggle.
I have added some of my day and night time lapses from Spiti in Youtube 🙂
This year in the August end or September starting I'm taking (Astro-Landscape Spiti Tour #ALST ) too. I hope night photography enthusiasts will be interested to join me on this. Good Day 🙂
About Nimit Nigam
I am a 26 year old self-taught photographer based in New Delhi. An avid learner, my thirst for something more than paints and canvases landed me in the field of photography and I started clicking frames instead of painting them. The journey of gradual learning and exploring through this new fascination of mine which started in my 3rd year of graduation still continues. I click a varied number of subjects which include landscapes, portraits, festivals, astro (Stars and Galaxies) etc. I hold a Bachelor Degree in Fine Art Education from Jamia Millia Islamia University. I am currently seeking a satisfying career where I can utilize my creativity, personal skills and interest and direct them towards success of an organisation.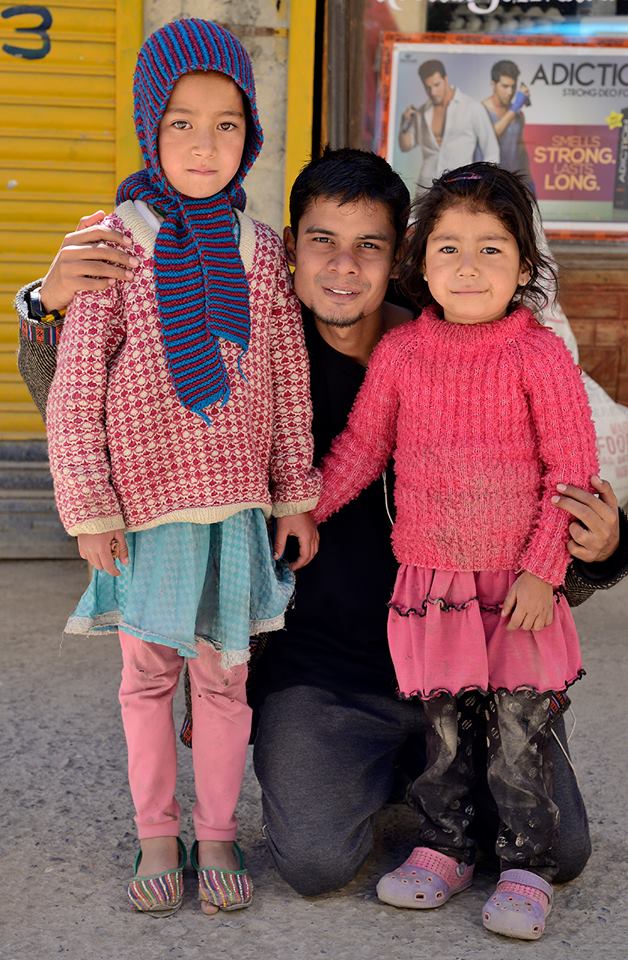 You can find Nimit Nigam on the web:
Copyrights:
All the pictures in this post are copyrighted Nimit Nigam. Their reproduction, even in part, is forbidden without the explicit approval of the rightful owners.