Delighted and excited as we say that 121clicks have accomplished 9 meaningful years in the field of arts and photography. A few years back, We started with an upbeat passion towards photography and now we find ourselves with the same quest for knowledge with infinite possibilities. Future is definitely going to be exciting and challenging as well.
Earlier we used to conduct photo contests every month and we stopped that long back. As a team, we have decided to bring that back and here is the opportunity for all the passionate photographers.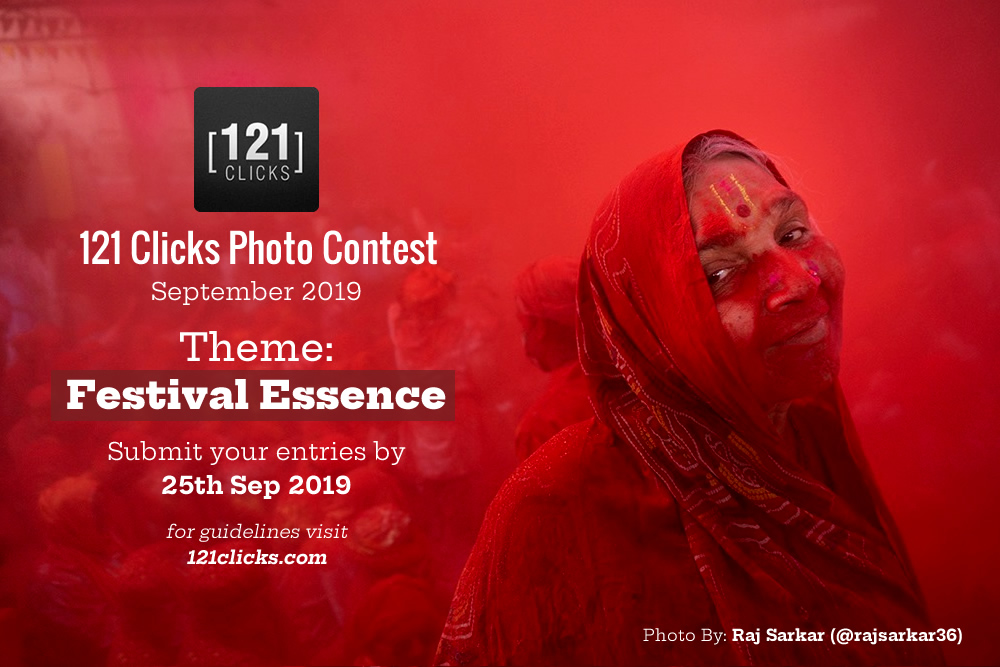 Theme and Deadlines:
Photo Contest Theme – Festival Essence
Deadline – You can submit your photos by 25th Sep 2019
Winners Announcement – 29th Sep 2019
Submission Guidelines:
The photo must be in JPG format, the minimum size of 1600 pixels.
Each participant can submit a maximum of 3 photographs through:

1st image by posting in 121clicks FB group with hashtag #121clicksfestive
2nd image by posting in the 121 Clicks Instagram account with the hashtag #121clicksfestive
3rd image you can mail us to 121clickscontest@gmail.com

The photographer should the original author of the submitted images. 121clicks will have every right to verify any of the images with the original raw or unedited jpeg files.
Winning Prize:
$75 / Rs.5000/- for Winner
$35 / Rs.2500/- for 1st Runner Up
$25 / Rs.1500/- for 2nd Runner Up
15 Honorable Mentions
All winners will feature in the 121Clicks Website
Terms & Conditions:
COPYRIGHT: The photographer must be the sole author and owner of the copyright of photos entered in to the competition. 121clicks.com respects photographers rights and does not claim copyright for images you submit to this contest, you will retain full copyright in each entry. Whenever your image is published by 121clicks.com you will be credited. Failure to publish a credit due to error or oversight shall not be deemed a breach of this condition.
USAGE RIGHTS: By entering this contest you agree that any winning image or runner up images you submit may be used by 121clicks.com solely for the purpose of this contest or future contests and no other purpose, these uses include; displaying the entries on the contest website, promotion of the contests and the photographers.
Happy Clicking!
Thanks for all the support and love. We look forward to your participation, folks!
– 121 Clicks Team